With the XPS 15 9500, Dell are finally going to deliver that much-awaited 2020 update of their highly popular XPS 15 notebook, which we've covered in multiple reviews and guides over the years here on the site.
And it's not just a hardware bump, like with the last generations, but finally, a complete redesign that borrows many cues from the 2020 XPS 13 9300 and even the 16-inch MacBook Pro, such as a slimmer chassis, Thunderbolt 3 IO, 16:10 displays with tiny bezels, a large clickpad and up-firing speakers flanking the keyboard.
Two full-size XPS models are available with the 2020 generation: an updated 15-inch model (XPS 15 9500) and a brand-new 17-inch version (XPS 15 9700).
Both follow the same design principles, with a slightly larger chassis for the 17-inch variant, hinted by the wider speaker grills around the keyboard, and the extra space at the top. Down below we've gathered our thoughts on what we know so far about these two, as well as our suppositions and expectations based on our experience with the XPS lineup, and we'll update once we get to spend more time with the final products and review them.
Here's a quick specs' sheet of these two 2020 XPS models, next to the 2019 XPS 15 7590, based on what we know so far.
Dell XPS 15 9500 (2020)
Dell XPS 17 9700 (2020)
Dell XPS 15 7590 (2019)
Screen
15.6 inch, 16:10, FHD+ 1920 x 1200 px resolution, IPS, non-touch, 500-nits, 1650:1 contrast, 100% sRGB, matte
15.6 inch, 16:10, UHD+ 3840 x 2400 px resolution, IPS, touch, 500-nits, 1600:1 contrast, 100% Adobe RGB, HDR 400, anti-reflective and anti-smudge, Gorilla Glass 6
17.3 inch, 16:10, FHD+ 1920 x 1200 px resolution, IPS, non-touch, 500-nits, 100% sRGB, matte
17.3 inch, 16:10, UHD+ 3840 x 2400 px resolution, IPS, touch, 500-nits, 100% Adobe RGB, anti-reflective and anti-smudge, Gorilla Glass 6
15.6 inch, 16:9, FHD 1920 x 1080 px resolution, IPS, anti-glare, non-touch, 500 nits
15.6 inch, 16:9, UHD 3840 x 2160 px resolution, IPS, touch, 500 nits, HDR 400, 100% AdobeRGB coverage
15.6 inch, 16:9, UHD 3840 x 2160 px resolution, OLED, non-touch, 400 nits, 100% DCI-P3 coverage
Processor
Intel Comet Lake, up to Core i9-10885H (8C/16T @2.4-5.3GHz)
Intel Comet Lake, up to Core i9-10885H (8C/16T @2.4-5.3GHz)
Intel Coffee Lake-R, up to Core i7-9980HK (8C/16T @2.4-5.0GHz)
Video
Intel UHD + GTX 1650 Ti 50W 4GB GDDR6
Intel UHD + up to RTX 2060 65W (??) 6GB GDDR6
Intel UHD + GTX 1650 50W 4GB GDDR5
Memory
up to 64 GB DDR4 2933 MHz, (2x DIMMs)
up to 64 GB DDR4 2933 MHz, (2x DIMMs)
up to 32GB DDR4 2666 MHz (2x DIMMs)
Storage
single M.2 PCIe x4
2x M.2 PCIe x4 with RAID
single M.2 PCIe x4
Connectivity
Killer WiFi 6 AX1650 (Intel) or Killer AX500 (Qualcomm) 2×2, with Bluetooth 5.0
Killer WiFi 6 AX1650 (Intel) or Killer AX500 (Qualcomm) 2×2, with Bluetooth 5.0
Killer WiFi 6 AX1650 WLAN 2×2, with Bluetooth 5.0
Ports
2x USB-C with Thunderbolt 3, 1x USB-C with Power and DP, SD card reader, headphone jack, Lock
4x USB-C with Thunderbolt 3, SD card reader, headphone jack, Lock
1x USB-C Thunderbolt 3, 2x USB-A 3.1 gen1, HDMI, SD card reader, headphone jack, Lock
Battery
56 or 84 Wh, USB-C charger ??
56 or 97 Wh, USB-C charger ??
97 Wh, 130W power adapter, USB-C charging supported
Size
345 mm or 13.57″(W) x 230 mm or 9.06″(D) x 18 mm or .71″(H)
374 mm or 14.72″(W) x 248 mm or 9.76″(D) x 19.5 mm or .77″(H)
357 mm or 14.06″(W) x 235 mm or 9.7″(D) x 17 mm or .66″(H)
Weight
~1.83 kg / 4 lbs – 56 Wh battery and FHD screen
~2.05 kg / 4.5 lbs – 84 Wh battery and UHD touch screen
~2.11 kg / 4.65 lbs – 56 Wh battery and FHD screen
~2.51 kg / 5.53 lbs – 97 Wh battery, 2x SSDs and UHD touch screen
~1.83-2.05 kg / 4-4.5 lbs
Extras
on-key fingerprint sensor with Hello, HD IR camera, quad speakers (2x 2.5 W down-firing, 2x 1.5 up-firing), USB-C to USB-A and HDMI adapter included
on-key fingerprint sensor with Hello, HD IR camera, quad speakers (2x 2.5 W down-firing, 2x 1.5 up-firing), USB-C to USB-A and HDMI adapter included
top-placed 720p camera without IR, on-button fingerprint sensor with Hello, 2x bottom-firing speakers
Hardware specs and battery options
This XPS generation gets the latest 2020 Intel Comet-Lake Core H hardware, with options between a Core i5-10300H on the base models, 6Core and 8Core i7s on mid-tier versions and an 8Core i9-10885H for the top models. There's no AMD Ryzen option if you were hoping for it.
Graphics have been upgraded as well, with the updated GTX 1650Ti 50W GDDR6 on the 15-inch version, and up to an RTX 2060 (most likely a 65W Max-Q version) in the XPS 17 9700.
As far as storage goes, the two get 2x memory slots, with support for up to 64 GB of DDR4 2933 MHz. On top of that, the 15-inch XPS gets a single M.2 PCIe storage slot, while the 17-inch model gets 2xM.2 slots with RAID 0/1 support. I'm happy to see Dell sticking with non-soldered RAM and storage on these ultraportable notebooks.
Some of you might have hoped for 2x M.2 storage on the XPS 15 as well, but it looks like there was no space for it.
The Wi-Fi chip is soldered, though, and from what I can tell, Dell will initially ship these with Intel-based Killer 1650 chip, and move on to Qualcomm based Killer AX500 chips later on.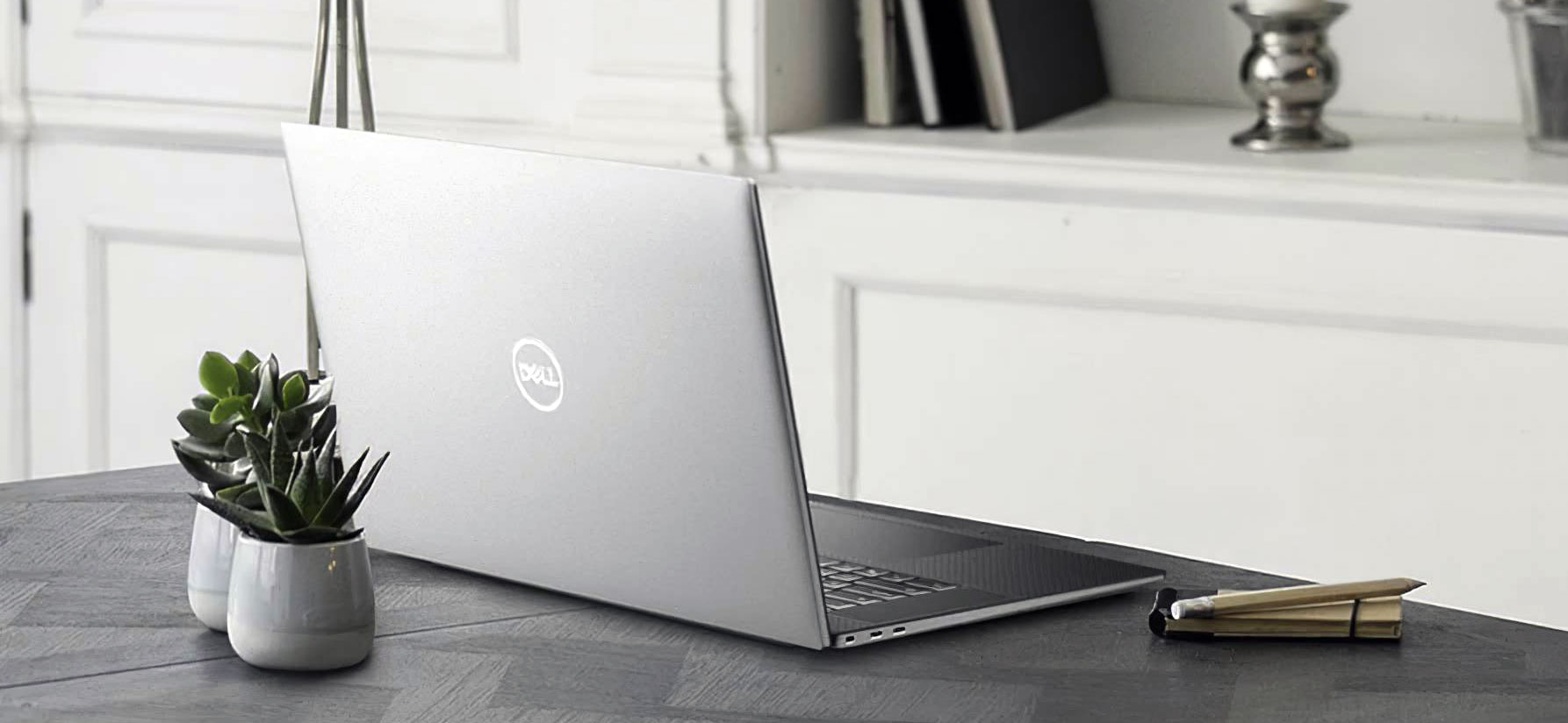 These aside, with the space being at a premium on these ultra-compact chassis, the XPS 15 gets either a 56 or an 84 Wh battery with this generation, a step back from the 97 Wh battery on the previous XPS 15 9570. The 17-inch model, however, gets either a 56 or 97 Wh battery option.
I'm curious about how Dell are going to charge these. Looks like there's no barrel plug and they're relying on USB-C charging, which needs they'll have to design some sort of custom high-power USB-C charger able to drive an 8C Intel processor and an RTX 2060 chip.
I'd reckon those would require around 180W of power, which is a lot more than the MacBook Pro 16, pretty much the only current option that offers USB-C charging above 100W.
Screens
It's sure nice to see 16:10 screens on these notebooks, there are very few to no other such options in this space, perhaps except for the LG Gram 17, but that gets lower-tier hardware.
The taller aspect-ratio offers extra screen real estate, useful with daily browsing and text-editing, but especially with professional applications such as Photoshop, Premiere, or programming software, where every bit of extra space is much appreciated.
Both versions are available with either a matte FHD+ (1920 x 1200 px) IPS or a touch UHD+ (3840 x 2400 px) IPS option, with a layer of Gorilla Glass on top. Compared to the 2019 XPS 15 7590, OLED is no longer an option, but I'm fine with this decision.
Both the FHS/UHD options are 500-nits panels, with 100% sRGB color coverage on the FHD+ versions and 100% AdobeRGB/94% DCI-P3 for the 4K models, as well as HDR 400 and Dolby Vision support. Creators and photo/video editors are going to crave over those 4K screens, but you should be aware of the associated dip in battery life.
Nonetheless, if you're looking for a beefier configuration or the larger battery options, Dell's going to shove those UHD+ screens to you anyway, as the FHD+ models will generally only be available in the lower-specced variants.
Thermal design
The redesigned thermal module is a make or break aspect of these XPS notebooks, and perhaps the most important aspect if you're interested in an ultraportable that can tackle demanding chores, which you should if you opt for such a Core H configuration. That's why you should carefully look into this aspect in future reviews.
The previous XPS 15s had a fair share of overheating problems which limited their performance in demanding loads. Those could be somewhat addressed, but required repasting the processor and adding VRM thermal pads, which is not something most people are comfortable with.
This time around the new generations get even slimmer chassis and faster hardware, with the power-hungry 10-gen Intel 8-Core i7-10875H and i9-10885H processors that would need to run at 50-60W to deliver their promised performance and the GTX/RTX graphics from Nvidia, ar between 50 to 65W. The i9-10980HK has also been posted in some initial benchmarks on the XPS 15.
The thermal design on the XPS 9700 implements two fans and an array of heatpipes, but we'll need to spend time with the laptops before we can draw any conclusions on the implementation and its abilities.
The existing XPS 15 7590 designs could not allow their CPUs to at high power. Furthermore, I'm rather wary of that hot air being blown straight into the screen with this redesign, like on the ZenBooks. That's why I hope Dell took this very seriously and were able to create a cooling solution that can cope with this sort of hardware in this sort of a chassis, but I'll stay skeptical until proven otherwise. I fear this design will push the 2020 models more into ultrabook territory, as slimmer and lighter devices, but also less capable in heavy loads. Hopefully, at least the 17-inch model will do a better job at dissipating heat with its larger chassis.
Design, other aspects, and some thoughts
The 15-inch XPS 9500 is slightly smaller than the previous generation, but a tad thicker and about the same weight. Matte-screen versions start at around 4 lbs, with the 56Wh battery, while the touchscreen models with the 97Wh battery weigh around 4.5 lbs.
The 17-inch version is not a lot larger, which could attract a lot of attention from previous XPS 15 and other 15-inch notebooks users. It also weighs between 4.6 to 5.5 lbs between configurations, which is awesome for a 17-inch laptop with this sort of specs.
As far as materials go, the leaked images only hint the classic black carbon-fiber interior with a silver aluminum exterior combo, which is what I have on my XPS 13 and what I prefer out of Dell's options. However, many would also expect that woven white interior option available on the XPS 13 as well, the one that does a nicer job of hiding smudges and dirt, and it looks like there's no such version for the 9500and 9700. A black exterior for the carbon-fiber model has also been asked for the previous XPS lineups, but I still don't think Dell will offer that either, so you'll still have to go with decals and skins to get those matte black looks.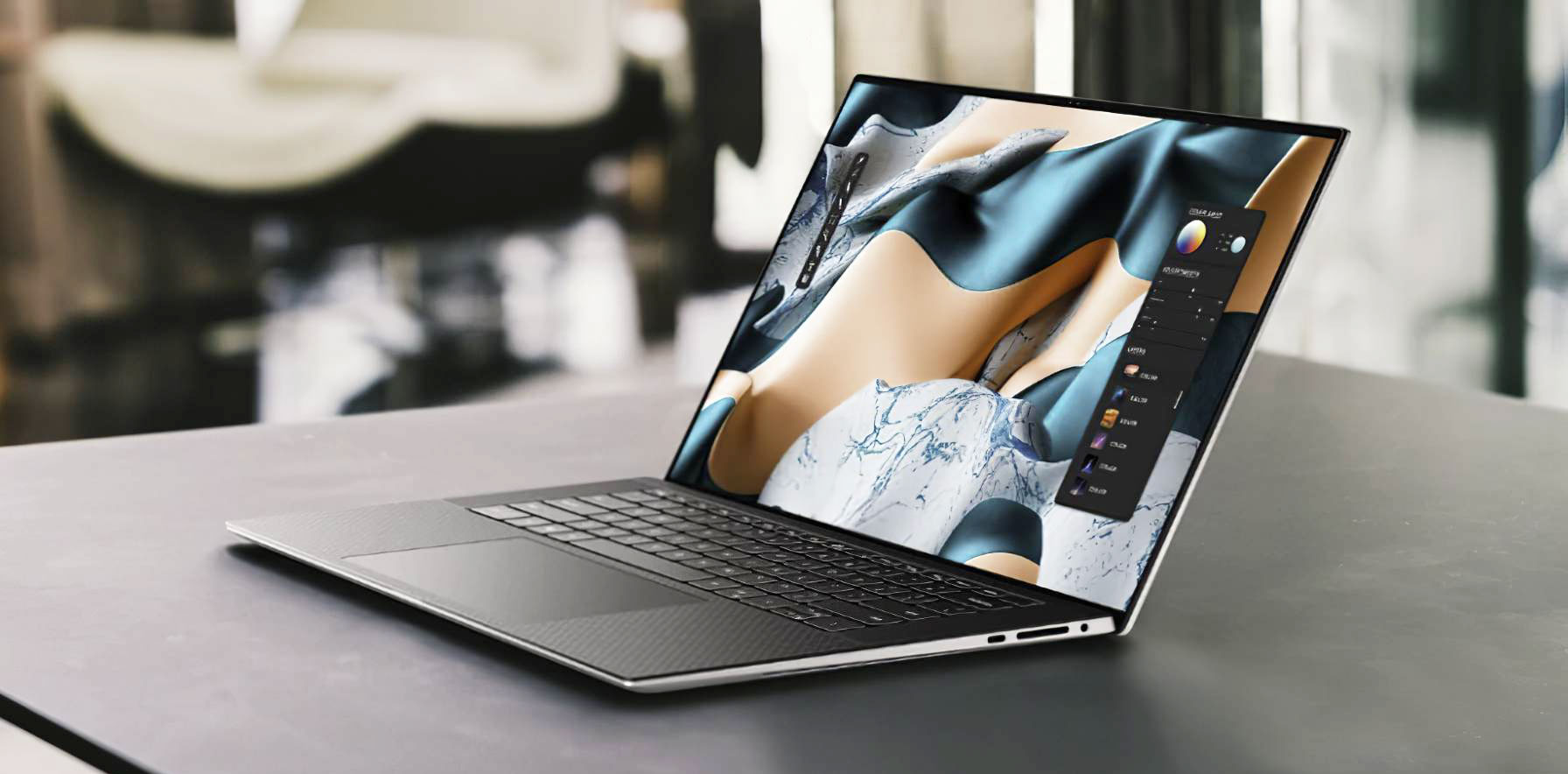 The IO has been redesigned and is mostly based on USB-C/Thunderbolt 3 ports. There are 2x Thunderbolt 3 ports (both on the left side) and one USB-C port on the 15-inch XPS version, and 4x Thunderbolt 3 ports on the 17-inch model, two on each side.  Both also get a headphone jack and a full-size SD card reader, a nice extra for creators.
You're going to need adapters with this 2020 XPS models, and that was to be expected, even if many will not appreciate it. This is going to widen the gap between these XPS notebooks and the Lenovo Thinkpad X1 Extreme, which still offers that practical full-size IO and the more complex keyboard layout. For what it worth, Dell will include and USB-C to USB-A and HDMI 2.0 in the box with these laptops, which should cover most basic needs.
Audio is another major change of this generation, with quad-speakers implemented on both size options, two woofers on the bottom and two tweeters firing upwards through those grills that flank the keyboard. That's great news on this sort of multimedia laptops.
As far as inputs go, the keyboard looks identical to the one implemented in the 2020 XPS 13, with the wider layout and the power-button with Hello finger-sensor integrated into the top-right corner, as well as the redesigned arrow keys that no longer include dedicated PgUp/PgDn. That's mostly good news, since this is one of the most highly regarded keyboards in the ultrabook space, so the average user should get along great with it. Professionals might struggle with this minified layout, though, which somehow favors form over functionality.
The clickpad is an upgrade from the 13-inch XPS, as the larger arm-rest allowed the space to integrate a more spacious surface, similar to what Apple put on their MacBooks. I'm expecting a clickable glass surface and overall one of the nicer implementations available on a Windows laptop.
Both these XPS 15 9500 and XPS 17 9700 models are expected to ship somewhere around May 2020, but haven't yet been officially launched, so we'll keep an eye on them and update the article as we get more details.
However, most of the important questions won't be answered until the products become available in stores and we get to properly review them, to look at the detailed performance and thermal behavior, as well as figure out if Dell were able to address their unresolved issues of the past XPS 15 generation, such as the screwed up sleep and DPC latency, or the fans' coil whining, among others.
From what I can tell right now, I appreciate some of the directions Dell have taken these series to, such as the 16:10 screens, the front-facing speakers and the larger clickpad, but I'm not sold on the miniaturized chassis and IO, and I fear these 2020 XPS models might become just oversized ultrabooks, and not the productivity tools they've used to be these past years. We'll see, but I'd love to hear your thoughts on these XPS 15 9500/XPS 17 9700 updates in the comments section below.
Disclaimer:
Our content is reader-supported. If you buy through some of the links on our site, we may earn a commission.
Learn more.