For years now, the Dell XPS 13 has been my personal ultrabook of choice and one of the better thin-and-light notebooks on the market.
However, the XPS 13 hasn't seen a significant update for a while, and that's changing with the early-2020 Dell XPS 13 9300 model.
Among the major novelties of this year's XPS 13 generation is the inclusion of a 16:10 13.4-inch display with narrow bezels, the update to Intel's 10th gen Ice Lake hardware platform with up to 32 GB of RAM and 2 TB of SSD storage, a slight design overhaul, a brand new keyboard, and improved speakers.
At the same time, the 2020 XPS 13 9300 keeps the 52 Wh battery of the previous XPS 13 7390 generation, but looses some of its IO and the option for the six-core processor.
We'll talk about all these aspects below, where we'll compare the 2020 and 2019 XPS 13 variants, explain all their differences and warn you on specific quirks to keep an eye on when shopping for one of these.

But first, a specs sheet of the two generations.
Dell XPS 13 9300 (2020)
Dell XPS 13 7390 (2019)
Screen
13.4 inch, 16:10, FHD+ 1920 x 1200 px resolution, IPS, anti-glare, non-touch, 500 nits
13.4 inch, 16:10, FHD+ 1920 x 1200 px resolution, IPS, touch, 500 nits
13.4 inch, 16:10, UHD+ 3840 x 2400 px resolution, IPS, touch, 500 nits, HDR 400, 90% DCI-P3 coverage
with edge-to-edge Gorilla Glass 6 on touch panels
13.3 inch, 16:9, 1920 x 1080 px resolution, IPS, matte, non-touch, 400 nits
13.3 inch, 16.9, 1920 x 1080 px resolution, IPS, touch, 400 nits
13.3 inch, 16:9, 3840 x 2160 px resolution, IPS, touch, 400 nits, HDR ready,
with edge-to-edge Gorilla Glass 4 on all panels
Processor
up to Intel Ice Lake i7-1065G7 (4 cores, 8 threads @ 1.3-3.9GHz)
up to Intel Comet Lake i7-10710U (6 cores, 12 threads @ 1.1-4.7 GHz)
Video
UHD Graphics (integrated), Gen11, up to 64 EUs
UHD Graphics (integrated), Gen9, 24 EUs
Memory
up to 32GB LPDDR4X-3733 (soldered, dual-channel)*
up to 16GB LPDDR3-2133 (soldered, dual-channel)
Storage
1x M.2 80 mm PCIe x4, 256 GB to 2 TB
1x M.2 80 mm PCIe x4, 256 GB to 2 TB
Connectivity
Killer WiFi 6 AX1650 WLAN or Killer Wi-Fi 6 AX500-DBS, 2×2, with Bluetooth 5.0
Killer WiFi 6 AX1650 WLAN, 2×2, with Bluetooth 5.0
Ports
2x USB-C Thunderbolt 3, 1 MicroSD v4.0, headphone jack
2x USB-C Thunderbolt 3, 1x USB-C 3.1 Gen 2, 1 MicroSD, headphone jack, Noble Lock
Battery
52 Wh, 45W power adapter (USB Type-C)
52 Wh, 45W power adapter (USB Type-C)
Size
296 mm or 11.64″(W) x 199 mm or 7.82″(D) x 14.8 mm or .58″(H)
302 mm or 11.9″(W) x 199 mm or 7.8″(D) x 11.6 mm or .46″(H)
Weight
~1.2 kg / 2.64 lbs (+230 g power supply) for non-touch
~1.3 gk / 2.8 lbs for touch
~1.23 kg / 2.7 lbs (+230 g power supply)
Extras
top-placed 720p camera with IR, updated keyboard and clickpad, on-key fingerprint sensor with Hello, updated 2x 2W bottom-firing speakers
top-placed 720p camera without IR, on-button fingerprint sensor with Hello, 2x 1W bottom-firing speakers
*16 GB configurable right now, 32 GB versions to be available at a later date
Update: A more recent Dell XPS 13 9320 series is available in the meantime, and you can find all about it from that article or from this XPS 13 Plus review. It's a major overhaul of the exiting XPS 13 designs. A 2022 update of the standard XPS 13 chassis is also available with the XPS 13 9315 model, and our detailed review of the Dell XPS 13 5315 series is available here.
These traits should seem familiar to those of you accustomed to the XPS lineup, as this 2020 clamshell version of the XPS 13 has a lot more in common with the existing mid-2019 XPS 13 2-in-1 convertible than with the previous traditional variant.
So why not buy the XPS 13 7390 2-in-1 instead, you might ask? Well, that's definitely an option if you're after the convertible form-factor and a touchscreen, but as you'll see in the following paragraphs, the XPS 13 9300 has a few aces down its sleeve: slightly smaller and lighter chassis, a different keyboard with rubber-dome keys and deeper travel, an option for a matte non-glare display and most likely slightly more affordable pricing.
So what's new on the Dell XPS 13 9300?
The 16:10 display options and the updated IceLake hardware are the immediately noticeable changes, but aspects as the new keyboard with shorter key travel, the more powerful speakers and the overall redesign will have a major impact on this laptop's potential success as well.
Bigger 16:10 screens
The clamshell XPS 13 9300 lineup gets the same 13.4-inch 16:10 displays previously only offered by the XPS 13 7390 2-in-1 convertibles. In comparison, past traditional XPS 13 models have been available with the more standard 16:9 screens.
That's great news all around, as the new XPS offers an increased work-space and more screen, without affecting the overall size and weight. In fact, the 2020 model is slightly smaller and lighter than the 2019 variant.
The 16:10 screen leads to a much smaller chin beneath the screen, while keeping the other bezels about the same and still allowing room for the webcam at the top. It's the same 720p camera from last year's XPS 13, so nothing to brag about, but this year Dell added back the IR functionality for Windows Hello, that was cut out last year. As a side effect, the Dell branding previously found underneath the screen has been removed, leading to one of the cleanest looking devices in its class.

As for the actual panel choices, Dell offers the 2020 XPS 13 9300 in three variants: two FHD 500-nits panels, with a choice of non-glare/non-touch or glossy/touch finishing, as well as an UHD 500-nits touch panel with increased color coverage and HDR 400 support. It's sure nice to see both a matte and a touch FHD variant, something the previous XPS 13 7390 lacked.
Based on the specs, Dell will most likely implement the same panels they currently offer on the XPS 13 2-in-1. That means the Sharp LQ134N1 panel for the FHD options, which offers measured peak brightness above 500 nits, contrast of around 1500:1 and 65% coverage of the AdobeRGB color gamut, according to the existing reviews. However, I can't find a reliable review for the UHD+ version, so we'll update on that once we do.
For what is worth, I've seen bleeding and flickering issues reported for the XPS 13 7390 2-in-1, something to keep in mind and test for on your laptop. The FHD screens also use PWM for brightness adjustment, at a frequency of 2.5 KHz, but only for brightness levels lower than 25%. That means flickering could be an issue for the more sensitive among you when using the laptop at night, in dim environments that would force you to dim the brightness past 25%.
Finally, I'll add that the touch versions of the XPS 13 9300 get a layer of protective Gorilla Glass 6 on top of the panel, with an anti-glare coating rated at .65 reflectivity. That means you'll still get a fair amount of glare and reflexions in bright rooms, but not as much as with other notebooks. The glass adds to the laptop's overall weight, but also protects and reinforces the screen.
Intel IceLake hardware
Dell offers the XPS 13 9300 with a choice of three Intel Ice Lake processors:
Core i3-1005G1 – dual-core, four threads, Intel UHD G1 graphics with 32 EUs;
Core i5-1035G1 – quad-core, eight threads, Intel UHD G1 graphics with 32 EUs;
Core i7-1065G7 – quad-core, eight threads, higher clocks and cache than the i5, Intel UHD G7 graphics with 64 EUs.
That aside, with the update to Ice Lake, the XPS 13 gets support for faster and more efficient LPDDR4X-3733 memory, as well as an option for 32 GB of RAM on the top-tier configuration. As for the storage, the specs mention PCIe x4 drives ranging between 256 GB to 2 TB, and dell confirmed they're using an M.2 slot for storage, so the SSD is not soldered as on the XPS 13 7390 2-in-1.
Back to the CPUs, the i5 will do fine for casual use, and this article will tell you more about its performance and overall worth. The i7 is still a quad-core processor with only slightly higher clocks, but much more capable Intel UHD G7 graphics that will show their strength in GPU loads like encoding/decoding video and games.
Dell will surely implement the 25W variation of the i7-1065G7 on the XPS 13 9300, just as they do on the 2-in-1 version. That means you can look for reviews of the XPS 13 7290 2-in-1 if you're interested in details on its performance, before the actual reviews of the 2020  clamshell variant come out. I can't confirm for sure the two will run identically, but I'm inclined to say they would, as they likely share the same internal design and thermal module. That would be good news, as it would mean that the XPS 13 9300 would run a little quieter than its predecessor at high load, while reaching external temperatures in the mid to high 40s in its hottest points.
Update: Here's a pic of the internal design, via Notebookcheck. It shows the thermal module, upgradeable SSD, 52Wh and new speakers.
The thermal module is a complete redesign from the previous clamshell XPS 13 7390, with a single heatpipe and two fans flanking the CPU on both sides.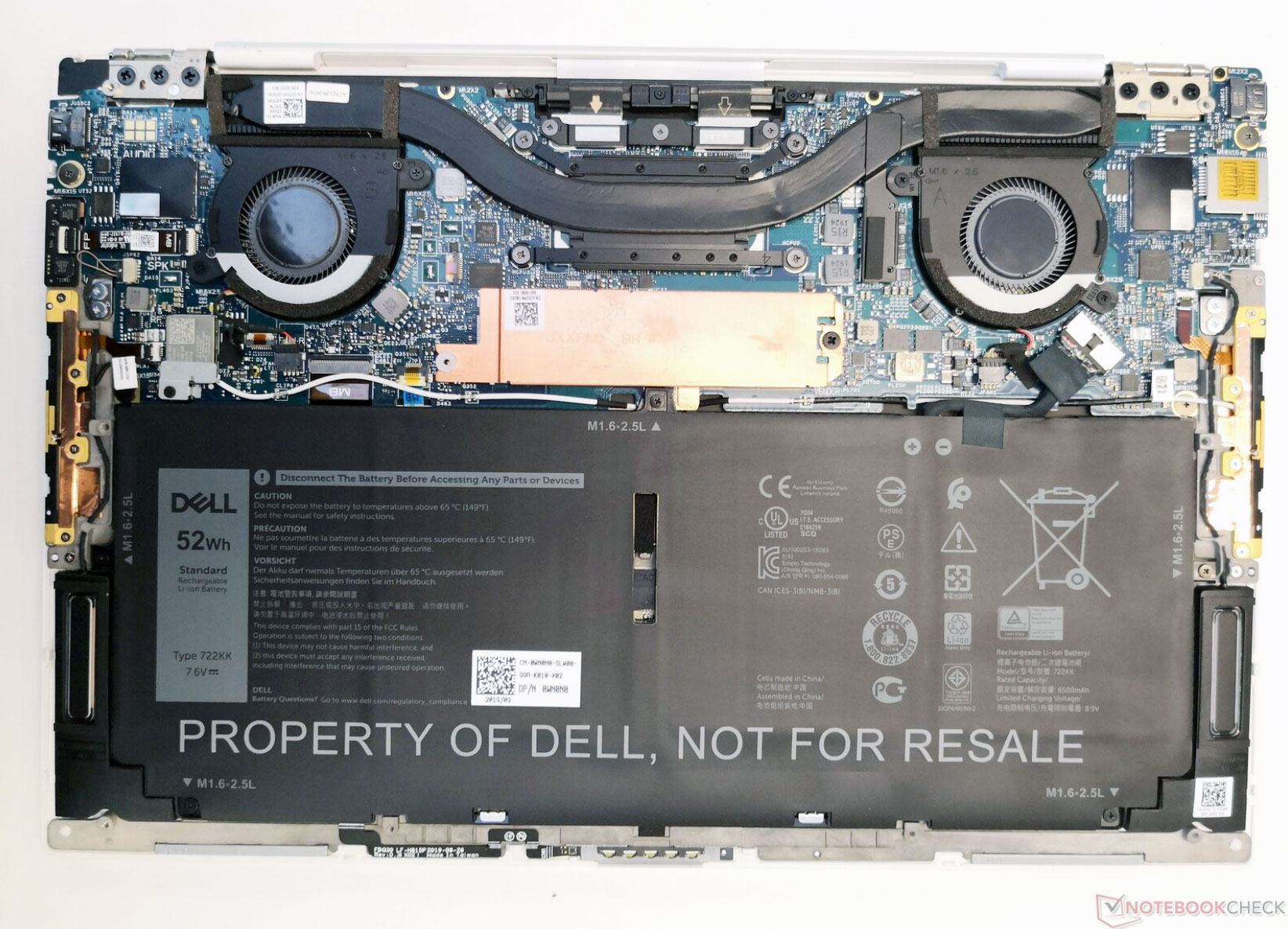 It's also important to note that with the new generation, you'll no longer get the six-core Intel i7-10710U processor available on the 2019 XPS 13 7390. The Ice Lake i7 is a better-balanced product, with support for faster RAM and significantly beefier graphics, but slower in CPU-heavy loads than the six-core Comet Lake i7. I've added some benchmarks results below that will help you understand the differences:
| | | | |
| --- | --- | --- | --- |
| Benchmarks | i7-8565U (XPS 9380) | i7-10710U (XPS 7390) | i7-1065G7 (XPS 9300) |
| Specs | 4C/8T, UHD Gen9 with 24 EUs | 6C/12T, UHD Gen9 with 24 EUs | 4C/8T, UHD Gen11 with 64 EUs |
| Cinebench R15 CPU | 720 cb | 1050 cb | 830 cb |
| Cinebench R15 CPU – Single Core | 185 cb | 180 cb | 174 cb |
| Cinebench R20 CPU | – | 2400 cb | 2020 cb |
| 3DMark – FireStrike Physics- | | – | 12000 |
| 3DMark 11 – Physics | 8700 | 10700 | 10500 |
| 3DMark – FireStrike Graphics- | | 1340 | 3140 |
| 3DMark 11 – Graphics | 1850 | 1950 | 4600 |
| Bioshock Infinite – HD Lowest preset | 82 fps | 85 fps | 112 fps |
| Witcher 3 – HD Lowest preset | – | 20 fps | 55 fps |
The results above are based on XPS 13 reviews from Notebookcheck.net, in order to keep them consistent between units. The i7-1065G7 results are based on the XPS 13 7390 2-in-1 review, with whom we expect the 2020 XPS 13 9300 to share most design traits and particularities.
Updated Keyboard and ClickPad
I can't yet comment on the new keyboard without using it for a while, but I am rather concerned.
Previous XPS 13 keyboards have been on the shallower side, but at least got a 1.3 mm stroke. With the 2020 update, Dell switched to an implementation with just 1 mm of travel and I'm curious about how it will affect the overall typing experience. Hopefully, the loss in travel is balanced by an increase in stroke-resistance, but we'll see.
For what is worth, Dell implemented an even thinner Maglev keyboard on the XPS 13 2-in-1, with just .7 mm of travel, and it was received well by most reviewers and buyers. The XPS 13 9300 doesn't use the same Maglev mechanism, but a more traditional approach with rubber domes, so hopefully these will further improve the typing experience.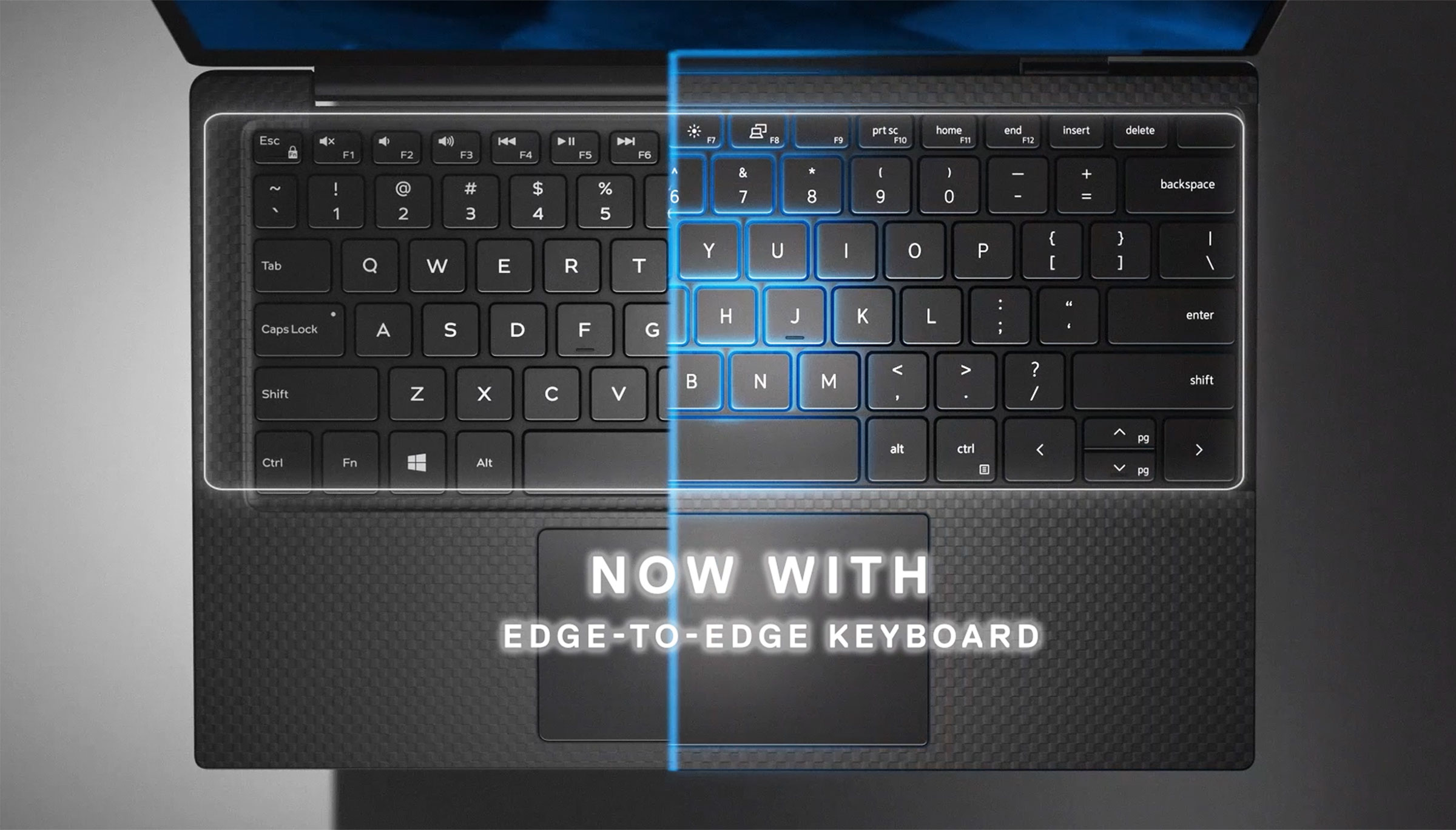 It's also important to mention the slight layout redesign. On a positive side, looks like the keyboard is wider than on the 2019 variants, which mostly translates in larger Function keys. On the other hand, the dedicated PgUp and PgDn keys have been replaced with larger UP/DOWN arrow keys, and the Power Button has been integrated as the top-tight key, pushing the Delete key to the left.
I don't like these two changes, I feel they would negatively affect my everyday experience with the laptop and will probably bother power users as well. At the same time, though, most regular users won't really mind the changes and will get used to them quickly; after all, many other ultrabooks use the same approach, including Dell's own XPS 13 2-in-1.

The clickpad has also been revamped on the 2020 XPS 13; it's still a glass surface with precision drivers, but this time 17% larger, so more comfortable with daily use and gestures. Previous XPS 13s have also struggled with drivers' issues over the years, and hopefully, these will no longer plague the new model.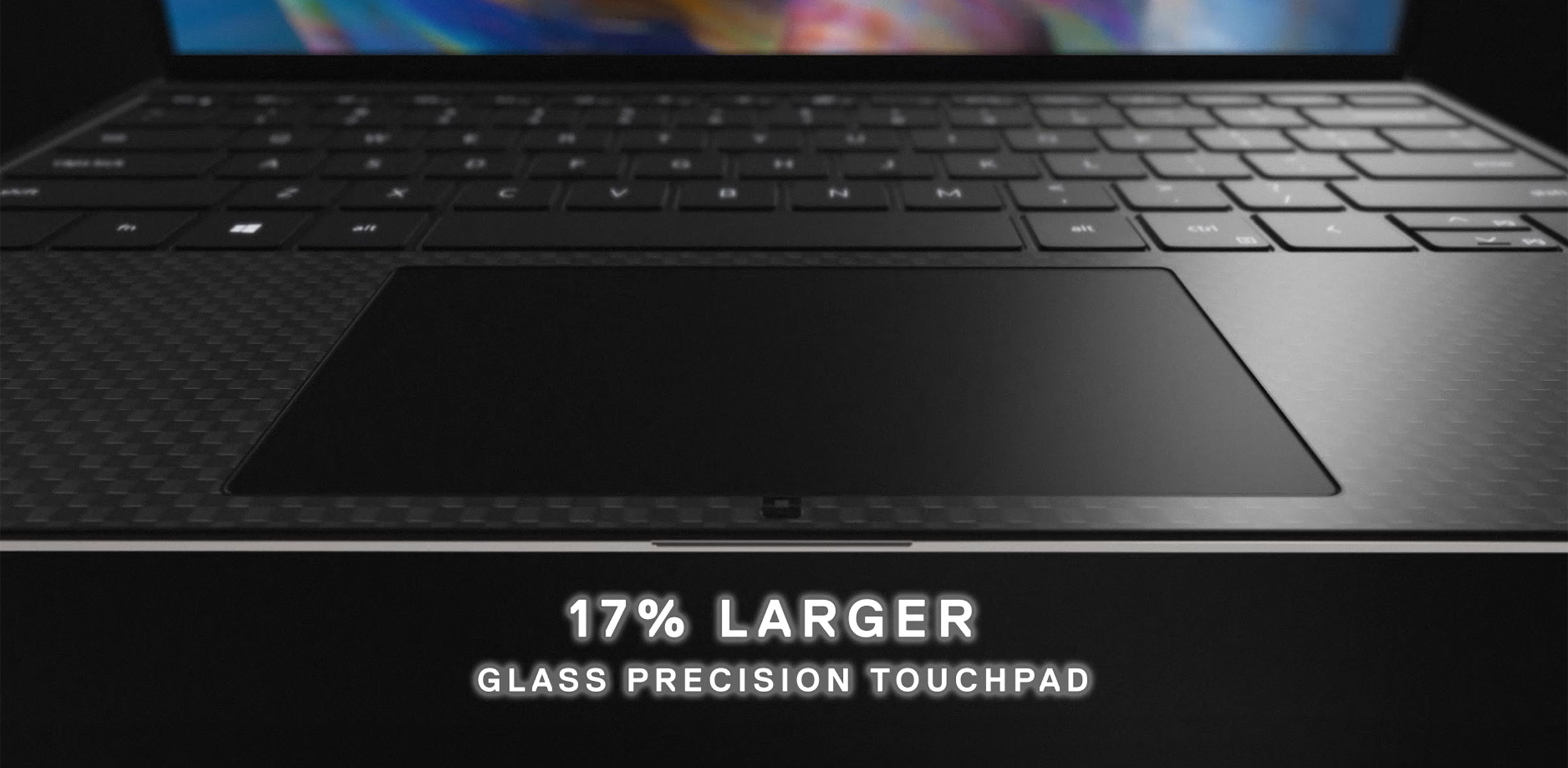 Design overhaul, IO changes and new speakers
The 2020 XPS 13 has been slightly redesigned. The changes are small and subtle and translate is a marginally smaller form-factor, marginally reduced weight, a slightly thicker profile and machined cut aluminum edges.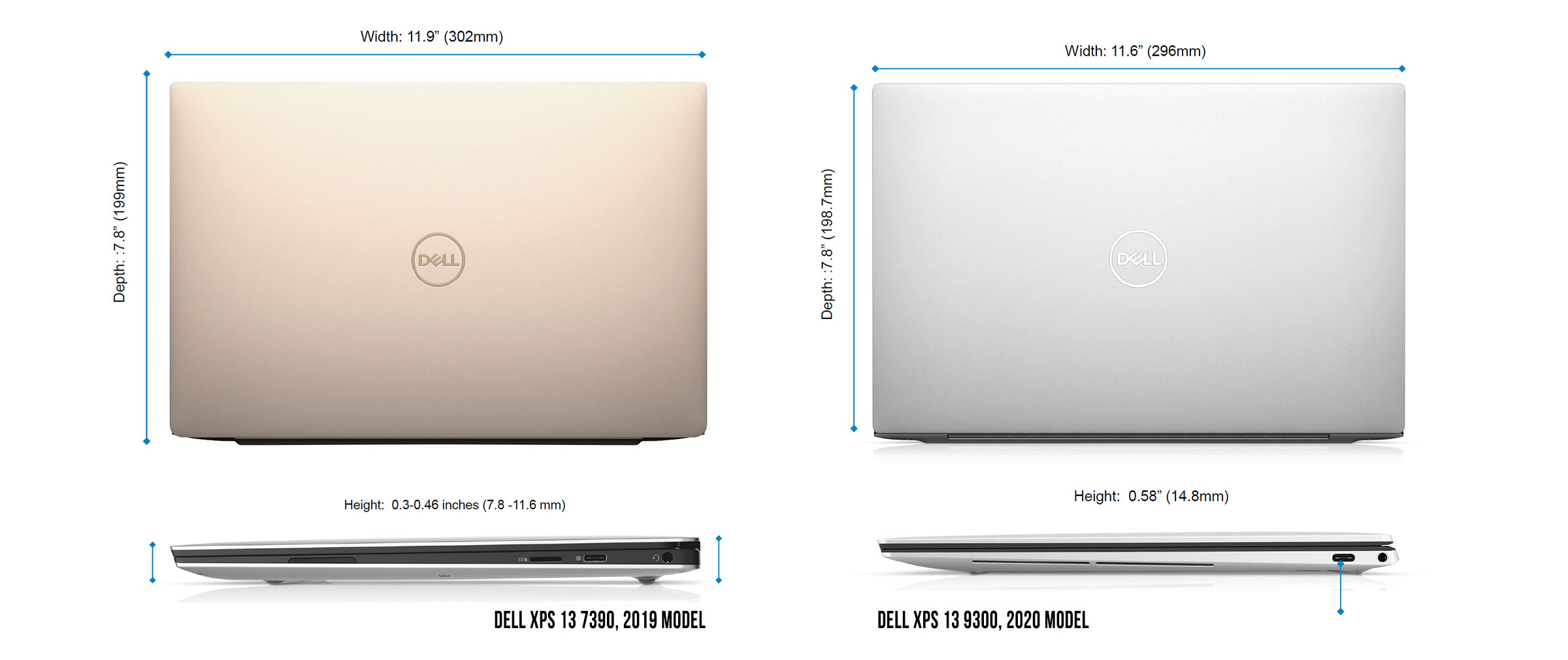 Aluminum is still used for the chassis and lid-cover, while the interior is a choice of carbon or glass fibers. In fact, the XPS 13 9300 is only available in two options this time around: the classic black fiber-carbon interior with a silver crude-metal exterior, and the white glass-woven interior with a slightly lighter silver exterior (called Frost).
Moving onto the details, the new XPS 13 also gets a redesigned hinge mechanism, with the hinge now being hidden behind the main-deck and still allowing easy one-handed operation. No word on the maximum screen-angle, but it most likely still can't go flat to 180 degrees.
That aside, you probably already noticed the redesigned IO. The 2020 XPS 13 only gets two USB-C ports with Thunderbolt 3 support, video and power delivery, as well as a headphone jack and a microSD card reader. The extra USB-C port and the Noble Lock available on the XPS 13 7390 are gone.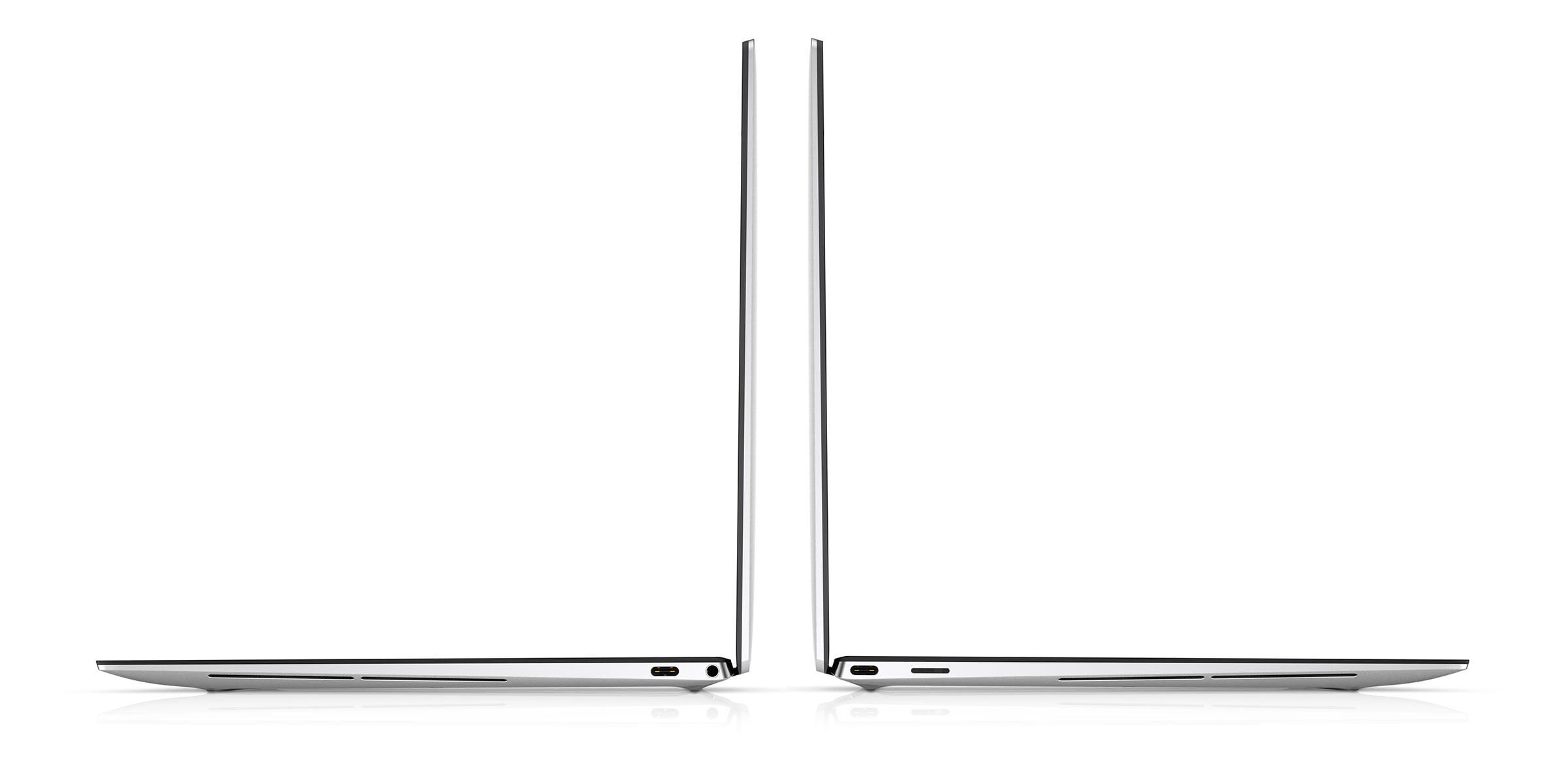 Finally, Dell updated the speakers. Previous XPS 13 got a pair of 1W speakers, while this one gets more powerful 2W speakers. They're still bottom-firing, but the audio comes out through larger cuts, much like on the XPS 13 2-in-1. In fact, I expect the audio quality to be quite similar between the two, which should translate in volumes of up to 80 dB and pretty good quality for this class, even at the lower end where the previous XPS 13s struggled.
Availability of the XPS 13 9300 and buying advice
The XPS 13 9300 will be available in stores from January 7th, 2020, in select countries: US, UK, Fr, De and Sw. Other regions, including EMEA countries, will get it later, from February 2020.
The starting price is set at $999 MSRP in the US, most likely for the Core i5-1005G1 configuration with 4 GB of RAM and 256 GB of storage, which is about on par with the current XPS 13 7390 lineup. Still, I would definitely advise getting a computer with at least 8 GB of RAM in this day and age, 4 GB is not even enough for basic use. In fact, I wish Dell would just move to 8 GB by default on the base configuration, right now the entry-price of $999 is misleading, as no one in their right mind should get that variant.
We'll update this section once the laptop goes live on Dell's website.
Potential issues to keep an eye on
The XPS 13s have been plagued by various quirks and issues over time and that's why if you'll go to Reddit, Youtube or the various forums you'll see quite a few people complaining about their notebooks. It is, however, important to understand that the XPS 13 sells in greater numbers than most other thin-and-lights, that's why its issues are more visible.
At the same time, these potential issues are random and don't affect all XPS 13 models, so there's a good chance you won't run into any of them. However, as frustrating as it is, buying a laptop is a lottery these days, so at least make sure to get it from stores that allow easy returns, in case you draw a short stick.
Nonetheless, it's best to know what to expect:
noisy fans and sluggish performance – that tends to happen out of the box, when the laptop performs all its updates; the performance gets smoother once those are done and the fans should keep quiet with daily use;
noisy fans with demanding loads – yes, they do get fairly noisy at up to 44 dB, but there's no way around it in such a small chassis;
coil whine, crackling, static buzzing – no way around it, most modern laptops get various degrees of electronic noises; return the laptop if they're too much for your liking;
sleep issues – battery drain during sleep, the laptop turns on while set to sleep, the laptop freezes when resuming from sleep – no real solutions, as far as I know, although you'll find various suggestions of Reddit;
the bottom gets hot with daily use – now way around it, it's a small laptop with beefy specs; undervolting helps to some extent;
high DPC latency – also a known issue of the XPS lineup, no solution;
the fingerprint scanner is hit and miss, sometimes doesn't register properly – no clear fix, but recent BIOS versions address it to some point;
short battery life with the UHD models – no surprise, the high-resolution panel takes its toll and the battery is fairly small to begin with.
This wraps up our previews of the 2020 Dell XPS 13 9300. The comments section below is open for your feedback and questions, and stay tuned for a proper review in the weeks to come.
Disclaimer:
Our content is reader-supported. If you buy through some of the links on our site, we may earn a commission.
Terms
.