Asus makes some of the most popular gaming laptops out there, as part of their ROG (Republic of Gamers) series, and they've recently updated the entire lineups for the reminding of 2019.
We've covered a few of these products in previous articles and we'll also cover them in in-depth reviews in the near future.
However, at the recent launch event I've got to talk to some of the people who make these devices happen: Sascha Krohn (Senior Global Technical Marketing Manager) and the Asus Product Manager in charge of the Zephyrus updates, and they shed some extra light on these new models, as well as hint on some of their particularities and aspects that they're looking to further improve. Since UBR is focused on mobile technology, we mostly touched on the ROG Zephyrus models, and you'll find some interesting insights in the rows down below.
First of all, though, I think it's important for consumers to understand the main differences between the 2019 ROG Zephyrus variants, as there are no less than five different models, each available in multiple configurations. So let's quickly go over their particularities first.
ROG Zephyrus S GX531 – reviewed here
reversed designed, keyboard shifted to the bottom with the clickpad on the right, leaving the top for the thermal implementation;
aluminum construction, very thin profile, AAS cooling system underneath;
15-inch screen with 144 Hz IPS matte panel, with a webcam at the top;
up to Core i7 9th gen processors, 24 GB of RAM and RTX 2080 90W GPU, single M.2 storage, 60 Wh battery;
the design favors performance and thermals, is ergonomic on a desk, but impractical on the lap.
ROG Zephyrus S GX701 – reviewed here
17-inch version of the GX531, with a similarly reversed designed, but a few improvements: front-facing speakers, per-key RGB keyboard, smaller bezels, dual Optimus/GSync mode;
up to Core i7 9th gen processors, 24 GB of RAM and RTX 2080 100W GPU, dual M.2 storage, 76 Wh battery;
These two models were initially launched at the beginning of 2019, but have received a hardware update to the Intel 9th gen platform as of May 2019.
ROG Zephyrus S GX502 – reviewed here – more details here
standard clamshell design, compact and lightweight (2 kg);
magnesium alloy main-deck, aluminum exterior, AAS cooling system underneath;
15-inch screen with 240 Hz IPS matte panel and small bezels, without an integrated webcam;
dual Optimus/GSync mode;
per-key RGB keyboard with extra function/multimedia keys;
up to Core i7 9th gen processors, 32 GB of RAM and RTX 2070 115W GPU, dual M.2 storage, 76 Wh battery.
ROG Zephyrus M GU502 – reviewed here –  more details
similar design and materials, but without the AAS system and a plastic underbelly – allows it to get lighter, at 1.9 kg;
similar keyboard and screen, but without GSync, just with Optimus;
up to Core i7 9th gen processors, 32 GB of RAM and RTX 2060 GPU, dual M.2 storage, 76 Wh battery.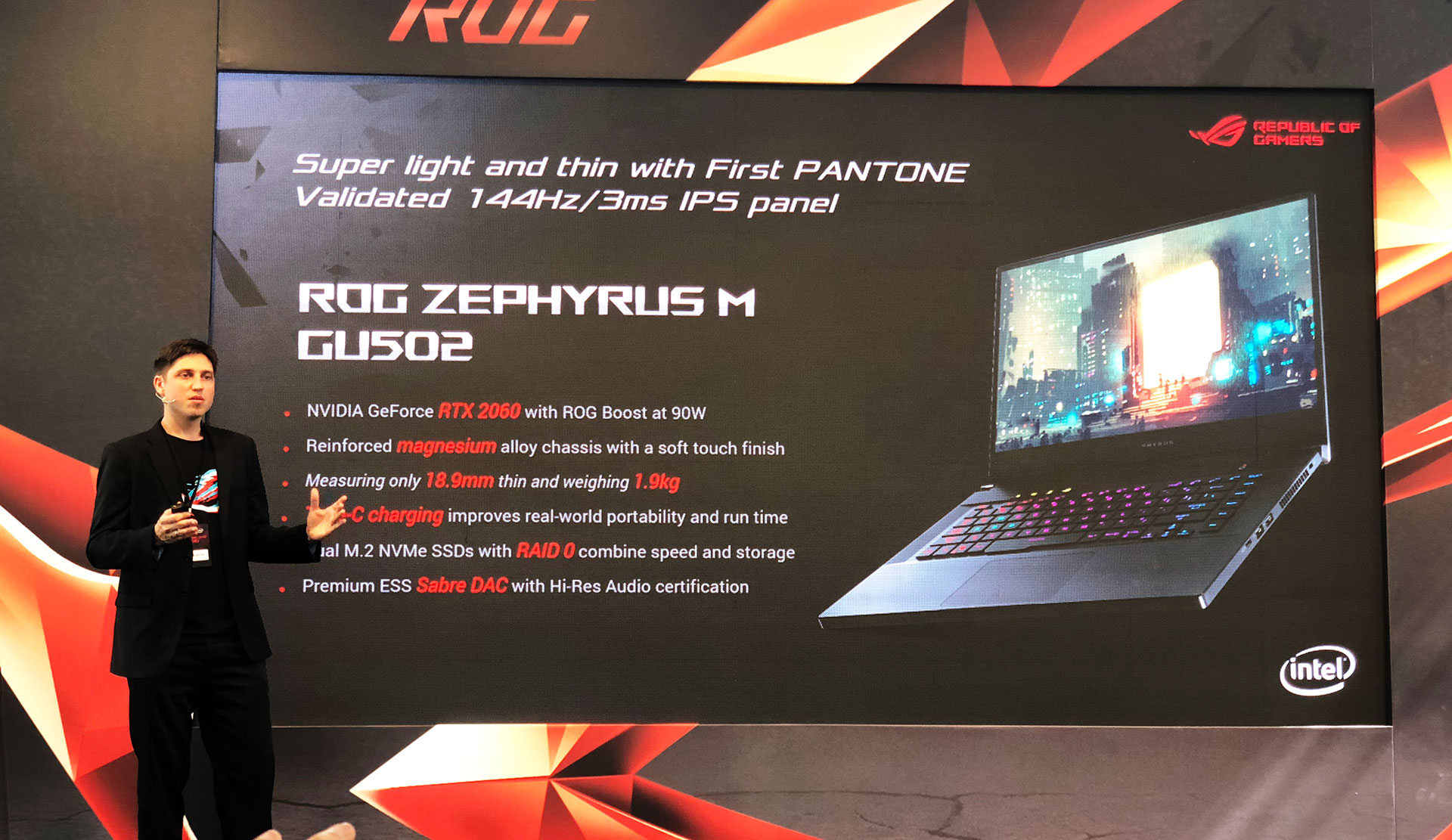 ROG Zephyrus G GA502 – reviewed here – more details
similar design lines, but plastic is used for most of the construction – slightly thicker and heavier (2.1+ kg);
15-inch screen with 120 Hz IPS panel, slightly lower quality (response time, colors, contrast);
white-backlit keyboard;
AMD Ryzen 7 APU, 32 GB of RAM and GTX 1660 TI GPU, dual M.2 storage, 76 Wh battery;
competitively priced.
There's not much to discuss about the Zephyrus S GX531 and GX701 lines, we already covered them in detailed reviews. It is, however, worth mentioning that the GX701 is the only laptop currently on the market bundled with a 100W variant of the RTX 2080 (Max-Q) GPU, while most other thin-and-lights include 80 or 90 W implementations. That allows it to be the fastest model in its niche, outmatching the MSI GS75, Razer Blade Pro or Alienware m17, but the gains are small and imo, not necessarily decisive in the buying process. The GX701 is nonetheless a solid notebook, but even if it's a 17-incher and will mostly spend its time on a desk, its downshifted design might still not appeal to a fair amount of potential buyers, especially now when a new 17-inch Razer Blade Pro is also an option in the ultraportable niche.
The updated models, on the other hand, I expect them to be very competitive in the second part of the year.
Asus addressed some of the complaints regarding the hardware specs and the keyboard, and the magnesium interior is a nice extra touch, as it's firm, light and does an excellent job at repelling smudges, unlike the fingerprint-prone aluminum used of the GX531 and previous Zephyrus lineups.
The updated Zephyrus S GX502 can only be specced up to an RTX 2070 GPU, though, and that might raise some eyebrows. On a first look it might seem that you'll be settling for a lower tier GPU than with the RTX 2080 models out there, but in reality, you might not. While that's something to be further tested in the review, the 115W RTX 2070 implementation inside this laptop is much like the one inside the ROG GL504GS, which in our tests performed similarly to the RTX 2080 80W you'll find in other thin and lights. It ran hot, though, and we'll have to see how well Asus manages to cool it in this smaller chassis. I was told an improved thermal module made its way inside these new Zephyrus lineups, and it can cope with the extra heat of the RTX 2070 115W.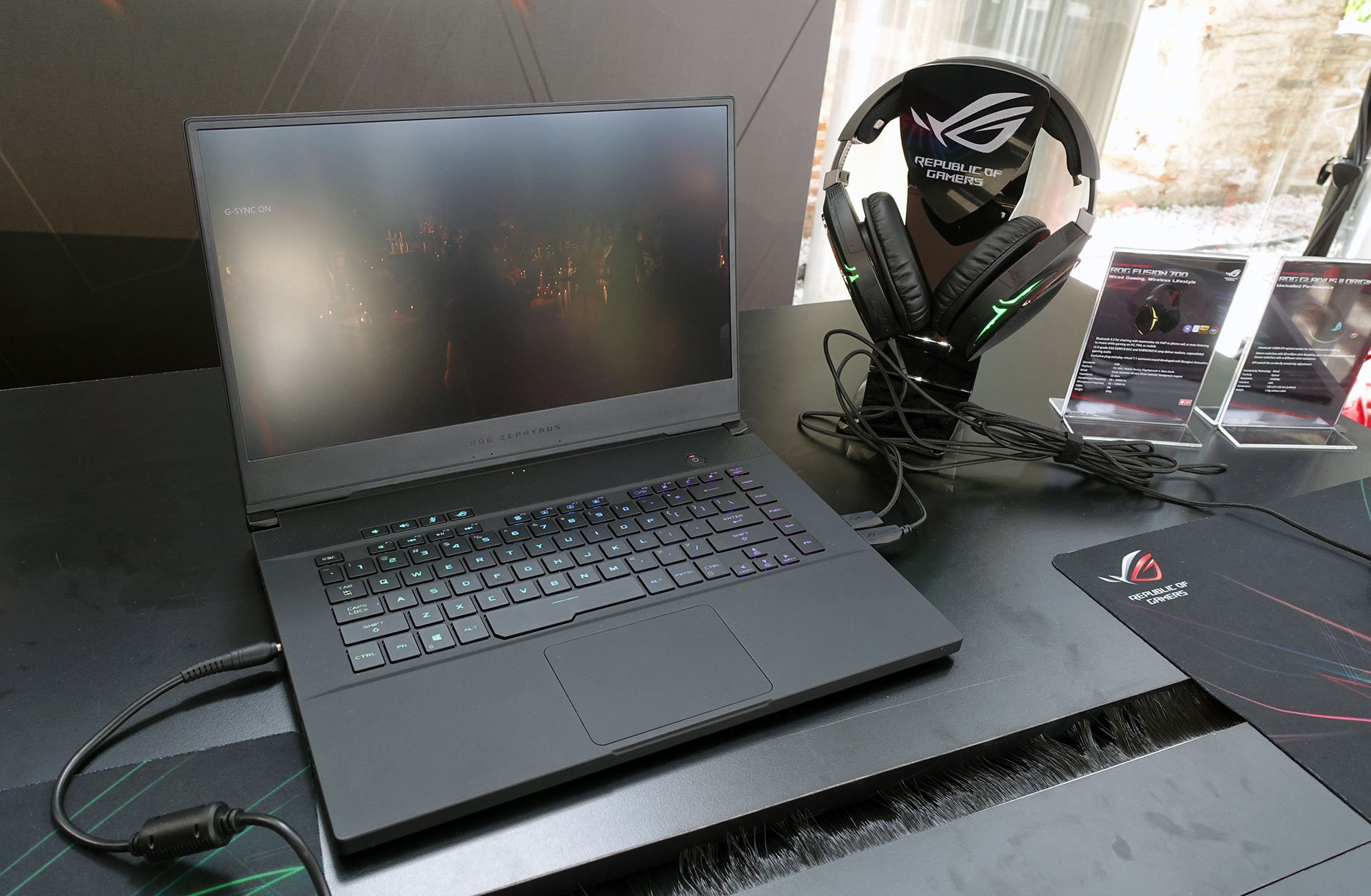 But why did Asus go through the trouble of going with a higher TDP RTX 2070 instead of a 2080 90 W, like on the GX531? I'd reckon it's in order to make a more competitively priced final product, with nearly the same performance as other RTX 2080 Max-Q implementations, but a few hundreds of dollars cheaper. That's just my logical assumption, though, and we'll have to wait for the GX502s to become available in stores for confirmation.
Speaking of thermals, I noticed that there are no longer air-vents at the top of the keyboard with this redesigned chassis. I was told those were not needed, as the redesigned thermal module uses fans placed lower onto the chassis, in order to draw more air from the keyboard and keep the most-used keys at lower temperatures.
If high-temperatures are a concern and you're looking for an even better value product, the RTX 2060 variants of the Zephyrus S and Zephyrus M might be the ones for you. I was told both models integrate the same GPU and should offer similar performance, but with somewhat better thermals for the Zephyrus S model, due to its AAS air intake implementation. The simpler and cleaner design of the Zephyrus M might be enough to steer you towards it, especially if you can live without GSync, which is perhaps the decisive buying factor of the S models.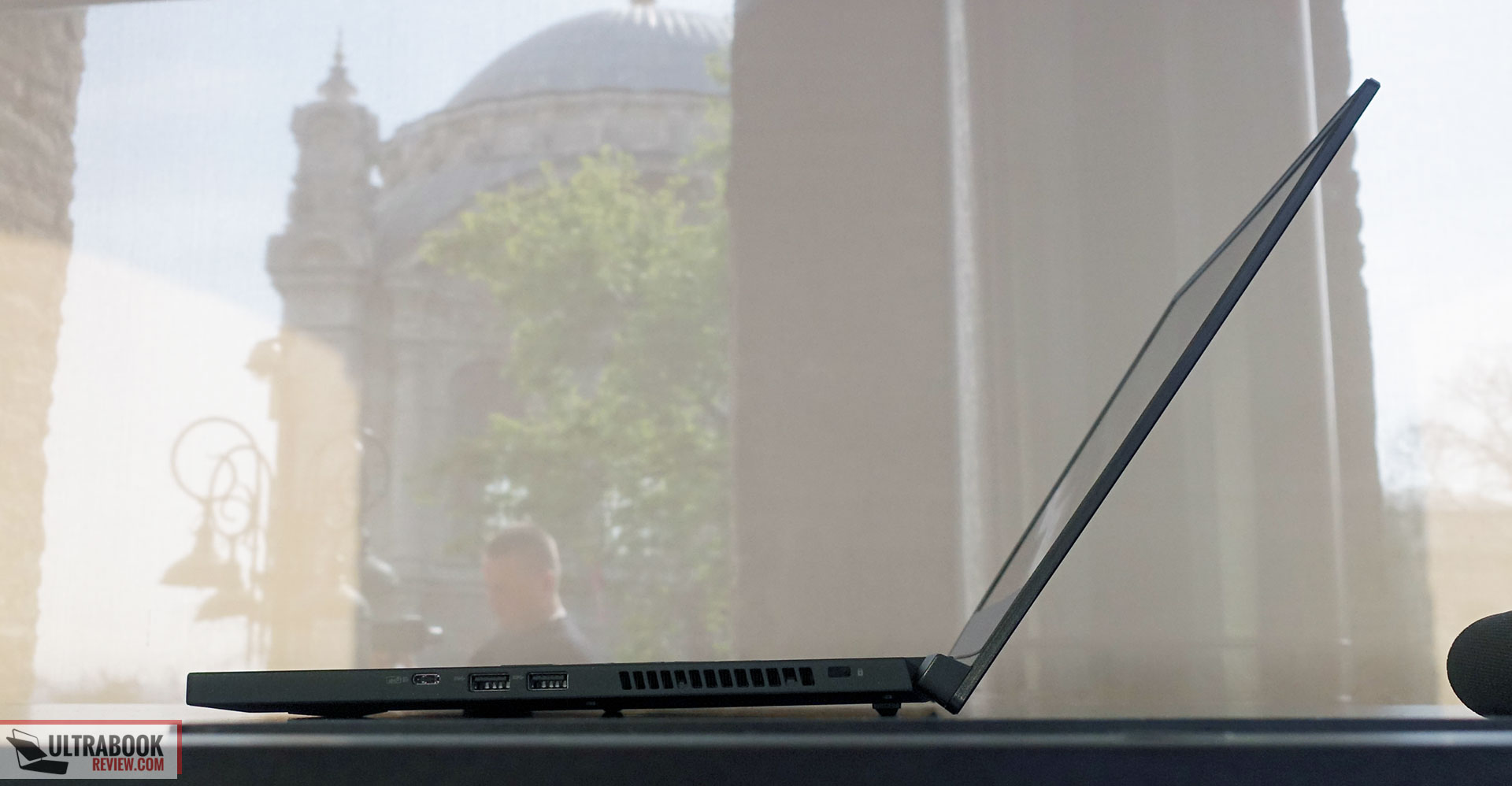 The system's noise was addressed extensively in the keynote. The Armory Crate control app that allows tweaking settings on ROG laptops will now show a dB rating, something Asus measured in their labs in order to make it easier for people to tell how noisy their device is, and how a certain noise level feels like. Another new feature of the Armory Crate app is the ability to dynamically switch between power modes based on the app that you're using. Asus laptops come with a few different power profiles: Silent, Balanced and Turbo; in the past, you had to manually opt for the one that offered what you wanted, and now you can assign each app to a certain profile, and the system will automatically switch between modes when needed.
I also asked about more manual control over the fans' behavior, and I was told that's not available now, but it's in the works. I wasn't given any timeframe, but hopefully, it will be available soon, as it's something the competition offers with their products and buyers have been asking for quite some time now.
Speaking of Armory Crate, I asked for more control over the RGB lighting on the Zephyrus laptops, and I was told that's in the works as well, and perhaps we might even have an option to turn off the LED light inside the power button. Lenovo and Razer offer excellent RGB control, and Asus should look into at least matching that, in order to make their products better suited for stricter school/work environments where flashy RGB lights are not accepted.
That aside, I next touched on battery life. These updated 15-inch Zephyrus lines finally get a larger battery, although at 76 Wh it's still one of the smallest in the niche, with most competitors offering an 80+ Wh one. Battery life is high on the priorities-list for most users, and Asus says the new ROGs are competitive, as they emphasized on software optimizations meant to reduce power drain. Among them, there's the fact that the 240 Hz screen automatically switches to 60 Hz and disables Overdrive when the laptop is unplugged, in order to run more efficiently. I argued users should perhaps be given the option to go back to a higher refresh rate if they want to, even on battery, as the browsing and daily-use experience might feel a little jittery for someone used to a high-refresh screen all the time.
Speaking of battery life, the entire Zephyrus lineup supports USB-C charging and Asus will include a 65 W USB-C power brick with most configurations, alongside the main barrel-plug charger. The availability might vary from region to region, though, but this way you'll end up with an included travel charger, smaller and much easier to carry around in your backpack. Of course, you're not going to get the same performance while plugged in via USB-C, but that's not the point.
I also asked about other features some of you have been vocal about in our previous reviews: front-facing speakers, biometrics and Thunderbolt 3. Let's take them one at a time.
I was told that up-facing speakers have been considered for ROG laptops in the past and were implemented when possible (like on the GX701), but that was not currently possible with the compact design of these updated models. Instead, they did their best to maximize the quality of the rear-placed speakers, and also focused on the headphone output by including a dedicated Sabre DAC, as that feature was higher on gamers' list of preferences.
Biometrics are not yet available on these models, but they're considering adding a fingerprint sensor on future lineups. I asked about IR cameras as well, and was told that's not mainstream adopted or something most potential buyers care about on a gaming laptop (or any laptop, for that matter). Instead, buyers care about small bezels, and that's in fact why there's no longer an integrated camera on these new Zephyrus models, but instead, an USB external cam included in the pack.
As for Thunderbolt 3, I was told that's once more not high on user's priorities lists. Yes, it's something tech-reviewers are vocal about, but in reality, people use USB-C to mostly output video and charge their laptops, and both these features are supported through the USB-C gen2 implementation. As a result, due to the limited space and the limitations of the existing Thunderbolt 3 technology (reduced bandwidth in certain cases due to PCIe bottleneck), they opted not to pursue Thunderbolt 3 on the Zephyrus lineups, and keep it as a feature for full-size ROG products (G, Mothership) and other lineups targeted at creatives and content creators (like perhaps the previously announced StudioBook S – reviewed over here). I was not given any answers on whether Thunderbolt 3 support will be added to future Zephyrus models, but I was hinted that improved functionality should be available once USB 4 becomes a reality in the near future.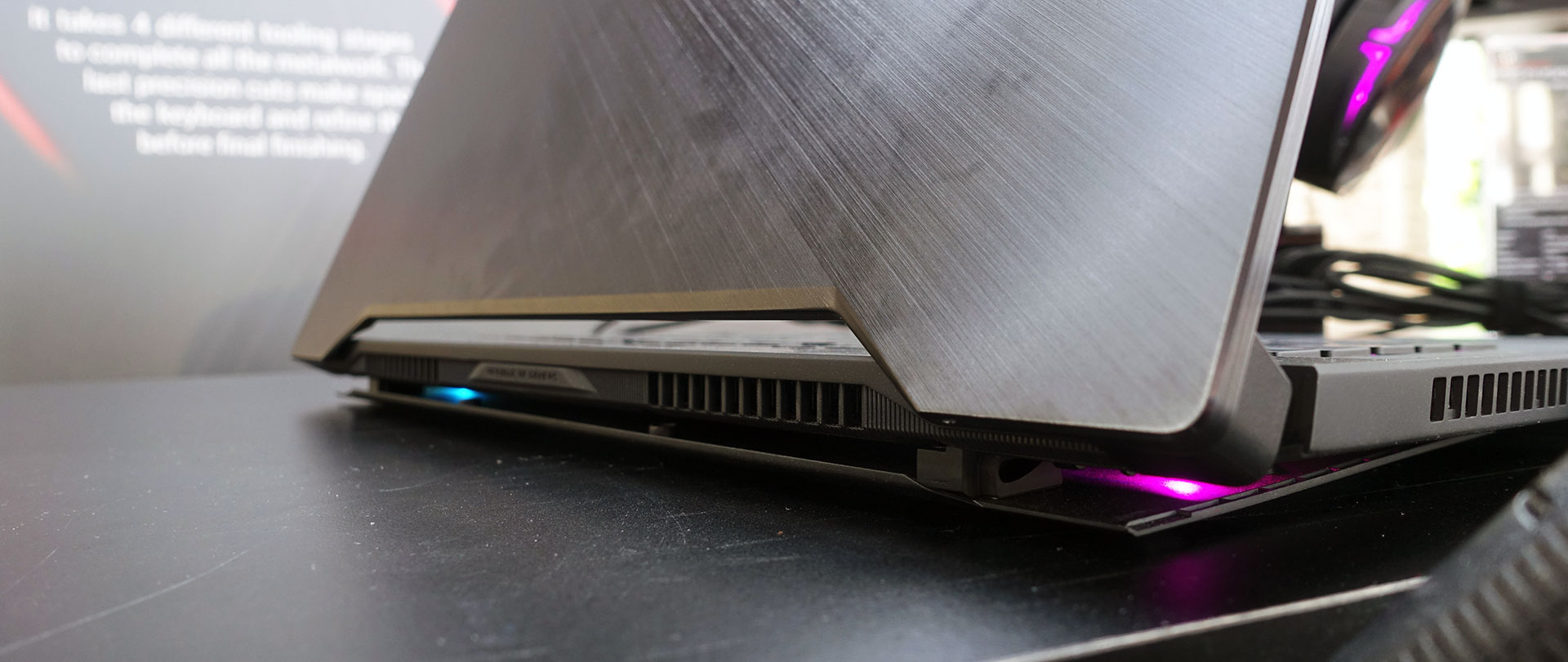 One other aspect I asked about was the overall quality of the included 240 Hz screens, and I was told they should offer a little better colors and contrast than the 144 Hz variants on the existing models, as well as a similar max brightness at around 300-nits.  That might be enough for most buyers, but options for higher-end 4K screens will also be available with some configurations, for those into content creation.
There are of course other aspects we've talked about, like the particularities of the affordable Zephyrus G GA502 lineup, with AMD hardware and some snipped features that are only reserved for the higher-end models, but a highly competitive starting price of only $1100 in the US, as well as how the Zephyrus M GU502 series might be one of the most balanced products on the market and an excellent allrounder. But we'll further talk about those once we get to review them and draw final conclusions on their worth and competitiveness.
I should also add that I was left with a very positive impression after talking to these guys. They didn't beat around the bush, had straight answers for most of my questions and didn't mind admitting where there was room for improvement. They were also open to suggestions and keep an open ear to both our complaints, and yours, as final users, so if you have any feedback on the Zephyrus lineups, or other ROG laptops in general, don't hesitate to drop your thoughts in the comments section below, your feedback might help develop a better ROG gaming laptop in the years to come.
Disclaimer:
Our content is reader-supported. If you buy through some of the links on our site, we may earn a commission.
Terms
.