Powerful hardware, a compact build and a 17-inch screen with a 16:10 aspect ratio are some of the important traits of the new Asus StudioBook S W700 series or workstation laptops.
On paper, this is one of the most impressive launches of recent months and a unique product that could cater to a wide range of professionals.
Beefy specs and a thin chassis don't easily play well together though, and there's, of course, more about a compelling work computer than a list of enticing features, but hopefully, Asus will be able to deliver on what looks like a potentially excellent product, from what we know so far.
We'll take you through the specs-sheet down below, the strong points and the potential quirks of the Asus StudioBook S W700 series, with further details in our future review, once we get our hands on a review unit.
Update: Our detailed review of the StudioBook Pro W700 is available over here, while out entire coverage of the ProArt StudioBook lineup is available over here.
| | |
| --- | --- |
| | Asus StudioBook S W700 |
| Screen | 17.3 inch, 1920 x 1200 px, IPS, anti-glare, 97% DCI-P3 color gamut, Pantone validated |
| Processor | up to Xeon E-2176M |
| Video | Nvidia Quadro P3200 |
| Memory | up to 64 GB DDR4 (2x DIMMs, ECC support) |
| Storage | 2x M.2 PCIe x4 slots, RAID 0/1 support |
| Connectivity | Wireless AC 802.11ax, Bluetooth 5.0, LAN (via USB adatper) |
| Ports | 3x USB-A 3.1 gen 2, 1x USB-C with Thunderbolt 3, HDMI 2.0, SD 4.0/UHS-II SD card-reader, mic/headphone |
| Battery | 57 Wh, 180W charger |
| Size | 382 mm or 15.03" (w) x 286 mm or 11.25" (d) x 18.4 mm or 0.72" (h) |
| Weight | 5.3 lbs (2.4 kg) |
| Extras | backlit keyboard, HD webcam, USB to LAN dongle, fingerprint-sensor |
The internal specs are standard for a modern performance laptop, with six-core i7 or Xeon Processors, up to 64 GB of DDR4 RAM with ECC support, dual-storage and Nvidia Quadro graphics.
The existing documentation only mentions a Quadro P3200 GPU option with no other details, like whether it's a Max-Q variant or not, or if the Intel HD eGPU within the CPUs is also active to help with increased runtimes with basic chores. Nonetheless, don't expect much in terms of battery life from this one, there's just a 57 Wh battery inside, which means that the battery was sacrificed in order to squeeze all the other components inside the compact shell.
And there's no argue that this is a thin and light laptop in its class. It's about the same footprint of a standard 15-inch notebook from a year or two ago, but gets a 17-inch screen and is only 18.5 mm thick.
Hopefully Asus did some great work with the cooling in order to keep that kind of hardware at bay. The implemented solution seems complex, and the existing images suggest ample intake grills on the sides and at the top of the keyboard, with the exhausts on the back edge. This is not however an impossible task by any means, given how other manufacturers are able to put comparable (almost) hardware in smaller 15-inch bodies, but that Quadro P3200 is nonetheless hard to tackle.

As for the build and aesthetics, machined aluminum is used for the outer shell, so I expect this to be fairy sturdy, while the images below can speak for themselves when it comes to the looks. Personally, I'm not sold on that textured finishing on the lid and palm-rest, but I have nothing else to complain about. I will also add that the construction is MIL-STD-810G tested, so should, at least in theory, handle itself well in front of the daily abuse of professional environments.
The IO is lined on the edges, and Asus didn't cut corners here. A Thunderbolt 3 port (hopefully PCIe x4), HDMI 2.0, many full-size USB-A ports and a fast SD card-reader are included, so the only thing you might potentially miss is a wired Internet connection, which is only possible with an USB-to-LAN adapter (included), but the fast Wireless 802.11ax, if properly implemented and paired with a fast router, should be able to replace it just fine for most users.
The keyboard could be an antagonizing aspect though, as it lacks a NumPad that some professionals might want, but includes some dedicated function keys as the most-right column, which some will like (if coming from an older Dell XPS, for instance), while some might have a hard time getting used to. Up to you. As a side note, a NumberPad is integrated within the clickpad; it's not the same as having a dedicated NumPad, but might ease off some of the contesters.
And then there's the screen, which is what truly makes this laptop unique in today's market: a 17-inch 16:10 panel. Asus doesn't say anything about its peak-brightness, so I'd expect around 300-nits or so, but it does mention that it covers 97% of the DCI-P3 standard, is Pantone validated and factory calibrated to Delta E <2 , so this is not just your average screen. Mentioning the DCI-P3 standard directly puts this next to Apple's MacBook Pros, which also refers to the same standard, and this article explains how DCI-P3 and AdobeRGB standards fare against each other.
It's true that some of you might not find the resolution on par with your expectations, at 1920 x 1200 px on a 17-inch screen, but I'd reckon that's understandable, given the lack of 16:10 high-res panels out there, thus something you will have to accept and just hook up an external monitor when in need of a better alternative.
Based on the official image below I was under the impression that this could be a touchscreen, but that's not the case. This screen does not convert, but does lean back flat to 180 degrees.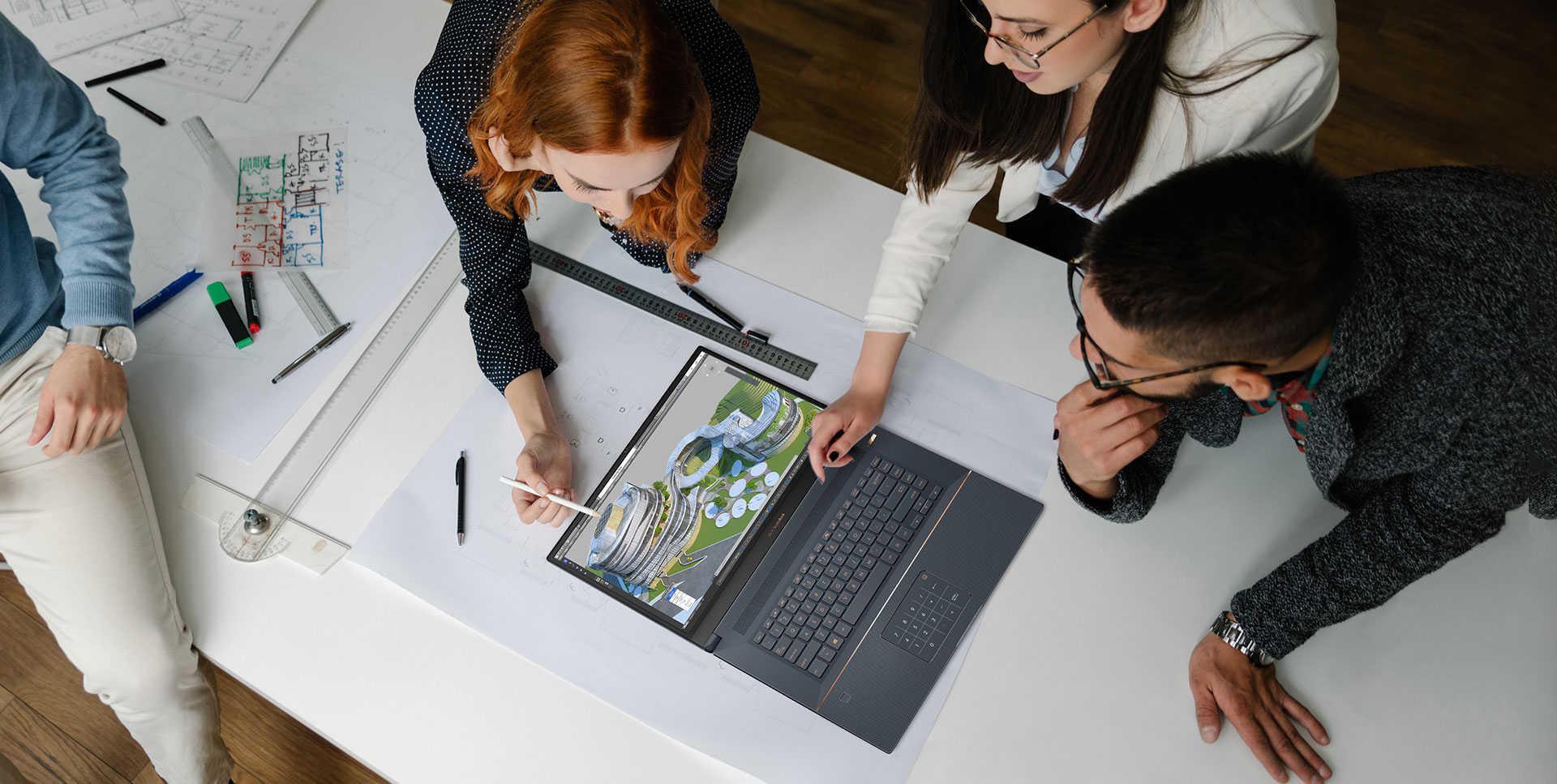 All in all, there's plenty to be excited here, and as I mentioned in the beginning, I do hope Asus will manage to juggle most aspects right and deliver on this promising StudioBook S W700 line.
There are no availability and pricing details for now, other than that it will be available in the coming months, and knowing Asus you might have to wait till Summer to be able to get your hands on this one. We'll keep you posted in the meantime though, and hopefully, we'll be able to get one for more in-depth coverage.
Update: Our detailed review of the StudioBook Pro W700 is available over here, and you should also check out our review of the higher-tier StudioBook Pro X over here.
Disclaimer:
Our content is reader-supported. If you buy through some of the links on our site, we may earn a commission.
Terms
.