In this article we're discussing the 2023 updates in the standard Asus ZenBook 14 OLED lineup of thin-and-light portable laptops.
Those include the ZenBook 14 UX3402VA (Intel 13th-gen Core P) and ZenBook 14 UM3402YA (AMD Ryzen 7000) clamshell designs, as well as the 2-in-1 convertible ZenBook Flip 14 UP3404VA (Intel gen 13th Core P).
All these are premium aluminum builds with 14-inch OLED displays, good inputs and ports, as well as a 75 Wh battery that ensures long runtimes. These are lightweight designs made for everyday use and multitasking, but not so much for demanding loads.
However, if you're interested in more powerful 14-inch laptops, you should check out our coverage of the 2023 ZenBook Pro 14 and ZenBook Pro Duo 14 models, as well as the intermediary 2023 Asus ZenBook 14X series. Or the 2023 ROG Zephyrus G14 gaming series.
With that in mind, I've spent a little time with a few samples of these 2023 Zenbooks, and down below we'll go through the notable novelties of these generations, briefly comparing them to the previous ZenBook 14 models. I'll follow up with our in-depth reviews later in the year.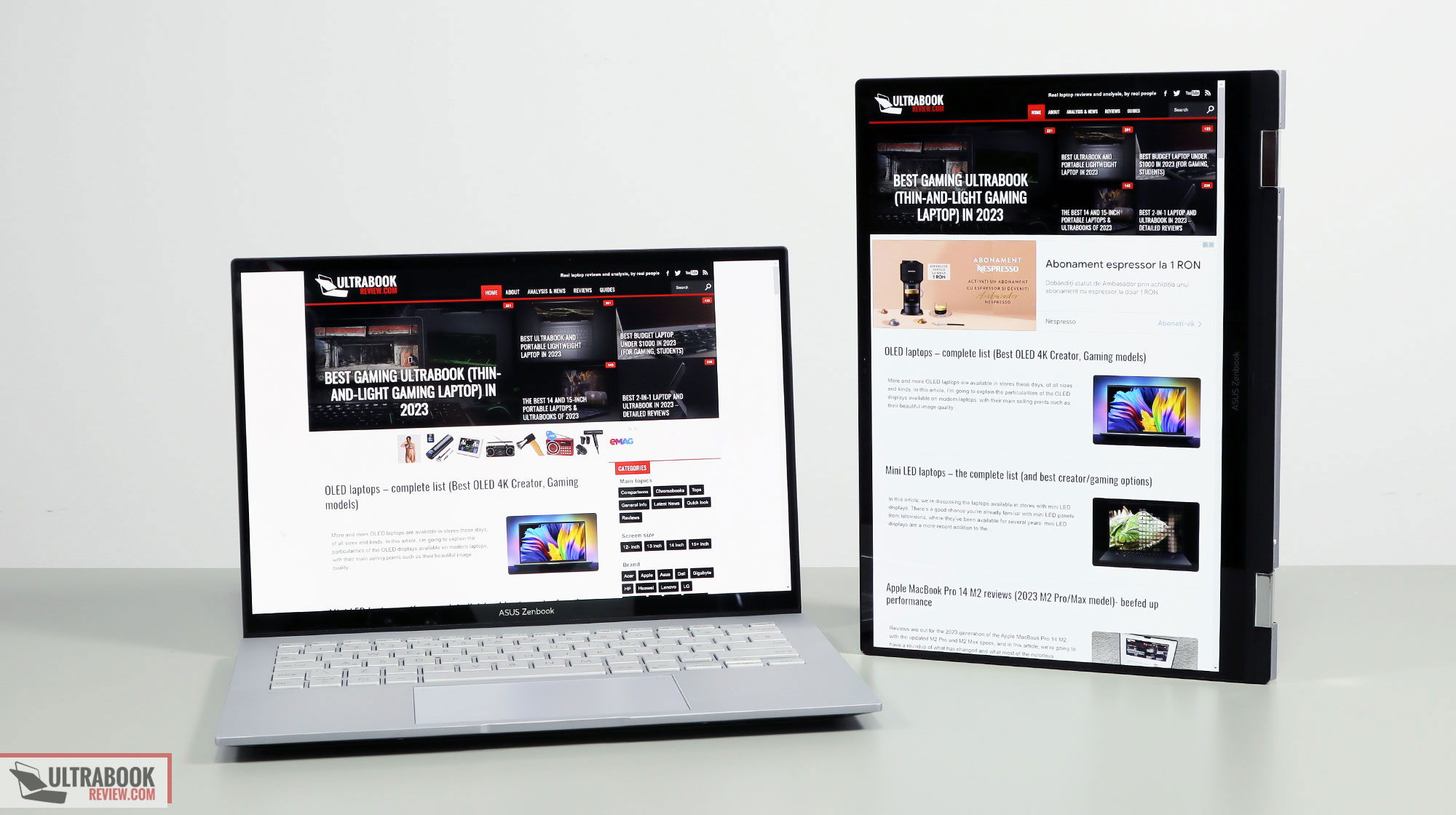 Specs – 2023 Asus Zenbook 14 lineups
But first, here are the specs sheets of these three ZenBook lineups.
Asus Zenbook 14 UX3402VA
Asus Zenbook 14 UM3402YA
Asus Zenbook 14 OLED UP3404VA
Screen
14.0 inch, 2.8K 2880 x 1800 px, 90 Hz, OLED, glossy, non-touch or touch
400-nits with 600-nits peak HDR, HDR500, 100% DCI-P3 color coverage
2.5K IPS matte display option also available
14.0 inch, 2.8K 2880 x 1800 px, 90 Hz, OLED, glossy, touch
400-nits with 550-nits peak HDR, HDR500, 100% DCI-P3 color coverage
Processor
Intel Rocket Lake 13th gen,
up to Core i7-1360P, 4C+8c/16T
AMD Barcelo R,
up to Ryzen 7 7730U, 8C/16T
Intel Rocket Lake 13th gen,
up to Core i7-1360P, 4C+8c/16T
Video
Intel Iris Xe, 96 EUs, up to 1.5 GHz
AMD Radeon, 8 Cores, up to 2.0 GHz
Intel Iris Xe, 96 EUs, up to 1.5 GHz
Memory
up to 16 GB LPDDR5 (soldered)
Storage
single M.2 2280 slot
Connectivity
Wireless 6E, Bluetooth 5.2
Ports
1x USB-A 3.2 gen2, 2x USB-C 3.2 with Thunderbolt 4,
HDMI 2.1 TMDS, microSD card reader, audio jack
1x USB-A 3.2 gen2, 2x USB-C 3.2 with Thunderbolt 4,
HDMI 2.1 TMDS, audio jack
Battery
75 Wh, 65W USB-C charger with quick-charging
Size
313 mm or 12.35" (w) x 220 mm or 8.69 (d) x from 16.9 mm or 0.67" (h)
311 mm or 12.26" (w) x 223 mm or 8.80″ (d) x from 15.9 mm or 0.63" (h)
Weight
from 3 lbs (1.35 kg) + .49 lbs (.22 kg) charger + cables, EU version
from 3.06 lbs (1.4 kg) for touchscreen models
from 3.3 lbs (1.5 kg) + .49 lbs (.22 kg) charger + cables, EU version
Extras
white backlit keyboard, glass NumberPad, FHD webcam (with IR on Flip model), finger sensor in the power button, stereo bottom speakers, Ponder Blue and Foggy Silver colors
Clamshell ZenBook 14 UX3402 (Intel) / UM3402 (AMD)
These are built on the ZenBook 14 UX3402 chassis which we've reviewed in depth in this article.
The novelties for the year are on the inside, with 2023 hardware platforms from both Intel and AMD, and an updated higher-res FHD camera that replaces the mediocre 720p shooter on the previous generation.
We'll get to the specs in a second, but first, a brief summary of the design and ergonomics.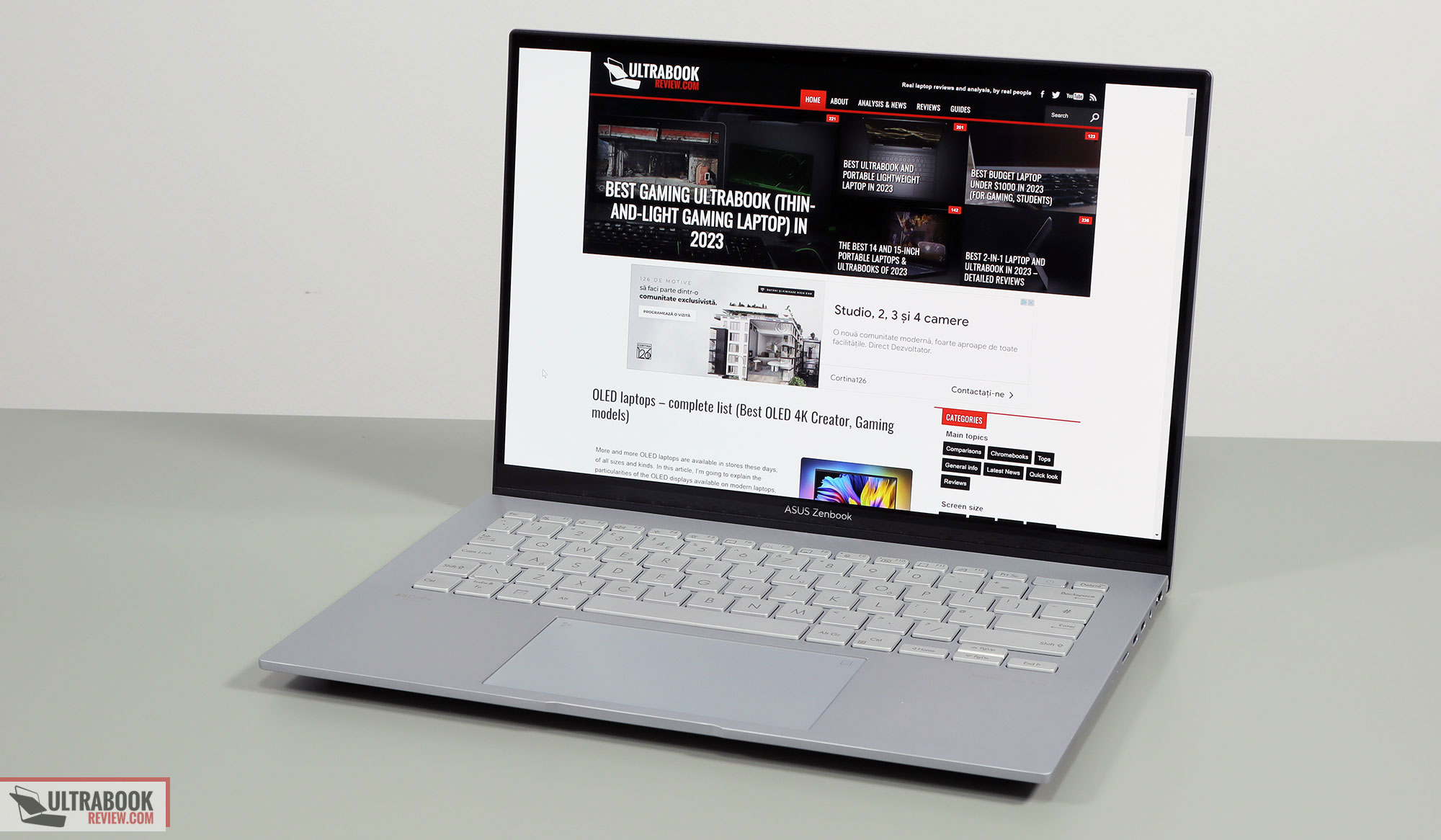 These ZenBooks are compact and lightweight 14-inch clamshell designs, with Ergolift hinges designed to raise up the main body when using the laptop, in order to allow for better airflow into the cooling module.
They're entirely made out of aluminum, with an anodized finish, and feel sturdy and durable. There's still some flex in the keyboard deck and some creaks escape from the underside panel, at least on this early sample.
The design has been refined and cleaned up with these latest ZenBook iterations, and Asus offers both models in either blue or silver colors. Our unit is the silver one, while the blue is showcased in the previous article. I prefer the blue, but the silver one is the more carefree choice, as it does a better job of hiding smudges and scratches.
These ZenBooks are also fairly practical and ergonomic. I appreciate the spacious armrest and the smooth hinges, as well as the ability to lean back the display flat to 180 degrees. I also appreciate having a good choice of ports.
However I find the front lip and corners rather sharp on my wrists and fingers, and I'm not a fan of having all the ports on the right edge – I would have preferred a mirrored design, with the IO on the left and the radiator on the right.
Inputs and display
Assus offer color-matched inputs on the two design options, hence our unit gets the silver keyboard and touchpad.
We've seen this Asus keyboard perfected over the years, and it's now one of the best typers available in the ultraportable space. The keycaps aren't as smooth to the touch on this silver model as on other variants that I've used in the past – not sure if this is by design or a quirk of this sample. They feel somewhat like touching fine sandpaper, which I found rather weird.
The centered glass touchpad is excellent (by Windows space standards), and doubles as a NumberPad. There's also a finger sensor integrated into the power key, but no IR camera.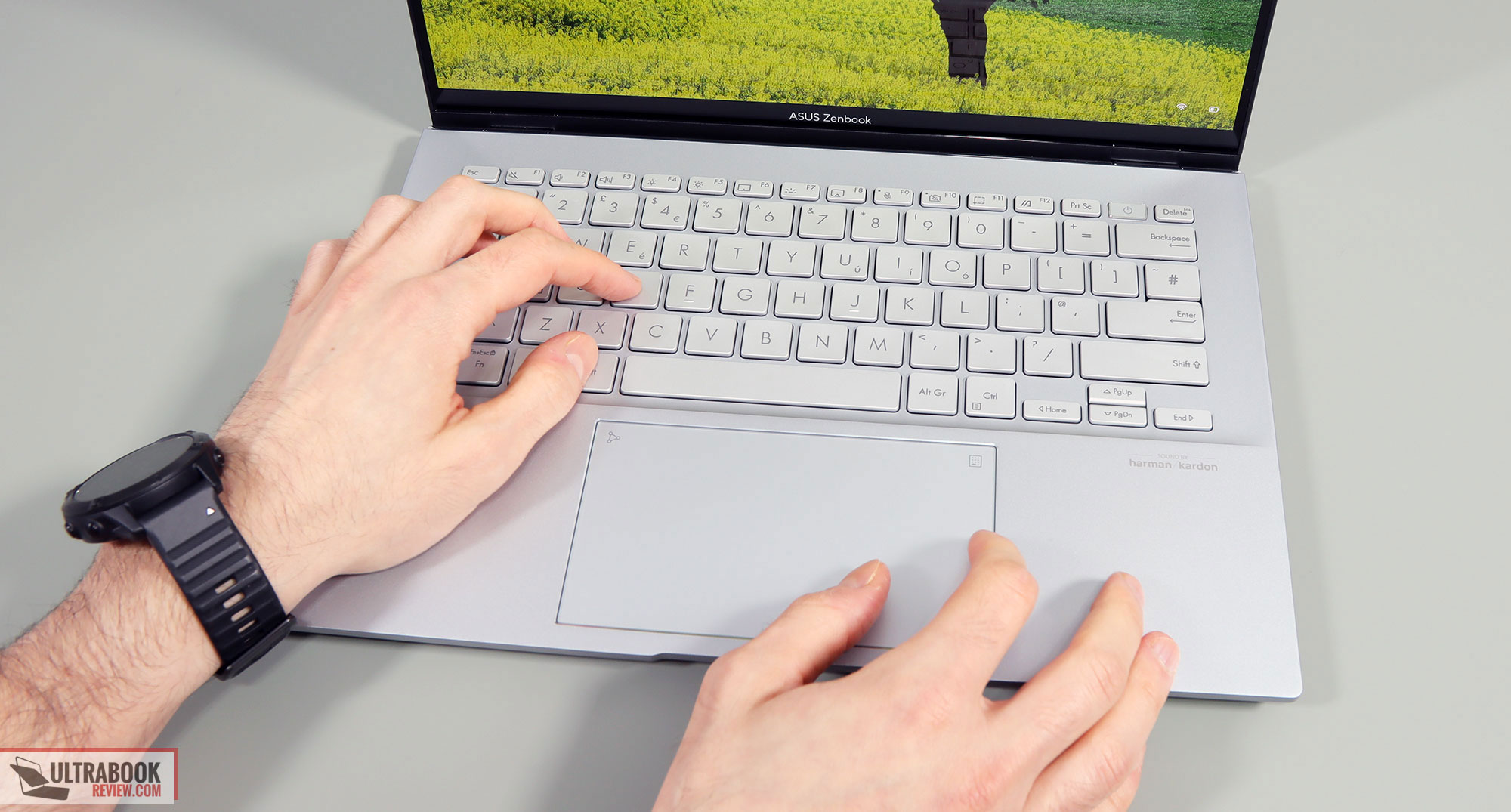 As for the display, Asus offers these 2023 ZenBooks with the 14-inch 16:10 OLED panel we've reviewed on the previous model and encountered on a bunch of other OLED ultraportable designs.
It's a beautiful panel with a sharp 2.8K resolution, 90Hz refresh, and fast response times, as well as excellent contrast and punchy colors. It doesn't get very bright though, at around 400-nits max brightness, and since this is a glossy touch implementation, it won't do well outdoors or in bright light environments.
Furthermore, since this is a touch OLED, you'll have to accept the graininess caused by the digitizer layer, which I find annoying while browsing and reading texts. From what I understand, Asus will also offer non-touch OLED variants on these ZenBooks, and that's definitely the one I'd choose if given an option. It is still glossy, but slightly brighter and no longer grainy.
That aside, a matte display variant with an IPS panel is also available on some ZenBook 14 models. That's a mid-quality 2.5K IPS panel with 400 nits of brightness and 100% sRGB color coverage, so nothing fancy.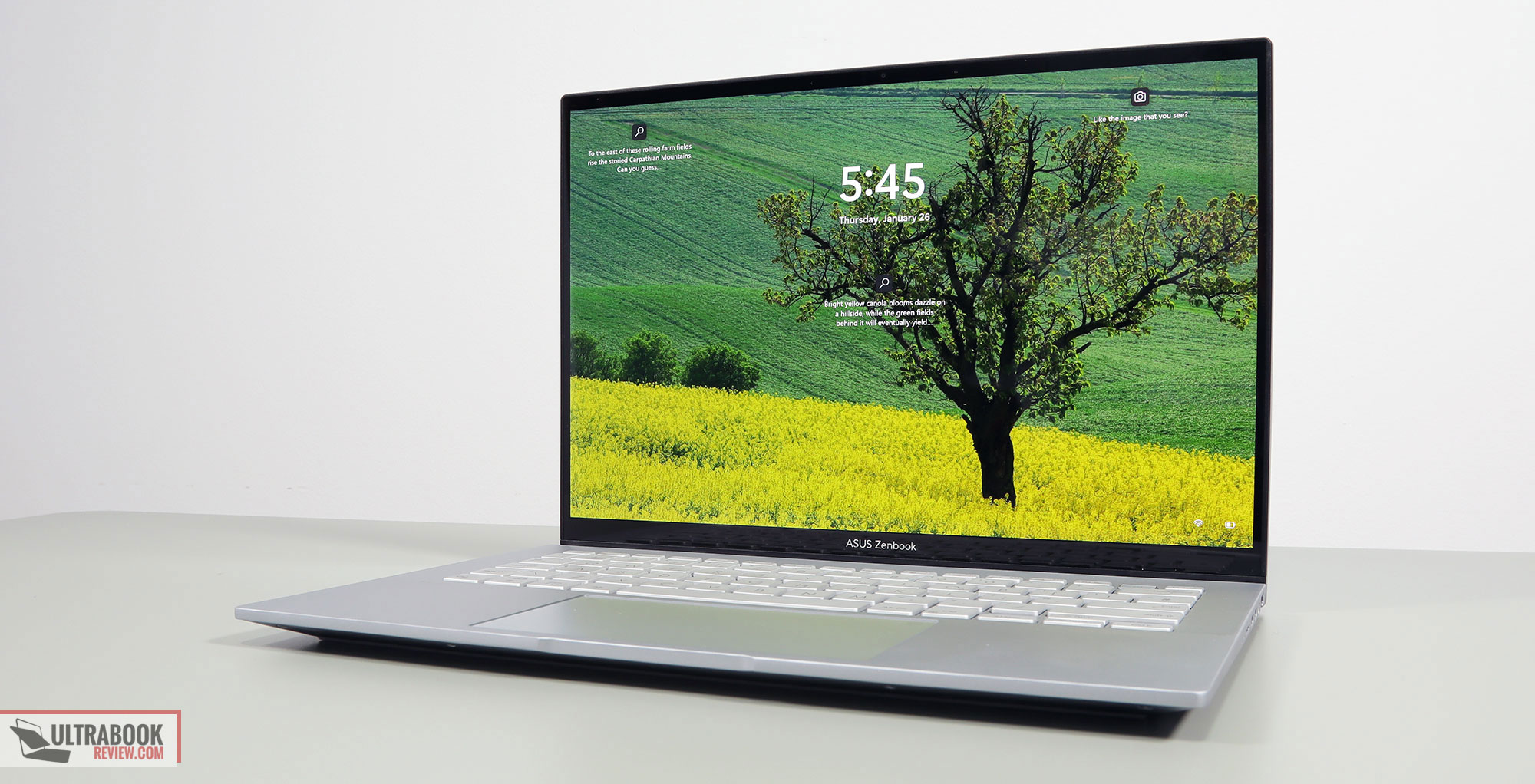 Hardware, performance, and battery life
You'll find these 2023 ZenBook 14 models in stores in either Intel or AMD variants.
On the Intel side, the Asus ZenBook 14 UX3402VA is available with up to the Intel Core i7-1360P 13th-gen processor, 16 GB of LPDDR5 memory, and gen 4 storage (single M.2 2280 slot). The 13th-gen Raptor Lake platform is a minor refinement of the 12th-gen hardware on the previous gen, with a slight bump in CPU and iGPU clock speeds, and a few other refinements, so don't expect this 2023 update to perform significantly better than the 12th-gen model reviewed here.
On the AMD side, the best-specced variant of the Asus ZenBook 14 UM3402YA gets an AMD Ryzen 7 7730U processor with 16 GB of LPPDR5 RAM and the same kind of gen4 storage. This is disappointing, as the Ryzen 7 7730U is still a Barcelo-R platform and pretty much a rebadge of the Ryzen 7 5825U processor from 2022. That means it doesn't offer Zen4 cores and still implements a mediocre Radeon Vega iGPU.
Zen4 cores are not yet available on Ryzen U platforms, as they're reserved for the higher-power Ryzen 7000 HS and HX hardware, but I would have at least hoped for a Ryzen 7 7735U configuration here, which is the rebadged 6800U with Radeon 680M graphics. And yeah, way to go AMD making all these names so very confusing.
Internally, the two variants are the exact same layout, with the same motherboard design, the same cooling module, and the same audio system.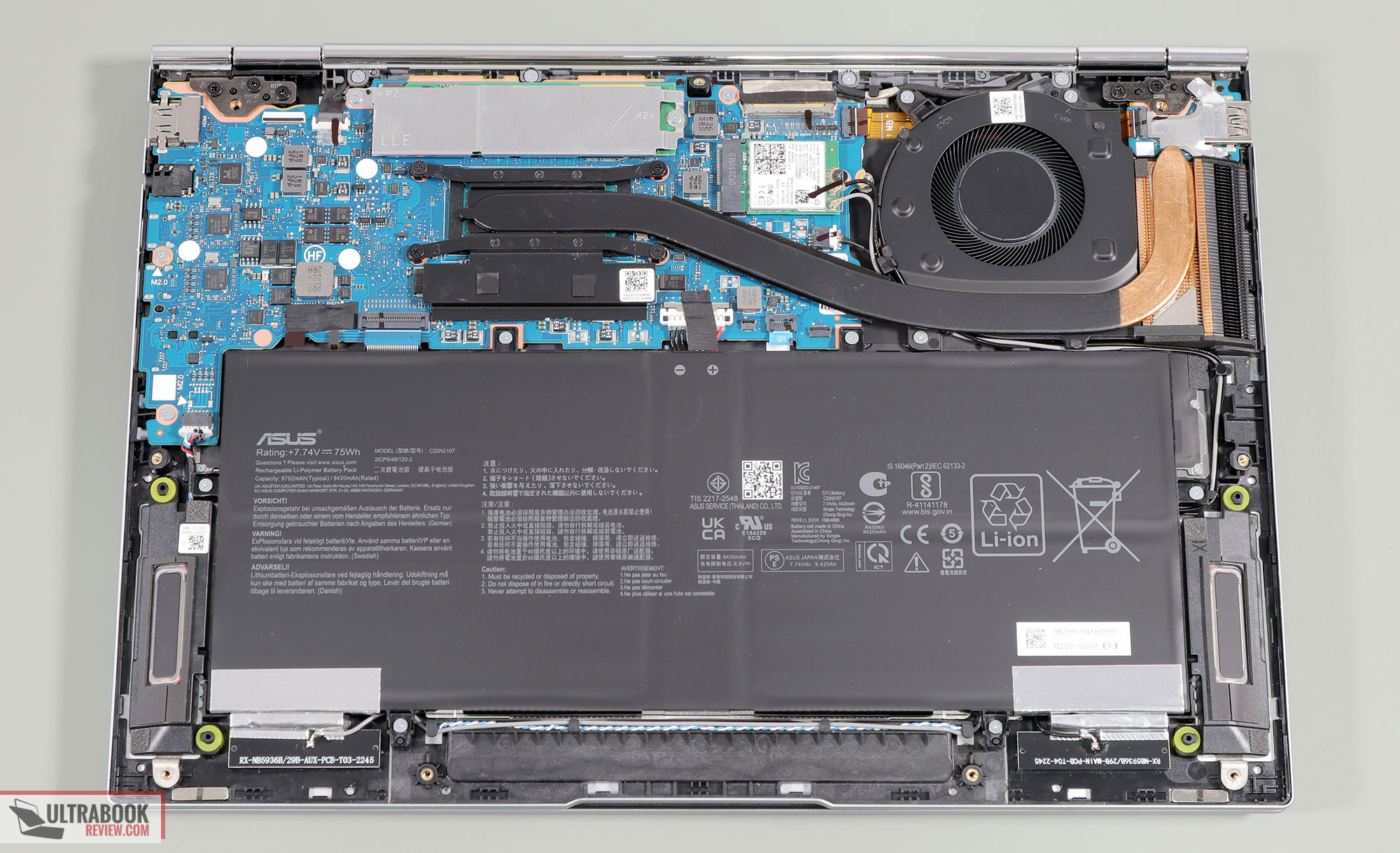 Expect both these laptops to run at mid-power settings in this chassis, at up to 30W sustained on the Performance mode in the myAsus control center.
Of the two, the Intel 13th-gen implementation is the more competent option here, while the AMD model should be available for a cheaper price and could offer better runtimes on battery use.
Both these ZenBooks offer a 75 Wh battery, which is larger than the norm for a 14-inch thin-and-light design. Expect long runtimes with both hardware variants. Both charge via USB-C and come with a compact 65W charger.
Convertible Asus Zenbook 14 Flip OLED UP3404
The ZenBook 14 Flip UP3404 is the convertible 2-in-1 iteration of the clamshell ZenBook 14 UX3402 model discussed above. In this part of the article, we'll mostly touch on the differences between these two models.
The 14 Flip only comes with Intel hardware and it's a little bit larger and heavier than the standard model, as a result of incorporating the 360-degree hinges and display. Other than that, though, it looks and feels just like the clamshell variant.
In these following illustrations, the regular ZenBook 14 clamshell is on the left side, and the convertible Zenbook 14 Flip is on the right.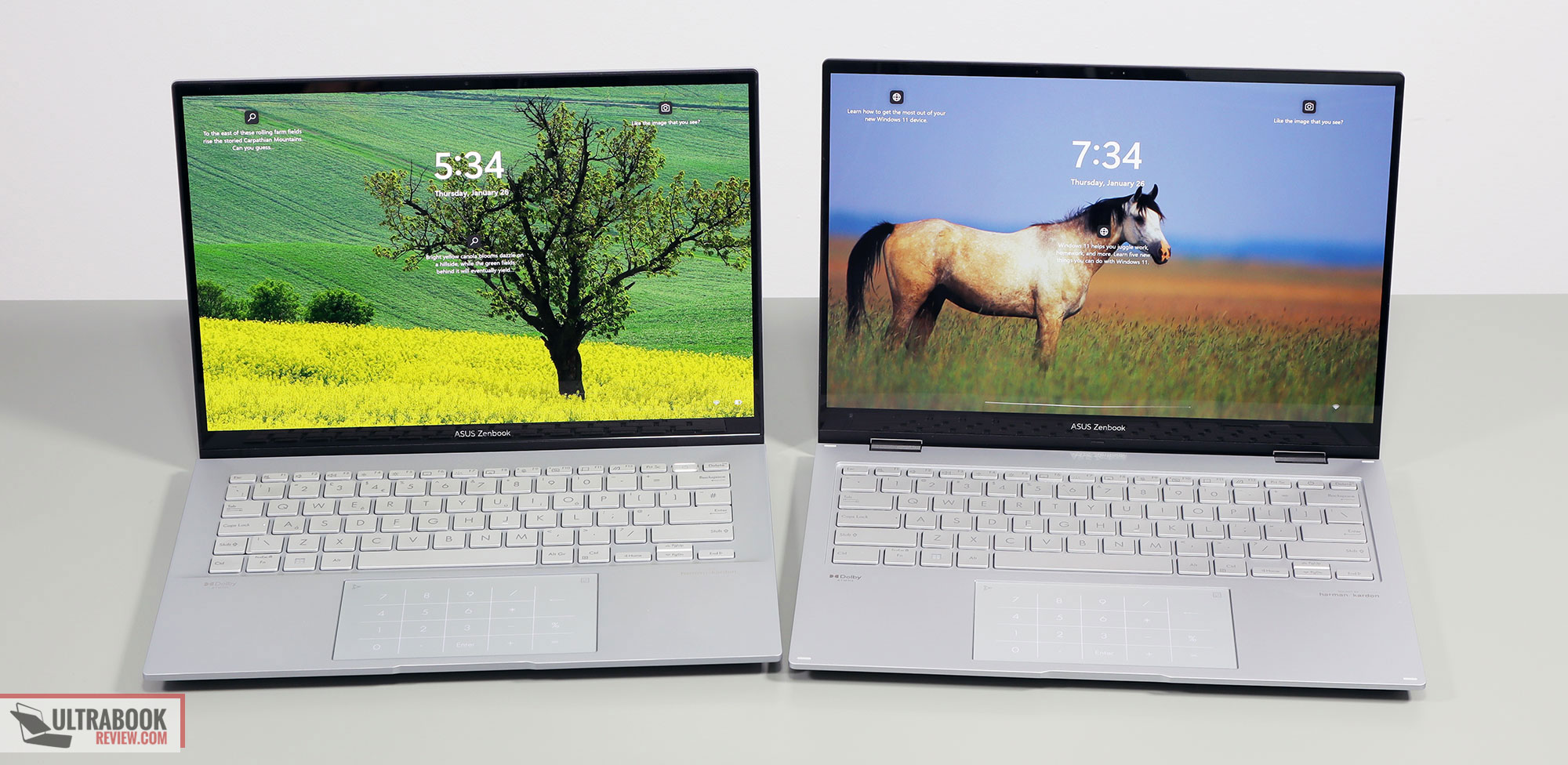 For some reason, this convertible variant doesn't offer the micro SD card reader that's available with the traditional design, but includes all the other ports and a similar IO layout.
The 360-degree hinge mechanism is tried and tested on past ZenBook Flip models, with smooth and hopefully reliable mechanisms. Magnets keep the two sides attached in tablet mode, but this notebook is not comfortable to hold and use in this format, due to its size and weight, and especially due to its sharp edges and pointy corners.

Asus also implemented some rubber rest feet in the corners of the main chassis, for the screen to sit on when the laptop is closed. For comparison, the clamshell model doesn't need those, as it incorporates a rubber gasket around the bezels. There's no such rubber bezel on the Flip model but instead, there's this thin and sharp metal framing illustrated in the comparison images.
And since we're discussing the tiny differences between these models, I must mention that the Flip gets an IR camera and a regular power key without a finger-sensor, while the clamshell model gets a regular camera and power key with a finger-sensor. That's despite the fact that the two incorporate the exact same keyboard and touchpad layouts.
As for the screen, the 2.8K OLED is the single available option on the Flip, in the touch implementation with the grainy digitizer layer.

Hardware and performance
As mentioned already, the ZenBook 14 Flip UP3404 series is only available with Intel 13th-gen hardware and can be configured up to an Intel Core i7-1360P with 16 GB of LPDDR5  memory and 1 TB of gen4 SSD storage.
Internally, the 2-in-1 and the clamshell models are nearly identical, with the same motherboard layout, the same 75 Wh battery, and the same audio system. The hinges take more space inside the 2-in-1 model, though, as shown down below.

Pricing and availability
Asus didn't share much in these regards, but expect all these ZenBook 14 series to be competitive in the mid-tier segments, with certain variants aggressively targeting the budget laptop price class, just like the ZenBook 14 Q409ZA configuration did on the US market last year.
From what I know so far, these 2023 generations should be available in stores by the Spring of this year, and I'll update this section when we know more and once I get to properly reviews these.
In the meantime, I'm looking forward to your thoughts on these ZenBook 14 and ZenBook 14 Flip 2023 updates, so get in touch in the comments section below.
Disclaimer:
Our content is reader-supported. If you buy through some of the links on our site, we may earn a commission.
Terms
.