We reviewed the Legion Slim 7 last year and concluded it required some serious updates in order to remain a competitive alternative for the portable performance designs out there, and here enters that awaited update, the 2022 generation of the Legion Slim 7 series.
In many ways, the Slim 7s are like baby Legion 7s, all-purpose premium notebooks with competitive specs and performance, but in a lighter and thinner design.
They're Lenovo's updated alternatives for popular series offered by other OEMs, such as the Acer Predator Triton 500, Asus ROG Zephyrus G15/M16, Gigabyte Aero 15, MSI GS66 Stealth, or the Alienware X15, and a welcomed addition to the Legion series, which failed to properly compete in this niche in the past.
Much like the full-size 2022 Legion 7 series, the Legion Slim 7 models are available in either an Intel + Nvidia hardware platform, or with AMD-only specs. They share a similar all-metal chassis, various options of 16:10 displays, the same inputs, IO, and audio solution. What sets them apart are the internal differences, the few proprietary features of each variant, and a few extras that are only available for the Slim 7i variants.
Update: Our detailed review of the 2022 Lenovo Legion Slim 7i series is available here, while our review of the full-size Legion 7i lineup is available here.
Update2: A 2023 update of the Lenovo Legion Slim 7 series is also available in the meantime, with updated specs and higher-power settings. A higher-tier variant is also available, with the Lenovo Slim Pro 9i series.
We'll go over them down below, but first, here's a full specs sheet of the two Slim 7 sub-series.
2022 Lenovo Legion Slim 7 & Legion Slim 7i Specs
2022 Lenovo Legion Slim 7
2022 Lenovo Legion Slim 7i – review
Screen
16-inch, QHD 2560 x 1600 px IPS, 16:10, non-touch, matte
165 – 240 Hz 3ms response, FreeSync Premium support, VRR support
500-nits, 100% sRGBorFHD IPS with 165 Hz refresh, 350-nits, 100% sRGB
16-inch, QHD 2560 x 1600 px IPS, 16:10, non-touch, matte
165 – 240 Hz 3ms response, GSync support, VRR support
500-nits, 100% sRGBorQHD mini-LED with 165Hz refresh, 1250-nits, 100% DCI-P3,
FHD IPS with 165 Hz refresh, 350-nits, 100% sRGB
Processor
AMD Rembrandt Ryzen 9 6000,
up to Ryzen 9 6900HX, 8C/16T
Intel 12th-gen Alder Lake Core H45,
up to Core i9-12900HK, 6PC+8Ec/20T
Video
Radeon Vega + Radeon RX6800S 8GB or Radeon RX6600S 4GB
with Freesync support, SmartShift
Intel UHD + RTX 3070 8GB (100W), RTX 3060 6 GB (100W) or RTX 3050Ti 4GB (95W)
with MUX (Advanced Optimus) and GSync support, Dynamic Boost
Memory
up to 48 GB DDR5-4800 (8/16 Gb onboard+ 1x DIMM)
up to 48 GB DDR5-4800 (8/16 Gb onboard+ 1x DIMM)
Storage
PCIe gen4 (2x M.2 slots)
PCIe gen4 (2x M.2 slots)
Connectivity
Mediatek ?? Wireless 6E with Bluetooth 5.2, 2.5G LAN
Killer Wi-Fi 6E and Bluetooth 5.2, 2.5G LAN
Ports
Left: 2x USB-C 3.2 gen2
Right: SD card reader, 1x audio jack, 1x eShutter button
Back: 2x USB-A gen2, HDMI 2.1, DC-In
Left: 1x USB-C with Thunderbolt 4, 1x USB-C 3.2 gen2
Right: SD card reader, 1x audio jack, 1x eShutter button
Back: 2x USB-A gen2, HDMI 2.1, DC-In
Battery
99.9 or 71 Wh, up to 230 W power adapter, USB-C charging up to 135W
Size
357.7.1 mm or 14.08" (w) x 256 mm or 10.08 (d) x 16.9 mm or .67" (h)
Weight
from 2.05 kg (4.5 lbs) + power brick
Extras
per-key RGB backlit keyboard with NumPad, 1.3 mm travel, 2x 2W stereo speakers, HD or FHD webcam with Shutter, available in Storm Grey, Onyx Grey
On the AMD side, the 2022 Legion Slim 7 is built on an AMD Ryzen 9 6000 Rembrandt platform with options for up to a Ryzen 9 6900HX processor, paired with DDR5 memory and Radeon RX graphics, with options for either an RX 6600S or an RX 6800S chip.
This platform is a close match-up for the 2022 Asus ROG Zephyrus G14, only in a slightly larger chassis, and our reviews of the G14 models (R9 + 6700S, R9 + 6800S configurations) are going to paint an accurate picture of what to expect in terms of performance from the Legion Slim 7 configurations. However, Lenovo haven't shared all the details on the power settings applied to the AMD hardware here, which could lead to some differences in overall behavior between these two implementations.
Just like the G14s, these Slim 7s also get partially soldered memory, but their larger chassis allows for two M.2 storage slots inside and extra space for a higher-capacity battery. Lenovo mentions 71 or 99 Wh variants, with the former probably reserved for the lower-tier specs. Not much effort was allocated to the sound system, though, with only dual bottom-firing speakers on these Slim 7 lineups, just like on the full-size Legion 7 models, so I wouldn't expect much in terms of audio quality.
On the Intel side, the 2022 Legion Slim 7i bundles Intel Core H 12th gen Alder Lake processors with Max-Q Nvidia RTX 3000 dGPUs, up to an RTX 3070 100W on the top model. RTX 3060 100W and 3050Ti 95W configurations are also available, with various Core i5, i7, and i9 CPUs. The memory is still partially soldered, and there are two M.2 slots for storage inside and either a 71 or a 99 Wh battery, just like on the AMD models.
The differences between the two are in the proprietary technologies implemented with each platform. On the Slim 7i, there's Thunderbolt 4 support, GSync, and a MUX with Advanced Optimus, while the AMD-based Slim 7 only gets USB-C 3.2 ports, FreeSync, and a MUX with AMD SmartShift technology. Based on our previous tests of these Intel, Nvidia, and AMD platforms, I expect the Intel + Nvidia configurations to have an edge in performance in demanding loads and games (especially thanks to superior RT performance and DLSS support), but the AMD-only implementation should run more efficiently with casual-use.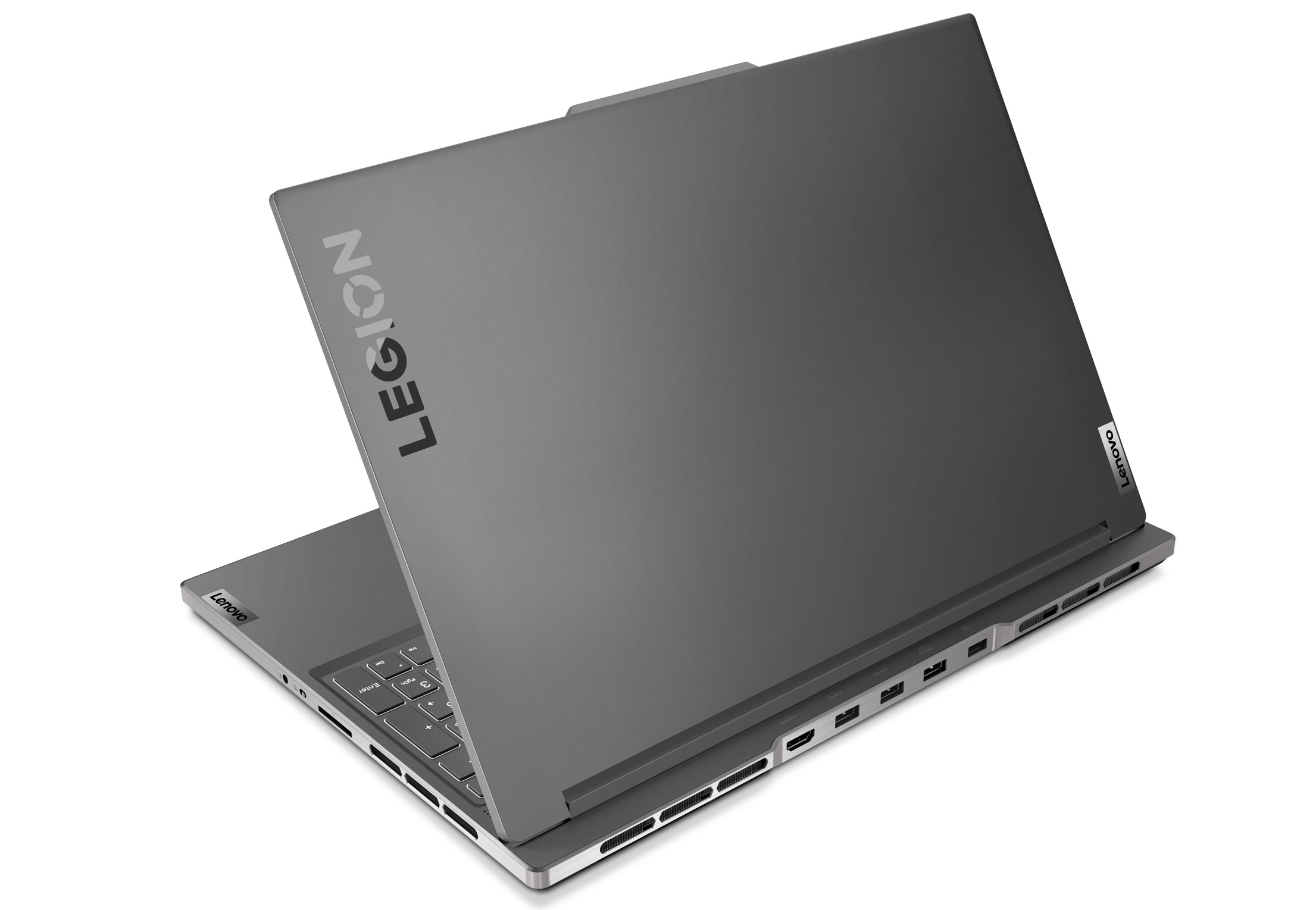 One final option that's only going to be available for the Slim 7i models is a choice of a miniLED display with 100% DCI-P3 color coverage, 1250-nits of peak brightness, and still solid gaming characteristics with 165 Hz refresh and 3 ms response times. That's coming at a later date in the year, and won't be available everywhere.
The other screen options are either a QHD+ panel with 500-nits and 165-240Hz VRR support, the same that Lenovo offers with the dull-size Legion 7 models, as well as a base-level FHD+ option with only 350-nits of brightness, reserved for the entry-level configurations. All of these are 16:10 formats and 100% sRGB, so still fine for everyday use and media consumption, just not as rich as the QHD IPS DCI-P3 panels offered by most competitors in this space. Paired with what could be a sub-par audio implementation, these two aspects might be potential deal-breakers for the Slim 7 series.
I'm also not that happy with the fact that the IO is mostly grouped on the back, and there are only USB-C ports on the sides. At the same time, these laptops offer a full set of ports, including full-capability USB-C connectors, HDMI 2.1, and a card reader. Add in the solid build quality and clean design, with no RGB fluff, the 180-degree displays and the standard thermal design with the exhausts placed where they should be, on the back edge, and the Slim 7s are some of the better ergonomic designs in their segments.
Of course, we'll have to take these for a proper spin before drawing any conclusions on their capabilities and overall value. Lenovo didn't mention anything about the power settings on these Slim 7s, but have specified many improvements on the thermal design, which is now significantly larger in size, includes higher-cfm fans and an extra heatpipe on the GPU side, as well as phase-change thermal compound. On top of these, Lenovo implemented air admission through the keyboard and not just through the air grills on the underside of the chassis. I'm happy to see these updates, as the previous-gen Slim 7 ran hot on the top-performance profile.
All in all, I'm glad Lenovo put more effort into the Legion Slim 7 series, updating them to modern 16:10 screen options, a multitude of modern hardware configurations, and a larger battery. They kind of neglected this niche of premium all-purpose thin-and-lights in recent years, and I'm happy that's not the case anymore.
From what we know so far, the 2022 Legion Slim 7 models are expected in stores around May-June this year, with prices starting at 1500-1600 USD in North America. The Intel + Nvidia models will demand a premium over the same-tier AMD configurations, but future discounts might level the field later in the year.
We'll know more about these once we get to review them properly, so stay around for our updates. In the meantime, I'd love to hear your thoughts on these 2022 Lenovo Legion Slim 7 and Slim 7i updates, so get in touch down below.
Update: Our detailed review of the 2022 Lenovo Legion Slim 7i series is available here.
Disclaimer:
Our content is reader-supported. If you buy through some of the links on our site, we may earn a commission.
Terms
.