Disclaimer: All laptops (The ThinkPad X1 Carbon and both the black and white Dell XPS 13 SKUs) were purchased with my own funds for this review.
Going by most accounts, the best ultrabook is either the Lenovo ThinkPad X1 Carbon (which we at NBC rated 90%) or the Dell XPS 13 (rated 89%, and Andrei's UBR review is also available here). There are other notable mentions, such as the Yoga 920 and LG Gram series, but the XPS 13 and X1 Carbon both reign in popularity in the "premium" sector due to their build and design, both of which have mostly stood up well over generations with minimal revision (except for the notable omission of ports on the XPS 13 ).
Having owned both the ThinkPad X1C and XPS 13, I am going to give you my two cents about which is the best ultrabook of these times.
Both laptops are configurable with the same CPUs and soldered RAM options, so I am not going to focus too much on benchmark numbers. The performance of Kaby Lake-R is well-established, and these machines are both very fast, though the XPS 13 slightly edges the X1 Carbon out due to a dual-fan cooling system and higher 25W power limit (vs. 15 in the X1C). Instead, I will focus on the experience as an end-user consumer, enthusiast, and professional reviewer. With that said, let's establish the specs of the machines as configured:
Update: While the initial article compared the 2018 XPS 13/X1 Carbon, most of it still applies to the current generations, as little has changed on the updated XPS 13 and X1 Carbon 9th gen (reviewed here) in terms of design, screens, typing experience, battery life, and even performance.
Update2: Here are our articles on the more recent Dell XPS 13 Plus 9320, Dell XPS 13 9315, and the ThinkPad X1 Carbon 11th gen
The specs sheet – Lenovo ThinkPad X1 Carbon vs Dell XPS 13
| | | |
| --- | --- | --- |
| | Lenovo X1 Carbon | Dell XPS 13 |
| Screen | 14.0 inch, 1920 x 1080 px resolution, IPS, matte, touch, 300 nits | 13.3 inch, 1920 x 1080 px resolution, IPS, glossy w/ edge-to-edge anti-glare coated Gorilla Glass, non-touch, 400 nits |
| Processor | Intel Kaby Lake Refresh i7-8550U (4 cores, 8 threads @ 1.8-4.0GHz) | Intel Kaby Lake Refresh i7-8550U (4 cores, 8 threads @ 1.8-4.0GHz) |
| Video | UHD Graphics 620 (integrated) | UHD Graphics 620 (integrated) |
| Memory | 16GB LPDDR3-2133 (soldered, dual-channel) | 16GB LPDDR3-2133 (soldered, dual-channel) |
| Storage | 512 GB SSD Samsung PMPM981 (M.2 80 mm NVMe) | 512 GB SSD Toshiba XG5 (M.2 80 mm NVMe) |
| Connectivity | Intel 802.11AC WiFi 8265 Tri-Band with Bluetooth 4.2, Intel Ethernet Connection I219-V | Killer 1435 WLAN with Bluetooth 4.1 |
| Ports | 2x USB-C Thunderbolt 3, 2x USB-A 3.1, HDMI 1.4b, SIM/MicroSD, mini-Ethernet, headphone/mic, Kensington Lock | 2x USB-C Thunderbolt 3, 1x USB-C 3.1 Gen 2, 1 MicroSD, Kensington Lock |
| Battery | 57 Wh, 65W power adapter (USB Type-C) | 52 Wh, 45W power adapter (USB Type-C) |
| Operating system | Windows 10 Home | Windows 10 Home |
| Size | 330 (W) x 227 (D) x 18 mm (H) | 302 mm (W) x 199 mm (D) x 11.8 mm (H) |
| Weight | 1.13 kg (+356g power supply) | 1.21 kg (+227g power supply) |
| Extras | ThinkShutter camera shutter, Synaptics fingerprint reader, proprietary VGA cable | Windows Hello Facial Recognition, on-button Goodix fingerprint sensor, USB-C-to-A cable |
| Price as purchased | US$2038 | US$1753 |
For the X1C, notable options are the availability of both matte FHD touch/non-touch or glossy "HDR-ready" displays. Unfortunately, there is no touch option for the HDR display. Other options include a WWAN card and Windows Hello-ready infrared camera instead of the standard camera with ThinkShutter.
All the SKUs of the XPS 13 9370 come with both Windows Hello IR Cameras and on-button fingerprint sensors. Lamentably, there is no 1080p touchscreen option — Dell forces you into choosing a more expensive and power hungry (yet less color-accurate) UHD panel if you want touch. Other than the ports, this is certainly one of the biggest catches of the XPS 13 9370 this year.
Design and exterior
Not much of the XPS 13 has changed from the previous generations. For the good: it got a little smaller, a little thinner, and added features like the IR cam and the (excellent) fingerprint sensor built into the power button.
For the bad: we lost all ports except the three type-C and microSD, and the battery shrunk from 60 to 52Wh.
Beyond those changes and the addition of a cool white spun-glass option (great material, feels better on the wrist, but I prefer silver and black), the 9370 is the same solid sandwich of aluminum, glass, and your choice of space-age fiber on the deck. Three years and four revisions from its original debut, there is little to complain about the XPS 13 in the looks and build departments.
While the X1 Carbon's bezels and dimensions have shrunk considerably (in comparison to the traditional ThinkPad lines, such as the T-series) to match the modern ultraportable competition, the overall design is unmistakably "ThinkPad": minimalist, conservative, and functional.
As its namesake suggests, the X1 Carbon makes use of carbon fiber as well as other materials including magnesium alloy (and also, I suspect, plastic in small amounts). The result is a lightweight and thin laptop with a surprisingly robust feel. Indeed, according to Lenovo, the respected ThinkPad Roll Cage is still in action in the X1 Carbon. It isn't magnesium like on the T-series, but the carbon fiber used in the X1's construction has a similar effect: The base is rock-solid despite the laptop's light weight and thin dimensions. The X1C is indeed significantly lighter than the XPS 13 despite its larger screen and footprint, but structural integrity is not apparently compromised.
The X1 also gets two bonus achievements in the "miscellaneous" category: the ability for the screen to open 180 degree and to be done so with a single hand. Even more impressive when you consider that my SKU was configured with a touch screen — usually a reason cited as why many laptops have hinges too stiff to open single-handedly.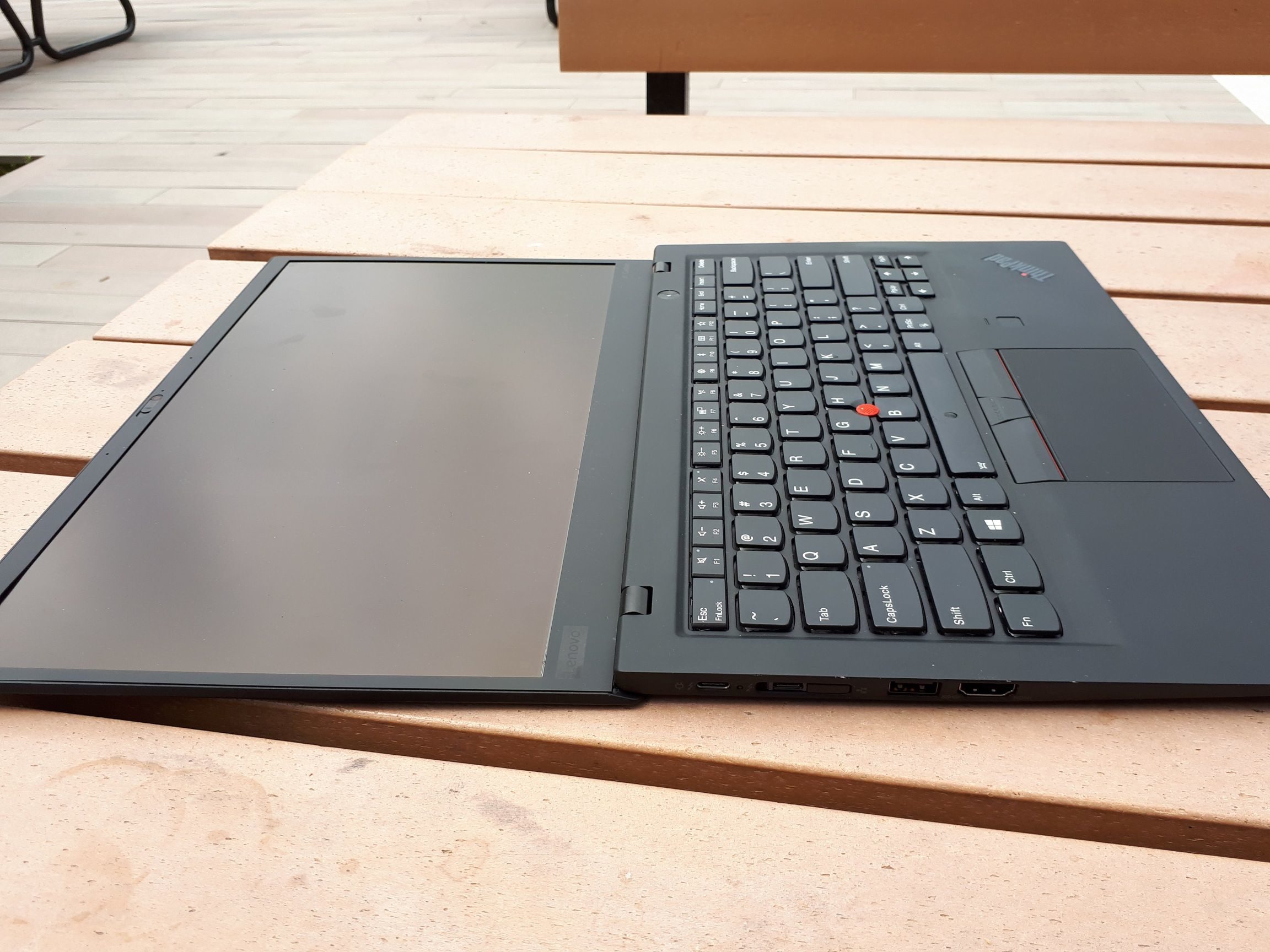 The main downside of the X1C's build is that it is very prone to fingerprints, and you will have trouble keeping your X1 Carbon pristine without a wipe. Unfortunately, the soft-touch coating does not seem to be as robust as it is comfortable. Just 1-2 days after purchasing the laptop, I noticed a tiny bit of silver magnesium coming through on the upper edge of the case between the two USB Type-C ports. On the bottom of the case, I was also surprised to see a few hairline scratches after a couple of days as well. I have been babying the laptop for the most part, so I was quite disappointed to see this. Magnesium and carbon fiber are strong materials, but it looks like a little tradeoff has been made in terms of aesthetic durability in the interest of comfort. After two weeks, the hairline thinning of paint on the left corner had continued and was more and more pronounced. I've never had a ThinkPad with this issue before, and I was not happy with the wear on the finish of a new US$2000 laptop.
The winner here for me is the XPS 13. It's not only more eye-catching than the X1C and just looks slicker (though the X1C is by no means an ugly duckling), but feels/is more durable — regardless of which finish you go by. The white glass finish remains impeccable through any usage, and while the carbon fiber finish still picks up oils, it is nowhere near as bad as the X1 Carbon's finish. I am particularly annoyed by the transience of the X1 Carbon's coating, which I suspect will not last very long.
Connectivity   
For the sake of comprehensiveness, let's cover what happened to the XPS 13. The last generation of XPS 13 had two USB 3.0 type-A, one type-C TB3 (notably with only 2 PCIe lanes), and a proper SD card reader. Because the XPS 13 9370 has done away with all ports except three Type-C (two with 4-lane TB3 support, one with only USB 3.1 Gen 2) and a microSD slot. There's a good reason I recently wrote an article outlining the different kinds of TB3/Type-C docks you can buy — it's because I'm now living the dongle life, and the dongle life sucks.
The X1 Carbon is the winner nearly by default, as it packs two TB3 and two USB 3.1 Type-A ports, SIM, microSD, HDMI, and Gigabit ethernet (via adapter, but the hardware is present). It does lack a full size SD card reader, but it is miles and miles better than the unnecessarily minimalist approach Dell took (and ran with).
Input
It is not an exaggeration to say that the X1 Carbon is one of the most comfortable machines to type on. If you know ThinkPads, you know that their keyboards (and TrackPoint) have a legendary status. The current chiclet layout has its detractors (notably from classic 7-row keyboard fans) but they are still generally incredible-feeling keyboards, and the X1 Carbon is no exception. The key travel is around 1.8mm, and typing simply feels incredible. The palm-rests are comfortable, the TrackPoint and physical mouse/scroll buttons allow you to keep your hands on the home row while working, and you can type for hours on the keyboard without getting tired.
Bonus points for the X1 again for having a 1080p matte touch option, which is great to have on a business machine. Unfortunately, there is no Windows Hello IR camera option with this display (though you can get it with the non-touch glossy HDR display), but that addition would have been been a lifesaver from one of the bigger issues with the X1.
There are two glaring input issues with the X1 Carbon. Firstly, there seems to be a ghosting issue when 3 keys are pressed on opposite sides of the keyboard in rapid succession. I feel it is a hardware issue, as you can hear a system beep through headphones if they are plugged in when the problem is replicated. This caused me to have to type certain words much more slowly (I typically type around 120 WPM and this issue forced me to type probably under 80 WPM or less due to constantly having to correct typos or just type slow enough for the keys to register). The second issue is the Synaptics fingerprint scanner. Technically speaking, it is terrible; I am not exaggerating when I say that it successfully registers my fingerprint around 20% of the time. I cleaned it, had it replaced, and tried scanning fingers multiple times with the same result: extremely slow operation (1-2 seconds) and high occurrence of false negatives. If this fingerprint scanner was on a phone that cost over US$100, you would throw it at the person who sold it to you. My 10-year old X61's swipe fingerprint scanner is far faster and more reliable than the cutting-edge X1 Carbon's. It is that bad.
You might be thinking then that the XPS 13 9370 would win due to the keyboard and fingerprint issues I was unable to resolve, but Dell has a trick or two up their sleeves for the XPS 13. First off is an established keypress-detection issue that has been around for months that is actually far worse than the X1 Carbon's. If you try to type the same letter twice in a row rapidly (say, "hahaha", or "liliputing", you will nearly always get "haaha" and "liiputing"). Maybe most reviewers type their reviews with external keyboards, or maybe they type slowly enough that they don't notice it, but this bug has been the bane of my productivity on the XPS 13. I noticed it within 2 days of using the device, and the result is my typing output has been decreased by up to 50%. It looks like Dell has known about this for at least a couple a months, yet my latest interaction with support suggests a late May release date for a BIOS update that is purported to fix it. This is unacceptable for a product that has been out in the wild for months [note: the BIOS fix for this issue was just released, May 16. I can confirm that this finally fixes the keyboard issue].
A final niggle I have about typing on the XPS 13 is due to its diminutive dimensions. The palm rests are sharp and the laptop is just small enough that you will have them digging into your palms most of the time. It is quite an unpleasant feel on the carbon fiber deck, though the soft woven glass of the white finished model seems to be a bit better.
Other than the broken keyboard, though, the XPS 13 9370's IR camera works like magic. It is so convenient to have the laptop unlocked before you have even rested fingers to keyboard. If you aren't in a position where the camera can see you, the fingerprint scanner integrated into the power button is nothing short of superb. It works from any angle and is nearly instant. I know that the X1 Carbon's fingerprint scanner has its own hardware storage making it technically more secure, but that is no excuse when the end product is a fingerprint reader so unreliable and slow that you should better just forget it even exists.
Both laptops use Windows Precision touchpads. The XPS 13's seems slightly more responsive and less susceptible to touches, but the X1 Carbon's TrackPoint wins over a trackpad anyday for me.
Winner: The X1 Carbon. Dell: sort out your keyboard issues deal with product-breaking bugs sooner. Word is that this same issue plagues the Latitude line as well as the XPS 13 9365. Lenovo: your keyboards and TrackPoints are better by a long shot, but there are still some key-detection issues here and there, and the fingerprint scanner you've put on the X1 Carbon Gen 6 is a joke.
Screen
There is a lot of fanfare about the new HDR-compatible 500 nit displays in the new X1. I couldn't find one with the HDR screen here in Hong
Kong, but I could easily find the FHD matte touchscreen SKU, which was actually what I wanted most. The HDR screen might be incredible — it certainly sounds like it is — but I haven't seen it myself so I don't know.
What I do know is that every single X1 I examined had a dark clouding of uneven lighting around the edges of the display. Every unit I found at shops exhibited this issue in the Gen 6, (though FHD Gen 5 models on display did not) and so I thought it was just a property of the panel itself. I reported the issue to Lenovo, and it took three screen replacements before I got a panel that approached even lighting. It was still not entirely even, but at that point I was happy to get something that wasn't obviously off from across the room. When they finally did install a decent-looking panel, the technician installed it unevenly, leading to some pixels being hidden at one end and the side of the panel showing on another.
Quality issues aside, the matte-touch option is great to have as a bonus. It is marketed at 300 nits and requires nearly all of its brightness to be visible in direct sunlight. Out of direct sunlight, but outside, I found myself keeping things at 65% or above. It is not a bright panel, nor is it particularly color accurate (a poor 50-60% sRGB), but for a business machine it is functional enough.
The XPS 13's FHD panel is an improvement over previous years' (which were no slouches either). Both FHD and UHD panels are rated at 400 nits of brightness — a significant increase over the previous years' 300 nits. As I already mentioned, the UHD display in this small of a device is just marketing for those who don't know any better. With a 52 Wh battery, the XPS 13 9370's battery life (normally about 9-10 hours of real use) gets slashed to 5-6, which is not enough for a full day's work. Thus, you have to decide whether you want your ultraportable laptop to have touch or last throughout your work day. This forced dichotomy aside, the panel in my XPS 13 9370 is bright, vibrant, and highly accurate (~98% sRGB with more than the rated 400-nit brightness in places). Indeed, it is so bright that I keep it around 30% most of the time. There is an anti-glare coating here that helps somewhat with reflections (they are present, but aren't as annoying as they could be). Overall, the FHD panel is a pleasure to look at for media or office usage.
In terms of brightness and color accuracy, the FHD and UHD panels on the XPS 13 wipe the floor with the FHD/FHD touch screens in the X1. That said, it's great that one can get a matte, touch, FHD display on the X1C, and, conversely, quite annoying you can't get an FHD touchscreen for the XPS 13. It's hard for me to talk about the acclaimed HDR panel in the X1 without having seen it in person, but all accounts point to it being impressive. I should also not leave out that the X1 Carbon gives an extra .7" of screen real estate. Factoring in the availability of the HDR display, I'll leave this round a draw.
Hardware and performance
Both machines use Intel's 8th generation U-series Kaby Lake-R CPUs. As I already mentioned, the performance between these two machines is thus quite similar. The only difference, spec-wise, is that the X1 Carbon is configurable with an i7-8650U (though mine had the same i7-8550U of the XPS 13), which has the same base clock of 1.8 GHz but has a higher single-core turbo speed of 4.2 GHz as opposed to the 4.0 GHz of the i7-8550U. Theoretically, then, the X1 C can be faster than Dell's offering — except for two important points: Firstly, Dell allows their CPU to run at around 25W for long-term consumption whereas the X1 is officially rated at 15W. Secondly, the XPS 13 9370 has a two-fan cooling solution that allows it to run slightly cooler… sometimes (more on this later). With a modest -0.1v undervolt on both systems, I was able to achieve a Cinebench 15 multi score of 720 on the X1 Carbon and 724 on the XPS 13.
In real-world performance, the XPS 13 tends to edge out either i7-configuration of the X1. For those of you who plan on using an ultrabook with an eGPU, I tested both systems with my Mantiz Venus eGPU coupled with a GTX 1070. Performance has been comparable, with both systems hitting a Fire Strike (standard) score of around 12600 (15100 graphics, 11300 physics, 6200 combined). Doom (2016) and Prey (2017) were running far above 60 FPS locked at highest details without framerate dips. If you are interested in one of these ultrabooks to use specifically with an eGPU, however, I should add that I have found the XPS 13 9370 to be much more stable than the X1 Carbon, with which I got occasional BSODs on connection/disconnection.
Simply put, both these systems are compact ultrabooks that cram in quad-core hyperthreaded CPUs to good effect. The lack of dedicated GPU of course means you won't be gaming on them, but an undervolt and repaste will keep both machines running fairly near their maximum clocks in short bursts. Dell's higher 25W TDP and dual-fan cooler allows the 9370 to run slightly faster for longer under sustained loads, making the XPS 13 the winner in this category.
Heat and noise
The X1 Carbon Gen 6 and the XPS 13 take quite different approaches to cooling. The X1 utilizes a traditional single fan which spins up frequently during load to move heat out from the chassis. The X1 does get noticeably warm or even hot during heavier usage; if you have just charged the X1 and then grab it to do some work on your lap, the left side will be too hot to leave in contact with your skin while the WASD home-key area will make your hand sweat to the point of leaving some very gross patches on the soft-touch finish. All in all, the X1 is a bit louder on the fans and a lot warmer on the chassis.
The XPS 13, meanwhile has a very different approach to cooling. Dell has been advertising their thermal design since the release of the 9370, but what it boils down to is this: the XPS 13 9370 is designed to let the CPU run hot without the user feeling it or hearing the fan. It isn't exactly a groundbreaking idea — it's one Apple has been doing for years to make many users think that a quiet laptop is good thermal engineering — but the thermal insulation does have a great effect on the surface temperatures of the laptop. The XPS 13 9370's engineers have done a fantastic job of keeping the laptop cool to the touch, and day-to-day use has confirmed this with me. Not feeling the heat is a quality-of-life extra that does a lot to make the XPS 13 comfortable to use.
The flip side of this is what Dell has done to the fans, however, and this I cannot endorse. Dell's Power Manager (formly Dell Command Power Manager) has four performance profiles to choose from: Optimized, Cool, Quiet, and Ultra Performance.
The problem is that, unless you select the "Cool" setting, which keeps fans on and heavily throttles the CPU, the fans do not turn on enough under load. If you run any kind of stress test or benchmark, you'll be surprised at how silent the 9370 is — until you look at a temperature sensor, see your CPU hitting 100C, and think your fans are broken. They aren't broken, however; from extensive testing I can make the following conjecture: In order to make the XPS 13 9370 quiet to the average user, Dell has linked both fans to a sensor outside of the GORE thermal insulation, which results in a significant delay between CPU temperatures hitting 99-100C and the sensor that triggers the fans hitting temperatures high enough to signal the fans to spin up. According to HWiNFO, the EC controller's "CPU" sensor took about 1 minute to go from 50C to 90C and consequently start spinning the fans. In the meantime, the CPU had been hitting its thermal max of 100C and throttled down to prevent shutdown and damage. This is not how I want the hardware in my US$1500+ laptop to be behaving, not only because it is likely poor for the longevity of the CPU, but it also means I can't get the maximum performance out of it. The fan delay behavior is something I am currently in contact with Dell about, but at the moment it does appear to be intentional. I will update the article if a BIOS update fixes it.
Additionally, I should say that my black XPS 13 had a terrible sound to its fans when I first got it. It was a high-pitched abrasive sound that didn't sound quite like coil whine or normal fan operation. On a hunch I opened up the laptop and here is what I found:
As you can see, the laptop left the factory with some fabric tape tucked under the fan assembly. Even a cursory test of the fans would have yielded the piercing sound this made, so how this slipped by QC is beyond me.
This is really a toss-up: The X1C is warmer to the touch and louder, but the XPS 13 allows its CPU to reach much higher temperatures. I will give this round overall to the XPS 13 9370, because ultimately it allows more control over the cooling than the X1. Dell's Power Manager software at least allows one to select a "cool" profile if you don't want a quiet fan at the cost of high temperature. Hopefully, the fan delay is something Dell can tackle at a later date.
Battery life
With the X1 Carbon's larger 57 Wh battery, I expected to get around 10-12 hours of battery life with my FHD touchscreen. However, I found myself routinely disappointed. No matter what I did, I found that the X1 had a relatively high idle drain of around 7-9W (on Battery Saver mode), which translated to ~7 hours battery life doing little to nothing. When doing some basic Google Docs editing I saw power drain between 9-11W, which meant around 5-6 hours of light usage. I tried restoring, clean Windows reinstall, and BIOS updates, but the high idle drain persisted. Checking ThrottleStop showed that the CPU was using around 1.3-1.5W despite <1% CPU usage, which suggests an ACPI/power management bug. I cannot confirm this is an issue with all X1 Carbons, but it was definitely an issue with mine.
On the other hand, my XPS 13 has behaved fairly well with its 52 Wh battery. Dell seems to have done a good job optimizing the hardware, as my idle drain is between 3-4W. Light, browser-based work with a healthy 30% brightness (around 150 nits) results in 5-6W drain, equating to roughly 10 hours of continuous real work. I am fairly happy with this performance, but I could see someone with the touchscreen/UHD SKU getting disappointed, as I touched upon earlier. The FHD SKU is definitely the one you want in almost any use-case for the XPS 13, as there is no way the UHD version will last a full workday.
Both laptops make use of compact USB-C chargers (45W for the XPS 13, 65W for the X1) which makes the travel weight quite light. I have used my Dell Power Companion powerbank with both laptops, and while it is nice to have this option for USB-C laptops, keep in mind that these batteries are quite heavy. The Dell Power Companion is more than twice as large and heavy as the 45W adapter, for example, and so the practicality of powerbanks with either laptop is a bit silly except in specific cases.
Overall, my battery life with the XPS 13 has been very good, making it the winner in this category. I am not sure if the power drain I witnessed in my X1 Carbon is a systemic issue or the way it's supposed to be for the FHD-touch SKU, but I was very disappointed with the 5-6 hours I was getting.
Price and availability
Dell's XPS 13 is available worldwide at prices starting from US$999 in the USA from the OEM, or on Amazon where prices may vary. The configuration I bought cost over US$1700 here in Hong Kong (the i7/16/FHD SKU is not available in North America).
The X1 Carbon 6th Gen is available in most countries from US$1360 (USA price from Lenovo), though my i7/16/FHD touch SKU set me back over US$2000 here. As usual, you may be able to get lower prices on Amazon (affiliate link).
Final thoughts – XPS 13 comes on top of the X1 Carbon
I've now used both laptops for around 3 weeks each, coming to my own conclusion by selling off the one I didn't enjoy as much. Before I get to my thoughts, let's tally up each section:
Design – XPS 13
Connectivity – X1 Carbon
Input – X1 Carbon
Screen – Draw
Hardware and performance –  XPS 13
Heat & noise – XPS 13
Battery life – XPS 13
Price – XPS 13
The XPS 13 has won more categories and so it should be the recommended pick, but things aren't that simple. I cannot recommend the XPS 13 to someone who, for portability or convenience reasons, cannot take dongles with them everywhere. It is not suited to be a business laptop solely for this reason, and I understand if this disqualifies it for many.
Ultimately it comes down to the overall experience for the price. If the XPS 13 were as expensive (or more) as the X1 Carbon, it would be very even. The X1 Carbon Gen 6 gave me the same feeling as my maxed-out 2017 MacBookPro 15 before I returned it after three days: for something this expensive, I should feel much happier about using it. Instead of enjoying my X1, I was always worrying about its battery lasting through the day or having my eyes drawn to the blemishes on the screen. Logging in to use it was always a drawn-out battle between me and the fingerprint scanner (which I usually lost). When I got home and wanted to unwind, docking the X1 with my eGPU setup frequently resulted in BSODs or detection issues.
In contrast, I have been enjoying my XPS 13 9370 immensely. The Windows Hello camera and fingerprint scanner work like a treat, and I am okay (though not thrilled with) keeping a USB-C port replicator in my carrying case. The white woven-glass finish remains spotless with no upkeep and is definitely a highlight of the 9370. I do miss having a touchscreen and a TrackPoint, and I also hope Dell tunes the fan curve better so they spin up earlier on "Ultra Performance" mode.
If the X1 Carbon was significantly cheaper and had no issues with the screen, power management, and fingerprint scanner, it would have been the one I kept for sure. ThinkPad fans are a peculiar bunch. It only takes a few minutes browsing the r/ThinkPad subreddit to see how much they revere the TrackPoint, keyboard, ruggedness, upgradability, and of course, iconic design of the brand. If you think they're crazy though, try spending a few days with an X220 or X230 and you'll start to see why: The TrackPoint allows you to keep your hands on the home row keys while using the mouse, increasing productivity. The keyboard embarrasses the competition. They've got RAM slots, two or more storage bays, and removable batteries of all sizes. The Mil-SPEC certification and the fact that you can buy nearly any component either from Lenovo or a parts site keep your mind at ease (and planned obsolescence at bay). And of course, there's something strangely attractive about that design. But best of all, you can get these older ThinkPads for just one or two hundred dollars online. Before you know it, you've got three more ThinkPads and you've started calling them "ThiccPads". But what is a ThinkPad if it's not some of these things? What if it lacks RAM slots or swappable batteries? What if it costs somewhere between US$1500-2500? Is it still a "real" ThinkPad? For whom is it worth buying? I wanted to love the X1 Carbon — I am a ThinkPad fan — but a wonderful keyboard and TrackPoint only go so far when you're shelling out around US$2000 for a laptop with a poor screen (historically endemic to the ThinkPad line, unfortunately), infuriating fingerprint scanner, and power management issues.

Thanks for reading! Have a question about either laptop that I didn't answer? Have you had an experience with either the X1 Carbon 6th Gen or the XPS 13 9370 that mirrors (or contradicts) my observations? Do you agree with my thoughts? Leave a comment below and I'll be sure to get back to you.
Disclaimer:
Our content is reader-supported. If you buy through some of the links on our site, we may earn a commission.
Terms
.