AMD are finally able to properly compete with Intel in the ultrabook space with their latest Renoir hardware iteration, and not just in the budget segments, as in recent years.
For now, Renoir consists of Ryzen Mobile 4000 APUs that include a Zen 2 processor with up to 8C/16T and a Radeon Vega integrated GPU with up to 8 Compute Units. All these are combined within a 15W package, with potentially higher TDP settings as long as allowed by the thermal implementation.
This is the same approach Intel are taking with their Ice Lake and future Tiger Lake Core U platforms, with whom the Renoir APUs are going to compete later this year. For now, though, AMD seem to have an edge in platform design and both CPU and GPU performance. Of course, it's early to draw any conclusions and you should wait for our detailed reviews for a more complete picture of what these Ryzen U platforms are all about.
However, we have some numbers based on AMD's marketing materials, but also on various benchmarks leaks. We'll cover these in a separate article, and of course, they should be taken with lumps of salt for various reasons, at least until verified by third-party reviewers.
For now, this article we'll give you an insight into the Ryzen U 4000 platform and a detailed list of all the available ultraportables based on this platform.
On top of these, AMD also offer a subseries of Ryzen Pro U 4000 processors that will make their way into a handful of business notebooks such as the ThinkPads T14/T14s. Details are still scarce on these Pro iterations, so we'll update once we know more, most likely in a separate article.
The Ryzen 7 4800U APU sits at the top of the lineup as an eight-core/sixteen-thread processor paired with a capable Radeon Vega iGPU. With a theoretical maximum throughput of 1.79 TFLOPs, the 8 CU Vega implementation outmatches Intel's Iris G7 graphics chip implemented within their Ice Lake Core U lineup by a significant degree, as that's only rated for 1.12 TFLOPs.
Furthermore, the Ryzen platform wins at multi-threaded CPU performance as well, with twice the amount of cores/threads over the existing IceLake Core i7s. Those are just the specs, though, and the results need to be verified in practice.
You should also consider that we're only going to see the Ryzen 7 4800U processor in a handful of premium SKUs, with capable thermal designs.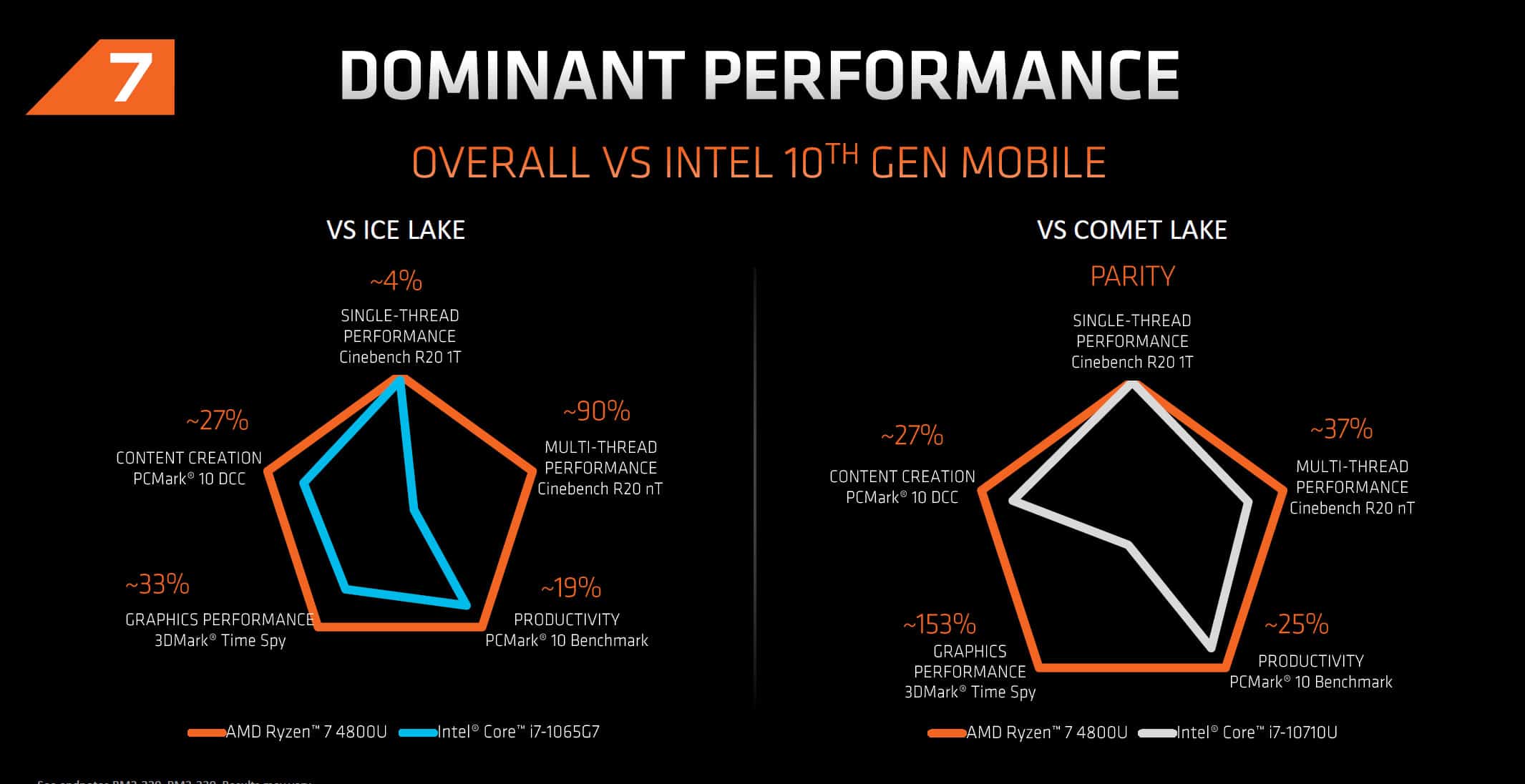 Mid-range products will top at the Ryzen 7 4700U, an eight-core/eight-thread processor with a slightly less capable Vega iGPU, but still a solid outmatch for the existing Intel counterparts, as far as we can tell right now. Of course, the value proposition is reserved for the 6 Core/12 Threads Ryzen 5 APUs, with a Ryzen 3 option as the budget variant, as alternatives for the existing Intel Comet Lake and Ice Lake Core i5s and i3s.
With that in mind, down below we've split the list of Ryzen 4000 Mobile laptops into two sections: top tier products based on Ryzen 7 4800U APUs, and mid and budget-tier devices that can only be configured up to the Ryzen 7 4700U APU.
The complete list of Ryzen 7 4800U ultrabooks
This section includes premium and mid-tier ultrabooks built on the Ryzen 7 4800U platform. Lower tier configurations are also available, and the mentioned starting prices are usually for the Ryzen 5 or Ryzen 3 variants.
Lenovo also mentioned AMD Pro Mobile versions for their ThinkPad T14, T14S and X13 business ultraportables, and I'd expect to see the Pro version of the 4800U (probably the Ryzen 7 4850U) implemented inside those. We'll update with more details once available.
Ryzen 7 4700U and Ryzen 5 4500U mid-range ultraportables