These two here are both 2020 ZenBook 14 ultrabooks from Asus.
The silver one on the left is the ZenBook 14 UM433IQ based on an AMD Ryzen 4000 mobile platform, with an 8Core processor and Nvidia MX350 graphics, while the blue one of the right is the ZenBook 14 UX434FLC Intel Comet Lake variant, with a quad-core processor and Nvidia MX250 graphics.
On a first look, the hardware inside is what primarily sets these two apart, but they are actually different in a few other ways as well.
We'll talk about the performance and thermals and battery life in a bit, but first, let's quickly dive into those differences.
These two laptops are the same size, and in fact two of the most compact ultrabooks with a 14-inch screen. You can tell that from the small bezels around the display and especially the very small chin underneath.
The silver UM433 model is slightly lighter, though, at 1.2 kilos, and that's because the Blue variant gets a touchscreen with a layer of Gorilla Glass on top, which adds about 100 grams to its weight. The UM433 doesn't get a touch option.
They also get OK connectivity with full-size USB-A, USB-C and HDMI ports, as well as WiFi 6 with Bluetooth 5. On the other hand, those microSD card-readers are not that useful, and there's no support for Thunderbolt 3, video over USB-C or USB-C charging on any of these models.
These aside, while the UX434 is available in this Blue color and gets this circular pattern on the lid-cover, the UM433 is silver, gets a smooth lid and a brushed interior.
Both the color and the texture help it hide smudges and finger-oil much easier than the dark-blue variant. Asus also offers a Silver version of the ZenBook 14 UX434 in some regions, if you prefer that.
You should also know that Asus implements what they call the Ergo-lift hinge design on all of their modern ZenBooks, including these two here. This means that when you open these laptops, the chin tucks behind the main body and lifts it up on these small rubber feet, creating a slightly inclined typing position and allowing for increased airflow underneath. The whole thing works smoothly and you can easily pick up and adjust the screens with a single hand. On top of that, even if tiny, these back feet provide decent grip on a desk.
The thermal systems are designed to draw fresh air from the bottom and blow it out through these grills hidden between the hinges. That means that the exhausts are less than 1 inch away from the screen, and that's why this portion of the display is the hottest part on both laptops, reaching 35-40 degrees with daily use and 45-50 degrees with demanding loads.
I've asked Asus about this and was told that this sort of heat won't impact the panel in any way, but heat and electronics don't play well together and I feel this aspect is something you should be aware of and consider in your decision, especially if you plan to run demanding loads or games on any of these laptops. And you might want to if you plan to pay for this sort of configurations.

For what is worth, though, the glass-covered display on the UX434 should be less prone to any long term damage than the completely exposed matte panel on the UM433.
Inputs and screens
In order to preserve the silver color scheme, Asus implement a silver keyboard on their silver models, with white backlighting. This combo makes the writing on the keys very difficult to tell apart, and I pretty much had to switch the illumination off most of the time during my time with the UM433, and even so, this gets frustrating in certain cases. The blue ZenBook UX434 doesn't suffer from this same issue, with contrasty and easy to read blue keys and white illumination.
As far as the typing experience goes, it's pretty good on the two, with short strokes and good feedback, the kind you should expect from a modern ultrabook.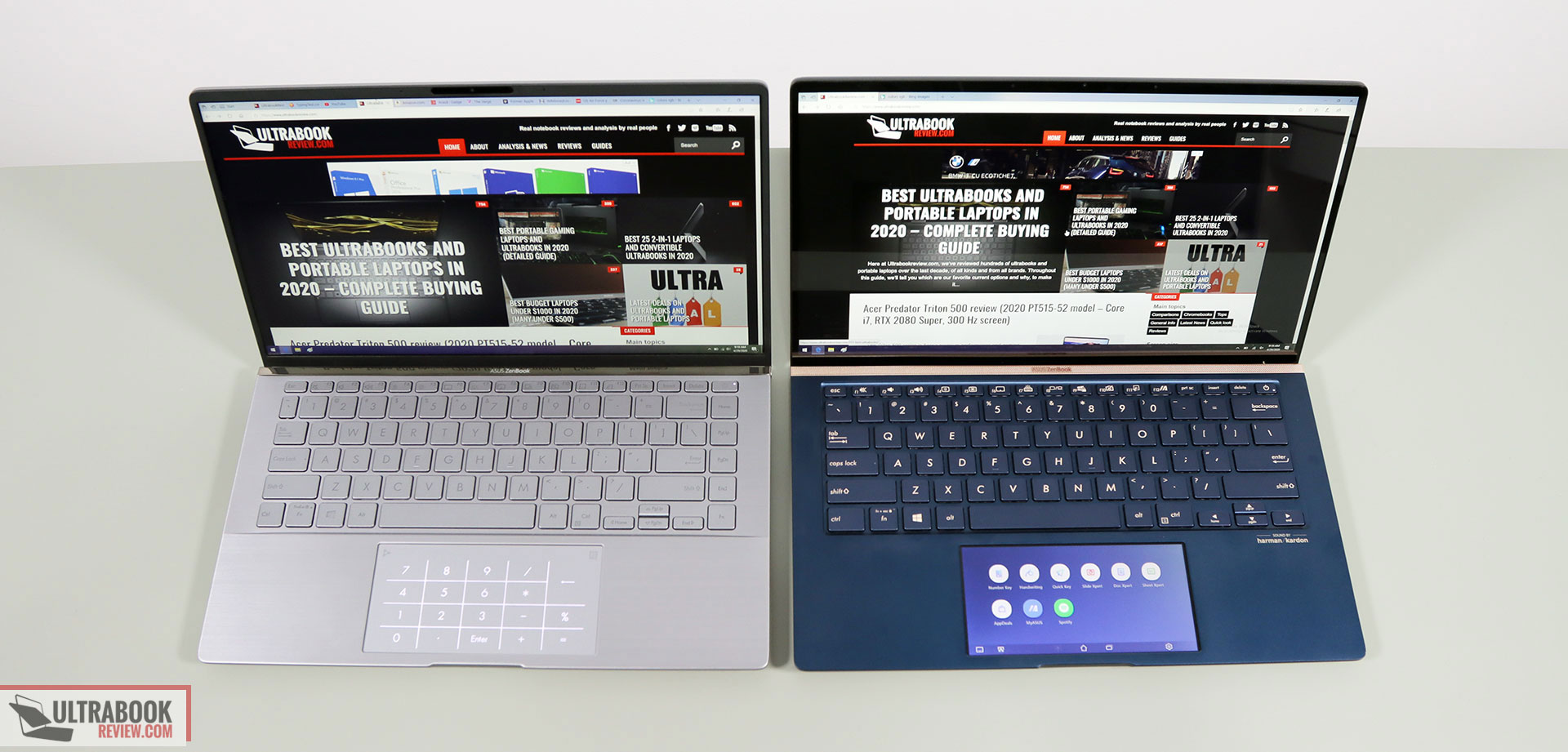 However, you'll notice that the UM433 gets a slightly different keyboard design, with this extra column of function keys at the right, and that's a double-edged sword. On one hand, some users will highly appreciate having these dedicated keys on a small laptop, but Asus had to shrink some of the other important keys to make room for these, such as the entire block here on the left, as well as the Backspace to Shift column on the right. The Smaller backspace takes some time to get used to, but the one I struggled most is that narrow Control on the left.
Both these laptops get wide and smooth glass clickpads, responsive and reliable with daily use.
The one on the UM433 also acts as NumPad with the touch of this little button-area on the corner, while the one on the UX434 is a ScreenPad. That means it's either a standard glass clickpad, or a mini-screen, which can be used to showcase various shortcuts and tools in applications such as Word, Excell or Spotify, or can act like a standard secondary Windows display where you can run an app, a website or a video, if you want to.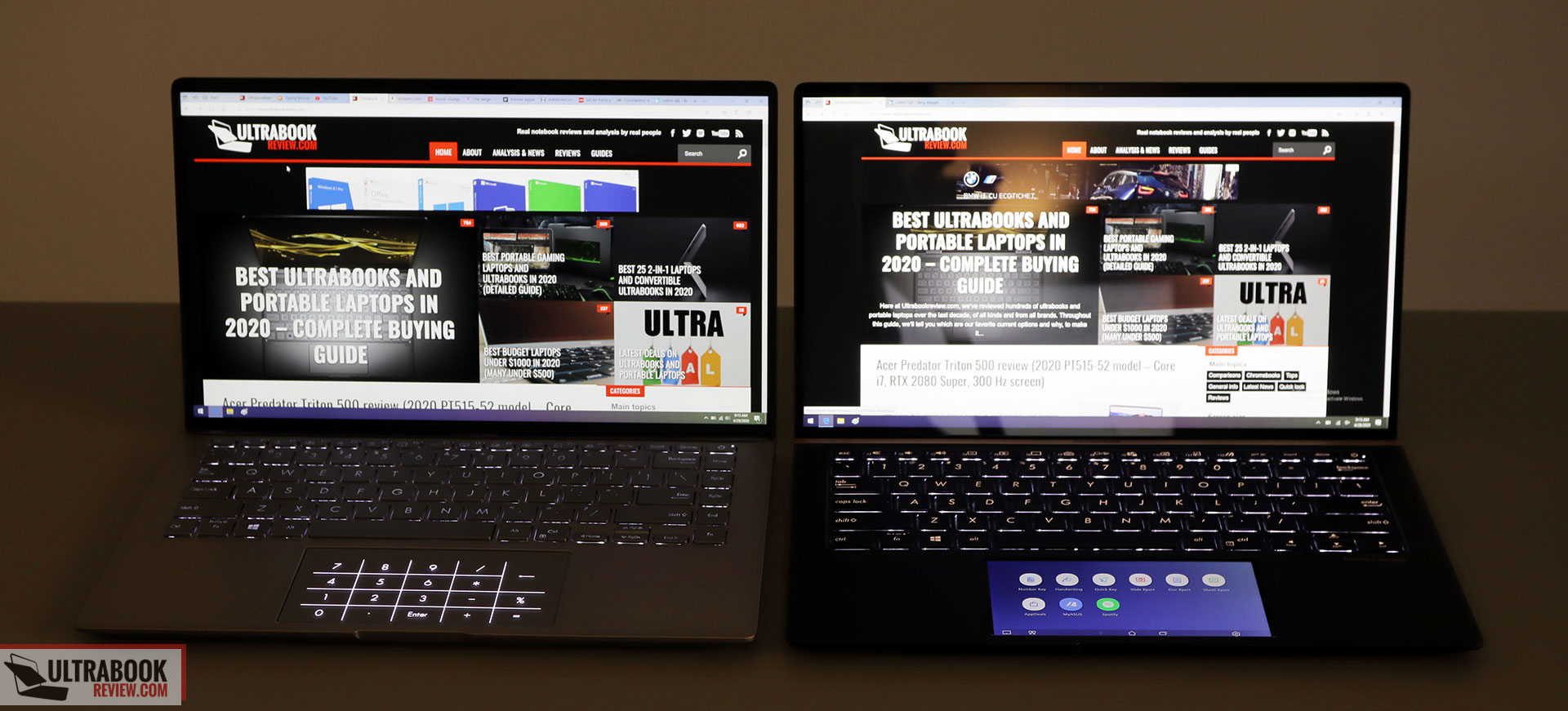 For the most part, I tend to disable the ScreenPad on most ZenBooks, as I find the usability somewhat limited and it takes a toll on battery life, but if you find this interesting or useful, then you should know that it's only an option on the Intel-based ZenBook UX434 model.
From what I can tell right now, the UX434 is also the only variant that you can configure with a touch glossy display. In comparison, the UM433 is only available with a matte screen.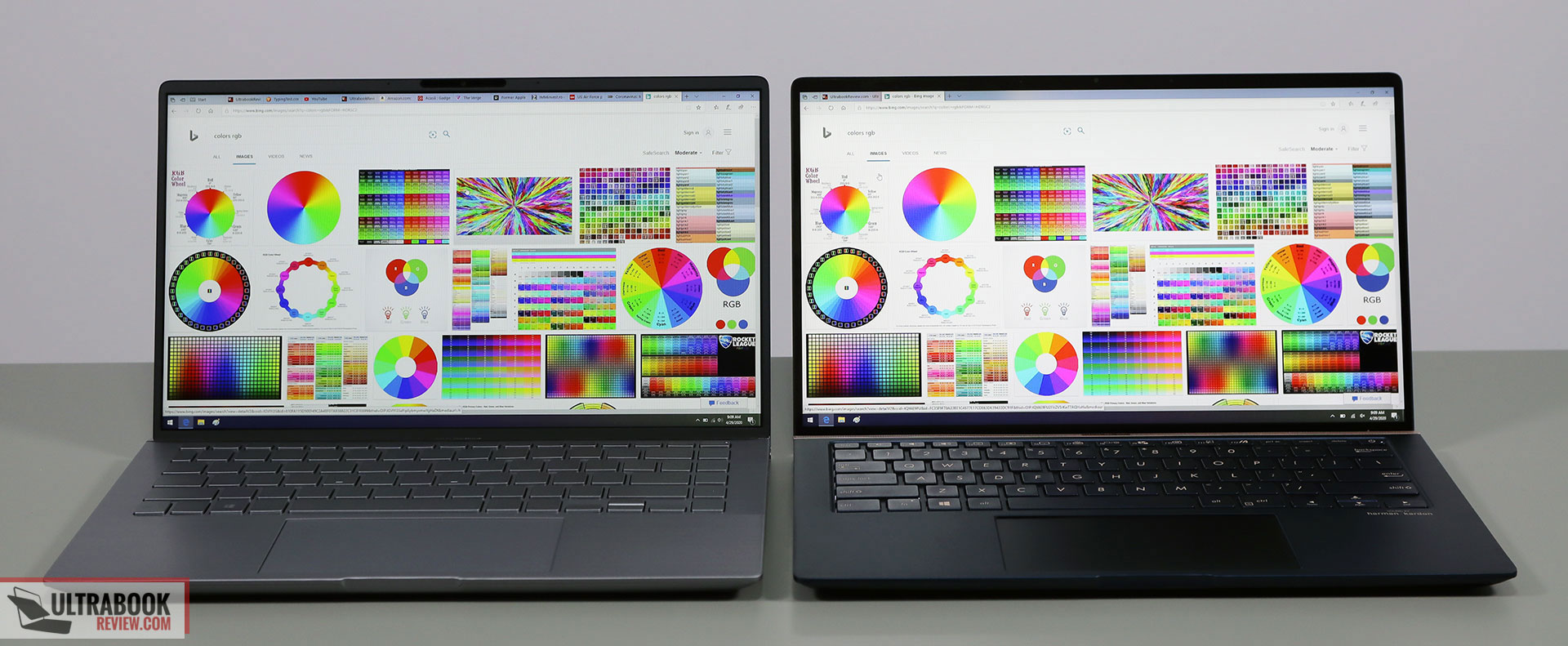 Asus also implements slightly different panels on these two. The one on the UX434 is about 15% brighter and offers slightly better contrast and colors out of the box, but the differences are small and hardly noticeable even when having the two laptops side by side. It also gets a bluer tint out of the box, and once calibrated, the two end up both at about 300-nits of brightness, 1000:1 contrast, and similar DeltaE color variation.
For what is worth, though, while both these screens are fine for daily use, the competition offers brighter and richer options on their products these days, and Asus pretty much need to step up their game to remain competitive.

Still, at least both models get webcam and IR Hello cameras at the top. There's no finger-sensor on any of them, though.
Specs, performance, and thermals
OK, let's talk specs and numbers. But first, a quick specs sheet of the two tested configurations.
| | | |
| --- | --- | --- |
| | Asus ZenBook 14 UX434FLC | Asus ZenBook 14 UM433IQ |
| Screen | 14.0 inch, 1920 x 1080 px, IPS, touch, glossy, AU Optronics B140HAN03.2 panel | 14.0 inch, 1920 x 1080 px, IPS, non-touch, matte, BOE NV140FHM-N63 panel |
| Processor | Intel Comet Lake Core i7-10510U, 4C/8T | AMD Renoir Ryzen 7 4700U, 8C/8T |
| Video | Intel UHD 620 + Nvidia MX250 2GB DDR5 10W (10DE 1D52) (GeForce 445.87) | AMD Radeon Vega 7 + Nvidia MX350 2GB DDR5 10W (10DE 1C96) (GeForce 445.87) |
| Memory | 16 GB LPDDR3 2666 MHz (soldered) | 16 GB LPDDR4x 4266 MHz (soldered) |
| Storage | 512 GB M.2 PCIe x4 SSD (Intel Optane Memory H10 HBRPEKNX0202A) | 1 TB M.2 PCIe x4 SSD (Samsung PM981 MZVLB1T0HALR) |
| Connectivity | Wireless 6 (Intel AX200), Bluetooth 5.0 | Wireless 6 (Intel AX200), Bluetooth 5.0 |
| Ports | 1x USB-A 3.1 gen2, 1x USB-A 2.0, 1x USB-C 3.1 gen2 (data only), HDMI, microSD card reader, mic/headphone | 1x USB-A 3.1 gen2, 1x USB-A 2.0, 1x USB-C 3.1 gen2 (data only), HDMI, microSD card reader, mic/headphone |
| Battery | 50 Wh, 65W charger | 50 Wh, 65W charger |
| Size | 320 mm or 12.56" (w) x 200 mm or 7.83" (d) x 15.9 mm or 0.63" (h) | 320 mm or 12.56" (w) x 200 mm or 7.83" (d) x 15.9 mm or 0.63" (h) |
| Weight | 2.89 lbs (1.31 kg)+ .44 lbs (.2 kg) charger, US version | 2.64 lbs (1.2 kg)+ .44 lbs (.2 kg) charger, US version |
| Extras | white backlit keyboard, glass 5.65″ ScreenPad, HD webcam, IR Hello camera and near-field mics, 2x 1W stereo speakers, available in Royal Blue | white backlit keyboard, glass NumberPad, HD webcam, IR Hello camera and near-field mics, 2x 1W stereo speakers, available in Icicle Silver |
Our ZenBook 14 UM433 gets the 8Core/8Thread AMD Ryzen 4700U APU with Nvidia MX350 graphics, while the UX434 gets the 4Core/8Thread Intel Core i7-10510U processor with Nvidia MX250 graphics.
Both run on PCIe x4 SSD storage and both ship with Samsung PM981 drives in the 1 TB configurations, as well as 16 GB of RAM. However, there's 2666 MHz DDR3 memory on the Intel model, while the AMD version gets 4266 MHz LPDDR4x memory.
The CPU, GPU and RAM are soldered on the motherboards, but the M.2 PCIe slot is accessible for upgrades. For that, you'll have to pop out the back panel, and keep in mind that there are two screws hidden behind the rear rubber feet. Asus moved the SSD drive placement on the newer AMD-based design, but that doesn't seem to have an impact over the performance or temperatures.
Nonetheless, the AMD-based Zenbook 14 comes on top when it comes to specs, so let's see how these two hardware platforms perform in benchmarks and games.
We've run a couple of different tests on our review units, such as Cinebench, Geekbench or PCMark 10, as well as Blender and Handbrake, which simulate real-life work with professional applications and video encoding. Some of these are illustrated here, next to a couple of other current platforms available for ultrabooks, and the others are available in the detailed reviews (here's the ZenBook 14 UX434FLC, and the ZenBook UM433iQ review will be published shortly).
It's important to mention that while both AMD Renoir and Intel Comet Lake are 15W mobile platforms by design, OEMs can choose to implement them at between 10 to 25W.
In this case, both implementations run at about 25W in shorter loads, but then stabilize at 15W in longer tasks. However, the AMD variant runs at higher clocks and power for a few minutes, with the CPU hitting temperatures in the low 80s in this case, while the Intel model quickly hits temperatures in the mid-90s and drops to 15W within 20-40 seconds. That's illustrated in these Prime95 tests and in our Cinebench multi-loop test.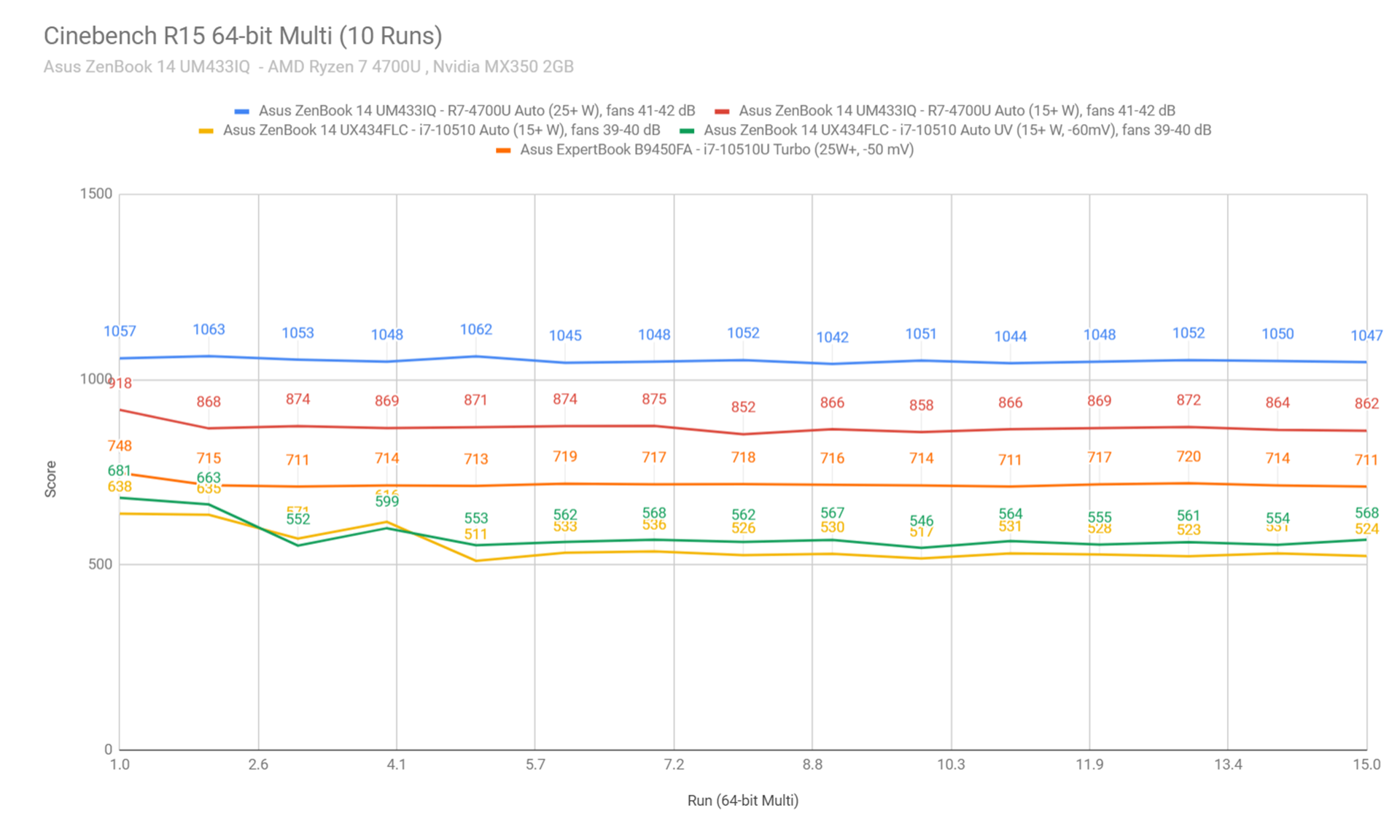 That's why AMD wins the multithreaded tests by a fair margin, but Intel still should still come on top in single-core performance. This might not seem the case based on those results above, but the i7-10510U can do a lot better than in this UX434, based on our other reviews, such as the ZenBook Duo UX484 and VivoBook S15. For some reason the i7-10510U in this UX434FLC model scored lower than it should have, and lower than the i7-8565U in the 2019 ZenBook 14 model, so you should take these findings with a grain of salt and expect 10-20% higher scores in single and multi-core tests for the Intel-based version of the ZenBook 14. At the same time, keep in mind that our UM433 is also an early-sample with early drivers, so these results could also improve over time.
Regardless, the AMD 4700U APU is still going to end-up the more capable multi-threaded platform, but the margins between the two should be somewhat smaller than what we got on our samples.
Next, we've run the 3Dmark tests for both for the CPU and the GPU, and the UM433 comes on top in both cases.
And that's because the MX350 graphics chip in the UM433 is actually a major bump over the MX250 of the previous generation, as it's based on a higher tier GP107 chip with 640 processing units, compared to the 378 shaders (GP108) on the MX250. The two ZenBooks here both implement the efficient 10W iteration of these GPUs, the one meat for ultraportable builds, and the MX350 comes in front in all the benchmarks and games.
With these out of the way, let's look at some games. We ran a couple of DX11, DX12, and Vulkan titles on the Auto/Best Performance profiles. Here's what we got:
UM433 – Ryzen 7 + MX350
UX434 – Intel + MX250
Bioshock Infinite (DX 11, Low Preset)
97 fps (45 fps – 1% low)
76 fps (39 fps – 1% low)
Dota 2 (DX 11, Fastest Preset)
95 fps (48 fps – 1% low)
97 fps (45 fps – 1% low)
Dota 2 (DX 11, Best Looking Preset)
74 fps (39 fps – 1% low)
47 fps (20 fps – 1% low)
Far Cry 5 (DX 11, Low Preset, no AA)
35 fps (32 fps – 1% low)
25 fps (21 fps – 1% low)
Middle Earth: Shadow of Mordor (DX 11, Lowest Preset)
65 fps (48 fps – 1% low)
31 fps (18 fps – 1% low)
Red Dead Redemption 2 (DX 12, Favor Performance) – HD
30 fps (19 fps – 1% low)
–
Rise of the Tomb Raider (DX 12, Lowest Preset, no AA)
45 fps
39 fps
Shadow of Tomb Raider (Vulkan, Lowest Preset, no AA)
40 fps (35 fps – 1% low)
29 fps (25 fps – 1% low)
Strange Brigade (Vulkan, Low Preset)
44 fps
35 fps
The Witcher 3: Wild Hunt (DX 11, Low Preset, Hairworks Off)
16-35 min-max fps
(29 fps avg, 18 fps – 1% low)
15-28 min-max fps
(24 fps avg, 10 fps – 1% low)
Battlefield V, The Witcher 3, Dota 2 – recorded with MSI Afterburner in game mode;
Bioshock Far Cry 5, Middle Earth, Strange Brigade, Red Dead Redemption 2, Tomb Raider games – recorded with the included Benchmark utilities;
The UM433 wins across the board, and the gap between the two gets wider as your ramp up the graphics details. That's only possible in older games such as Bioshock Infinite on Shadow of Mordor, though, as neither the MX250 or the MX350 are truly gaming chips, and can barely handle FHD gaming at low settings with recent AAA titles. In fact, some of the more demanding titles such as Red Dead Redemption 2 can't even run at FHD resolution, due to the limited 2 GB memory buffer on these, but older or simpler games such as Minecraft, League of Legends on Dota 2 will run at 40-100 fps on the MX350 chip, even with medium/high settings.
Thermals, audio and battery life
Performance aside, both these laptops run quietly and barely warm with games, at under 40 dB at head level and case-temperatures in the low to mid-40s. The Intel-based UX434 runs marginally hotter but is also quieter by 1-2 dB. As already mentioned, though, the screens reach high-40s in that spot around the exhaust.

The fans remain active with daily use, but they're barely audible in a quiet room, and Asus also offers a Silent profile that makes sure you'll hardly ever hear the fans, but with a toll on performance.
Internally, they offer similar thermal designs, fairly basic implementations with a single heatpipe and fan. Fort what is worth, both configurations, and especially the hotter running Intel variant, would benefit from a more complex thermal solution in combined loads and games.

These ZenBooks also get decent speakers. Both fire through cuts on the bottom, but Asus went with a slightly different design in each case, and the audio is slightly louder, but also somewhat harsh sounding, on the UM433, and somewhat warmer and nicer on the UX434, but with lower max volume. Neither are impressive, though.
Battery life is one area where both these ZenBooks do well.
They get the same 50 Wh battery and the AMD and Intel platforms are about neck in neck in our tests, delivering around 4-5 hours of real-life multitasking and 8-10 hours of video. The Intel implementation ran for a little longer in our video tests, though.
Both laptops are paired with compact 65W chargers which plug through a standard barrel connector, and neither supports USB-C charging.
Pricing and conclusions
Ok, let's draw the line on these two.
On one hand, the Intel-based ZenBook UX434 is the more premium option, with a touchscreen, a ScreenPad, slightly better audio, and a keyboard that's easier to read and use in all conditions. These aside, from what I can tell right now, the UX434 is also the more expensive option of the two, although the AMD Based ZenBook UM433 is not yet widely available at this point.
Check out these links for updated configurations and pricing on both of these at the time you're reading this article: ZenBook UX434FLC (Intel) and ZenBook UM433IQ (AMD).

On the other hand, the ZenBook UM433 wins at performance, and by a fair margin. The AMD 4700U platform is a viable alternative for the Intel Comet Lake hardware, with twice the number of cores and faster memory. Intel still comes in front in single-core performance, but AMD wins at multithreaded loads and is mostly a match for Intel at efficiency, something they struggled with in the past.
On top of that, the UM433 gets that upgraded Nvidia MX350 GPU, which allows for 20-30% improved performance in GPU loads and games. Of course, there are much more capable gaming ultraportables out there, such as the Razer Blade Stealth or the Asus Zephyrus G14, with beefier graphics and faster screens, and a price to match. Still, if you're into older or less-challenging titles such as Dota or Fornite or Minecraft, the ZenBook UM433 should do just fine.
For what is worth, though, I expect Asus to bring over the MX350 to their Intel configurations in due time, and that's going to balance out some of the advantages.
For now, though, with the cheaper price and improved performance, the UM433 takes the win here. Just make sure you can live with that pesky silver keyboard.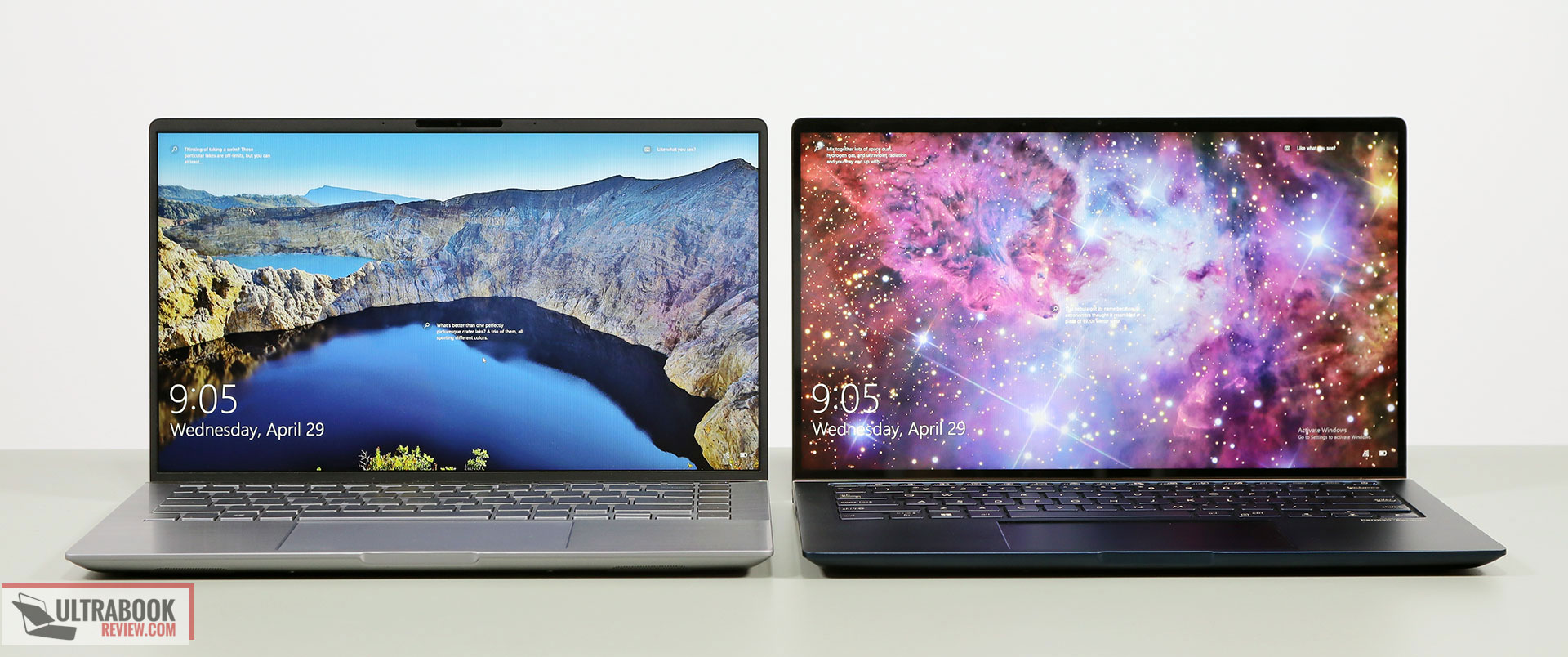 With that in mind, we'll wrap this up here. Let me know what you think about these two ZenBooks and which one would you get, I look forward to your thoughts and feedback in the comments section down below. Talk to you there.
Disclaimer:
Our content is reader-supported. If you buy through some of the links on our site, we may earn a commission.
Terms
.