This article has two parts, one that explains what Nvidia's Max-Q initiative means for existing and future gaming laptops, and a second one that gathers all the Max-Q notebooks available out there, in a periodically updated list.
If you plan to jump straight to the list, here it is: the GTX 1080 Max-Q high-performance options, the GTX 1070 (most variants, thin and light, good performance) and the GTX 1060/1050 Ti models (more affordable) .
Nvidia's Max-Q is an initiative that aims to slim down gaming laptops and make them more pleasant to use, by lowering their noise levels.
In order to do that, Nvidia provides OEMs with what they call Max-Q versions of the GTX 1060, 1070 and 1080 graphics chips, which in very few words are down-clocked variants of those chips running at lower frequencies, but with much lower TDPs as well, as it's better explained in one of the tables below.
Let's take a regular mobile GTX 1080 for instance, which runs at around 150 W. The Max-Q 1080 variant only needs between 90-110 W. This allows manufacturers to put the 1080 chip inside much slimmer and portable laptops, like the Asus Zephyrus or the Acer Predator Triton, which would otherwise not be able to even accommodate a full-power 1070.
However, the amount of performance is going to vary between the Max-Q chips, based on the exact implementation each OEM chooses to go with. Given the 1080 Max-Q chip can have TDPs between 90 and 110 and clock speeds between roughly 1100 and 1300 MHz, that means there will be performance variations of as much as 25% between implementations, which can get confusing for potential buyers.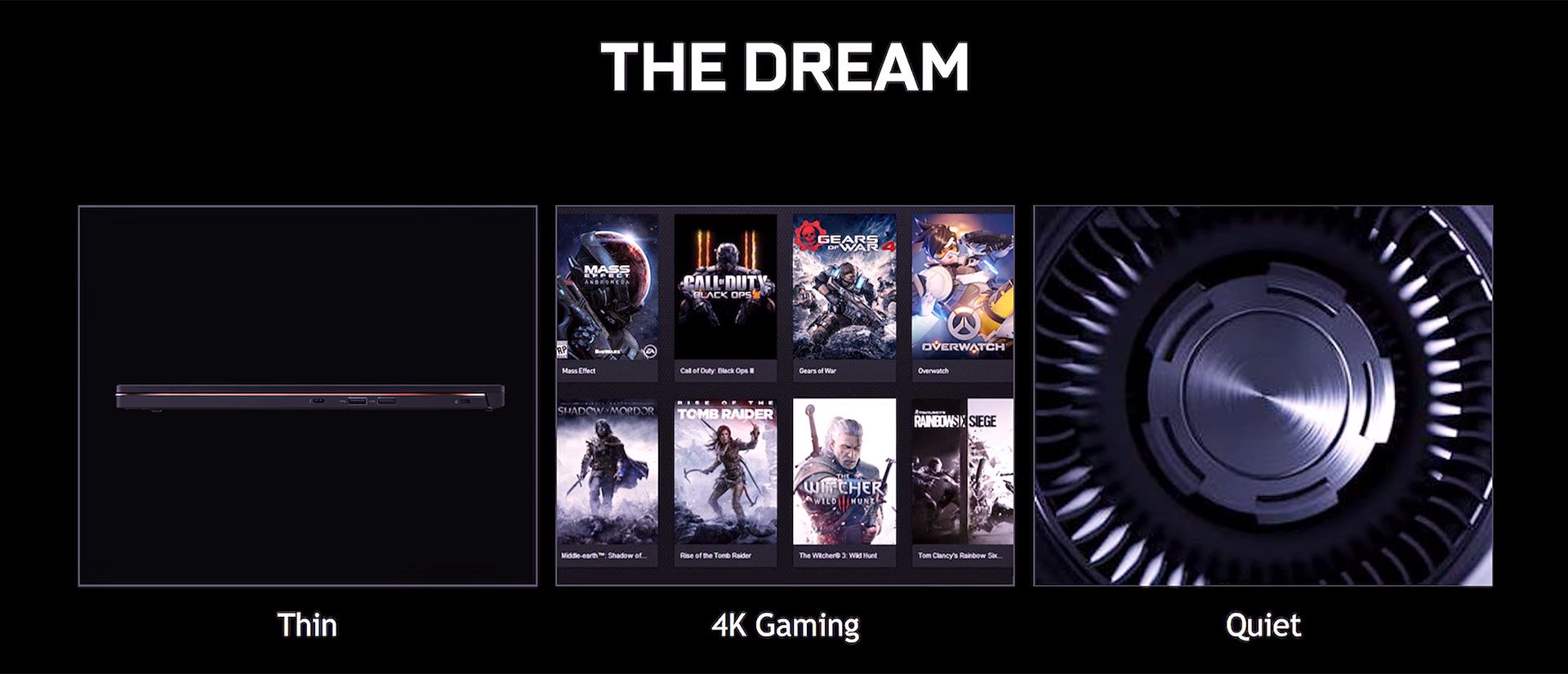 In other words, not all Max-Q laptops will perform the same, and while in theory a 1080 MaxQ chip sits between a regular 1070 and 1080 in terms of performance, in some cases a MaxQ 1080 can come very close to a standard mobile GTX 1070 chip (or even perform a little poorer).
That's why it's impossible to say that a 1080 MaxQ chip is generically X% faster than a 1070 and Y% slower than a 1080, because X and Y are going to vary from unit to unit. That's why it is imperative to properly research the laptop you're interested in (read reviews, the forums, user reviews from online stores) before deciding if it's what you need or not. The same conclusion applies to the MaxQ 1070 and 1060 designs.
The architectural differences between the regular Pascal mobile chips and the MaxQ variants are explained below.
Hardware aside, the Max-Q initiative has a software component as well. Nvidia pushes a limit on fan noise, set at at maximum of 40 dB (at ear-level). That's low, given most normal laptops easily go past 45 dB with gaming, and it's especially low when corroborated with the slimmer form-factors.
In order to meet the requirement, OEMs need to develop new cooling solutions, but Nvidia also gives a helping hand with a feature called "WhisperMode" implemented within the GeForce Experience app. This balances graphics details with frame-rates in order to keep noise down, but what it actually does is lower details so the GPU works as little as possible to output a given amount of frames per second. There's a cap on frame-rates as well, around 40-60 fps, similar to what the BatteryBoost feature does for gaming on battery.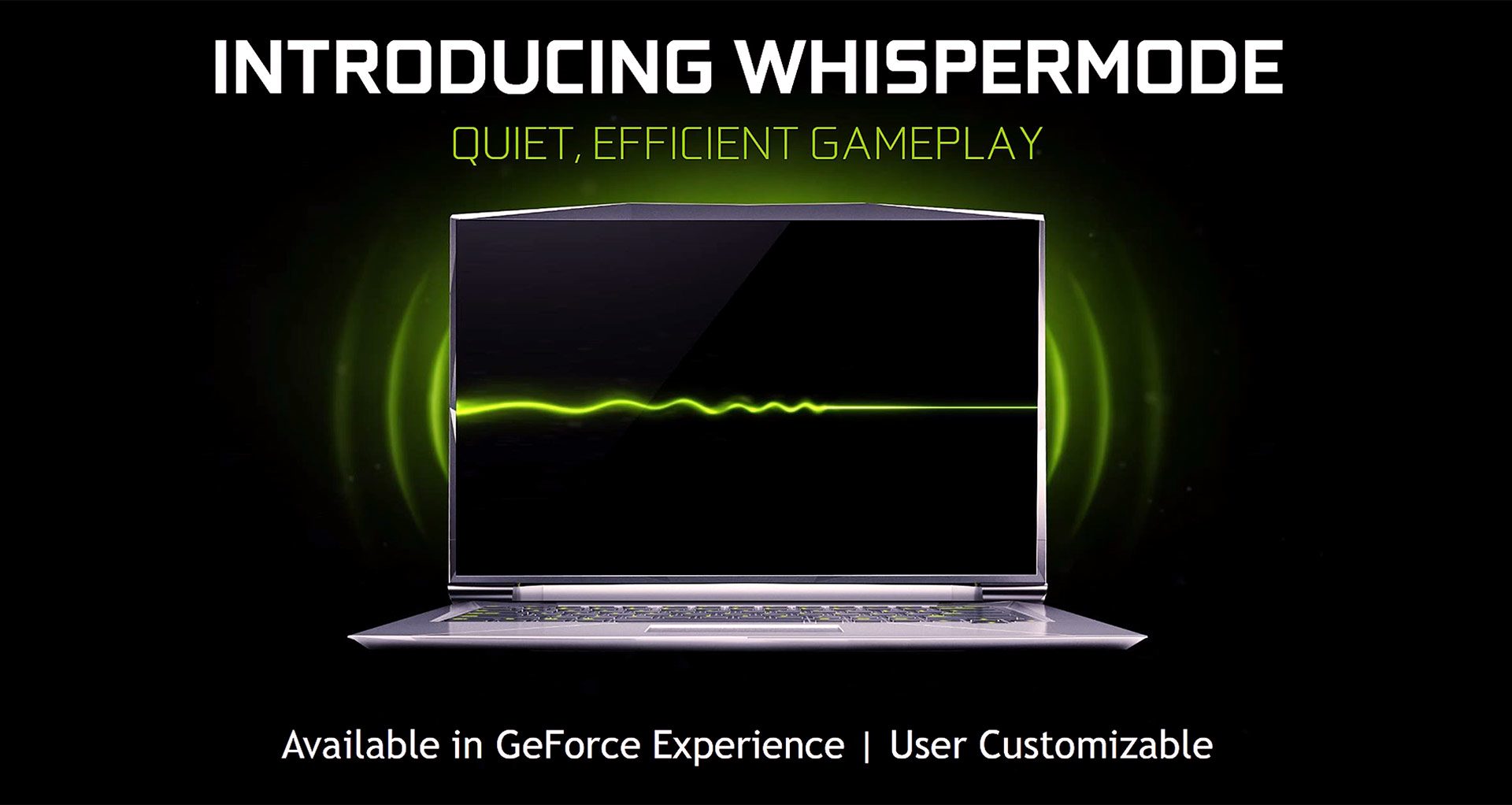 Bottom point, Nvidia's Max-Q design states that gaming performance does not have to sacrifice portability and pushes laptop manufacturers to improve their devices. There's no hard-limit set for how thin Max-Q laptops should be, and there's no restriction on thermals, so expect many of these to run very hot.
From what I'm seeing, OEMs took two different approaches with MaxQ laptops. Some created brand new ultrathin gaming/performance designs (like the Asus Zephyrus, Acer Triton, MSI GS65 Thin, Gigabyte Aorus 15X, Razer Blade 15), while others took existing designs and crammed higher-tier Max-Q graphics inside (MSI GS63 and GS73, Alienware m15, HP Omen 17, Dell G series).
MaxQ units tend to be expensive though, that's why the designs in the latter aforementioned category make little sense to me. In their case, potential customers are asked to pay a premium of a couple of hundreds of dollars just for a slight performance bump and potentially quieter fans/lower thermals, which might not be worth it for most. In fact, the bump in performance is not a guarantee, as from what we know so far a computer with an overclocked regular 1070 can perform better than one with a 1080 MQ, for a fraction of the price, but with increased energy costs.
We've added complete lists of the available MaxQ gaming laptops below, as well as relevant information for each model. The article is split into two main sections, based on the chip inside the units, and while there are few models listed as of right now, we'll continue to update it as new models are announced.
Portable laptops with Nvidia GTX 1080 Max-Q graphics
This section includes high-tier gaming notebooks with Nvidia Max-Q 1080 graphics and for the most part, portable designs. However, if you're just after performance and don't care about the form factor, a list of laptops with regular GTX 1080 graphics is available over here.
Portable laptops with Nvidia GTX 1070 Max-Q graphics
This section includes high-end gaming notebooks with Nvidia MaxQ 1070 graphics. If the thin-and-light form factor is not extremely important for you, you should also check out our lists of portable notebooks with regular Nvidia GTX 1060 and 1070 graphics via these links.
Portable laptops with Nvidia GTX 1060 and 1050 Ti Max-Q graphics
This section includes a list of mid-range compact laptops with Nvidia Max-Q 1060 and 1050 Ti graphics, options to consider if you're either after a portable computer with a lower price-tag, or if you're on a tighter budget. If portability is not your main concern though, check out the options above, or these lists of notebooks bundled with full-power Nvidia GTX 1060 and 1070 graphics.
That's about it for now, but we're constantly updating the list and adding new devices as they are released. Please get in touch in the comments section below in case you spot anything that should be in here and is not, and down there you can also leave your impressions and questions about the Nvidia Max-Q designs and any of the laptops mentioned here.