The Zephyrus S GX531 is the mid-2018 update of the original Asus Zephyrus line, with a more compact and thinner build, an updated 144 Hz IPS screen and modern specs (8th gen processors and either GTX 1060 or 1070 Max-Q graphics).
Asus advertises it as the "thinnest gaming laptop" on the market. I'm not a sucker for thin laptops and rather consider the overall footprint and weight more important criteria on a thin-and-light computer, especially because thinness and games don't usually play well together, as powerful hardware needs proper cooling in order to work as is supposed to. Thus, before we get our hopes up, we'll have to look past the fine marketing lines in order to find out if this Zephyrus S is a good buy or not, where it shines and where it falls short.
We don't have a review unit at the time of this article (we'll update with a link to the review once we publish it), so, for now, we'll just look into what's changed and how the Zephyrus S GX531 compares to the previous Zephyrus GX501/GM501 lines, as well as the other premium-tier gaming ultraportables it will compete against: the Gigabyte Aero 15X, Razer Blade 15, MSI GS65 Thin and perhaps the Acer Triton 700.
Update: Our detailed review of the updated Zephyrus S GX531 GX generation is available over here.
First of all, let's have a look at the specs sheet:
| | |
| --- | --- |
| | Asus ROG Zephyrus S GX531GM / GX531GS |
| Screen | 15.6 inch, 1920 x 1080 px resolution, IPS AHVA, 144Hz, matte, non-touch |
| Processor | Intel Coffee Lake Core i7-8750H CPU, six-core 2.9 GHz, 4.1 Ghz turbo |
| Video | Intel HD + Nvidia GeForce GTX 1060 6 GB (GX531GM) of 1070 8Gb Max-Q (GX531GS) |
| Memory | up to 24 GB DDR4 (8GB soldered + 1x DIMM) |
| Storage | 2x 80 mm M.2 NVMe slots |
| Ports | 3x USB-A, 2x USB-C, HDMI 2.0,  mic/earphone combo, Kensington lock |
| Connectivity | Wireless AC Wave 2, Bluetooth 5.0 |
| Battery | 50 Wh, 180 or 230 Wh power adapter |
| Size | 360 mm or 14.2" (w) x 268 mm or 10.5" (d) x 15.75 mm or .62" (h) |
| Weight | 2.1 kg or 4.63 lb |
| Extras | Aura multi-colored keyboard backlighting, backlit trackpad/NumPad combo, HD camera, ambient light sensor |
What's changed
The Zephyrus S is more compact than the previous Zephyrus versions, and you can easily tell it has shrunk from the small bezels around the sides and top of the screen. It's also a tad lighter, at around 4.6 lbs, compared to the 4.95 lbs of the original Zephyrus, as well as thinner, at .62″, compared to the .70 of the GX501. Asus and most other websites that reported on this laptop made a big fuss of its thin profile, thinner than of other gaming-ultraportables available at this point, but I for one find the smaller footprint and lighter weight more important with daily use.
Not much else has changed on the outside, as the Zephyrus S looks and feels like a baby version of the Zephyrus. They share similar aesthetics lines, features, and layout designs. For instance, this laptop still implements the AAS mechanism that lifts the main-body in order to improve the air-flow towards the inner components, there's still a chin underneath the screen and enough room for a camera at the top (despite the thinner bezels), the build quality is still top notch and the keyboard is still placed at the bottom of the interior, where most other laptops get a palm-rest, with the trackpad at its right.
This particular layout leaves extra room on top to properly cool the components inside, but will require some time to get used to. As Derek points in our review of the original Zephyrus, the typing experience should be fine as long as you keep the computer on a spacious desk, where it would feel just like typing on a compact desktop keyboard without any sort of arm support. You'll struggle however in any other situation, like in cramped spaces or when typing on the lap. The clickpad is even more difficult to adapt to, as it's tall and narrow, and you'll have to lift your right hand and move it to the right to get to it, which is impractical and of course, means that it's a definite no-no for lefties.
The reduced footprint of the Zephyrus S attracts a few other changes: the speakers are no longer flanking the keyboard, instead, they've been placed in the small hump just under the screen, which also integrates the status LEDs now, and the IO is slightly snipped. The specs only mention two USB-C ports and nothing about Thunderbolt 3, which is a downgrade from the original Zephyrus.
Another important update regards the screen: still 15.6-inch in size, but with a 144 Hz IPS AHVA panel. An AHVA panel is normally a little faster than a standard IPS screen, which is ideal for a gaming laptop. It also gets deeper blacks and better contrast, but only average color accuracy. Asus mentions 100% sRGB coverage for this panel, which should be around 70% aRGB, enough for daily use and games, but not exactly what you'll want to for color-graded work.
Unlike the original Zephyrus, the S no longer gets GSync, which on one hand impacts the gaming experience, but on the other is replaced by Optimus, which allows for significantly longer battery life.
And then we get to the hardware. The Zephyrus S is built on Coffee Lake processors with GTX 1060 (the GX531GM model) or GTX 1070 Max-Q (GX531GS version) graphics. It still gets up to 24 GB of DDR 4 RAM, with 8 GB of memory soldered on the motherboard and one available DIMM, but this time two M.2 storage slots.
Of course, we all wonder how this kind of hardware is going to perform in such a thin body, and I'd expect it will do well. That's based on how the older Zephyrus performed, which was marginally thicker, but was able to keep the demanding GTX 1070 or GTX 1080 Max-Q at bay. The Zephyrus S takes the graphics a notch down, but keep the AAS system, the same layout with ample air intake on the top and what looks like even a more complex cooling ensemble, so I'd expect both the GS and the GM versions of this laptop to work well with games and demanding loads. They'll probably run hot, but should offer the kind of performance expected from these chips.
Asus claims they especially looked at improving the cooling on this laptop. It still gets two fans and ample layout of heatpipes, but the fans have more fins and increased CFM, and each of them gets two radiators this time around, one firing on the back and on on the side. The side vents were designed to flow air slightly backward and away from a mouse that would be placed near the laptop, but also slightly upwards in order for the hot air to not end-up back inside through the intake-gap created by the AAS system.
These small tweaks sound smart and will hopefully keep the S cooler and quieter than the other similar thin-and-light gaming laptops out there.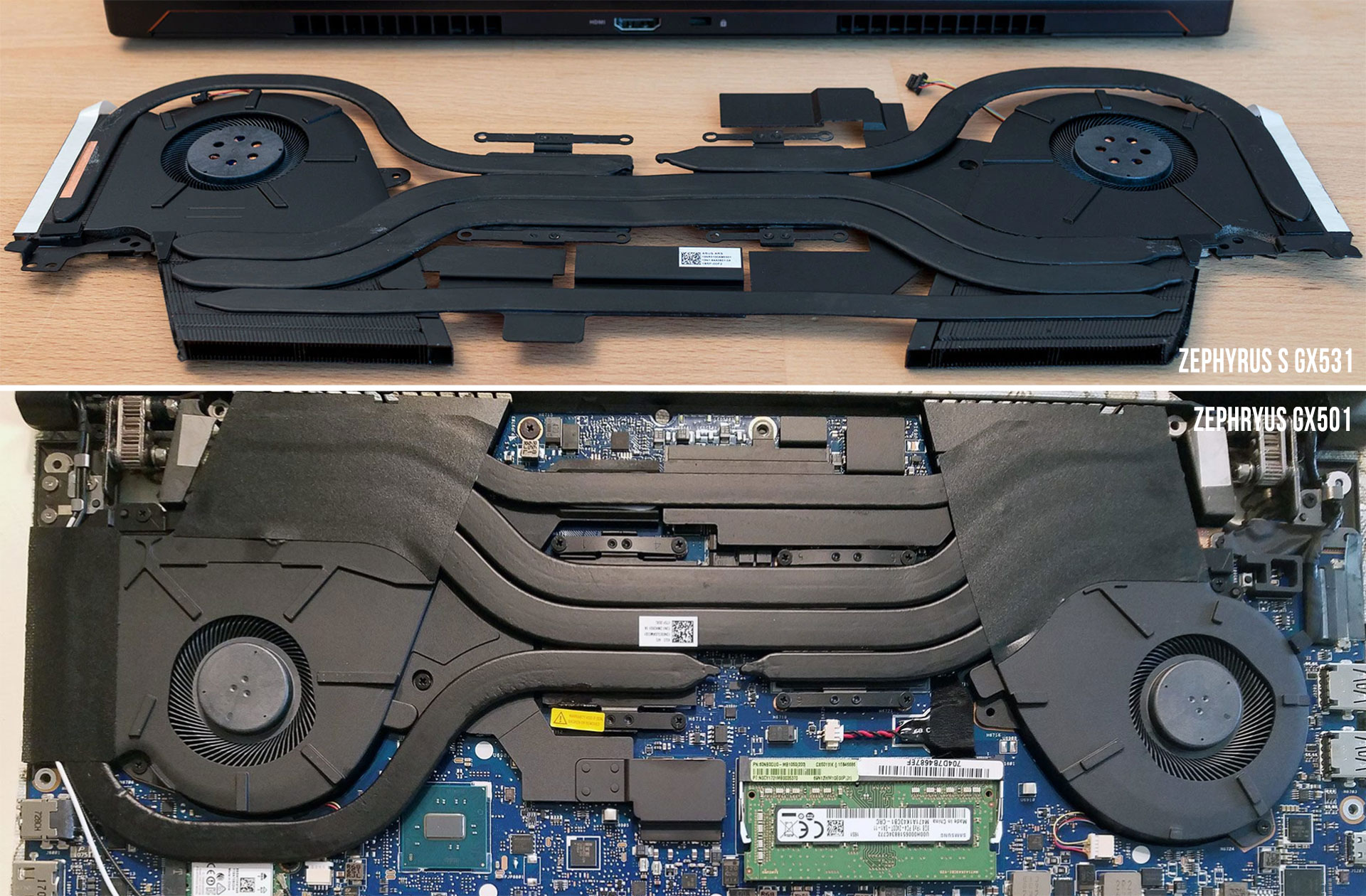 On top of these, you should also consider that other OEMs are able to cool similar components in more standard laptops, without moving parts that are designed to improve airflow and with keyboards actually positioned in the standard place, above the hardware. If MSI, Razer or Gigabyte can do it on their laptops, Asus should better do an even job with this Zephyrus S, given the compromises potential buyers have to accept here.
Of course, these are just assumptions right now, but we'll further look into performance and thermals/acoustics once we get a review unit.
What hasn't changed
A few aspects of the Zephyrus S haven't changed from the original Zephyrus, and perhaps the most important is the size of the battery.
The updated line still gets a 50 Wh battery, which is small compared to what the other manufacturers put on their units. Of course, with Optimus, you will get longer runtimes with everyday use compared to last year's appalling results, but you shouldn't expect more than 3-4 hours of real-life use and about 5-6 hours of video.
This aside, the keyboard and trackpad don't seem to have changed much either, although the S gets 1.2 mm deep keys as opposed to 1.4 mm keys in the original Zephyrus, so the typing experience might differ. There's still only 4-zone illumination though, and not individual control as with other laptops.
And then there's the design, with the same accents that suggest this is a gaming computer, and the same annoying lights: the ROG logo in the lid, the lights in the AAS system, the always lit power-buttons and the status LEDs. Some of you might like the design and all these elements, but some might prefer the simpler aesthetics available with the other premium thin-and-light gaming notebooks.
Pricing and availability
The Zephyrus S will make it to stores in September 2018. There are no exact pricing details available just yet, but I'd expect around $1800 for the GX531GM models and around $2000 for the GX version with GTX 1070 Max-Q graphics.
Update: The Zephyrus S will be available from September 21st in the US, and the i7/GTX 1070 configuration is already listed for $1899. Follow this link for updated prices and configurations at the time you're reading the article.
Wrap-up and competition
I'm pretty stoked about this laptop and Asus did a good job with the update. The Zephyrus S feels a lot more like a modern laptop than the 2017 generation, with an excellently crafted body, compact and light design, a matte IPS screen with 144 Hz refresh-rate and small bezels, as well as up-to-date hardware. However, potential buyers still have to accept the keyboard/trackpad's unusual placement, the small battery, and the gaming-inspired design lines, so the Zephyrus S needs to compensate for those with better performance than the competition, cooler/quieter emissions, and a competitive price.
We'll let you know if it does once we get out review unit.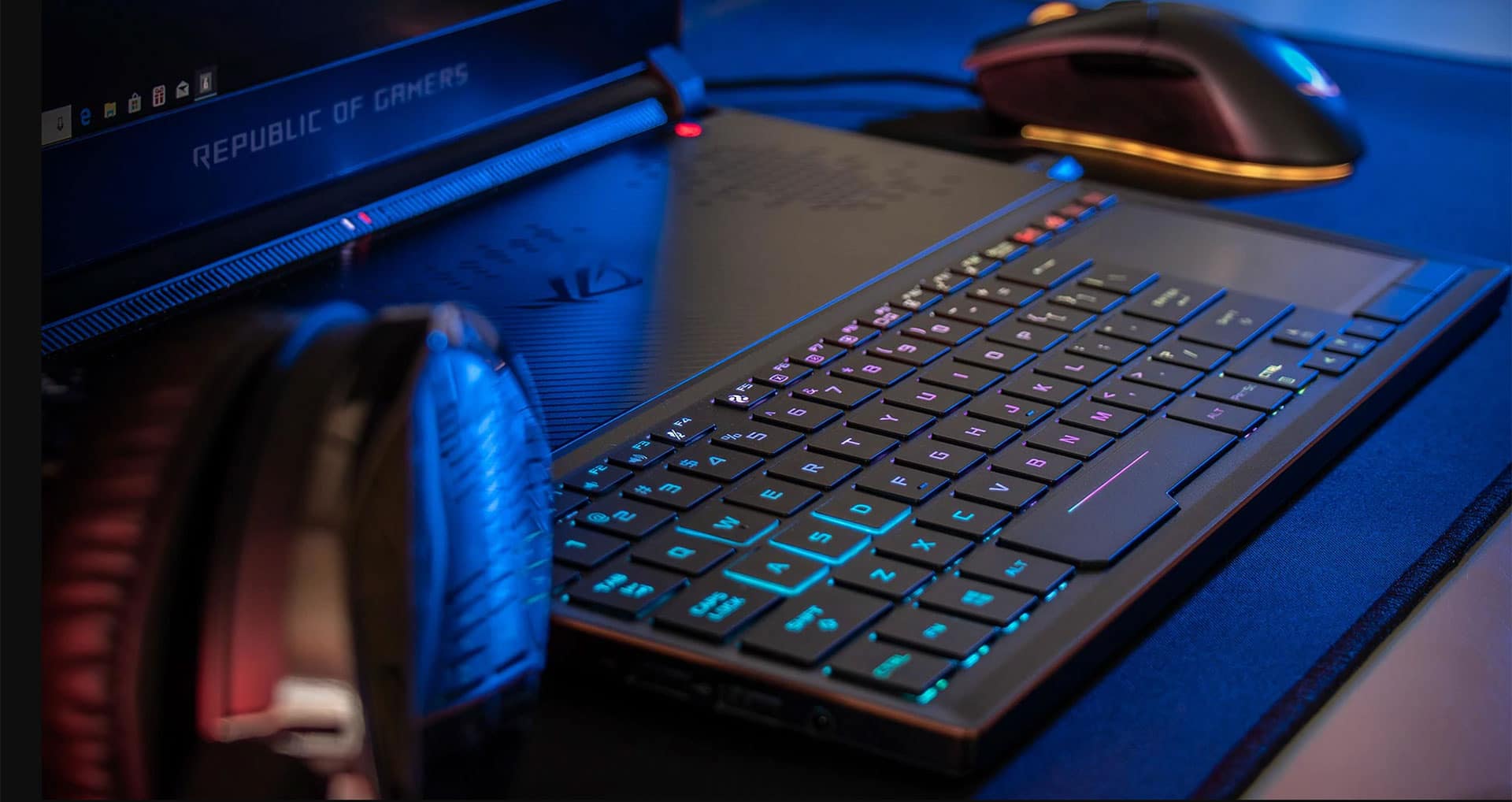 Those of you interested in a more standard laptop with even faster graphics should also have a look at the Zephyrus M line, with full-power GTX 1070 graphics and 144 Hz screen with both GSync and Optimus, while those of you interested in small, thin and light models should also check out the MSI GS65 Thin, the Razer Blade 15 and Gigabyte Aero 15x.
Each has its pros and cons: the MSI GS65 is more affordable than the competition, lighter as well, performs well with games and gets an excellent keyboard, but is not that well built. The Razer Blade 15 is excellently made, but is expensive, gets a rather unusual keyboard layout and doesn't perform as well as the others. The Gigabyte Aero 15x is the best ultraportable gaming laptop of the moment, with simple looks, great build quality, solid performance, and a huge battery, but is not available all around the world.
| | | | | |
| --- | --- | --- | --- | --- |
| | Gigabyte Aero 15X | Razer Blade 15 | MSI GS65 Stealth Thin | Asus ROG Zephyrus S |
| Screen | 15.6-inch – FHD 144 Hz matte, UHD 60 Hz 100% aRGB matte | 15.6-inch – FHD 60Hz/144 Hz matte, UHD 60 Hz 100% aRGB touch | 15.6-inch – FHD 144 Hz matte | 15.6-inch – FHD 144 Hz matte |
| Processor | Core i7-8750H | Core i7-8750H | Core i7-8750H | Core i7-8750H |
| Video | Nvidia GTX 1070 Max-Q, with Optimus | Nvidia GTX 1060 or 1070 Max-Q, with Optimus | Nvidia GTX 1060 or 1070 Max-Q, with Optimus | Nvidia GTX 1060 or 1070 Max-Q, with Optimus |
| Memory | up to 32 GB DDR4 (2x DIMMs) | up to 32 GB DDR4 (2x DIMMs) | up to 32 GB DDR4 (2x DIMM) | up to 32 GB DDR4 (2x DIMMs) |
| Storage | 2x M.2 PCIe | 1x M.2 PCIe | 2x M.2 PCIe, 1x 2.5″ | 2x M.2 PCIe, 1x 2.5″ |
| Ports | 3x USB-A 3.1, 1x USB-C with Thunderbolt 3, HDMI 2.0, miniDP 1.4, LAN, SD card reader, mic/earphone | 3x USB-A 3.1, 1x USB-C with Thunderbolt 3, HDMI 2.0, DP 1.4, mic/earphone | 4x USB-A, 1x USB-C with Thunderbolt 3, HDMI 2.0, miniDP, LAN, mic/earphone | 3x USB-A, 2x USB-C without Thunderbolt 3 (?), HDMI 2.0, mic/earphone |
| Battery | 94.2 Wh | 80 Wh | 80 Wh | 50 Wh |
| Size | 356 mm or 14.01" (w) x 250 mm or 9.8" (d) x 18.9 mm or .75" (h) | 355 mm or 13.98" (w) x 225 mm or 9.25" (d) x 16.8 mm or .66" (h) |  358mm or 14.08" (w) x 248mm or 9.75" (d) x 17.5mm or .69" (h) | 360 mm or 14.2" (w) x 268 mm or 10.5" (d) x 15.75 mm or .62" (h) |
| Weight | ~2.08 kg (4.6 lbs) | ~2.08 kg (4.6 lbs) | ~1.9 kg (4.1 lbs) | ~2.1 kg (4.65 lbs) |
| Price | starts at $2299 | starts at $1899, $2399 for GTX 1070MQ/144 Hz screen | starts at $1899, $2199 for GTX 1070MQ/144 Hz screen | $1899 for GTX 1070MQ model |
| Particularities | mostly aluminum build, simple design, independently lit RGB keyboard, bottom speakers | unibody aluminum construction, clean design, Chroma RGB backlit keyboard, front-facing speakers | simple design, not the best build quality, great keyboard, difficult to upgrade, bottom speakers | gaming design, thin construction, unusual keyboard/clickpad placement, 4-zone Aura RGB backlit keyboard, front speakers |
Disclaimer:
Our content is reader-supported. If you buy through some of the links on our site, we may earn a commission.
Terms
.