In this article, we're going over the mid-2022 update of the Acer Swift 3 14-inch series of affordable ultrabooks, namely the Swift 3 SF314-512 model with Intel Alder Lake hardware and Evo certification.
The Swift 3 lineup needs no introduction, as over the years it has been one of the most popular options for a value ultraportable without major compromises.
On the outside, the 2022 update looks much like the previous models (Swift 3 SF314-59 or SF314-511), with a simple and somewhat utilitarian construction, meant to last and handle well the everyday hassle. At the same time, this generation is slightly smaller than the previous models and offers an improved display, better IO, faster wireless connectivity, and of course, a much more capable hardware platform with an updated cooling module. All these for still way under $1000 for a daily-driver mid-level configuration.
We'll get in-depth on what you should expect from the 2020 Swift 3 14-inch series in the article down below. This is not one of our full-depth reviews, though, as this sample is not a retail model and I couldn't run all my tests on it. We'll still touch on what this can do and how it feels with daily use and light-demanding loads, and hopefully will get to update to a proper review once the retail units are available in stores over here.
Specs – Acer Swift 3 14 SF314-512
| | |
| --- | --- |
| | Acer Swift 3 14 SF314-512 mid-2022 model |
| Screen | 14.0 inch, 1920 x 1080 px, 16:9, IPS, matte, non-touch |
| Processor | Intel Alder Lake Core i5-1240P or i7-1260P, 28W sustained design |
| Video | Intel Iris Xe |
| Memory | up to 16 GB LPDDR4x-4266 (soldered, dual-channel) |
| Storage | 2x M.2 slots, PCIe gen4 (1TB WD SN735 on this unit) |
| Connectivity | WiFi 6E (Killer AX1675i), Bluetooth 5.2 |
| Ports | 2x USB-A 3.1, 2x USB-C with Thunderbolt 4 (40GBps data, DP and charging), HDMI 2.1 (?), mic/headphone, Kensington Lock |
| Battery | 56 Wh, 65W barrel-plug charger |
| Size | 320 mm or 12.6" (w) x 211 mm or 8.3" (d) x 16.4 mm or 0.63" (h) |
| Weight | 2.75 lbs (1.25 kg)+ .39 lbs (.18 kg) charger, US version |
| Extras | white backlit keyboard, HD webcam, stereo speakers, finger sensor |
This unit here is the best value mid-tier configuration, but retail models are also available with i7 Intel AlderLake processors, and various amounts of RAM and SSD storage. Follow these links for the latest configurations and updated prices on these Swifts: link and link.
Design and construction
While it might not seem so at a first glance, this mid-2022 Swift 3 14 design is a little different than the previous generations from 2020 and 2021.
Starting with the lid, the Acer branding is more subtle now and placed at the top of the laptop, and no longer in the middle. Then, the entire chassis is a little bit more compact, but the differences are within millimeters, so not significant.
At the same time, though, the 2022 chassis is heavier by about .1 lbs, as a result of an updated internal cooling module, which we'll discuss further down. Nonetheless, at 2.75 lbs, this is still highly portable for a 14-inch notebook.
The hinges are another notable change. Instead of the long hinge previously implemented, there are now two side hinges on this update. They allow for smooth everyday operation and keep the screen in place well, without it wobbling when typing on moving when you pick up the laptop. However, with these new hinges, the screen no longer leans back flat to 180 degrees as on past models; instead, it only goes back to about 145 degrees, which hinders practicality for lap or couch use.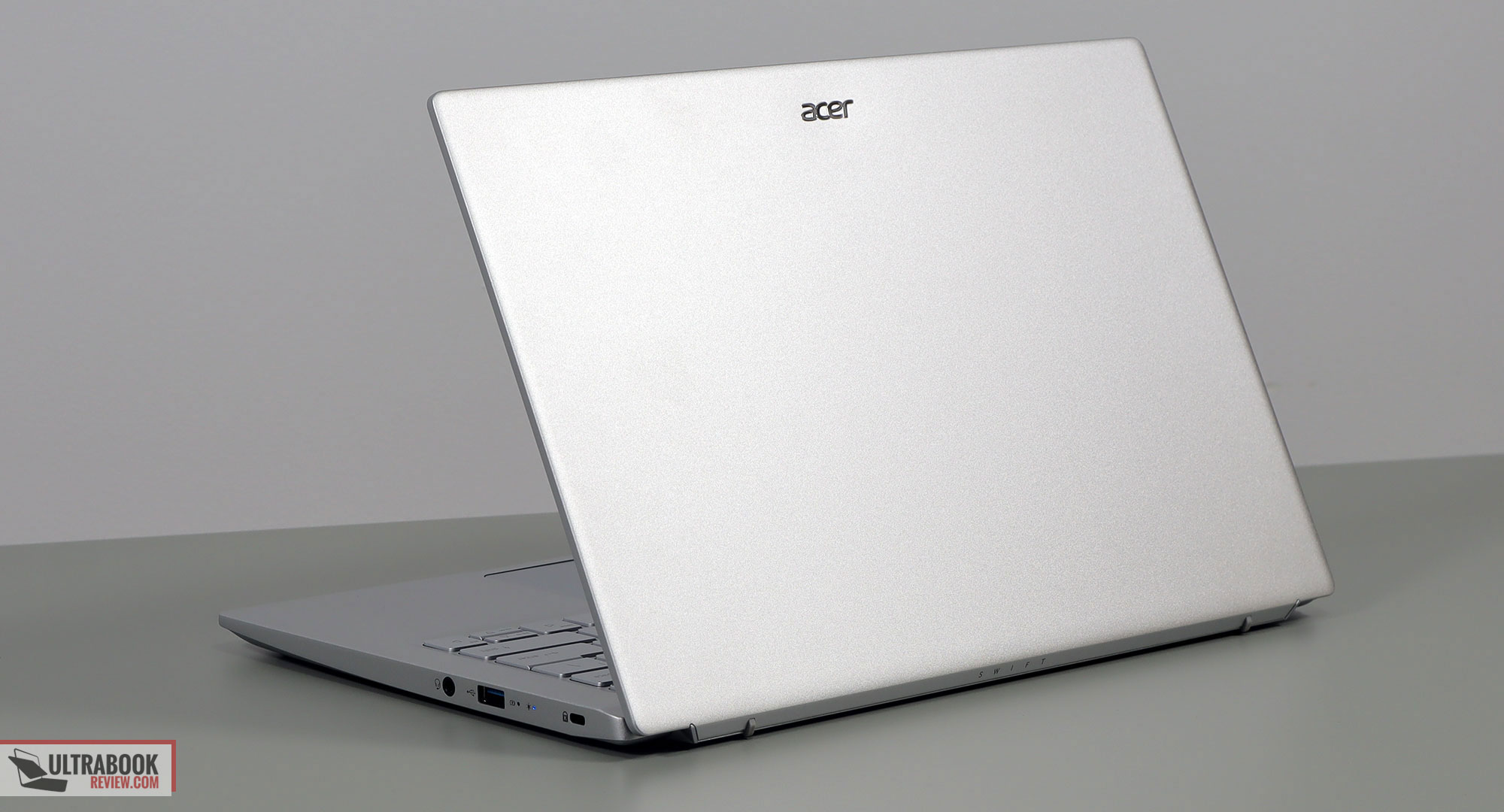 The entire chassis feels strong as well, with no flex in either the keyboard deck or the lid. I also haven't noticed any squeaky noises or anything of this sort. In fact, this is the kind of everyday laptop you can easily toss in your bag without worrying it will break or scratch, with the sturdy all-metal construction and the silver matte finishing that does an excellent job of hiding away fingerprints and smudges. The slightly textured finishing also seems to resist scratches well, and I appreciate the blunted edges and corners, which feel friendly on the wrists.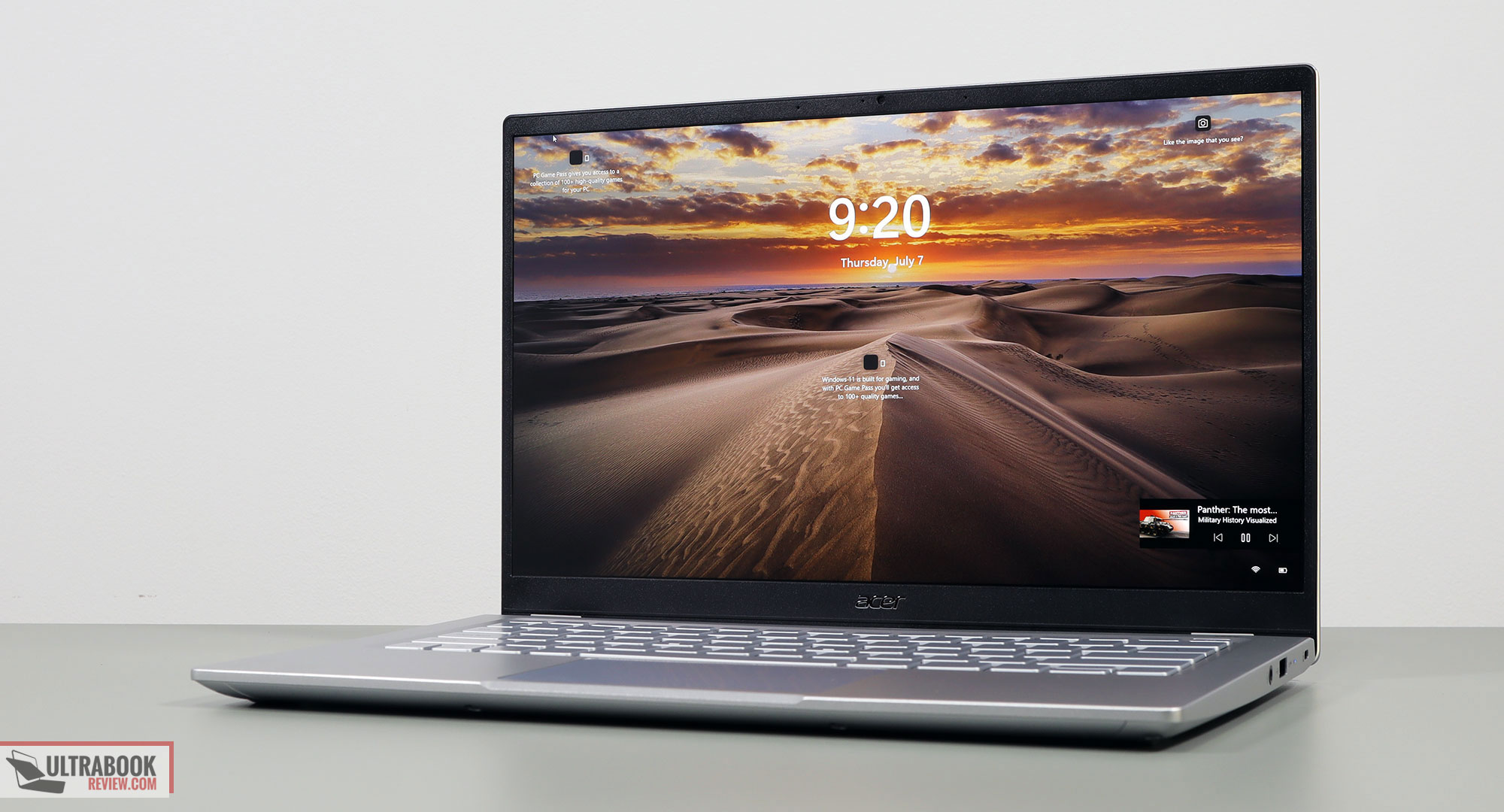 At the same time, with this color scheme and the magnesium-aluminum alloys used for the chassis, the Swift 3 looks rather bland and doesn't feel as not as fancy or as premium to the touch as some of the other options in the mid-tier ultrabook space, such as the 2022 ZenBook 14 or even the Lenovo Yoga 7i. Not sure about how it compares to the 2022 Dell Inspiron 14, I haven't touched it in a while.
Another aspect worth mentioning here is that the Swift 3 still implements an Ergo-hinge kind of design, with the main chassis lifting up on small rubber feet placed at the bottom of the screen, allowing for extra airflow underneath the chassis. Paired with the updated thermal module, this helps deliver good sustained performance out of the Alder Lake hardware. However, the hot air still blows into the display with this design, which I'm not a fan of, even if that thick plastic bottom bezel does soak away most of the heat and the panel itself doesn't run that hot. We'll go over that further down.

Acer also slightly updated the IO with this generation. Gone is the barrel-plug charger, and instead this version comes with a USB-C charger now.
There are in fact two USB-C ports, both with full Thunderbolt 4 support, plus 2x USB-A ports, a full-size HDMI (2.1 variant – t0 be further confirmed), a headphone jack, and a K-Lock. Plus a finger-sensor in the power button. More importantly, most of these are placed on the left edge, so won't clutter the right side. The only thing missing is a card reader, but I can live without it given everything else offered with this 14-inch chassis.
All in all, this is a practical all-day ultraportable. Acer kept the fluff out and did mostly all the basics right. My major complaint is with the limited back screen angle, though, and somewhat with the thermal design that still exhausts the hot air into the screen.
Keyboard and trackpad
One of my favorite parts about the older Swift 3 models was that they offered black keyboards, but this has changed as of last year, and replaced with this color-matched silver keyboard. It does make for a more balanced design and these silver keycaps won't show smudges as easily, but at the same time, the contrast with the white backlighting system is something that bugs me on all such implementations. Still, keep it off unless you're working at night in a dark room, and you'll eventually learn to accept it.
Other than that, this is a fine typer. The keys are properly sized and spaced out, and the layout is basic, but with most keys in the right place. The arrows' design takes some time to get used to, as well as the fact that the power button is integrated as the top-right key. At least it's a recessed button and firmer to actuate than the regular keys, so difficult to press by mistake.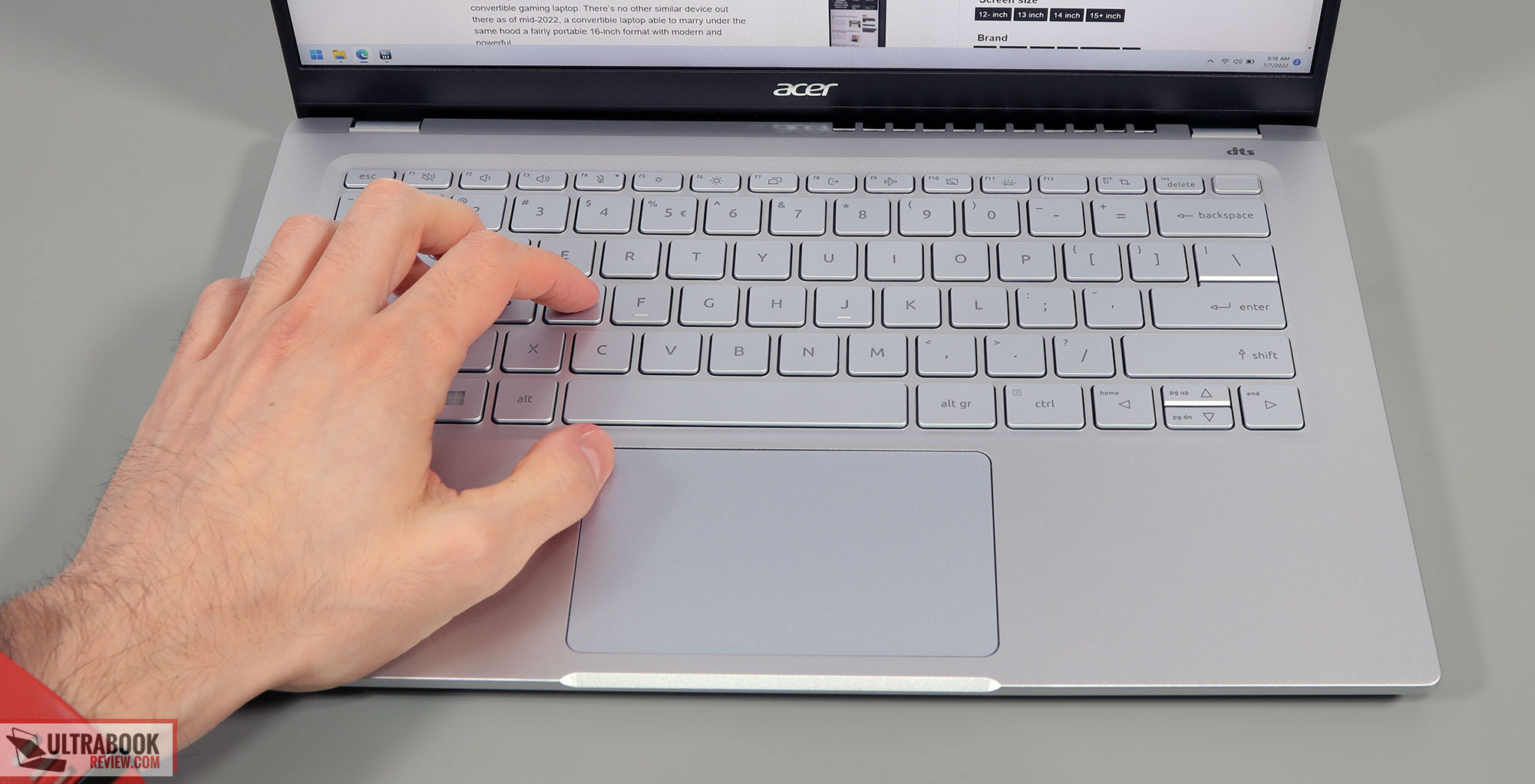 Given the Swift 3 is still an ultraportable design, don't expect deep strokes with this keyboard, but the feedback is stiff and consistent, and I was able to type quickly and accurately on this one. I was expecting it based on past experiences, but this keyboard ended up one of my favorites in this class.
The backlighting is white and aside from the poor contrast already mentioned earlier, you should also account for the fact that light creeps out from underneath some of the keycaps, as well as that you'll have to press a key to reactivate the lighting once it times out, as it won't happen when you swipe over the clickpad as on most other design in this class.
In fact, the entire clickpad design leaves to be desired by today's standards, as it's a rather small plastic surface. it does feel smooth to the touch, though, and works very well with swipes, taps, and even gestures. It also doesn't rattle with taps, and the physical clicks in the corners are usable, but rather stiff and clunky.
Acer also implements a finger-sensor on this laptop, but not IR camera. The fingerprint reader is no longer a dedicated unit integrated into the palm rest, instead, it's part of the power button with this design. It works fine with Windows Hello.
Screen
There's still a matte 14-inch 16:9 screen on the Swift 3 series (with a glossy touch option also available).
I'd say this is still a fair choice for the mid-tier segment and this sort of a hassle-free laptop. Blacks and contrast are surprisingly good for an IPS panel, but the maximum brightness is only limited at just above 300 nits, and color-gamut coverage is only 100% sRGB.
Now, the user demographics looking at this series won't necessarily need wide-gamut colors, but a higher brightness around 400-500 nits would have been appreciated, as it would have allowed better visibility in bright light conditions or outdoors. We do know for sure AU offers a 400-nits variant of this panel, but Acer probably stuck with the 300-nits option for cost reasons.
Here's what we got in our test, with a X-Rite i1 Display Pro sensor:
Panel HardwareID: AU Optronics AUODA91 (B140HAN06.2);
Coverage: 99.4% sRGB, 70.5% AdobeRGB, 73.1% DCI P3;
Measured gamma: 2.22;
Max brightness in the middle of the screen: 318.19 cd/m2 on power;
Min brightness in the middle of the screen: 19.21 cd/m2 on power;
Contrast at max brightness: 1718:1;
White point: 6200 K;
Black on max brightness: 0.18 cd/m2;
PWM: No
The panel is reasonably well calibrated out of the box, with mild Gamma and White Point issues needing corrections. This also proved uniform in our tests, and I haven't noticed any bad light bleeding with this sample.
One aspect to mention here is that you will find this Swift 3 generation in a touchscreen configuration as well, with the same IPS FHD panel, just in a touch glossy implementation. Look for the Swift 3 SF314-512T code name for that variant, and expect it to weigh a little more than the matte variant discussed here.
Nonetheless, the competition offers superior OLED panels in this class today, or brighter IPS screens, or even 16:10 formats, or a combination of these. So it's about time Acer step up to at least offer the option for a better panel on this Swift 3 series.
Update: I've seen some listings mentioning a QHD IPS panel for the series, and I'm looking for more details on that one. I'll update you if I find out more details, for now, all I can tell is that's available with the top-tier configurations of this series.
Hardware and daily use experience
This unit is a mid-specced configuration of the Swift 3 14 SF314-512 model, with an Intel Alder Lake Core i5-1240P processor, 16 GB of LPDDR4x RAM, and 1 TB of middling PCIe gen4 SSD storage.
We got it from Acer and because it is not a final retail model running on the final software, I cannot share with you all the detailed performance benchmarks that we normally go over in our reviews. I plan on buying this once it's available over here and updating the article somewhere in the near future, but in the meantime, I'll just explain the specifications and only quickly touch on what this is capable of in daily use and sustained loads, as well as briefly go over efficiency, thermals, and fan behavior. Just to be clear, everything works as expected on this sample, I just can't share the exact performance numbers with you, due to the nature of our ongoing agreement with Acer in order for them to keep lending us these samples.
With that out of the way, the major specs novelty for this year is the transition to the Intel Alder Lake 12-th gen Core P hardware, with i5-1240P or i7-1260P processors. Both are hybrid designs with 4 Performance Cores, 8 Efficiency Cores, and 16 total Threads, designed to work together or separately based on each load. The two are mostly similar in capabilities, with only slightly higher frequencies for the i7. They're also a major step-up in sustained and peak performance compared to the Intel Core U 11th gen platforms implemented in the 2021 Swift 3 SF314-511 and SF314-59 series.
This 2022 Swift 3 series still runs on LPDDR4x memory, though, and not on the newer LPDDR5 implemented in other 2022 models. That won't make a notable difference with daily use, and with few exceptions, won't matter for demanding loads either, especially not for the kind of activities that you'll want to run on this sort of laptop.
As far as storage goes, this series offers an M.2 2280 gen4 SSD slot. By default, our unit shipped with a budget-tier gen4 WD SN735 SSD (in a 2242 format), and you're most likely getting something of this sort with the retail models as well. You can upgrade the storage if you might need faster gen4 drives, though. The WiFi module is upgradeable as well (yet there's no real need to upgrade it), while everything else is soldered.
Update: As per the feedback in the comments, looks like there's another M.2 slot under the ribbon beneath the fans.
Accessing the components is basic stuff, you just need to take out a bunch of Torx screws and pop out the back panel.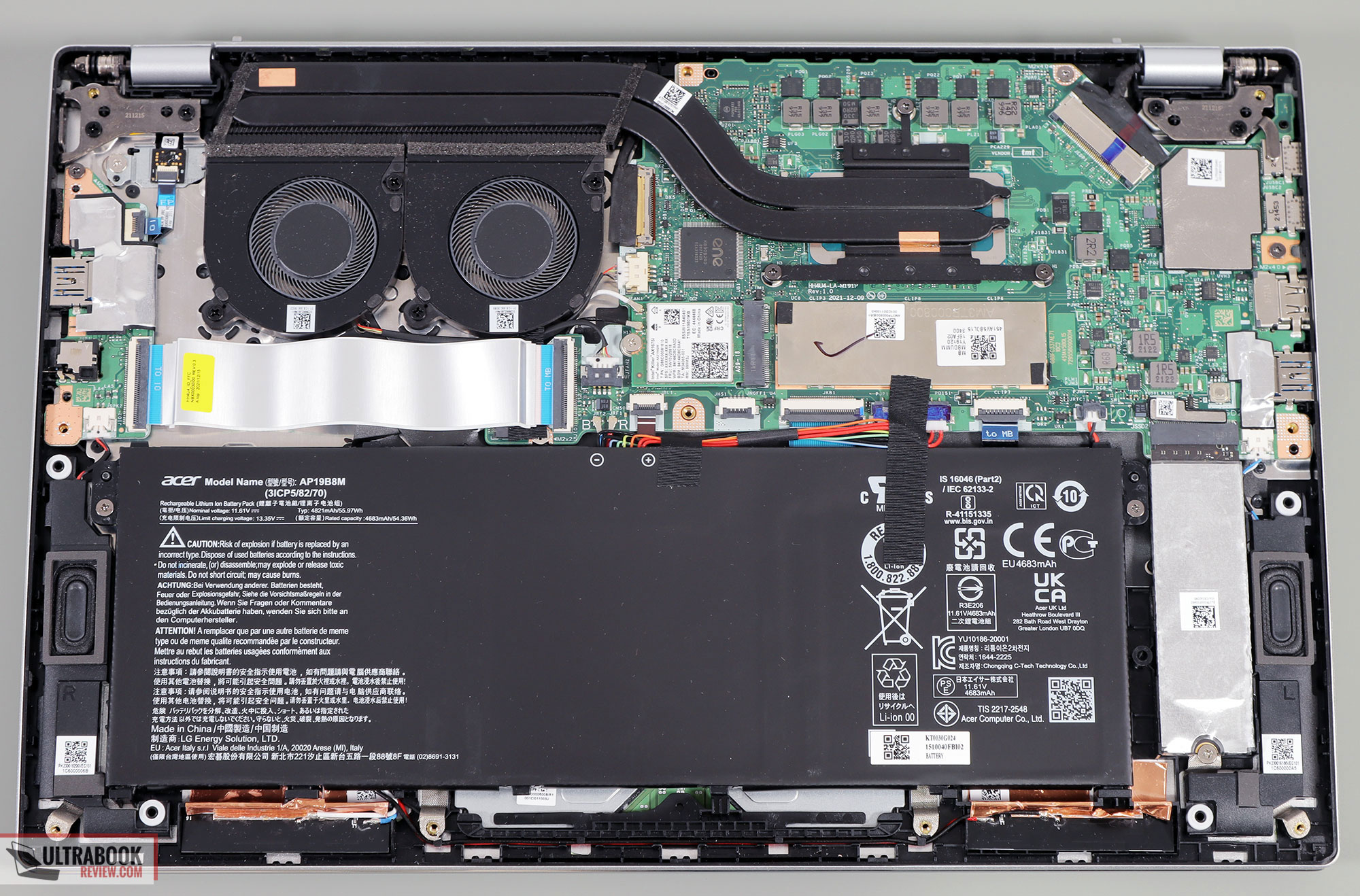 While in here you'll notice that Acer haven't updated the battery or the speakers from the previous models. We'll touch on battery life further down, but as far as the speakers go, they're still small and fire onto the bottom of the laptop, which means you should still not expect much in terms of audio volumes or quality here. The HD camera's quality is pretty mediocre as well.
However, they've updated the thermal design, which now includes two fans and two heatpipes, as well as open-air intake grills over the fans and most of the entire cooling module. This allows the hardware to run at good sustained power in this mid-tier design, with fair temperatures and noise levels.
We're talking up to 65W of peak CPU power for very brief activities and then 28W sustained power in longer loads on this sample with the current software. That's enough to allow performance levels on par with Alder Lake Core P powered competitors, such as the Zenbook 14 or Lenovo Yoga 9i, which I've linked so you can make an idea of the kind of performance you should expect from this Swift as well. CPU capabilities in daily use and sustained loads are impressive with the Core P28 platform, while GPU performance is roughly similar to past models, with only the slightly higher-clocked Iris Xe iGPU on this generation.
Furthermore, I must also mention that at 28W sustained in CPU-heavy or combined loads, we're looking at excellent sustained temperatures of ~70-75 degrees Celsius, and fan-noise levels of sub 40 dB. That's quieter than the aforementioned competitors on their top-performance profiles.
As for daily use, the fans inside this laptop keep idle most of the time and only occasionally spin on with heavier multitasking. I haven't noticed any coil whining or electronic noises. Exterior temperatures at the chassis level are within comfortable limits, despite the mostly passive cooling. The laptop does run warmer with demanding loads, and the hottest part is the bottom screen bezel near the radiator, which hits temperatures in the mid-30s with daily use and high-40s with sustained loads.

Efficiency is a bit tricky to judge on this sample.
In fact, our experience with 12th-gen Core P implementations shows that most OEMs are still having a hard-time optimizing ligh-loads on these hybrid designs, and thus battery life leaves to be desired even on the units with big 60 and 70+ Wh batteries. Given there's only a 56 Wh battery on this Swift 3 14-inch, I'd expect this to last for somewhere between 3-6 hours on a charge, based on what you're running on it.
Make sure to look into more detailed reviews of the final products for more details, as these are only my assumptions on what to expect from the retail units.
As a side note, Acer have updated the charger on this Swift 3 generation, offering now a very compact and lightweight 65W USB-C charger, and no longer their older barrel-plug charger design.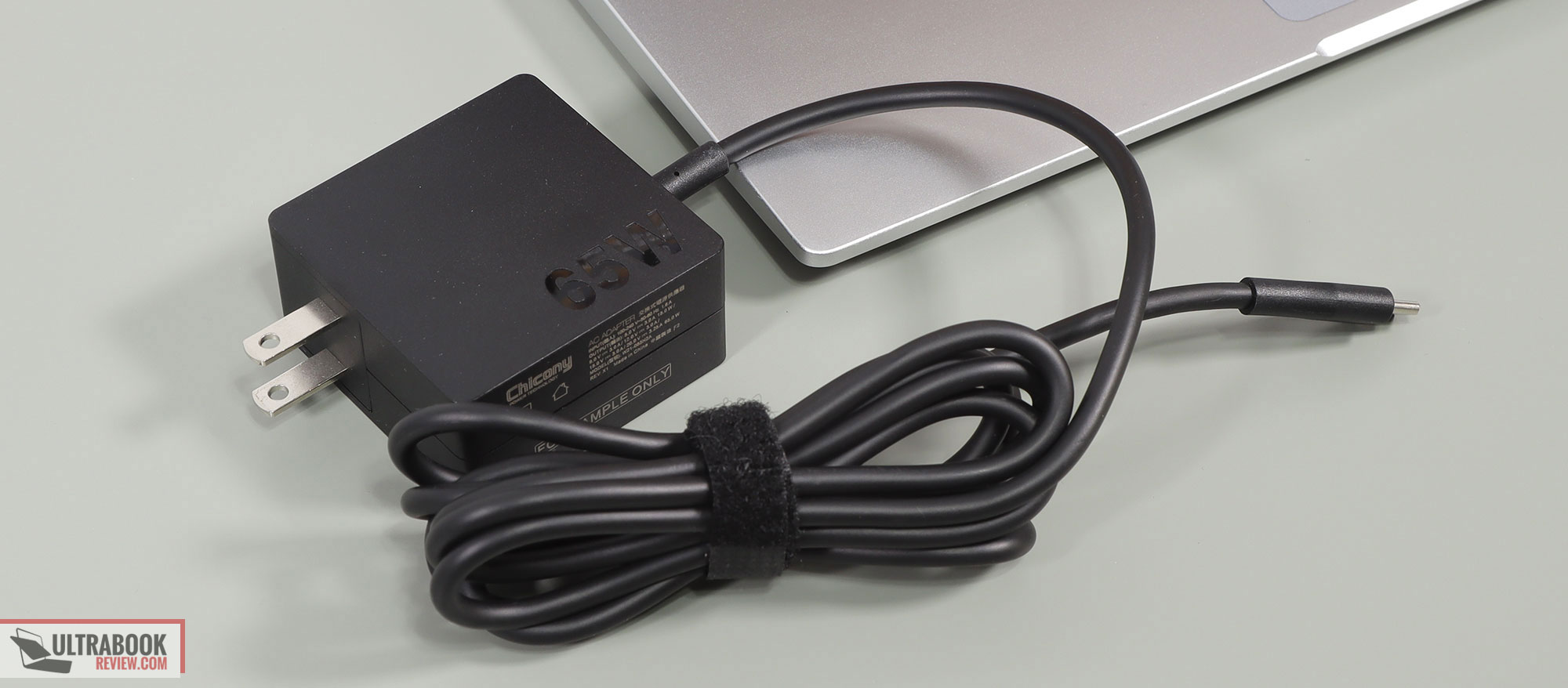 Pricing and availability
The mid-2022 Acer Swift 3 SF314-512 series is available in stores at the time of this article.
The base-tier Core i5-1240P with 8 GB of RAM and 512 GB SSD starts at $849 MSRP in the US and €900 in Germany, while upgrades to 16 GB of RAM or the i7-1260P processor push this to around 1000 USD/EUR.
For most people, the best-value configuration is the one we had here, with the i5 processor and 16 GB of RAM, but paying only 50-100 extra for the i7 is worth considering, especially for the faster iGPU in the i7.
Update: Configuration with a QHD IPS screen are also available for the series, with 16 GB of RAM and 1 TB of storage. I'm looking at MSRP prices above 1100 USD for those.
Follow these links for updates on available configurations and prices in your region: link and link.
Some early conclusions – Acer Swift 3 SF314-512
Much like in the past years and from what I can tell based on my time with this sample, the 2022 Swift 3 14-inch looks like a solid compact and lightweight laptop for college use and work and general everyday activities, an option for those of your looking for value for your money in a simple and well-balanced product.
It's still priced competitively, yet that's no longer an advantage over the competition, with many other similar options now available in the sub $1000 space.
Instead, the carefree design with good inputs and IO and without any significant deal-breakers, alongside the balanced performance/thermals/noise proposition, are the major selling points of this generation. At the same time, the overall looks, the battery life with the 56 Wh battery, the audio quality, and the screen quality with the 300-nits IPS matte panel as the single available option, might not be up to your demands, as some of those competing devices offer more now in these areas.
All in all, even when accounting for all these aspects, I still feel this is surely worth considering in your decision, especially later in the year when you'll most likely find it discounted in most regions. I also look forward to updating this write-up to a full review, if/when I can manage to get my hands on a finalized retail unit of this mid-2022 Acer Swift 3 SF314-512 lineup.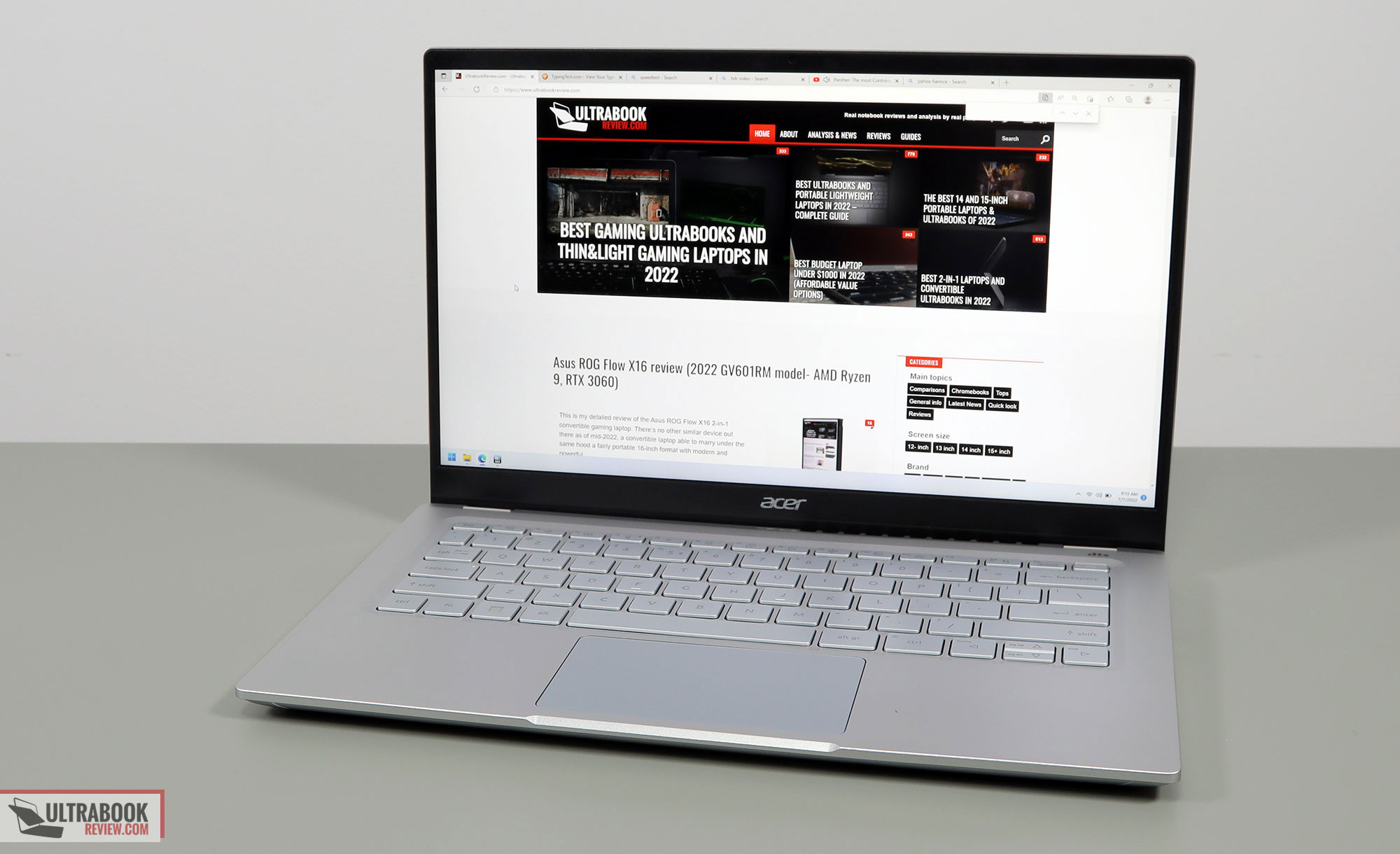 Disclaimer:
Our content is reader-supported. If you buy through some of the links on our site, we may earn a commission.
Terms
.