Acer are updating their Nitro 5 lineup of entry-level gaming/performance laptops as of early 2022.
We're looking at a hardware refresh to the latest Intel/AMD and Nvidia specs, but also a redesign of the exterior chassis and some internal changes as well. Alongside the Nitro 5, Acer are also refreshing the mid-level Predator Helios 300 series and their premium Predator Triton 500 lineup, which we've discussed in a separate article.
Up to 2020, the Nitros were pretty much the go-to value/budget pick in most parts of the world, with an unmatched ratio of features that you were getting for your money.
Moving into 2021, Acer bumped up the configurations and prices of the Nitro 5 models, targeting a somewhat higher segment with RTX 3060 to RTX 3080 configurations, and either Intel Core H or AMD Ryzen H hardware. However, they did that without refreshing the product previously available, which was OK in the budget segment, but less so in the higher-tier niches.
Hopefully, that should at least partially change with the 2022 Nitro 5s, which Acer have redesigned externally and internally. They haven't shared all the changes, so there are still some banks that we need to figure out on these updates, but I can take you over the important changes in this preview article, with more detailed reviews coming in the next few weeks.
So for starters, here's a specs sheet of the 2022 Acer Nitro 5 series.
15-inch Acer Nitro 5 AN515-58
17-inch Acer Nitro 5 AN517-55 
15-inch Acer Nitro 5 AN515-46
17-inch Acer Nitro 5 AN517-42 
Screen
15.6-inch or 17.3-inch, 16:9 format, matte, non-touch
FHD 144Hz, FHD 165Hz or QHD 165Hz 3ms options, up to 100% sRGB
Processor
Intel 12th gen Alder Lake, up to Core i7-12800H, 14C/20T
AMD Ryzen 6000 Rembrandt, up to Ryzen 7 6800H, 8C/16T
Video
Intel UHD and up to Nvidia GeForce RTX 3070Ti 8GB
with Optimus, no MUX/GSync
AMD Vega and up to Nvidia GeForce RTX 3070Ti 8GB
with Optimus, no MUX/GSync
Memory
up to 32 GB DDR5-4800 (2x DIMMs)
up to 32 GB DDR5-4800 (2x DIMMs)
Storage
2x M.2 PCIe 4.0 gen4 SSDs
1x M.2 PCIe 4.0 gen4 and 1x M.2 PCIe 3.0 SSD slot
Connectivity
WiFi 6 (Killer AX1650i) with Bluetooth 5.1, Killer 2600 Gigabit Ethernet LAN
WiFi 6 (Killer AX1650i) with Bluetooth 5.1, Killer 2600 Gigabit Ethernet LAN
Ports
1x USB-A 3.2 gen2 (right), 2x USB-A 3.2 gen1 (left), 1x USB-C with Thunderbolt 4, HDMI 2.1, LAN, headphone/mic, Kensington Lock
1x USB-A 3.2 gen2 (right), 2x USB-A 3.2 gen1 (left), 1x USB-C with USB 4, HDMI 2.1, LAN, headphone/mic, Kensington Lock
Battery
58 or 90 Wh, 180 to 230 W power adapter, with USB-C charging
Size
–
Weight
roughly 2.3 kg for 15-inch model and 2.7 kg for 17-inch model
Extras
4-zone RGB backlit keyboard, NumPad, 2x stereo speakers, HD webcam
Update: If interested, a detailed comparison of the AMD Ryzen 7 6800H and the Intel Core i7-12700H platforms in a mid-range laptop chassis is available here.
Update2: In the meantime, Acer offer updated models in this segment, with the Acer Nitro 16 and Nitro 17.
Just as before, the Nitro 5s come in two sizes, a more compact 15-incher and a larger 17-inch variant with a bigger display. That aside, Acer offer either the latest Intel or AMD platforms, paired with DDR5 memory, PCIe 4.0 SSD storage, and up to RTX 3070Ti dGPUs from Nvidia. There's no 3080-class model this time around, and that's OK, a 3080 on a budget chassis didn't make much sense to me anyway.
Acer didn't provide any details on the GPUs' power settings and whether they implemented a MUX on these 2022 Nitros, so we'll need to wait for clarifications on those ends. They do mention an updated thermal module with two fans and four radiators, just as before, but with the ability to draw in air from both the bottom of the laptop and through the revamped grills placed above the keyboard area. They also mention the ability to automatically overclock the hardware in the NitroSense app, much like on the previous Predator lineups.
Hopefully, these changes are associated with a bump in GPU power, as previously the 2021 Nitros 3060/3070 models could only run at up to 95W, while other products in this budget/entry niche could go up to 130-140W. Some also offered a MUX, which the Nitros did not, and both these aspects impacted the performance in GPU-heavy loads and in games.
On the other hand, with the lower power settings, the 2021 Nitros were able to run cooler and/or quieter than most of the competition, so what I'm rooting for is a better-optimized hardware/software symbiote in these 2022 updates.

The performance should increase nonetheless, especially on the Intel configurations that now get up to 14C/20T Alder Lake processors. These top at the Core i7-12800H processor, as the Core i9-12900H is only offered on Acer's Triton 500 update, but that's OK since the two are very similar in features and performance. The AMD models built on the refreshed Rembrandt 6000 series should not be significant updates over the previous Ryzen 5000 configurations, but we'll have to wait for the reviews to draw any conclusions.
I'm also eager to test the efficiency of these 2022 Nitros, and curious at the same time whether Acer finally updated the batteries on these models, or still kept the same 58 Wh batteries available in the past. They haven't provided any details for either the Nitros or the Predator Helios models, so I'm inclined to expect the same 58Wh batteries, which could be a deal-breaker when the competition offers batteries around 80 Wh these days in this same niche.
Before we get to talk about the external redesign, I do have to mention that there are some small variations between the Intel/AMD variants aside from the expected differences in performance and efficiency.
That being said, on the IO side, the Intel models support Thunderbolt 4 via the USB-C port, while the AMD models only offer USB 4. USB-C charging is also possible with these 2022 models.
Then there's also a difference in the SSD M.2 architecture between the two, with the Intel model offering two M.2 PCIe gen4 slots, while the AMD model only offers one M.2 PCIe gen4 and one M.2 PCIe gen3. I doubt most will care about this aspect, but I had to mention it anyway.
Other than these, the Intel and AMD models offer the same specs, features, and internal design. There are 2x RAM slots on both, with easy access for upgrades and updates, and WiFi 6 and Gigabit LAN connectivity. Wifi 6E and 2.5 Gigabit wired connectivity are only offered on the higher-tier Predator models.
One thing to add is that Acer haven't mentioned much about the audio on these 2022 Nitros, and I was hoping for some updates, as the speakers were tiny and lacking on the previous generations.
Design and ergonomics
On the outside, the Nitro 5s are quite a breath of fresh air compared to the aging looks of the 2021 models.
Plastic is still used for the construction as far as I can tell, but with a cleaner black theme. a redesigned lid, and none of the red accents of the past.
The main chassis has also been updated with a boxy shape and blunted and friendlier lips, and some of the connectors have been pushed onto the rear-side of these laptops, away from the user.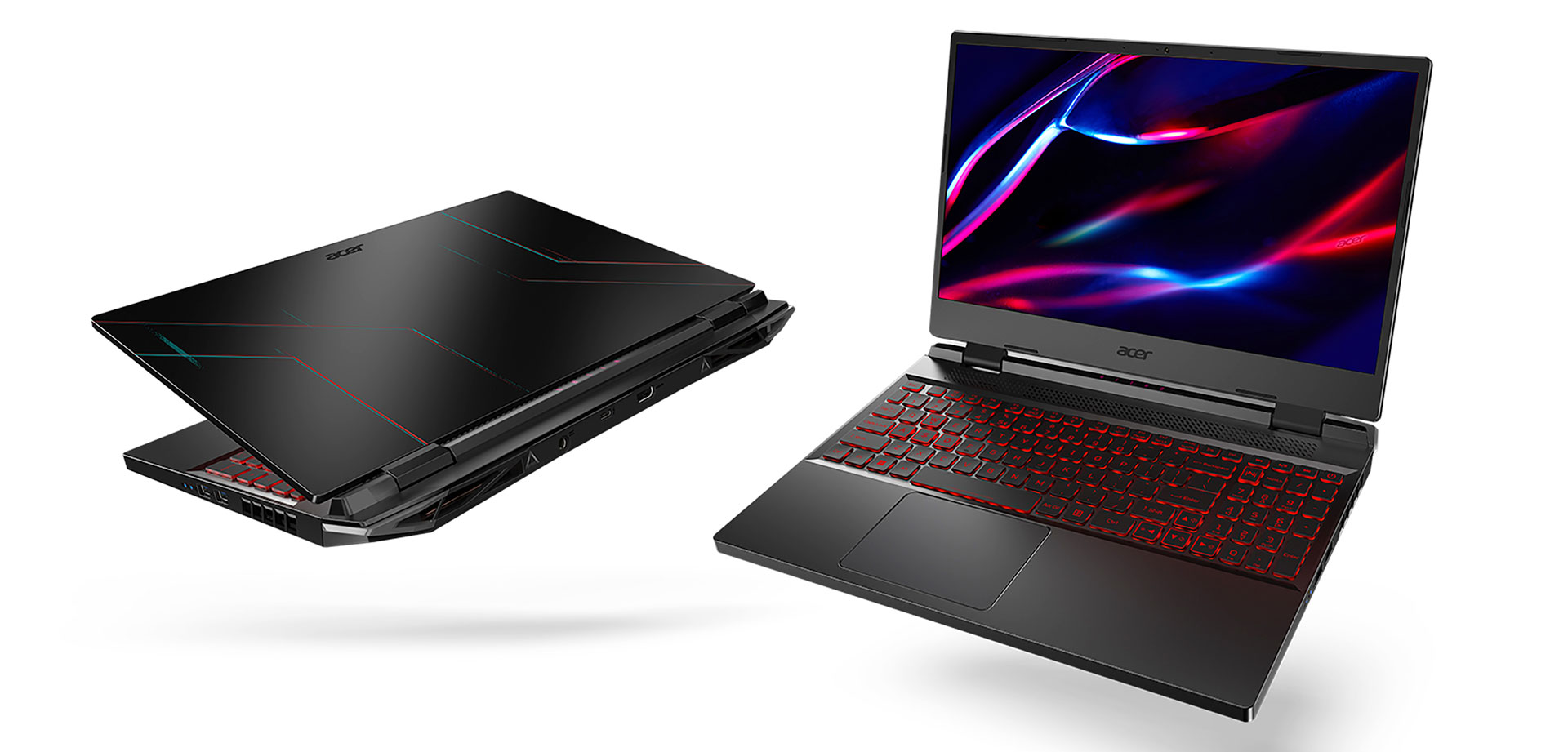 The keyboard seems to have been pushed slightly down onto the chassis in order to accommodate the extra air intakes at the top. However, the inputs carried on from the previous generations, with a full-size layout with a NumPad section and either red or 4-zone RGB backlighting on both the 15 and 17-inch sizes. The clickpad is still aligned towards the left of the chassis, under the space key, as it's most likely still made out of plastic and the same size as before.
You'll find more details about these inputs from our reviews of the 2021 Nitro models, the Intel and AMD variants.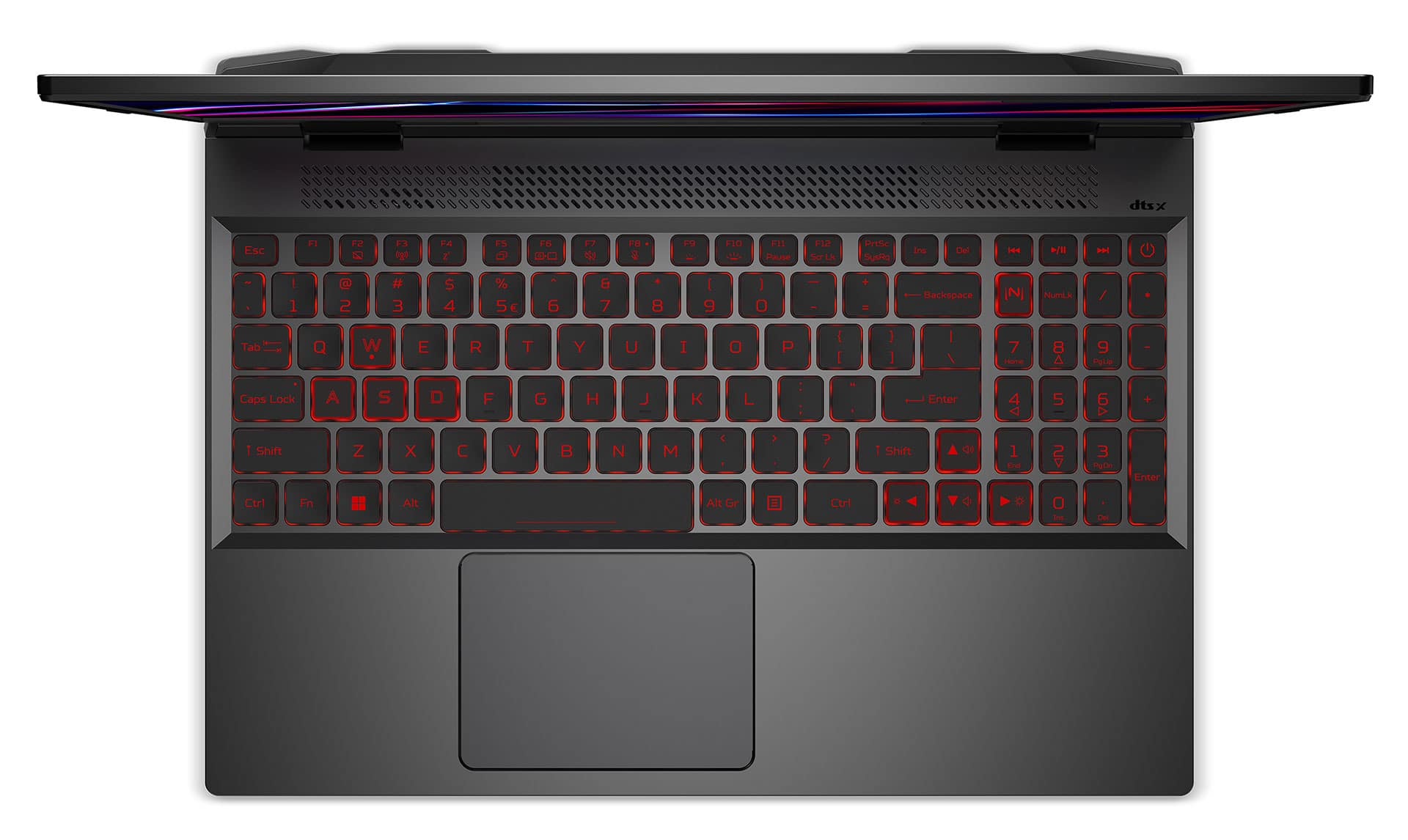 Availability
The 2022 Acer Nitro 5s are expected in stores around February to April of this year, between the different regions. We're looking at starting prices of $1050 to $1150, with the AMD models surprisingly a little more expensive from the limited info available to use right now. WE'll update once we know more.
Initial final thoughts
We'll have to wait to give these Nitros a proper spin before we can figure out if Acer were able to do enough here to make these competitive once more against the very tough competition in the budget and mid-tier segment of gaming/all-around laptops: the Asus TUF Gaming lineup (our review of the TUF A15 and TUF F15 are available here), the Dell G15 Gaming, the HP Pavilion series, and especially the excellent Lenovo Legion 5s.
I appreciate the cleaner redesign, that has been long due, and I'm happy to see the rearranged IO and a wider selection of screens available now for this series. Add in the multitude of configurations, the updated thermal design, and most likely still the competitive pricing, and these 2022 Acer Nitro 5s might be quite popular once more. I do hope Acer have updated the power settings on this generation, this aspect would greatly help their cause.
A MUX, a bigger battery, and better speakers would have been great upgrades as well, but I don't expect to be getting any of those here.
Look for our reviews in the weeks to come, and in the meantime, let me know what you think about these updated 2022 Nitro 5s in the comments section down below.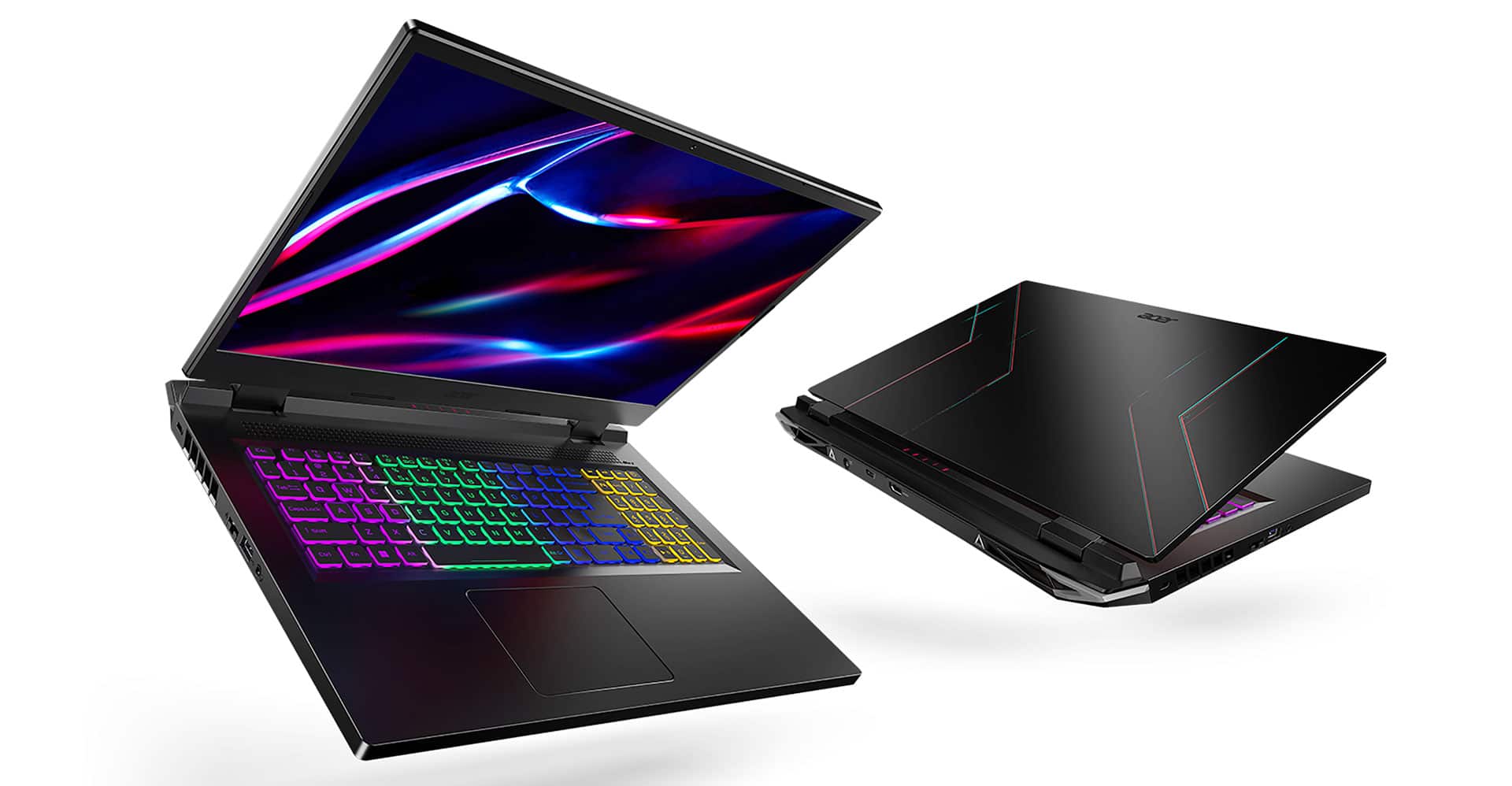 Disclaimer:
Our content is reader-supported. If you buy through some of the links on our site, we may earn a commission.
Terms
.