Acer are updating most of their lineups of gaming and performance Nitro and Predator laptops as of early 2022, bumping the hardware to the latest specs from Intel, AMD, and Nvidia, and addressing some of our complaints with the previous generations.
In this article, we'll look over the updated high-end Triton 500 SE and the mainstream Helios 300 lineups, and we'll also cover the 2022 Nitro 5 models in a separate post. An update of the full-size performance Predator Helios 500 series has not yet been announced, but should follow at a later date.
Over the years I've reviewed almost all of the Acer laptops available in stores, so I know what their strong points are and where Acer could improve their lineups in order to better match the competition. This article here is a preview of the 2022 generations that goes over the important changes, and we'll get in-depth at a later date once we get to properly test and review these models.
Update: Here's our detailed review of the 2022 Predator Helios 300, in the best-value Core i7 + RTX 3070Ti configuration. And here are our thoughts on the updated 2023 Acer Predator Helios 16 and Helios 18 lineups.
So first, here's a specs sheet of the 2022 Helios 300 and Triton 500 series.
Acer Predator Helios 300 PH315-55 – review
Acer Predator Triton 500 SE PT516-52s
Screen
15.6 inch, 16:10, QHD 2560 x 1440 px resolution, IPS, 165 Hz, matte, 100% sRGB
16 inch, 16:10, QHD+ 2560 x 1600 px resolution, IPS, 240 Hz, matte, 100% DCI-P3
Processor
Intel 12th gen Alder Lake, up to Core i7-12800H, 14C/20T
Intel 12th gen Alder Lake, up to Core i9-12900H, 14C/20T
Video
Intel UHD and up to Nvidia GeForce RTX 3070Ti 8GB or RTX 3080 8 GB
with MUX (Advanced Optimus), without GSync (to be confirmed)
Intel UHD and up to Nvidia GeForce RTX 3080Ti 100W (to be confirmed)
with Advanced Optimus, MUX and GSync
Memory
up to 32 GB DDR5-4800 (2x DIMMs)
up to 32 GB LPDDR5-5200 (2x DIMMs)
Storage
2x M.2 PCIe 4.0 gen4 SSDs
2x M.2 PCIe 4.0 gen4 SSDs
Connectivity
WiFi 6E (Killer AX1675i) with Bluetooth 5.2, Killer 2600 Gigabit Ethernet LAN
WiFi 6E (Killer AX1675i) with Bluetooth 5.2, 2.5G Killer Ethernet LAN
Ports
3x USB-A 3.2 gen2, 1x USB-C with Thunderbolt 4, HDMI 2.1, miniDP, LAN, headphone/mic, Kensington Lock
left: power plug, LAN, 1x USB-A 3.2 gen2, 1x USB-C with Thunderbolt 4, headphone/mic
right: Kensington Lock, HDMI 2.1, 1x USB-C with Thunderbolt 4, 1x USB-A 3.2 gen2,SD 7.0 card reader
Battery
90 Wh, 230 W power adapter, with USB-C charging
99.9 Wh, 230 W power adapter and USB-C charging support
Size
363 mm or 14.27" (w) x  255 mm or 10" (d) x  22.9 mm or .9" (h) (to be confirmed)
359 mm or 14.1" (w) x 262 mm or 10.3" (d) x 19.9 mm or .78" (h)
Weight
2.2 kg (4.85 lb), .75 kg (1.65 lbs) power brick, EU version (to be confirmed)
2.33 kg (5.13 lb), .75 kg (1.65 lbs) power brick, EU version
Extras
per-key RGB backlit keyboard, NumPad, 2x stereo speakers, HD webcam
RGB backlit keyboard – 3 zones, 2x stereo speakers, HD webcam
The Triton 500 SE is only available in a 16-inch format, identical in design to the 2021 model, but with updated hardware and connectivity.
The Helios 300 is available as a 15-incher or as a 17-inch model, code name Helios 300 PH317-56. Both get 16:9 displays and either FHD 144Hz or QHD 165Hz IPS panels, and similar specs and features between the two sizes.
2022 Acer Predator Helios 300 PH315-55 and PH317-56
The Helios 300 series has been a highly popular mainstream series of performance and gaming laptops in the past years, offering some of the better value for your money in the 1000-1500 USD/EUR price range.
However, as concluded in our review, the 2021 Helios 300 started to show its age in comparison to the competition, both in terms of design and in terms of features and functionality. Acer have cleaned up the design and updated the keyboard and screen options of the 2022 Predator Helios 300 series, as well as bumped the hardware to the latest Intel and Nvidia platforms available at the beginning of the year.
On the design side, I'm seeing cleaner aesthetics with more limited branding elements and simpler lines. There are still some funky accents around the exhausts on the back edge of the laptop, but the lid is much simpler on this 2022 generation, and the main deck is both cleaner and friendlier on the wrists, with blunted edges and rounded corners replacing the dreaded sharp edges of the past.
Acer have added an RGB lightbar on the front lip and the Predator logo on the lid is still backlit. Hopefully, both of these are controllable in the software, although, from the looks of it, that logo might be panel-lit and thus not adjustable. Update: the RGB light bar is controllable, but the PRedator logo is panel-lit.
On the ergonomics side, I'm glad to see Acer moving some of the IO on the rear of the laptop, allowing for a cleaner setup when connecting peripherals. The LAN port is still on the left side, but you can easily use the laptop on Wireless, especially now when it was bumped to WiFi 6E.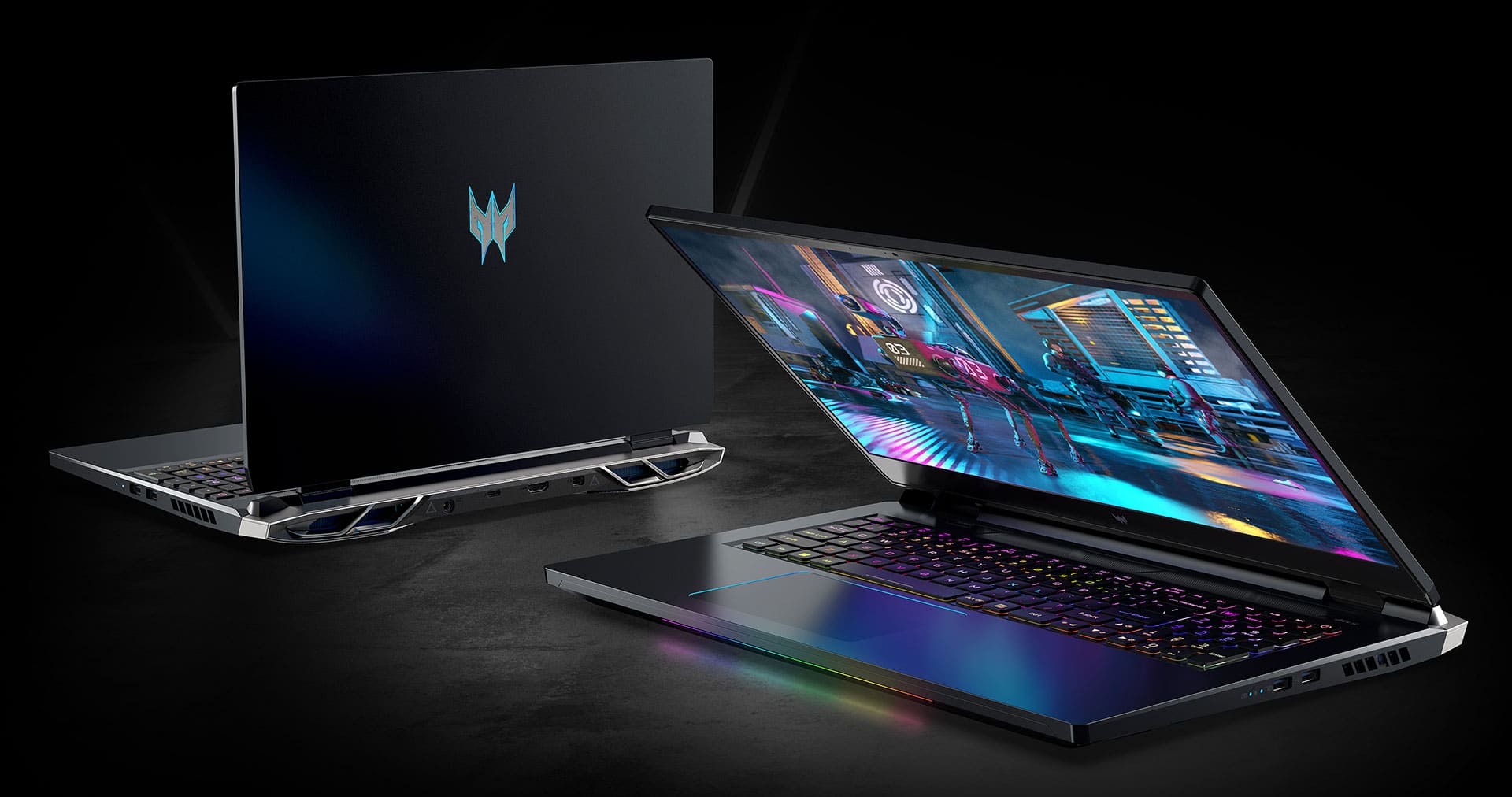 Acer have also updated the keyboard and screen options on this 2022 Predator Helios 300. The press materials mention a per-key miniLED RGB keyboard, but the layout looks the same as before, which is OK to me. The clickpad looks the same as well.
As far as the screens go, you can get the Helios 300 with either an FHD 165Hz panel or a QHD 240Hz option for the higher-tier configurations. The QHD option is especially interesting, too bad it's not usually available with the mid-range RTX 3060 configurations.
On the inside, Acer have updated the hardware platform and implemented the latest Intel 12th gen Alder Lake specs on this series, with support for DDR5-4800 memory and PCIe 4.0 storage. There are two RAM slots and two M.2 slots inside, which are both easily accessible, making this series one that's easy to open up and upgrade.
You can only get up to a Core i7-12700H processor on this series, as the i9 is reserved for the Triton 500, but that's hardly going to make any difference given the minimal differences between the 12700H and the 12900H, explained in this Alder Lake laptop guide.
On the GPU side, the Helios 300 can be specced up to an Nvidia GeForce RTX 3070Ti or an RTX 3080, as well as a 3060 on the mid-range models. Acer haven't provided any details on the power limits and whether they implemented a much-expected MUX on this 2022 generation or not.
Update: There is a MUX with Advanced Optimus support on some configurations, and we also know that the GPU power has been bumped up to 150W with Dynamic Boost, in supported games and applications.
A bigger battery would have also been an expected update, as the 58Wh on the previous generation trailed the competition at that end. Update: There's a 90Wh battery in the 17-inch Helios 300, and I'd expect the same in the 15-inch model.
I'm still looking to fill up some of these blanks and I'll be able to share more once we get the review units.
2022 Acer Predator Triton 500 SE PT516-52s
The Triton 500 SE is a much newer series for Acer, launched in 2021, so the 2022 update is built on the exact same chassis and features, but with updated internal specs.
The sturdy build, the clean and simple design lines, the complete IO, the fair specs and long battery life, as well as the 16:10 QHD+ display with 500+ nits of brightness and 100% DCI-P3 color coverage, are among the main selling points of this series, making it a worthy competitor for the ROG Zepryus M16.
The Triton is a bit larger and heavier than other performance ultraportables, though, but that's partially excused by the 99.9 Wh battery inside, which allows for excellent runtimes when unplugged. It also lacks some in the audio department and it's more difficult to open up and upgrade due to the inverted internal design, as you'll find out from our review of the 2021 generation.
No word on whether Acer updated the keyboard in any way, I found the one implemented in the 2021 model rather mushy and subpar with only zone RGB lighting, instead of the better feedback and per-key RGB control offered with the competition in this higher-end segment. The clickpad seems different as it no longer includes that finger-sensor in the top-left corner – not really an update, though.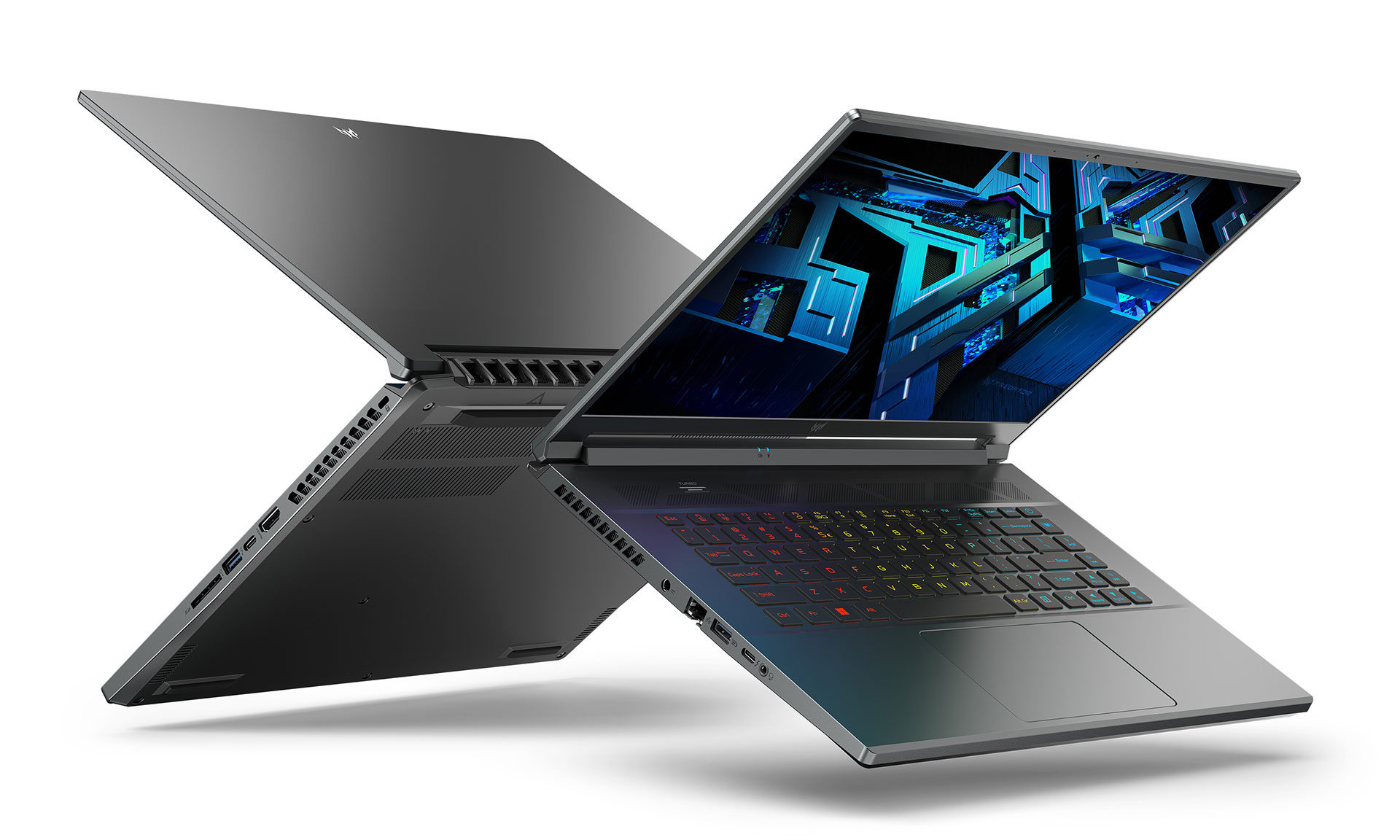 Specs-wise, the 2022 model is available with Alder Lake Intel processors and can be specced up to a Core i9-12900H, 32 GB of LPDDR5-5200 memory, and either RTX 3070Ti or RTX 3080Ti graphics.
Once more, Acer provided very little on the GPU power settings, so I can assume up to 100W with Dynamic Boost, like on the previous version. That's not a very powerful implementation, but at least the series offers a MUX, GSync, and Advanced Optimus. This means it will be competitive in GPU-heavy loads against other ultraportables, and only suffer a 10-20% performance toll in comparison to the beefier and higher-power designs.
Overall, I expect the Triton 500 SE PT516-52s to end up on quite a few shopping lists thanks to its interesting mix of design, features, and specs. It's scheduled in stores around February/March 2022, starting at $2299 MSRP (most likely for a 3070Ti configuration).
That's about it for now, but look forward to our full reviews in the weeks to come. In the meantime, let me know what you think about these 2022 Acer Predator lineups and whether you have any special requests from the reviews.
Disclaimer:
Our content is reader-supported. If you buy through some of the links on our site, we may earn a commission.
Terms
.