In this article, we're discussing the 2023 Acer Nitro 16 and Acer Nitro 17 series of gaming/performance laptops, the mid-tier budget-friendly options in the Acer 2023 lineup.
We've reviewed the Nitro notebooks over the years and watched them evolve and improve.
Previously, Acer offered Nitro 5 and Nitro 7 variations in both 15-inch and 17-inch sizes, but they are unifying and simplifying the lineups for 2023, with the balanced Nitro 16 mid-range option and the larger Nitro 17 for those of you interested in a bigger display.
The two are identical designs, but the Nitro 16s get 16:10 screens, while the Nitro 17s still get the 16:9 displays used on past generations, with a chunkier bottom bezel. Neither of these is compact or lightweight by any means.
Instead, Acer focuses on delivering excellent specs and performance in a mid-priced package with the Nitros. They haven't provided exact details on the available configurations and power settings for the 2023 updates, but we do know that these laptops are built on Intel 13th-gen Core HX or AMD Zen4 Ryzen Dragon Range HX (to be confirmed) processors, paired with mid-tier Nvidia RTX 4000 Ada Lovelace graphics.
Down below we'll further go over the important features and novelties of these two Acer Nitro 2023 models, and then we'll follow up with our detailed reviews in the next few months.
2023 Acer Nitro 16 and Nitro 17 updates
Here's the complete specs sheet of the 2023 Acer Nitro 16 and Nitro 17 models. We're still filling up the blanks on certain aspects, so look for updates in the very near future.
2023 Acer Nitro 16 AN16-51 (Intel),
2023 Acer Nitro 16 AN16-41 (AMD)
2023 Acer Nitro 17 AN17-51 (Intel),
2023 Acer Nitro 17 AN17-41 (AMD)

Display
16-inch, 16:10, non-touch, matte,
QHD+ 2560 x 1600 px IPS, 165Hz 3ms, 100% sRGB
FHD+ 1920 x 1200 px IPS, 165Hz 7ms, 100% sRGB
17.3-inch, 16:9, non-touch, matte,
QHD 2560 x 1600 px IPS, 165Hz 3ms, 100% sRGB
FHD 1920 x 1200 px IPS, 144Hz or 165 Hz 7ms, 300 nits, 100% sRGB
Processor
Intel 13th gen Raptor Lake, up to Core i7 HX, or
AMD Ryzen Dragon Range HX, up to Ryzen 7 HX (??)

Video
Intel UHD + Nvidia GeForce RTX 4000
with MUX, Advanced Optimus (GSync ??)
Memory
up to 32 GB DDR5-4800 (2x DIMMs)
Storage
2x M.2 PCIe gen4 2280 slots
Connectivity
WiFi 6 or 6E 2×2 with Bluetooth 5.2, Gigabit LAN
Ports
3x USB-A 3.2 gen2, 1x USB-C with Thunderbolt 4, 1x USB-C 3.2, HDMI 2.1, LAN, headphone&mic, microSD card reader, Lock
Battery
90?? Wh, up to 280 W power adapter, USB-C charging ??
Size
to be updated
400 mm or 15.7" (w) x 293 mm or 11.5" (d) x 27.9 – 28.9 mm or 1.1" – 1.13″ (h)
Weight
to be updated
~3 kg
Extras
4-zone RGB backlit keyboard with NumPad on both sizes, updated thermal module with liquid metal
I've reviewed the 2022 Acer Nitro 5 17-inch model here, if you're interested in a reference of the previous generation.
The 2023 generation is mostly a similar design, with some refinements. Acer didn't share many details on the dimensions, weight, and the materials used for the construction of these updated Nitros, and I can only assume they're still entirely made out of plastic and about the same size as the previous generations. The press release does mention the Nitro 17 is sub 3-kilos, so these new models might be a little lighter than the previous Nitro 5s.
I am seeing some slight aesthetic updates for the 2023 Nitro models.
For instance, the Acer logo on the lid has been replaced with a new Nitro monogram logo, and the same logo is placed under the display. Looks like Acer are trying to create a distinct identity brand for the Nitro series, in the same way they've been doing with the Predator models in the past years. The air-intake grill at the top of the keyboard has been slightly redesigned as well.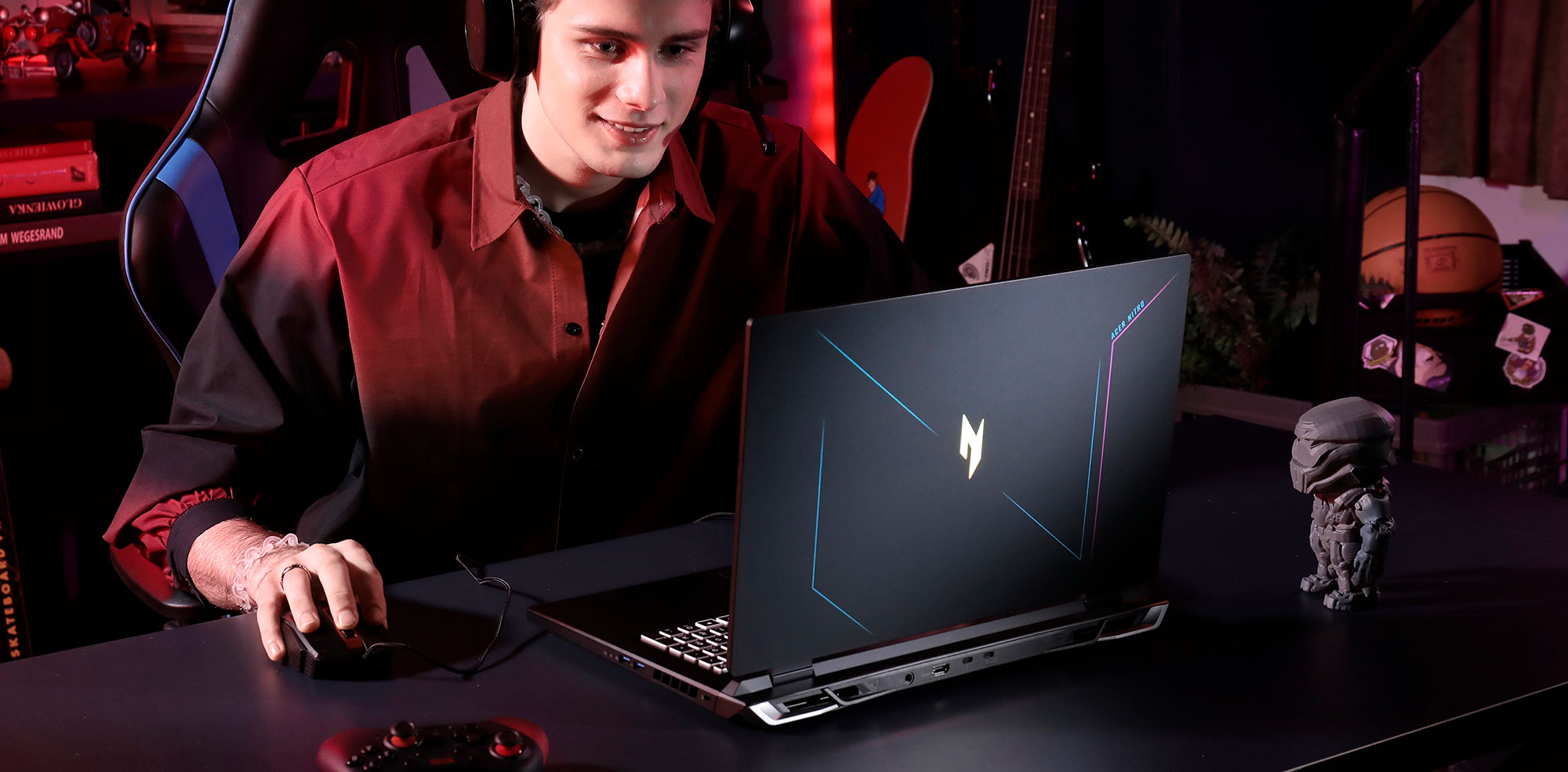 That aside, I'm also seeing a slight update of the rear hump behind the display on these Nitros, and a slight rearrangement of the available ports.
Most of the ports are on the back on both sizes, where you'll find the PSU, an HDMI 2.1 connector, and two USB-C ports, one with Thunderbolt 4 support and looks like power-delivery support as well, which will enable the possibility of USB-C charging (that was not available with previous Nitro models). USB-A ports are lined in the left and right edge, where you'll also find the LAN connector, the audio jack, the lock, and a microSD card reader.
Here are some preview images of the 16-inch Acer Nitro 16 model.
And here are some images of the slightly larger 17-inch Nitro 17 variant.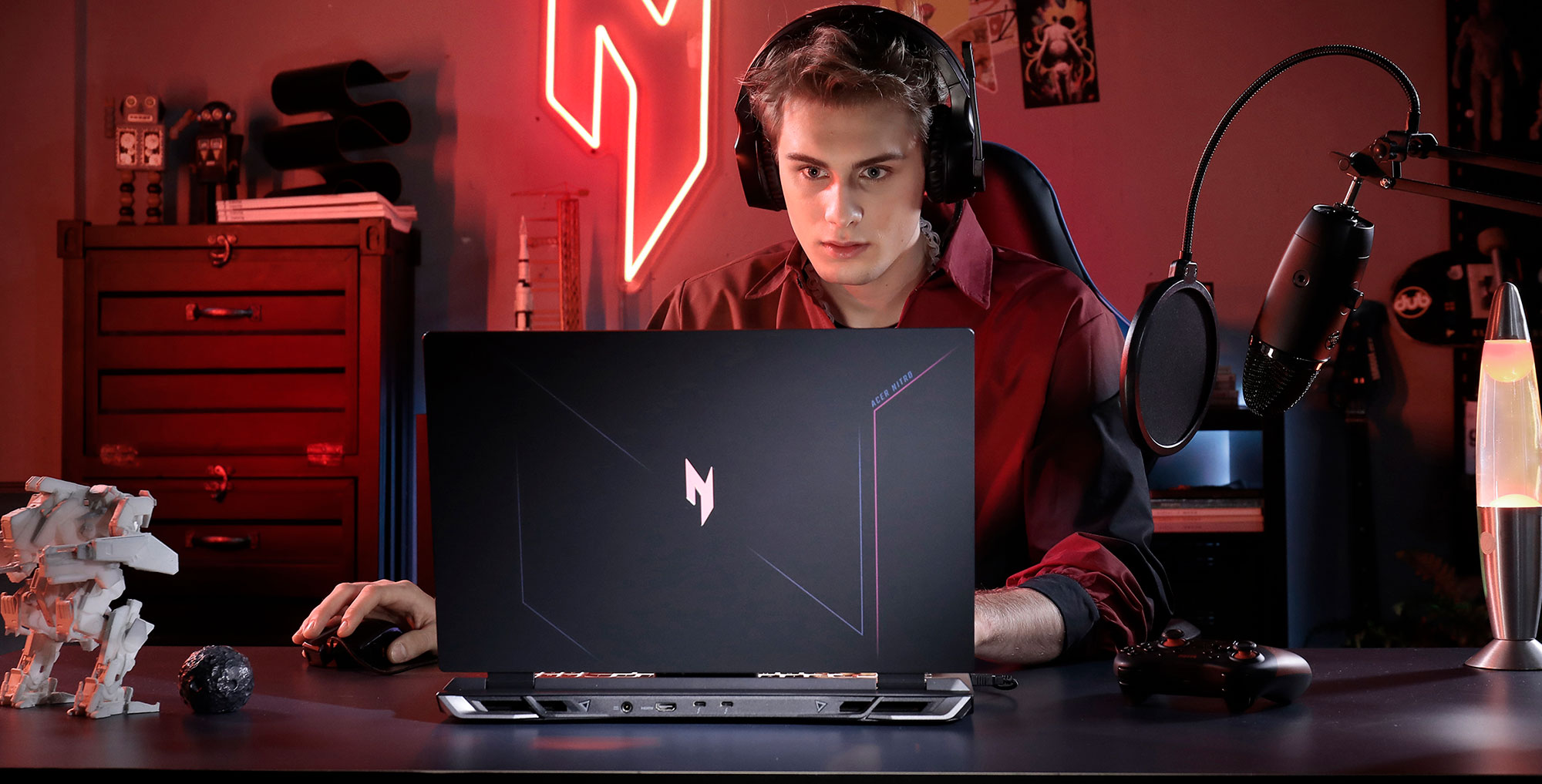 The keyboard is pretty much identical to the one implemented on the previous Nitros, with a full layout with a NumPad section on both the Nitro 16 and the Nitro 17, 4-zone RGB lighting, and emphasized WASD and arrows keycaps. The touchpad has been updated, though, and is now a much more spacious surface.
No word on any biometrics available for these Nitros, or of an update of the audio system, which has been a weak spot with past Acer laptops.
The screens are a 16:10 format on the Nitro 16 and a 16:9 format on the Nitro 17, with a variety of FHD and QHD-type panels on both. There are no high-tier IPS panel or miniLED options available on these models, unlike on the 2023 Acer Predator Helios 16 and Helios 18 lineups, but only options with up to 100% sRGB color coverage, 165Hz 3ms refresh, and around 300-nits of brightness.
I would go for the QHD+/QHD options on both if possible, and stay away from the 144Hz FHD models which might be the 45% NTSC 250-nits implemented on the past Nitro 5, especially on the 17-inch model. We'll know more once we get to review these units.
Hardware specs and internal design
The Acer Nitro 16 AN16-51 and Acer Nitro 17 AN17-51 are built on either Intel 13th-gen Raptor Lake or AMD Dragon Range (to be confirmed) hardware platforms with Nvidia RTX 4000 graphics.
Acer haven't provided details on the exact specs and power settings for these generations, but I'd expect on one side Intel Core i7 HX processors and RTX 4050, 4060, and 4070 graphics chips, and on the other Ryzen 7 HX processors with RTX 4050 and 4060 dGPUs.
Furthermore, the previous Nitro 5 chassis allowed for up to 125W TGPs, and these 2023 updates should at least match those, if not push for 5-15W higher wattage.
I'm basing those assumptions on the fact that chassis design and the cooling module don't seem to have noticeably changed from the 2022 Nitro 5 models, with still dual-fan quad-vents thermal designs and an array of heatpipes. However, the press release briefly mentions a liquid-metal compound in the mix, which wasn't offered before and might help push the power up to some extent. I'll update this section when we know more.
The internal specs further include 2x RAM DDR5 slots, 2x PCIe gen4 SSD slots, a MUX with Advanced Optimus, and a large-sized battery. Acer haven't mentioned the capacity yet, but I'd expect the same 90Wh batteries offered with the previous-gen Nitros.
All in all, these 2023 Acer Nitros are slight refinements of the previous Nitro 5 generations, with a slightly cleaner design, modern-generation specs, and a few extras such as USB-C charging and new screen options. The Nitro 16 is the more notable update of the two, as it implements the taller 16:10 displays now, while the 2023 Nitro 17 still comes with the 16:9 panels offered with the past Nitro 5s.
I am looking forward to testing the performance and overall capabilities of these 2023 updates, and finding out how they fare against the predecessors and the competition in the mid-tier segment. Hopefully, we'll get our hands on review units soon enough.
Pricing and availability
On the Intel side, the Acer Nitro 16 AN16-51 is expected in stores in May 2023, starting at 1499 EUR in Europe and 1199 USD in the US. The exact configurations will vary between regions.
The Acer Nitro 17 AN17-51 comes out in May as well, for roughly similar prices.
The AMD models, the Acer Nitro 16 AN16-41 and Acer Nitro 17 AN17-41 are also expected around May 2023, starting at around 1150-1200 USD and 1500 EUR.
That's about it for now, but I'll update the article and fill in the blanks in the near future, and link to our reviews when available. In the meantime, let me know what you think about these 2023 Acer Nitro 16 and Nitro 17 updates.
Disclaimer:
Our content is reader-supported. If you buy through some of the links on our site, we may earn a commission.
Terms
.