As promised in the reviews, I wanted to give you a side-by-side comparison of the Lenovo Legion 5 Pro and the Dell Alienware m15 that I've been dealing with lately.
BTW, you'll find the detailed reviews via these links above.
I figured these laptops might be on some of your shortlists, especially if you're considering a modern laptop built on an AMD Ryzen 5000 processor and a higher-power variant of the Nvidia GeForce RTX 3070 Laptop graphics chip.
I think if you read both my reviews, you can clearly see that I liked the Legion 5 Pro more. But there are some features of the Alienware model that I liked, and are worth mentioning and comparing against the Legion 5 Pro.
Here's an in-depth look at my comparison. But first, a quick specs sheet of the units that I had.
| | | |
| --- | --- | --- |
| | Lenovo Legion 5 Pro | Alienware m15 Ryzen Edition |
| Screen | 16 inch, 2560 x 1600 px, IPS, 165 Hz, matte, 3ms response, Dolby Vision, HDR400, GSYNC | 15.6 inch, 2560 x 1440 px, IPS equivalent, 240 Hz, matte, Advanced Optimus |
| Processor | AMD Ryzen 7 5800H CPU, octa-core 3.2 GHz (4.4 GHz boost) | AMD Ryzen 7 5800H, octa-core 3.2 GHz (4.4 GHz boost) |
| Video | NVIDIA GeForce RTX 3070 with 8GB GDDR6 VRAM up to 140W TGP | NVIDIA GeForce RTX 3070 with 8GB GDDR6 VRAM up to 125W TGP |
| Memory | 16 GB DDR4 3200Mhz (2×8 GB DIMMs) | 16 GB DDR4 3200Mhz (2×8 GB DIMMs) |
| Storage | 2x 1TB M.2 NVMe (SKHynix) | 512GB M.2 NVMe (Samsung PM991a) |
| Connectivity | Intel Wifi 6 AX200 with Bluetooth 5.2 | Killer AX1650w Wifi 6 and Bluetooth 5.1 |
| Ports | 4x USB-A 3.2 gen1(one always on), 2x USB-C 3.2 gen 2(one with PD 3.0 charging support), HDMI 2.1, mic/earphone, ethernet | 3x USB-A 3.2 gen2, 1x USB-C 3.2, HDMI 2.1B, mic/earphone, ethernet |
| Battery | 80 Wh, 300 W charger | 86 Wh, 240 W charger |
| Size | 356 mm or 14.01" (w) x 264.2 mm or 10.4" (d) x 21.7-26.85 mm or .86-1.1" (h) | 356.2 mm or 14.02" (w) x 272.5 mm or 10.73" (d) x 22.85 mm or .9" (peak thickness) |
| Weight | 2.59 kg (5.7 lbs) as weighed | 2.54 kg (5.6 lbs) as weighed |
| Extras | 4-zone RGB keyboard, HD webcam with E-shutter button, stereo speakers | individually lit RGB keyboard with Cherry MX mechanical switches, HD webcam, 2W x 2 stereo speakers |
| Price | $1959 | $2079 |
Here are our thoughts on the latest iterations of these lineups, the 2023 Lenovo Legion Pro 5 and 2023 Dell Alienware m16 lineups.
Design and build
When looking at the specs, you might think the Lenovo is a much bigger model.  But in reality, they are practically the exact same size.  The height and width are almost the same, with the Lenovo being a tiny bit taller on the vent side.  The Alienware's vents make it a hair deeper though.  Considering the weights are so close together, you might as well just call it a tie.
The difference lies in the build quality though, where Lenovo is clearly better in my opinion.  Fact is, the Alienware felt creaky in both the lid and the chassis, most likely because the casing was made of a thinner magnesium.
The Legion 5 Pro, however, is made of aluminum on the top and bottom, and plastic on the palm rest.  Regardless of the plastic, the entire unit feels more premium to me, as there are no creaks in the chassis or lid at all.  The lid also is significantly thicker, allowing no flex.
The good news is both models resist fingerprints well.  The Lenovo is grey, so they are hard to see.  The Alienware is black, but because it's magnesium and the finish is smooth, the fingerprints didn't show.
IO selection
As far as IO selection goes, the Legion 5 Pro has a slight edge over the Alienware.  Both models have Ethernet, HDMI 2.1, and a headphone/mic combo.  But the Legion 5 Pro has an extra USB-A port, with a total of four, and an extra USB-C port for a total of two.
In fact, the Alienware completely lacks IO ports on the left side at all.  That's kind of a bummer considering many folks are right-handed and would prefer to attach thumb drives and peripherals on the left.  But at least there are USB ports on the back, which is true for both models.
Some other things to note is that neither laptop supports Thunderbolt 3 on the USB-C ports.  But the Legion 5 Pro does support PD 3.0 charging on the rear USB-C, which is not the case for Alienware.  All USB-Cs on both units support DisplayPort.
I think one of the big advantages Lenovo offers is the amount of IO they put on the back of their laptop.  Most of the USBs and Ethernet are located there, while Alienware opted to put most of the USBs on the right-hand side and Ethernet on the left.  At least both opted to put the power connection in the back, which I like.
Keyboard and Trackpad
The keyboards are very different between these models and may sway you one way over the other.
The Alienware m15 I reviewed had Cherry MX mechanical switches, which is arguably the best laptop keyboard I've ever typed on.  The switches had excellent feedback and travel, making typing feel very natural to me.  Gaming was also excellent. One drawback is that this keyboard is very loud.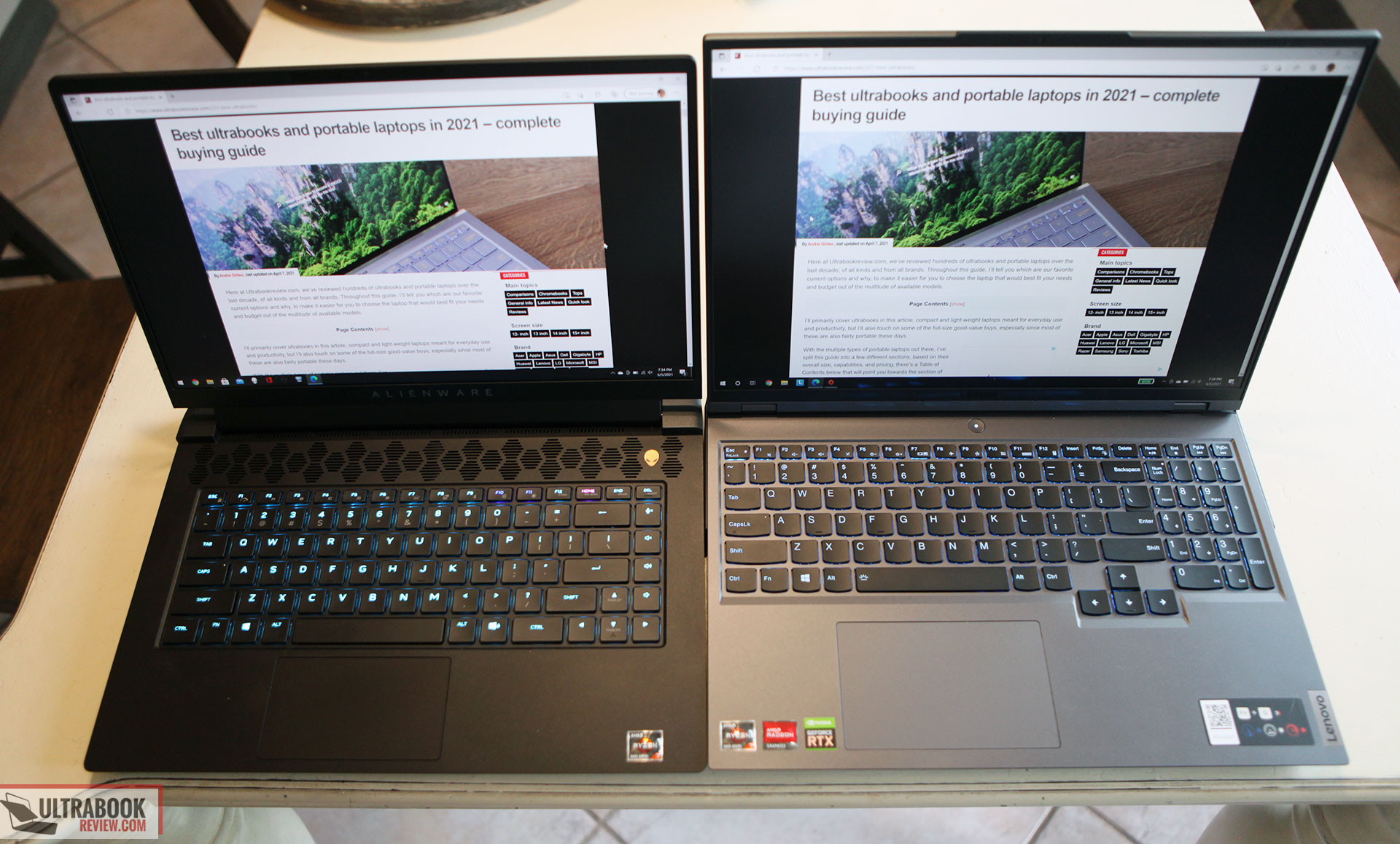 The Lenovo, on the other hand, is one of the quietest keyboards I've used in a long time.  It also types well, which took me a week or so to get accustomed to fully.  My main issue was the key feedback, which is a little mushier than the Alienware, which I just got done reviewing before the Lenovo.
There are other polarizing differences between the models which might be important to you.  It's easier to list them out, so here they are:
Lenovo has a full-size keyboard with Numpad, while the Alienware does not;
Alienware has per-key lighting, while the Lenovo has zone lighting;
Alienware has more even backlighting with advanced options, while the Lenovo has more light bleeding and limited color options and effects;
Lenovo has ALL the key functions backlit, while the Alienware's keys lack backlighting on the secondary functions;
Alienware has dedicated media keys, while the Lenovo does not;
The Lenovo suffered from minor keyboard flex, while Alienware did not.
In the end, for me, it was a wash.  I sure loved typing on those Alienware keys, but the lack of backlighting on the secondary functions was just plain frustrating.  Meanwhile, the keyboard flex on the Lenovo bothers me a little.  Either keyboard I could live with though.
The trackpads however, I can easily say Lenovo has the better pick.  Alienware's trackpad is just plain too small.  It also suffers from QC issues, as many users report loose feedback from their trackpads, making them click too easily.
The Lenovo trackpad is much bigger, tracks just as well, and has proper click feedback.  It's plastic, but still feels alright to me.  The only complaint I have with it is it's a little too far to the left allowing my palm to accidentally brush on it.  This is fixed with a registry tweak though.
Display panels
Arguably, the screens are the most important difference between the Lenovo Legion 5 Pro and the Alienware m15 R5 .
Both models offer QHD-type panels, but the ultimate draw to the Lenovo is the unique 16" size, with a 16:10 aspect ratio, compared to the standard 15.6″ 16:9 panel on the Alienware.
Both screens are QHD/QHD+, but the Lenovo has more screen height, making it just as tall as your typical 17.3" 16:9 laptop screen.  Once you use it, you'll absolutely appreciate the smaller bottom bezel and extra screen real estate.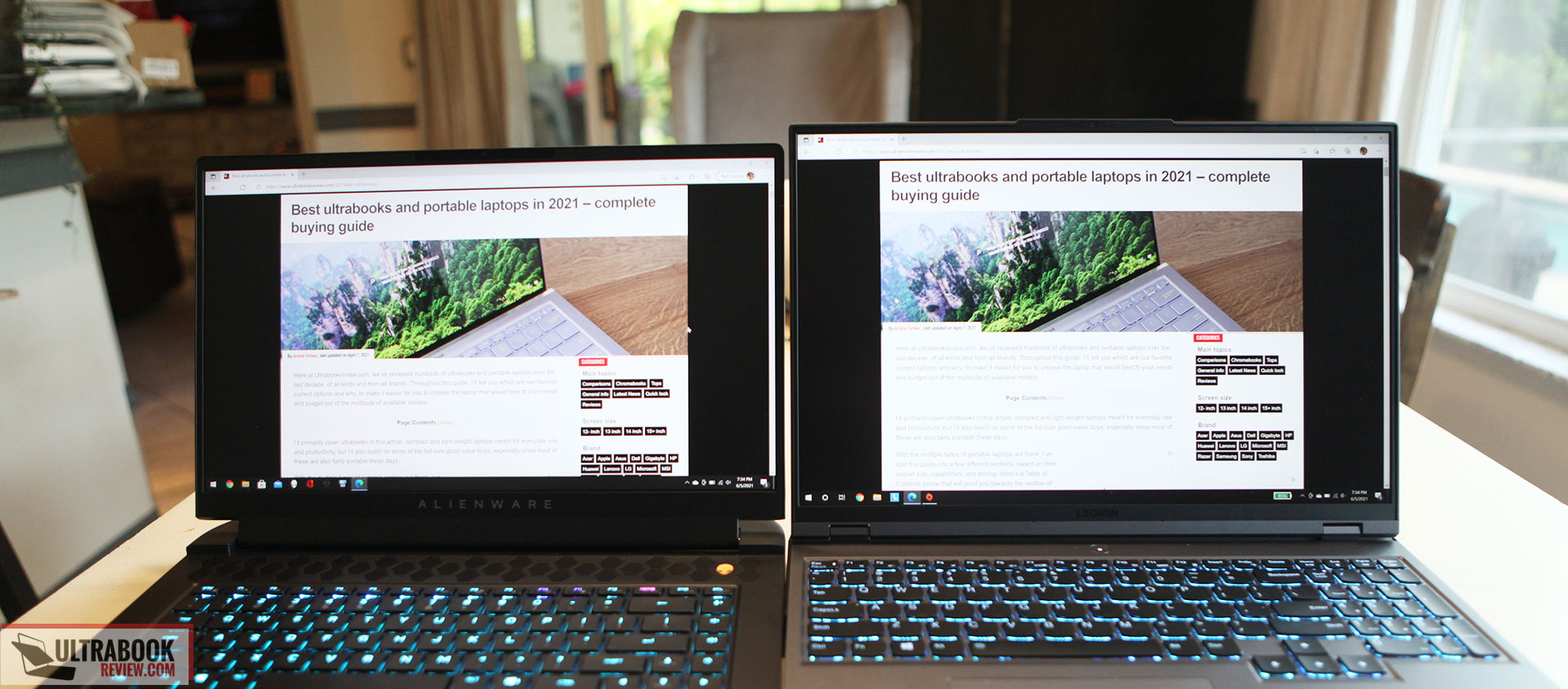 It's not a perfect win though, as there was one thing about the Alienware screen that was nice, and that was the color space.  The Alienware panel has a gamut of 100% DCI-P3, while the Lenovo panel is only 100% sRGB.
Other notable differences:
Lenovo has a much brighter panel at 500 nits vs 375 nits.
Lenovo has a significantly higher contrast ratio (1259:1 vs 902:1)
Alienware has a higher refresh rate (240Hz vs 165Hz)
I'll miss the 100% DCI-P3 colors, but Lenovo has the better panel, in my opinion.
Differences in Hardware and performance
There aren't too many differences in the hardware, which is why you might be choosing between these two models in the first place. Both models have the same CPU, GPU and RAM.  Both models also have replaceable RAM modules and 2x SSD slots.
One interesting difference in the SSDs, though, is what Dell decided to do (or not do).  Instead of being normal like Lenovo, which offers 2x 1TB drives populated, the Alienware only has 1 SSD slot occupied.  And with a half-size SSD drive.
Not only would it be difficult to replace the SSD due to the length difference, you can't even put a second SSD in at all without purchasing a special mount from Dell.
The only other major hardware difference is in the Wifi module, where Lenovo chose Intel and Dell chose Killer.  I found no difference in either in any of my use, although I hear that the Lenovo struggles with Bluetooth connections for controllers a bit more.  I haven't confirmed this though, so take it was a grain of salt.
There are some differences in performance, but I need to be fair and disclose that my benchmarks were taken before Alienware fixed their CUDA core fiasco.  Dell "accidentally" disabled 10% of the CUDA cores on their 3070, but this has reportedly been resolved in a recent vBios update, and that should translate in a bump in scores.  Nonetheless, see below for my comparison at the time I've reviewed these laptops.
| | | |
| --- | --- | --- |
| | 2021 Lenovo Legion 5 Pro (QHD+) | 2021 Alienware m15 r5 Ryzen Edition (QHD) |
| Fire Strike | 23818 (Graphics – 26953, Physics – 24572) | 21677 (Graphics – 24253, Physics – 22981) |
| Time Spy | 10529 (Graphics – 10861, CPU – 8979) | 10231 (Graphics – 9689, CPU – 8409) |
| Port Royal | 6493 | 5562 |
| Uniengine Superposition Extreme | 6724 | 6018 |
| Geekbench 5 | Single-Core: 1386, Multi-core: 7360 | Single-Core: 1385, Multi-core: 7096 |
| Cinebench R23 | CPU 12890 pts, CPU Single Core 1361 pts | CPU 11454 pts, CPU Single Core 1357 pts |
And here are some games results.
2021 Lenovo Legion 5 Pro (QHD+)
2021 Alienware m15 r5 Ryzen Edition (QHD)
Battlefield V
(DX 12, Ultra Preset, Ray-Tracing OFF)
99 fps avg, 93 fps low
98 fps avg, 93 fps low
The Witcher 3: Wild Hunt (
DX 11, Ultra Preset, Hairworks Off)
88 fps avg, 75 fps low
85 fps avg, 79 fps low
Horizon Zero Dawn
(Ultra)
70 fps avg, 63fps low
65 fps avg, 61 fps low
Cyberpunk 2077
(Ultra, Ray Tracing On, DLSS Auto)
51 fps avg, 49 fps low
53 fps avg, 45 fps low
Cyberpunk 2077
(Ultra, Ray Tracing Off, DLSS off)
47 fps avg, 45 fps low
58 fps average, 45 fps low
Valheim
(High preset)
60 fps avg, 50 fps low
65 fps avg, 55 fps low
In the meantime, I've also reviewed the Legion 5 17-inch RTX model over here, as well as the mid-tier RTX 3060 version of the Legion 5 15-inch over here.
There's quite a bit you can gather from this comparison.  For starters, the CPU performance is clearly better on the Lenovo.  It's almost definitely because the cooling solution on the Lenovo unit actually works, while on the Alienware almost all of my testing resulted in temps around 100C.
It's hard to make concrete comparisons on the GPU numbers and gaming benchmarks, because of the potential improvement from the CUDA core fix on the Alienware m15. At best though, the GPU benchmarks would increase by 10% and the gaming benchmarks somewhere between 5-10%(since some may be CPU dependant).
So even with the 10% correction, the GPU benchmarks on the Alienware are slightly lower, and it's mainly because of the 125W TGP limit, while on the Lenovo it's up to 140W.
At the same time, the gaming benchmarks are going to be slightly better on the Alienware though, because the Lenovo is driving 11% more pixels than on the Alienware panel.  Regardless, both models have really good performance, so unless you're picking nits about a few fps, you can't go wrong with either model.
Battery Life
There wasn't a whole lot of difference in battery life between both laptops.  The Alienware m15 has an 86Whr battery, while the Lenovo has an 80Whr.  But in my testing, I got equivalent results.
What's a bigger deal is the fact that the Alienware has Advanced Optimus, while the Lenovo just has Optimus.  You'd think this would be a positive for the Alienware, but it actually isn't – at least not yet.
In my testing, I actually found Advanced Optimus to be really buggy.  You can read my full review for more details, but to summarize, I just turned it off and controlled the graphics manually.
The Legion 5 Pro, on the other hand, uses the dGPU by default, and has a MUX switch to enable Optimus as needed.  It's the same amount of effort to switch on and off as the Alienware, just less buggy.  You could go either way here though.
Other Stuff
Other notable things to discuss are both laptops having the computer power on automatically when opening the lid.  This of course can be turned off in the bios, but Alienware goes a step further and has a biometric webcam.  So with that model, you can literally lift the lid and start working.
Since we're on the topic of webcams, the Legion 5 Pro has a feature that I really like, which is the ability to turn it off.  On the left side of the laptop, there's a physical switch that removes power to the webcam.  A very nice privacy feature that I would hope to see on all laptops someday.
As far as the sound quality goes from the speakers, I think the Legion 5 Pro has a slight edge, but not by much.  Both laptops have down-facing 2x2W speakers, which both lack bass.  But the Lenovo's speakers were a little bit louder from my measurements.
I was able to tune the Lenovo's speakers to sound better, but I probably could have done the same, had I spent more time fiddling with the Alienware settings.  I'd just as well call them equal.
Price
You can easily end the argument with the price difference.  The point being, the Legion 5 Pro is significantly less expensive than the Alienware m15.  At the time of this review, the Alienware m15 r5 costs $2179, and that's not including the Cherry MX keyboard, which would run you another $100.
The Lenovo Legion 5 Pro is normally priced at $1959, but at the time of this comparison, it's actually priced at $1849.  A real bargain if you ask me.
Final Thoughts
I think after seeing the price difference, it's hard to justify choosing the Alienware m15 over the Lenovo Legion 5 Pro.  Not only do they both have similar hardware specs, but the Lenovo has a bigger screen in the same size chassis.  It also has a sturdier build, bigger trackpad, and more IO.
The Alienware on the other hand has a better keyboard, higher gamut screen, and a biometric webcam, which may tempt you.  But when you throw in the worse thermals and the lower-powered GPU, I think the appeal starts to fade.
I'm sure Alienware fans will still opt to buy the m15, and that's fine.  It's not a bad laptop.  But the value, in my opinion, is much much better in the Legion 5 Pro – I would argue it's going to be one of the best picks this year has to offer.
I hope this helps you make a more informed decision though.  I no longer have the Alienware m15, but I decided to keep the Legion 5 Pro, so I'll have it around to answer any more questions you may have.  Please leave me a comment in the section below and let me know what you think.
Disclaimer:
Our content is reader-supported. If you buy through some of the links on our site, we may earn a commission.
Terms
.