MSI's are on fire at CES 2020, unveiling not just a brand new ultraportable GS66 series, but also a completely revamped version of their Raider performance 15-inch series, the GE66 Raider.
As expected, the GE66 Raider follows-up on the GE65 Raider from 2019, which we've reviewed here on the site a few months ago. It earned our recommendation as one of the most powerful 15-inch gaming notebooks in its segment, even over the competitive Asus ROG Scar III, due to its more compact and cleaner design, excellent thermals and performance, as well as the more capable audio.
That's why the 2020 Raider update has some huge shoes to fill in, and we won't be able to draw conclusions until we actually get to properly put it through our tests. I'd be a little nervous if I were the MSI Product Manager in charge of the G66, as this is in and out a complete revamp of the previous generation and a lot can go wrong on such a drastic update.
Update: Our detailed review of the MSI GE66 Raider is available over here, and here's our coverage of the updated 2023 MSI Raider GE68 and Raider GE78 models. And here's our detailed review of the 2023 MSI Raider GE78 lineup.
Unlike the GE65, which reserved a big portion of the interior for speakers and only got a small battery as a result, the GE66 went bonkers for battery life, implementing a 99.9 Wh battery, the maximum allowed by flight regulations. That's the same battery MSI puts on the 2020 GS66 Stealth.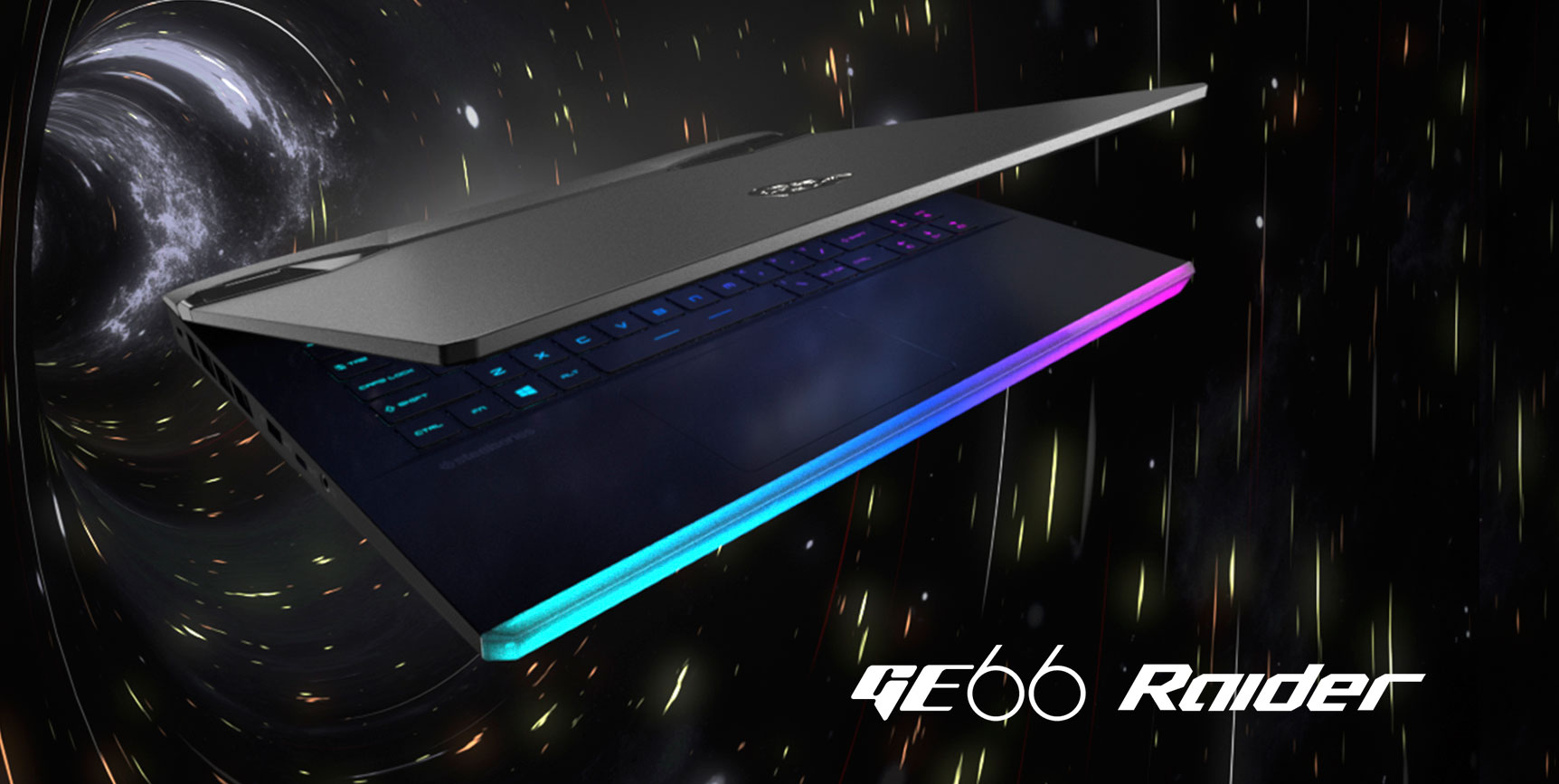 | | | |
| --- | --- | --- |
| | MSI GE66 Raider 2020 – review | MSI GE65 Raider 2019 – review |
| Screen | 15.6 inch, 1920 x 1080 px, IPS equivalent, 300 Hz, matte | 15.6 inch, 1920 x 1080 px, IPS equivalent, 240 Hz, matte |
| Processor | up to Intel Comet Lake Core i9-10980HK, eight-core | Intel 9th Gen Coffee Lake-R Core H, up to Core i9-9880H |
| Video | Intel UHD and up to Nvidia RTX 2080 Super 90W OC(Max-Q) | Intel HD 630 and up to NVIDIA GeForce RTX 2080 Max-Q with 8GB GDDR6 VRAM |
| Memory | up to 64 GB DDR4 2933 MHz (2× DIMMs) | up to 32 GB DDR4 2666 MHz (2× DIMMs) |
| Storage | 2x M.2 NVME 2280 with Raid0 | 2x M.2 slot, 2.5″ bay |
| Connectivity | WiFi AX, Bluetooth 5.0, Gigabit Ethernet | Killer WiFi 6 AX1650x 2×2 with Bluetooth 5.0, Killer E2600 Gigabit LAN |
| Ports | 2x USB-A 3.2 gen1, 1x USB-A 3.2 gen2, 2x USB-C 3.2 gen 2 (one with DP, no charging), miniDP, HDMI 2.0b, LAN, headphone and mic, SD card reader, Kensington Lock | 3x USB-A 3.2, 1x USB-C 3.2 gen 2 with DP, miniDP, HDMI 2.0b, LAN, headphone and mic, SD card reader, Kensington Lock |
| Battery | 99 Wh, up to 280W charger | 51 Wh, up to 230 W power adapter |
| Size |  360 mm or 14.09" (w) x 267 mm or 10.51" (d) x 23.4 mm or .92" (h) | 358 mm or 14.08" (w) x 248 mm or 9.75" (d) x 17.5 mm or .69" (h) |
| Weight | ~2.4 kg (5.25 lbs) | ~2.25 kg (4.96 lb), .76 kg (1.67 lbs) 180W power brick and cables, EU version |
| Extras | updated RGB keyboard, large clickpad, HD webcam, side-firing stereo speakers | RGB keyboard, large clickpad, HD webcam, bottom-firing stereo speakers |
Of course, the GE66 remains the bigger model with more space for cooling and components inside the chassis, as well as for extra features on the outside.
Among those, there's RGB lightning implemented through a light-bar that occupies most of the laptop's front lip. I'm not into RGB lighting myself, so I can only hope there's a way to individually turn this off from the Dragon software, but I have to admit that the implementation is cleaner than on the ROG Scar.
In fact, the entire design looks neat and is a significant step-up from the previous Raiders. The exterior is mostly dark gray, with muted branding elements and a subtle Dragon Shield on the lid, not the pesky backlit one from the GE65 and older Raider models.
Still, if you're into something funkier and unique looking, MSI also offers a DragonShield Limited Edition of the GE66 Raider that might be worth checking out. Too much for my liking, though.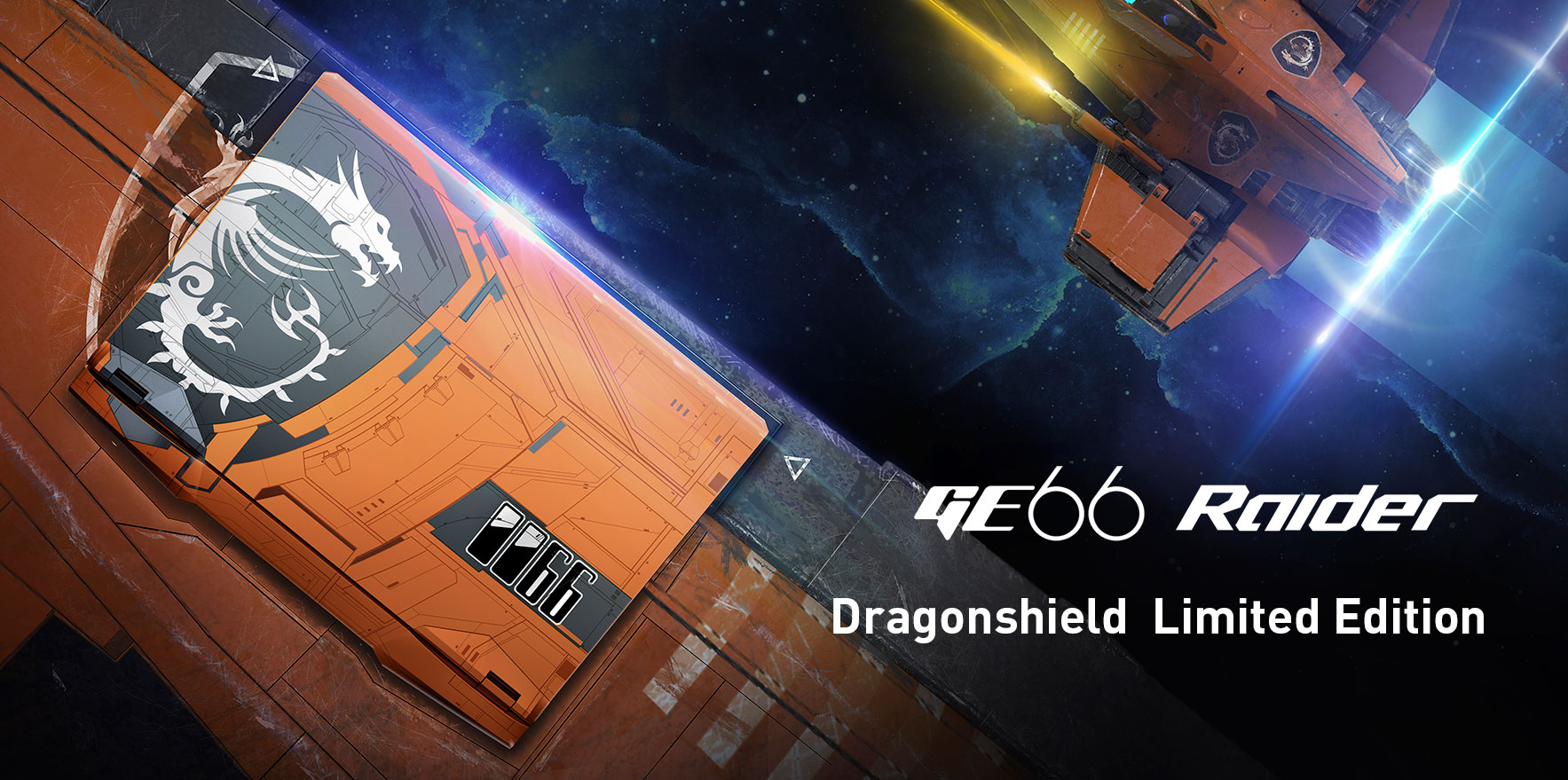 Otherwise, the GE66 still leans towards the fighter-jet inspired design most OEMs have approached on their gaming notebooks over the years, with a tapered front and beefier exhausts on the back. I'm not necessarily a big fan of this design language, but it's OK, and at least MSI put two individual hinges on that screen and moved a significant part of the IO on the back, between those exhausts, which will help clean-up your setup. In fact, the GE66 looks a lot like a slimmer, baby GT76 Titan.
I'd also expect the GE66 to feel sturdier and more premium than its predecessor. Aluminum is used for the entire outer casing this time, including the underside, and the pieces seem more solid than those used on the GE65. However, with the redesign, it also looks like a larger laptop with a hump on the back reserved for cooling, so most won't be as portable as the previous GE65 Raider.
As far as IO goes, there's pretty much everything you'll need on this laptop, including an SD card reader. Can't tell for sure whether Thunderbolt 3 is also supported, I'll have to update you on that.
But how about the speakers? They no longer occupy as much space as on the older model and fire through those punctured grills on the left and right edges, so MSI went with a more traditional dual-speaker approach on this update.
Yet that's not necessarily a bad thing, many laptops offer decent audio with side speakers, and in all fairness, the GE65 Raider was already a down-grade from the larger GE63 Raider from 2018. With the smaller chassis and powerful components, space is at a premium, and speakers got the axe. Hopefully, the capable DAC bundled in past MSI laptops did not, as good headphone audio is a must on a premium gaming laptop.
Speaking of specs, the GE66 Raider gets a bump to Intel 10-th gen Comet Lake Core H processors and the latest Nvidia graphics, which we can assume would be Super refinements of the full-power RTX 2060/2070 GPUs in the current Raider lineup. No word on storage and SSD specs, but I'd expect 2x DIMMs and 2x SSD slots, probably without a 2.5″ bay in this case, and we'll update once we know more.
Oh, and let me remind you that the GE66 Raider now gets a 99.9 Wh battery, implemented in the lower part of the chassis, beneath the keyboard, as with most other modern devices.
I should also mention that MSI will allow speccing the GE66 Raider with either 240 Hz or 300 Hz 15-inch panels, both IPS with middling brightness, contrast, and color accuracy. The faster panel would make sense if you're playing fast-shooters at a very competitive level, but otherwise, both are excellent choices for gaming and everyday use, as long as you're not taking the laptop outdoors or in bright offices, where the 300-nits max brightness might nor suffice.
Finally, the keyboard and clickpad are very similar to those implemented on the GS66 Stealth, which means a slight redesign from the previous generation, with the Power Buton, integrated in the top-right corner. MSI's Steelseries RGB keyboards have historically been great typers and have allowed good software control over the illumination, so hopefully, that hasn't changed on these 2020 models.
Finally, MSI hasn't shared exact details on prices and configurations for the GE66 Raider or any of their other 10th gen Core H refreshes, but I wouldn't expect them sooner than Mid-Spring. We'll update once we know more.
All in all, the 2020 GE66 is a bold new product in the performance-oriented Raider series, a completely redesigned product from last years' Raiders. It touches on some of my complaints about the GE65 in the IO, construction and battery life department, but is also a larger product and we'll need to test the performance and thermals/acoustics of this new design before we can draw any conclusions. Look for our updates in the months to come.
Update: Our detailed review of the MSI GE66 Raider is available over here.
Disclaimer:
Our content is reader-supported. If you buy through some of the links on our site, we may earn a commission.
Terms
.