Following the current trend of shrinking laptop bezels, Asus announced two updated ZenBook series that will be available in 2019, alongside the already existing ZenBook lines with thin bezels launched in the second half of 2018 (UX333, UX433 and UX533).
One of them is the ZenBook UX392, an expected refresh of the popular UX391 series, while the other is a rather unexpected ZenBook UX431, which seems like a slightly refined variant of the UX433 line.
We'll talk about both of these in the following rows, covering the novelties, their strong-points and the potential quirks you should look into if you decide to get them before we publish our detailed reviews, as we as comparing them to the previous and other existing models you can find in stores these days.
Asus ZenBook S13 UX392FN
First of all, the ZenBook S13 UX392 is Asus's new top-of-the-line ultraportable, updating on last year's UX391 series, one of our favorite ultrabooks of 2018.
Update: We've spent more time with the ZenBook S13 UX392FN, and you can read all about it in our detailed analysis.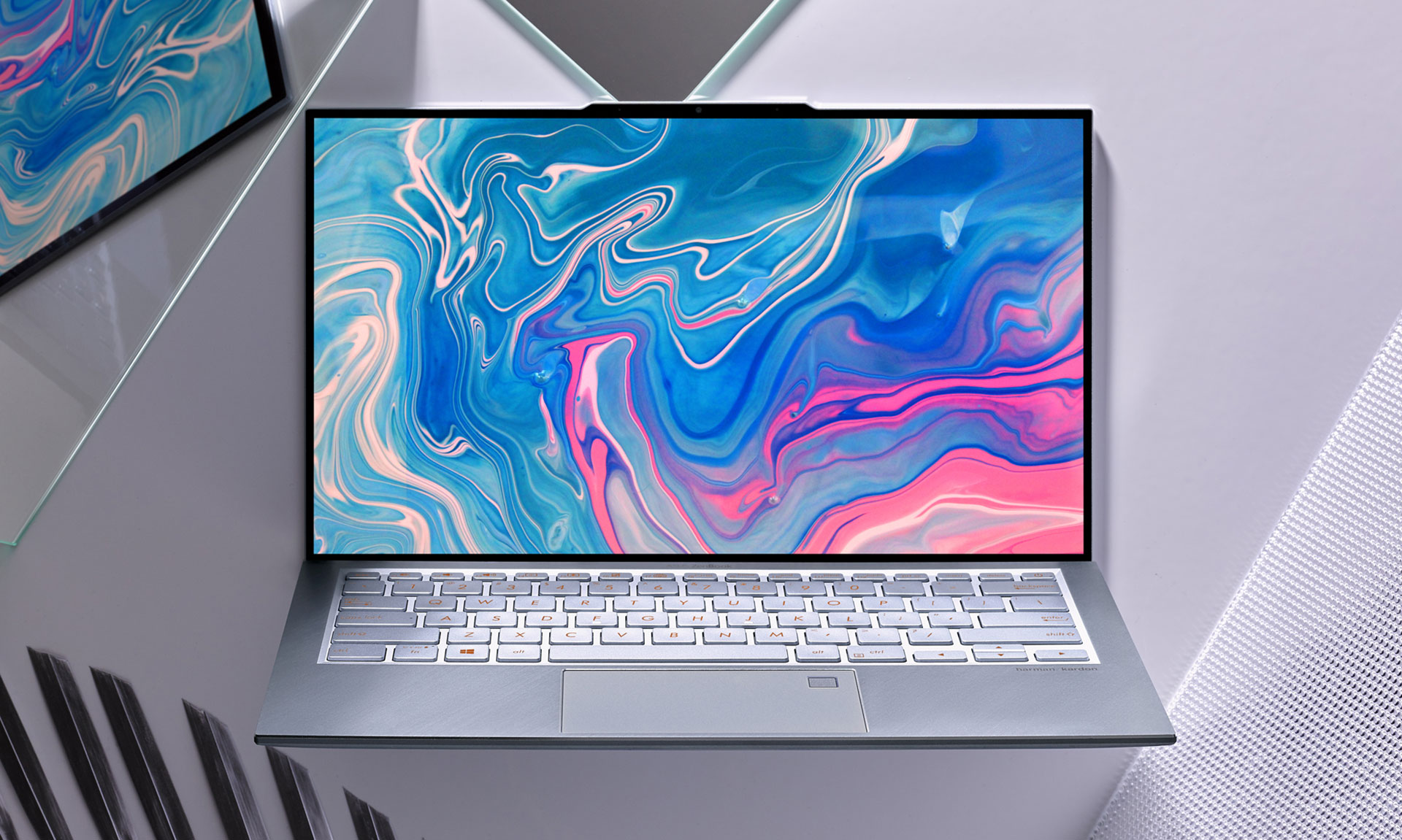 We've compiled a quick specs sheet below, where we compare the UX392 to the UX391 and the other modern 13-inch Zenbook, the UX333 series, and we'll get further in-depth down below.
| | | | |
| --- | --- | --- | --- |
| | Asus ZenBook UX392 FN – official page – review | Asus ZenBook UX391 FA – review | Asus ZenBook UX333 FA/FN – review |
| Screen | 13.9-inch – FHD glossy, 400 nits | 13.3-inch – FHD matte, 300 nits | 13.3-inch – FHD matte or glossy, 250 nits |
| Processor | up to Core i7-8565U | up to Core i7-8565U | up to Core i7-8565U |
| Video | up to Nvidia MX150 2 GB | up to Intel UHD 620 | up to Nvidia MX150 2 GB |
| Memory | up to 16 GB LPDDR3 (soldered) | up to 16 GB LPDDR3 (soldered) | up to 16 GB LPDDR3 (soldered) |
| Storage | 1x M.2 PCIe x4 | 1x M.2 PCIe x4 | 1x M.2 PCIe x4 |
| Ports | 2x USB-C gen 2, 1x USB-A gen 2, microSD, mic/earphone | 2x USB-C with TB3, 1x USB-C gen 1, mic/earphone | 2x USB-A 3.1, 1x USB-C gen 2, HDMI, microSD, mic/earphone |
| Battery | 50 Wh | 50 Wh | 50 Wh |
| Size | 316 mm or 12.44" (w) x 195 mm or 7.67 (d) x 12.9 mm or .51" (h) | 311 mm or 12.24" (w) x 213 mm or 8.38 (d) x 12.9 mm or .51" (h) | 302 mm or 11.88" (w) x 189 mm or 7.44 (d) x 16.9 mm or .66" (h) |
| Weight | ~1.1 kg (2.4 lbs) for FN model with MX150 graphics | ~0.99 kg (2.2 lbs) | ~1.23 kg (2.7 lbs), 1.1 kg for the matte version |
| Price | from $1399 (details) | starts at $899 (details) | starts at $999 |
Update: Our initial listing mentioned an anti-glare screen for the UX392FN, but the final retail units seem to only be available with a gloss glass non-touch screen.
On a quick look, the new UX392 improves on certain aspects of the UX391: it's a smaller device with narrower bezels around a bigger and brighter screen, a USB-A port, modern Whiskey Lake processors with optional Nvidia MX150 graphics, as well as a slightly different keyboard with 1.4 mm of travel, as opposed to the 1.2 mm stroke of the previous variant.
At the same time though the screen is no-longer matte, but covered with a layer of glass that's going to introduce some reflections, even with its non-glare coating, and more importantly, Asus seems to have ditched the Thunderbolt 3 connectivity on the UX392 and replaced it with USB-C gen2 ports only, which still support charging and video-out, but not the other traits of a fully powered TB3 port. There's still a 50 Wh battery inside, fair-sized for such a compact laptop, which charges via USB-C and supports quick-charging.
Then there's the matter of including an MX150 GPU inside this device, which Asus claims it's the thinnest laptop with discrete graphics. Asus also claims this laptop does not compromise on performance and hopefully they're right, but unless they worked out some ingenious cooling solution, I'm skeptical about the MX150 chip's performance inside such a tinny and slim chassis, given our experience with the thicker ZenBook UX333/UX433 lines, as well as with other thin-and-light laptops with this kind of hardware.
Not sure if Asus is going to offer UX392FA versions of this laptop, without the Nvidia GPU, but those would make more sense in such a design. Even if those won't be available, I'd advise you to look past the marketing gimmicks and don't expect much in terms of gaming.
These aside though, the ZenBook UX392 seems to be one of the nicest crafted ultrabooks out there. The video below shows what to expect from this beautiful aluminum machined device, in a new color-scheme called Utopian-Blue, a lighter shade of blue than we've previously seen on Asus laptops, which will do a better job at hiding smudges and fingerprints.
Asus also advertises a 97% screen-to-body ratio for this laptop that gets roughly 2.5 to 4 mm bezels around the entire screen, which leads to an oddly shaped, but at the same time smartly implemented reverse notch at the top, which accommodates the webcam and microphones and also helps to lift up the screen.
On top of that, much like with the late-2018 ZenBooks, the chin is hidden behind the main-body thanks to Asus's Ergo-lift hinge design that raises the laptop on the bottom of the display's frame. This is not just a design trick, but also a functional trait, as it ensures a slightly inclined typing position and allows for better airflow underneath. As a downside though, this design means that the exhaust grills placed between the hinges are in close proximity to the actual screen (minute 1:50 in the clip above), which could lead to potential issues down-the-road. I'm not saying it will, but it's a particularity you should be aware of.
All in all, the ZenBook UX392 seems like a refined variant of an already excellent device. The build, the specs and especially the screen are a step in the right direction, but the lack of TB3 or a Hello camera might steer some potential buyers away.
Of course, these are just some preliminary impressions and there are many aspects we'd need to further look into in our future review before we can develop a conclusion on this product, like the typing experience, performance, thermals and noise output, among others, which are crucial for a modern top-of-the-line ultrabook. Stay tuned for the in-depth coverage once we get our hands on a review unit.
The Asus ZenBook UX392 is expected in stores in Q1 2019, with US availability scheduled for March/April.
Update: The ZenBook UX392 is already listed in stores in some parts of the world, and planned to ship around mid-April.
Update2: You should also head out to our detailed review of the ZenBook S13 UX392, for our in-depth opinions and impressions.
Asus ZenBook 14 UX431FA / UX431FN
While I was anticipating the UX392 series, the UX431 is a more surprising addition to the ZenBook line, given the already existing ZenBook 14 UX433 models that have only started shipping around November, so are only 2 months old. Either way, a UX431 will also be available in the coming months, as what looks like a compelling 14-inch laptop with modern traits, improved speakers and a potentially faster GPU.
Update: See this article for more of our impressions on the ZenBook UX431 line and how it compares to the UX433/UX392 higher-tier alternatives.
Here's a quick specs sheet next to the UX433, and we'll get further in-depth down below.
| | | |
| --- | --- | --- |
| | Asus ZenBook UX431 FA/FN | Asus ZenBook UX433 FA/FN – review |
| Screen | 14.0-inch – FHD glossy, 250 nits | 14.0-inch – FHD matte or glossy, 300 nits |
| Processor | up to Core i7-8565U | up to Core i7-8565U |
| Video | up to Nvidia MX150 2 GB | up to Nvidia MX150 2 GB |
| Memory | up to 16 GB LPDDR3 (soldered) | up to 16 GB LPDDR3 (soldered) |
| Storage | 1x M.2 PCIe x4 (x2 SSD included by default) | 1x M.2 PCIe x4 (x2 SSD included by default) |
| Ports | 1x USB-A 3.1, 1x USB-A 2.0, 1x USB-C gen 2, HDMI, SD, mic/earphone | 2x USB-A 3.1, 1x USB-C gen 2, HDMI, microSD, mic/earphone |
| Battery | 47 Wh | 50 Wh |
| Size | 324 mm or 12.75" (w) x 212 mm or 8.34 (d) x 15.9 mm or .62" (h) | 319 mm or 12.55" (w) x 199 mm or 7.83" (d) x 15.9 mm or .62" (h) |
| Weight | ~1.4 kg (3.1 lbs) | ~1.23 kg (2.7 lbs), 1.1 kg for the matte version |
| Price | starts at $799 | starts at $999 |
From what we know so far, this could actually be the true follow-up of the ZenBook UX430UN, with Whiskey Lake processors and the full-power version of the Nvidia MX150 GPU. That's still to be confirmed, but the truth is even a properly working implementation of the 10De 1D12 Max-Q variant, able to sustain Turbo frequencies in long gaming sessions, would be a step-up from the UX433FN.
What we do know is that the UX431 is a slightly larger and heavier version of the UX433, with the otherwise fairly similar exterior design. It's made out of metal and gets the Ergolift hinge we've seen on many modern ZenBooks, however, the bezels around the screen are slightly larger. The bigger chin is actually a good thing in my opinion, as due to the design, the hot air is pushed out through cuts hidden behind the hinge and fire into the screen, so having the panel a bit further away actually helps, even if we're talking about millimeters. Asus also tweaked the IO a tiny bit, adding a full-size card-reader on this line, but unfortunately, there's still no Thunderbolt 3.
You might have also noticed some speaker grills flanking the keyboard, and that's because the ZenBook UX431 actually gets quad-speakers, with a pair of them firing upwards, and another pair, in charge of the lower-end frequencies, firing from the underbelly. The keyboard and trackpad, on the other hand, seem to be identical to those on the ZenBook UX433, with the same NumPad integrated within the clickpad and a set of Hello cameras at the top of the screen.
Update: Although the initial details mentioned a NumberPad, retails units only get a standard clickpad with an integrated finger-sensor in the top right corner, at least in the US. That might vary from region to region, though.
It's also worth adding that the UX431 is most-likely internally redesigned as well, as suggested by the quad-speakers, smaller battery and increased weight, so hopefully, the cooling solution was also redesigned, which could translate in better performance in sustained gaming sessions. The MX150 is nonetheless just and entry-level dGPU, no doubt about that, but if cooled properly and if Asus opted for the full-power 25W variant, it could put this computer on quite a few maps.
These are just suppositions, but we'll answer all the questions in our detailed review that will be available in the months to come. For now, though, I'm hopeful this could be a better overall product than the ZenBook UX433, which sacrifices a bit too much for portability's sake. We'll see.
The Asus Zenbook 14 UX431 is already listed in stores in some regions of the world in the UX431FA variant, without the MX150 graphics. In the US it starts at $799 for a Core i5 configuration with 256 GB of storage, while the i7/512 GB SSD variant MSRPs for $899, making it one of the most aggressively priced 14-inch ultraportables of the moment. An SKU with the i7 CPU, 16 GB of RAM and the MX150 GPU will also be available at a future date, for around $1200, and most likely will sell as a Costco exclusive in the US.
Follow this link for more details, updated configurations and prices at the time you're reading the article.
Disclaimer:
Our content is reader-supported. If you buy through some of the links on our site, we may earn a commission.
Terms
.