The Dell XPS 13 9350 is one of the most popular 13-inch ultraportables available out there. It's been out for a while, Derek reviewed it here on the site and Doug told you how to tweak its performance and thermals.
However, many of you asked for my personal feedback on the XPS 9350, especially after reading my posts on the XPS 9343 (the initial review and the follow-up). I bought the XPS 13 9343 in January 2015 and I've been using it as my main ultraportable ever since. Dell later updated the series to the XPS 13 9350 model, upgrading it to Intel Skylake hardware, bumping the battery size by about 10% and adding a Thunderbolt 3 port. But the chassis, the keyboard, the screens and many other aspects remained identical.
I never felt the need to upgrade to the new XPS, so I couldn't have a side by side comparison between the two generations till now, but I recently got to spend more time with the XPS 13 9350 and I'll finally be able to tell you how I think it fairs against my XPS 13 9343 and whether Dell managed to fix the issues that I've ran into in my nearly 18-months experience with the XPS series. This is not a detailed review. For that, read this post instead.
| | | |
| --- | --- | --- |
| | Dell XPS 9350 | Dell XPS 9343 |
| Screen | 13.3-inch, 1920 x 1080 px matte or 3200 x 1800 px touchscreen, IPS panels | 13.3-inch, 1920 x 1080 px matte or 3200 x 1800 px touchscreen, IPS panels |
| Processor | up to Intel Skylake Core i7-6560U CPU | up to Intel Skylake Core i7-5500U CPU |
| Video | Intel HD 520 or HD 540 | Intel HD 5500 |
| Memory | up to 16 GB LPDDR3 1866Mhz | up to 8 GB LPDDR3 1866 Mhz |
| Storage | M.2 NVMe SSD | M.2 PCIe SSD |
| Connectivity | Dell Wireless 1820a AC wireless, Bluetooth 4.1 | Broadcom AC wireless, Bluetooth 4.0 |
| Ports | 2x USB 3.0, Thunderbolt 3 (USB Type-C), SD card-reader, mic/earphone combo | 2x USB 3.0, mini DisplayPort, SD card reader, mic/earphone combo |
| Battery | 56 Wh | 52 Wh |
| Operating system | Windows 10 | Windows 10 |
| Size | 304 mm or 11.98" (W) x 200 mm or 7.88" (D) x 17 mm or .68" (H) | 304 mm or 11.98″ (L) x 200 mm or 7.88″ (W) x 17 mm or 0.68″ (H) |
| Weight | up to 2.9 lbs | up to 2.8 lbs |
| Extras | Backlit keyboard, stereo speakers | Backlit keyboard, stereo speakers |
You should know that I own an XPS 13 9343 with a Core i5-5200U CPU, 4 GB of RAM, 128 GB SSD and the FHD screen, and I've tested a more powerful version of the XPS 9350, with a Core i7-6500U CPU, 16 GB of RAM, 512 GB SSD and the QHD+ screen.
What's similar
For starters, the two look the same and are both extremely well crafted. That's not just a first-time impression, since my year and a half old XPS 13 still looks pretty much like brand new today. There are no scratches on the metallic case, except for a few minor dents on the machined-aluminum front-edge, made by my watch's metallic band.
The only way you can actually tell that my XPS wasn't just taken out of the box is by the coating on the keys, which has gotten a bit shinier on the Space and a few other common used keys, from finger oil. And keep in mind I'm typing on this thing for a living, so the keyboard has seen a lot of action.
Bottom point, the XPS 13s look great, feel solid and age well. They are also more compact than the average 13-inch laptop, as you can tell from the tiny bezel around the screen. That's nice, and the reduced weight is even nicer. My old XPS 9343 comes with a FHD matte screen and only weighs 2.6 lbs. The XPS 9350 is a bit heavier, with the matte-screen versions weighing 2.7 lbs and the touchscreen models weighing 2.9 lbs. The 0.1 lbs difference is caused by the slightly larger battery inside, which we'll address a bit later.
Design and construction aside, the two XPS 13s get the same keyboard and trackpad, and here's where I wish the 9350 would have gotten an upgrade, since the keyboards are shallow and the trackpads have some problems with gestures.
The typing experience on these machines is in fact decent. The keys only travel 1.2 mm into the frame, but I'm not complaining about the short stroke. My nit is with the mushy feedback and the lack of precise click, which lead to a fair amount of missed strokes. I'm still struggling with this after all this time and after typing a gazillion words on my XPS, and there's no way I can properly adapt to it. But that's just me and I clearly have higher expectations from a keyboard than the average user.
The trackpad is large and smooth. The glass surface handles swipes and taps well and I feel that it's gotten somewhat better with gestures over time, but the experience is not consistent. Two-finger scrolling it still choppy in Firefox and Chrome, especially on big webpages, and three or four finger gestures and taps aren't always recognized. The experience was crappier back when I was running Windows 8.1 on my XPS 13 9343; these days, on Windows 10, it's mostly OK, with occasional hiccups and freezes. The trackpads on the 9343 and 9350 have different hardware IDs, but they use the same driver and performed the same in my tests.
Bottom point here, the keyboards and the trackpads on the XPS 13 9343 and 9350 perform OK and actually offer a superior experience to many other Windows portable laptops, but they're still not up there with the Macbooks, the Micrososft Surface Book or the business ultraportables offered by Dell, Lenovo or HP. The XPS 13 is supposed to be a premium ultrabook, so it doesn't quite meet the expectations here.
Dell also kept the same screen options for the two XPS models. My XPS 13 9343 gets the FHD matte panel, while the tested XPS 13 9350 got the QHD+ touchscreen. Personally, I prefer the former option. I find the resolution good enough for a 13-inch screen, the colors accurate enough for daily use and I much appreciate the ability to take the laptop outside without having to deal with glare and pesky reflections. However, the FHD screen on my XPS 9343 still suffers from the Adaptive Contrast issue, something Dell could have addressed with a software update, but never did.
The QHD+ panel on the XPS 9350 doesn't get this issue and it's a touchscreen, with a layer or glass on top of the screen. It's sharper than the FHD panel and shows more accurate colors, but not to the point you'll notice the difference with the naked eye, not even when having the two side by side. However, my version came with a rather dim panel out of the box, so dim that I could barely use it outside or even indoors in bright rooms.
Dell are using the Intel graphics chip's ability to automatically adapt the screen's brightness based on the displayed content, called Dynamic Brightness Control. This feature is offered by other OEMs on their laptops and can be disabled from the settings, but not on the XPS. There is however an update that will disable it, and it's going to make to screen's brightness more controllable, but this might have an effect on battery life, which isn't great anyway.
Overall, I'd stick with the FHD screen. From what I've read, the Adaptive Contrast issue is present on both the 9343 and the 9350 models, so if that's something that really bothers you, then you'd just have to get the QHD+ screen. Unfortunately that's going to cost you $350 extra, which for me is not worth it, since I don't even find a touchscreen that useful on a clamshell laptop anyway.
The camera placement is the same in these two and will probably bother some of you. Due to the very thin bezel, Dell placed the camera under the screen, towards the left corner, and as a result you'll be framed poorly in calls and there's no way to actually change that, other than using an external webcam. I don't care much about this aspect, but some of you considered this a deal-breaker, that's why I've added this paragraph in here.
There's one other aspect that hasn't changed on these XPS models. The power buttons are backlit on both of them, there's an LED on the charger's tip and another LED just under the trackpad, on the front lip, which is lit as long as the laptop charges. There's no way to disable any of these and they are both bright and pretty much useless. These might not seem like much, but imagine watching a movie at night while charging the laptop and you'll understand what I mean.
What's changed
Not much on the outside, except for one aspect. The fiber carbon interior on my XPS 9343 is softer and a little darker than on the newer version. The XPS 9350's interior feels harder, cheaper I might say, but at the same time doesn't seem to show smudges as easily, so while I prefer the feel on the older generation, I consider the new one's a little more practical on the long run.
That aside, while the XPS 13 9343 is powered by Intel Broadwell hardware, the XPS 13 9350 runs on Intel Skylake hardware and it's available in more configuration options, from Core i3 to Core i7 processors with Intel HD 520 or Intel HD 540 Iris graphics.
Performance wise, the XPS 9350 is pretty beefy in most cases. The Core i5 models would be my first picks for daily use. The Core i7 versions run at slightly higher clocks, but the difference between the two isn't going to be noticeable in most everyday use scenarios. The Core i7 CPUs will also throttle at severe loads due to reaching TDP and thermal constraints. That was the case of both my test version, equipped with a Core i7-6500U CPU, and the Iris variant with the Core i7-6560U processor tested in this article.
Doug put up together a guide on how to repaste the XPS in order to improve performance and some of the commentators reported 3DMark scores equivalent to those of an Nvidia 940M dedicated graphics chip, so if you want a 13-inch ultraportable with some gaming abilities, you should look into that configuration.
Now, when compared to the XPS 9343, the XPS 9350 is not going to feel much faster in daily use. There are however a few things to consider. The Skylake platform does offer a 10% performance boost in CPU benchmarks and a more massive bump when it comes to graphics (visible in games, as shown below).
| | | |
| --- | --- | --- |
| | XPS 9350 – 19 x 10 Low | XPS 9343 – 19 x 10 Low |
| Tomb Raider | 34 fps | 25 fps |
| NFS Most Wanted | 26 fps | 17 fps |
| Bioshock Infinite | 22 fps | 17 fps |
It also offers superior video-decoding performance, adds support for more RAM (up to 16 GB, while the XPS 9343 was only available with up to 8 GB of memory) and faster NVMe storage. You'll find more on what the Skylake platform offers over its predecessors in this post, or how the Core i7-6500U processor compares to the Core i7-5500U CPU.
I've added a few benchmark results from the Core i7-6500U model below, and you can also find results from the Core i7-6560U configuration in the review.
3Dmark 11: P1600;
3Dmark 13: Cloud Gate – 6077, Sky Diver – 3640, Fire Strike – 864;
PCMark 08: Home Conventional – 2467;
CineBench 11.5: OpenGL 32.92 fps, CPU 3.55 pts, CPU Single Core 1.19 pts;
CineBench R15: OpenGL 38.49 fps, CPU 313 pts, CPU Single Core 126 pts.
GeekBench 3: Single Core – 3158, Multi Core – 6633;
The XPS 9350 gets a slightly larger 56 Wh battery, compared to the 52 Wh battery on the XPS 9343. That's not a major bump, but every bit counts, especially since these laptops are not as efficient as Dell advertises them to be. My old 9343 has lost about 15% of the battery's capacity in its first months, and while it was supposed to last for up to 15 hours of use on a charge, it can only go for about 5-7 hours these days. The tested XPS 9350 performs poorer, as the QHD+ touchscreen is much hungrier than the matte FHD panel. We'll get in depth in the next section.
One other aspect you should know when it comes to the XPS 9350 is that it gets a Thunderbolt 3 port, which replaces the miniDP connector on the XPS 9343. This is quite a versatile connector which allows to connect two 4K displays at the same time, an external GPU unit like the Razer Core or fast external storage units. You'll find more about Thunderbolt 3 and its capabilities in this post.
What bothered me on the XPS 9350
OK, so far we know that the XPS 9350 a very well built laptop with a light and compact chassis, it gets a great screen, albeit a little dim, it inherits the same keyboard and trackpad from the XPS 9343 and is built on a faster hardware platform, paired with a slightly larger battery.
I've listed my nits with the XPS 9343 in this article, and now we'll talk about what I found during my time with this newer laptop, on top of all the things mentioned above.
First of all, the fan on the XPS 9350 is pretty smart and only gets active when the laptop is seriously pushed. It also tends to kick in more often when charging, but compared to the fan on my XPS 9343, it also tends to shut off quicker.
However, I had side by side the Core i5 version of the XPS 9343 and the Core i7 model of the XPS 9350 with the higher resolution screen and the 9350 got hotter then the 9343 in daily use, to the point where it got uncomfortable to use on my legs after just about 15 minutes, with the ambient temperatures inside my office of around 24 Celsius. As a result, the fan kicks in more often of the 9350, so there's also the noise to live with, aside from the poorer thermals.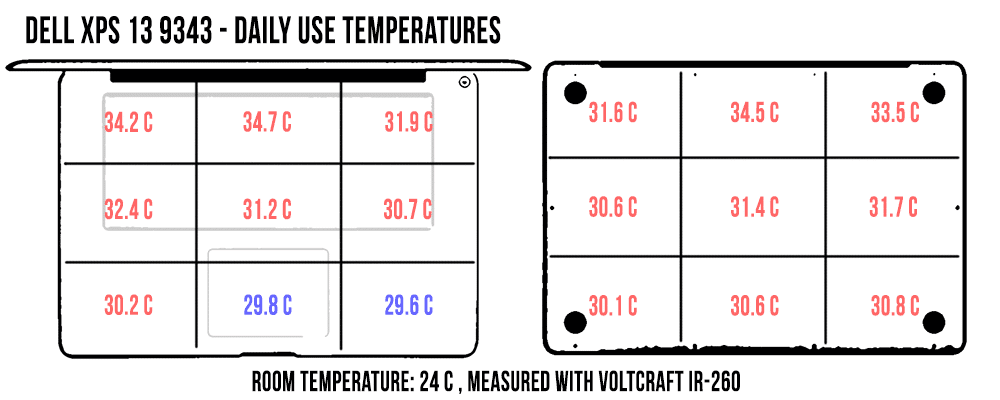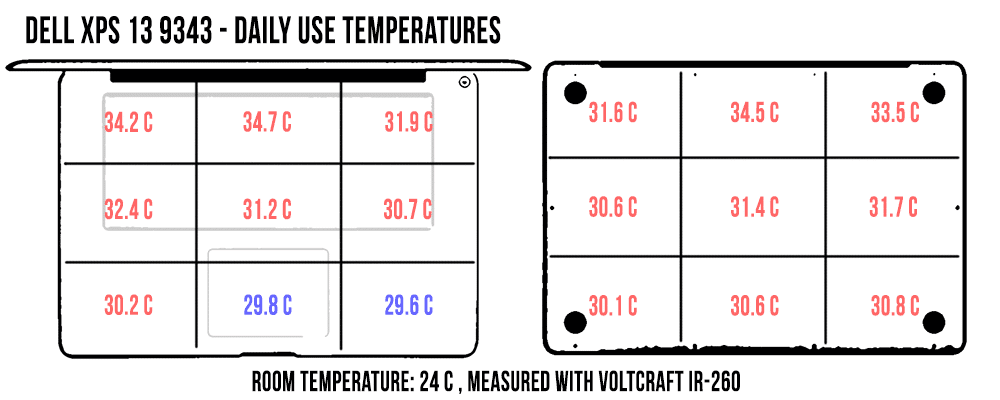 *Daily Use – 1080p Youtube clip in Edge for 30 minutes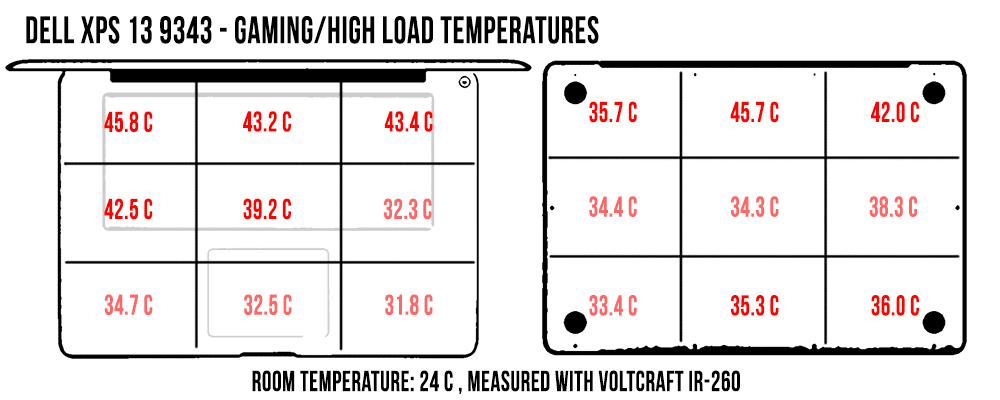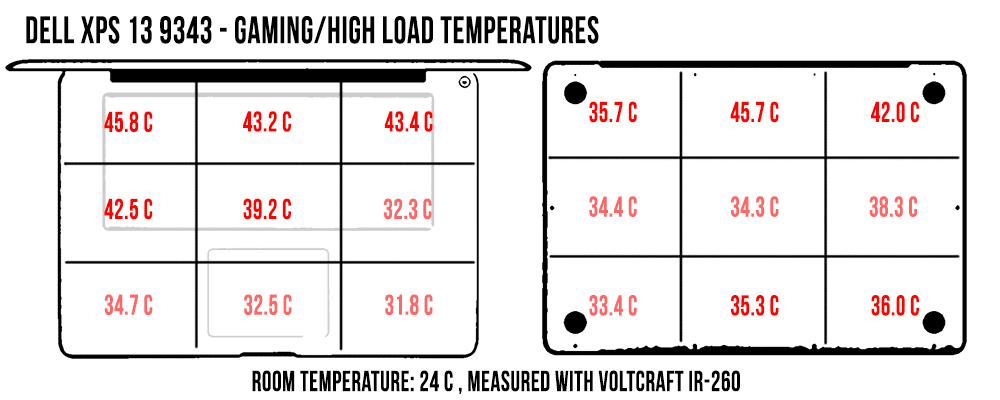 *Load Use – playing NFS:Most Wanted for 30 minutes
I don't have enough data to conclude that the XPS 9350 runs hotter and noisier than the XPS 9343 in every case, since I'm comparing different configurations here, but it's pretty obvious that the Core i5 XPS 9343 is more pleasant to use than the Core i7 XPS 9350. The XPS 9343 can get pretty warm on its own, with the back reaching temperatures around the 35s often in daily use, but the 9350 will go to around 38-40s in similar conditions.
On top of that, when the fan was inactive on the 9350, I had to deal with a more annoying noise source: coil whine. I've seen reports of coil whining on the XPS 9343, but luckily I never encountered it on my unit. So I'd reckon it's a matter of luck here, although there seem to be more complains on the forums for the 9350s.
Another aspect to address here is the battery life, which isn't great on the Core i7 XPS 9350: roughly 5 hours of daily use and heavy browsing and about 8-9 hours of watching movies. It's worth noting that the battery capacity on my test unit was only 52 Wh, so it seems like battery degradation is an issue on the 9350 as well. My XPS 9343 has lost 8 W of its 52 Wh capacity in its first months of life, but hasn't degraded further ever since.
I've added the battery test results below and they'll show what to expect from this Core i7-6500U configuration on the XPS 9350.
4.5 W (~12 h 30 min of use) – idle, Power Saving Mode, screen at 0%, Wi-Fi OFF;
8.5 W (~6 h 30 min of use) – very light browsing and text editing in Google Drive, Balanced Mode, screen at 40%, Wi-Fi ON;
6.5 W (~8 h 30 min of use) – 1080p fullscreen video on Youtube in Internet Explorer, Balanced Mode, screen at 40%, Wi-Fi ON;
5.5 W (~10 h of use) – 1080p fullscreen .mkv video in the Movie app, Balanced Mode, screen at 40%, Wi-Fi ON;
7 W (~8 h of use) – 4K fullscreen .mkv video in the Movie app, Balanced Mode, screen at 40%, Wi-Fi ON;
15 W (~3 h 45 min of use) – heavy browsing in Edge, Balanced Mode, screen at 40%, Wi-Fi ON.
Notice how the XPS 9350 is quite efficient at dealing with video content, but not that much in daily use.
One other thing that I need to mention is the poor wireless performance of the XPS 9350 in comparison to my old XPS 9343, once I got a bit further away from my router (30 feet, 3 walls in between). Both the XPS 9350 and 9343 come with Broadcom Wi-Fi chips, and both perform well when close to the router, but the signal strength and transfer speeds drop much faster on the 9350. A quick google search for "Dell XPS 9350 wireless problems" shows a multitude of results and little to no solutions. This is supposedly a drivers related issue, but I didn't have the time or the motivation to dig deeper. If you're considering getting the 9350 and have dodgy Internet connection in your house or office, you should find out if there are any fixes available prior to buying it.
On top of all these, I have to reiterate two aspects mentioned in the previous chapters. First, there's the poor battery life. The XPS 9350 with the Core i7-6500U processor and QHD+ screen will only offer around 4-5 hours of daily use, and that's just not good enough in this day and age. Second, I feel that the keyboard and the trackpad are not where they should be and Dell should have done something about them.
Is the Dell XPS 13 9350 a good buy?
At the end of the day though, there's no such thing as a perfect laptop, and the Dell XPS 13 9350 is a solid pick in its class of premium ultraportables.
The Core i5 configuration with 8 GB of RAM and 128 GB of SSD storage that's available for around $999 these days is the most interesting model in my opinion and the best buy of them all. The RAM is not upgradebale, so it's crucial to get a variant with at least 8 GB of RAM, but the storage is. So if you're comfortable with replacing the SSD yourself, get this configuration. If not, Dell charges $1150 for the same configuration with a 256 GB SSD, so pretty much $150 for 128 GB of extra storage.
The Core i7 processor is going to set you back another $250 and the QHD+ screen another $350. So the XPS 9350 gets really expensive as you speck it up, but you'll probably find most configurations discounted online in the months to come.
No matter which option you go for, you'll be paying premium for the design and the build quality. You can get similar specs in cheaper portable laptops, like the Asus Zenbook UX305UA, the Zenbook UX306UA or the Acer Aspire S13, but those are not as compact or as well crafted, and actually lack certain features that the XPS offers. If you want a touchscreen though, the XPS 13 9350 is going to be very expensive, so in this case I'd rather look at the Razer Blade Stealth, which is excellently priced and compatible with the Razer Core, or some of the solid convertibles available out there, that offer the versatility of a 360-degrees foldable display.
Of course, there's also the matter of how the two XPSs fair one against the other at this point. I don't consider it's worth getting the 9350 if you already own a 9343. If you're looking at buying either one of them though, well, you should seriously consider getting an XPS 9343 if you can find it discounted. There are some differences between the two generations, but unless you really want the Thunderbolt 3 port, I don't see why you wouldn't pick a 9343 if you can get it for $150-$200 cheaper than a similar 9350. If the price difference is under $100, I'd go with the 9350, just for having a more future-proof device.
So to sum this all up, the XPS 9350 is a bit faster than the 9343 in daily use, significantly more powerful in games, and a bit more efficient. But when you look the inner-hardware upgrades, the experience of using both these laptops everyday is similar, with great parts and annoying tradeoffs.
Anyway, that's how I feel about the XPS 9350 in comparison to the 9343. Thanks for sticking by and I'd love to hear your opinions on these two notebooks in the comments section below, where I'll also answer your questions, if you have any.
Disclaimer:
Our content is reader-supported. If you buy through some of the links on our site, we may earn a commission.
Terms
.