Acer have recently shed more light on their Aspire Vero project that was initially unveiled a few months ago, which is their take on creating a sustainable and environmentally friendly mid-tier laptop for the average buyer.
What this means is that on one hand, they're using recycled plastics and paper for the construction and packaging, and on the other, they're aiming at creating a solid-built and well-balanced computer that would smoothly handle all everyday requirements, would last for a few years, and would be fairly easy to upgrade and maintain in case something breaks down-the-road. However, they're not going as far as creating a completely serviceable and upgradeable laptop such as the FrameWork project, as some of the components or the IO are still onboard.
So with that in mind, I got to spend time with a pre-release sample of the Aspire Vero, and will share my thoughts on it down below. This is only a preview at this point, as we didn't get the final BIOS and software on our unit, but we'll also touch on the specs and the performance you should expect from this with daily use and demanding loads.
Specs as previewed – Acer Aspire Vero AV15-51
| | |
| --- | --- |
| | Acer Aspire Vero AV15-51 |
| Screen | 15.6 inch, 1920 x 1080 px, 16:9, IPS, matte, non-touch, AU Optronics B156HAN02.1 panel |
| Processor | Intel Tiger Lake Core i7-1195G7 CPU, 4C/8T |
| Video | Intel Iris Xe G7 |
| Memory | 16 GB DDR4 (8GB soldered, 1x 8GB DIMM) |
| Storage | 512 GB SSD (Micro 2210 – M.2 2280 PCIe x4) |
| Connectivity | WiFi 6 Gig+ 2×2 (Intel AX201), Bluetooth 5.1, Gigabit Lan |
| Ports | 2x USB-A 3.2 gen1, 1x USB-A 2.0, 1x USB-C 3.2 gen1 (data only), HDMI 2.0b, LAN, mic/headphone, Lock |
| Battery | 48 Wh, 45W charger (barrel-plug) |
| Size | 363 mm or 14.29" (w) x 240 mm or 9.44" (d) x 17.9 mm or 0.7" (h) |
| Weight | 4 lbs (1.82 kg)+ 55 lbs (.25 kg) charger, EU version |
| Extras | optional white backlit keyboard, HD webcam, stereo speakers, finger sensor in clickpad |
Design and construction
This Aspire Vero is unique in today's laptop space with its plastic chassis made out of partially recycled plastics (30% PCR – Post-Consumer Recycled plastic). Aside from the environmental positive of using recycled plastic, this material also has a rougher texture to it and a graphical finishing that to my eyes somewhat resembles a piece of granite. The surface is not painted in any way, and it seems to be very resilient to smudges, fingerprints, and scratches from my time with this Vero.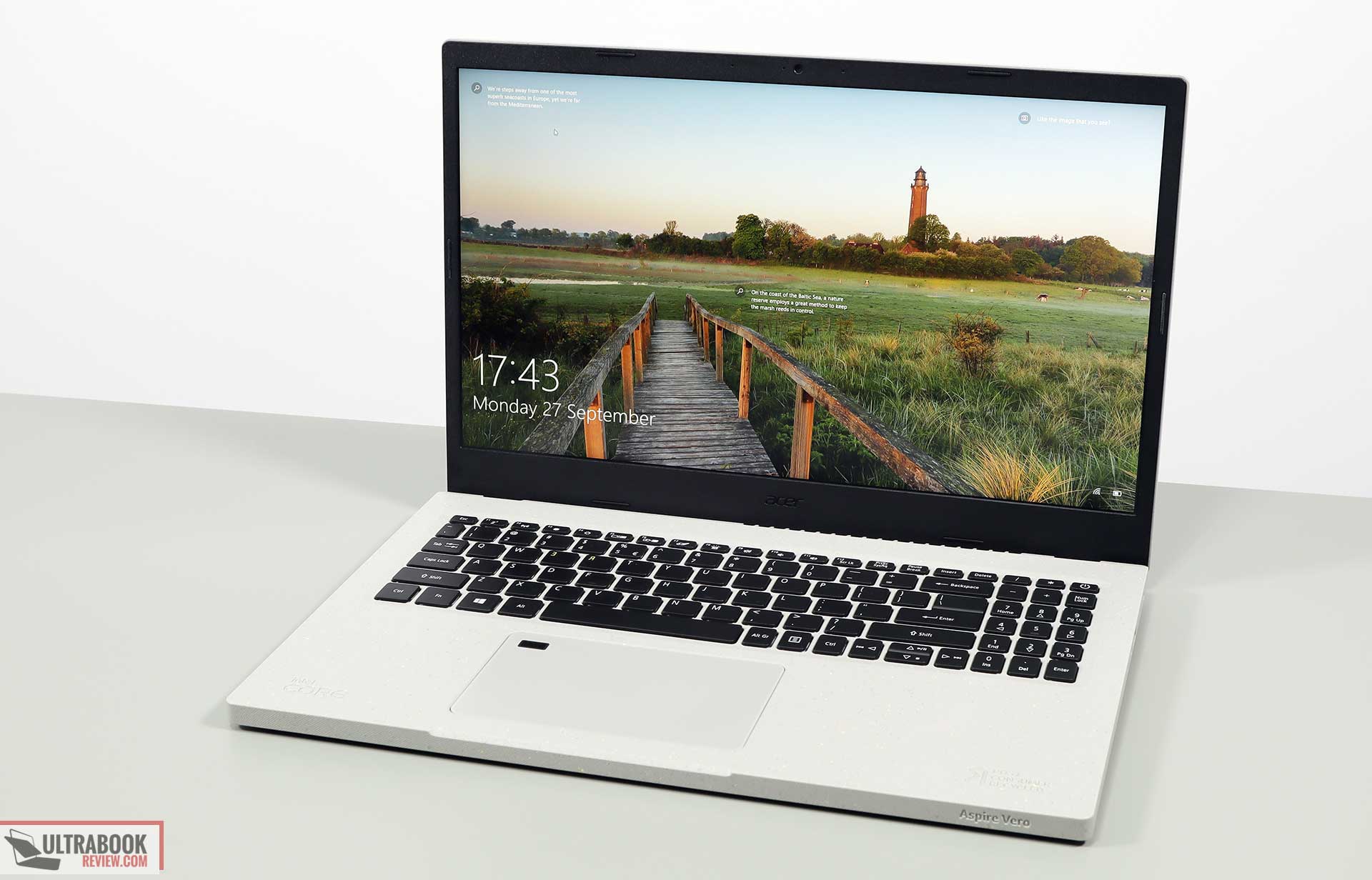 Not even the branding elements are painted, instead, they are engraved into the arm-rest, front lip, and on the lid. This Vero goes a bit heavy on branding, but the various elements fade out once you get used to them.
Recyclable paper is also mostly used for the box (85%) and recyclable plastic is used for the keycaps (50%), making this product a statement for more sustainable Acer products.
Eco-friendliness aside, this Aspire Vero is a sturdily made and fairly nice-looking full-size laptop. It's a rather boxy design that doesn't make an effort at being portable or compact, which you can tell from the bezels around the screen, the spacious arm-rest, and all the space left unused on the interior space. All in all, it's about the same size and weight as a recent Aspire 5 15-inch notebook.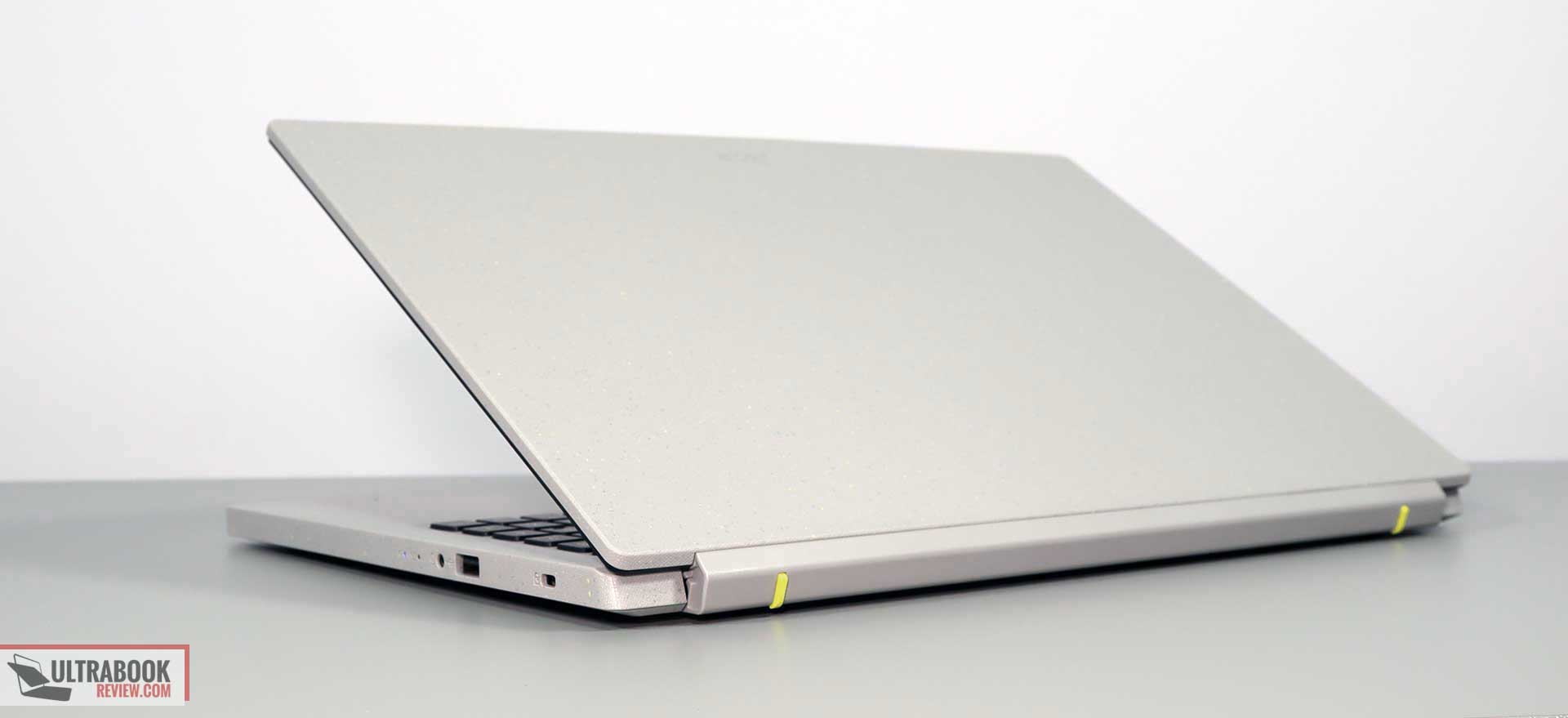 As far as the ergonomics go, this sits well on a desk and implements a sturdy hinge. The front lip is sharp, though, especially around that cut under the trackpad, and the thermal design blows all the hot air into the screen, much like on the recent Acer Swift models. Not a fan of this sort of thermal design, especially when it's also paired with a screen that only goes back to about 140-degrees.
For the IO, Acer went with plenty of full-size USB-A slots here, HDMI, a USB-C port, LAN, a headphone jack, and a Lock. Those USB-As are slow gen1 versions, though, and the USB-C is data only, without support for either video or charging.
All in all, this Vero series is sturdily made and feels to me that it should age better than most of the other mid-range laptops. I like the texture and looks of the recycled plastic casing, and the overall ergonomics of this series, but I wish Acer would have made this a bit smaller and portable.
Keyboard and trackpad
The keyboard on this Aspire Vero is standard for an Acer 15-inch mid-range laptop, with black keycaps, a set of full-size chiclet main keys, and a narrower NumPad at the right. The arrow keys are also narrow and cramped, so I feel that this keyboard would have been more ergonomic without a NumPad section.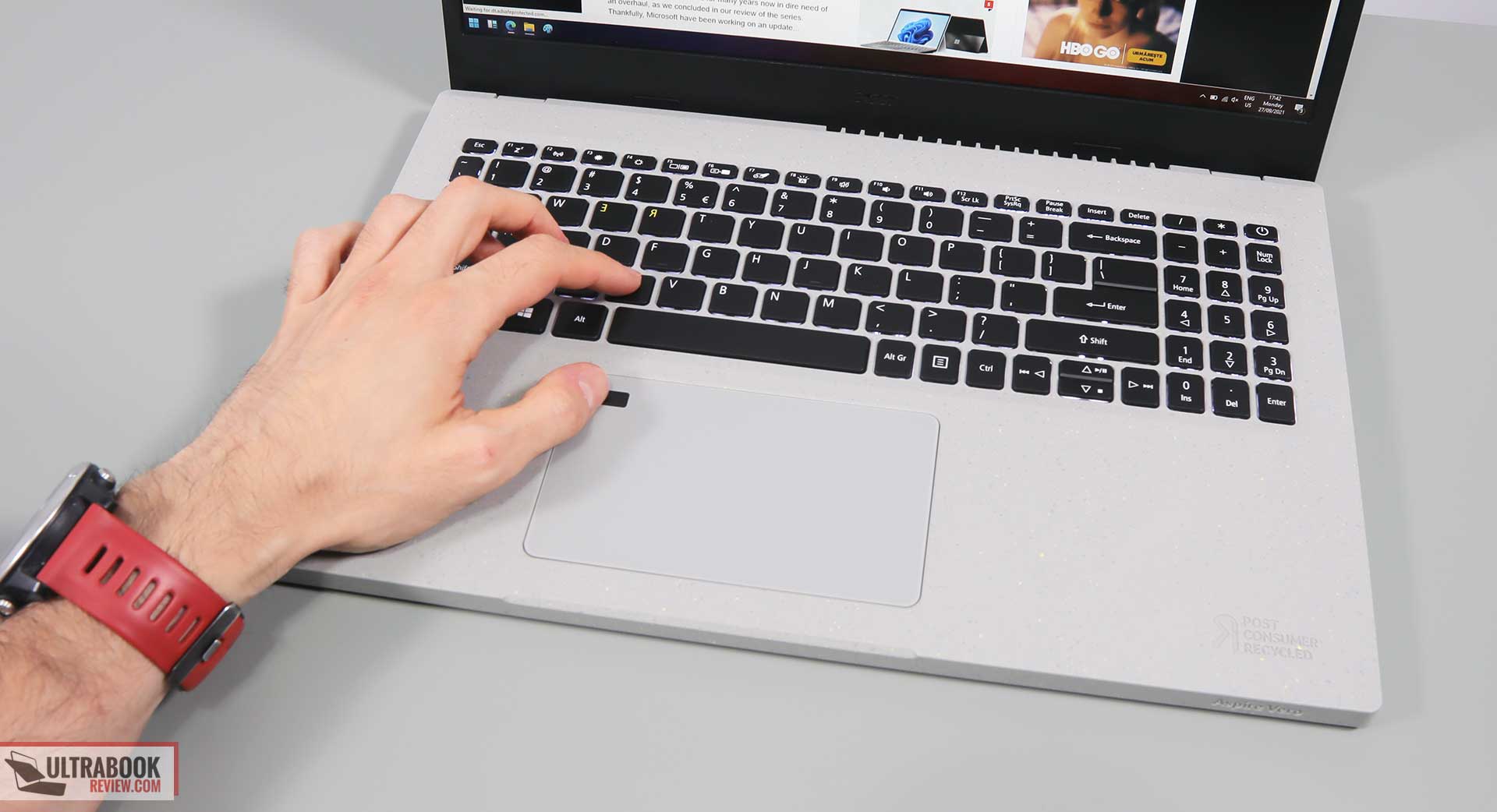 As far as the typing experience goes, this is an alright typer, with stiff feedback and fair travel depth. It took me some time to get used to the fact that these keys need to be pressed firmer to properly actuate, in comparison to the shallower feel of the keyboard available on the Acer Swift laptops that I've been testing on the side.
I also like the contrast offered by the black keycaps and the white illumination, but I'm not fond of the lack of a physical Caps Lock indicator, or the fact that you need to press on a key to reactivate the lighting once it times out.
The clickpad is fairly sized and made out of plastic. Its smooth finishing is a clear contrast from the rougher arm-rest around, and overall this implementation handled swipes and gestures and clicks fine. The surface does rattle with taps, so it could have been firmer.
Acer also integrated a figner-sensor into the clickpad. It works OK with Windows Hello, and it doesn't act like a blind spot on the clickpad, which means that tracking is not interrupted if your finger ends up over this sensor area.
Screen
Acer puts a basic 15.6-inch matte IPS panel on this laptop, the kind they also offer on their Aspire 5 series.
We measured just shy of 300-nits of max brightness, 1200+:1 contrast, good blacks, and fair viewing angles, but the colors are muted and washed-out at sub 60% sRGB, which I'm not happy with it in this day and age. I feel that all manufacturers should strive towards 100% sRGB panels on their mid-tier laptops selling above $500.
Here's what we got in our test, with a X-Rite i1 Display Pro sensor:
Panel HardwareID: AU Optronics AUO0C9C (B156HAN02.1);
Coverage: 59.9% sRGB, 41.5% AdobeRGB, 42.6% DCI P3;
Measured gamma: 2.19;
Max brightness in the middle of the screen: 288.90 cd/m2 on power;
Min brightness in the middle of the screen: 25.14 cd/m2 on power;
Contrast at max brightness: 1231:1;
White point: 7100 K;
Black on max brightness: 0.23 cd/m2;
PWM: No
The panel is fairly well calibrated out of the box, with just a slightly skewed White Point. Once calibrated, this ends up fairly uniform, with some acceptable DeltaE variations in the corners.
I must also add that I got a surprisingly even and well-implemented panel here, with absolutely no noticeable light bleeding in the dark.
Hardware, performance, and emissions
Our sample is a higher-specced configuration of the Aspire Vero AV15-51 model, with an Intel Tiger Lake Core i5-1195G7 processor, 16 GB of DDR4 RAM, and 512 GB of PCIe x4 SSD storage.
This is a pre-release sample running on a pre-launch BIOS and software package (without access to the VeroSense control app), so I'm not going to test it as thoroughly as we normally do.
Spec-wise, this Aspire Vero 15-inch series is based on the Intel Tiger Lake hardware, the same implemented by a multitude of other ultrabooks and mid-range full-size laptops of this generation.
However, our model came with the more recent Intel Core i7-1195G7 4C/8T processor, a slightly higher-clocked variant of the mainstream Core i7-1165G7. This proved snappy in single-core tasks and averagely competent in multitasking, where it's limited by the 4C/8T design in comparison to the 6C and 8C alternatives out there. It does help that the hardware is able to run at 28-35W of sustained power in demanding loads on this chassis, without overheating or throttling the performance in any way.
Graphics are handled by the Iris Xe G7 chip with 96 EUs, which is identical to the iGPU in the i7-1165G7.
For RAM, the system runs on DDR4-3200 memory, with 8 GB of onboard memory and an extra DIMM available for upgrades. Our unit came with an 8+8 GB dual-channel configuration, and you should be careful that the more basic variant of this laptop only ships with the onboard 8 GB of memory running in single-channel, and you'll want to add in an extra DIMM for ideal performance in demanding loads.
Finally, there's a single M.2 2280 slots of storage inside this laptop and our unit came configured with a pretty good Micron 512 GB SSD. I would have preferred having two M.2 slots on this 15-inch chassis.
The SSD, RAM, and wi-fi chip are easily accessible and upgradeable inside, where you can also tell that replacing the battery or speakers would be possible as well. The interior is a very relaxed design with plenty of unused space, which suggests that Acer might follow up this series with more compact models.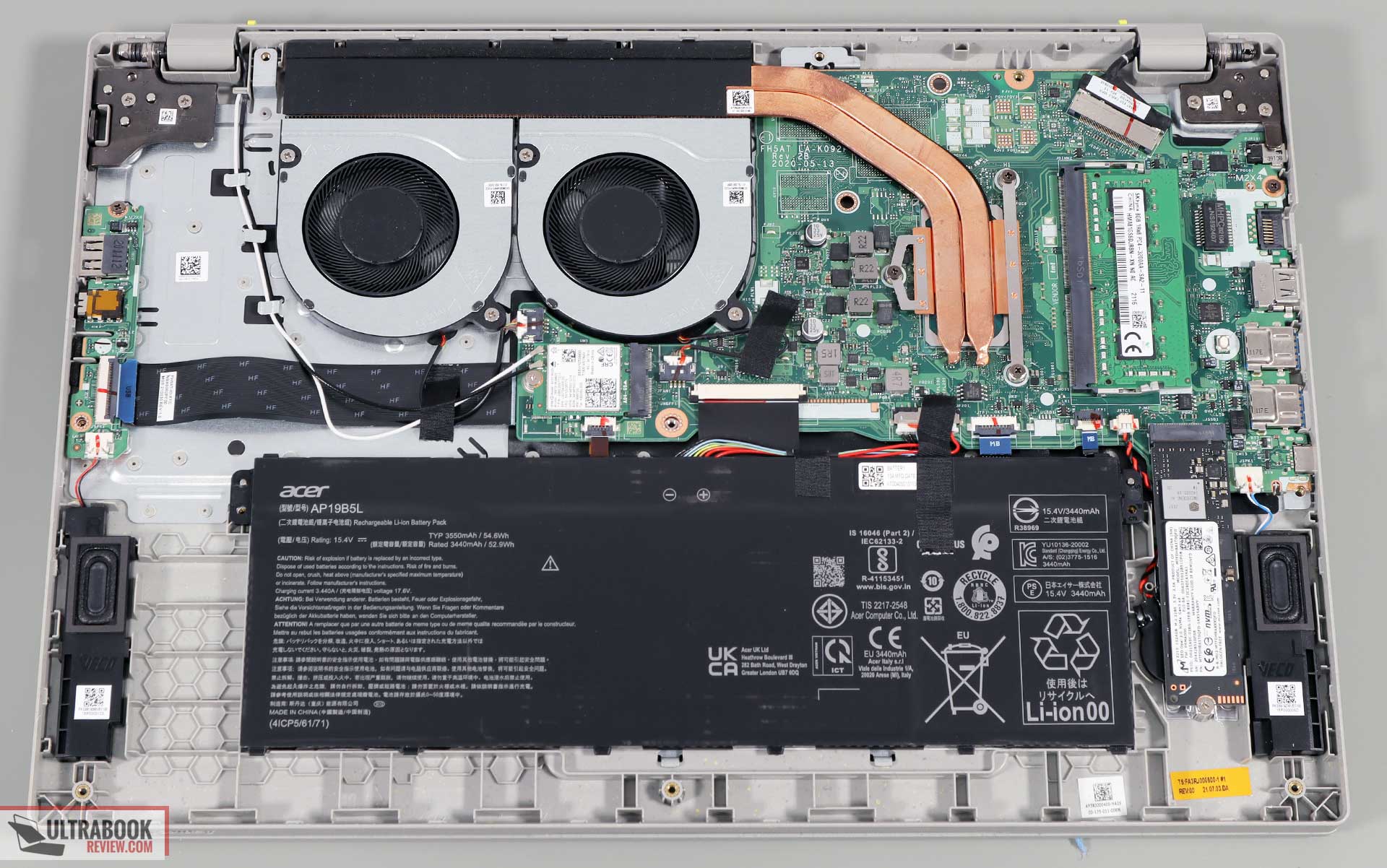 As far as the software goes, this laptop should retail with this control app called VeroSense, a novelty for Acer mid-range laptops. It will allow selecting between Eco+, Eco, Balanced, and Performance modes, each impacting the platform's allocated power and the fan behavior. I didn't get the software on our early unit, which instead only seemed to run on an Eco-like setting.
As per the documentation sent over by Acer, the hardware should run at runs at 25-28W sustained on the Eco setting, with fan volumes of around 37-40 dB on Eco, which is what we measured on this sample. Balanced and Performance would push the sustained TDP higher, though, at 32-35W with 45-46 dB noise on the top profile. Since I could not test any of these modes, we're not getting in-depth on benchmarks or performance numbers here.
I did find the default Eco mode to be very competitive here. We measured 37-38 dB fan-noise in games with good internal (~65-70 degrees on the CPU in games or Cinebench) and external temperatures, as well as constant sustained performance at 28W combined power on the CPU+GPU. That's way better than what most Tiger Lake Core U laptops provide on their highest-performance profiles.
This Aspire Vero also kept cool and quiet with daily use, with the fans keeping idle for most of the time and no could whine or electronic noises.
*Daily Use – streaming Netflix in EDGE for 30 minutes, Eco Mode, fans at 0-35 dB
*Gaming  – playing Far Cry 5 for 30 minutes, Eco mode, fans at 37-38 dB
The thermal module plays a role in all this, as it's oversized in comparison to what you'll get on most other notebooks in this class and with this sort of hardware. Acer went with two fans and two-heatpipes, which is similar to what they put on their devices with mid-tier dedicated graphics, such as the Swift X 16 series (our review is coming soon).
The lower heat conductivity of the plastic materials also helps keep the external temperatures low, and even if the hot air is pushed into the screen, the plastic bezel soaks up most of that and the panel only reaches temperatures in the high-30s. It will heat up a little more on the Balanced and Performance profile available with the retails units.

So expect this Aspire Vero to perform excellently with daily use and multitasking, where the IPC performance and high single-core clocks of the Intel Tiger Lake platform show their full strength. Furthermore, expect this to handle light GPU productivity tasks and light gaming just as well, thanks to the Irix Xe g& graphics chip being able to run at full potential in this sort of design.
On the other hand, this Intel-based Vero will not be a match for the AMD-based alternatives in demanding CPU multi-core loads, and I'd also expect the Ryzen options to run somewhat more efficiently on battery. As of right now, there's no AMD Ryzen variant of the Vero, but that might change in time.
Moving on, for connectivity, there's Gigabit LAN and WiFi 6+ with Bluetooth 5.1 through a fast and modern Intel AX201 2×2 MIMO module on this laptop, so no complaints here.
The audio quality is lacking here, though, with only average volumes and very little bass. That's no surprise looking at the tiny speakers inside this laptop.
Finally, there's an HD camera at the top of screen, flanked by microphones. They'll do for occasional calls, but once more, don't expect much in quality here.
Battery life
There's a 52 Wh battery inside this Aspire Vero 15-inch laptop, which is fair-sized for this class and more or less on par with what the competition offers.
Here's what we got in terms of runtimes on our review unit, with the screen's brightness set at around 120 nits (~60 brightness).
13 W (~4-5 h of use) – text editing in Google Drive, Eco + Better Battery Mode, screen at 60%, Wi-Fi ON;
8 W (~6+ h of use) – 1080p fullscreen video on Youtube in Edge, Eco + Better Battery Mode, screen at 60%, Wi-Fi ON;
7 W (~7+ h of use) – Netflix fullscreen in Chrome, Eco + Better Battery Mode, screen at 60%, Wi-Fi ON;
11 W (~4-5 h of use) – browsing in Edge, Eco + Better Performance Mode, screen at 60%, Wi-Fi ON.
Take these with a grain of salt, though, given our unit is pre-production and not running on the final software. Also keep in mind that our unit was running a pre-release version of Windows 11 as well, and I'm not sure of its efficiency impact over Windows 10 at this point.
The laptop comes with a 65W charger that plugs in via a classic barrel plug. It's a two-piece design with a compact brick and long cables, and a full charge takes about 2 hours. USB-C charging is not possible here.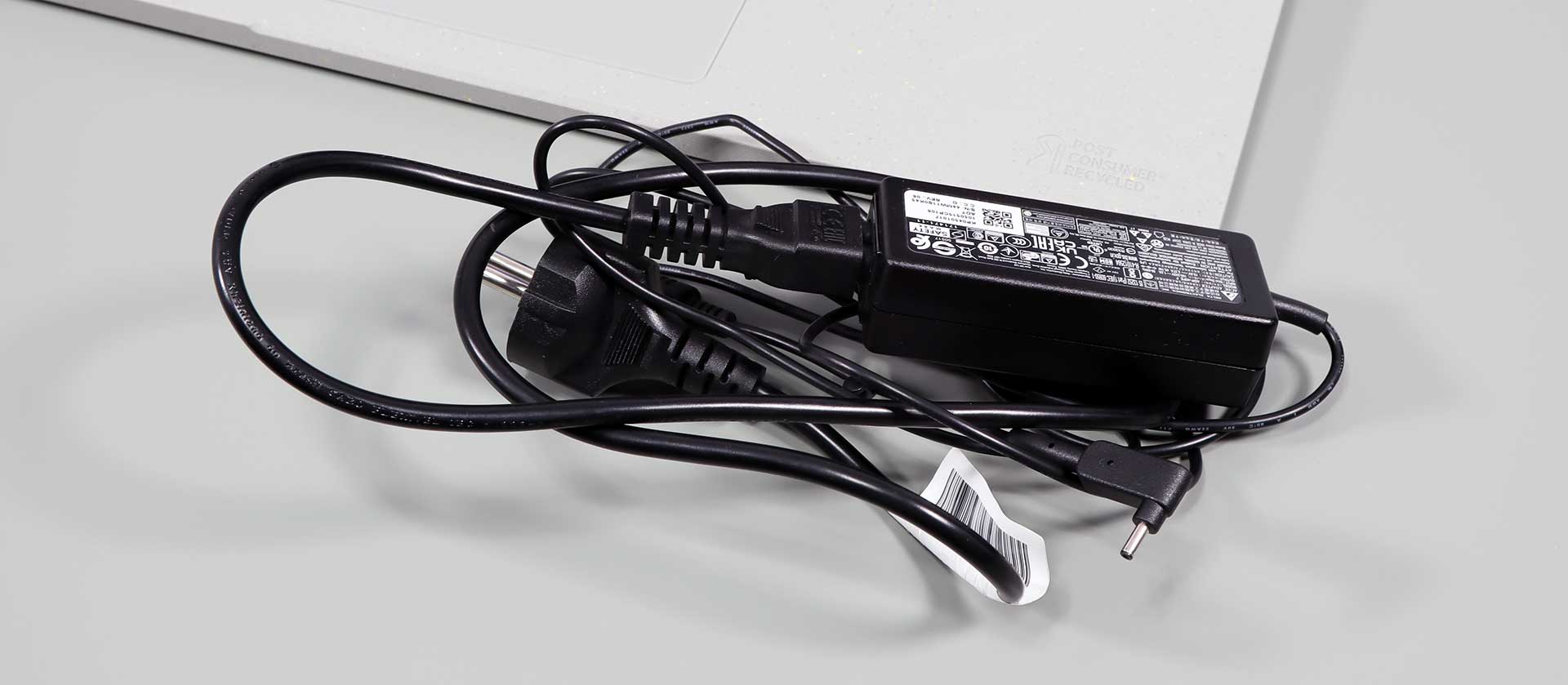 Price and availability- Aspire Vero
The Acer Aspire Vero is available in stores around the world right now.
It starts at $699 MSRP in the US for the Core i5-1155G7 /8 GB RAM / 256 GB SSD configuration, while the Core i7-1195G7 / 16 GB RAM / 512 GB SSD variant tested here goes for $899. Expect similar prices in the UK or Europe.
Follow this link for updated configuration/prices in your regions, as well as more details on this series.
Final thoughts- Acer Aspire Vero
This Aspire Vero is an interesting new contender in the mid-range class of full-size laptops, aiming against popular products such as the Acer Aspire 5, Asus VivoBook 15, Dell Inspiron 15, or the Lenovo IdeaPad 5.
Acer takes a commendable approach with this series, opting for partially recyclable materials for the plastic case parts and the paper boxing. Beyond this, I appreciate the solid build quality and the sturdy feel of these plastics, which should be more resilient to the daily hassle and should age better than the standard painted plastics or metals available on most other laptops in this class. I also like that most of the internal components are upgradeable, even if some of the RAM is still onboard on this design.
Finally, I appreciate that Acer put an oversized thermal module in this laptop which is going to properly keep the Intel Tiger Lake platform in check, allowing for solid performance with good thermals/noise levels, at least based on what I can tell from these Eco-equivalent settings that I was able to test on my pre-release model. The hot air still blows into the screen, but its impact is minimized by the fact that the components do not overheat, and thus the panel doesn't go above 40-degrees C and should not suffer from any heat-induced damage over time.
Unfortunately, the panel quality is the one major potential deal-breaker here, as Acer still opts for a lesser-quality IPS panel with washed-out colors. That's perhaps acceptable on the lower-tier Core i56 configuration, but less so when you get closer to $1000 where the i7 model retails. At this level, you'll get a fair bit of other options with proper IPS screens with 100% sRGB colors.
The audio quality is also lacking here, and the USB-C port is gimped and doesn't support video or charging, so keep these details in mind as well.
All in all, this Aspire Vero ticks many of the right boxes. It's built well and feels sturdier than most other mid-range laptops, it's also faster and better balanced in terms of noise and thermals than most of its competitors, and doesn't compromise on inputs, connectivity, or battery life either. On top of all these, there's also the eco-friendly approach to consider, with partially recycled materials used for the construction of this laptop and the easily serviceable internal components. On the other hand, that screen and measly speakers might steer you towards something else, and if that's the case, our guide on the best 15-inch laptops currently available, or our guide on the best laptops selling for under $1000 should be perfect for you to start your research from.
That's my take on the Aspire Vero series, and I'll update this to a proper review if I get to retest a finalized unit. In the meantime, I'd appreciate your thoughts and feedback on this, so get in touch in the comments section down below.
Disclaimer:
Our content is reader-supported. If you buy through some of the links on our site, we may earn a commission.
Terms
.