We've been long waiting for a proper update of the popular 17-inch GS Stealth series from MSI, and it's finally happening right now in early-2022.
MSI are replacing the previous GS76 Stealth with the new GS77 Stealth, code name 12UHS/12UGS/UGE  depending on the GPU configurations. No word on an updated medium-sized GS67 yet, but that might happen sooner than later, and I'd be excited for a 16-inch 16:10 display on that one. We'll update when we know more; for now, let's just focus on this GS77 Stealth design.
It's a complete revamp of the previous generation and takes the white-collar laptop approach a bit further than before. Expect an updated design with an overall larger and stronger chassis, updated hinges and inputs, a FHD camera and biometrics, more powerful hardware with better cooling, as well as a completely refreshed audio solution with 6x speakers.
Here's a quick summary of this series, next to the 2021 GS76 Stealth, and we'll further touch on the important aspects done below.
MSI GS77 Stealth
MSI GS76 Stealth
Screen
17.3-inch 16:9, non-touch, matte
FHD 360Hz, QHD 240Hz or 4K 120Hz IPS panel options
17.3-inch 16:9, non-touch, matte
FHD 360Hz, QHD 240Hz or 4K 120Hz IPS panel options
Processor
Intel 12th-gen Alder Lake Core H, up to Core i9-12900H CPU, 6C+8c/20T
with Phase Change Liquid Metal Pad
Intel 11th-gen Tiger Lake Core H, up to Core i9-11980HK CPU, 8C/16T
Video
Intel UHD + up to Nvidia RTX 3080Ti 16 GB (105 W, Overclocked)
with MUX, no GSync for the internal display (to be confirmed)
Intel UHD + up to Nvidia RTX 3080 8 GB (80-95 W Max-Q, Overclocked)
with MUX, no GSync for the internal display
Memory
up to 64 GB DDR5-4800 (2x DIMMs)
up to 64 GB DDR4-3200 (2x DIMMs)
Storage
2x M.2 PCIe 4.0 , 2280 format
1x M.2 PCIe 4.0 and 1x M.2 PCIe 3.0 , 2280 format
Connectivity
Wireless 6E with Bluetooth 5.2 (Killer 1675i), 2.5 Gigabit LAN (Killer E3100G)
Wireless 6E with Bluetooth 5.2, 2.5 Gigabit LAN – from Killer
Ports
2x USB-A 3.2 gen2, 1x USB-C with Thunderbolt 4, 1x USB-C 3.2 gen2 with DP, HDMI 2.1, LAN, UHS-III SD card reader, mic/earphone
2x USB-A 3.2 gen2, 1x USB-C with Thunderbolt 4, 1x USB-C 3.2 gen2 with DP, HDMI 2.1, LAN, UHS-III SD card reader, mic/earphone
Battery
99.9 Wh, 240 W power brick, USB-C charging support
99.9 Wh, 230 W power brick, USB-C charging support
Size
397 mm or 15.65" (w) x 283 mm or 11.16 (d) x 20.8 mm or .82" (h)
396 mm or 15.59" (w) x 259 mm or 10.19 (d) x 20.25 mm or .79" (h)
Weight
from 5.7 lbs (2.6 kg) + power brick and cables
from 5.4 lbs (2.45 kg) + 2.02 lbs (.92 kg) power brick and cables, EU model
Extras
per-key RGB backlit keyboard – updated design, FHD webcam with IR and cover, fingerprint reader, 6x 2W speaker system
per-key RGB backlit keyboard, HD webcam with IR, stereo 2x 2W speakers
Design and ergonomics
The Stealth GS77 is no longer the same rectangular format of the previous generation, and that's because MSI redesigned the rear part in order to better accommodate the internal cooling module and the updated IO arrangement. As you can tell from the numbers above, the 2022 GS77 generation is a bit larger, thicker, and heavier than the GS76, an aspect you'll just have to accept here. It's still competitively sized against other 17-inch ultraportables, but no longer as compact.
The updated chassis does make this product more practical with everyday use. For starters, the power plug, the LAN port, and the HDMI port are now placed on the rear edge, allowing for a far less cluttered experience when connecting peripherals.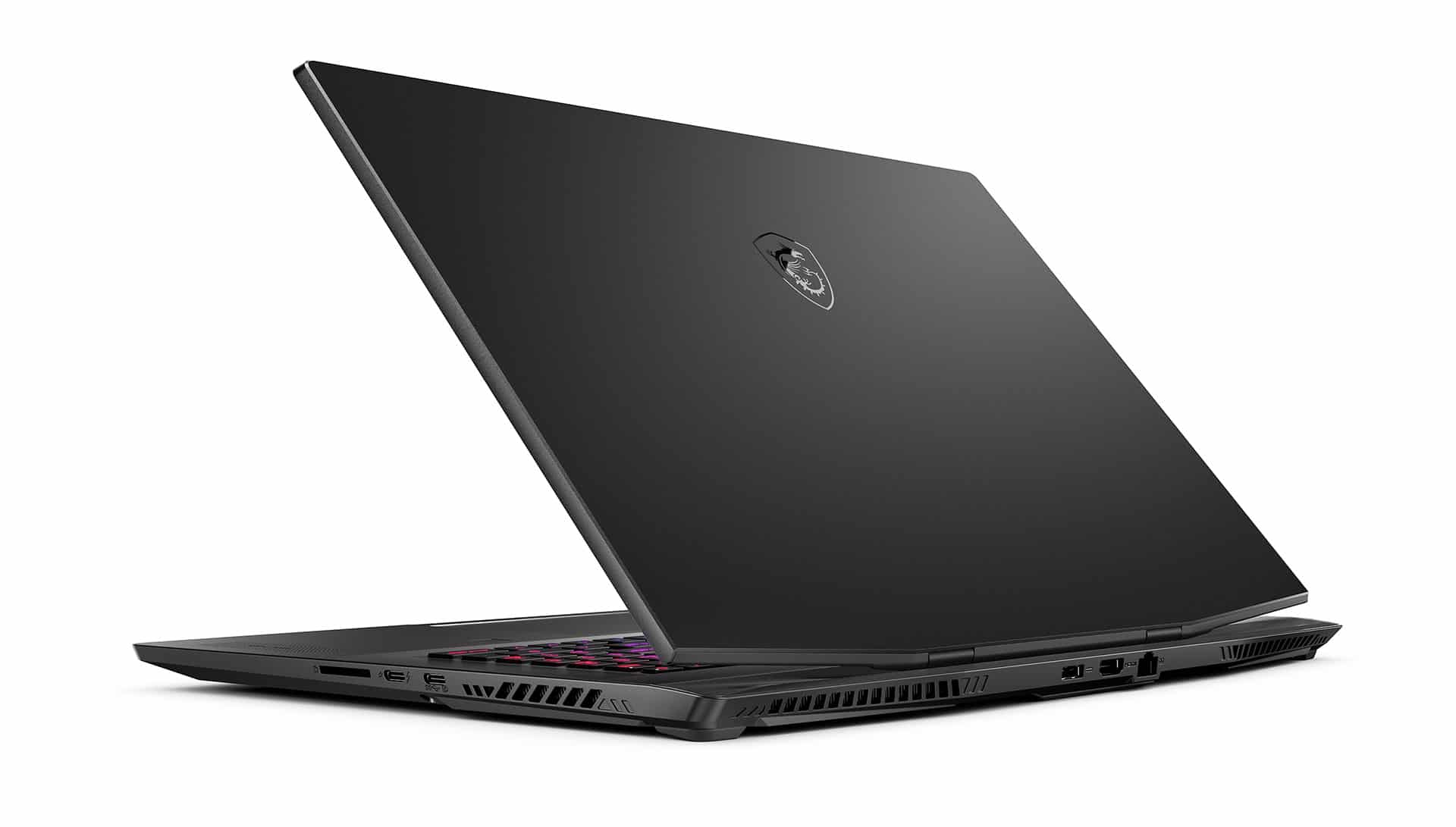 The rest of the IO is still lined on the left and right edge, and you're pretty much getting everything you'll want on this laptop, including Thunderbolt 4 and a fast SD card reader.
That aside, the extra depth of the chassis allowed for a redesign of the thermal module. MSI eliminated the intake grills placed at the top of the keyboard on the older GS76 series, and thus were able to push the keyboard up towards the screen, allowing for a more ample arm-rest and a much larger clickpad. They also slightly updated the keyboard, and we'll get to that in a bit.
MSI also redesigned the hinges on this GS76 series, bringing them closer together towards the middle of that laptop. I for one am not a fan of this sort of design and prefer the corner hinges used before – aesthetics aside, I do hope this will prove reliable over time. The launch materials mention that these hinges are made out of Zinc alloys and have been tested for reliability and strength – time will tell if they're right.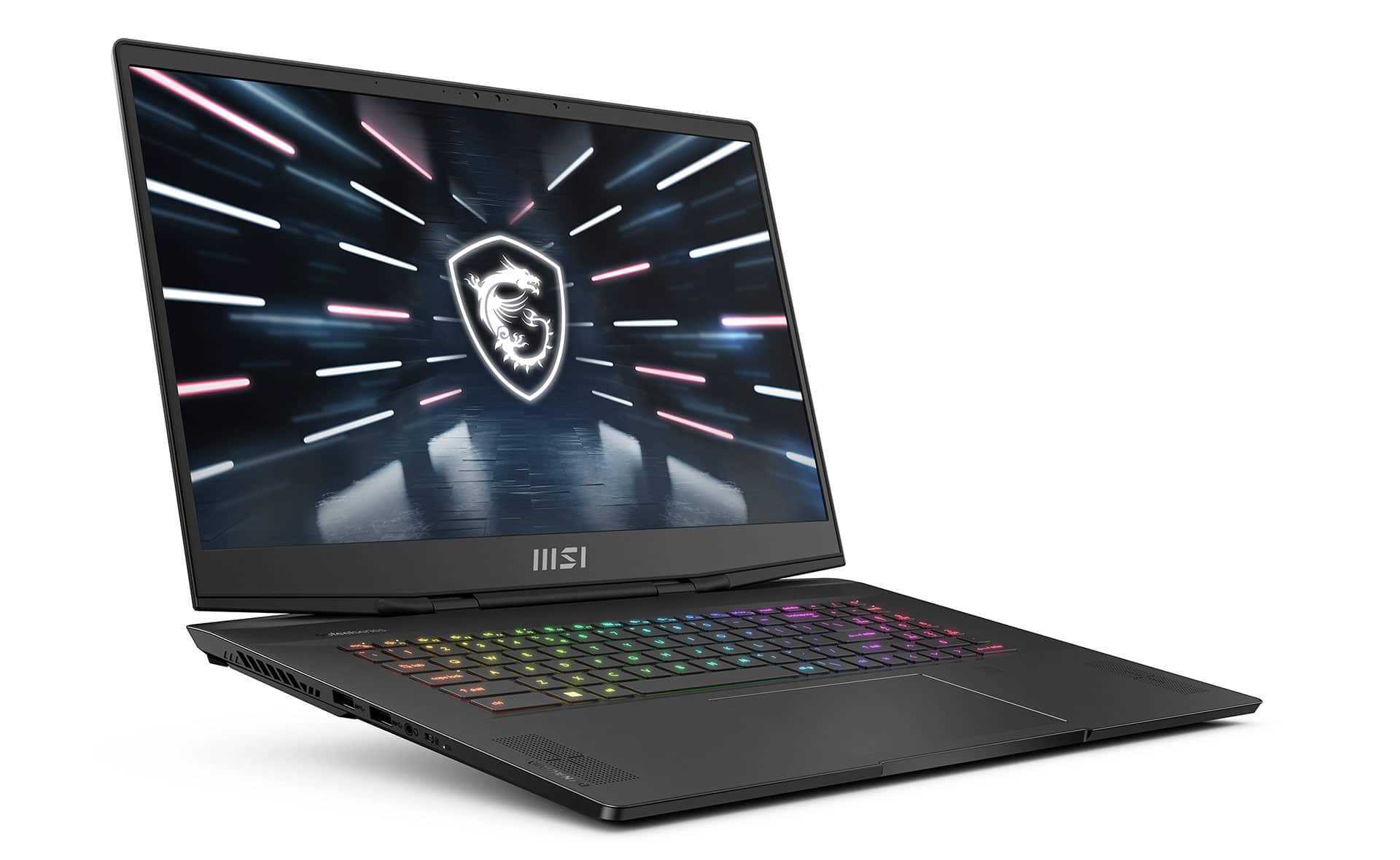 In fact, I hope the entire metal chassis on the GS77 Stealth feels stronger and more durable than on the previous generation, as the overall quality left somewhat to be desired in the past, and was one of our main complaints about the GS66/GS76 lineups. I've yet to touch the GS77, so looking forward to giving it a proper spin for a future review.
Other than that, the design is pretty standard here, with clean looks and limited branding, a black color scheme, a quad-radiator thermal module positioned on the laterals and rear edge of the laptop, as well as a set of 6x speakers now available inside, which should also address another of our complaints about the previous generations. Updated speakers were pretty much a must in order to match the audio offered by competitors such as the Blade 17 or the Zephyrus S17.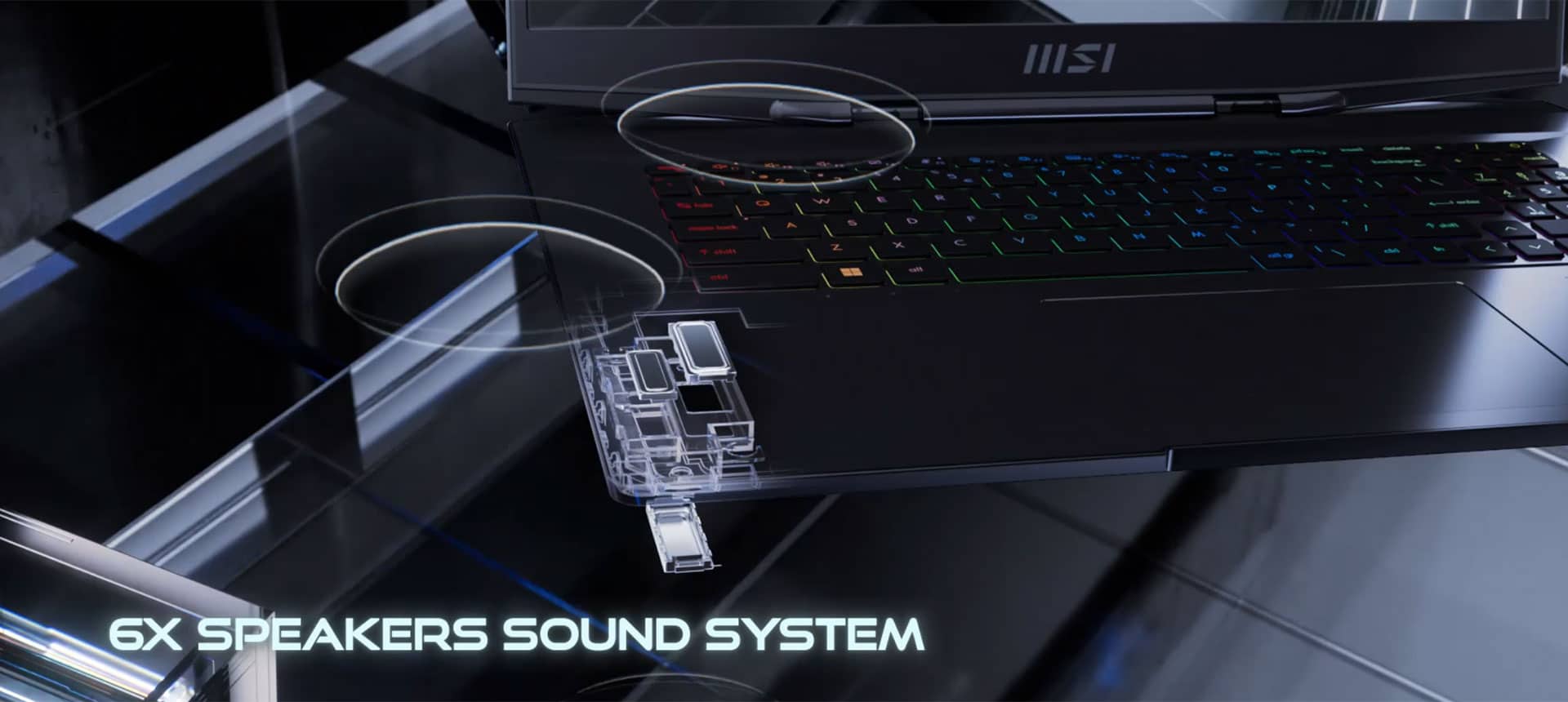 There's also a dedicated fingerprint reader on the GS77, placed at the right side of the keyboard, and a FHD camera with IR support and a block shutter placed on the left edge, the kind that kills both the camera and the mics when activated. Most other 17-inch laptops do not offer this kind of camera and biometrics.
Inputs and Screens
Both the keyboard and the clickpad have been updated on the GS77 Stealth lineup.
On the keyboard side, MSI implemented larger keycaps for the main deck of letter keys, and a slightly redesigned NumPad section, more in line with what the other OEMs offer on their 17-inch products. Full-size arrows are also a part of this new design, but the NumPad keys are still smaller and narrower than the other keys.
I'm looking forward to testing this layout and what's hopefully an updated feedback as well, less mushy than before. We do know the stroke depth has increased to 1.7 mm with this GS77, so hopefully the overall click response and feedback have improved as well.
The clickpad is much larger in size now, thanks to the redesign that allowed for a more spacious area under the keyboard, and it's still glass and Precision. Should work well.
For the screens, MSI stuck with the options previously available on the GS76 series, with 16:9 17'3-inch matte IPS panels available as either FHD 360Hz, QHD 240Hz, or UHD 120Hz options, all with 400+ nits of brightness and fast response times.
As far as the color coverage goes, the FHD options is sRGB only, but the QHD panel offers 100% DCI-P3 colors and the 4K offers 100% Adobe RGB, making these excellent multi-purpose options for both work and gaming.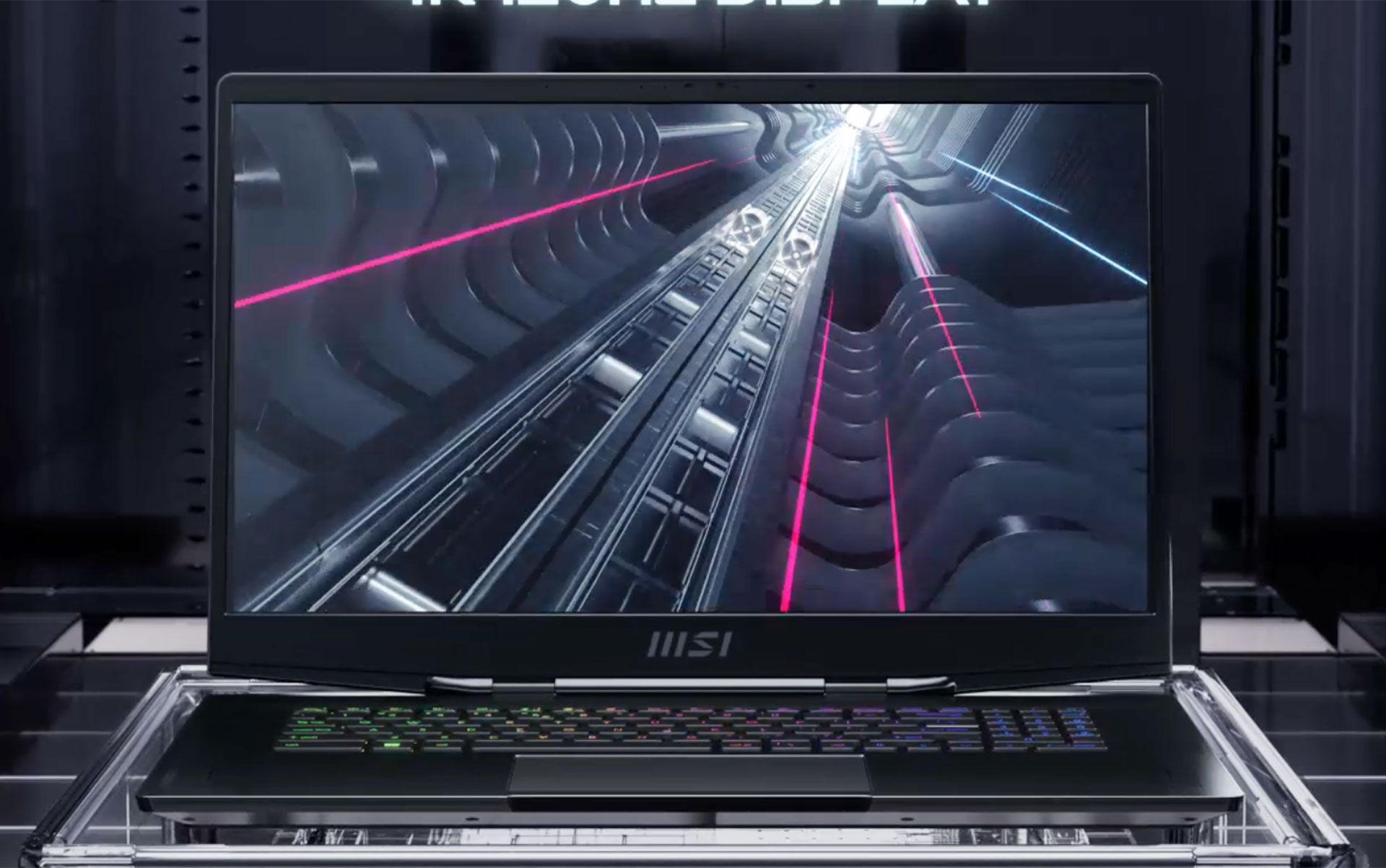 Hardware and performance
As far as the specs go, the MSI Stealth GS77 series is still Intel exclusive and now built on a 12th gen Intel Alder Lake Core H platform, with options for Core i7-12650H, Core i7-12700H, or Core i9-12900H processors.
These are paired with DDR5-4800 memory, PCIe gen4 storage, and fast wireless and wired connectivity. Plus, of course, a handful of GPU options, starting from an RTX 3060 8GB and going all the way up to RTX 3070Ti 8GB and RTX 3080Ti 16 GB variants.
MSI haven't provided a lot of info on the TGP of these GPUs, so I'm looking for updates as we go. I was hoping they'd bump up the power from the 80-95W possible with the previous design, but based on the fact that this laptop still ships with a 240W charger in the top-tier RTX 3080Ti configuration, I think we're still looking at a roughly 100W power limit on the graphics side, which is quite a bit lower than what the other 17-inch ultraportables are capable of these days. I'll update you as we find out more.
We do know there's a MUX on this design, so no compromises on that end, but no GSync support for the internal display, much like all the other MSI gaming models, including the GE76 Raider.
Update: While the initial briefing around CES clearly mentioned a MUX for this series, looks like the first retail models somehow lack the dGPU changing option in the control app. I'm looking for further clarification from MSI, and will update if I get an answer.
As far as the thermal module goes, we're looking at a 2-fan 4-radiator 6-heatpipe module, with larger fans than before and wide-open ventilation on the back. That was required, given how most of the fresh air now goes into the thermal module through the underside of this laptop, as the intake grills previously placed over the keyboard are now gone; I'd expect some intake to still happen through the keys, through.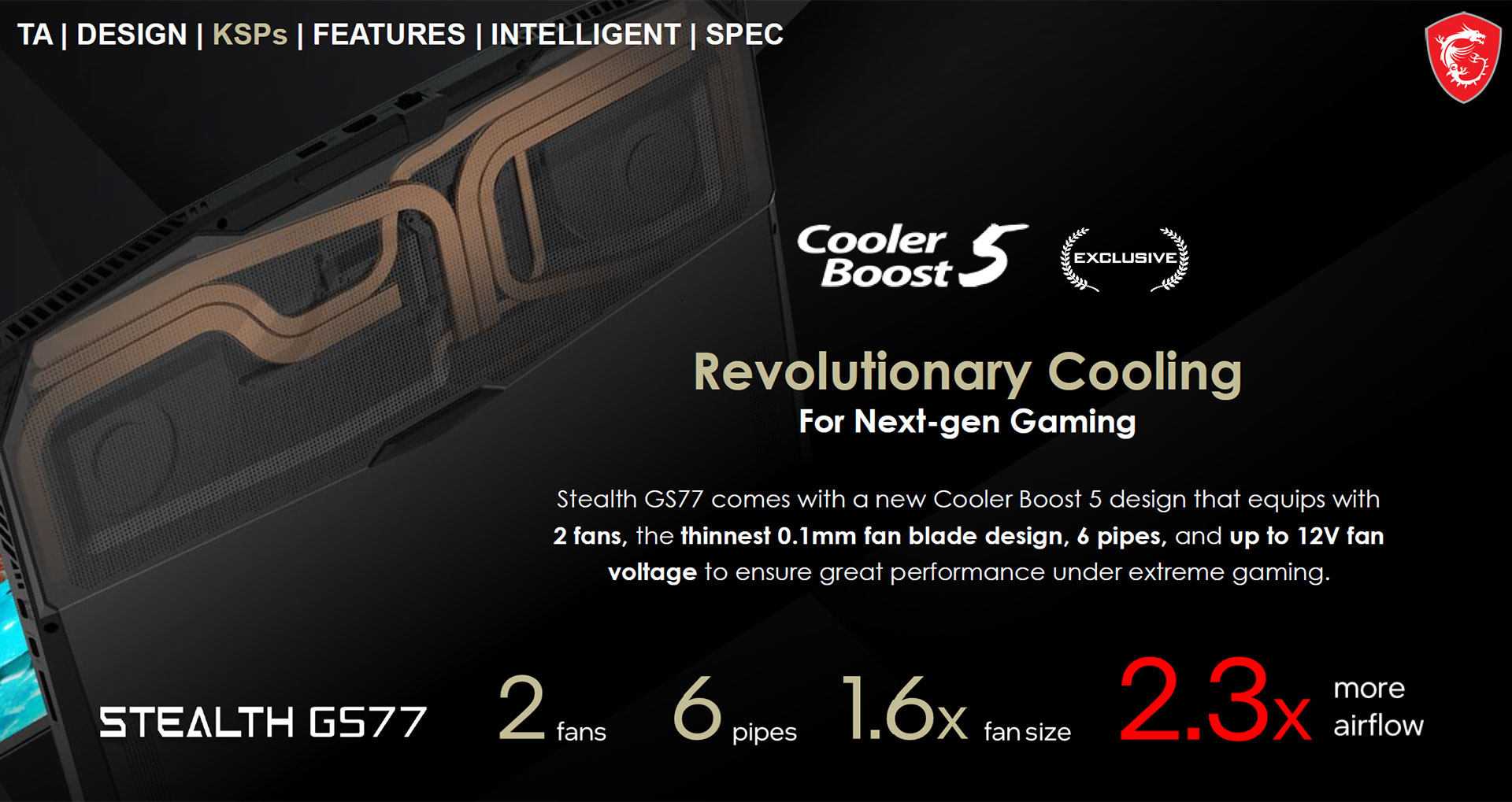 The available pictures also suggest a standard internal layout now, with the cooling module placed under the motherboard and no longer between the keyboard and the motherboard, as in the past. This would be a much-appreciated change and would improve the overall serviceability and upgradeability of the laptop.
One other aspect to mention here is the fact that MSI implemented what they call the "Phase Change Liquid Metal Pad" technology on their 2022 GS and GE lineups. This means that instead of regular thermal paste, a liquid metal compound is used for heat transfer between the CPU and the thermal plate, allowing for better transfer and lower temperatures. Other OEMs have been using liquid-metal on their CPUs in the past, but the novelty here is that this compound is capable of transitioning between a solid form (when the laptop is off or the CPU runs at low temperatures) and a liquid form (in high loads), thus preventing any metal leaks that might otherwise happen when traveling, based on MSI's pitch. We'll have to test the impact of this technology in real use in our reviews.
I'll also mention a few of the software updates implemented with the 2022 MSI gaming laptops, and that's an Auto profile available in the MSI Center control app that knows to cycle between the different modes based on the application currently running, as well as an updated Silent mode. This uses the microphones to measure the ambient noise levels and dynamically adjust the power setting and the fans' speed as needed, leading to a balanced performance level adjusted to the conditions that you're using your laptop in – I'm not sure how well this works in real life, it's just one more thing we'll have to test in our review.
All in all, I'm excited about the hardware refresh paired with the updated thermal module of this GS Stealth generation. The previous generation ran rather warm and noisy, despite being a limited power setup. With this one, the power limits haven't seemed to have changed much, but hopefully, the overall experience improves, both with daily use and with demanding loads.
One final detail to add here is that MSI kept the 99.9 Wh battery for the GS77 series, as well as the compact charger and the ability to fill-uop the battery via USB-C at up to 100W PD.
Availability
The MSI Stealth GS77 is expected in stores around late-January early-February 2022, in a multitude of configurations.
The base model built on a Core i7-12650H processor with RTX 3060 graphics and the FHD 360Hz screen starts at $1799 in the US, while the most interesting variants with the 14C i7/i9 processors, RTX Ti graphics and QHD screens start at $2399.
Final words
If you can stomach the price, the Stealth GS77 series could be the right multi-purpose laptop for you in this class of 17-inch portable computers.
The muted design makes it a sleeper in strict business/school environments, while hiding uncompromised specs and features on the inside. I'm glad to see a sturdier construction and improved ergonomics with the rearranged IO and updated inputs; I also appreciate the updated internal design and thermal module, the updated audio, and the fact that there's still a 99Wh battery on this series.
On the other hand, I would have hoped for a higher-power GPU implementation, but that aside this sounds like a potential winner right now at launch, for those of you with deep enough pockets to afford it.
Stay put for our detailed review for proper conclusions, though, and in the meantime, let me know what you think about this updated 2022 MSI GS77 Stealth series down below in the comments section.
Disclaimer:
Our content is reader-supported. If you buy through some of the links on our site, we may earn a commission.
Terms
.