Asus have recently released their Zenbook 14X series of ultrabooks, which are now available in stores alongside the existing ZenBook 14 models already selling for the last few years.
And since we've reviewed both the 14X and the regular 14 models here on the site, I put up together a quick comparison guide of the two lineups to help you figure out the general differences between them.
In a few words, the ZenBook 14X models are slightly larger and heavier than the regular 14 models, get higher-power hardware implementations and a more advanced thermal design, and are bundled with 16:10 displays, either OLED touch or IPS matte.
Zenbook 14 models, on the other hand, are available in a wider range of configurations, but for the most part they are lighter and more compact, equipped with 16:9 matte IPS screens, and built on U-class hardware with more limited power settings and more basic cooling designs. Furthermore, the regular Zen 14 ultrabooks are also more affordable and more widely available than similar-tier 14X variants.
Update: Our reviews of the latest-generation ZenBook 14X and ZenBook 14 models are available via these links. And here are my thoughts on the updated 2023 Asus ZenBook 14, 2023 Asus ZenBook 14X, and 2023 ZenBook Pro 14 models.
Both lineups are available with either Intel or AMD hardware and get optional Nvidia MX graphics on select configurations.
Design and ergonomics
Design-wise, the recent 14X and the 14 models are very similar. Both are entirely made out of aluminum, with a matte soft finishing for the interior and the iconic pattern of concentric circles spurring from the ASUS logo on the lid. Both look premium, and both smudge and show fingerprints easily, especially on the lid. For illustration purposes, the ZenBook 14X is placed on the left side in all the pictures included in this article, while the ZenBook 14 is on the right.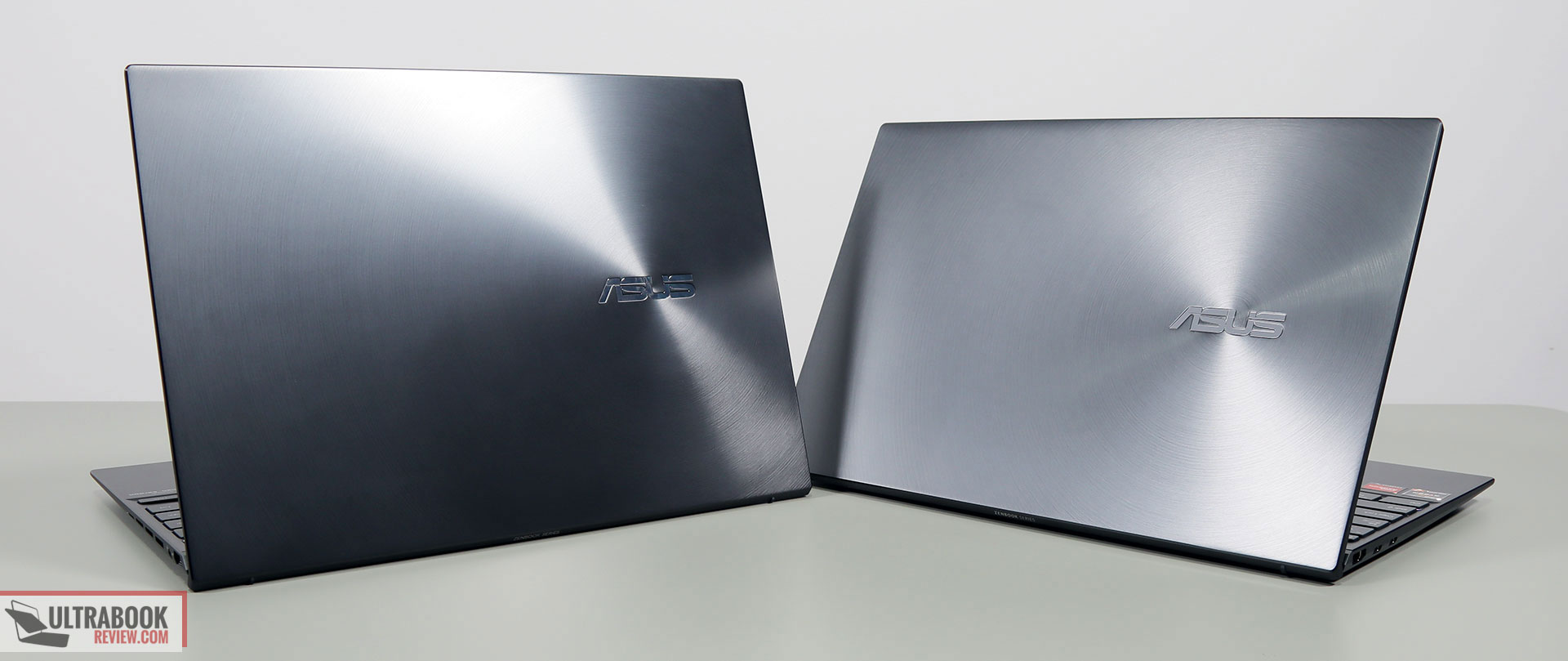 The 14X models feel more robust, though, sturdier built, as they no longer creak and squeak in the same way that the regular 14s do when picking them up or even when placing your hands over the arm-rests. They also get more rigid hinges with the ability to push back the screen to 180-degrees, while the hinges on the 14s only go back to ~145 degrees and are weaker, to the extent that sometimes the screen does not stay fixed in place when picking up the laptop.
Speaking of the screens, the ZenBook 14X models get 16:10 displays, while the regular ZenBook 14s get 16:9 displays. The bezels are averagely sized on both series, and the panel options vary between each configuration, with OLED mostly available on the 14X and IPS on most 14 models. We'll discuss them further down in the Screens section.
However, because of the taller 16:10 screen on the 14X, these ultrabooks are also slightly larger than the regular 14 models. Plus, with the more complex cooling inside, they're also slightly thicker and heavier as well, at around 1.4 kilos (3.1 lbs), while the regular 14s vary between 1.15 to 1.3 kilos between the different variants.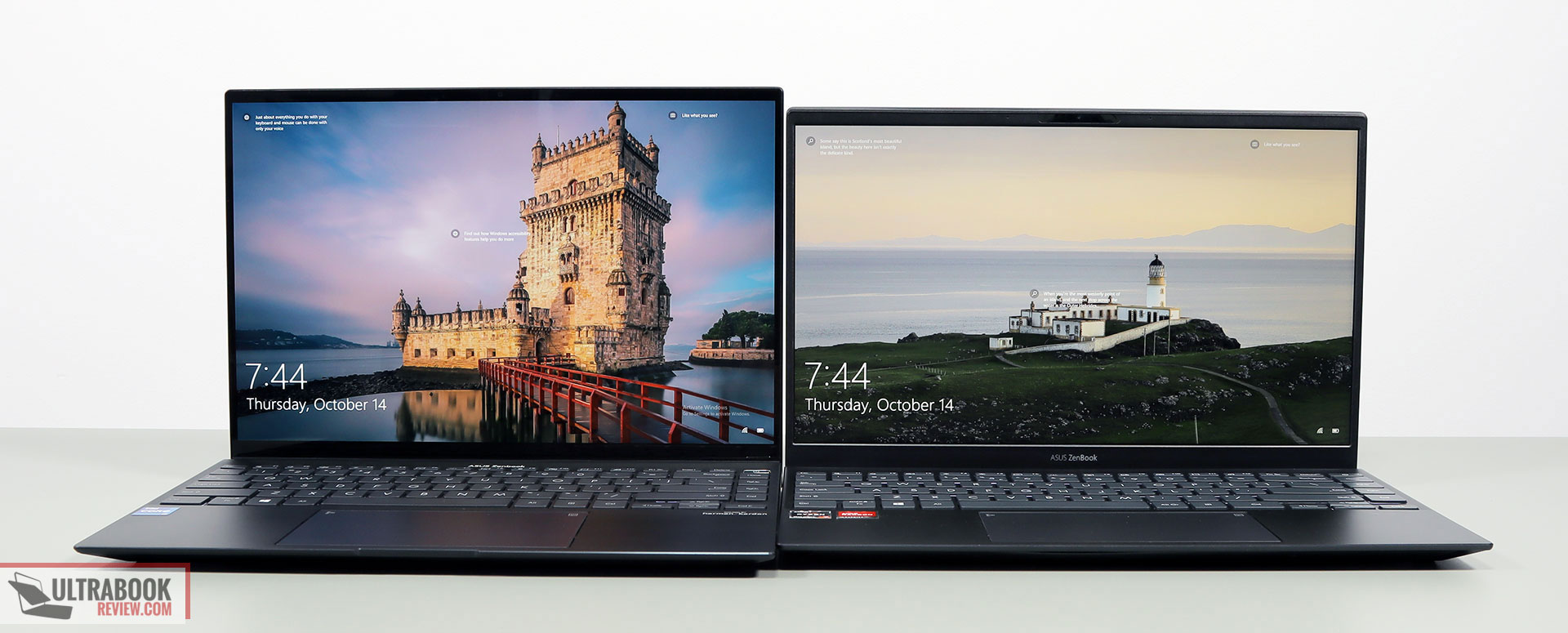 That aside, both series are built on what Asus calls an Ergolift design, which means that their main decks raise up on small rubber feet placed at the bottom of the screen part, in order to create a slightly inclined typing position and improve the airflow underneath the laptop, into the fans.
However, the thermal designs are entirely different on the two lineups. On the 14X models, there are two fans inside, each with its own radiator, and the hot air is pushed out to the sides, while on the 14s there are either one or two fans, but with a single radiator placed just under the screen, and blowing the hot air into the display. The effect varies between configurations, but on most ZenBook 14s the panel heats up a fair bit, which might cause issues down the road. We'll discuss this in-depth further down in the Performance section.

The internal redesign also lead to a slight revamp of the IO on the 14X, as some of the side edges are now occupied by the radiators. Still, the selection of ports is similar between the two lineups, with 2x USB-C ports (with Thunderbolt 4 support on the Intel configurations), 1x USB-A, 1x full-size HDMI, and a micro SD card reader.
Furthermore, all the 14X models get a 3.5 mm audio jack, while on the 14s, that's available on some models, but missing on others.
That aside, I'll also add that you're getting a finger-sensor on all the 14X models, baked into the new power-button design which no longer includes an always-on light in it, but there's no IR camera at the top of the screen, next to the regular HD webcam. In comparison, there's no finger sensor on the regular ZenBook 14 models, but you do get an IR camera with Hello support on most configurations.
Finally, the speakers are placed on the underside of both designs, and they're average volumes and quality for an ultrabook, but not impressive. The 14X has a slight advantage in quality over the regular 14 models, but the kind you're only going to tell when listening for the two side by side.
All in all, the updated ZenBook 14X ultrabooks are slightly larger and heavier than the existing ZenBook 14 models, but they're also studier built and more ergonomic, with the 180-degree screens, updated hinges, larger arm-rest and inputs, and the completely redesigned thermal module that now places the radiators and hot-air exhausts on the sides, so the hot air is no longer expelled into the screen.
Keyboards
The inputs on the ZenBook 14X models have been slightly updated from the ones on the previous Zenbook 14 models, as the larger format allowed for a slightly taller keyboard layout and a taller clickpad.
The ZenBook 14X gets a set of square 16×16 mm main keys, while on the ZenBook 14 models these are rectangular and 16×15 mm. The layout and spacing are otherwise similar, so this small change is nearly impossible to notice with daily use, as both these keyboards are some of the better you can find in an ultrabook right now. There's very little to complain about the typing experience on either of these, with well-balanced feedback, 1.4 mm of travel depth, and quiet activations (with the exception of the Space key).
The only notable layout change is in the power button, which is a regular key with an always-on light in it on the ZenBook 14s, and a recessed key with a finger-sensor and no light on the ZenBook 14X models.

The keyboard is backlit on both series, with white LEDs and 3 brightness levels to choose from. These LEDs don't get very bright, but the contrast with the dark-gray keycaps helps their readability in dim light. The layout also includes indicators for Caps-Lock and for the camera/mic, and the light reactivates with a swipe over the clickpad when it times out. My only complaint is that light creeps out from underneath some of the keycaps on both designs and the lighting uniformity seems to vary between the tested models, something Asus could improve in their QC process.
Both lineups get large glass Precision clickpads, and the surface is a bit taller on the 14X models. Both work flawlessly with swipes, gestures, taps, etc. I did find the implementation on the 14X a bit more solid, as that does not rattle with firmer taps, while the clickpad on some of the ZenBook 14s that I've tested over the last months felt at times a bit finicky with firmer taps.
That aside, both these clickpads double as NumberPads. Furthermore, Asus also offers a ScreenPad, a clickpad with a secondary IPS screen in it, on select versions of both the 14X and the 14. However, most configurations ship with these NumberPads that we have on the illustrated models, though.
Screens
There are a few major differences between the screens you'll find on the 14X and 14 ZenBook models.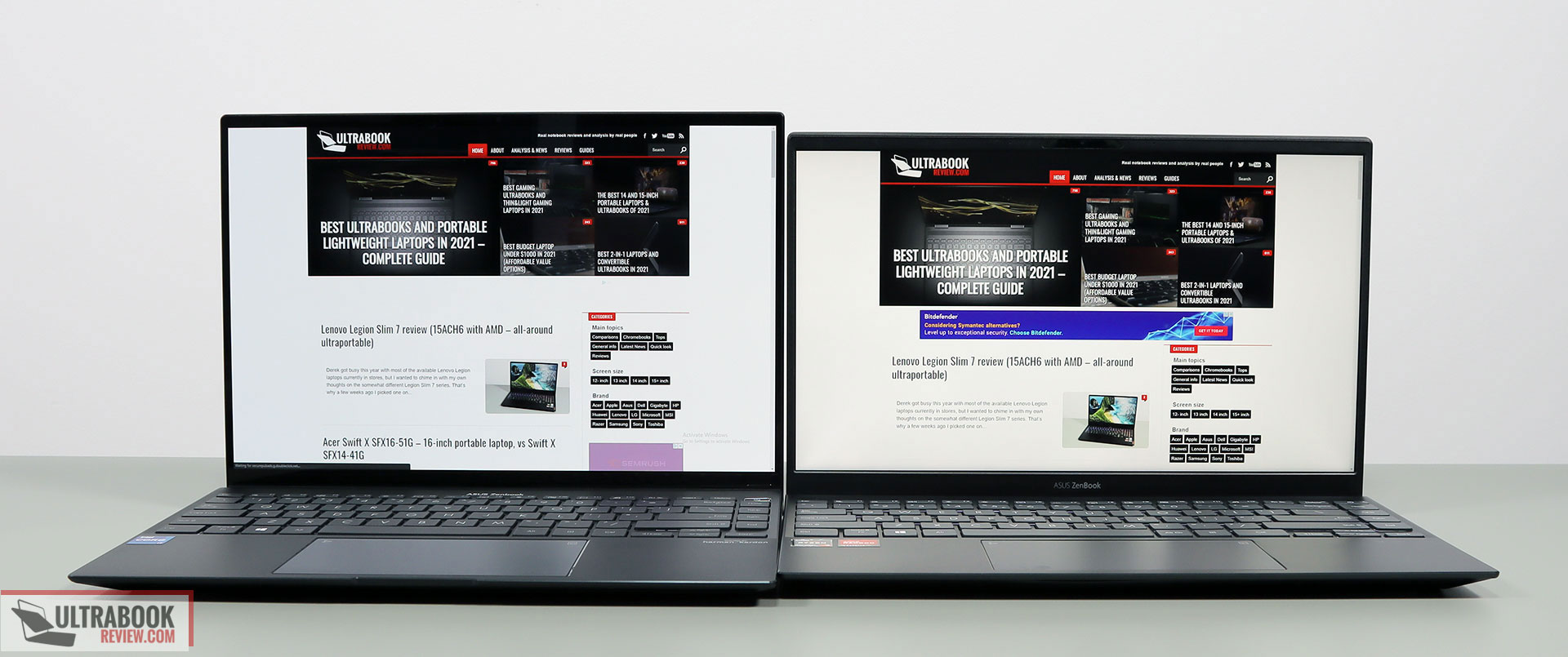 The newer ZenBooks 14X all get 16:10 displays, and most of them ship with either a 2.8K 90Hz or a 4K 60 Hz OLED touch panel. The only exception is a rare configuration of the ZenBook 14X UX5401, available with a matte 2.5K IPS panel.
For the most part, though, you're getting OLED touchscreens on the 14X models, with 400+ nits of brightness, excellent blacks and contrast, and 100% DCI-P3 color coverage. You might struggle with them in bright light, though, because of the only average peak-brightness and glossy finishing of the touch screen. And there's also an annoying graininess effect on these touch OLED screens that's noticeable over white backgrounds, such as when browsing or editing text.
The regular ZenBook 14 models ship with 16:9 displays and mostly matte FHD IPS panels. Asus offers a couple of different options, and my recommendation is the efficient 1W model with 450+ nits of brightness and ~70% DCI-P3 color coverage.
This has an advantage over the OLEDs in the 14X in bright light, thanks to its peak-brightness and matte non-glare finishing, but the OLEDs offer superior colors, blacks, and uniformity. At the same time, OLED panels are not without their potential quirks on laptops, so make sure to research and understand them before taking the plunge on an OLED laptop.
You'll find more details about the panels available on each specific ZenBook model in our reviews.
Specs and performance
Asus offers a multitude of ZenBook 14X and ZenBook 14 configurations, built on either Intel or AMD hardware, and with integrated Vega/Iris graphics or optional Nvidia MX dGPUs on select models.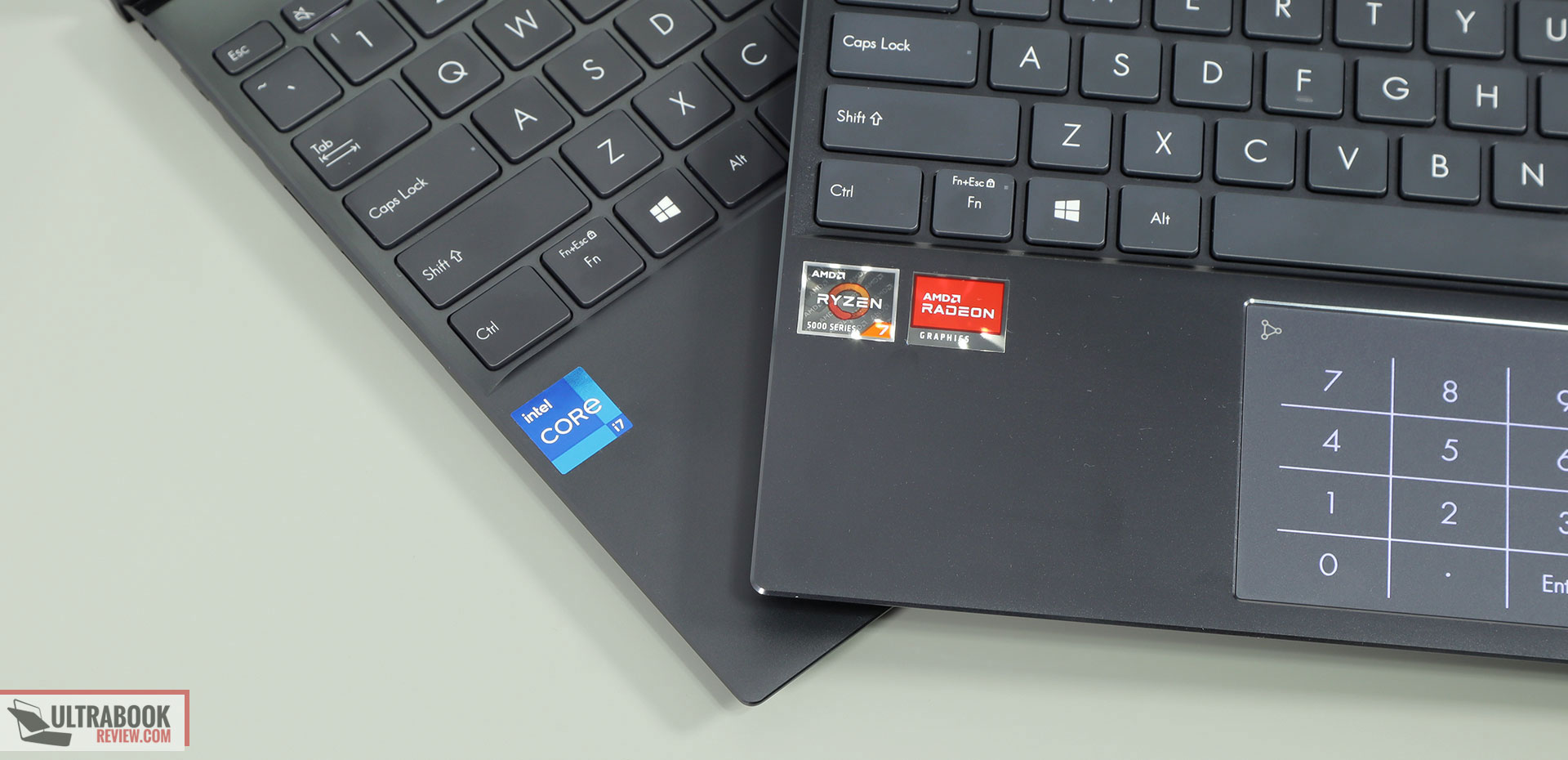 For the most part, though, the ZenBook 14X lineups allow for higher-power hardware implementations, with AMD Ryzen H45 on the ZenBook 14X UM5401 model, or Intel Tiger Lake U on the ZenBook 14X UX5401 and UX5400 models, but both able to run at 40+W of sustained power. This allows for excellent GPU performance and solid CPU scores on both variants.
Update: Over here you'll also find our full review of the 2022 ZenBook 14X Space Edition model built on 12th-gen Intel Core i9 hardware.
Of course, the AMD models have an edge in multi-core CPU performance as these can be configured with up to 8C/16T Ryzen 9 processors, while the Intel models have an advantage in everyday multitasking and GPU loads, where the Iris Xe chips outmatch the current Radeon Vega options.
Most of the regular ZenBook 14 variants are more limited power designs of either Intel Core U or AMD Ryzen U hardware, most of them only running at around 20W sustained. These settings limit the performance over the 14X models, but also allow the laptops to run quieter in most cases.
There is, however, an exception on the ZenBook 14 lineup, the UM425QA model built on full-power Ryzen H processors. This one runs the hardware at 35W sustained, so much closer to the 14X models.
That's possible because the UM425QA gets a slightly thicker chassis and an updated thermal design than you'll normally find on the other ZenBook 14 models, with two fans and two heat pipes. Down below I've included a picture of the cooling module on the ZenBook 14 UX425/UM425, which are 20W designs, next to this updated module in the UM425QA.

And here's how the cooling module in the ZenBook 14X models looks like, for comparison.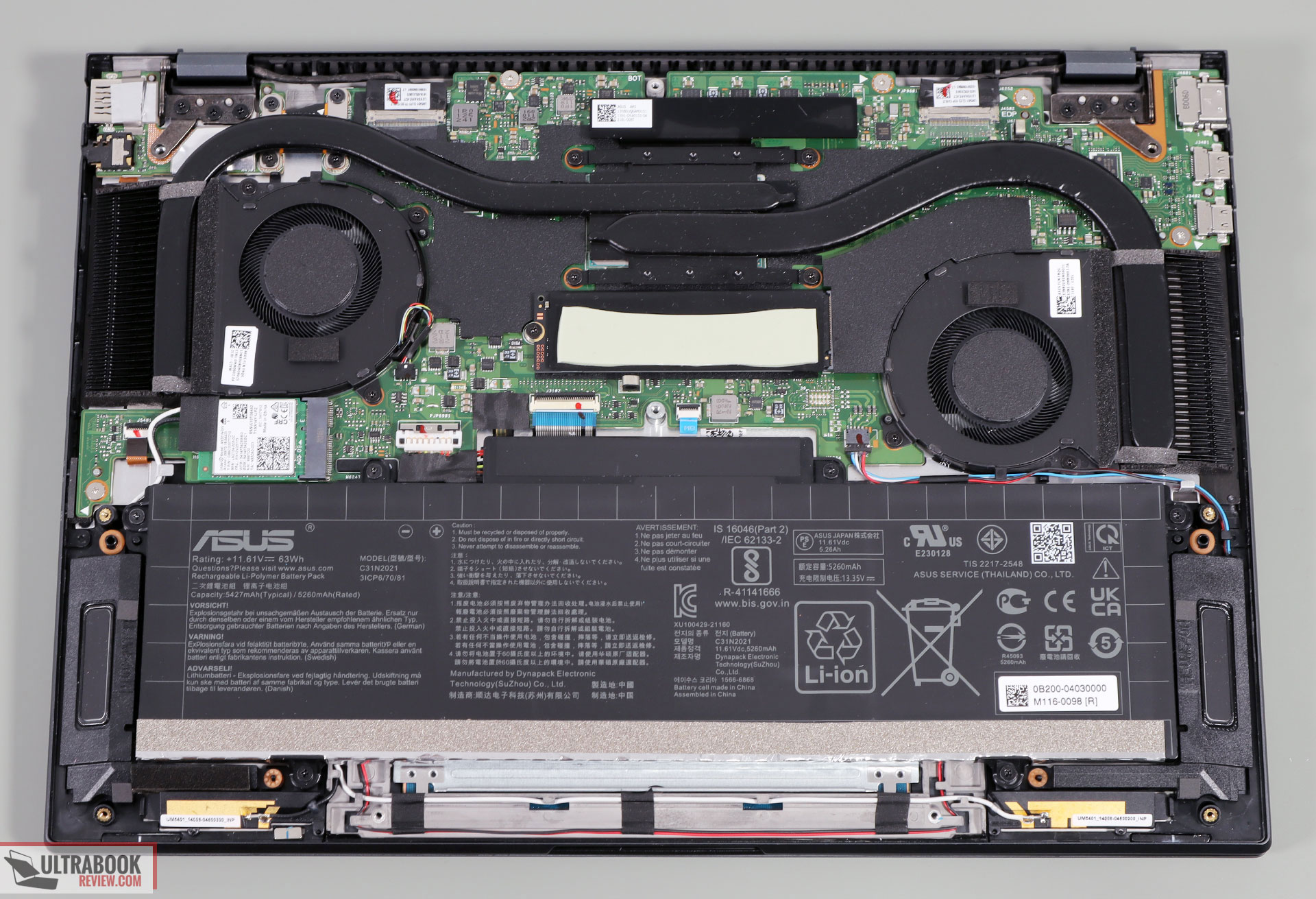 Aside from the extra heatpipes and radiators available in the 14X lineups, you'll also notice that the radiators are placed on the sides, which means that the hot air is pushed out to the sides. On the regular ZenBook 14 designs, on the other hand, the radiator is placed just under the screen, so the hot air is pushed into the panel, causing it to heat up.
Down below I've added the thermal readings for the ZenBook 14X UX5401 (40W+), ZenBook 14 UM425QA (35W+), and ZenBook 14 UX425 (19W+) in sustained combined loads, so you can better understand the kind of temperatures you should expect on these laptops under load, and how the panel heats-up with the regular ZenBook 14 models.
On the other hand, all of them run silently and cooly with daily chores and light multitasking, as long as you're not unlucky to get a unit with coil whine.
As far as the performance goes, we've yet to properly test the AMD-version of the ZenBook 14X UM5401, so here's a quick comparison of the Intel Tiger Lake i7-1165G7 variants of the 14X and 14. I've also included the AMD-based ZenBook 14 UM425, which should perform within 5-15% of the AMD-Based ZenBook 14X UM5401 (will update once we get to test this).
ZenBook 14 UX425,
Intel i7-1165G7 + Iris Xe
ZenBook 14X UX5401,
Intel i7-1165G7 + Iris Xe
ZenBook 14 UM425,
AMD R7 5800H + Vega
3DMark 13 – Fire Strike
4445 (Graphics – 5107, Physics – 10201, Combined – 1578)
4933 (Graphics – 5348, Physics – 14338, Combined – 1923)
3783 (Graphics – 4177, Physics – 22851, Combined – 1279)
3DMark 13 – Night Raid
13877 (Graphics – 17755, CPU – 6202)
17471 (Graphics – 20359, CPU – 9686)
16381 (Graphics – 17752, CPU – 11395)
3DMark 13 – Time Spy
1596 (Graphics – 1455, CPU – 3560)
1799 (Graphics – 1609, CPU – 5458)
1447 (Graphics – 1269, CPU – 7191)
Uniengine Superposition – 1080p Medium
2787
3122
2524
Uniengine Superposition – 1080p Extreme
960
1066
811
Handbrake 1.3.1 (4K to 1080p encode):
20.31 average fps
30.07 average fps
40.57 average fps
PCMark 10
4670 (E – 9612, P – 6576, DCC – 4373)
5151 (E – 10109, P – 6737, DCC – 5447)
6308 (E – 10509, P – 9606, DCC – 6748)
GeekBench 5.3.1 64-bit
Single-Core: 1489, Multi-core: 5288
Single-Core: 1485, Multi-core: 5718
Single-Core: 1417, Multi-core: 7915
CineBench R15 (best run)
CPU 838 cb, CPU Single Core 213 cb
CPU 1010 cb, CPU Single Core 236 cb
CPU 1924 cb, CPU Single Core 225 cb
CineBench R20 (best run)
CPU 1789 cb, CPU Single Core 515 cb
CPU 2424 cb, CPU Single Core 578 cb
CPU 4229 cb, CPU Single Core 541 cb
x265 HD Benchmark 64-bit
84.04 fps
57.83 fps
33.44 fps
Blender 2.90 – BMW Car scene- CPU Compute
9m 50s
6m 39s
3m 55s
Blender 2.90 – Classroom scene – CPU Compute
27m 33s
18m 13s
10m 13s
The AMD configuration beats the Intel models in all the multi-core CPU tests, but comes behind in single-Core CPU and GPU tests. As for the 14X implementation of the i7-1165G7, this performs 15-25% faster than the same processor in the power-limited ZenBook 14 UX425 chassis, both in the CPU and GPU benchmarks.
And here are some gaming results.
Core i7-1165G7 + Iris Xe
ZenBook 14X UX5401,
Core i7-1165G7 30+W,
FHD+ 1200p

ZenBook 14X UX5401,
Core i7-1165G7 30+W,
FHD 1080p

ZenBook 14 UM425,
Ryzen 7 5800H 35W,
FHD 1080p
ZenBook 14 UX425,
Core i7-1165G7 19W,
FHD 1080p

Bioshock Infinite (DX 11, Low Preset)
81 fps (36 fps – 1% low)
89 fps (38 fps – 1% low)
91 fps (71 fps – 1% low)
70 fps (40 fps – 1% low)
Dota 2 (DX 11, Best Looking Preset)
72 fps (54 fps – 1% low)
76 fps (56 fps – 1% low)
64 fps (42 fps – 1% low)
56 fps (44 fps – 1% low)
Far Cry 5 (DX 11, Low Preset, no AA)
31 fps (21 fps – 1% low)
34 fps (22 fps – 1% low)
30 fps (22 fps – 1% low)
26 fps (18 fps – 1% low)
Middle Earth: Shadow of Mordor (DX 11, Lowest Preset)
73 fps (56 fps – 1% low)
81 fps (62 fps – 1% low)
55 fps (44 fps – 1% low)
65 fps (47 fps – 1% low)
NFS: Most Wanted (DX 11, Lowest Preset)
60 fps (51 fps – 1% low)
60 fps (52 fps – 1% low)
60 fps (55 fps – 1% low)
60 fps (46 fps – 1% low)
Shadow of Tomb Raider (DX12, Lowest Preset, no AA)
41 fps (24 fps – 1% low)
45 fps (29 fps – 1% low)
41 fps (26 fps – 1% low)
28 fps (16 fps – 1% low)
Strange Brigade (Vulkan, Low Preset)
48 fps (22 fps – 1% low)
52 fps (24 fps – 1% low)
44 fps (37 fps – 1% low)
44 fps (28 fps – 1% low)
The Witcher 3: Wild Hunt (DX 11, Low Preset, Hairworks Off)
41 fps (21 fps – 1% low)
44 fps (23 fps – 1% low)
27 fps (22 fps – 1% low)
–
All in all, the newer 14X ZenBooks are more powerful, run cooler under load, and are more practical designs than the previous ZenBook 14 models. They do run much noisier, though, at up to 45-46 dB on the max-Performance profile on the 14X, while the single fan in the more power-limited 14 models only ramps up to  37-38 dB. However, you do get the option to select the Balanced profile on the 14X, which takes a small toll on the CPU performance, but still allows the GPU to run at full potential while limiting the fans to about 40 dB.
Battery life
There's a 63 Wh battery in the ZenBook 14X models, while the ZenBook 14s get either a 63 or a 67 Wh battery. Thus, runtimes are fairly close between the two, but overall the 14X ZenBooks are at a disadvantage caused by their larger-surface OLED screens, which are highly dependant on the kind of content displayed. In other words, OLEDs are excellent with dark/black content, but less efficient with white content, the kind you'd get when browsing or editing text.
Furthermore, the AMD configurations of these laptops are more efficient than their Intel counterparts, especially with multitasking. Expect 5-6 hours of daily use and 10+ hours of video from the AMD models, and 4-5 hours of daily use and 8+ hours of video from the Intel variants.
I'll also add that most of the regular ZenBook 14s ship with compact 65W single-piece USB-C chargers, while the ZenBook 14 UM425QA and all the ZenBook 14X models ship with a larger two-piece 100W USB-C charger, which adds up to the total weight in your backpack. While a ZenBook 14 UX425 weighs 1.4 kilos, including the charger, a ZenBook 14X UX5401 weighs 1.8 kilos with the charger.

Availability and prices
ZenBook 14 models are widely available in stores, in a multitude of configurations, with prices starting from 600-700 USD/EUR/GBP with various discounts.
The newer ZenBook 14X models are only recently starting to make their way into shops around the world, and mostly in their higher-tier configurations, which means that at least for now, they're selling at a consistent premium over the regular 14s.
For comparison, a ZenBook 14 UX425EA goes for around 1000 USD/EUR for a Core i7-1165G7 configuration with 16 GB of RAM, 512 GB of storage space, and the FHD IPS matte screen, while a ZenBook 14X is expected at around 1400 EUR over here for a Core i7-1165G7 + 2.8K OLED touchscreen + 16 GB of RAM + 1 TB of storage. The 14X is a brand new launch, though, so I'd expect the difference to narrow down in the following months as this will also benefit from occasional sales and discounts.
Nonetheless, the 14X ZenBooks will always remain the more expensive options, and for good reasons.
Final thoughts – Asus ZenBook 14X and 14
For me, the ZenBook 14X is one of the best multi-purpose series of ultrabooks that you can get these days. Compared to previous ZenBooks, Asus improved the build quality, the ergonomics, the hardware implementations, and the thermal modules of these computers, while not sacrificing the premium design, excellent inputs, and big battery. They also added some excellent 16:10 OLED touchscreens to the mix, as well as an option for a matte IPS panel on some configurations, although I wish that would be more widespread and available on all hardware variants, as an alternative for those of us who prefer matte IPS screens over glossy OLED panels.
Right now, though, these 14X are rather expensive and difficult to find in stores, that's why I'd expect them to show their full potential with the next-gen hardware updates in 2022, either with 12th gen Intel Alder Lake processors or AMD Ryzen 6000 with RDNA2 Vega graphics.
Update: Our reviews of the latest-generation ZenBook 14X and ZenBook 14 models are available via these links.
The regular ZenBook 14 ultrabooks, on the other hand, are a lot more affordable and widespread as of right now, and while not without their fair share of quirks, they are still competitive ultraportables at around the $1000 mark. I'd go with one of the affordable ZenBook 14 UX425 or UM425 series for everyday use and multitasking, or the more powerful ZenBook 14 UM425QA if you'd prefer an ultrabook that could also tackle workloads, especially those that require a powerful CPU.
This wraps up my comparison of these Asus ZenBook 14X and ZenBook 14 models, and I'd love to hear your thoughts, questions, and feedback on them in the comment section down below, so don't hesitate to get in touch.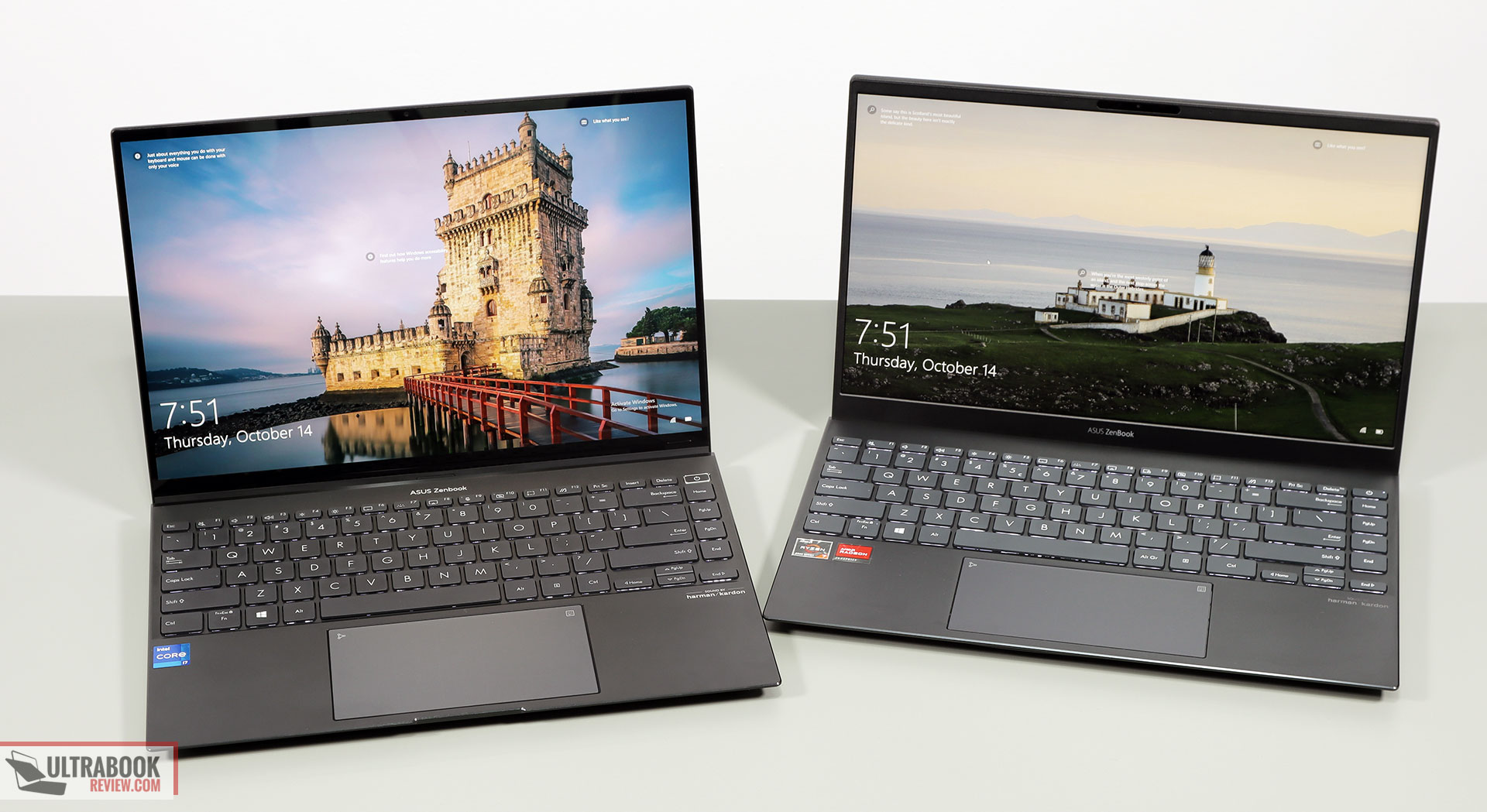 Disclaimer:
Our content is reader-supported. If you buy through some of the links on our site, we may earn a commission.
Terms
.