The Dell XPS 13 has been my go-to travel laptop for the last 6 years, so you can say I have a soft spot for this lineup. It's not just me, though, it has topped many reviews and recommendations lists since Dell first released the modern XPS 13 ultrabook design back in 2015.
Over the years, the XPS 13 has been updated multiple times, both in a positive way by becoming smaller and slimmer and offering improved screens and hardware, and in a negative way by dumping the connectivity for USB-C only, much like many of the other modern ultraportables.
The 2022 XPS 13 9320 is a much bolder update than the previous generations, though, with a unique and potentially questionable set of inputs, plus the expected bump in internal specs, an updated thermal design, an OLED screen option, updated audio, and a higher-capacity battery than on the 2021 XPS 13 9310 and 2020 XPS 9300 series.
This article is a first look at this 2022 XPS 13 pointing out the important changes, and we'll further dig in in our review once we get our hands on a finalized unit.
Update (June 21st) – The XPS 13 Plus is available in stores as of right now. Our detailed review of the XPS 13 9320 series is available here.
We'll keep you updated, and in the meantime, you'll be able to find out more about the Intel Core P hardware inside this laptop from our other ultrabook reviews here on the site.
2022 XPS 13 Plus 9320 specs sheet, vs XPS 13 9310
Dell XPS 13 Plus 9320 (early-2022)
Dell XPS 13 9310 (early-2021)
Screen
13.4 inch, 16:10, FHD+ 1920 x 1200 px resolution, IPS, anti-glare, non-touch, 500 nits, 100% sRGB
13.4 inch, 16:10, FHD+ 1920 x 1200 px resolution, IPS, touch, 500 nits, 100% sRGB
13.4 inch, 16:10, 3.5K 3456 x 2160 px resolution, OLED, touch, 400 nits, HDR 500, 100% DCI-P3
13.4 inch, 16:10, 4K UHD+ 3840 x 2400 px resolution, IPS, touch, 500 nits, HDR 400, 90% DCI-P3
with edge-to-edge Gorilla Glass 7 on touch panels
13.4 inch, 16:10, FHD+ 1920 x 1200 px resolution, IPS, anti-glare, non-touch, 500 nits, 100% sRGB
13.4 inch, 16:10, FHD+ 1920 x 1200 px resolution, IPS, touch, 500 nits, 100% sRGB
13.4 inch, 16:10, 4K UHD+ 3840 x 2400 px resolution, IPS, touch, 500 nits, HDR 400, 90% DCI-P3
with edge-to-edge Gorilla Glass 6 on touch panels
Processor
12th gen Intel Alder Lake-P U28,
up to Core i7-1280P (14 cores, 20 threads, Turbo to 4.8 GHz) at 28W sustained
11th gen Intel Tiger Lake Cure U,
up to Core i7-1165G7 (4 cores, 8 threads @ 2.8-4.7 GHz)
Video
Iris Xe Graphics
Iris Xe Graphics
Memory
up to 32GB LPDDR5-5200 (soldered, dual-channel)
up to 32GB LPDDR4x-4266 (soldered, dual-channel)
Storage
1x M.2 80 mm PCIe 4.0 x4 , 256 GB to 2 TB
1x M.2 80 mm PCIe 3.0 x4, 256 GB to 2 TB
Connectivity
Killer WiFi 6E AX1675 WLAN, 2×2, with Bluetooth 5.2
Killer WiFi 6 AX1650 WLAN, 2×2, with Bluetooth 5.0
Ports
2x USB-C Thunderbolt 4
2x USB-C Thunderbolt 4, 1 MicroSD v4.0, headphone jack
Battery
55 Wh, 60W power adapter (USB Type-C)
52 Wh, 45W power adapter (USB Type-C)
Size
295 mm or 11.63″(W) x 199 mm or 7.83″(D) x 15.3 mm or .60″(H)
296 mm or 11.64″(W) x 199 mm or 7.83″(D) x 14.8 mm or .58″(H)
Weight
~1.25 kg / 2.73 lbs (+ power supply) for touch
~1.2 kg / 2.64 lbs (+230 g power supply) for non-touch
~1.3 gk / 2.8 lbs for touch
Extras
top-placed 720p camera with IR, on-key fingerprint sensor with Hello, 4x speakers
top-placed 720p camera with IR, on-key fingerprint sensor with Hello, 2x 2W bottom-firing speakers
Moving forward, the XPS 13 Plus 9320 completely replaces the previous design used with the XPS 13 9310 and 9300. That means there won't be any hardware refreshes of the previous chassis.
In the meantime, Dell have released an update of the standard XPS 13 chassis, the XPS 13 9315 mid-2022 model, which is a slight redesign of the previous XPS 9310/9300 models and a more standard approach than this XPS 13 9320.
Design and ergonomics
The XPS 13 is still a premium design entirely made out of CNC aluminum and glass. Dell offers the 2022 XPS 13 9320 model in two color options, a silver/white variant with a white keyboard (called Platinum), and a dark gray model with a black keyboard (called Graphite). Both look spectacular and are excellently crafted – very few other ultrabooks come near the XPS 13 series in terms of craftsmanship and attention to detail.
As far as the size and weight go, the 2022 XPS 13 is nearly identical to the previous generation and overall compact and portable for a 13-inch ultrabook, yet not as lightweight as some of the other options out there. I don't mind it, I can accept a little more weight in a balanced product that doesn't compromise on the build, specs, performance, or cooling.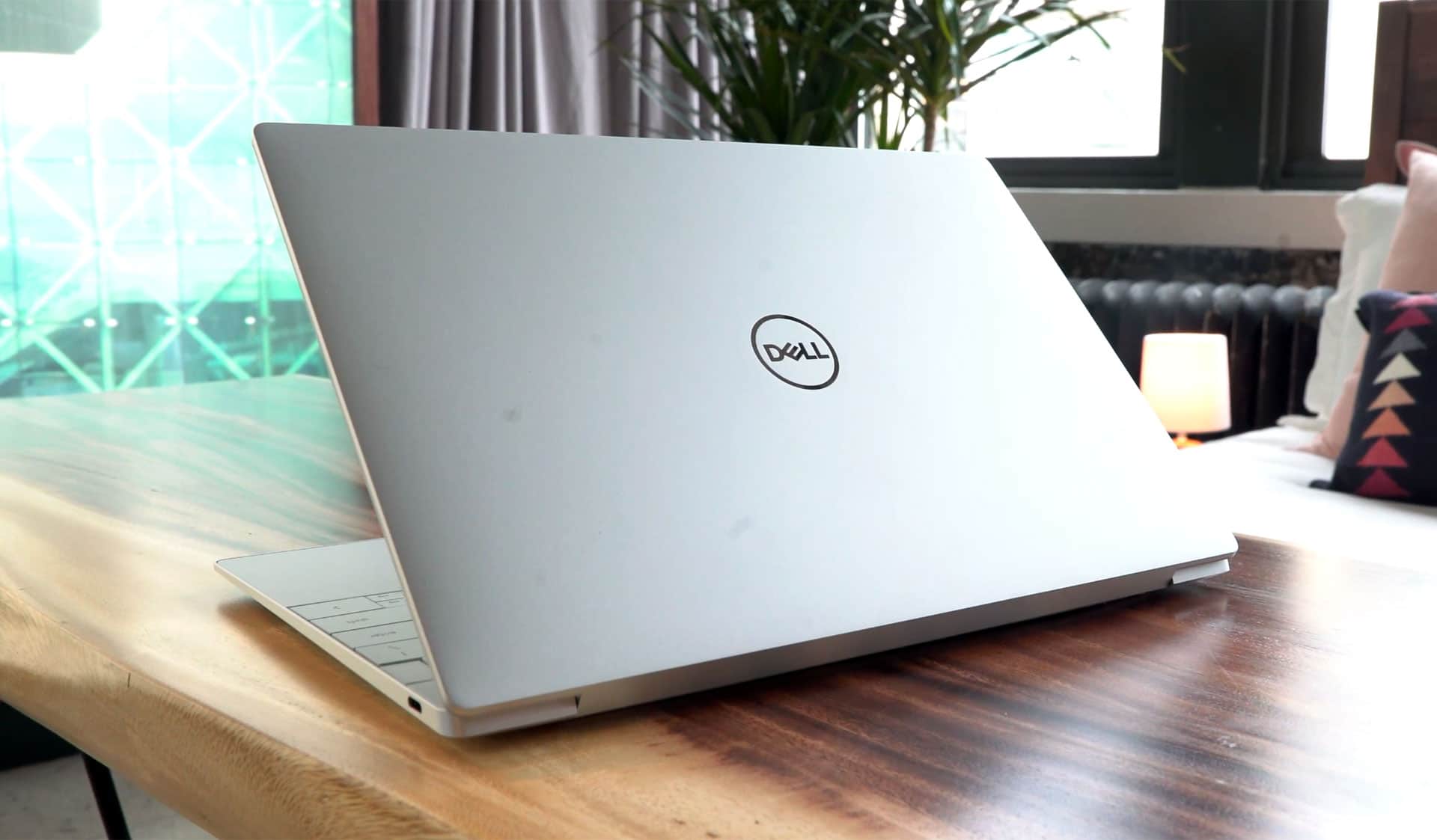 However, I still have some nits with the ergonomics of this XPS 13 series; the screens still only lean back to about 130-140 degrees, and not all the way back to 180. I've always found this a limitation on my XPS when using it on the lap or in cramped spaces, and Dell have refused to address it over the years.
And then there's the fact that the connectivity is USB-C only now, with only a Thunderbolt 4 slot on each side. There's no longer a microSD card-reader or a 3.5 mm audio jack, as with the previous generations. Heck, not even Apple went as far as removing the audio jack on their MacBook Air. Asus were the only one to dabble with it and took so much heat from reviewers and buyers that they quickly changed their mind and brought the jack back on the more recent updates.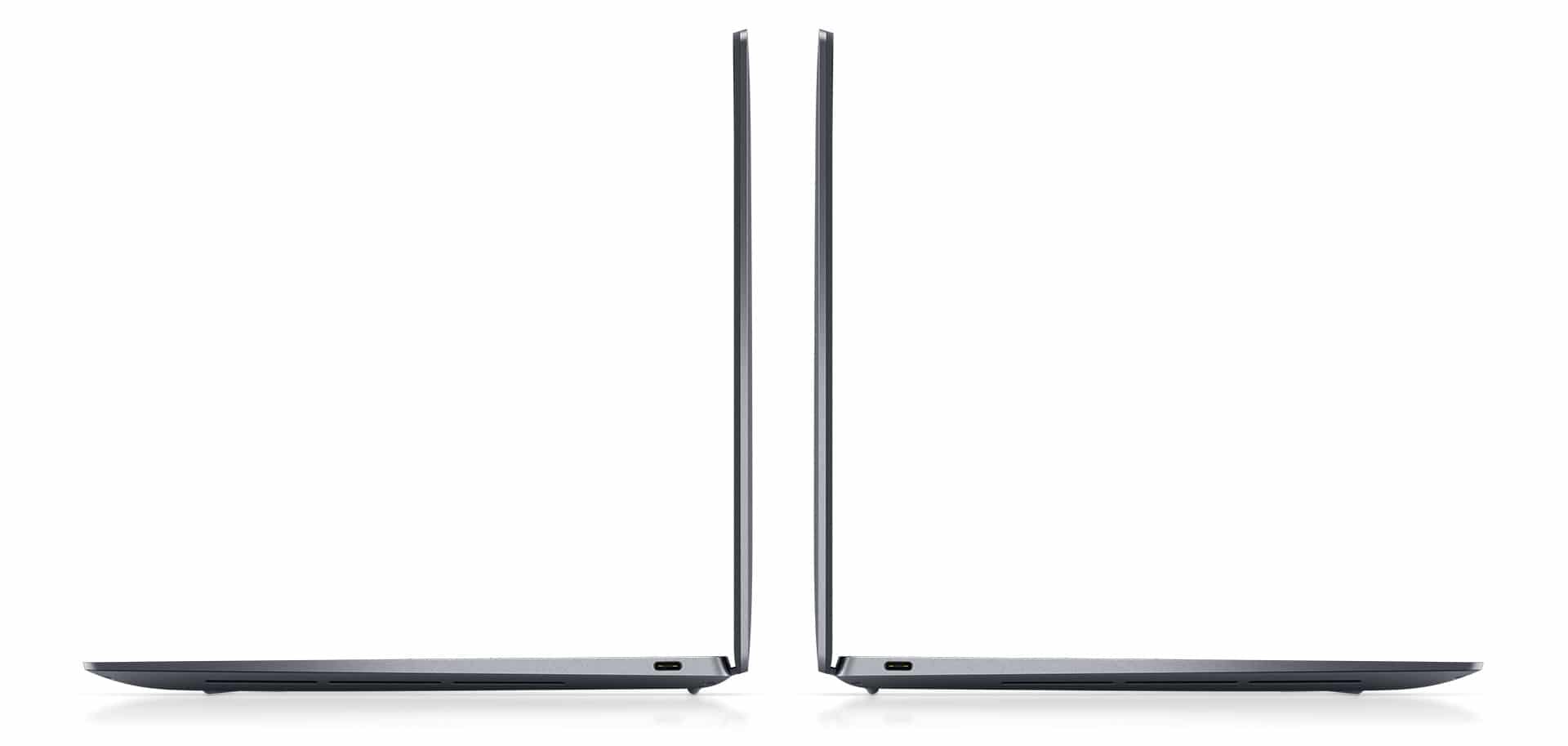 Besides this, there's also the redesigned interior to consider, with the unique and unexpected keyboard and clickpad. We'll get to them in the next section.
Inputs
I've added a picture of the interior deck of the 2022 XPS 13 next to the 2021 model.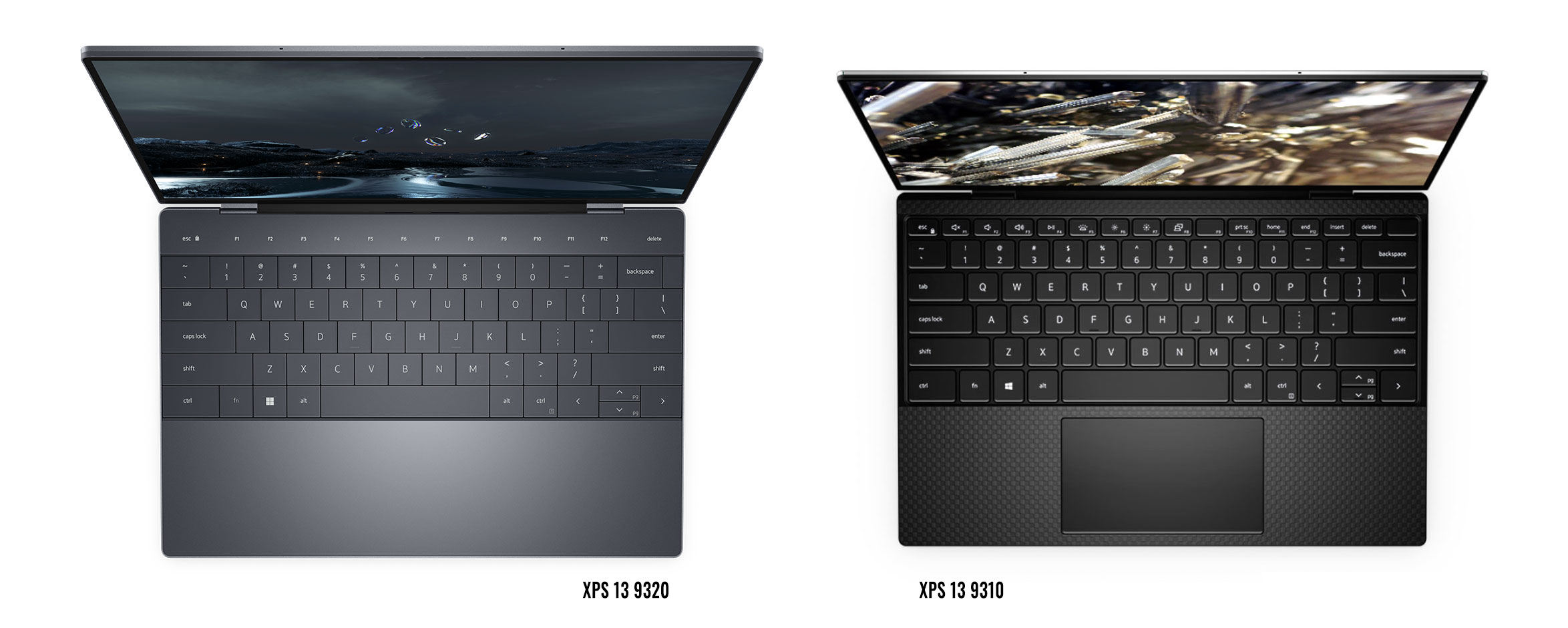 A few details come to mind. First off, the keyboard is entirely different from any other keyboards in the laptop space available right now.
The layout stretches the entire length of the chassis, which leads to unusually large keycaps, but there's also almost no spacing between the keys.  On top of that, the keys have a slightly concave dish shape and only travel 1 mm into the chassis. Finally, Dell ditched the top-row of function keys for a set of dual-functionality capacity zones at the top of the regular keys.
It's impossible to tell how this completely different implementation will affect the typing experience. On a first glimpse, what comes to mind is the butterfly keyboard on the previous MacBooks, but the keycaps are much larger here and the spacing is narrower. Hopefully, the .3 mm dish on the keycaps offers the tactile feedback and precision that Dell advertise in their release materials. I fear this keyboard might feel shallow and imprecise, but there's no way to tell without using it for a while. We're not attending CES in person this year, so look into other previews for more details.
As for the capacitive function keys, they can be switched between regular F and media functionality, with Esc and Delete remaining in place between the two modes. Dell mentions that by opting for this sort of thinner capacitive keys they were able to better use the interior space for an improved thermal module, in order to cope with the updated Intel hardware.
However, the only other past implementations that come close to this one are the Touch Bar in the previous MacBooks and the touchscreen function area in a very old ThinkPad X1 Carbon generation. Both Apple and Lenovo ditched those for a standard row of function keys in the meantime.
The other aspect that stands out is the lack of a distinct clickpad area on the wrist-rest, under the keycaps. And that's because the entire arm-rest is now a capacitive touchpad area with haptic feedback. In theory, this sounds like a potential winner, you get to click and tap anywhere you want on the arm-rest, without any rattling or clunky clicks. We'll have to see how this performs in practice, though, and especially how well Dell figured out hand and palm rejection with this sort of design.
All in all, Dell are venturing into murky waters with these inputs on the XPS 13 Plus series. Time will tell if this experiment will be a success or a failure. I'll need to spend time with the laptop before drawing any conclusions of my own.
Screens and audio
The 2022 XPS 13 Plus implements the same kind of 13.4-inch 16:10 displays previously used with the 2021 model.
That means we're given the choice of either a matte or a touch FHD+ IPS panel, a touch 4K IPS panel, and a touch 3.5K OLED option with higher contrast and color accuracy than the IPS versions, at 100% DCI-P3. We're most likely looking at a beautiful Samsung recent-generation OLED option, and based on our experience with other OLED laptops, the only potential concern is how Dell were able to address any potential flickering at lower brightness levels.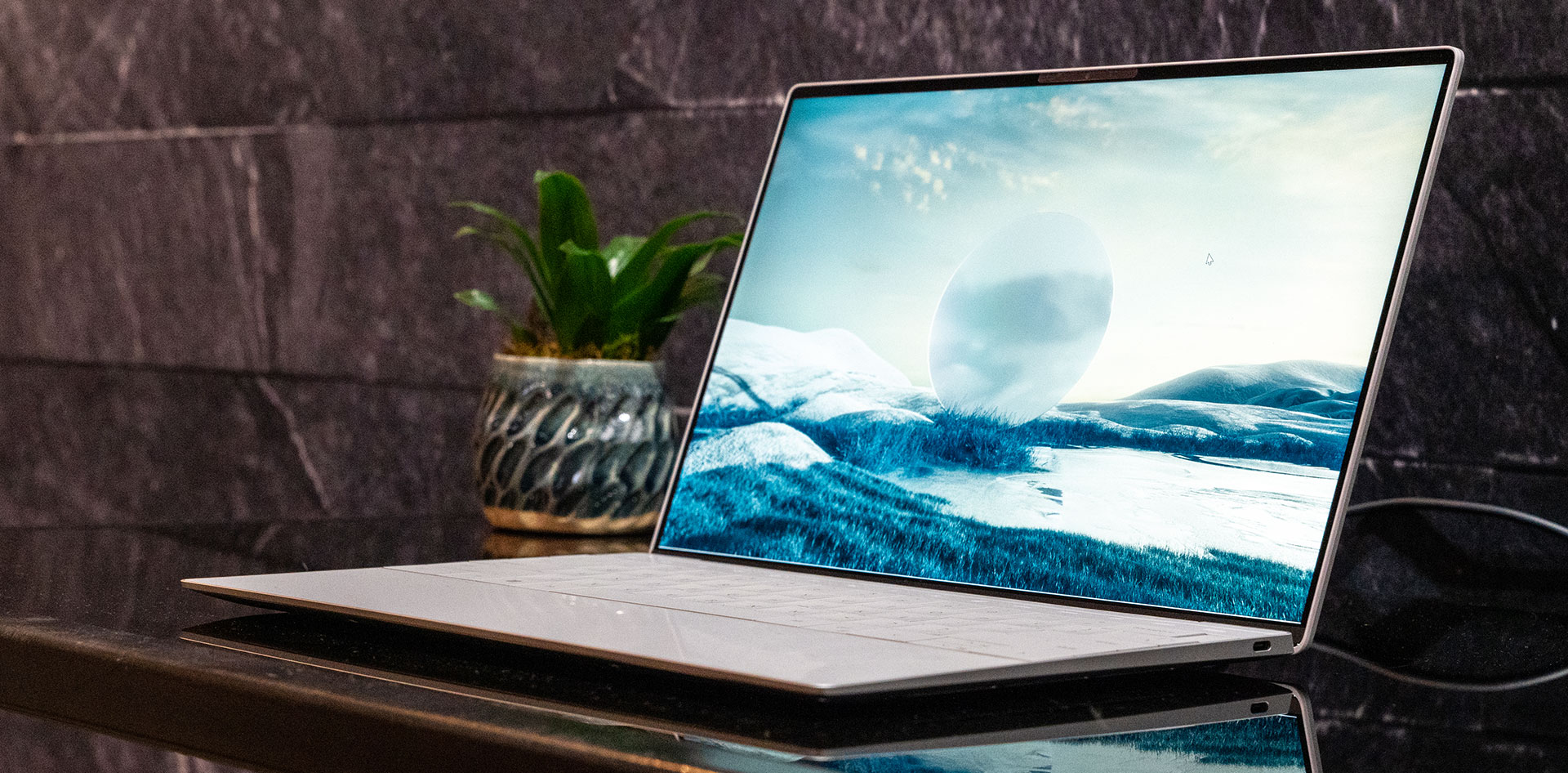 Overall, I'm happy to see all these different screen options available for the XPS 13 series, something I wish other manufacturers would also offer on their lineups.
It comes without saying that the bezels around the displays are still minuscule on the XPS 13 Plus, and that there's still a camera at the top, the same kind of HD model with support for Hello that was implemented on the XPS 13 9310. It does the job, but with rather washed out image quality. There's also a finger-sensor implemented on this series, in the top-right corner of the keyboard deck.
As a novelty for the 2022 XPS 13, audio is now handled by a quad-speaker system capable of louder volumes and improved quality, according to Dell.
As far as I understand, two of these speakers still fire through the cuts on the laterals, and two fire upwards through the keyboard. This is a much-needed update considering the audio quality of the previous generations and the higher and higher bar set by the competition in recent years.
Hardware, performance, and thermal design
Specs-wise, the Dell XPS 13 Plus 9320 series is built on Intel's 12th gen AlderLake-P U28 hardware, which is the 28W sub-platform meant for powerful portable devices.
This is paired with Iris Xe graphics, LPDDR5 memory, PCIe 4.0 storage, WiFi 6E+Bluetooth 5.2 connectivity, as well as support for Thunderbolt 4. Everything is soldered on the motherboard, except for the M.2 SSD.
Dell haven't provided a detailed look at the internal redesign, but have mentioned that they implemented a larger cooling module with higher-capacity fans stretched farther away to the sides, in order to allow for longer and larger heatsinks and radiators. The design still blows the hot air behind the hinge and partially into the screen, with the intakes placed on the laterals, and without open-intake grills on the D-Panel.
Overall, this design allows the AderLake hardware to run at 28-30W of sustained power in demanding loads, and paired with the updated Intel platform, will result in a major improvement in performance over the previous generation, both with everyday multitasking and especially in multi-threaded loads. The XPS 13 is not going to be unique at this, though, as most of the other manufacturers will offer ultraportable series built on Intel U28 and H45 Alder Lake platforms at the beginning of this year.
Dell also mentioned that despite the higher sustained power settings possible with the XPS 13 Plus, the internal/external temperatures and fan noise should not significantly differ from the previous XPS 13 models. That means you should expect the fans to keep at under 40 dB at full blast, but with fairly warm surface temperatures and some high internal peaks. We'll carefully look into the thermal/acoustic performance in our review.
For now, I'll also add that Dell were able to slightly bump up the battery size on the 2020 XPS 13 generation, to 55Wh capacity. The beefier hardware required a higher-capacity 65Wh charger as well, a little bigger and heavier than the 45W model offered with the previous variants.
Pricing and availability
Dell announced an $1199 MSRP starting price for the XPS 13 Plus 9320 series, with availability in Q1 2022 (Q2 2022). That's a higher starting price than with the previous generations.
You'll find the latest available configurations and updated prices on Dell's website.
Some final thoughts
On a first look, with the premium build, the updated hardware, thermal design, and battery, as well as the improved audio and the multitude of screen options, the 2022 XPS 13 Plus might have what it takes to continue the series' winning spree over the years.
However, Dell decided to experiment with this generation by opting for an atypical keyboard and clickpad design, which could end up being either a success and a unique selling point, or a potential deal-breaker for this XPS 13 generation. Furthermore, they also gimped the connectivity of this series, dumping the card reader and the audio jack, both decisions that affect the laptop's overall ergonomics in a negative way.
I look forward to spending more time with this laptop and gathering my thoughts for a proper review. In the meantime, I'm curious what you guys think about the hardware changes, the OLED screen option, the inputs, and the USB-C-only connectivity of this 2022 Dell XPS 13 Plus 9320 series.
Update:  Our detailed review of the XPS 13 9320 series is available here.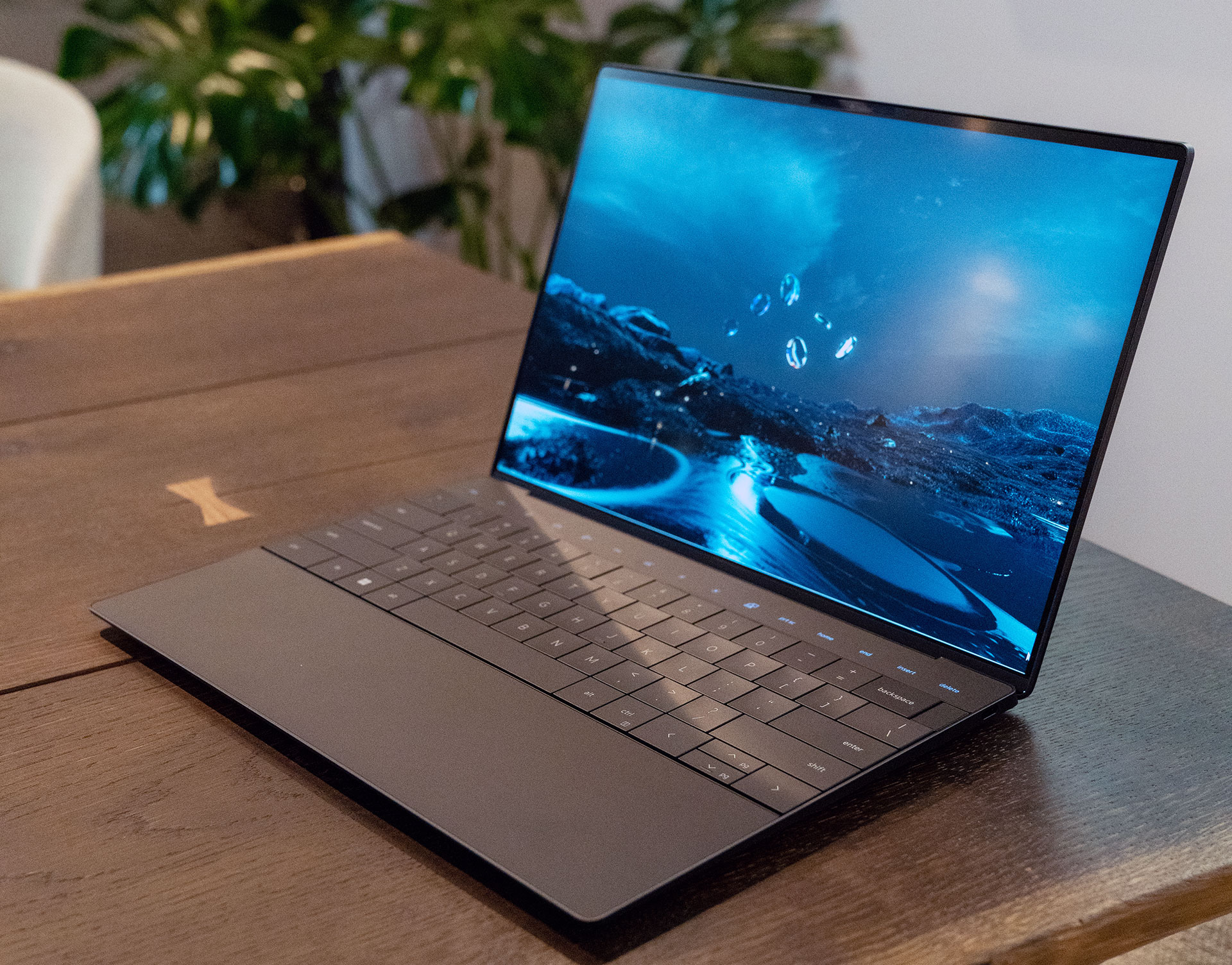 Disclaimer:
Our content is reader-supported. If you buy through some of the links on our site, we may earn a commission.
Terms
.