It took Nvidia a while to put the Turing GPU architecture inside laptops, but it's happening from the second half of January 2019, so you should stay tuned for our detailed reviews of various RTX notebooks in the weeks to come.
In the meantime, this article covers the new Asus ROG Zephyrus S thin-and-light gaming laptops built on Nvidia RTX 2080/2070 graphics chips.
We're not going to talk about performance here, but we'll update with links towards our more detailed posts once those are available. In the meantime, here's what to expect from these new 2019 Asus ROG gaming devices, what they do well and the potential quirks you should be aware of.
These names are a mouthful, in Asus's "good" tradition, but in fewer words they are compact and portable gaming laptops with modern features and the latest hardware specs, including Max-Q versions of the Nvidia Turing RTX 2080 GPUs designed for thin-and-light computers, or the full-power RTX 2070 chips.
The ROG GX531GX/GWs are merely hardware updates of the existing GX531GS we've covered in a previous article, but the GX701s are brand-new products, slightly larger and refined variants of the 15-inch models. Here's a quick specs-sheet of the two lines, and we'll get further in depth on their particularities down below.
Zephyrus S GX531GX/GW
Zephyrus S GX701GX/GW
Screen
15.6 inch, 1920 x 1080 px resolution, IPS AHVA, 144Hz, matte, non-touch, Pantone Validated
17.3 inch, 1920 x 1080 px resolution, IPS, 144Hz, GSync, matte, non-touch, Pantone Validated
Processor
Intel Coffee Lake Core i7-8750H CPU
Video
Intel HD + Nvidia GeForce RTX 2080 Max-Q(GX) or RTX 2070 (GW)
Nvidia GeForce RTX 2080 Max-Q (GX) or RTX 2070 (GW)
Memory
up to 24 GB DDR4 (8GB soldered + 1x DIMM)
Storage
1x 80 mm M.2 NVMe slots
2x 80 mm M.2 NVMe slots
Ports
1x USB-A 3.1, 2x USB-A 2.0, 1x USB-C gen 2 and 1x USB-C gen 1, HDMI 2.0, mic/earphone combo
1x USB-A 3.1, 2x USB-A 2.0, 1x USB-C gen 2 and 1x USB-C gen 1, HDMI 2.0, mic/earphone combo
Connectivity
Wireless AC Wave 2, Bluetooth 5.0
Wireless AC Wave 2, Bluetooth 5.0
Battery
50 Wh, 230 Wh power adapter
76 Wh, 230 Wh power adapter
Size
360 mm or 14.2" (w) x 268 mm or 10.5" (d) x 15.8 mm or .62" (h)
399 mm or 15.7" (w) x 272 mm or 10.7" (d) x 18.7 mm or .73" (h)
Weight
2.1 kg or 4.63 lb
2.7 kg or 5.95 lb
Extras
4-zone Aura multi-colored backlit keyboard with 1.2 mm of travel, backlit trackpad/numpad combo, HD webcam, dual speakers
per-key RGB lit keyboard with 1.4 mm of travel, backlit trackpad/numpad combo, external webcam, dual 2.5 W speakers
In fact, we'll mostly touch on the 17-inch models, as you can already find plenty about the 15-inch variants from the reviews of the previous hardware iterations.
In few words though, the GX531s are well built and perform well, but run noisy and lack certain features some might want on a gaming laptop, like Thunderbolt 3, GSync, per-key lightning control or multiple storage options, as well as have peculiarities that require time to get used to, like the keyboard's positioning where the palm-rest usually sits on regular laptops, as well as the limited battery life provided by the small 50 Wh battery inside.
The 17-inch Zehpyrus S GX701 models inherit some of these quirks, like the keyboard placement and lack of TB3, but at the same time address and improve on many other aspects. On top of that, the GX701 is a rather unique product, as there are few other ultra-compact 17-inch laptops with similar traits out there, thus some might be inclined to look past certain details in order to get that larger screen in this kind of a form-factor.
Speaking of the screen, the GX701s get a 17-inch FHD IPS matte panel with 144 Hz refresh-rate and GSync, which will improve the gaming experience in the newer titles. However, despite packing GSync, there's also Optimus on these laptops, so the battery life with regular use is not completely neutered. Speaking of that, the GX701 gets a 76 Wh battery and it can charge both via the included barrel-charger or via USB-C (slower, of course). GSync and Optimus don't normally play well together though; Asus claims you can switch between the two modes with a few clicks, but I'm curious on how they can achieve that, as the switch implied a system restart on other such dual-implementations we've seen in the past.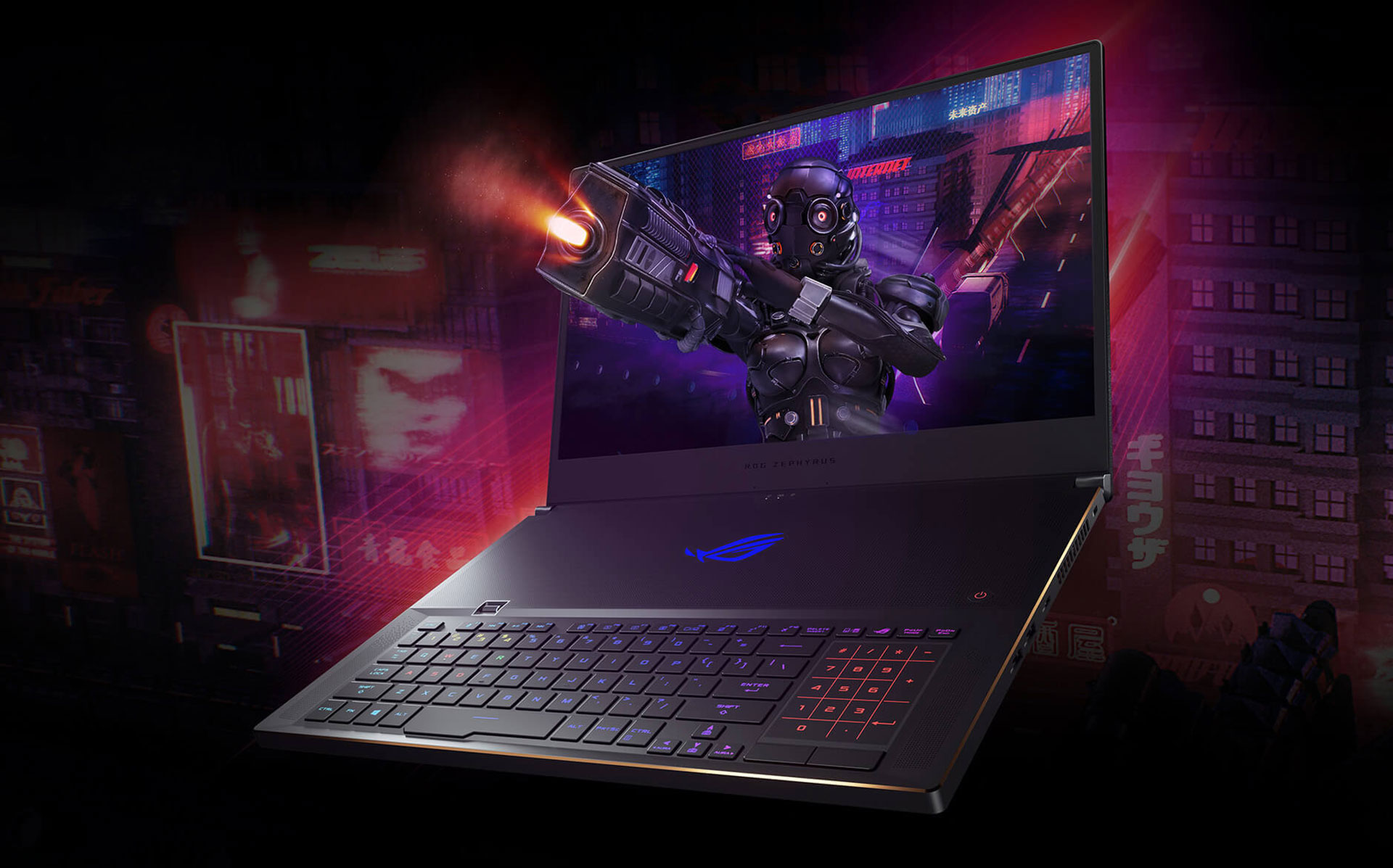 The display is also Pantone validated, which suggests good factory calibration and average color-accuracy, even if it's just a normal gamut panel with 100% sRGB coverage and not something graphics professionals will prefer for color-accurate work. In fact, if that's you, the StudioBook S W700 17-inch portable workstation might be better suited for your needs.
We can't move past the display without acknowledging those slim 6.9 mm top and side bezels around the actual panel, which left no space for a webcam, nor at the top or bellow the screen. Asus does however include an external USB webcam you can use instead, advertised at 1080p 60 fps, so supposedly better quality than the standard webcams you can find on most other laptops.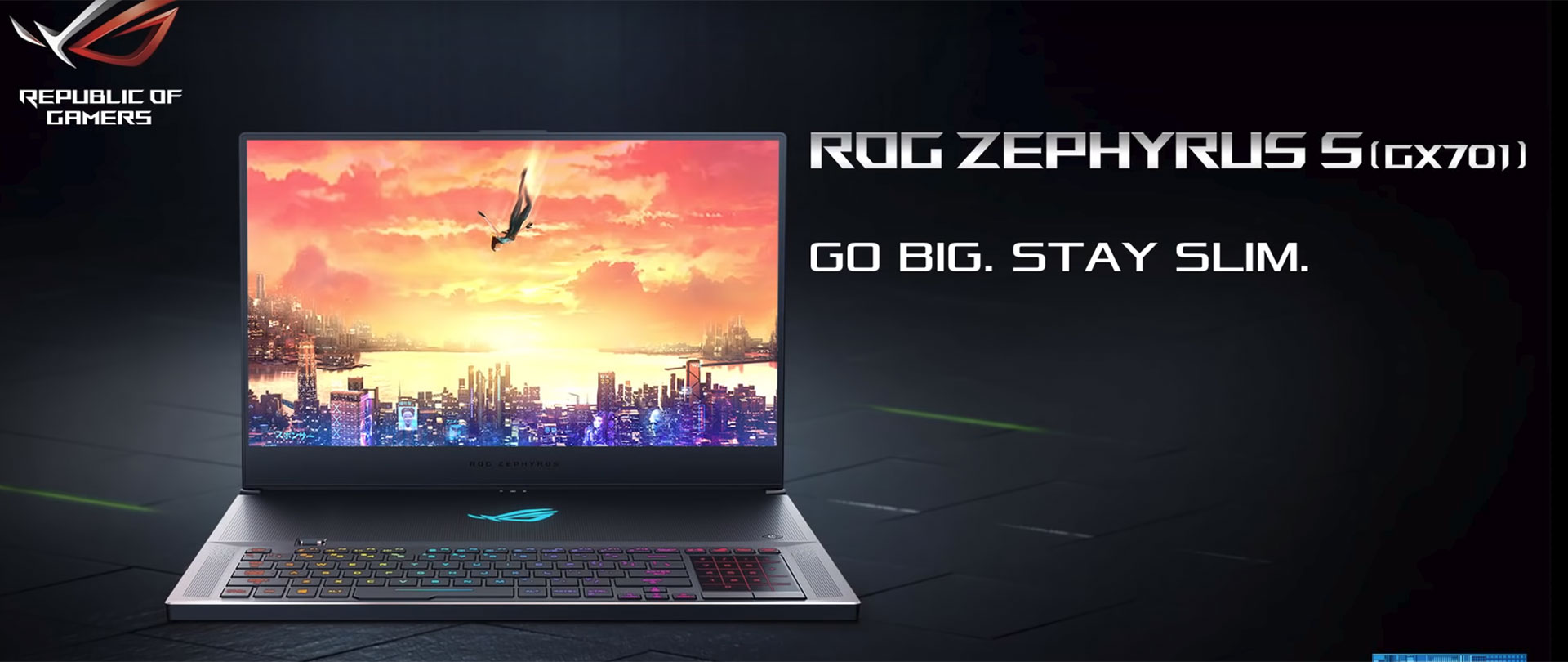 Screen aside, the GPU is the novelty on these 2019 Zehpyrus S model. We know that the 15-inch GTX 1070 Max-Q variants perform well, and that the 2019 updates use the same cooling design, so we should expect these to run fairly hot and fairly noisy with games, but at the same time deliver the gaming experience the hardware is capable of. The GX701s should run a little cooler and quieter though, given they're thicker and larger. Make sure to read in-depth reviews though once these laptops are actually available, in order to find more about performance, thermals and noise output, especially since RTX implementations are new and it's hard to say what to expect right now.
We can't also look past the fact that there's an RTX 2080 Max-Q GPU on the 2019 top-specked Zephyrus S model, as opposed to a GTX 1070 Max-Q on the 2018 GX531, so I'd expect a noticeable performance boost, as long as the cooling is able to keep the hardware in check.

The keyboard is another aspect where the GX701s improves on the 15-inch models. The layout and placement are similar, and it's just something you have to accept if you're interested in this laptop, but the keys travel deeper on the 17-inch variant and get brighter per-key illumination control.
On the other hand, having the clickpad at the right of the keyboard is still un-ergonomic, and Asus haven't added Thunderbolt 3 on these 2019 updates, despite that fact that most alternatives have been offering it for years now. And speaking of past reminiscences, the 2019 GX531 and GX701 both only get up to 24 GB of RAM (8 GB soldered and one available expansion slot), and the GX531 still gets a single PCIe x2 M.2 storage slot, while the 17-inch models at least get two M.2 slots for storage.
All in all, I expect the 2019 Zephyrus GX701 to turn some heads and attract quite a few potential buyers if the final products actually deliver at the performance, thermals and noise levels. This is not going to be a cheap-laptop by any means, but ultraportable gaming laptops have never been cheap, and those with a 17-inch screen squeezed inside a compact shell are even harder to come by and there's no wonder will demand a premium. In fact, there's only the MSI GS75 Stealth Thin you could consider instead, for the time being. The 15-inch GX531 on the other hand pales in the more competitive niche of 15-inch ultraportables, and its multiple quirks and lacks compared to the 17-inch variant sure don't help its cause.
Both the ROG Zephyrus S GX531GX/GW and the GX701GX/Gw will be available in Q1 2019, with pricing and configuration details to be further announced.