Alongside the refresh of their Slim 7 lineups of all-purpose ultraportables, Lenovo are also updating the premium-tier lineups of Yoga Slim 9i (14-inch) and Yoga Slim 7i Carbon (13-inch) ultrabooks for the second part of 2022, and we're going to discuss them in this article.
Just a heads-up, much like with all their Slim devices, these are sold as Slim 9i, Slim 7i Carbon on the American market, but as Yoga Slim 9i, Yoga Slim 7i Carbon on the European/Asian markets. Way to go making these names more confusing than they should be!
Anyway, these two are clamshell designs with 180-degree screens, and they join the already existing premium Yoga 9i 2-in-1 convertible that we reviewed a few weeks ago. They are premium builds, the highest-tier consumer Lenovo notebooks of the moment, and they are both Intel-exclusive designs built on 12th-gen Alder Lake Core P hardware.
Many aspects set them apart, but in broad terms, the Slim 7i Carbon is the more portable design, while the Slim 9i is the more versatile unit with a larger display, faster performance, and longer battery life.
Updates: We've reviewed both these laptops in the meantime, and here are the article: Lenovo Slim 7i Carbon review and Lenovo Yoga 9i review (the 2-in-1 version). And here are my thoughts on the newer 2023 Lenovo Yoga 9i and Yoga Book 9i dual-screen model, and here's our detailed review of the 2023 Lenovo Yoga 9i series.
Lenovo Slim 7i Carbon
The Slim 7i Carbon is, in fact, ultra-compact and ultralight, weighing just under 1 kilo. It kind of feels to me like a ThinkPad X1 Carbon with an aluminum chassis, available in a choice between three color variants (three shades of grey, illustrated down below).
It offers a 13.3-inch IPS display, stereo speakers, and a 50 Whr battery, as well as a lower-power implementation of the Core P hardware, at around 15W sustained. BTW, this generation of the 7i Carbon is nothing like the previous-gen 7i Carbon, which was a 14-inch laptop built on AMD hardware.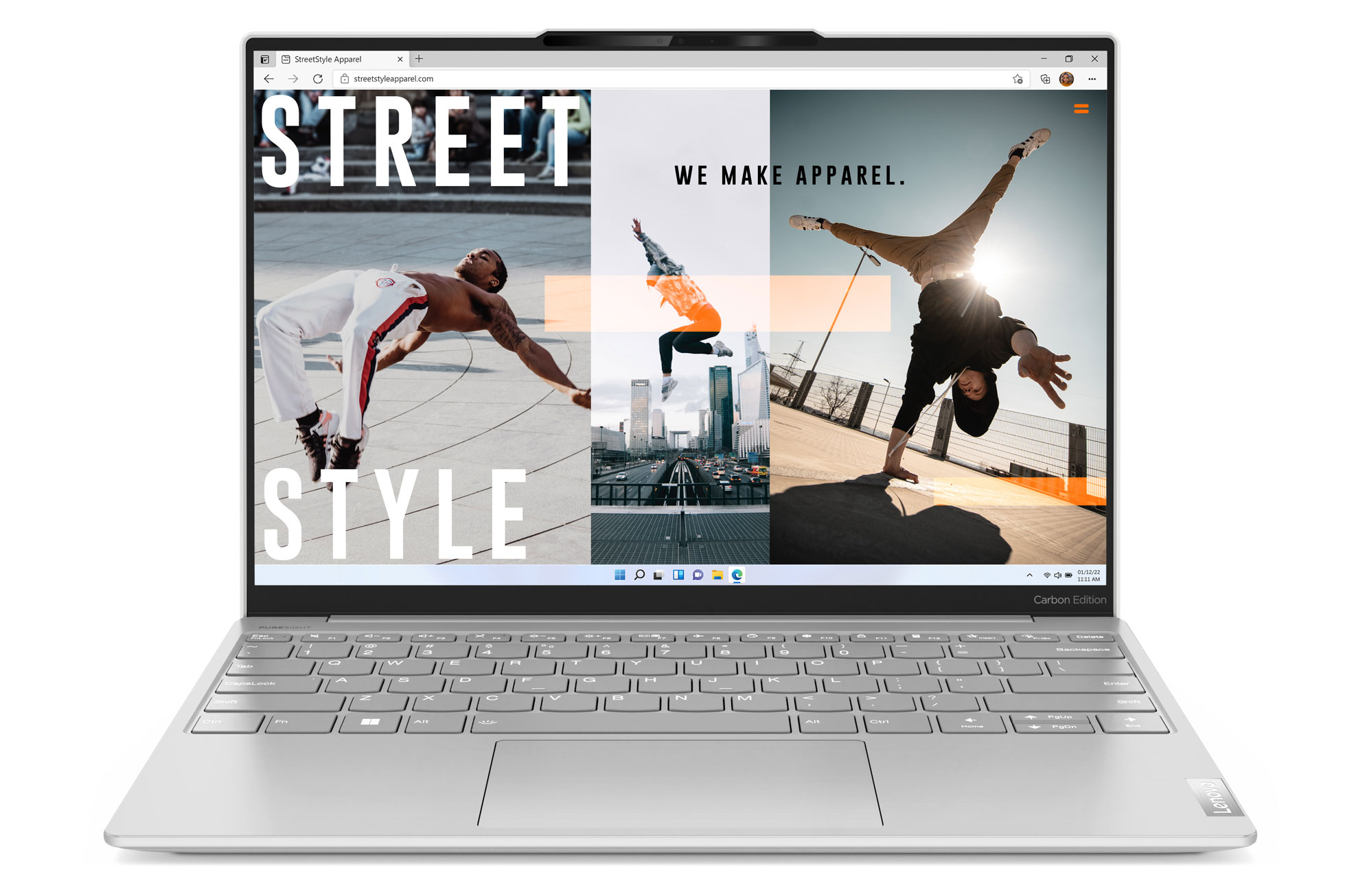 From what we know so far, the Intel Core P hardware is a snappy daily performer and a fair multitasker even in this kind of power-limited design, but it lacks in efficiency on battery, and that could be problematic given there's only a small 50 Wh battery in this unit. A Ryzen 6000 U platform would make more sense inside this product, and it's a pity Lenovo aren't offering one, unlike their competition in the niche with the ultralight HP Pavilion Aero 13 or Asus ZenBook 13 S.
The screen is one other aspect where the 7i Carbon might fail to meet all expectations, as this series is only available with a mid-level IPS panel with 100% sRGB color coverage, but without any of the newer OLED options with 100% DCI-P3 colors. On the other hand, the IPS screen is available in either a glossy-touch variant or in a matte non-touch finishing, with the latter being a potential strong point for the series.
One final aspect to consider here is pricing. The 2022 Slim 7i Carbon series is expected in stores around June 2022, starting at $1299 MSRP. That's competitive, and knowing Lenovo, you should expect further price cuts and discounts as we move further into the year, making this a potential best-buy in its class. Just make sure to understand what this sort of notebook can and cannot do.
Lenovo Slim 9i
The Slim 9i, on the other hand, is a clamshell sibling of the Yoga 9i, with the same overall design lines and 14-inch OLED display, quad up/down-firing speakers, a 75 Wh battery, and higher-power settings, at around 28-30W sustained.
This is also available in up to an Intel Core i7-1280P hardware configuration (6C+8Ec/20T), while the 7i Carbon is only offered up to Core i7-1260P (4C+8Ec/16T) specs, as its ultracompact design wouldn't be able to properly drive the extra cores on the 1280P, due to thermal/power constraints. Based on our review of the Yoga 9i, though, this 14-inch chassis is a better match for the Alder Lake Core P hardware.
Here's a side-by-side specs sheet of the two devices, for a better picture of the similarities and differences.
2022 Lenovo Slim 9i – review
2022 Lenovo Slim 7i Carbon – review
Screen
14 inch, 16:10 format, touch, 180-hinge
4K 60Hz or 2.8K 90Hz OLED, 400-nits with 100% DCI-P3 coverage
13.3 inch, 16:10 format, touch or matte, 178-hinge
2.5K IPS 90Hz, 400-nits with 100% sRGB coverage
Processor
Intel Alder Lake, up to Core i7-1280P, 6C+8E/20T
Intel Alder Lake, up to Core i7-1260P, 4C+8E/16T
Video
Intel Iris Xe
Intel Iris Xe
Memory
up to 32 GB LPDDR5-5600 (soldered)
up to 32 GB LPDDR5-4800 (soldered)
Storage
1x M.2 PCIe gen4 SSD
1x M.2 PCIe gen4 SSD
Connectivity
Wireless 6E, Bluetooth 5.2
Wireless 6E, Bluetooth 5.2
Ports
3x USB-C with Thunderbolt 4, audio jack, eShutter
2x USB-C with Thunderbolt 4, audio jack, eShutter
Battery
75 Wh, 65W USB-C charger with rapid charge
50 Wh, 45W ?? USB-C charger with rapid charge
Size
315 mm or 12.52" (w) x 214 mm or 9.06" (d) x 14.9 mm or 0.6" (h)
301 mm or 11.65" (w) x 206 mm or 8.22" (d) x 14.8 mm or 0.58" (h)
Weight
from 3 lbs (1.437 kg) + charger
from 2.13 lbs (.97 kg) + charger
Extras
white backlit keyboard, FHD webcam with IR, eShutter, quad 2x 2W up + 2x 3W bottom speakers,
Oatmeal color
white backlit keyboard, HD webcam with IR, eShutter, bottom-firing stereo 2x 2W speakers,
Storm Grey, Cloud Grey, Moon White colors
All in all, you should expect fair performance with the Yoga 9i when it comes to daily use, multitasking, and even some heavier workloads. Paired with the OLED display with 100% DCI-P3 color coverage, this makes sense as a potential ultraportable Creator laptop, but is also an excellent daily driver, thanks to the snappy hardware, the beautiful display, the comfortable inputs, and the punchy audio. The IO is somewhat limited, though, as you're only getting USB-C ports with this design (but with full TB4 support on all 3 slots).
Lenovo also offers quad-speakers with this ultrabook and most likely a sound experience close to what the Yoga 9i convertible delivers. The omnidirectional hinge soundbar offered with the Yoga model is not available here, though; instead, the tweeters are implemented to the left/right side of the keyboard deck, while the main speakers are still on the underside.
I'll also add that the 75 Wh battery inside this laptop allows for 4+ hours of multitasking and 6+ hours of video, based on our findings on the Core P powered Yoga 9i, somewhat compensating for the hardware's lack in efficiency at this point. Lenovo should be to further refine the power drains with future software/BIOS updates, as other Core P units that we've tested were able to run for longer than the reviewed Yoga 9i.
All these aside, the 2022 Lenovo Slim 9i is expected in stores around June 2022 as well, but starts at $1799 MSRP, which is significantly more expensive than the 7i Carbon.
In fact, it's a lot more expensive than the already existing Yoga 9i, which you can find for as low as $1200 in the entry-level specs, with an IPS display. There seems to be no IPS screen option for the clamshell model, and that's driving the prices up. I do have a rather hard-time understanding the added value proposition for this clamshell Slim 9i model versus the convertible Yoga 9i, though – I expect some differences in the available configurations for the two, but given how they are identical designs and features, I'd expect the clamshell to sell for less than the hybrid model, not more.
We'll know more in the future, once these are listed in stores and we get to properly review them. In the meantime, get in touch in the comments section down below with your thoughts and feedback on these two Lenovo Slim lineups.
Disclaimer:
Our content is reader-supported. If you buy through some of the links on our site, we may earn a commission.
Terms
.