The Lenovo Yoga 9i series needs no introduction, as it has been Lenovo's premium-tier lineup of convertible 2-in-1 ultrabooks over the last years.
For 2023, Lenovo offers an updated Yoga 9i (gen8) with 13th-gen Intel specs and a selection of OLED displays, but otherwise the same premium chassis and particularities of the 2022 Yoga 9i model reviewed here.
However, there's now one more member in this lineup, one that will surely catch a lot of attention: the Lenovo Yoga Book 9i, which is a rather unique dual-screen OLED laptop. Remember the Microsoft Surface Duo? This is the same format, just in a larger size with two 13.3-inch OLED displays.
So instead of integrating a main chassis with a keyboard and a touchpad and an armrest like all other regular laptops, the main chassis has an extra display on this Book 9i. A physical keyboard is included as well, though, but it's a detachable Bluetooth keyboard similar to the one offered with the foldable Lenovo ThinkPad X1 Fold discussed in here. The Book and the Duo are quite different designs, though, as you'll see in a bit.
Lenovo Yoga Book 9i (dual-screen), Yoga 9i gen8
But first, here's a full specs sheet of the two Lenovo Yoga 2023 models.
Lenovo Yoga Book 9i OLED – review
Lenovo Yoga 9i OLED, gen8 – review
Screen
dual 13.3 inch displays, 16:10, glossy, touch,
OLED 2.8K 2880 x 1800 px, 60 Hz, 400 nits, 100% DCI-P3
14.0 inch, 16:10, glossy, touch,
OLED 4K 3840 x 2400 px, 60 Hz, 400 nits, 100% DCI-P3
OLED 2.8K 2880 x 1800 px, 90 Hz, 400 nits, 100% DCI-P3
Processor
Intel Raptor Lake 13th-gen Core U,
up to Core i7-1355U, 2C+8c/12T
Intel Raptor Lake 13th-gen Core P,
up to Core i7-1360P, 4C+8c/16T
Video
Intel UHD, 96 EUs, up to 1.3 GHz
Intel UHD, 96 EUs, up to 1.5 GHz
Memory
up to 16 GB LPDDR5x-6400 (soldered)
up to 16 GB LPDDR5-4800 (soldered)
Storage
1x M.2 PCIe 4.0 x4 SSD (Samsung PM9A1), single M.2 2280 slot
gen4 SSD , single M.2 2280 slot
Connectivity
Wireless 6E, Bluetooth 5.2
Wireless 6E, Bluetooth 5.2
Ports
3x USB-C with Thunderbolt 4 (full function), audio jack
1x USB-A 3.2 Gen 2, 1x USB-C 3.2 gen2 (PD 3.0, DP 1.4), 2x USB-C Thunderbolt 4 (PD 3.0, DP 1.4), audio jack
Battery
80 Wh, 65W USB-C charger with quick-charging
75 Wh, 65W USB-C charger with quick-charging
Size
299 mm or 11.78" (w) x 204 mm or 8.03" (d) x from 15.95 mm or 0.63" (h)
318 mm or 12.52" (w) x 230 mm or 9.06" (d) x from 15.25 mm or .6" (h)
Weight
~3.05 lbs (1.38 kg) + charger
~3.1 lbs (1.4 kg) + charger
Extras
convertible format with 360-hinge, detachable keyboard folio, 5MPx webcam with IR and camera shutter, quad-speakers – Bowers&Wilkins, Tidal Teal color
convertible format with 360-hinge, white backlit keyboard, glass touchpad, 2MPx webcam with IR and camera shutter, quad-speakers – Bowers&Wilkins, Storm Grey and Oatmeal colors
2023 Lenovo Yoga 9i
Let's get this out of the way, as the 2023 Yoga 9i is merely a hardware update of the previous generation, with the same design, features, and particularities.
Update: Here's our detailed review of the 2023 Lenovo Yoga 9i series, and here's our review of the Lenovo Yoga Book 9i dual-screen model.
This is a premium constructed convertible laptop, with a 14-inch 16:10 OLED display, good inputs and IO, and a powerful implementation of the Intel Core P hardware. That's made possible by a complex thermal module with two fans and two radiators, the like only a few other similar devices offer (such as the Asus ZenBook 14X or the Dell XPS 13 Plus).
For the 2023 generation, the hardware specs have been bumped to an Intel Core i7-1360P 13th-gen processor and LPDDR5x memory. The i7-1360P is a refinement of the i7-1260P in the previous model, running at marginally higher clocks and somewhat more efficient on battery use.
Note: If interested, a Pro version of this series is available as well, with higher-power hardware, dedicated graphics and a mini LED display. Here's our review of this Lenovo Slim/Yoga Pro 9i series.
In fact, the long battery life is one of the main selling points of this series, as it integrates a large 75Wh battery inside. The other is the excellent audio system, with quad speakers integrated into the hinge and inside the main chassis.
And then there's the beautiful OLED display, although that's rather common on premium ultrabooks these days and not a differentiator for this series.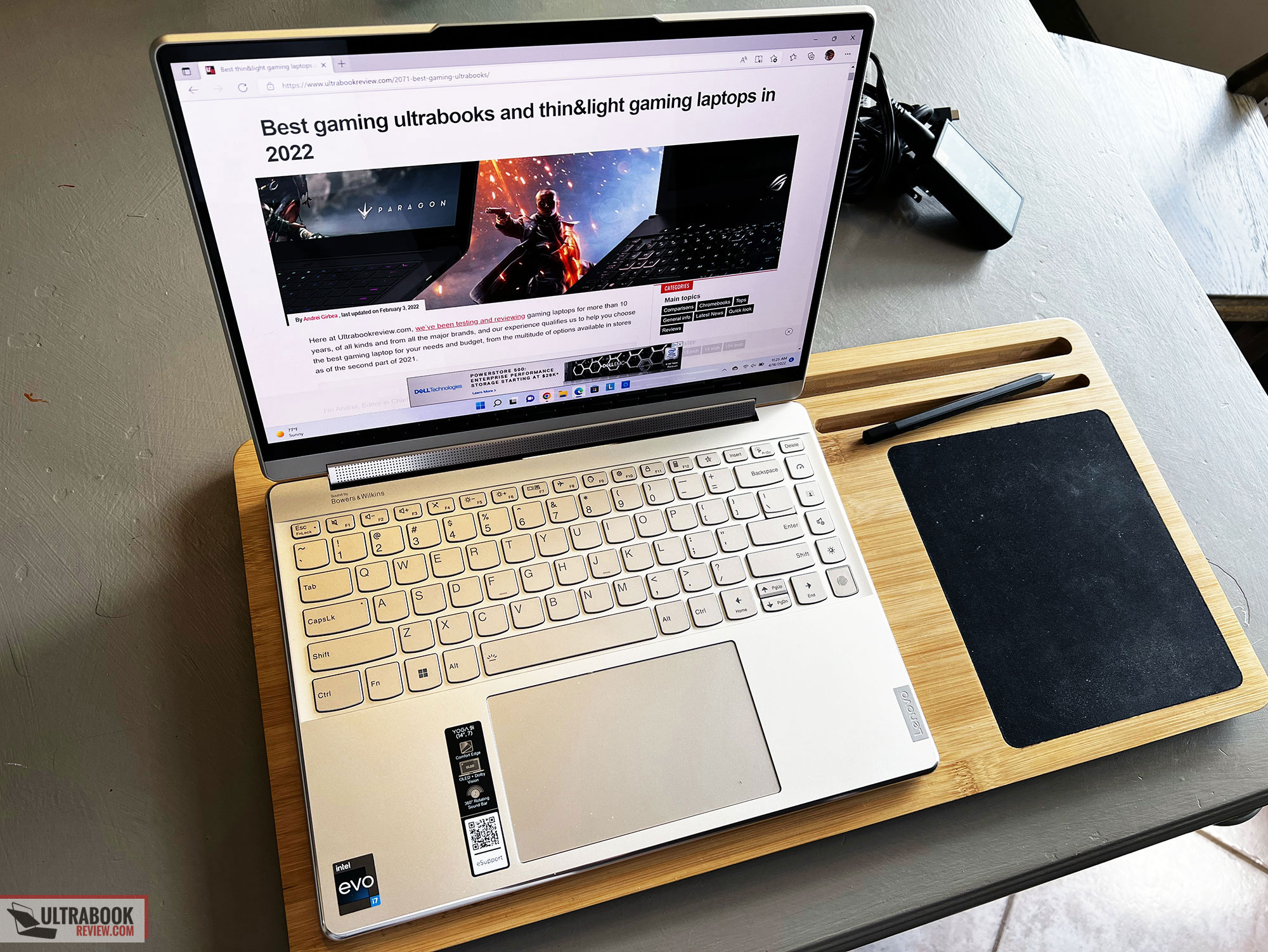 Btw, Lenovo offers this Yoga 9i in two color versions, a lighter one called Oatmeal and a darker one called Storm Grey. The one we've reviewed and illustrated above is the Oatmeal model, but I've also included a picture of the two side by side, so you'll know what to expect in each case.

You'll find our detailed impressions of the Lenovo Yoga 9i series in this review, and we'll follow up with a review of the 2023 model at some point in the year.
The updated generation is expected in stores around April 2023, starting at $1499 in the US.
Lenovo Yoga Book 9i
Images speak for themselves with this laptop.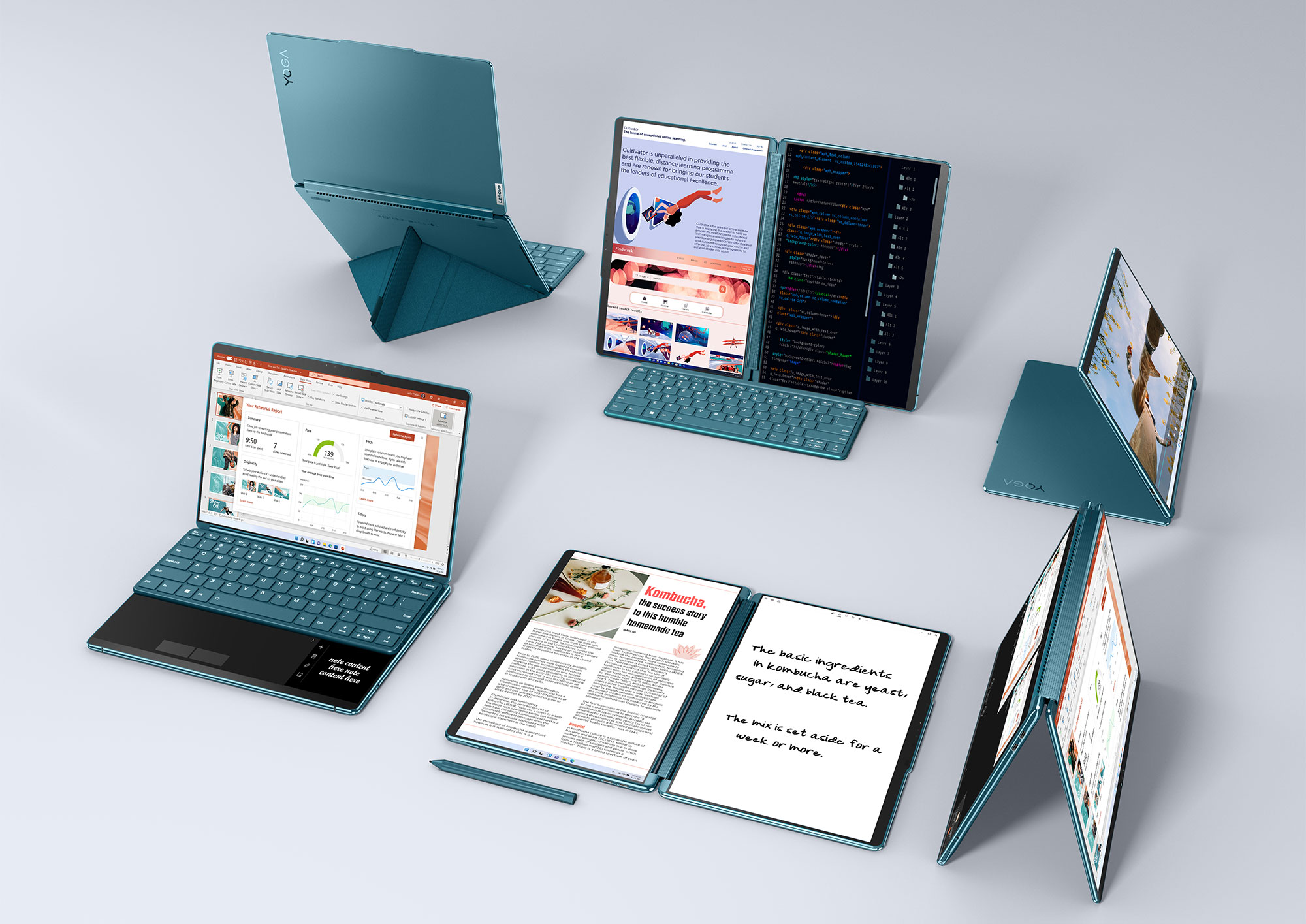 And this video from The Verge:
This Yoga Book 9i offers two 13.3-inch touch OLED displays plastered over a premium metal chassis, with the two sides joined together by the same hinge design as on the regular Yoga 9i, with speakers inside. Together, the whole thing weighs around 3 lbs and is very compact for a 13-incher, as you can tell from the small bezels around the displays.
One half is a little thicker than the other, as you can see in this following profile image, and that incorporates the hardware and an 80Wh battery, which is huge for a 13-inch device.
The specs are a low-power Intel Core U platform, though, and the small motherboard and cooling module allow the interior space for that larger battery. I don't have a pic of the internals yet, but will add one at some point.
Based on our past experience with similar Core U devices, the hardware can handle light use and some multitasking, but will choke when pushed. So don't expect to run demanding workloads on this sort of design.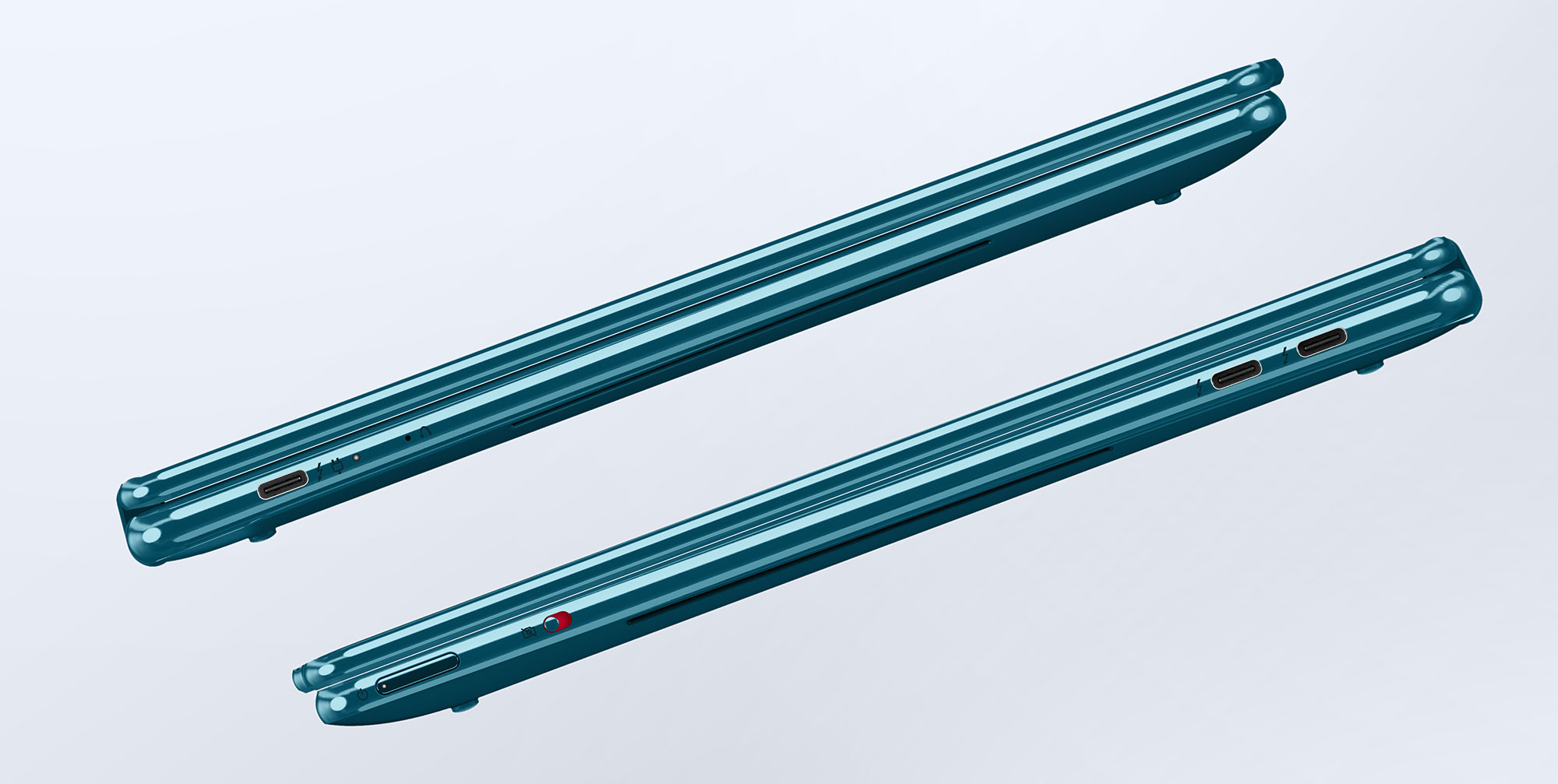 This whole format is made for multitasking and productivity, though, and I hope the platform is up to the task. This seems to be actively cooled, which is a good sign (if tuned properly and doesn't end up running loud).
So how can you use this Yoga Book 9i device?
Well, you're presented with two screens when you open it up. Plus a separate Bluetooth keyboard and an origami of a kickstand.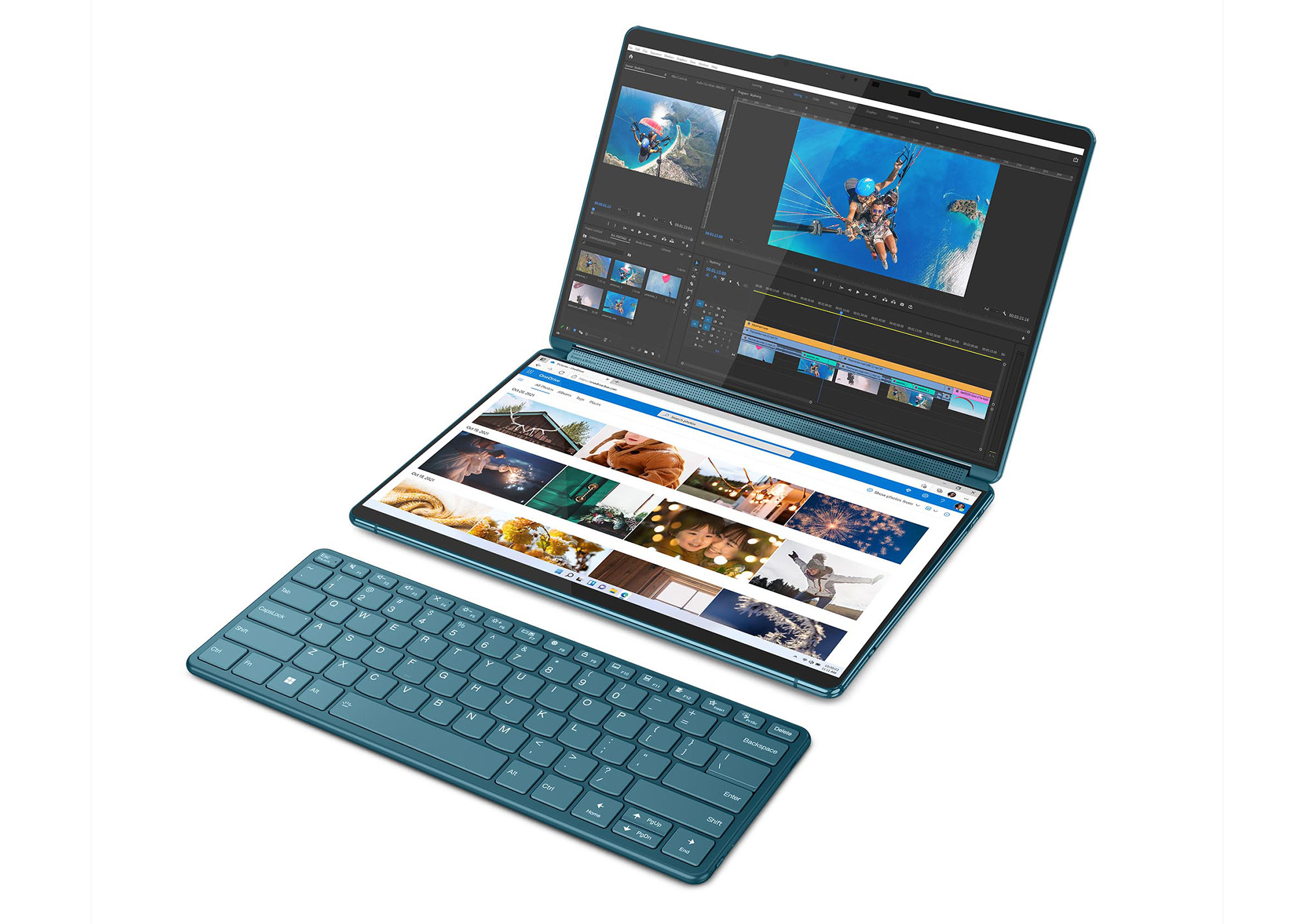 You can fold that kickstand into a support for the device, either in portrait or landscape mode. I haven't used it, so I can't comment on its stability and practicality.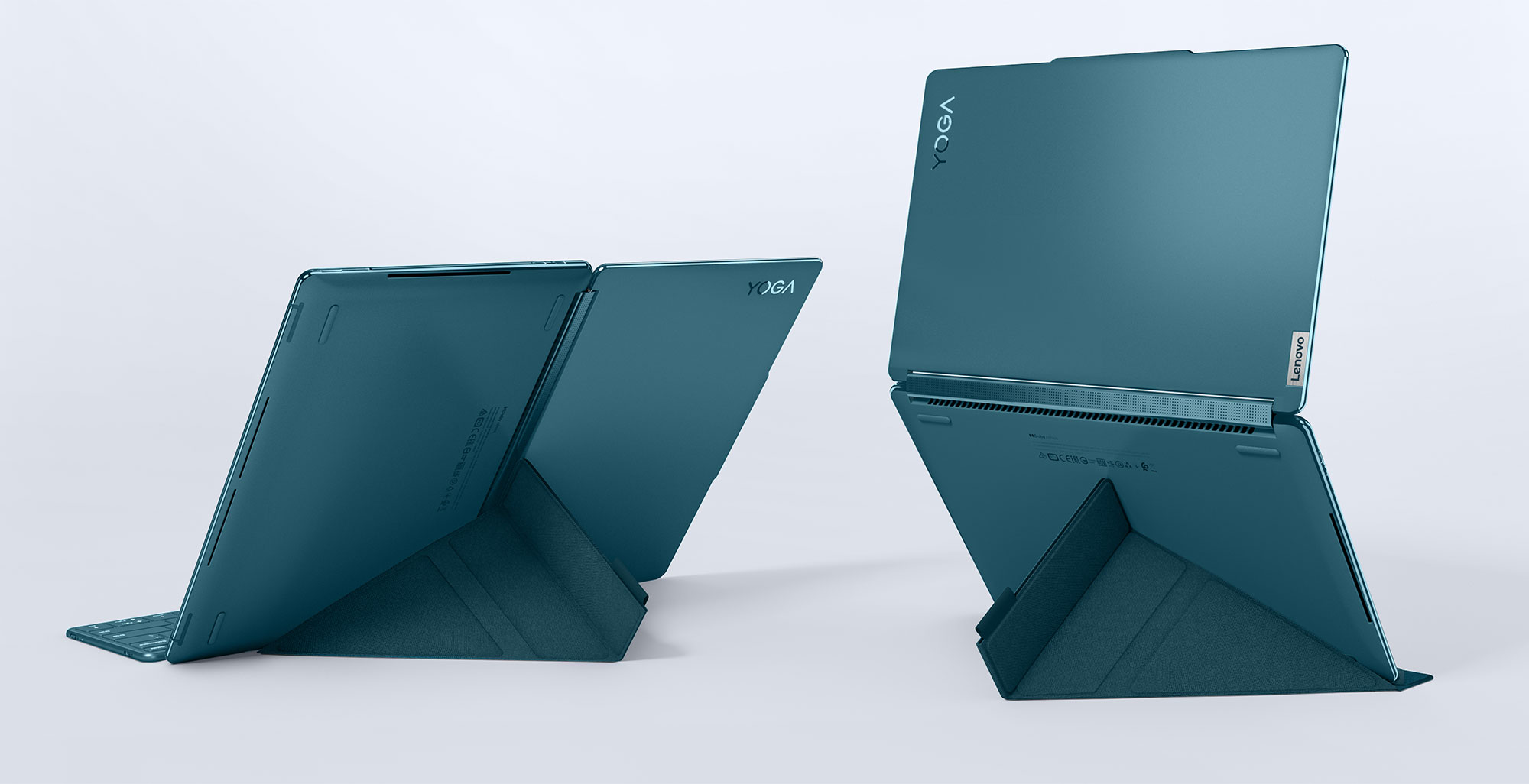 You can also choose not to use the kickstand, of course, and fold the screens into a tent mode, but then you only get access to one of the screens, and not both.
For me, the laptop, tablet, and PC modes make the most sense on this sort of design, one when on the go, one for inking/drawing (with the included pen), and the other for desk use. In fact, that's how I mostly used the foldable concepts that I got my hands on in the last year as well, the ZenBook Fold and the ThinkPad X1 Fold.
Of course, the experience for PC mode is better with those foldables, as they provide a big full screen instead of two separate ones as with this Book 9i. At the same time, though, this dual-screen format should be more reliable and more affordable, as the moving part is the hinge, as that's an already tried and tested design in the past Yoga 9i convertible models. Furthermore, the panels are tightly placed inside metal frames and covered by protective glass here, and not by a plastic film as on the foldables.
But you won't be able to comfortably use this as a single large display, which is one of the main reasons that I liked the foldables so much – I mean you can extend content on the two screens, but you'll always have a thick bezel in between, no matter what. So this design is better suited for showing different content on the two sides – even the demo images present the same idea.
As far as pricing goes, Lenovo announced this should be available around early summer for $2099 (US) and 2699 EUR (Europe). The X1 Fold, on the other hand, was announced at $2499 (without any accessories), but is not yet available in stores, while the ZenBook Fold is $3499 (including the keyboard, pen, folio). So yes, this Yoga Book 9i is going to be cheaper.
However, my time with a foldable convinced me of their practicality, to the point that I'm pretty sure I'm buying a foldable in a year or two (or three), when the technology matures and gets cheaper. But this sort of dual-screen format? Idk.
The two displays are surely useful for multitasking, providing pretty much a dual-screen setup. But for laptop use, a regular convertible like the Book 9i (or others) is more practical.
The Book 9i sure looks cool in these pictures and there's also a wow factor about it when at first, but this will eventually fade away and you'll be left with a computer that needs to handle your everyday tasks in a practical manner. I'll try to get my nads on one of these and spend actual time with it, see how it performs and how practical it actually is in daily use. And then I'll have some conclusions.
Update: Here's our detailed review of the 2023 Lenovo Yoga 9i series, and here's our review of the Lenovo Yoga Book 9i dual-screen model.
For now, I'm curious about your thoughts on this dual-screen laptop, so get in touch down below, in the comments section.
Disclaimer:
Our content is reader-supported. If you buy through some of the links on our site, we may earn a commission.
Terms
.