A couple of weeks back, I gave a very lengthy comment answer to the question concerning if I preferred the Razer Blade 16 over the Asus ROG Flow X16 or not.
In many ways, I leaned towards the ROG Flow X16, which has been my everyday laptop since last year, but there are some areas where the Razer Blade 16 shines.  It all comes down to personal preference and performance needs too.
So in the following sections, I'll give you a direct comparison of these two laptops in my own opinion.  It's not completely apples to apples though, as the Asus ROG Flow x16 I have is from last year which has a different CPU and GPU than the one from 2023.  But between this and Andei's upcoming 2023 Asus x16 review, you should be able to put it all together as to what would suit you best.
First, let's start by showing the differences in the specs:
Specs as reviewed
Razer Blade 16 (2023)
2022/2023 Asus ROG Flow x16 GV601
Screen
16 inch, 2560×1600 px, IPS, 240 Hz, 3ms, MUX switch, 100% DCI-P3
16 inch, 16:10 2560×1600, touch, glossy, mini LED, 100% DCI-P3 with HDR1000
Processor
Intel i9-13950HX, 24 core, 32 threads (5.5 GHz max)
AMD Rembrandt, Ryzen 9 6900HS, 8C/16T, up to 90W TDP sustained – 2022 model
Intel Raptor Lake, C0re i9-13900H, 14C/20T, up to 100W TDP sustained – 2023 model
Video
Intel Iris Xe + Nvidia GeForce RTX 4080 with 12GB of DDR6 VRAM
Radeon + Nvidia GeForce RTX 3070Ti 8GB VRAM, MUX and Adaptive Sync, 125W TGP with Dynamic Boost – 2022 model
UHD + Nvidia GeForce RTX 4070 8GB, MUX and GSync, 120W TGP with Dynamic Boost – 2023 model
Memory
32 GB DDR5 5600Mhz (2x 16GB DIMMS)
32 GB DDR5-4800 (2x 16GB DIMMS) – support up to 64GB
Storage
1x 1TB M.2 NVMe gen4 (SSSTC) + extra slot
1x 1TB M.2 NVMe gen4 (Micron) + extra slot
Connectivity
Killer AX211 Wifi 6E with Bluetooth 5.2
WiFi 6E Mediatek 7922 with Bluetooth 5.2
Ports
left: DC-in, 2X USB 3.2 Gen 2 Type A, 1x USB3.2 Gen 2 Type C, headphone/mic combo
right: lock, HDMI 2.1, 1x USB 3.2 Gen 2 Type A, 1x USB Type C with Thunderbolt 4, UHS-II SD Card reader
2x USB-A 3.2 gen1, 1x USB-C 3.2 (TB4 on 2023 model) with data, video and charging, 1x ROG xGM port with USB-C, HDMI 2.0b, micro SD card reader, headphone/mic combo
Battery
95.2 Wh, 330 W GaN charger
90 Wh, 240 W charger, USB charging up to 100W
Size
355 mm or 13.98" (w) x 244 mm or 9.61" (d) x 21.99 mm or .87" (h)
355 mm or 13.98" (w) x 243 mm or 9.57 (d) x 19.4 mm or .76" (h)
Weight
2.45 kg (5.4 lbs)
2.08 kg (4.58 lbs)
Extras
clamshell format, backlit keyboard(RGB), FHD webcam with IR, quad speakers, vapor chamber cooling, SD card reader, HUGE trackpad
2-in-1 convertible format, single zone backlit keyboard(RGB), HD (FHD on 2023 model) webcam with IR, quad speakers, microSD card reader, tri-fan cooling,
Construction and Design
If you read both my reviews (Blade 16, ROG Flow X16, ROG Flow X16 2023), I gave both laptops good grades when it comes to the overall design and build quality.  But there are very different reasons I liked both of them and even spelling it all out, it's not easy to pick a clear winner.
The Razer Blade 16 is arguably the more solid feel, as it's built on a unibody construction out of a single piece of aluminum.  There's literally no flex anywhere on the laptop, including the lid.  The ROG Flow x16 is still well built and doesn't have a lot of flex, but because it's a stamped construction, it doesn't have the same robust feel to it.  Realistically, the only noticeable flex on the x16 is in the center of the lid part – but you really aren't going to be pressing there, are you?
One of the biggest differences you'll see between the two laptops is the materials and finish they used on the metals.  Asus went with a magnesium alloy for the palm rest with an aluminum lid and bottom cover.  The magnesium alloy portion is nice because it wards fingerprints and looks exactly the same as when I first bought it.  I typically don't care for the "feel" of magnesium on the palms due to the surface roughness, but Asus adds this texture to it that alleviates that completely.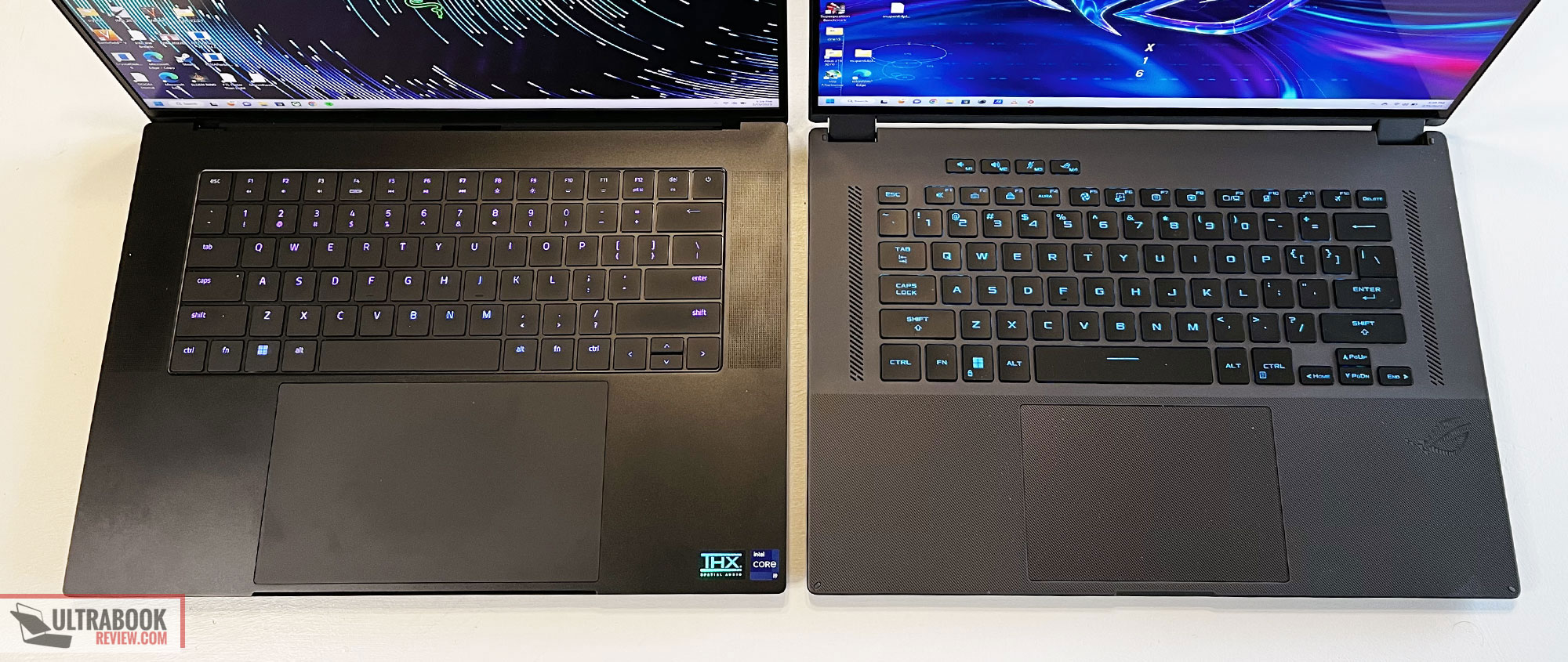 The lid and bottom cover are a darker-colored aluminum, so fingerprints are going to be more of an issue here.  But the aluminum is polished, so it wards them away somewhat and is far easier to clean than a matte finish.  Traditionally, polished aluminum is harder to grip, but Asus adds these micro-grooves that more than make up for it.
Razer on the other hand, just uses straight up aluminum for the entire design.  It's the same matte finish throughout and the color is black.  This unfortunately results in heavy fingerprints showing up, even after moderate use.  They have in recent years added a coating to their design, which helps with the fingerprints somewhat.  But it makes it harder to grip, and in the end, the fingerprints still persist.
Pictures truly speak a thousand words here.  Take a look at the differences in the lid and palmrest on both machines.  Keep in mind that I have only used the Blade 16 for two weeks in these shots, but have had the Asus x16 for over 6 months and have never bothered to clean it.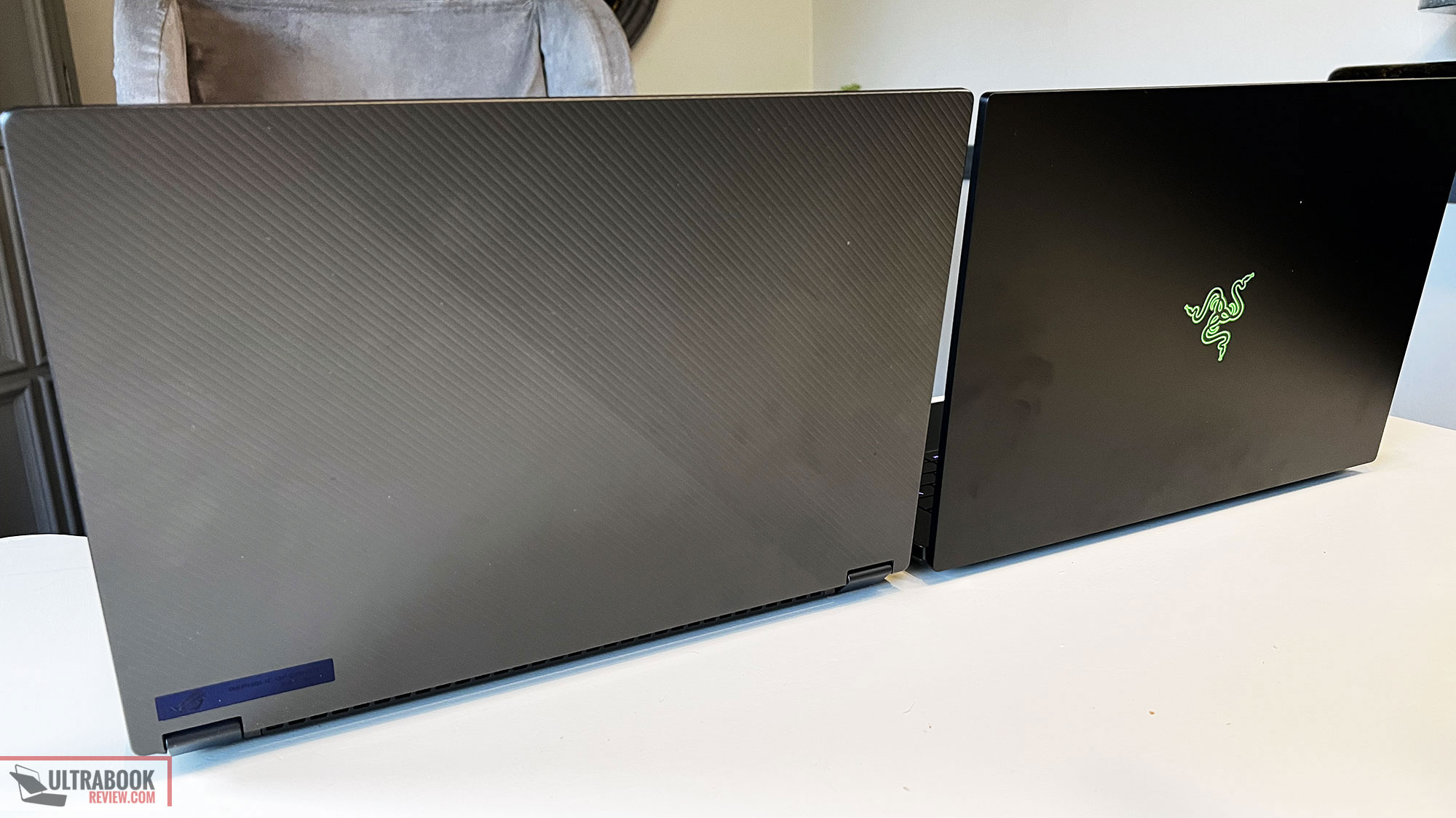 Another notable difference in the design is the fact that the Asus x16 screen folds all the way, 360 degrees, while the Blade 16 screen only opens to a modest angle.  Of course, the x16 is touch enabled so it makes sense that you want the screen to fold that far in order to use it as a tablet.  But even non-touch laptops should at least fold 180 degrees these days – many competitors already do this.
Finally, the biggest difference between the two laptops is the weight.  That extra .11" thickness and the unibody construction of the Blade 16 makes it nearly a pound heavier than the Asus x16.  This came as a surprise to me as the Blade 16 took the thicker route when compared to the Blade 15 last year.  But this was done on purpose to make it perform better, which we'll soon see in the later section.
And here's the IO on the two. Plenty of ports on both, but the Blade kind of wins by having USB-C ports on either side and a full-size card-reader.
Keyboard and trackpad
I personally had no problem typing on either device.  The keyboard layouts are nearly identical and have a logical placement of the keys you're used to.  The only oddity with Razer's is the power key is in the corner where the Del key should be.  But most could probably adapt to this in time.
The key travel on both keyboards is similar, with Asus's being slightly more than Razer's.  But Asus's keys are also slightly mushier which could be the difference as to why it feels that way.  The feedback on both keyboards is very good though and probably is the reason why I'm able to type so well on either of them.  If I had to pick which one types better for me, I'd have to go with the Asus x16, but it's not by much – they both are fine and it could come down to the fact I use the x16 as my daily driver.
The keys themselves are roughly the same size, with Razer's being slightly bigger.  This change in key size makes a huge difference in keyboard accuracy compared to the Razer Blade models 2021 and earlier.  But one thing I would have preferred is a glossier finish on the plastic so they wouldn't absorb as much oil from my fingertips.  Even after just a couple weeks, they really started to look worn, which is just not the case with the Asus model.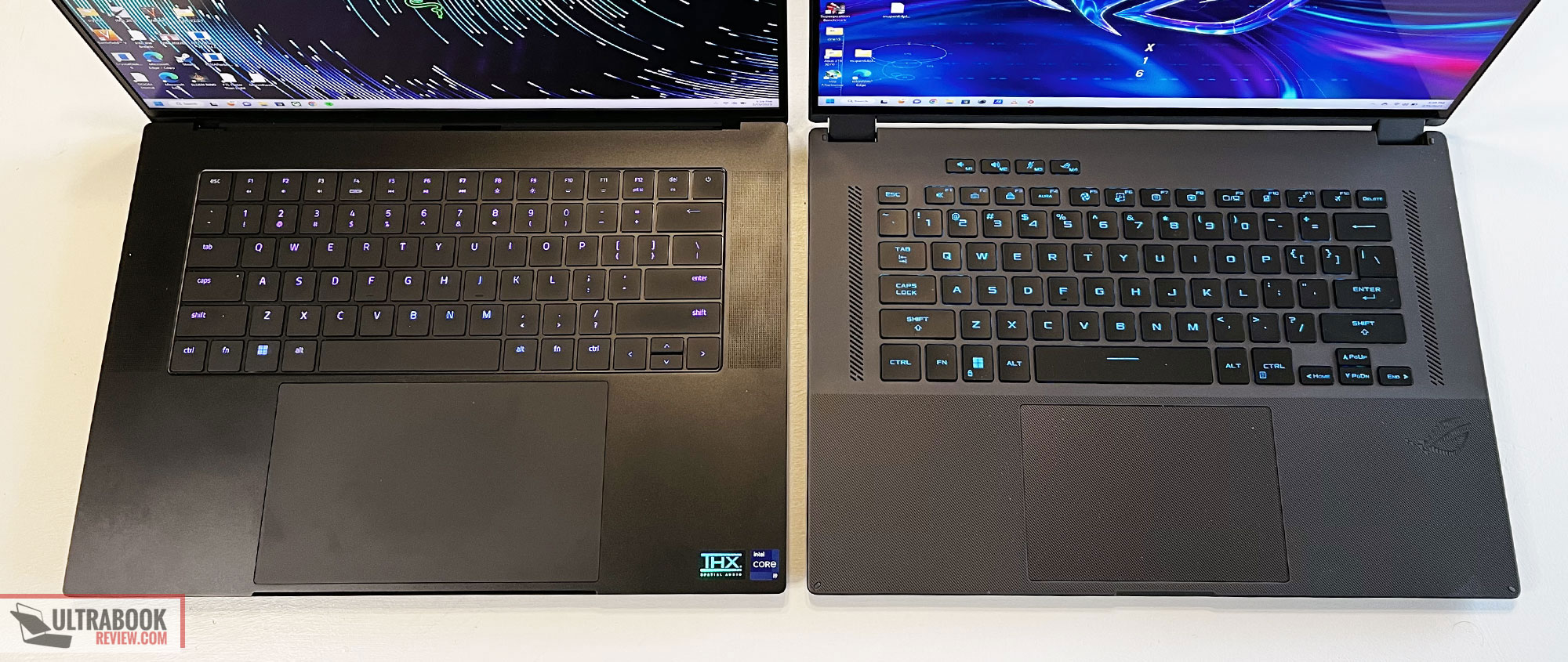 When it comes to the RGB on the keyboard, Razer has the advantage by a longshot.  Per key lighting using their Chroma software really makes this laptop shine over the competition.  Synapse is pretty intuitive to use in order to program the lighting and you can make some pretty cool effects, if you're into that kind of stuff.  Personally, I do a teal, blue, and purple blend using the fire effect – looks really cool!
Asus on the other hand just has a single zone RGB on this laptop.  There are lighting effects, but they are boring in comparison and I opt to just use a static teal color and leave it at that.  Realistically, this isn't a game changer for me, but Razer's RGB implementation on laptop keyboards through Chroma has been my absolute favorite since it launched in 2016.
There are some gripes I gave with Asus's keyboard that just aren't the case with Razer's.  For example, the lack of a Print Screen key and the inability to use Fn lock on the x16 are a couple of things that bother me, even after 6 months.  But to make up for it slightly, Asus has four programmable keys on the top, which is something the Blade 16 lacks.
As for the trackpad, the Asus x16 gets a large-sized glass trackpad which works perfectly in my opinion.  If this were the Blade of last year, I would say the two trackpads are basically identical in every way with the exception of the texture on the pad itself.  That's not the case though because Razer has implemented their new extra-large trackpad instead.
You can see in the pictures that it's absolutely huge in comparison.  I'm personally not a fan of this because I never needed it in the past and I also had some issues with accidental contact with my palms.  But if you're used to a Macbook and that kind of extra large trackpads, perhaps you'd be happier with what Razer is offering.
Like I said though, both trackpads operate just fine and it's tough to say if one performs better than the other.  From my perspective, I lean towards what Asus has, just because it's fine to me that it's not wider.  I'd rather not fight random movements and taps from my palm placement.
Screens
You really can't go wrong with either screen, unless you're dead set on having touch, which the Razer Blade lacks.  But there are some other advantages that the Asus ROG Flow x16 has over the blade.  First, let's just compare the specs measured with my Xrite colorimeter:
Here's what I got for the Blade 16:
Panel HardwareID: CSOT MNG007DA4-1 (CSO1624)
Coverage: 153.6% sRGB, 108.8% DCI-P3, 105.8% AdobeRGB;
Measured gamma: 2.2;
Max brightness in the middle of the screen: 465 cd/m2
Contrast at max brightness: 1211:1
Native white point: around 6100 K;
Black on max brightness: 0.38 cd/m2
And here's what I got for the Asus Flow x16:
Panel HardwareID: AU Optronics AUO8E9D (B160QAN02.S)
Single zone backlight coverage: 162.2% sRGB, 114.9% DCI-P3, 111.7% AdobeRGB;
Single zone backlight coverage: 166.9% sRGB, 115% DCI-P3, 118.3% AdobeRGB;
Measured gamma: 2.2;
Max brightness in the middle of the screen: 602 cd/m2 on power with multizone and 483 cd/m2 on power with single zone backlighting;
Contrast at max brightness: 10000:1 on multi-zone and 1150:1 for single-zone
Native white point: around 6600 K;
Black on max brightness: 0.42 cd/m2 on single zone and .06 cd/m2 on multizone.
With that out of the way, you can clearly see that the color space, maximum brightness, and contrast are very similar, despite one being IPS and the other mini LED.  But the mLED panel on the x16 has the advantage to use a multi-zone backlight that drastically improves the contrast by adding some really deep blacks when enabled.  Not as good as OLED, but about as close as you can get.
Now mini LED has it's own set of pros and cons, particularly when overly high contrasting objects are moving on top of each other.  It's more meant for games and movies though and not necessarily for day-to-day stuff.  Key is, you can turn it on and off as needed in the software, while it's not even an option on the Blade 16.
This all said, if you actually got the Blade 16, you probably wouldn't even know what you're missing – it's still a really great screen.
The other main draw to the Flow x16 is the fact its screen is touch enabled and allows for pen input.  The x16 is designed to be a 2-in-1 after all and the Blade 16 is just a normal clamshell laptop.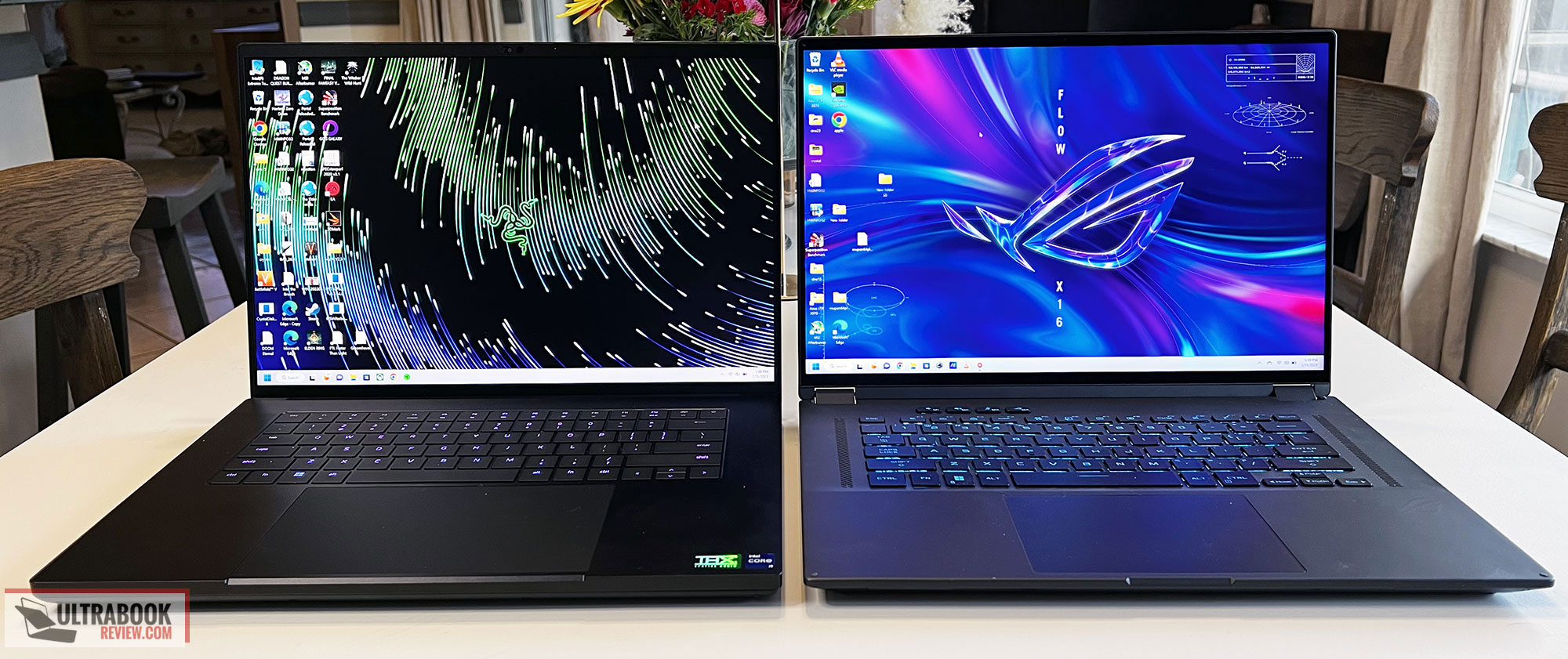 Hardware and performance
Comparing the hardware performance is going to be tricky because much of it is apples and oranges since we're on different generations.  But as Andrei develops his impressions on the 2023 Asus ROG Flow x16, perhaps he'll be able to chime in and fill in the blanks a little.
The key advantage you'd have in choosing the Blade 16 over the x16 is the performance of the CPUs and the GPU selection.  For the Blade line, you get HX processors, while the Flow is only Core H CPUs. As for the GPUs, you get the RTX 4060-4090 on the Blade, while the Asus x16 only has the RTX 4050-4070.  So if you want the most performance period, the Blade 16 with 4080 or 4090 are clearly superior – but it'll cost you.
But if you're looking for a 4060 or 4070, the differences aren't so clear – at least not from what I've seen.
I didn't get to test the RTX 4070 Blade 16, but I did get that GPU when I tested the Blade 18.  And the hardware performance between both the Blade 18 and 16 should be identical, considering all the parts that matter are practically the same.
And while I was a little disappointed with the RTX 4070 performance compared to the 3070 Ti last year, I wanted to repeat all my gaming testing with some fresh results so we could be sure I was on the latest drivers and game versions on both machines.  Here's what I saw:
Blade – 4070 QHD+
Max settings
Asus x16 3070Ti
Max Settings
Blade – 4070 QHD+
Quiet settings
Asus x16 3070Ti
Silent Settings
Battlefield V
(DX 12, Ultra Preset, Ray-Tracing OFF)
124 fps avg, 65 fps 1% low
171 fps avg, 97 fps 1% low
109 fps avg, 30 fps 1% low
60 fps avg, 53 fps 1% low
Battlefield V
(DX 12, Ultra Preset, Ray-Tracing ON, DLSS Off)
64 fps avg, 48 fps 1% low
109 fps avg, 25 fps 1% low
55 fps avg, 15 fps 1% low
60 fps avg, 48 fps 1% low
Battlefield V
(DX 12, Ultra Preset, Ray-Tracing ON, DLSS On)
73 fps avg, 51 fps 1% low
113 fps avg, 69 fps 1% low
68 fps avg, 31 fps 1% low
57 fps avg, 22 fps 1% low
The Witcher 3: Wild Hunt
(DX 11, Ultra Preset, AA: TAAU, Hairworks Off)
83 fps avg, 19 fps 1% low
90 fps avg, 18 fps 1% low
85 fps avg, 43fps 1% low
61 fps avg, 57 fps 1% low
The Witcher 3: Wild Hunt
(DX 12, Ultra Preset, AA: TAAU, Hairworks Off)
98 fps avg, 59 fps 1% low
100 fps avg, 63 fps 1% low
59 fps avg, 21fps 1% low
62 fps avg, 41 fps 1% low
The Witcher 3: Wild Hunt
(DX 12, Ultra Preset, AA: TAAU, Hairworks Off, RT: Quality, DLSS Off)
34 fps avg, 13 fps 1% low
44 fps avg, 27 fps 1% low
28 fps avg, 17fps 1% low
35 fps avg, 16 fps 1% low
The Witcher 3: Wild Hunt
(DX 12, Ultra Preset, AA: TAAU, Hairworks Off, RT: Quality, DLSS On)
39 fps avg, 20 fps 1% low
–
37 fps avg, 3 fps 1% low
–
Horizon Zero Dawn
(Ultra)
112 fps avg, 83 fps 1% low
105 fps avg, 70 fps 1% low
91 fps avg, 62 fps 1% low
63 fps avg, 46 fps 1% low
Cyberpunk
(Ultra, Ray Tracing On) DLSS Off
32 fps avg, 23 fps 1% low
20 fps avg, 18 fps 1% low
25 fps avg, 22 fps 1% low
17 fps avg, 11 fps 1% low
Cyberpunk
(Ultra, Ray Tracing On) DLSS Auto w/ Frame generation
82 fps avg, 69 fps 1% low
54 fps avg, 44 fps 1% low
73 fps avg, 51 fps 1% low
42 fps avg, 36 fps 1% low
Cyberpunk
(Ultra, Ray Tracing Off)
60 fps avg, 46 fps 1% low
55 fps avg, 45 fps 1% low
53 fps avg, 30 fps 1% low
46 fps avg, 37 fps 1% low
Valheim(High preset)
89 fps avg, 42 fps 1% low
86 fps avg, 40 fps 1% low
87 fps avg, 39 fps 1% low
60 fps avg, 38 fps 1% low
Elden Ring (Max settings, QHD, borderless
60 fps avg, 40 fps 1% low
60 fps avg, 52 fps 1% low
57 fps avg, 41 fps 1% low
59 fps avg, 49 fps 1% low
Final Fantasy 7 remake (Max settings, QHD)
109 fps avg, 51 fps 1% low
117 fps avg, 63 fps 1% low
101 fps avg, 36 fps 1% low
60 fps avg, 54 fps 1% low
As you can see, besides the difference in ray tracing, there really isn't a clear advantage in either machine.  Some games, the Asus x16 with 3070 Ti performed better and with others, the Blade 18 with 4070 did.  Some of this could be because of the CPU models being different too, so take this with a grain of salt.
But what I'm getting at here is that the power limits for both the 3070Ti and the 4070 on both machines were practically the same.  Razer does say their TGP is higher at up to 140W, but I never witnessed it actually being used by the new architecture on the 4060/4070 chips, so it is what it is.
The Blade has an advantage in internal CPU/GPU temperatures, though, as the Flow X16 runs rather warm and is best kept on a raiser stand that would allow for better airflow into the fans. This is better explained in our Flow X16 reviews.
The Blade also has an advantage in gaming performance on the Quiet/Silent profiles. On my unit, something's limiting the framerates to 60 fps (could be by Whisper Mode), so the comparison is somewhat skewed. But in general, the thicker Blade allows the GPU to run at higher power on Quiet (around 80-85W), while the GPU is more power limited on Silent on the Flow X16 (around 55W TGP).
I'll also add that both machines have their own tweaking on what to do in power modes.  I think Razer's implementation is a little more user friendly with Synapse, but both are very powerful in terms of what they allow you to configure.  Both models have hotkeys to change power modes and Asus goes a step further with a dedicated button that launches the software.
Andrei's update on the ROG Flow X16 2023 (i9-13900H + RTX 4070)
Here are a few more details on the performance of the 2023 Flow in comparison to Derek's 2022 Flow model and the 2023 Blades.
First of all, here's what to expect in terms of CPU sustained performance on these platforms, in our Cinebench loop test.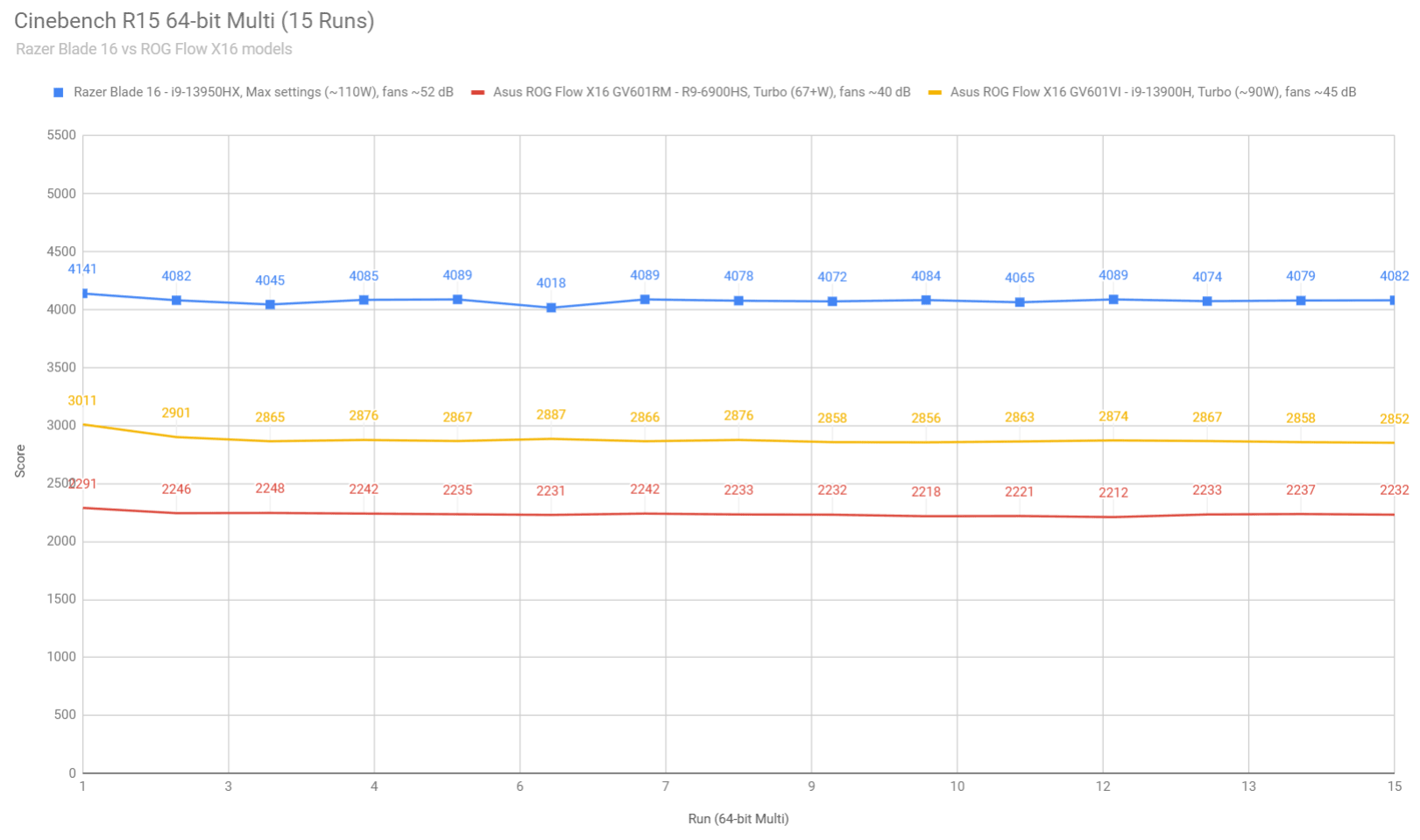 The 2023 Razer Blade models are 24C/32T Intel 13th-gen Core HX platforms, and thus significantly faster than the 8C/16T Ryzen 9 (Flow 2022) or the 14C/24T Core i9 H (Flow 2023) platforms in the ROG units. At the same time, the Blade does run louder than the ROGs in this sort of sustained activity.
And here are a couple of benchmark results.
I've included the 2023/2022 ROG Flows and the i9+4070 configuration of the Blade, for a closer comparison of these two platforms. Otherwise, the Blade is available with higher-performance 4080/4090 GPUs, and those are just no match for the GPUs in the Flows – so if you need that sort of GPU performance, you won't get it with the Flows.
i9-12950HX + 4070 140W
2023 Razer Blade
i9-13900H + 4070 120W
2023 ROG Flow X16
R9 6900H + 3070Ti 125W
2022 ROG Flow X16
3DMark – Fire Strike
25675 (G – 28551, P – 39123)
25263 (G – 28654, P – 29072, C – 12123)
25610 (G – 28838, P– 27692)
3DMark – Port Royal
7107
7281
6542
3DMark – Time Spy
12157 (Graphics – 11815, CPU – 14550)
12143 (Graphics – 12023, CPU – 12876)
10841 (Graphics – 10808, CPU – 11305)
Uniengine Superposition – 1080p Extreme
6993
6787
6725
CineBench R23 (best run)
28169 cb – multi core,
2053 cb – single core
19155 cb – multi core,
2025 cb – single core
14664 cb – multi core,
1509 cb – single core
Blender 3.01 – Classroom scene – CPU Compute
3m 35s
4m 48s
6m 15s
Blender 3.01 – Classroom scene – GPU Compute
–
36.70s (CUDA), 21.59s (Optix)
–
SPECviewperf 2020 – 3DSMax:
95.69
99.15
–
SPECviewperf 2020 – Catia:
64.94
67.10
SPECviewperf 2020 – Maya:
356.98
361.60
–
As mentioned already, the Blade has an advantage in CPU capabilities over the ROG Flow models, but there's also a notable difference between the ROG generations with the move to the Intel platform on the latest variant.
On the GPU, side, though, the three models are closer than I would have expected.
The real advantages of the Blade in this sort of mid-tier configuration are the lower GPU temperatures in sustained loads and games, and the potential better performance on the Quiet profile. That's because of the beefier chassis and thermal module in these Blades, which is designed to cope with the higher 175 TGP of the 4080/4090 chips, and doesn't struggle at all when it comes to handling the 110-120W TGP of the 4070/2060 chips. You'll find more details in our reviews.
Emissions (noise, heat), Connectivity, and speakers
As far as the cooling systems go, it's hard to judge.  These are very different power limits on these laptops, with different chassis and cooling designs.  The Razer Blade 16 uses a vapor chamber with two large fans, while the Asus x16 uses a large array of heatpipes with three fans.  Asus does a step further with liquid metal on the CPU.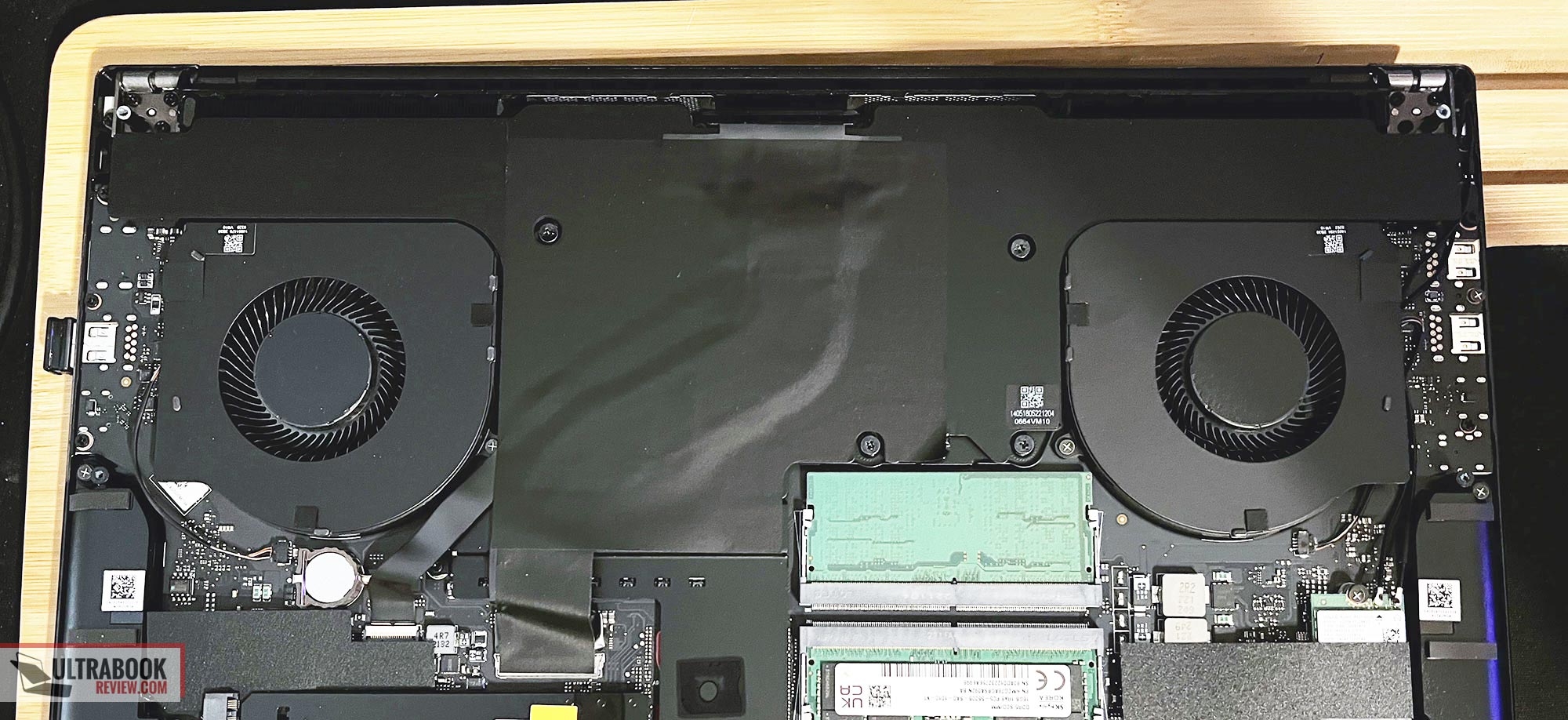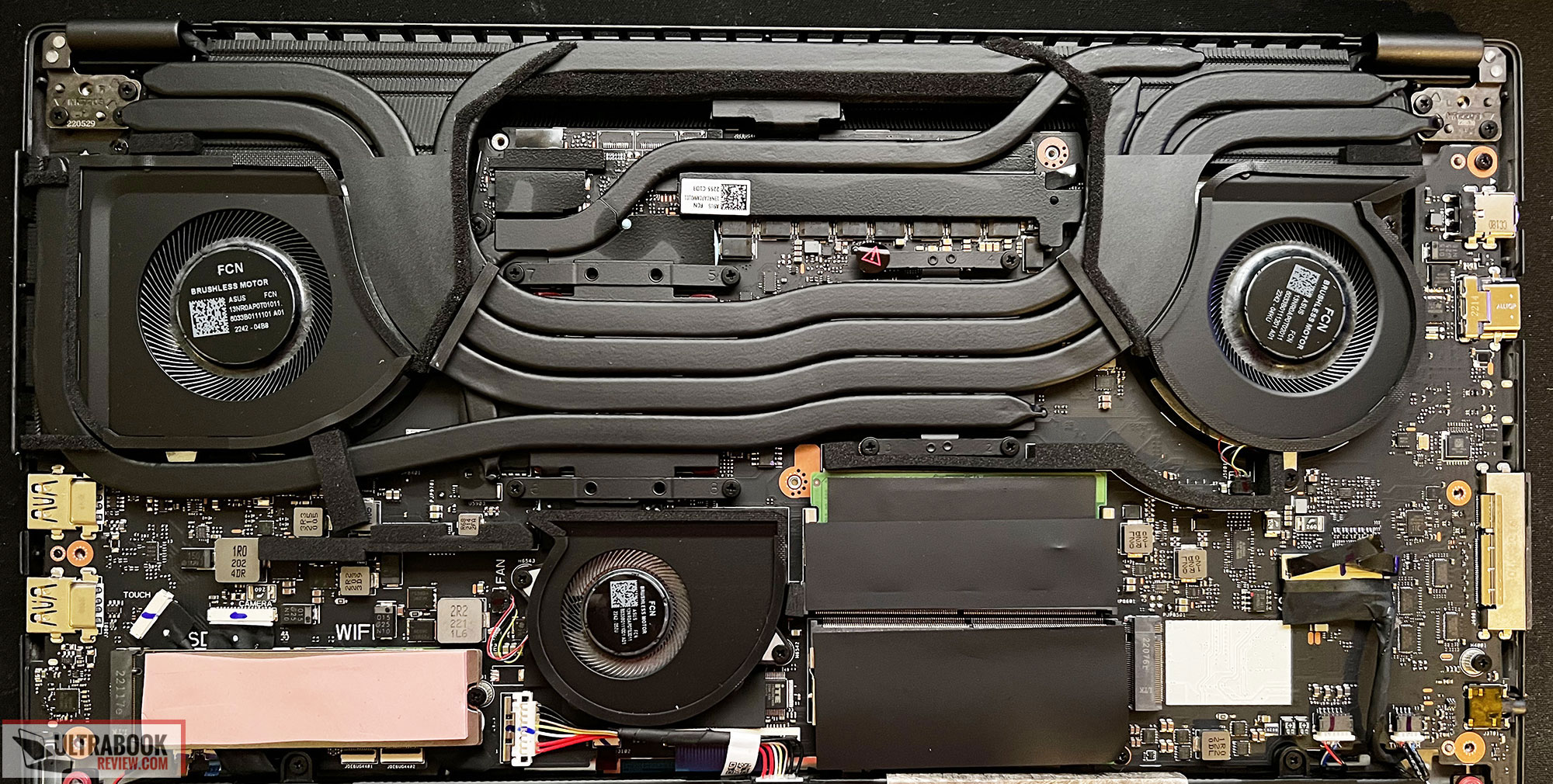 Both solutions work well but it's mainly because they are specifically designed for the hardware combination and power limits of each device.  Realistically, the Asus x16 wasn't designed for a higher TGP than it already has, which is also probably the reason it won't have a 4080 or 4090 option.
But to flip things around, if you're looking for a 4060 or 4070 model, the Razer Blade may be overkill on cooling.  That's probably a good thing, but considering the fans are larger and the fan curves may be equal, you might get similar readings as I did on the 4080 model.  Tough to say.
Regardless, the Razer Blade did measure slightly louder in fan noise than my Asus x16 – but it wasn't by much at all.  Same with Quiet mode, but it's hardly anything to brag about since the Asus model is limited to 60fps.
The good news is you can't go wrong with either in this department.  Especially with internal temps, which moth models have completely under control, no matter what power profile.
As for external temps, here's what to expect.


As far as connectivity goes, the Razer Blade comes with an Intel Wifi adapter right out of the box, with excellent reception and zero issues.  The Asus x16 on the other hand comes with a Wifi card from Mediatek.
It's ok…  but over the past several months I did start to notice that it didn't connect to Wifi as quickly as I liked when turning it on.  I swapped it out with an Intel Wifi 6E adapter and now it works perfectly fine.  So credit here to Razer for having the better Wifi card included by default, but your mileage may vary with the Mediatek chip, if you go that route. For what is worth, the 2023 ROG Flow comes with an Intel wifi module as well.
Razer did update their speaker array this year, but they still pale in comparison to the Asus x16 in my opinion.  I listened to a number of songs on both devices as well as the Blade 18, when I had all three at once.  The Blade 18 actually sounded the best with its 6 speaker array, with the Asus x16 in a close second.  But the Blade 16 sounded tinny in comparison.
Sure, the Blade 16 speakers are a huge improvement over the previous Blade 15 models, so please don't get me wrong.  It helps to have those downward-firing drivers in addition to the upward ones, and the amplitude is still plenty loud enough to overcome the fan noise.
Last thing to compare in this section is the webcams and this is where Razer has a clear advantage.  Theirs is an FHD shooter that produces a pretty good image in well-lit and even low-lit rooms.  The Asus x16 only has an HD shooter in my 2022 model, which isn't all that great.  The good news is Windows Hello works flawlessly on both devices for me, night or day. The 2023 Flow X16 comes with an FHD camera as well.
Battery life
Almost across the board, the 2022 Asus x16 lasts longer than the Blade 16 in each of my battery tests.  The difference varies from 15 minutes difference to an hour, depending on the test.  Take this with a grain of salt because there are a lot of variables going on in these tests and it's only an estimate.
But the results do make sense.  Although the Blade 16 has a 95Whr battery over the Asus x16's 90Whr, the x16 uses a Ryzen processor, which historically is more energy efficient when in Optimus mode.
The 2023 Flow x16 is an Intel platform as well, but a Core H and still more efficient than the Core HX implemented in the Blade. You'll find the exact runtimes in the reviews.
These aren't huge differences between these laptops, and all models offer OK battery life, especially considering they are gaming laptops.
The Blade being a higher-power laptop also comes with a higher-capacity 330W charger, but it's a compact GaN model and only a little larger and heavier than the 240W charger bundled with the Flow models.
Price and availability
Without a doubt, the price advantage is clearly with the Asus x16.  Comparing apples to apples with the GPU, the Blade 16 with 4070 is priced at $3299 while the Asus x16 with 4070 should land somewhere around $2500 (assuming they stick with their pricing scheme of last year).
Of course, this isn't fact yet, so Asus may raise their prices.  But I highly doubt that it will be by $800.  Fact is, the Blade 16 is amongst the most expensive models of laptops available today and you're clearly paying a premium for their proven design.
Not that the Asus x16 is cheap, per se, but it's certainly more affordable when you consider all the hardware and added versatility that is in the design.  On top of that, I frequently see the x16 models go on sale for hundreds of dollars off, especially on Best Buy's site.
Final Thoughts
So there you have it – that's my take on how I view the Blade 16 in comparison to the Asus Flow x16.  It's not quite enough to convert me back into being a Blade owner, but it's pretty darned close.
What keeps me an Asus x16 owner is the portability and versatility really.  I'll be the first to admit it – I rarely use the x16 in tablet mode.  It's something I originally thought I'd use, but in all practicality, it's just not the same as using an 11" or 13" tablet.
But I do enjoy the touch screen on a regular basis, and I like the fact that it's a 16" device and is still under 5 lbs.  Additionally, folding the screen back 180 degrees is very useful, the way I use laptops nowadays.  And let's not forget that the performance is pretty excellent for it being in such a small package.
But I am a little jealous of Razer's new implementation of their hardware, particularly with the 4080 and 4090 models.  The performance on both of those models is miles ahead of the 3080 Blade 15 of last year.  But you really have to pull out some major cash to get one.
The 4070 models and below, however, really make the competition look more appealing, especially since I don't see that much of an improvement in performance even over the RTX 3070 Ti from last year.  We'll see how Andrei's review unit of the 2023 Asus x16 compares though.
Anyways, I hope this helps someone out there with similar interests.  I'm more than happy to elaborate more if needed though.  Please leave me a comment below.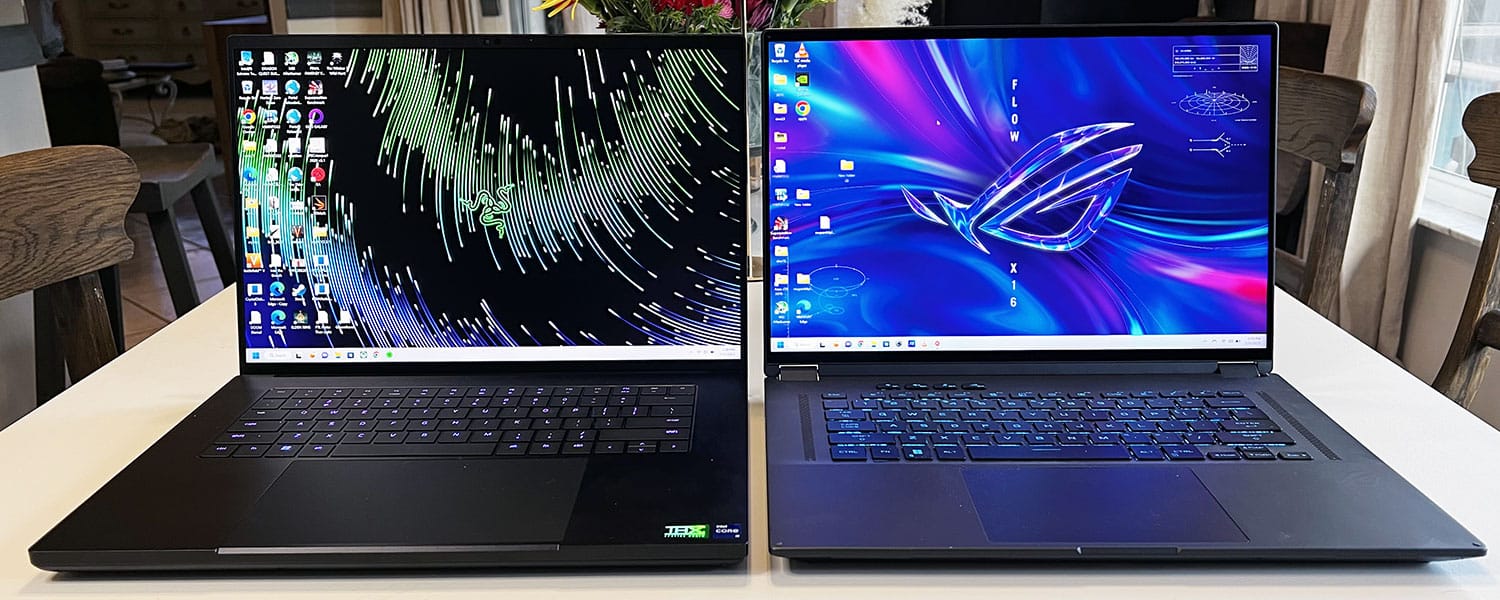 Disclaimer:
Our content is reader-supported. If you buy through some of the links on our site, we may earn a commission.
Terms
.