Over the last years, Asus have experimented with a couple of different designs in order to be able to put powerful hardware specs inside thin and compact laptop formats, and their latest creation, the 2021 ROG Zephyrus S17 GX703, is in my opinion their best so far.
Most standard thin-and-light performance laptops (such as the Razer Blade Pro or the MSI GS Stealth) have to somewhat compromise on the hardware's power allocation and overall performance in order to keep the temperatures and noise levels within usable limits. Asus have such designs as well, but they also tried to go a different route on their top-tier models, such as the 15-inch ROG Zephyrus S15 and Zephyrus Duo or this updated 17-inch Zephyrus S17, which incorporate the same kind of hardware and performance that's normally only possible on thicker full-size products.
Quick history lesson, Asus went through a couple of different designs before this S17. They first went with down-shifted keyboards on the Zephyrus G501 and the GX701 a couple of years ago, leaving the top entirely reserved for the hardware and cooling. Then they put an extra screen over the hardware, in the ZenBook Duo and Zephyrus Duo designs, still leaving the keyboard at the front of these laptops, or implemented a reversed format with a bottom-oriented cooling and a standard keyboard position, in the Zephyrus S15. And now they have this Zephyrus S17 GX703 design.
Update: Our detailed review of the Zephyrus S17 series is available here.
On a first look, this appears to be a regular 17-inch notebook. However, the trick is that the keyboard mechanically lifts up and separates from the main chassis when your open up the lid.
Video preview
This way, the thermal module draws fresh air from underneath this keyboard and from under the laptop, and then pushes the hot air out through the back, behind the screen. Furthermore, this design no longer compromises on the laptop's ergonomics, allowing for a full-size keyboard and clickpad, and since the keyboard's deck is separated from the components, it doesn't get as hot to the touch as it does on the standard designs when running games and other demanding loads.
On top of all these, this design allowed Asus to implement a full-power Core i9 processor and RTX 3080 GPU that runs at up to 140W of power, all tucked within a 20 mm thin chassis.
Pair that with craftsmanship quality, inputs, and screen options, with a camera at the top and Advanced Optimus on some configurations, a 90Wh battery, and a complete set of ports, this ROG Zephyrus S17 might well end up be the best 17-inch performance ultraportable of this generation.
Now, as far as this article goes, this is only a preview of the Zephyrus S17 series, based on my time with this pre-release sample illustrated here. I'm going to touch on the design, construction, and ergonomics, the awesome display options, the typing experience, and the hardware specs, but we're not going to cover the performance in-depth at this point, since this is not a final release unit.
Update: Our detailed review of the Zephyrus S17 series is available here.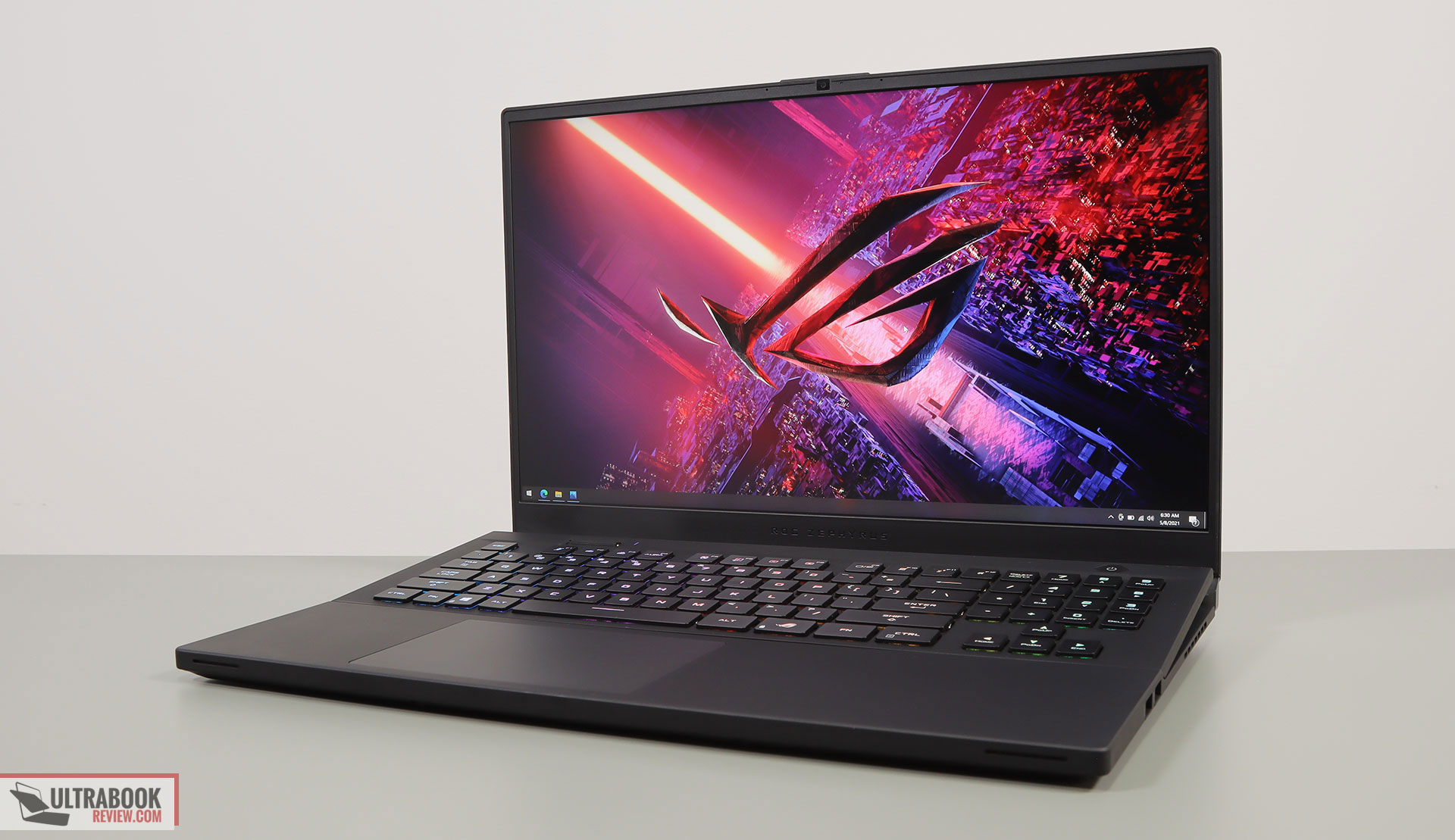 We're still waiting for a proper review unit and we'll follow up with an updated article once we get it.
Specs – ASUS ROG Zephyrus S17 GX703
2021 ASUS ROG Zephyrus S17 GX703HS
Display
17.3-inch, 16:9, non-touch, matte,
UHD 3840 x 2160 px IPS, 120 Hz 3ms with 100% DCI-P3 and sRGB, with AdaptiveSync or
QHD 2560 x 1440 px IPS, 165 Hz 3ms with 100% DCI-P3 and sRGB, with Advanced Optimus/GSync
Processor
Intel Tiger Lake, Core i9-11900H (8C/16T)
Video
Intel + Nvidia GeForce RTX 3080 Laptop 16GB (125W, up to 140W with Dyn Boost) on 703HS model
Intel + Nvidia GeForce RTX 3070 Laptop 16GB (125W, up to 140W with Dyn Boost) on 703HR model
Intel + Nvidia GeForce RTX 3060 Laptop 16GB (115W, up to 130W with Dyn Boost) on 703HM model
Memory
32 GB DDR4 3200 (16 GB on board, 1x DIMM, up to 48 GB)
Storage
3x M.2 PCIe gen4 slots
Connectivity
WiFi 6 (Mediatek?) 2×2 with Bluetooth 5.0, Gigabit LAN (Realtek RTL8168/8111)
Ports
3x USB-A 3.2 gen2, 1x USB-C with Thunderbolt 4, 1x USB-C gen2, HDMI 2.0b, SD card reader, LAN, headphone&mic
Battery
90Wh, 280 W power adapter + USB-C charging up to 100W
Size
394 mm or 15.51" (w) x 264 mm or 10.39″ (d) x 19.9 mm or .78" (h)
Weight
2.81 kg (6.2 lbs), .9 kg (1.98 lbs) power brick and cables, EU version
Extras
per-key RGB backlit keyboard with optical-mechanical switches, 6x speakers, HD webcam, finger-sensor in the power button
Design, construction, and ergonomics
Call me biased, but this S17 is my favorite Asus design at this point, both in terms of how it looks and how it feels.
This a completely black design, with the lid made out of a thick slab of aluminum, like on the ROG Scar 17 or the Zephyrus Duo, and the interior and bottom out of magnesium-aluminum alloys, similar to the ones on the Zephyrus M16. However, Asus found a way to fix those creaky noises that I've encountered on the G15 and M16 models, as they are completely gone here. Looks to me that the answer is in a thicker and studier D-panel on the bottom.
BTW, here's a detailed comparison between the Zephyrus S17 and M16 lineups.
In fact, this entire notebook feels very sturdily made and oozes quality, to the point where these images barely make it justice.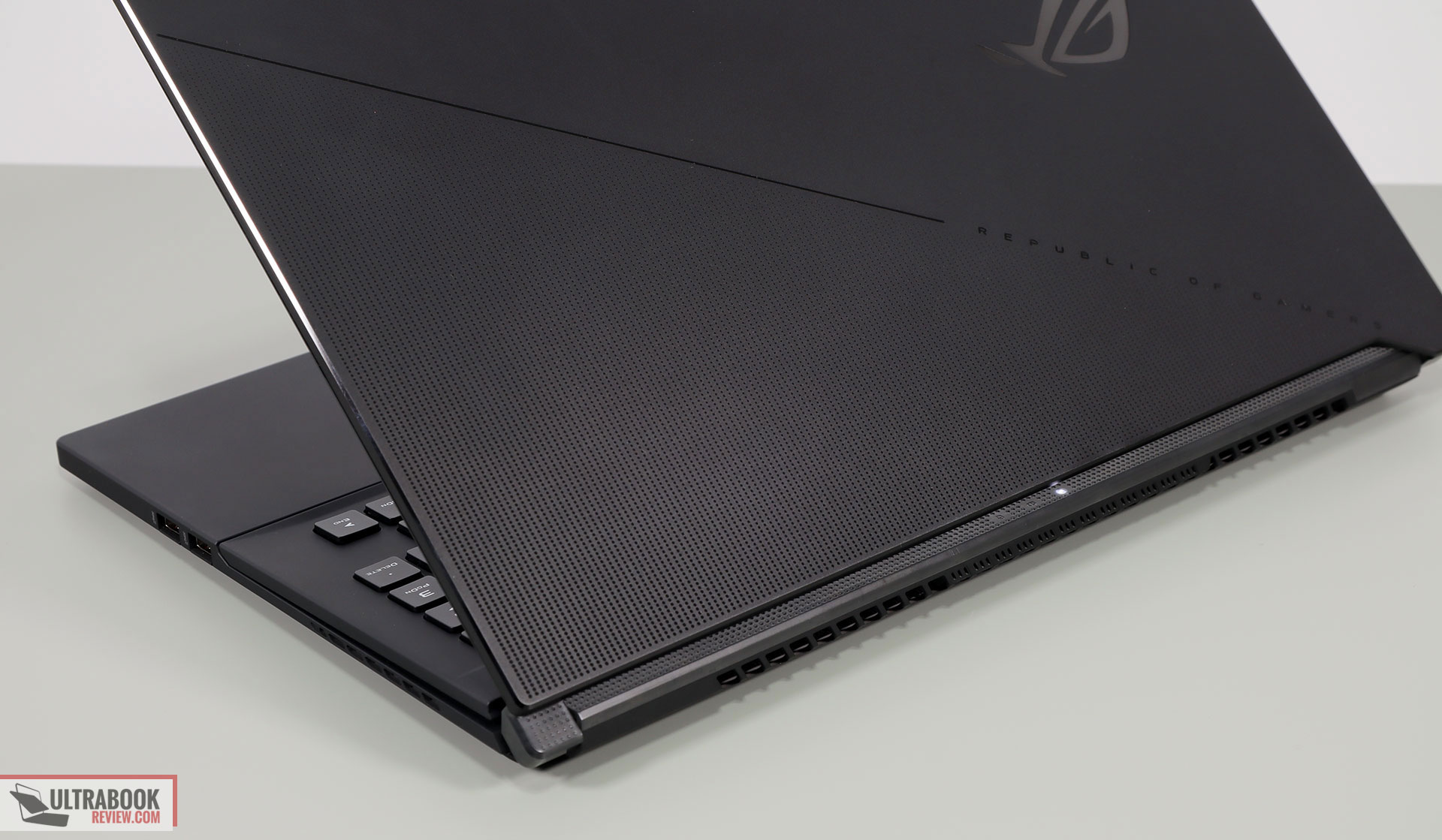 On the other hand, sure, since this is a completely black design it's going to show smudges easily, especially on the rubbery interior and on the keys, so you'll have to wipe it clean often, but that's pretty much my only complaint about the craftsmanship of this S17 series.
I mentioned already that the keyboard lifts up when you open up the lid, creating a gap underneath for the thermal module, as well as a slightly inclined typing position. The tilt angle is small, but enough for me to make a difference, and while I was afraid this pushed-up keyboard deck might feel flimsy, it doesn't and in fact, it's sturdier than most standard keyboard decks and barely flexes even when pressed hard.
Of course, you might wonder what happens if cables or something else get stuck in between the keyboard and the main chassis and you're trying to close the laptop. From what I've tried, the mechanism is strong and you'll easily tell that something's not right when applying normal force on the lid in order to close it. It just won't close and you'll figure out that something's stuck in there. Of course, if your force it, it can probably snap, so you do have to be extra careful about this.
One other practical benefit of this design is the fact that the status LEDs end up hidden just behind the raised keyboard here, as they would otherwise have been annoyingly placed in your line of sight, under the screen. In fact, these are the same kind of big and bright LEDs that Asus also put in the ROG Scars, and I just don't understand why these have to be that big and placed there, and not smaller and thrown somewhere on the sides. Peeking inside it looks like there's an easy way to disconnect these, though, if you want to.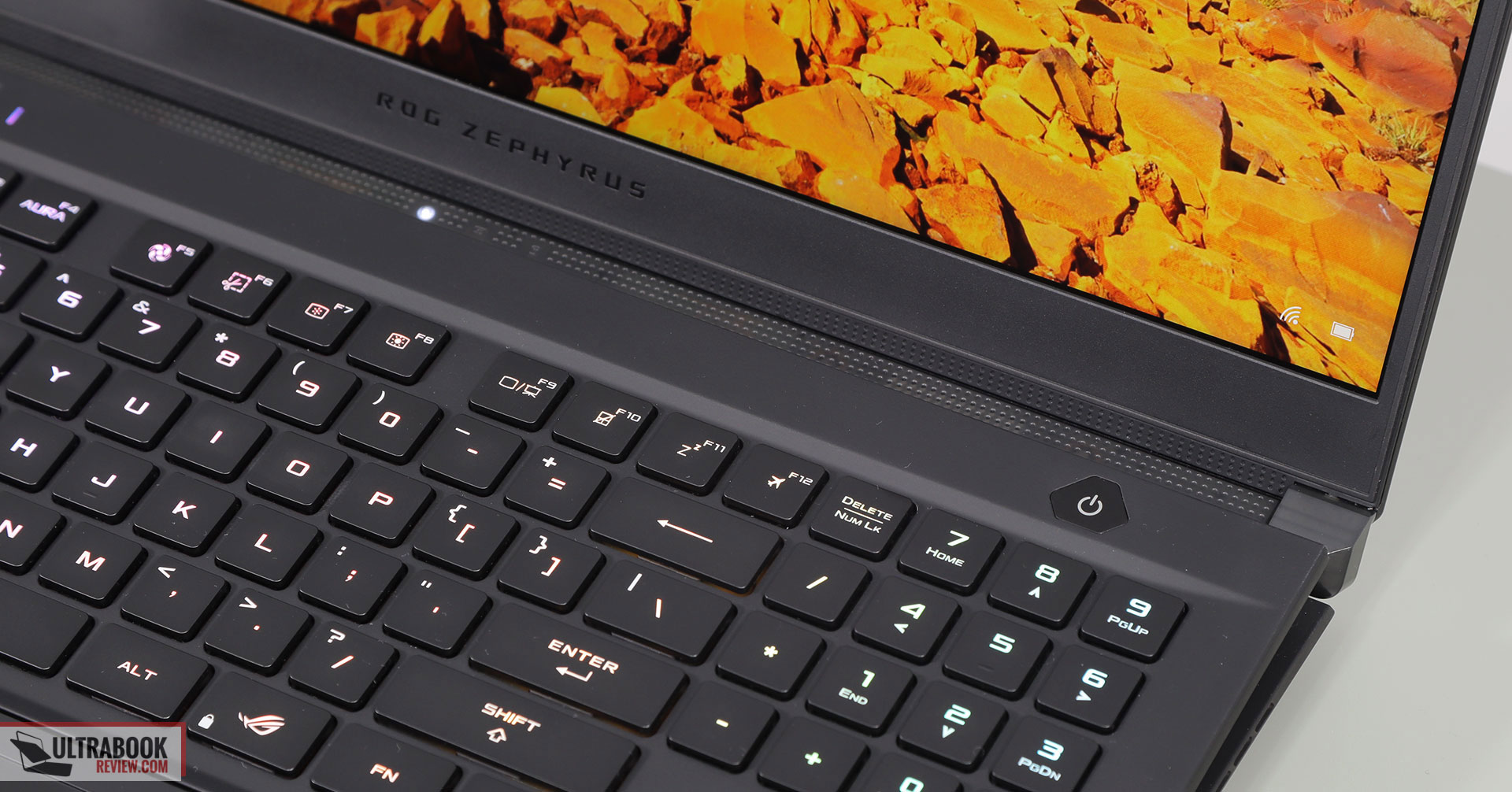 That aside, I'm glad that at least there's no longer a light in the power button, though, which is instead this new design that incorporates a figner-sensor, similar to the one on the Zephyrus G15 and M16 models.
I do find this entire design practical, with just one or two small exceptions that I'll get to in a bit. The rubber feet ensure excellent grip on the desk, the hinges allow to easily lift up the screen and adjust it single-handily, and the interior edges and corners are smartly blunted and friendly on the wrists.
The laptop is also compact and lightweight for what it is, almost the same size as a Razer Blade Pro and a little bit heavier, but still overall bigger than an MSI GS Stealth. I don't have any of these around for some comparison pictures, but here's how this 17-inch S17 looks like next to the 16-inch Zephyrus M16 that's also part of this generation. The M15 is a 15-inch chassis, though, so of course, it's both smaller and lighter, but also doesn't pack the same kind of graphics power that you're getting here.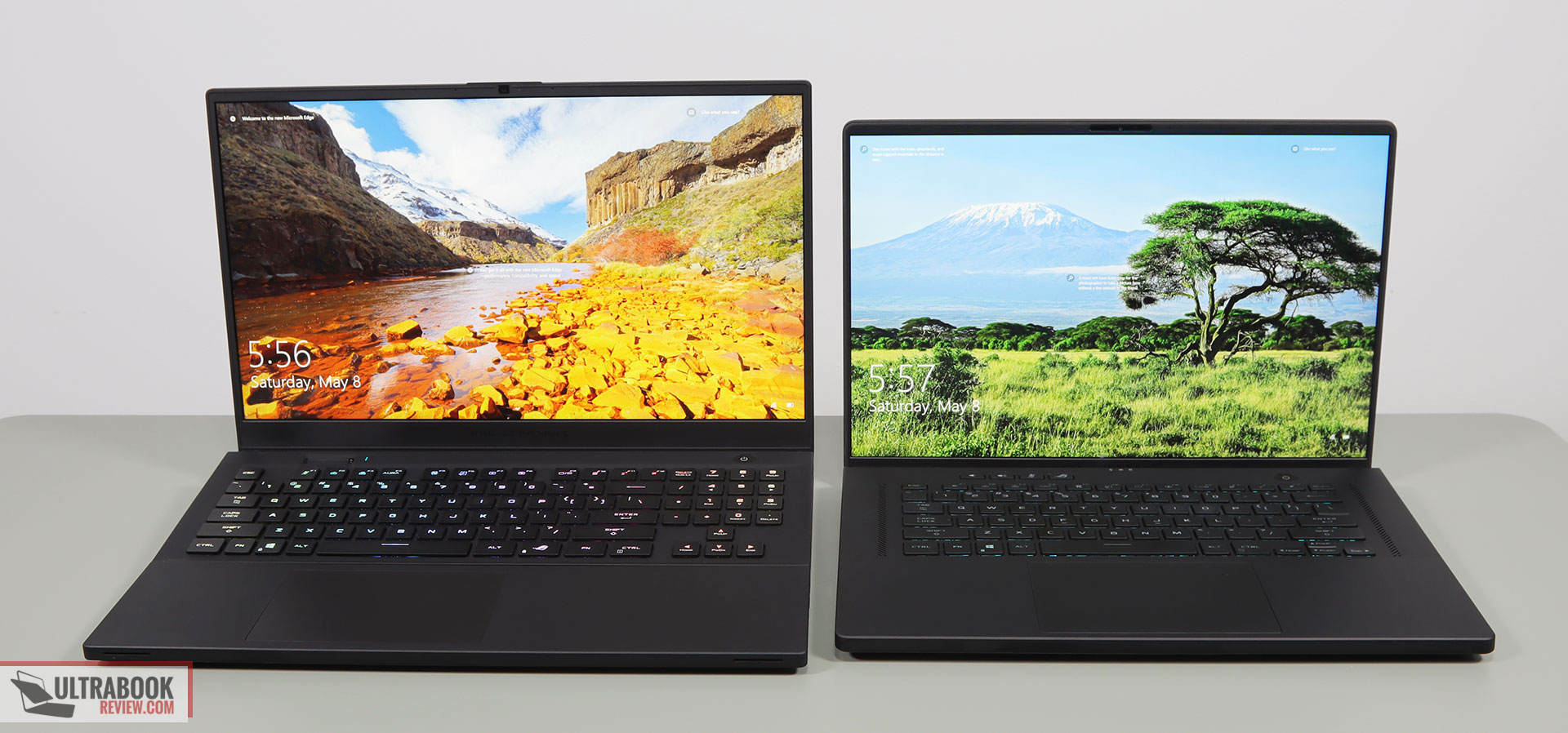 Anyway, you can also tell this Zephyrus S17 is compact for its class by the bezels around the screen, very slim at the sides and averagely sized at the top and bottom. Asus also finally put a camera at top of the screen, a decent-quality 2 MPx one that is, yet there's still a fair chin underneath and I just can't stop but wondering how this would have looked with a 16:10 screen instead, the kind that's available on the M16.
As for those two nits that I previously mentioned, one's the fact that you can only lean-back the screen to about 140 degrees, which is fine on a 17-inch laptop, but still limiting sometimes.
The other is with the IO placement, which is almost entirely squeezed on the left-front side, with the PSU, the LAN port, and the two USB-Cs all tucked in there. Ideally, I'd love to see those placed somewhere at the back of the laptop, in order to keep all the cables out of the way, as this sort of design is going to end up very cluttered if you decide to hook up peripherals. And even if you don't, that PSU positioning in the middle of that laptop is just not very practical and means that you'll always have a thick cable there at the left of your laptop.
As far as the actual port selection goes, though, there's nothing to complain about here: 3x USB-A, 2x USB-Cs, one of them with Thunderbolt 4 support, LAN, audio jack, and a fast SD card reader, all these are available here. Plus fast Gig+ wireless and Bluetooth.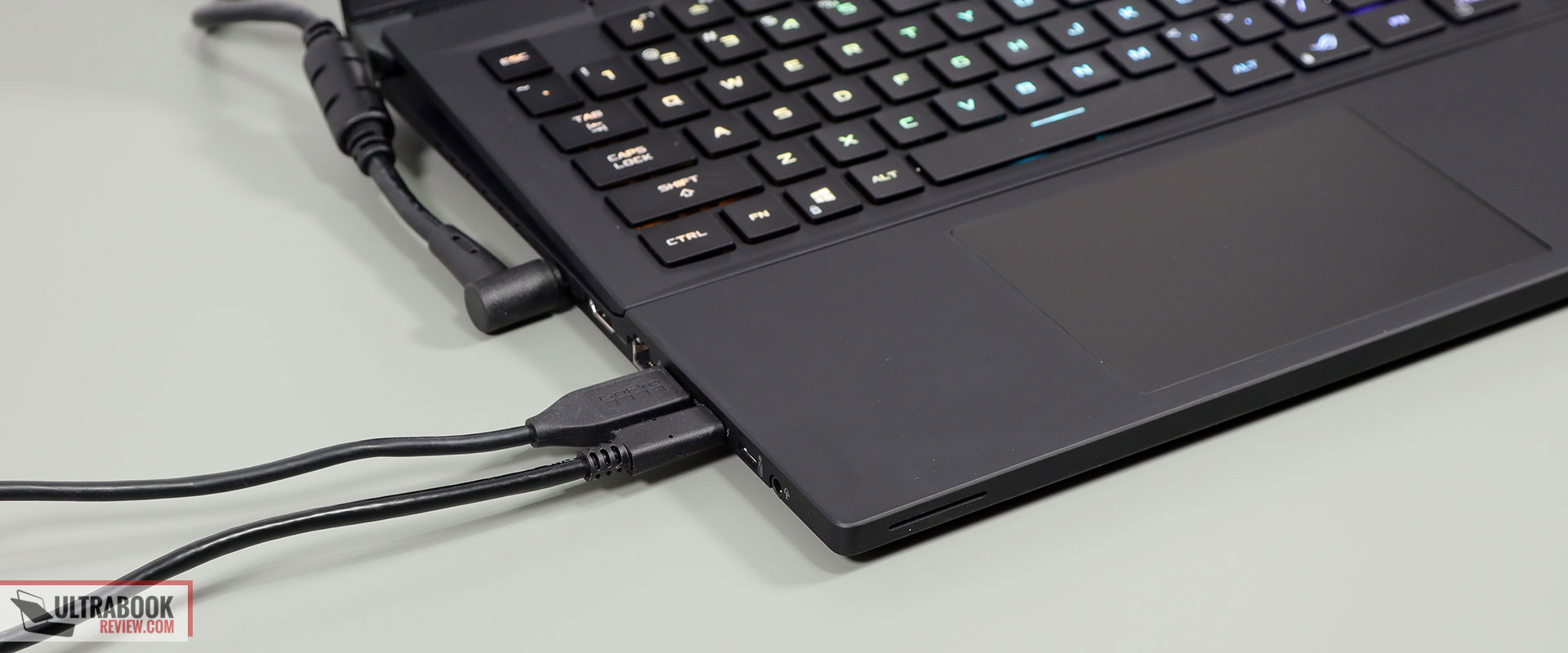 Finally, I have to mention that Asus didn't skimp on the speaker quality here either, implementing a set of 6 speakers, four tweeters firing upwards and placed under the screen, as well as two woofers firing downwards and through these small cuts on the front lip. You'll want to be careful not to cover and muffle them, but the quality is definitely above average for a thin gaming laptop.
Keyboard and trackpad
With that out of the way, let's talk about the inputs on this Zephyrus S17.
Asus put here the same kind of optical-mechanical keyboard that we've already experimented with in their ROG Scar 17, with clicky switches and deeper actuations than what you'll normally get with thin-and-light laptops. The layout is a bit peculiar, with a minimalist NumPad area, but all the other keys are full-size and placed in the right location, and the arrows are also full-size and nicely spaced out from everything around.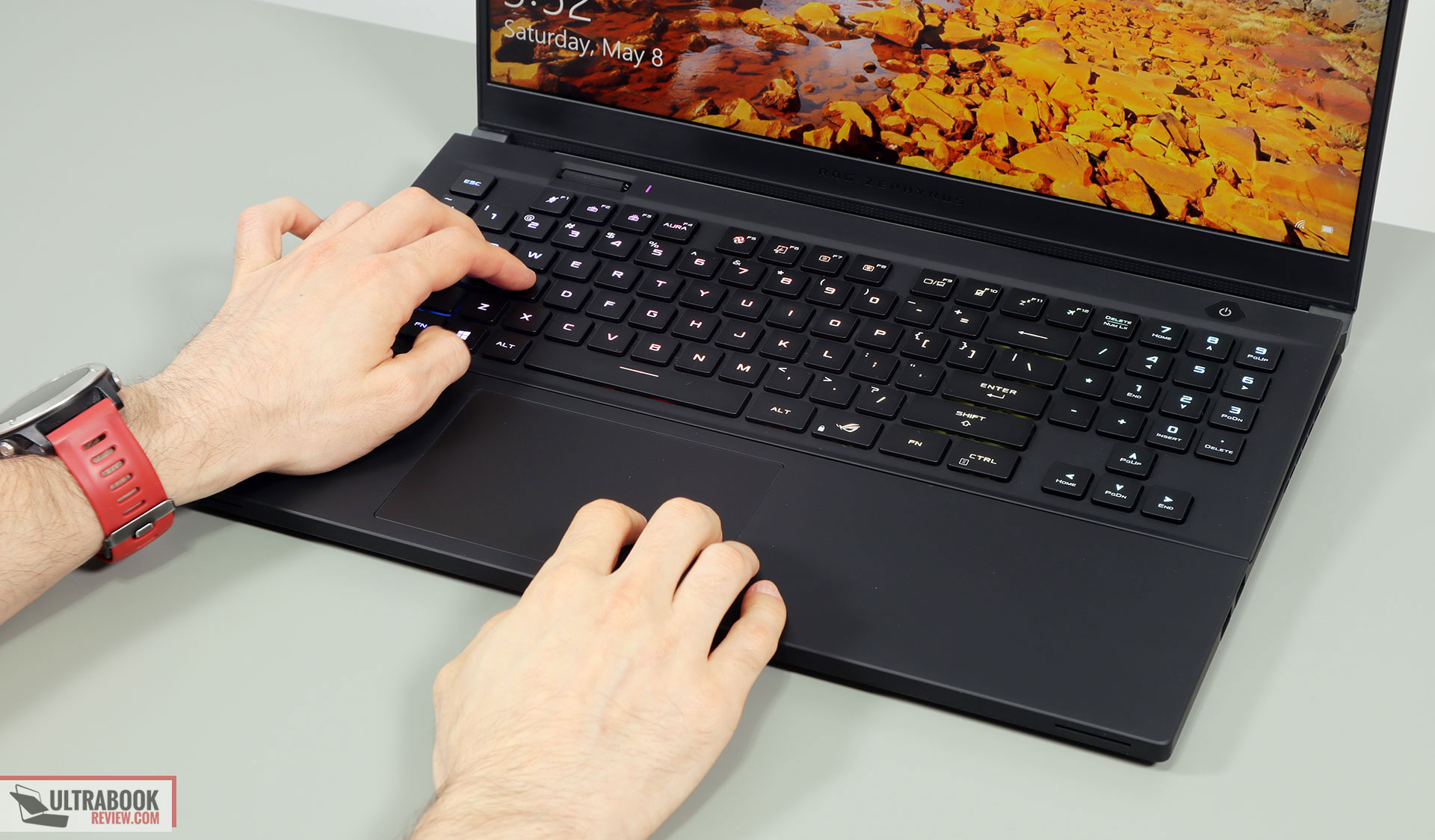 Unlike on the Scar 17, though, there's no longer that set of extra media keys at the top-left here, which have been instead replaced by a configurable volume wheel, now slightly larger than the one on the previous Zephyrus S17 model. It's practical for adjusting the volume or muting the speakers, but I kind of miss not having the Armoury Crate key there at the top, as one on the other ROG laptops.
Layout aside, the overall feedback of these keys is what's going to take some time to get used to here. I've said it before and I'm going to say it again, mechanical laptop keyboards are somewhat weird to me and different from the rubber dome keyboards that I'm used to on laptops, which somehow I still prefer. And that's despite the fact that I've been using mechanical PC keyboards for a while, with either Brown or Red switches, but laptop mechanical keyboards just feel differently, no matter if we're talking about this one here or the ones from Gigabyte or Razer tested in the past.
Nonetheless, Scar 17 buyers seem to be very happy with their keyboards, based on the general feedback I've seen online, so you probably be just as happy with this keyboard on this S17. Just be prepared to give it time to get used to, and keep in mind these keys are clicky and the noise might bother those around you.
Asus also implements RGB per-key illumination on this keyboard, with bright and uniform LEDs and a fair bit of configurability possible in the Aura control app. The app could use a redesign to be easier to use and figure out.
On to the clickpad, it's similar to the one on the Zephyrus M16, a large glass surface that feels excellent to the touch and responds accurately to swipes, taps and gestures. The physical clicks are alright too, and the surface doesn't seem to rattle with normal taps. Overall, this is one of the best clickpads available on a Windows laptop today.
As for biometrics, there's a finger-sensor backed into the power button here, but no IR cameras.
Screen
Asus offers two excellent screen-option of this 2021 ROG Zephyrus S17 GX703 series, both 16:9 matte and non-touch, but with two different panels and sync options:
UHD 3840 x 2160 px IPS, 120 Hz 3ms with 100% DCI-P3 and sRGB, with AdaptiveSync
QHD 2560 x 1440 px IPS, 165 Hz 3ms with 100% DCI-P3 and sRGB, with Advanced Optimus and GSync
We have the 4K 120Hz panel on this sample and it looks amazing, as you can tell based on the specs listed down below, but if given the choice, the QHD 165 Hz would definitely be my go-to here, for a couple of reasons: it's sharp enough at QHD resolution, it's better suited for gaming even on an RTX 3080 configuration, especially with Ray Tracing, it more affordable and more efficient, and finally, those QHD configurations support Nvidia's Advanced Optimus technology, which we'll discuss in the next chapter. The UHD panel, on the other hand, does not support Advanced Optimus and only comes with Adaptive Sync.
Here's what we got in our tests of this 4K panel, with an X-Rite i1 Display Pro sensor:
Panel HardwareID: AU Optronics AUODE95 (B173ZAN06.1);
Coverage: 99.9% sRGB, 86.6% AdobeRGB, 98.6% DCI-P3;
Measured gamma: 2.25;
Max brightness in the middle of the screen: 480.39 cd/m2 on power;
Min brightness in the middle of the screen: 26.62 cd/m2 on power;
Contrast at max brightness: 1020:1;
White point: 6800 K;
Black on max brightness: 0.47 cd/m2;
PWM: No.
Response: TBD.
There's no doubt this is an awesome panel, and it's even more impressive in real life than in these images. It also comes fairly well calibrated out of the box, with a Pantone certification, although the Gamma and White Point can still be further improved on our early sample, but might be better set up on the retail models.
Still, if I get to complain, although I really shouldn't, I would add that I noticed some light bleeding on the lower-lip on this sample, that this panel doesn't get as dim as I'd perhaps want at the lowest brightness setting, and that the blacks aren't amazing either once you push up the brightness, rather dark-grayish than deep blacks.
Specs and performance
As I mentioned already we're not getting into any performance numbers here and we're not going to discuss temperatures, noise levels, or battery life either. Those will be available once we get to test a retail model with the finalized hardware and software, hopefully in the near future, but I don't have any clear time estimate for you now.
I can tell you a couple of things about the specs and the thermal module, though.
The Zephyrus S17 series is Intel-exclusive, built on the 11th gen Intel Tiger Lake H45 hardware platform. There's a Core i9-11900H processor on this model, and I don't know if Asus plans to offer any Core i7-11800H mainstream configurations as well, but they might not. Both are 8C/16T anyway, just with higher clocks and Turbo Velocity on the i9.
For the RAM, the Zephyrus S17 still gets part of it soldered on the motherboard, as well as an upgradeable DIMM. Our unit got 16 GB soldered and an extra 16 GB DIMM, for a total of 32 GB in dual-channel.
The storage consists of 3x PCIe gen4 M.2 storage slots, with RAID support. Gen4 is part of the novelties available with the 11th gen Intel platform, and allows for the fastest transfer speeds I've encountered on a laptop to date, as you can see in the SSD tests illustrated above.
For the GPU, our sample gets an Nvidia Geforce RTX 3080 Laptop chip at up to 140W of power with Dynamic Boost 2.0, but Asus said they're still running tests and might even allow this to go up to 150W. No word on whether 3060/3070 configurations would also be available, although I do hope for at least a 3070 model with the QHD screen, that would be a good value pick and significantly cheaper than the 3080/4K model that we have here.
Update: Looks like RTX 3060 (up to 130W) and RTX 3070 (up to 140W) are also available. That's good news.
Now, as far as I understand, the QHD panel options are going to support Nvidia's Advanced Optimus technology here, with the smart MUX-like switch that allows to seamlessly switch the video throughput and display signal between the iGPU and dGPU. This way, GSync comes in action when the laptop runs on the Nvidia GPU and the video signal is routed directly from the dGPU to the display, leading to improved performance over the implementations that use Adaptive Sync instead, which are most of the other ROG laptops of this generation, as well as the UHD-screen configurations of this S17.
With Adaptive Sync, the display controller is always hooked into the integrated GPU (Intel, in this case), so even if you're running a game on the Nvidia dGPU, the throughput has to go through the iGPU in order to be displayed on the screen, and this process takes a toll on the framerates. based on our tests, this toll is greater on high-fps titles and at FHD resolution, so it's not going to be that much of an issue on this Zephyrus S17 with the UHD screen. Nonetheless, if you're planning to run games on this laptop, it's best to go with the QHD screen option instead.
We're going to thoroughly test all these differences and scenarios once we get our hands on the final S17 review units, in the weeks to come. As all the other ROG laptops, this will also get different power-profiles in Armoury Crate, from the Silent profile meat for daily use and designed to switch-off the fans in certain conditions, up to the Turbo profile designed to maximize the performance of this hardware platform, with an overclocked GPU and faster/noisier fans.
I'm eager to find out how this sort of hardware is going to perform in this kind of a thin chassis, and I know you are as well, so look forward for the review.
Update: Our detailed review of the Zephyrus S17 series is available here.
For now, I'll just leave you with this sneak peek at this laptops' thermal design, with the two fans and a multitude of heatpipes, as well as a smartly designed open back that channels fresh air into the radiators and out to the back.

These pictures down below also showcase the motherboard design, the speakers, the fact that a big part of the interior is reserved for the 90 Wh battery, the easily disconnectable status LEDs at the top, and the complexly engineered hinges that also push up the keyboard deck. It also shows how the thermal module section is isolated from the rest by this foam frame, in order to create extra pressure and protect the components from dust. I've noticed this particularity on most modern Asus laptops.
In fact, taking a deeper look at this design also reveals that it shares plenty with the internals of the Zephyrus M16, with a similar motherboard and set of heatpipes, but larger fans and radiators, as well as larger speakers.
That aside, Asus bundled this S17 preview model with a 280W charger, their previous design and chunkier than the 240W power brick we got on the retail Scar 17. I'm not sure whether the final products will ship with this charger or the more compact 240W model, but it might just be this 280W, given how the GPU runs at higher power here than on the Scar 17, and that Intel hardware will most likely also require more juice than the more efficient AMD platform in the Scar.
For what is worth, USB-C charging is also possible, at up to 100W, and here's how a 65W Asus USB-C charger compares to the 240W  and 280W Asus bricks in terms of size.

Some early thoughts
I know, you're pissed about the lack of an AMD option on this Zephyrus S17 model, but that's just the way it is. I haven't run detailed tests on this early sample, but from the little I did run, this Intel platform is no slouch, even if it's not going to match the Ryzen 9s in terms of efficiency or capabilities in certain multi-threaded scenarios. General demanding loads and especially gaming, on the other hand, that's where I'm pretty sure this will end up at least competitive.
Update: Our detailed review of the Zephyrus S17 series is available here.
This aside, though, this Zephyrus S17 is more than just promising to me and in fact, it's my favorite Asus product announced this year. I'm extremely hyped about the form-factor, which is easily my favorite in the 17-inch segment right now, with that smartly pushed-up keyboard that favors an inclined typing position and allows for this sort of specs to be available in this sort of a chassis. Which BTW, feels and looks awesome.
On the other hand, the IO positioning and the mechanical keyboard might raise some eye brows, but at the end of the day, the success of this series is going to come down on the balance of performance/thermals and noise levels which I hope Asus can deliver in this format. Right now, this promises to match thicker and less portable designs, and I'm looking forward to giving it a proper test and see how or if it meets those promises.
Oh, and now word on pricing and availability for now, also I'd expect this to be somewhere between the ROG Scar 17 and the ROG Zephyrus DUO for similar specs, so definitely not cheap.
In the meantime, though, I'd love to hear what you think about this 2021 Asus ROG Zephyrus S17 GX703 series, so get in touch down below.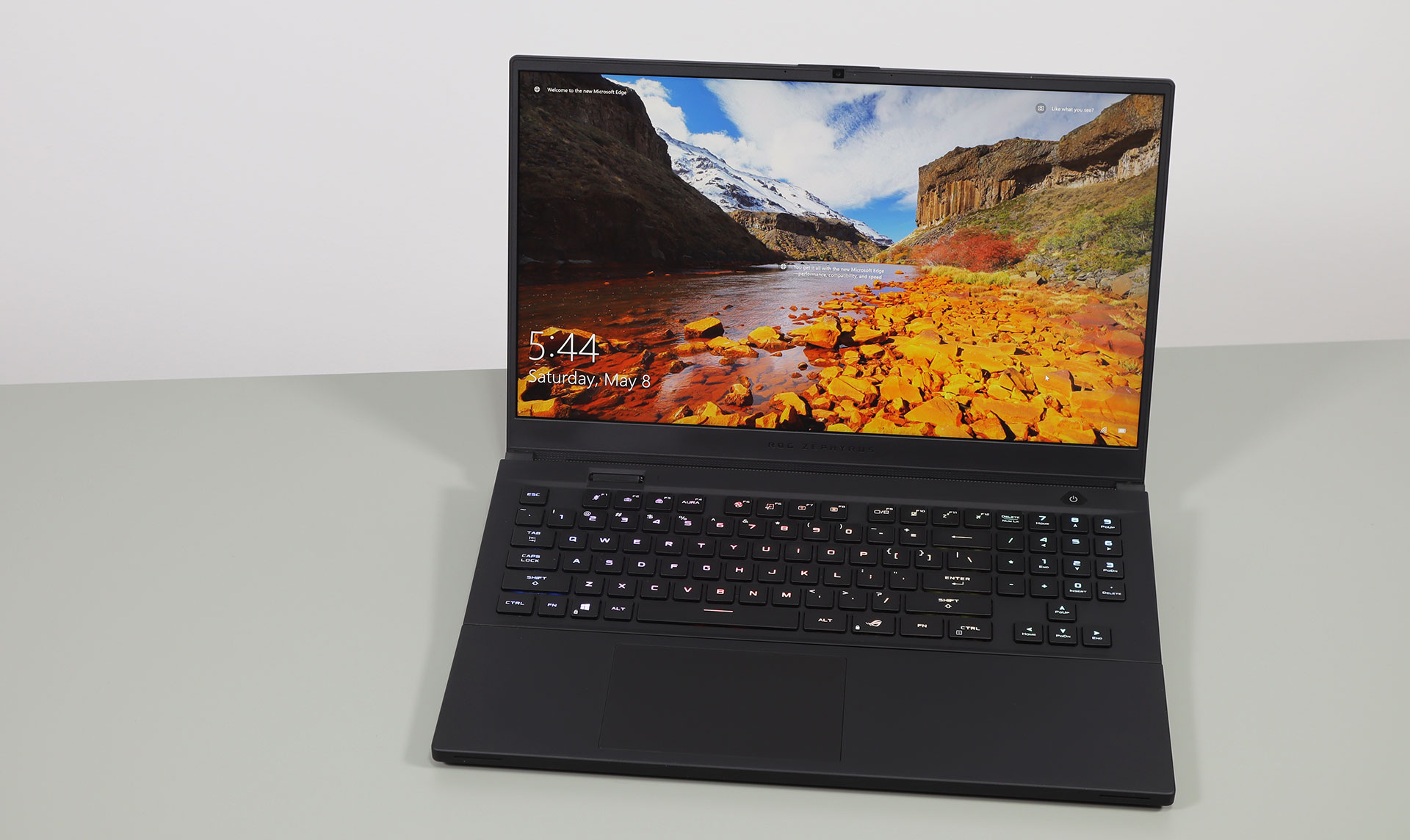 Disclaimer:
Our content is reader-supported. If you buy through some of the links on our site, we may earn a commission.
Terms
.