In case you wondered what happened to Razer's pure ultrabook, which used to be the Razer Blade Stealth, Razer has just announced the new Razer Book 13, which will be focused more on productivity and less on gaming.
This laptop refills in the gap in their lineup that was created when they started putting dedicated GPUs onto their Stealth model, which I've reviewed many generations of.
One of my concerns with the Stealth 13 lately was the lack of a low-cost option that only had an integrated GPU, for those of us that want the premium feeling look and design, but not necessarily want to fork out a few hundred extra dollars for a dGPU.  The Razer Book 13 is their answer to that need.
Update: Our detailed review of the Razer Book 13 is available in this dedicated article.
While I'm not 100% sold on the lowest tier option, the mid-tier model is very intriguing to me as it checks a lot of boxes for what I would look for in an ultrabook today.  The combination of a touch and FHD screen is the sweet spot for 13" models in my opinion, especially one that is as small as this one.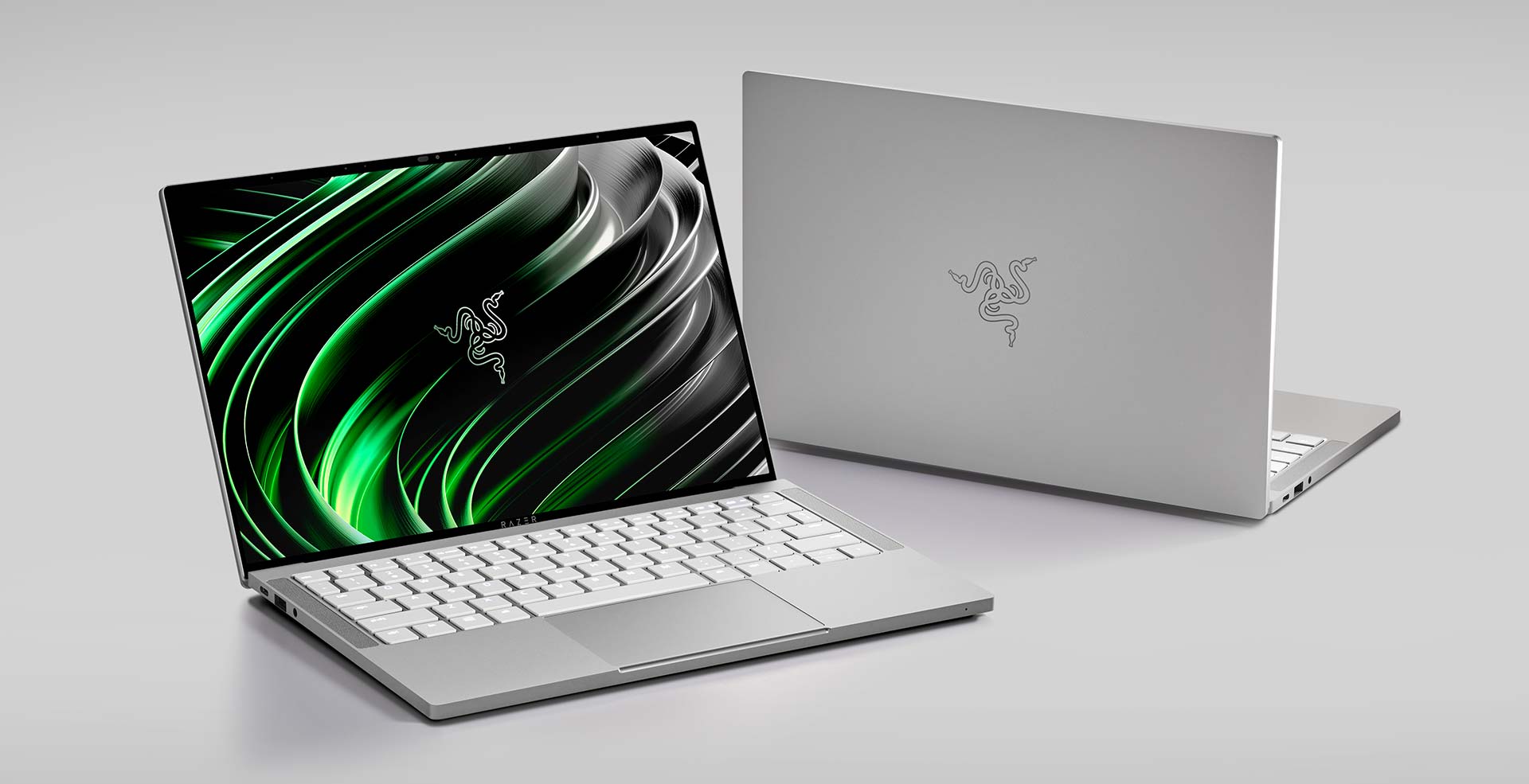 Bringing size up, at first glance you might think that this is the same chassis as the Stealth 13, but it's actually a little smaller in every dimension except the overall thickness.  You notice it most in the bezels, as they are the smallest that Razer has offered to date.
Even the IO is better than on the Stealth 13, as this model has an HDMI port and a micro SD card reader in addition to the 2x Thunderbolt 3 USB-C ports and the single USB-A.
Other interesting differences between this model and the Stealth 13 are the slightly smaller trackpad and what looks like (but may not be) smaller speakers on the newer model.  Also, the webcam appears to be even smaller, so hopefully, it's still Windows Hello enabled and works well.
Another notable feature in this model is that it's Intel EVO certified, which applies to the mid and top tier models.  This is basically a confirmation that the laptop passes a series of high standard tests to confirm important features work well, such as productivity apps, battery life, battery charging, IO speeds, etc.  This is nice to know, but of course, we'll be putting it through our barrage of tests on our own.
Of course, the entire series is based on 11th-gen Intel Tiger Lake hardware with Iris Xe graphics, and the base-model lacks the Evo branding only because is paired with a matte display.
I'm very interested to see what Razer has made here, and hopefully, I'll be getting a review unit in sometime this month.  What I'm most interested in are the advantages over the Razer Blade Stealth 13 and if they are worth losing the dedicated GPU over.  Sure, this model has Iris graphics for gaming, but let's be real here: it's not the same.
But the 16:10 aspect ratio on a 13" laptop might very well be the ideal size for productivity reasons, and the added IO is certainly a plus.  I'm also liking having a touch screen without having to move up to the 4k model.
Update: Our detailed review of the Razer Book 13 is available in this dedicated article.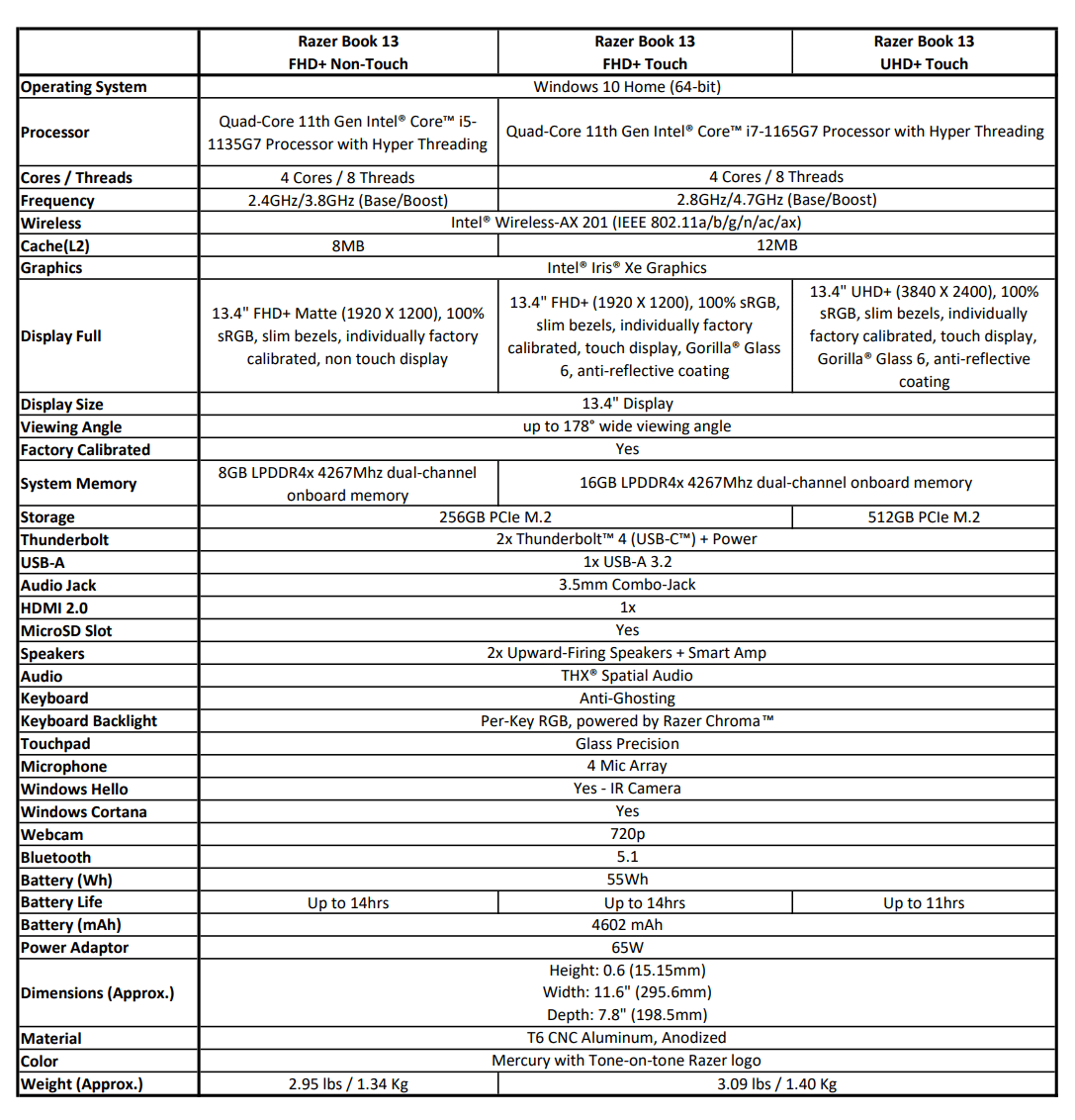 Disclaimer:
Our content is reader-supported. If you buy through some of the links on our site, we may earn a commission.
Terms
.