VivoBooks are Asus's affordable range of thin-and-light notebooks, budget alternatives to their higher-tier ZenBook lineup.
We've reviewed many VivoBooks along the years and have documented their evolution, up to the 2020 variants we'll quickly touch on in this article, available in 13″ (S13 S33), 14″ (S14 S433) and 15″ (S15 S533) sizes.
These 2020 Asus VivoBooks S refine on the 2019 models (here's our review of the 2019 VivoBook 15 S532, for comparison), with a hardware bump to Intel's 10th gen Comet Lake and WiFi 6 wireless, 20% larger batteries and various other tweaks in regards to the design, keyboard, and screens.
For what is worth, my experience with the 2019 VivoBooks left me craving for brighter and better quality panels, more up to date with today's demands and expectations, while improved battery life and performance on the dGPU configurations were two of my other expectations from and updated series.
You'd have to wait for our detailed reviews for a complete picture of how the 2020 models improve on those aspects, but we can offer you a quick preview of what's changed. First, with a specs sheet.
Update: Our detailed review of the VivoBook S14 S433 is available here. We'll update once we get to review the other models as well.
Asus VivoBook S13 S333 (*)
Asus VivoBook S14 S433 – review
Asus VivoBook S15 S533
Screen
13.3 inch, 1920 x 1080 px, IPS, non-touch, matte
14.0 inch, 1920 x 1080 px, IPS, non-touch, matte
15.6 inch, 1920 x 1080 px, IPS, non-touch, matte, 86%
Processor
Intel Comet Lake Core U, up to Core i7-10510U CPU
Video
Intel UHD 620 + optional Nvidia MX250 2GB
Memory
up to 16 GB DDR4 2666 MHz (soldered , dual-channel)
Storage
2x M.2 PCIe x4 and optional 16/32GB Intel Optane storage
Connectivity
up to WiFi 6 (Intel AX), Bluetooth 5.0
Ports
1x USB-A 3.1, 2x USB-A 2.0, 1x USB-C 3.1 gen1, HDMI, microSD card reader, mic/headphone
1x USB-A 3.1, 2x USB-A 2.0, 1x USB-C 3.1 gen1, HDMI, microSD card reader, mic/headphone
1x USB-A 3.1, 2x USB-A 2.0, 1x USB-C 3.1 gen1, HDMI, microSD card reader, mic/headphone
Battery
50 Wh, 65Wh charger
Size
305 mm or 12.0" (w) x 200 mm or 7.87" (d) x 14.9 mm or 0.58" (h)
325 mm or 12.8" (w) x 213 mm or 8.4" (d) x 15.9 mm or 0.62" (h)
360 mm or 14.17" (w) x 234 mm or 9.2" (d) x 16.1 mm or 0.63" (h)
Weight
~2.65 lbs (1.2 kg)
~3.1 lbs (1.4 kg)
~3.99 lbs (1.8 kg)
Extras
white backlit keyboard, NumbePad option on 14/15-inch models, HD webcam and near-field mics, available in Green, Red, White and Black
* Some sources mention Intel IceLake hardware for the smaller VivoBook S13 S333, we're looking for confirmation and will update if true.
Unlike with the 2019 generation, Asus also offer a 13-inch VivoBook S13 S333 version this time around, alongside the 14 and 15-inch models. That's an option for a small and light budget ultrabook, but I'd recommend sticking with the i5 processors and iGPU configurations at this size, as well as do some research on the typing experience, just to make sure you're not getting any miniaturized keys.
On the other hand, if you're interested in a Core i7 processor and the MX250 graphics for GPU acceleration and light-gaming, the 14 and 15-inch variants would be my go-tos, with a preference for the bigger model. Its increased size will better handle the thermal requirements of the Core U + dGPU hardware and allow for superior performance in demanding loads, as a result.
Given how Comet Lake is mostly a revamped version of the Whiskey Lake hardware implemented on the 2019 VivoBooks, our reviews of the S432 and S532 models should paint a good picture on what to expect in terms of performance, thermals, and battery life, until we actually get to review these updated versions. However, keep in mind that these 2020 VivoBooks now get a 50 Wh battery, a bump from the 42 Wh battery of the previous generations, and that will translate in a 15-20% increase in battery life.
Update: AMD Ryzen versions of these laptops are also available, and here's our detailed review of the 15-inch VivoBook M533.

It's important to add that Asus are not opting to put the six-core Intel Core i7-10710U in this lineup, but only the quad-core i5-10210U and i7-10510U SKUs. The i7 is a potentially higher-clocked i7-8565U, if thermals allow, with minor optimizations.
Of course, none of these are performance laptops, so if you need more processing power for your school/work projects or improved gaming abilities, I suggest looking into one of the larger-sized budget gaming notebooks of the moment, such as the Acer Nitro 5, Asus TUF FX505/FX506 Series or the Lenovo legion Y540.
For what is worth, though, with the update to Comet Lake hardware and Intel AX wireless, the entire range of 2020 VivoBooks now gets faster WiFi 6 connectivity. The 2019 models didn't impress with their speed and long-range performance, so this could be a welcomed update, as long as Asus keep their drivers in check and prevent any sorts of disconnects and problems when resuming the laptop from sleep.
Among the other changes of the 2020 VivoBook S lineup are:
a slight design change, with the lid-cover and interior deck getting diamond-cut edges, and a diamond cut logo on the hood;
aluminum is now used for the entire case, including the underbelly, which was previously made out of plastic;
a marginally larger footprint and increased bezels, in order to accommodate for a new affordable panel sourced from a different manufacturer than before;

a couple of new color options: Resolute Red, Gaia Green, Dreamy White, Indie Black;
most of the IO has been moved to the left side, while it was previously mostly on the right and crowded your mouse area;
redesigned keyboard, with slightly larger keycaps and without a NumPad section –  I was happy with the typing experience on the VivoBook S532, so hopefully, they didn't mess this up;
either silver or black keyboards, based on the exterior color option – go with the black variant if possible, the keys are much easier to read due to the better contrast;
a yellow bordered Enter-keyboard on all color options;
there's no longer an option for the secondary ScreenPad integrated within the clickpad, in order to keep prices down – reserved for the ZenBook lineups this year; however, you can opt for a NumberPad on the 14/15 inch models.
I'm happy to see some of these changes, while I also don't care much about some of the others, like that yellow Enter gimmick. Overall, though, Asus are surely working on improving their products year over year, and that's to be applauded.
I also appreciate their aim of making the VivoBook lineup more price-competitive, as I feel they lost some of it to the Lenovo IdeaPad and Acer Swift products of the last years. At the same time, though, I hope they didn't cut any corners and that new screen is not only more affordable, but also brighter and richer, as the 250-nits option on last year's VivoBook S532 was not a pleasure to look at.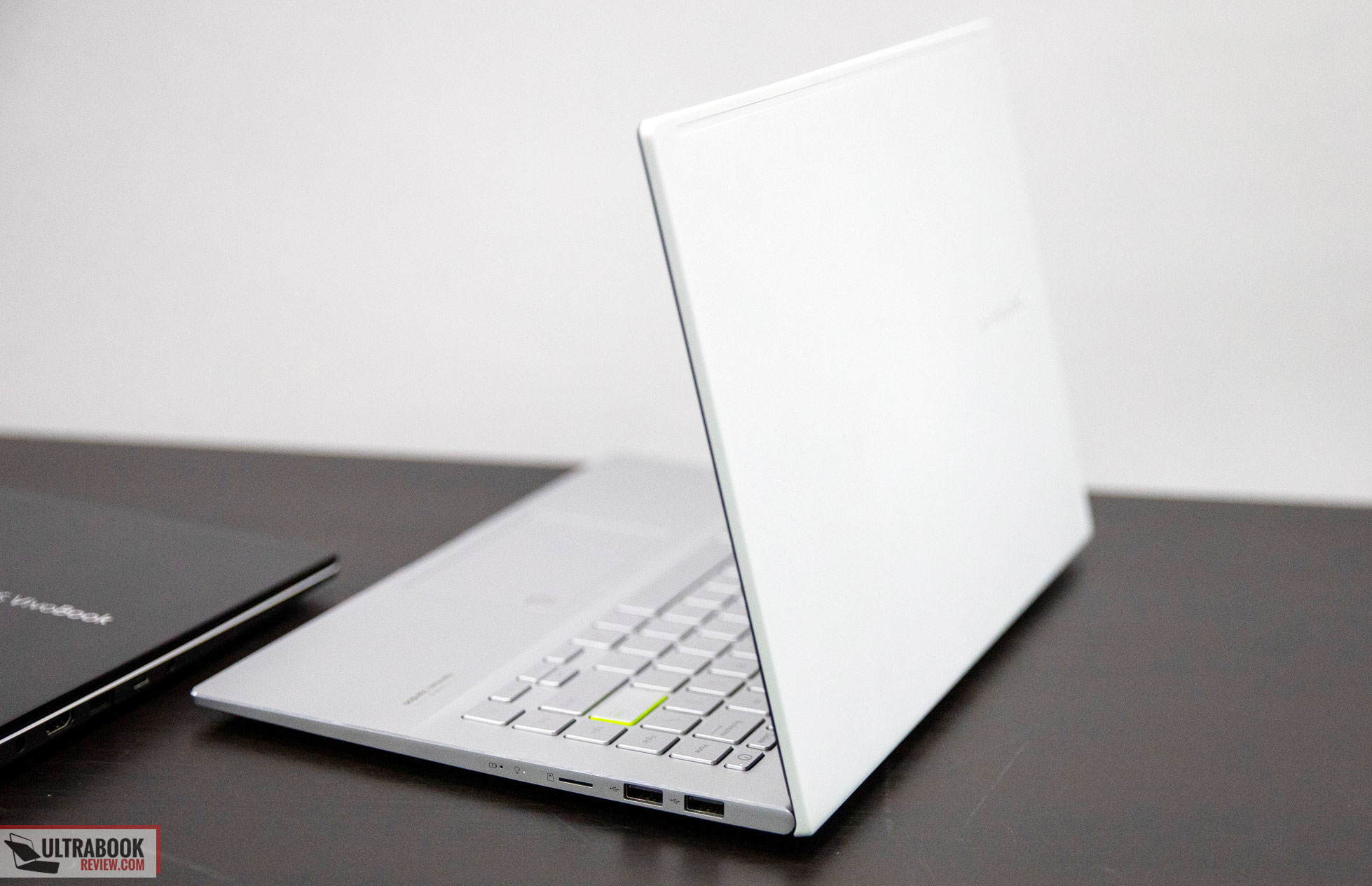 Either way, that's our quick preview of the Asus VivoBook S lineup for the first part of 2020. Share your thoughts in the comments section below and look forward to our detailed reviews in the months to come, as these notebooks become available in stores.
Update: Our detailed review of the VivoBook S14 S433 is available here. We'll update once we get to review the other models as well.
Disclaimer:
Our content is reader-supported. If you buy through some of the links on our site, we may earn a commission.
Terms
.