In this article we're discussing the 2023 update of the Asus VivoBook Pro 16X OLED series, model name K6604JI.
Over the last years, Asus offered some well-balanced creator laptops in the VivoBook Pro 16X lineup, with a variety of Intel/AMD specs, beautiful high-res OLED displays, and competitive pricing. Potential buyers considered those alongside other popular lineups such as the Dell Inspiron 16 Plus, the HP Envy 16, or the Dell XPS 15/17.
BTW, I've reviewed the previous VivoBook Pro 16X versions in either the Intel or the AMD configurations, so I can cover what Asus changed with the 2023 update knowing the strong points and the quirks of the past iterations.
In just a few words, the 2023 Asus VivoBook Pro 16X builds on the design lines of the previous generations, but offers significantly more powerful hardware specs and an updated cooling module, as well as an updated OLED display, including an option for the glass-free 3D OLED variant that's also offered on the higher-tier ZenBook Pro 16Xand ProArt Studiobook Pro 16 models.
With that in mind, I've spent a little time with an early sample of the 2023 VivoBook Pro 16X, and down below we'll go through the notable novelties of this generation, briefly comparing it to the previous Pro 16X versions. I'll follow up with our in-depth review later in the year.
Update: In the meantime, I've spent more time with a retail version of the Asus VivoBook Pro 16X OLED, and here's my full review.
Specs – Asus VivoBook Pro 16X OLED K6604JI 2023-generation
First of all, though, here's a complete specs sheet of this 2023 VivoBook Pro 16x.
Asus VivoBook Pro 16X OLED K6604JI – 2023 model
Screen
16.0 inch, 16:10 format, glossy, non-touch,
3.2K 3200 x 2000 px, OLED, 120Hz 0.2 ms, 400-nits with 550-nits peak HDR, 100% DCI-P3 color coverage,
optional 3D OLED functionality 
Processor
Intel 13th-gen Raptor Lake,
Core i9-13980HX, 8C+16C/32T, up to 5.6 GHz Max Turbo, up to 105W TDP
Video
Intel UHD + Nvidia GeForce RTX 4070 8GB GDDR6 (120W with Dynamic Boost),
with regular MUX switch (no GSync on main display)
Memory
DDR5-4800, up to 64 GB (2x DIMMs)
Storage
PCIe gen4 SSD, single M.2 2280 slot
Connectivity
Wireless 6E 2×2, Bluetooth 5.2
Ports
2x USB-A 3.2 gen1, 2x USB-C with Thunderbolt 4 (data, PD, DP), 1x HDMI 2.1 FRL, SD 4.0 card reader, LAN, DC-IN, audio jack
Battery
90 Wh, 240W barrel-plug charger with quick-charging
Size
355 mm or 13.98" (w) x 249 mm or 9.80" (d) x from 22.9 mm or 0.90" (h)
Weight
from 4.4 lbs (2 kg) + charger
Extras
white backlit keyboard, glass touchpad with virtual Dial, FHD 1080p webcam with privacy shutter, adaptive color sensor, stereo bottom speakers, finger-sensor in the power button
Design and ergonomics
The VivoBook Pro 16x is a standard clamshell laptop with a 16-inch display. The design hasn't noticeably changed from the previous generations, yet some aspects were refined and updated.
Metal is mostly used for the construction, and Asus offers this series in two color schemes: Cool Silver and 0° Black. Our unit is the latter, and looks good, but shows smudges fairly easily. Both get the VivoBook plaque thing on the lid, and some branding elements on the inside, under the screen, and around the armrest.
These aside, the 2023 VivoBook Pro 16X is more compact than the previous models, but at the same time thicker and heavier, yet still portable for its size at 2+ kilos. These changes are mostly a result of the updated internals and cooling module, which includes now a multitude of heatpipes and four radiators; the exhausts and hinges were redesigned so that the hot air no longer blows into the display, a culprit of the past variants.
Instead of a big middle hinge, this Pro 16X implements two smooth and sturdy smaller hinges which still don't offer the ability to lean back the display flat to 180 degrees. Asus have updated the camera, though, implementing an FHD shooter with a physical cover, but still without IR functionality.
Oh, and you probably noticed from these images that the status LEDs are still positioned under the display, in the middle of the chassis, so will be somewhat annoying when using the laptop at night – I wish they'd just put these on the sides on all their products.
Asus have updated the overall chassis' layout with this refresh, moving the touchpad slightly to the left and centering it under the Enter key. As for those grills at the top of the keyboard, those are for ventilation as well, and don't hide any speakers underneath. The speakers are still placed on the bottom of the laptop, but have been updated to larger units that should lead to an improvement in audio quality.
The overall D-panel design has been updated as well, with ample ventilation space over the entire thermal module, and some large and grippy rubber feet.
As for the IO, there's pretty much everything you would need here, including USB-A and USB-C ports with full Thunderbolt support, an HDMI port, a LAN connector, a full SD card reader, and an audio jack. Well done!

Inputs and display
The keyboard on this VivoBook Pro 16X carries on from the previous generation, and it's a full layout with a NumPad section and the general feedback offered by most other VivoBook and ZenBook notebooks of the past year or so.
That means this is a good typer, yet a little shallow in comparison to other full-size laptops. The keys are backlit, with white LEDs.
The touchpad is identical to the one on the previous VivoBook models, but was repositioned towards the left side of the chassis and is no longer straight centered. It's a spacious glass surface with a dedicated DialPad zone that you can activate in the top-left corner.
As for biometrics, there's a fingerprint sensor integrated into the power button/key, but no IR camera sensor.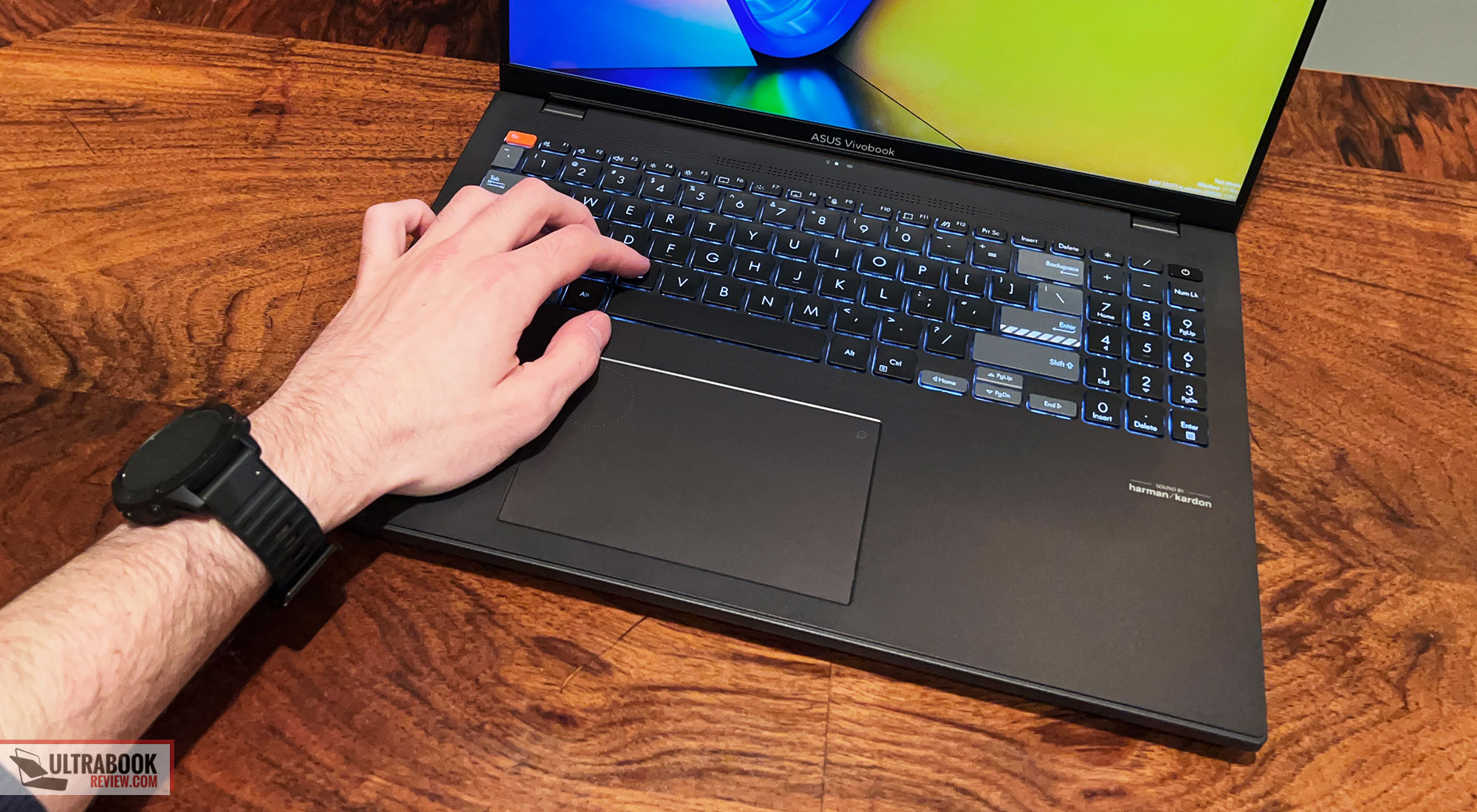 The display on this 2023 Pro 16x K6604 series is still a 16-inch 16:10 OLED as in the past, but with a different panel.
Asus implemented a 3.2K OLED 120Hz option here, which is excellent for everyday use, media creation, and occasional gaming.
It's a glossy finish without touch, though, so you won't have to deal with the graininess noticeable on touch OLEDs, but you will have to accept the glare. Plus, given the fact that this only goes up to around 400-nits of max brightness, you'll mostly want to keep the laptop indoors or in dimmer environments, as it will struggle in bright light.
As a side note, Asus offers this series with the optional 3D OLED technology that's also implemented in the ZenBook Pro 16X and the ProArt StudioBook 16. That's the same OLED panel described above, but with an extra lenticular lens layer and the set of cameras required for head tracking, as explained in the following video.
I've seen the 3D OLED in real life and is more spectacular than I expected, although an expensive addition for now and with somewhat limited utility for most users, once you get past the WOW demos.
Hardware specs, performance, and cooling
While in the past Asus offered the VivoBook Pro 16X in various configurations with either AMD/Intel platforms and mid-tier Nvidia graphics, the 2023 model steps up in specs, but is now an exclusive Intel + Nvidia design.
In fact, from what I can tell so far, Asus only announced a top-specced variant of this laptop, the VivoBook Pro 16X K6604JI, which pairs an Intel 13th-gen Core i9-13980HX processor with an Nvidia RTX 4070 dedicated GPU. The specs also include up to 64 GB of DDR5 memory (with 2x DIMMs), up to 2 TB of SSD storage (single M.2 2280 slot), and a 90Wh battery.
The i9-13980HX is the most powerful 13th-gen mobile CPU of this generation, with a hybrid design with 24 Cores and 32 Threads, as well as up to 5.6 GHz of Max Turbo speeds. It's going to provide a significant performance boost in multi-treaded loads compared to the Intel and AMD chips in the previous VivoBook Pro 16X models.
As for the RTX 4070 GPU, that's just incomparably faster than the RTX 3050-class chips in the past models. And btw, a MUX is implemented with this series, with regular Optimus and hybrid/dGPU modes, and will make a difference in certain apps and in games. However, keep in mind that this series is primarily designed for creator use, and comes with Nvidia Studio drivers. That doesn't mean it won't be able to handle pretty much any modern game and high graphic settings, though.
That aside, I'd reckon (hoping, at least) mid-tier specifications will also be available later in the year, with an i7 HX processor and mid-tier RTX 4050/4060 graphics.
Still, for the i9 + 4070 model, we know that Asus are planing on a 150W crossload power design, which is impressive for a VivoBook. Furthermore, the CPU alone can run at up 105W sustained and the GPU ramps up to 120W with Dynamic Boost. These sorts of power settings surpass even the previous-generation ROG Zephyrus M16, one of the most powerful thin-and-light 16-inch laptops of 2022 (followed up by a similar Zephyrus G16 in 2023, and an updated Zephyrus M16 model with extra power and improved cooling).
All these power settings are achievable on the Max Performance profile on the VivoBook, with most likely fairly noisy fans. However, Asus also aim to provide a balanced Standard profile capable of still solid performance at sub-40 dBA. We'll know more about these once we get to properly review this notebook.
Of course, all these are possible thanks to the completely revamped cooling module on this generation, with two high-capacity fans, five heatpipes, and four radiators, as well as ample intakes and exhausts.
I didn't get to open this sample, but you can make sense of the design from this image of the back panel. For what is worth, though, I fear that those large and low-profile rubber feet might choke the intakes on this design, and you'll probably have to place this laptop on a raiser stand when running demanding loads on it.
This graphical representation down below also showcases the thermal module on this VivoBook pro 16X lineup.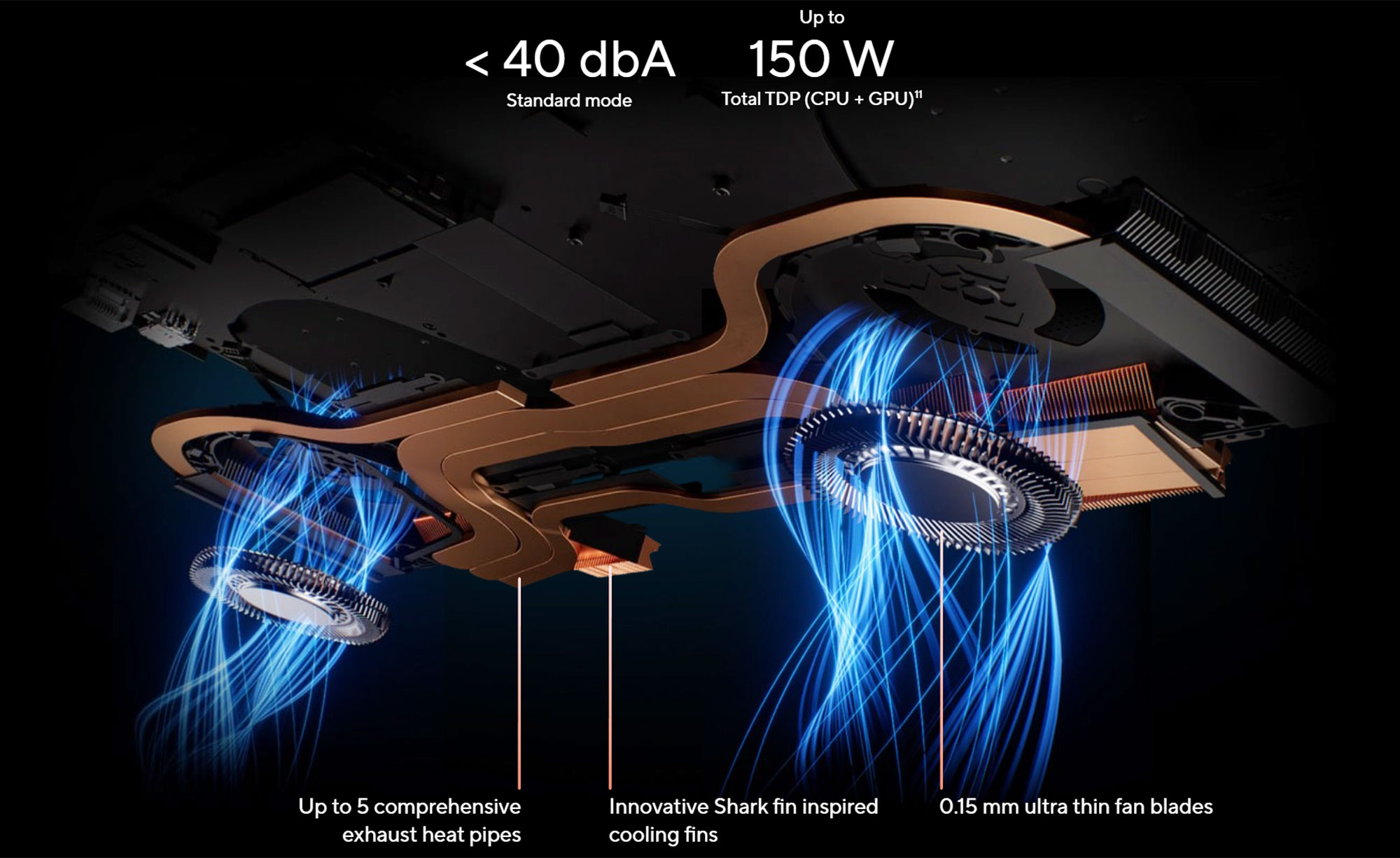 Furthermore, the next image pictures the 90Wh battery available inside, as well as hints at the speakers that are flanking it.
The laptop comes with a 240W main charger on the i9 + 4070 configuration, but can also charge via USB-C if needed.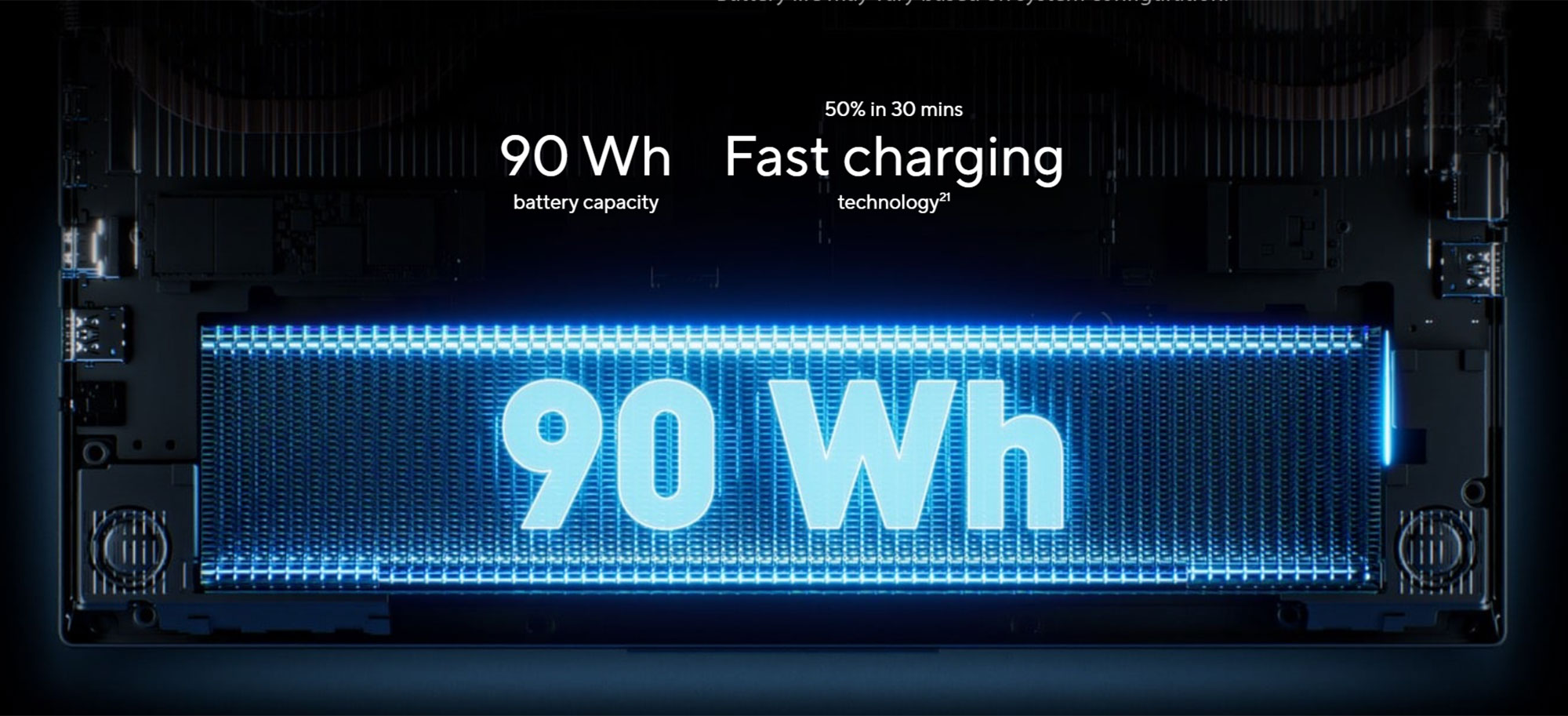 Pricing and availability
From the little know so far, the 2023 VivoBook Pro 16X is expected in stores around Q2 this year.
It's unclear whether Asus will only offer the Pro 16X K6604JI Core i9 + 4070 configuration (which I'd reckon will sell for ~2500+ USD/EUR), or will also offer mid-tier specs at more affordable prices. I'm hoping options around the 1500 mark will still be available, as otherwise, this will have a hard time competing against the higher-tier Asus options, the ZenBook Pro 16X and the ProArt StudioBook 16.
I'll update this section in the future, and also add links to our review once we get to properly test this series.
In the meantime, get in touch down below and let me know what you think about this updated VivoBook Pro 16X 2023 generation.
Disclaimer:
Our content is reader-supported. If you buy through some of the links on our site, we may earn a commission.
Terms
.