As stated in our preview of the Alienware 25 monitor, the beginning of 2020 marks the launch of several 25-inch 240 Hz IPS monitors from multiple OEMs, and Lenovo joins in with their Legion Y25-25 gaming screen.
Lenovo is not as popular as Asus, Acer, Alienware and even BenQ in this niche of fast gaming monitors, and they'll most likely try to compensate for it with what they do best: aggressive pricing for a well-rounded product.
Hence, the Legion Y25-25 monitor is slated for June 2020 with a starting price of $320, as opposed to the $499 price tag of the Alienware 25 AW2521HF. Still, the Alienware 25 is scheduled for March, so by summer, it would significantly drop in price, with other 25-inch 240Hz IPS monitors flooding in.
That aside, the Legion Y52-25 gets a similar panel to the other options, with 24.5-inches in size, 1920 x 1080 px resolution, 240 Hz refresh rate and down-to 1 ms GtG response with aggressive Overdrive. The panel is also rated at 400 nits max brightness, 99% sRGB color coverage and 1000:1 contrast ratio. FreeSync support is also baked-in, but no mention of GSync compatibility for now, unlike on the Alienware.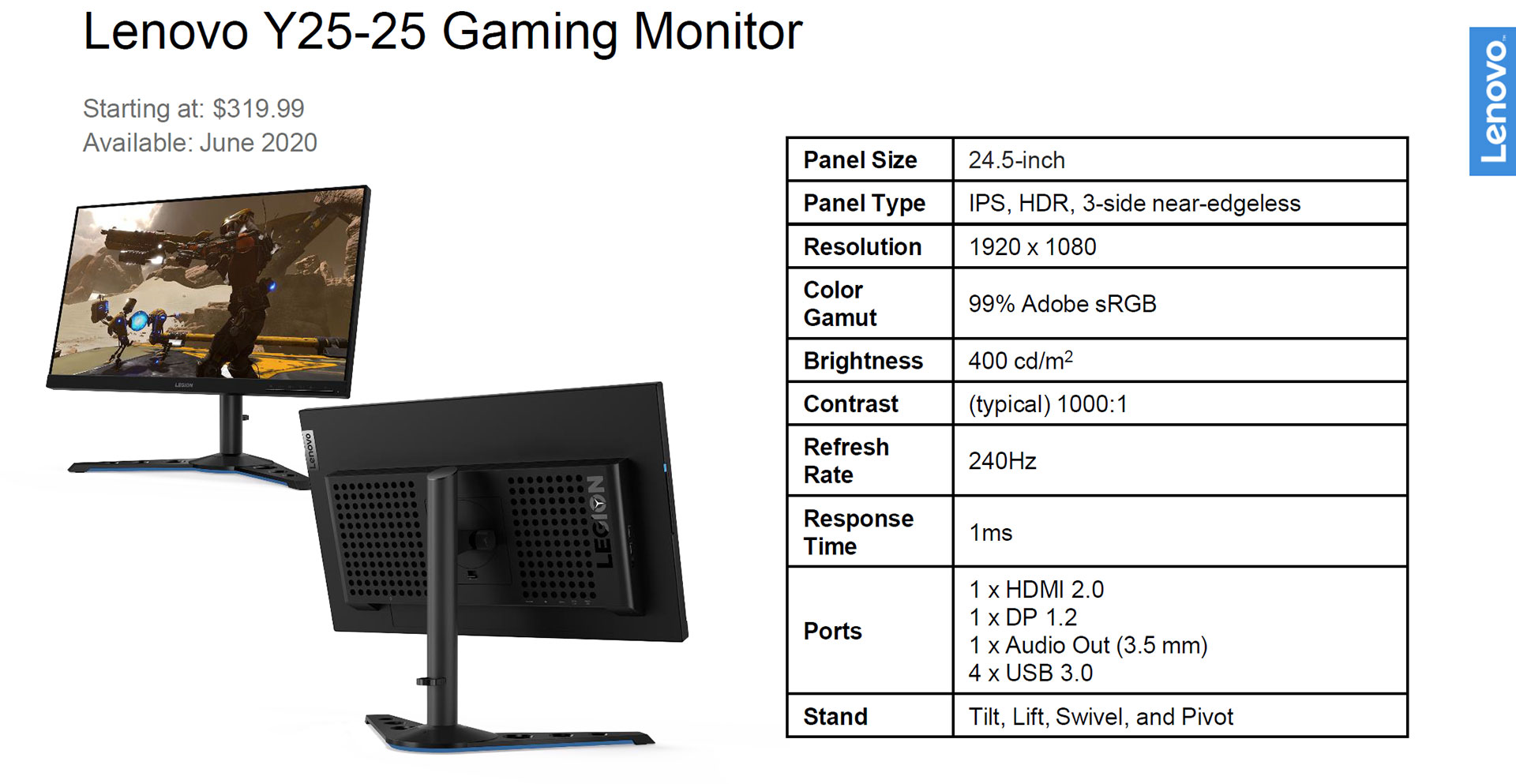 Compared to the existing 240 Hz TN screens like the popular Asus ROG Strix XG258Q or BenQ ZOWIE XL2546, the IPS version offers richer 8-bit colors, larger gamut coverage, and wider viewing angles, but could suffer from IPS-known issues like IPS glow, calibration imbalances, and light bleed around the corners.
Also, don't expect this to be a true 1 ms panel, that's impossible even with 240 Hz TN screens doe to the limitations of the TFT technology. Activating Overdrive is what drives the response down, but aggressive Overdrive tends to introduce nasty Inverse-Ghosting/Halo artifacts, so you'll have to find the middle ground setting for the best gaming experience.
That's why it is important to go through more detailed reviews of these 240 Hz IPS monitors before taking the plunge, to find out how your options fare against each other and which best caters to your requirements and budget.
Panel aside, given that most 25-inch 240Hz IPS monitors will get the same panel, the design factor is going to be one of the differentiating factors. Just like most other options, the Legion Y25-25 gets small bezels around the top and sides, a thicker chin underneath the screen, and a beefy base with tilt, lift, swivel and pivot.
The design is fairly clean and consistent with other Lenovo gaming monitors like the Legion Y27GQ 1440p 240 Hz version, with a black and blue theme and no RGB lighting. I'm not a big fan of that foot and having buttons on the front chin, though, I rather prefer to have them hidden at the back.
Overall, the Alienware 25 looks a bit more refined, hides the buttons on the back and includes customizable RGB lightning, plus is GSync compatible from launch. It's also a considerably more expensive product for arguably similar 240Hz IPS panel and gaming experience (based on what we know so far, but there might be other differences in settings/features between the two, so look for detailed reviews for more in-depth impressions), so it's up to you if those extra features are worth paying a premium for.
Lenovo also proposes the Legion Y25-25 monitor as part of an interesting bundle with the Legion Y740S gaming ultrabook and the Legion BoostStation eGPU enclosure.
Disclaimer:
Our content is reader-supported. If you buy through some of the links on our site, we may earn a commission.
Terms
.