September 18, 2020: I ended up replacing the JBL bar with a different set of speakers and sub. Scroll to the end to see what I got!
May 31, 2020: With four months of usage under my belt, I'm updating this article with a bit of a rant.
I originally rated the JBL Bar 5.1 wireless surround soundbar fairly highly, citing it's good sound quality and unique feature set as the main highlights while commenting on a cheap remote and some annoyances here and there. My original update was going to be much more profanity-laden, and it would have been "**** this ****ing piece of ****" if I didn't make myself wait a day to calm down before I wrote this.
JBL has earned a reputation for excellent concert speakers and studio monitors on the professional side, but I can't say that I've seen this quality trickle-down to their consumer products. The longer I use the JBLBAR51, the more I find that this ~$500 USD soundbar's behavior seems governed completely by gremlins. Reoccurring issues include constant random changing of input (with no cables for that input connected), an inability to control the volume over PC using BT, amd inconsistent BT pairing/unpairing function. The Bluetooth drivers are buggy, but I also have to use them half of the time because the optical and HDMI seem to have lower sound quality than BT for some reason — not to mention the fact that the soundbar randomly insists on using a different input depending on the day of the week.
My research and troubleshooting over the past month leads me to believe that these are both driver (software) and firmware (onboard the soundbar) issues, and the fact that there have been no software updates from JBL at all for this product is more than disappointing. The speaker hardware itself is of good quality, but it's hamstrung by malfunctioning firmware and software. A user should not need to spend an hour trying to troubleshoot their suddenly malfunctioning speakers so they can relax with a movie on Saturday night.
This is purely my conjecture, but I would guess that JBL, like many companies, is making its software/firmware development an afterthought, and probably also sub-contracting it out to the lowest bidder. No DJ or audiophile worth their salt is going to put up with speakers that don't work 10% of the time, and I'm no different.
Sorry, JBL, but something designed for consumers also still needs to work. Consumer product reviews have gotten past the point where we give out five-star reviews for a product that mostly does what it's supposed to 90% of the time. People rely on technology as tools, and "mostly" working is not going to work anymore.
Original review published April 15, 2020 follows:
If you like your film, games, and music, you're definitely not going to want to settle for the paltry built-in speakers on your TV or notebook. Even the best TV or laptop speakers aren't going to be able to pack the punch needed to fill all but the smallest of closets with accurate, full-spectrum sound. The problem is that, when it comes to audio, there's such a wide range of equipment to pick from that figuring out how much you really need to spend and what features you actually need is quite daunting.
I knew I wanted a fairly convenient setup with minimal wires and bluetooth, thanks to my naughty rabbit's proclivity for chewing on cables when she's in a mood, but also because my laptop, an XPS 15 7590, is known for having an absolutely terrible DAC leading to poor 3.5mm audio-out quality. A few hours of research narrowed my search to just a few options, all in the sub-$500 USD range.
What sealed the deal for me on the JBL Bar 5.1 4K Ultra HD 5.1 Channel Soundbar with True Wireless Surround Speakers (no gold star for the marketing intern who came up with that one) was the robust 10-inch subwoofer and the option to break away or dock its wireless satellite speakers as you please. This meant that I could have a surround-sound experience when I wanted to, but I wouldn't be committed to having a complex setup with wires going everywhere.
I was a bit worried that the wireless speakers might be a gimmick when I first ordered it, but I'm happy to report that the JBL Bar 5.1 Soundbar doesn't disappoint in the sound department. It does have a few issues that you'll want to be aware of before going ahead and ordering it, though, and those issues and their impact on the day-to-day experience with this soundbar are what I'm going to focus on in this review.
Specifications
Total Maximum Power
510W
Soundbar Transducer Size
Soundbar Transducer Size: 6 x 2.25″
racetrack drivers, 3 x 1.25″ tweeter
Subwoofer Transducer Size
10″
Max SPL
104dB
Battery (when satellite speakers are wireless)
10 hours w/ 3-hour charge time
Connectivity
3 HDMI Video Inputs, 1 HDMI ARC Output (HDMI 2.2), 1 3.5mm audio in, 1 USB Type-A, and Bluetooth 4.2
Size
59.06 x 39.37 x 35.43 inches (149.9 x 100 x 90 cm)
Weight
37.3 lbs (16.9kg)
Extras
Wall mounting brackets, wireless surround calibration antennae, HDMI cable, 3.5mm cable, and optical cable
Measuring at 59.06 x 39.37 x 35.43 inches (149.9 x 100 x 90 cm) and weighing in at 37.3 lbs (16.9kg), it's worth noting that this comes in a very large and awkwardly shaped box when it arrives. It's not that its too heavy to carry, but as a single person it's extraordinarily difficult to pick up and carry about 400 m in the rain and up 4 flights of stairs (ask me how I know). Seriously, if you end up wanting to buy this and you live alone, consider asking a friend to help if you need to carry it a long distance. Just don't forget to wear a mask.
Setup
Installing the JBL Bar was quite straightforward as far as home audio setups go. The subwoofer connects to the rest of the audio with Bluetooth, and unlike some other wireless soundbars I've had in the past, I've yet to have any problems with the subwoofer losing connection to the central unit. There are two power supplies included, with one for the sub (larger) and one for the base. The package also comes with mounting racks, but I elected just to leave it resting on top of my TV table.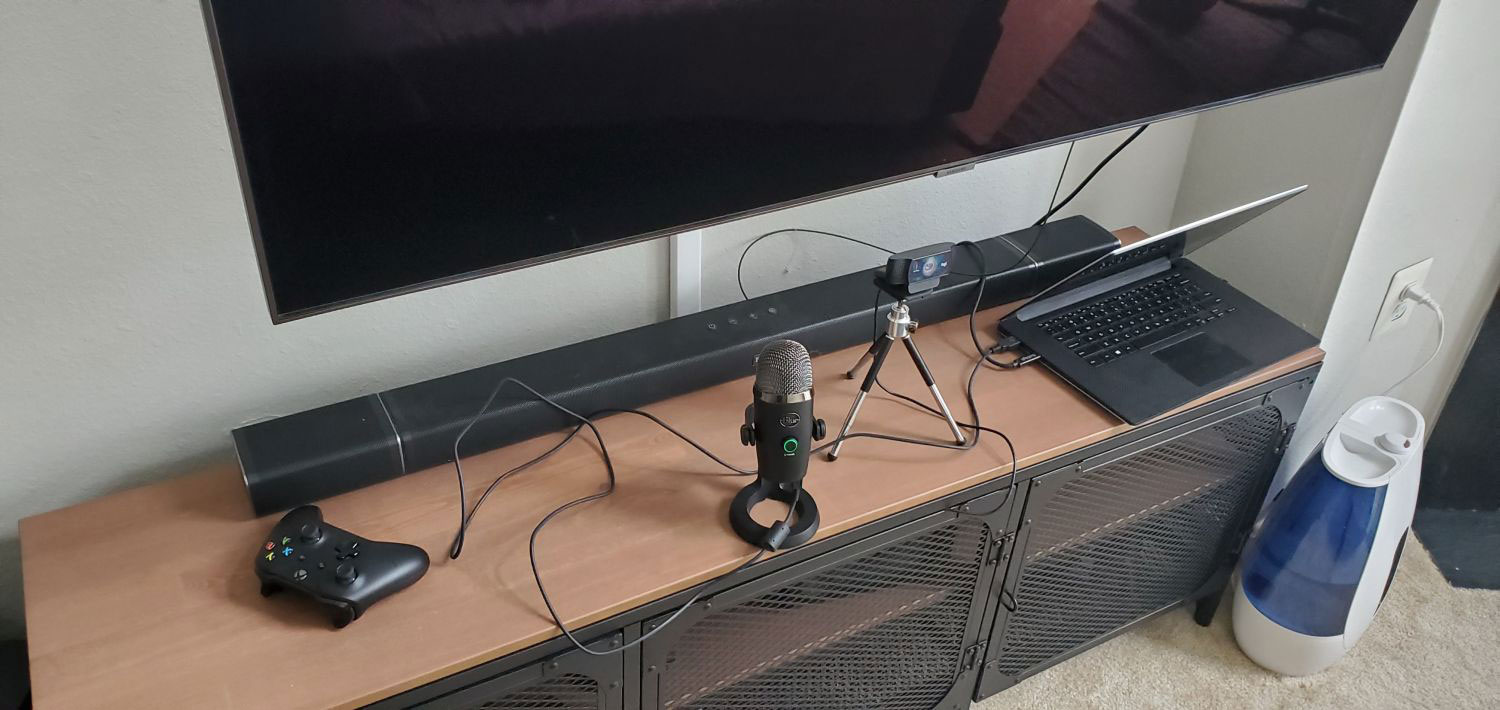 Once the physical setup was complete, all that's left to do is connect the JBL Bar with your choice of method: HDMI (through ARC, to allow for control of PC audio with TV and soundbar remotes), optical, 3.5mm, or Bluetooth.
There is an included antenna that can be used to re-calibrate the base to better estimate the location of the satellite speakers when they are used wirelessly, but I have not found it necessary to use it. It's good to have, though, should you opt for a less traditional location for them.
Performance
So, how does the JBL Bar sound? Overall, between a scale of "1" as "terrible" and 5 being "excellent" and near studio-quality, I'd give it a 4. The highlight of the system is its excellent bass/lower-frequency performance, with fairly good mids and highs for a relatively mainstream solution. The higher frequencies don't aren't as good as a nice set of studio monitors, but once the subwoofer has joined in, you will be very much enjoying yourself. This is all with a big caveat, though: I had to use Bluetooth to get the best sound quality from it.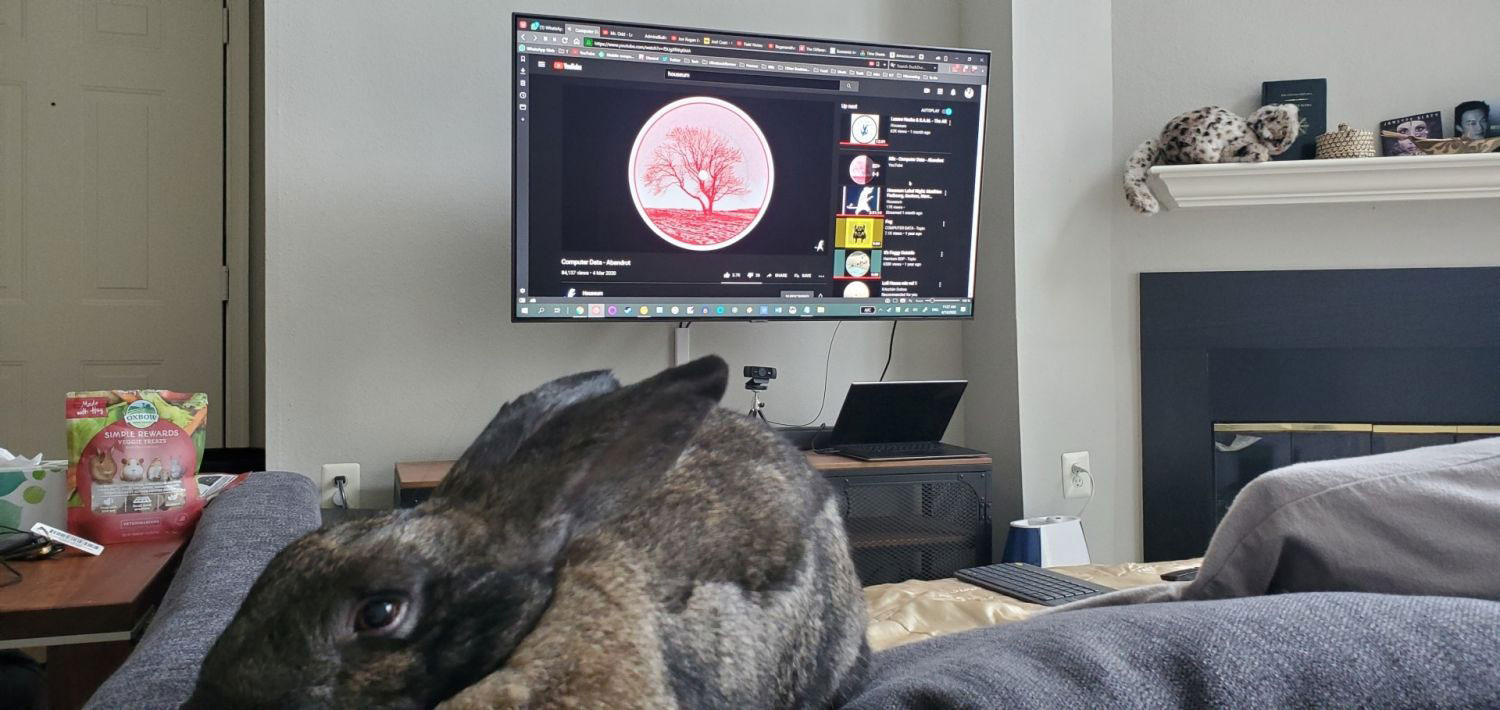 In order of best to worst, the sound quality seems to be best over Bluetooth, followed by optical, then HDMI, and 3.5mm last. I think this is where your TV and notebook come into play somewhat. The 3.5mm jack was a no-go, and filled the room with horrible static that molested every bit of sound produced by the soundbar. This seems to be an issue with the DAC on the XPS 15, the grounding of the wire, or both. The HDMI cable was my next attempted connection method, but I found that the bass seemed quite underwhelming even turned to maximum (30). I checked all the options on my TV related to sound, but couldn't find any reason for the lowered bass response. Switching to optical (from TV to soundbar) gave me much better bass, and I was fairly happy with the way it sounded overall. Strangely, though, Bluetooth seems to produce by far the cleanest sound quality with the best bass response. With the subwoofer at 15, the bass sounded much more full and clean than over optical with the subwoofer at 30. The downside of using Bluetooth as your connection is additional latency and the need to use the remote to adjust volume rather than system volume (system-wide adjustments in Windows have no effect on the output from the soundbar over Bluetooth, it seems).
So, if you want to get the best possible experience with this soundbar, Bluetooth seems to be the way to go.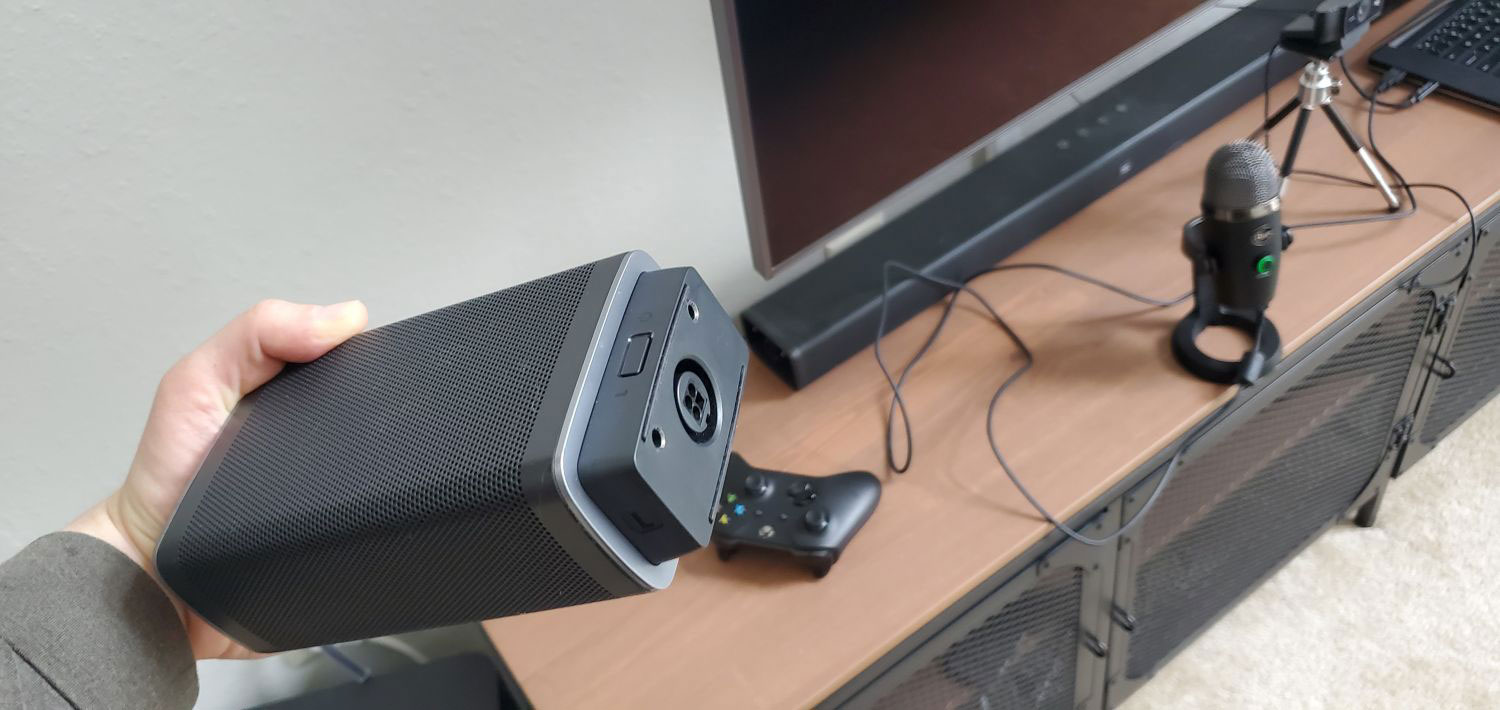 How does the heralded wireless surround feature fare, then? Pretty good, pre-tty good, to quote Larry David. They aren't quite as loud once disconnected, but they make up for that by adding the additional dimension of depth. JBL advertises up to 10 hours of operation while wireless, and I think that's exactly what I've been able to get out of them so far. I did notice one problem with the setup, though: the speakers do not charge while the soundbar is still "on". If you want the satellites to charge, you will need to turn off the soundbar, meaning it cannot be used. This is a bit of a disappointment, especially because it's not listed anywhere that I could see on the product page.
Is it worth it to have wireless surround as an option over a more traditional single-piece soundbar? I think so, as they really add to the atmosphere of a movie, game, or music session. It feels like you're immersed in the sound, and after having experienced surround sound for a media center, I wouldn't go back to regular stereo.
Overall Experience
The feature set of the (deep breath) JBL Bar 5.1 4K Ultra HD 5.1 Channel Soundbar with True Wireless Surround Speakers is great, especially for the price. You get very good sound quality, a lot of different inputs, and a cool wireless surround feature for a mid-range price. The problems with the JBL Bar lie in the little incongruities and annoyances, however. Having to use bluetooth to get the best sound quality despite having 3 other options is a bit ridiculous, the speakers not charging until the unit has been turned off can be a major bother if you forget to do it, and as a last nitpick, the remote is quite cheap and the buttons are very difficult to press. I hope that JBL can address these issues in the next iteration, and then I would say it would be a near 5/5 for its price range. However, based on the comments I've read below for this product, I don't hold great hope for JBL to fix this product to make it reliable.
September 2020 Update:
I recently moved, and that gave me an opportunity to rid myself of most of my belongings and reevaluate what I wanted to have. I ended up going for the Klipsch R51-PM Powered Bluetooth Speaker along with a Polk Audio PSW108 10″ Powered Sub. Both of these together were roughly the same price (or less) than the JBL Bar, but they also have much better sound quality and functionality for me. The mids and highs of the Klipsch R51 speakers are outstanding, and they even provide enough bass for everybody but bass-heads. They also have aux, optical, USB, RCA, and Bluetooth output, which means I can use them with my mixing decks (the excellent Pioneer XDJ-RX2). I threw in the Polk Audio subwoofer, and not only the mids/highs but also the bass far surpasses the quality of the JBL bar. There are drawbacks, however: the bluetooth connection occasionally drops, so I wouldn't go with the Klipsch speakers if you are always going to be wirelessly connected. And of course, they don't have the function of the wireless satellite speakers, which were a fun novelty.
However, the overall sound coverage of the Polk/Klipsch setup I have now provides much more even sound coverage of the room and a more balanced sound profile (the JBL Soundbar was mostly bass with only "adequate" highs/mids). If you're looking for a media/theatre/audio setup that is under $500 USD or so and you're mostly going to be wired, I'd suggest these over the JBL bar.
Disclaimer:
Our content is reader-supported. If you buy through some of the links on our site, we may earn a commission.
Terms
.