Lenovo has thrown their hat into the eGPU arena this CES 2020 with the debut of their aluminum-constructed Legion BoostStation external GPU enclosure.
With a design reminiscent of the Razer Core but with more features and a lower price, the BoostStation looks like it will be quite competitive in the full-size eGPU space.
A few things stand out here as far as specs go, like the impressively heavy weight of 18.76 lbs (8.5 kg). Even the decidedly chunky Razer Core X weighs in at "only" just above 14 lbs, while the Razer Core V2 is closer to 10 lbs. All these enclosures seem even heavier when you consider that the Aorus Gaming Box that I'm using at this point, with its mini-ITX card included, is roughly 4.5 lbs. You'll definitely want to keep this as part of a stationary home setup.
On the plus side is the ample internal storage, consisting of 1x 3.5/2.5″ SATA slot and 2x PCIe SSD slots (presumably 2-lane), and well-rounded array of ports. You'd do well to remember that with only 1 TB3 cable, however, the overall bandwidth is going to be shared between the eGPU and any other attached devices and storage.
Besides being cheaper than the Core X and Core V2, the BoostStation supports 100W of power delivery over USB-C PD.
That's a nice feature only matched by the portless Razer Core X, while the Core V2 only supports 65W over USB-C. If you'd like a single-cable solution for your setup, you will notice occasional power drain on a Coffee-lake system getting above 65W under heavy load, so 100W PD is a nice-to-have feature.
Legion BoostStation eGPU
Dimensions
14.01" x 6.77" x 8.34" (365 x 172 x 212mm)
Weight
18.74lb (8.5kg)
Available Graphics Cards (w/ bundle)
NVIDIA® GeForce RTX 2080 Super 8GB
NVIDIA® GeForce RTX 2070 Super 8GB
NVIDIA® GeForce RTX 2060 Super 8GB
NVIDIA® GeForce® GTX 1660Ti
AMD Radeon RX5700XT
Max GPU Dimensions
300mm (Power Pin on Rear) 320mm (Power Pin on Top) x
60mm x 150mm (Distance Between Top of PCIe Connector to
Bottom of Card Locker)
Internal Storage Slots
1 x 3.5" or 2.5" HDD or SATA SSD Slot

2 x PCIe SSD

Power Supply
500W ATX
Power Delivery
100W USB-C PD
Ports
2 x USB 3.1 (Gen 1)
1 x USB 2.0
1 x Thunderbolt 3
1 x HDMI
1 x RJ45 Ethernet
1 x AC-in
Design
The Legion BoostStation's design has an unmistakable likeness to the Razer Core beyond the dark and sleek aluminium enclosure with traditional mesh side ventilation. Most similar is the pull-out GPU tray which is on-rails, allowing for easy access to the inside of the case for installation.
If you've ever had to install a GPU into something like the Mantiz Venus, you'll be very happy to have a sliding tray design over the complete disassembly some other eGPUs (like the Venus) require.
The design is otherwise fairly minimalist, save for the "LEGION" logo on the front.
Who's it for?
It looks like Lenovo is positioning the Legion BoostStation as a companion for the company's new Legion Y740S gaming notebook. Slimmer and lighter than the Y740 yet with no dGPU, it's one of the first H-series notebooks (to my knowledge) that any manufacturer has released without the possibility of being paired with an internal GPU.
Personally, I'm not quite sure about this pairing for a few reasons.
Firstly, the Y740S is less powerful (due to no dGPU) than the Y740. At the same time, H-series chipsets have traditionally been poorer eGPU companions than U-series chipsets due to latency issues leading to lower 1% low framerates. This fact has meant that, at least until now, a laptop like the Dell XPS 13 would likely be a more stable and less expensive eGPU pairing than something like the Y740S. Of course, this is just conjecture at the moment, as perhaps Intel's 10th gen H-series chips will perform better with eGPUs than their predecessors.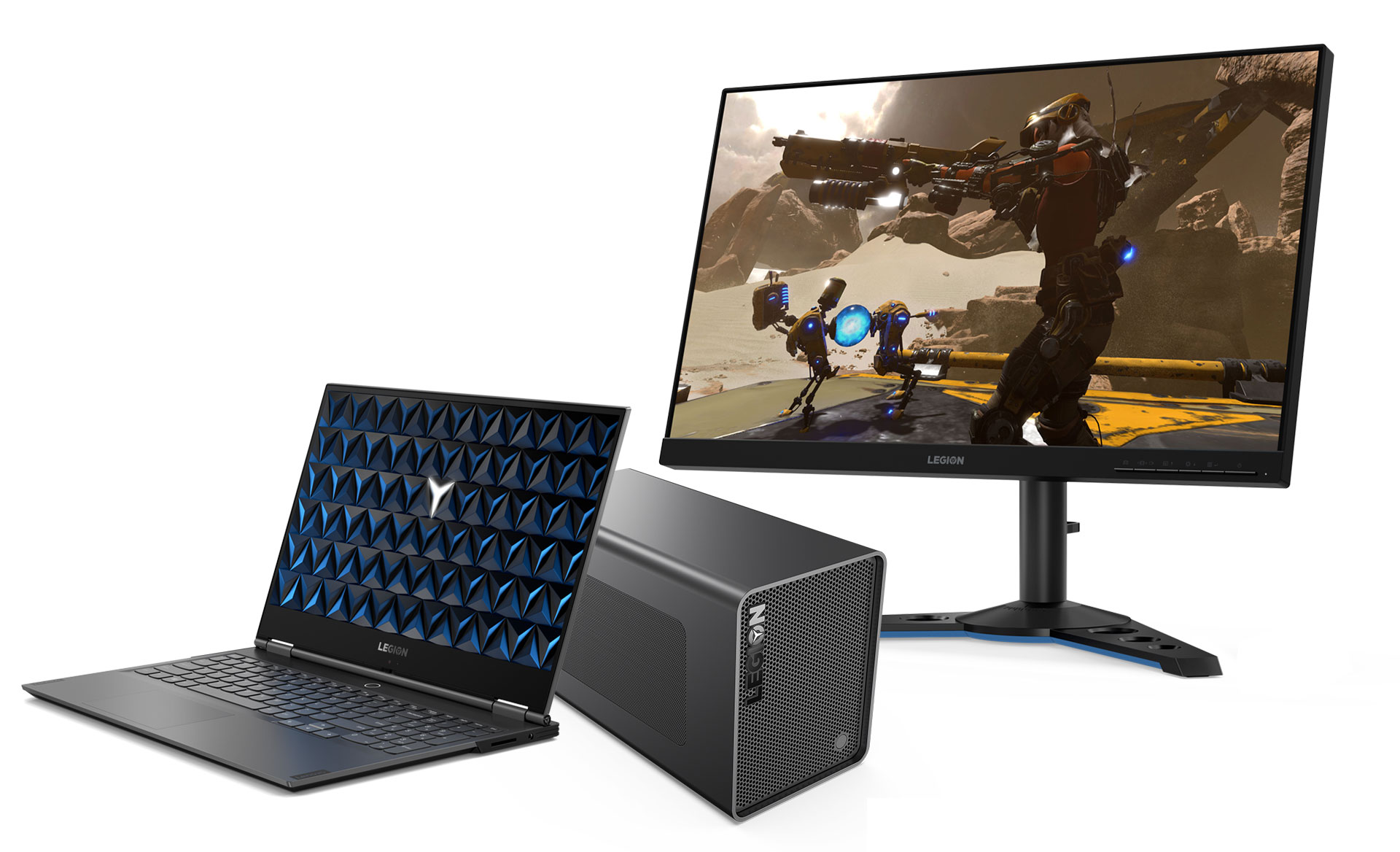 Regardless of which system you'd like to pair it with, it looks like the BoostStation will be a fairly priced option for gamers with a fairly elaborate (and stationary) home setup and plenty of free space. The dimensions and weight mean you won't be wanting to move it around too much and it will likely be too big to be anywhere but the floor for most people, but those dimensions also mean it is quite expandable and versatile. Being compatible with most Nvidia and AMD cards while also being able to host up to 3 SSDs internally would make it a great option for many home gaming/media setups.
Availability
The Legion BoostStation eGPU is slated for May 2020 and will start at US$249.99 for just the enclosure. Based on the notes from Lenovo, it looks like they will be offering at least 5 potential GPUs with the BoostStation as bundles. No pricing information has been released for those bundles yet.
As usual, you'll also likely be able to find the BoostStation in various configurations on Amazon come May. Stau tuned for updates.
Disclaimer:
Our content is reader-supported. If you buy through some of the links on our site, we may earn a commission.
Terms
.