As of late 2019, there are no 24/25-inch 240 Hz monitors with IPS panels on the market. You can get several good-quality TN 240 Hz screens at this size, but if you're looking for IPS you have to jump over to one of the 27″ options. However, these get rather expensive and FHD on 27″ doesn't look great.
That's changing in the first part of 2020. Dell is among the first to announce a 24.5-inch 240 Hz IPS monitor with what they call true 1 ms response time, with the Alienware 25 AW2521HF.
The other big players in this niche will quickly follow with their options in this competitive esports niche as well, for professional LOL, CS: Go, Fornite, Overwatch or PUBG players. Oh, and if you're not into this sort of face-paced games, don't even bother with a 240 Hz screen, you'll get much better value with the existing 144 Hz options out there (like the ASUS VG248QE or the Acer KG241Q).
With that out of the way, while there are still plenty of details to sort out about the Alienware 25 AW2521HF in the weeks to come, this article we'll explain what to expect from the 2020 Alienware 25 monitor and how it fares against the current best-value TN 240 Hz options in the class, like the Alienware AW2118Hf, ASUS ROG Strix XG258Q or BenQ ZOWIE XL2546. 
It's mostly about that IPS 240Hz panel
Dell didn't offer a lot of technical details on this monitor at launch, so we don't know which exact panel they're using here. What we do know is that it does get an IPS 240 Hz panel with a resolution of 1920 x 1080 px (FHD).
Dell claims it's natively capable of 240 Hz refresh rate and true 1 ms GtG response times (with Overdrive on its most aggressive setting), as well as 99% sRGB color coverage. That aside, being an IPS panel not only translates in richer colors, but also in improved viewing angles.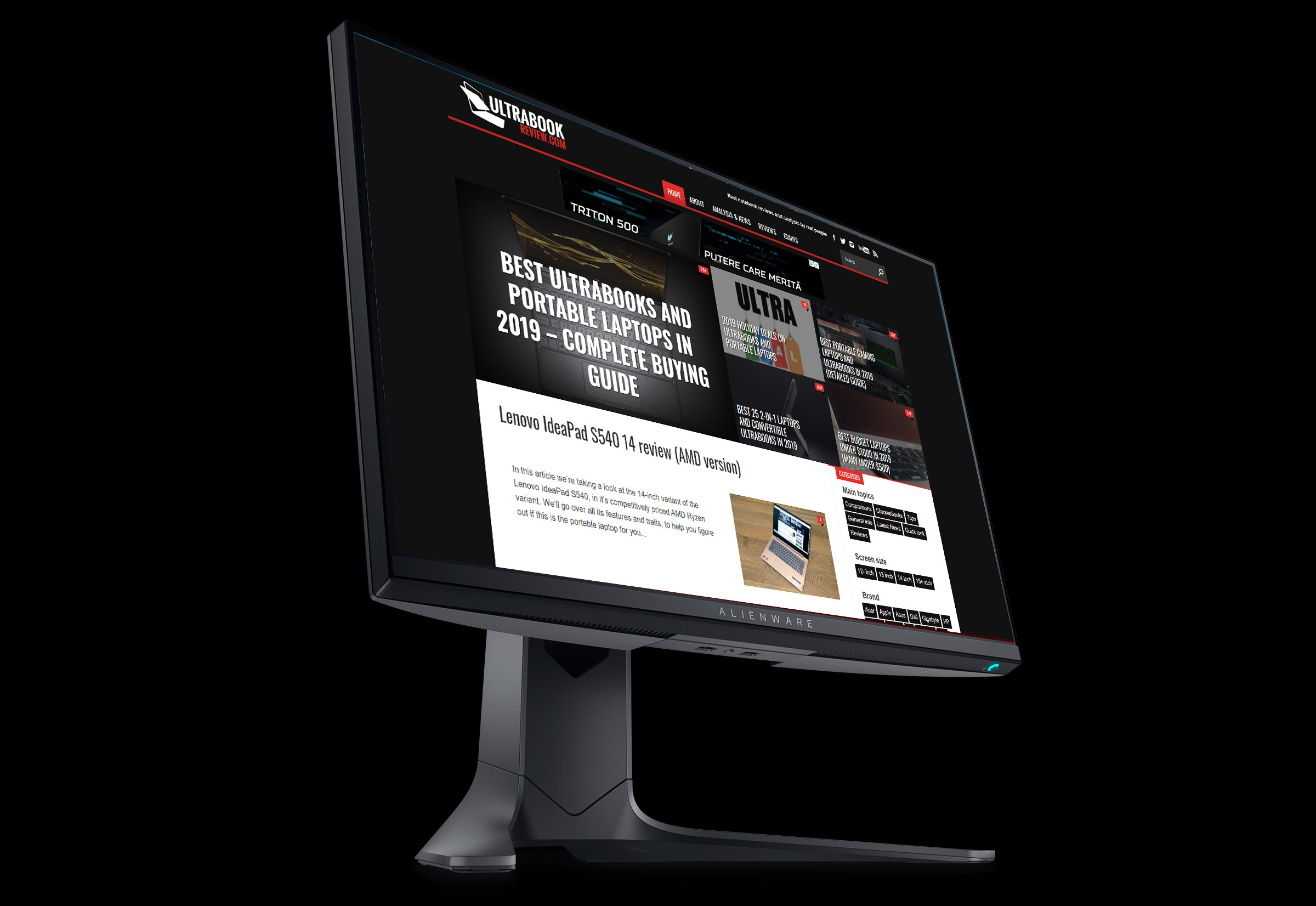 On the other hand, IPS glow/light bleed around the corners could be an issue to look for, and something you don't normally have to live with on the TN panels. These are all aspects to further research in detailed reviews if you decide to get the Alienware 25 AW2521HF monitor in the future.
Finally, the Alienware 25 AW2521HF supports both AMD Fresync and Nvidia G-Sync (most likely only G-Sync Compatible, not true G-Sync and without HDR support – to be confirmed). This sort of Active Sync technologies are useful for AAA games or if you don't have a very powerful graphics card, but competitive gamers that will primarily benefit from such a fast screen will most likely never enable Sync to prevent the potential lag issues. Nonetheless, you'd need at least a GTX 1660Ti Super or an FX5700 to properly drive games on this screen without completely sacrificing the graphics settings.
We don't know the exact details on brightness and contrast capabilities, bit depth, supported connectivity or the monitor's weight, among others. For what is worth, the 27-inch Alienware 27 AW2720HF monitor gets a 1000:1 panel with 350-nits max brightness and 8-bit color (as opposed to the 6-bit + FRC on existing TN options), with 2x HDMI and 1x DisplayPort for video, as well as 4x USB-A slots, and I'd expect about the same for this smaller Alienware 25 variant as well.
Finally, there's also the question of whether this truly supports 1 ms response times, and the answer is surely not. In fact, the fastest TN existing panels offer real-life G2G response times of 3-4 ms. Overdrive helps in reducing response and thus ghosting, but can create artifacts like Inverse Ghosting, which can look even worse in games. That's why you might not want to use the Extreme Overdrive setting anyway. Still, does this actually matter even for competitive gaming? Most likely not at this level, but hey, if you hate ghosting and motion blur that much, perhaps you shouldn't have thrown your old CRT screen away.
Design and other aspects
Panel aside, design-wise the Alienware 25 AW2521HF is a shrunk version of the existing Alienware 27 AW2720HF, launched a few months ago during Fall 2019. However, unlike the 27-inch version that gets a white back and base, the Alienware 25 will be available in a darker grey color.
This is still a beefy screen with a big stand that will take a fair bit of space on your desk. Dell claims it gets a "thinner, sleek adjustable stand", but I reckon that's in comparison to the old Alienware 25 AW2518Hf. I have to admit the new base looks cleaner, but it still beefy. Then again, most other gaming monitors in this class are chunky and loaded with all sorts of accents and lights.
For what is worth, the monitor does include a Vesa 100 mount, so you can put this on an arm to save space. Nonetheless, if you decide to keep it as it is, the stand allows for the standard tilt/swivel adjustments and works as a 180-degree pivot, plus allows to route cables through the back of the base for a cleaner look.
The Alienware 25 gets customizable RGB lighting as well, with a light strip in the stand and the Alienware head on the back, just like on the 27-inch model. These can be tied with your games, by creating custom profiles in the software.
Pricing and availability
Dell announced an MSRP starting price of $499 for the Alienware 25 AW2521HF, in line with the previous version at launch and $100 cheaper than the 27-inch Alienware 27 IPS 240Hz option (also at launch).
Availability is scheduled for March 2020, and we'll definitely see discounts as the product grows older and the market gets more 24/25 inch IPS 240Hz options. For what is worth, the Alienware 27 is available for around $450 at the time of this update, only 4 months after launch.
How it fares against the 240Hz TN screens?
We'll get our detailed answers once actual reviews are available, but what you should expect is improved colors, due to the true 8bit panel and wider Gamut coverage, as well as improved blacks, cleaner whites, and larger viewing angles that would cut on the color-shift issues you get with TN panels. These might not matter as much in games, but will enhance the desktop and video experience by a fair bit.
On the other hand, as mentioned above, this IPS panel might not be as fast as the good TN options out there, and might add some glow and light bleeding/uniformity issues.
Finally, with an MSRP launch price of $499, the Alienware 25 AW2521HF is expensive compared to the existing 24/25″ 240 Hz TN models. For comparison, Dell's previous Alienware 25 AW2518Hf goes for around $350 at the time of this article, while the Asus ROG Strix XG258Q or BenQ ZOWIE XL2546 are available for a little under $400. Follow this link for updated prices at the time you're reading the article. 
Of course, there's also the question of whether FHD is sharp enough on a 25″ screen such as Alienware 25 AW2521HF. For games, it should be, but for desktop use, it might not suffice, that's why some of you might rather get a 1440p 144 Hz monitor instead. But that's something for another article.
Disclaimer:
Our content is reader-supported. If you buy through some of the links on our site, we may earn a commission.
Terms
.