Microsoft's Surface Laptops have been some of the more popular ultrabooks of the last few years. With the 3rd generation, Microsoft added a full-size 15-inch Surface Laptop 3 alongside the traditional 13.5-inch variant, and I wanted to discuss its overall value in today's market, considering the multiple other options out there.
That's going to be a two-section article. In this first part, we'll pitch the Surface Laptop 3 15 against the higher-tier performance ultraportables available as of late-2019: the Apple MacBook Pro 15, the Dell XPS 15 7590 and Lenovo's ThinkPad X1 Extreme 2nd gen and P1 2nd gen.
The second part will cover other ultraportable 15-inch notebooks, like the Asus ZenBook 15, the MSI Prestige 15, the LG Gram 15 or the Samsung Notebook 7 Force.
What the Surface Laptop 3 has for itself is the excellent build quality and attention to detail, the clicky and fast keyboard and especially the awesome 3:2 high-resolution touchscreen. On the other hand, the 15-inch model is powered by a mobile AMD APU, with Intel IceLake versions only available for Enterprise buyers, and the AMD Picasso hardware is hardly competitive these days. Paired with slow Wireless, limited IO and the hefty price-tags, all these could be enough reasons to look elsewhere.
We'll talk about these aspects down below, where we'll also touch on all the other important traits of the Laptop 3 15 and how its fares against those alternatives from Apple, Dell, and Lenovo.

Before we get to that, here are the specs sheets. We chose the Ryzen 5 / 16 GB / 256 GB storage configuration of the Laptop 3 15, available for $1699 at the time of this article, and compared it to matching configurations of the other options.
| | | | | |
| --- | --- | --- | --- | --- |
| | Microsoft Surface Laptop 3 15 | Dell XPS 15 | Apple MacBook Pro | Lenovo ThinkPad X1 Extreme / ThinkPad P1 |
| Screen | 15-inch – 3:2, 2496 x 1664 px, touch, 400-nits | 15.6-inch – 16:9, FHD 500-nits, matte | 15.4-inch – 16:10, 2880 x 1800 px, non-touch glossy, 500-nits | 15.6-inch – 16:9, FHD 500-nits, matte |
| Processor | Ryzen 5 3580U, quad-core | Intel Core i7-9750H, six-core | Intel Core i7-9750H, six-core | Intel Core i7-9750H, six-core |
| Video | Vega 9 Graphics | Nvidia GTX 1650 Max-Q | Radeon Pro 555X | Nvidia GTX 1650 Max-Q / Nvidia Quadro T1000 |
| Memory | 16 GB DDR4-2400 (soldered) | 16 GB DDR4-2666 (2x 8GB DIMMs) | 16 GB DDR4-2400 (soldered) | 16 GB DDR4-2666 (2x 8GB DIMMs) |
| Storage | 256 GB SSD (M.2 2230 PCIe x4) | 512 GB SSD (M.2 2280 PCIe x4) | 256 GB SSD (soldered) | 256 GB (2x M.2 2280 PCIe x4 w/ RAID support) |
| Ports | 1x USB-A 3.1, 1x USB-C gen2, mic/earphone | 2x USB-A 3.1, 1x USB-C Thunderbolt 3, HDMI, SD card, mic/earphone | 4x USB-C Thunderbolt 3, mic/earphone | 2x USB-A 3.1, 2x USB-C Thunderbolt 3, HDMI, SD card, mic/earphone |
| Battery | 46 Wh | 97 Wh | 83.6 Wh | 80 Wh |
| Size | 340 mm or 13.4" (w) x 244 mm or 9.6 (d) x 14.7 mm or .57" (h) | 357 mm or 14.2" (w) x 235 mm or 9.3 (d) x 17 mm or .66" (h) | 350 mm or 13.75" (w) x 241 mm or 9.48 (d) x 15.5 mm or .61" (h) | 362 mm or 14.2" (w) x 246 mm or 9.7 (d) x 18.7 mm or .72" (h) |
| Weight | ~1.55 kg (3.41 lbs) | ~1.9 kg (4.2 lbs) | ~1.83 kg (4.05 lbs) | ~1.7 kg (3.75 lbs) |
| Price | $1699 | $1455 | $2399 | $1976 / $1739 |
These prices are likely to change over time, so check out the links for updated info at the time you're reading the article.
Int the meantime, you'll find our reviews of the updated generations over here: Dell XPS 15, Lenovo ThinkPad X1 Extreme gen4.
Design and build
As already mentioned, it's hard to fault the Surface Laptop in terms of design and build quality. Microsoft ditched the controversial Alcantara interior available on the 13-inch models for a bare-metal construction, available in either Black (beware of smudges) or Platinum. If I were to nitpick, I'd say the front lip is a bit sharp, like on a MacBook, but that aside, the build is spotless.
The competitors have their own build and design particularities, but it would also be hard to fault them in any way. The XPS 15 perhaps shows its age, as it's an older design, with its friendly carbon-fiber interior and aluminum exterior. The MacBook Pro is perhaps the closest to the Surface Laptop in terms of design and materials, with a similar unibody aluminum construction, while the ThinkPads get their classic sober aesthetics and fiber-carbon reinforced plastic bodies. They might not feel as premium as the metal options, and they do show smudges easily, with the black color scheme.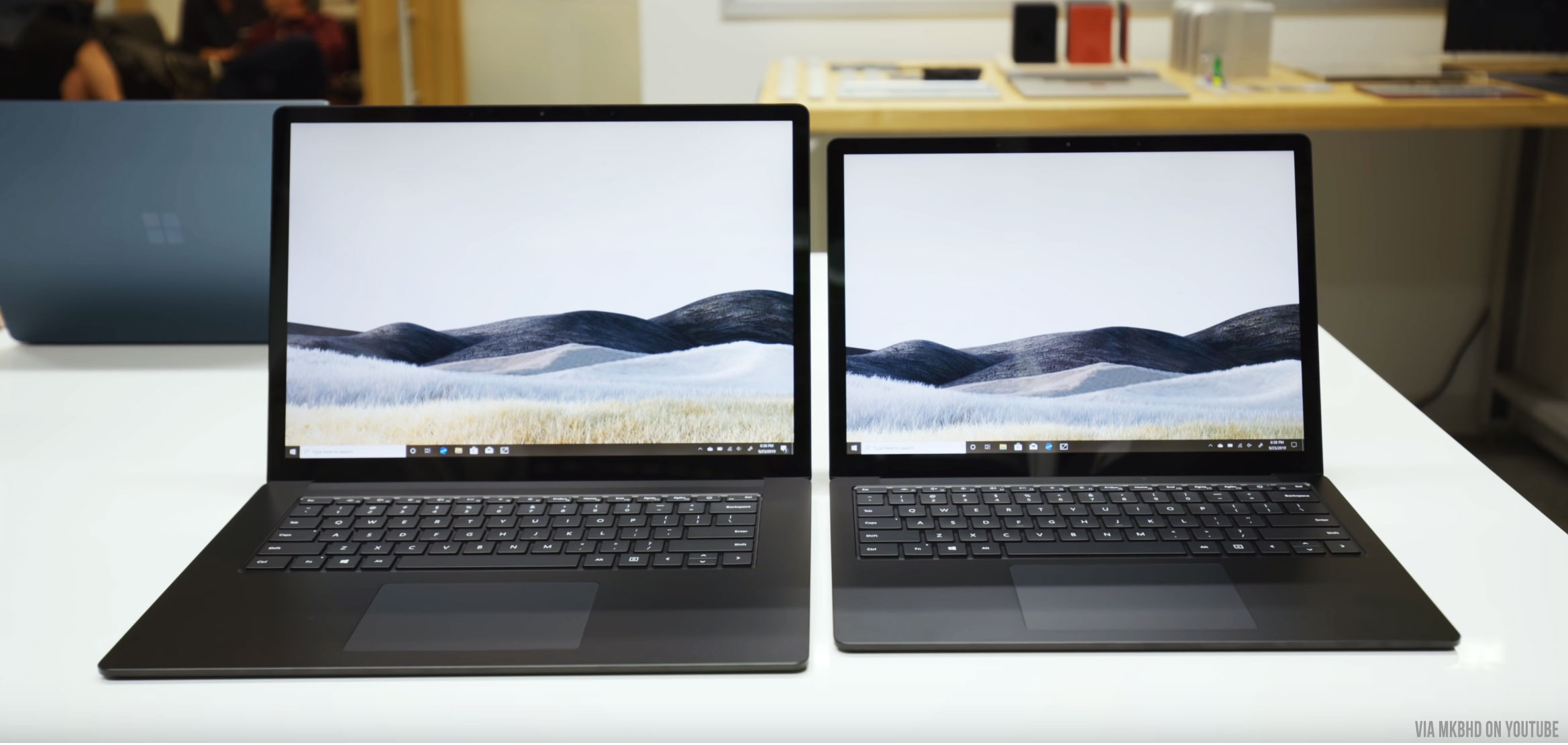 There is however some room to improve on the ergonomics of the Surface 3 15. The screen, for instance, only leans back to about 135 degrees, which is limiting for an ultraportable laptop that won't mostly reside on a desk. The ThinkPads are the only options to offer 180-degree screens, but the XPS and MacBook allow theirs to lean back further than the Surface Laptop.
The Laptop 3 15 is also fairly tall, due to its 3:2 display and the rather thick bezels around it, so has an overall bigger footprint than some of the other 15-inchers out there, especially the ultraportable variants that we'll discuss in the second part of this article. Despite that, it's the lightest of the options here, at only 3.4 lbs, but all the others are fairly light as well, at under 2 kg.
And then there's the IO. Microsoft finally added a USB-C port to the existing single USB-A slot, with support for transfer and video. It's not Thunderbolt 3 compatible, which is something all the other options discussed here support, but you can use it for charging. In fact, they also get a more diverse set of ports, aside from the MacBook Pro, which relies solely on Thunderbolt 3 (4x ports, though).
Keyboard
The typing experience is subjective and each of us prefers different layouts, types of feedback and keyboard styles.
Some like the Butterfly switches on the MacBook Pro, despite their shallowness and known reliability problems, but personally I'd place the MacBook last in this section. Others consider Thinkpads to be the standards for keyboard-quality in a notebook, but again, I feel differently. In fact, my favorite out of these options in the XPS 15, but I'm biased, as the smaller XPS 13 has been my companion for the last few years and I've gotten so used to its keyboard.
And then there's the Surface Laptop 3, which inherits its keyboard from the smaller Surface Laptops of the past. The layout is spotless and the keys are properly sized and spaced out, with clicky feedback and quieter domes than on the previous Laptop 2 generation. Is it a good keyboard? Yes, for sure. Is it the best? Well, that's up to you to decide.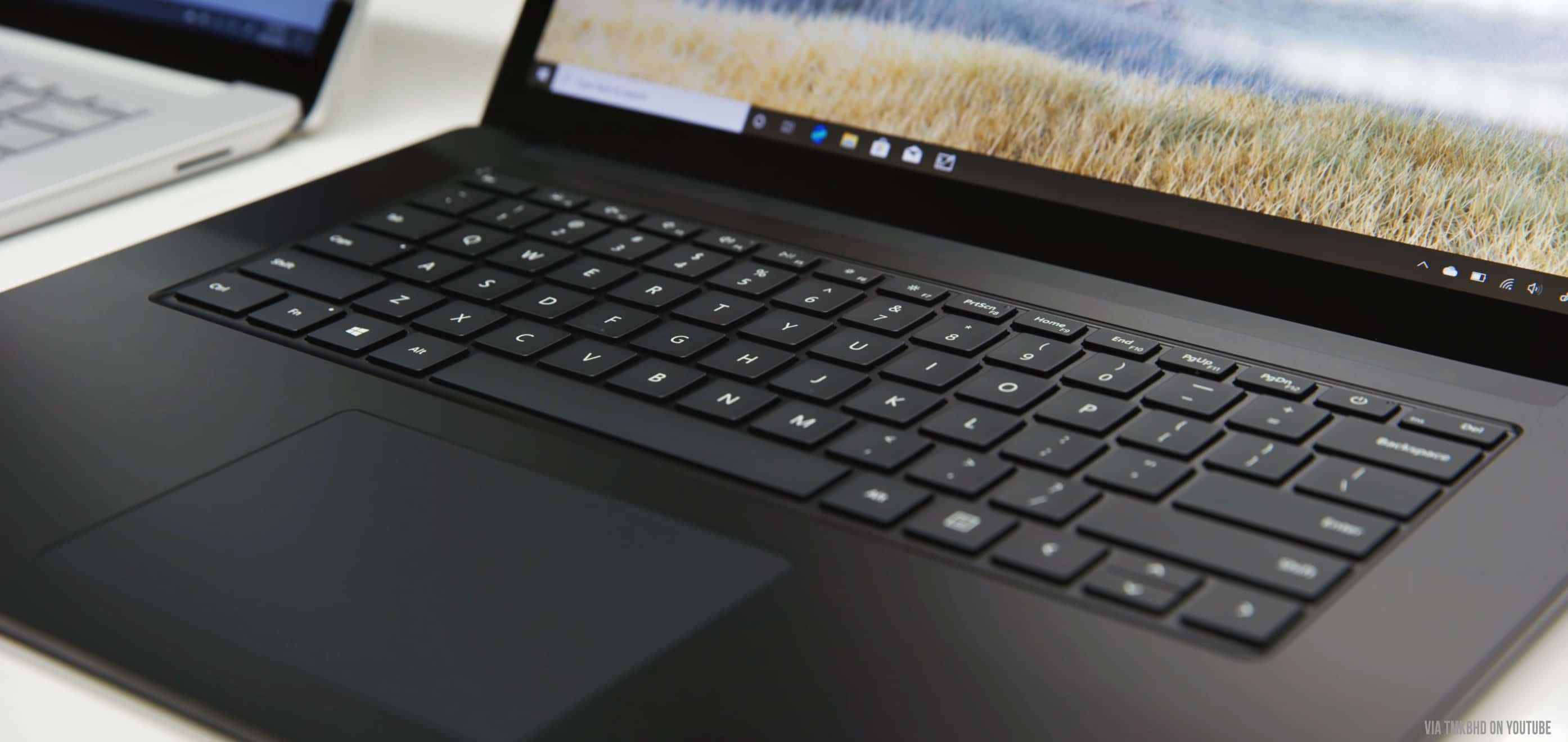 At the end of the day, I don't think you can go wrong with any of these. Well, aside from the… MacBook?
The Surface also gets a mid-sized glass clickpad, again one of the better implementations out there. It's hard to beat the MacBook at this game, but the Surface is at least on par with the other Windows options. The Thinkpads to get the physical buttons on their side, as well as the TrackPoint, which old-school users swear by.
Screens
The Surface Laptop 3 15 gets a 3:2 touchscreen with a 400-nits panel and 100% sRGB support, with an included factory calibration. It's also the only touchscreen in this selection. You can get 4K touchscreens with increased color-gamut on the XPS and ThinkPads, but you'll have to pay roughly $300 extra for those. We opted for the 500-nits matte FHD panels in this case, in order to match the pricing of the Surface Laptop, but it's important to acknowledge the existence of those options.
The MacBook gets the nicer-quality display out of these 5 configurations, slightly brighter and richer than the Surface's. It's also 16:10, so taller than the 16:9 displays on the other Windows laptops.
All in all, the Surface Laptop 3 takes the win here for its well-balanced panel, the increased working space and touch support.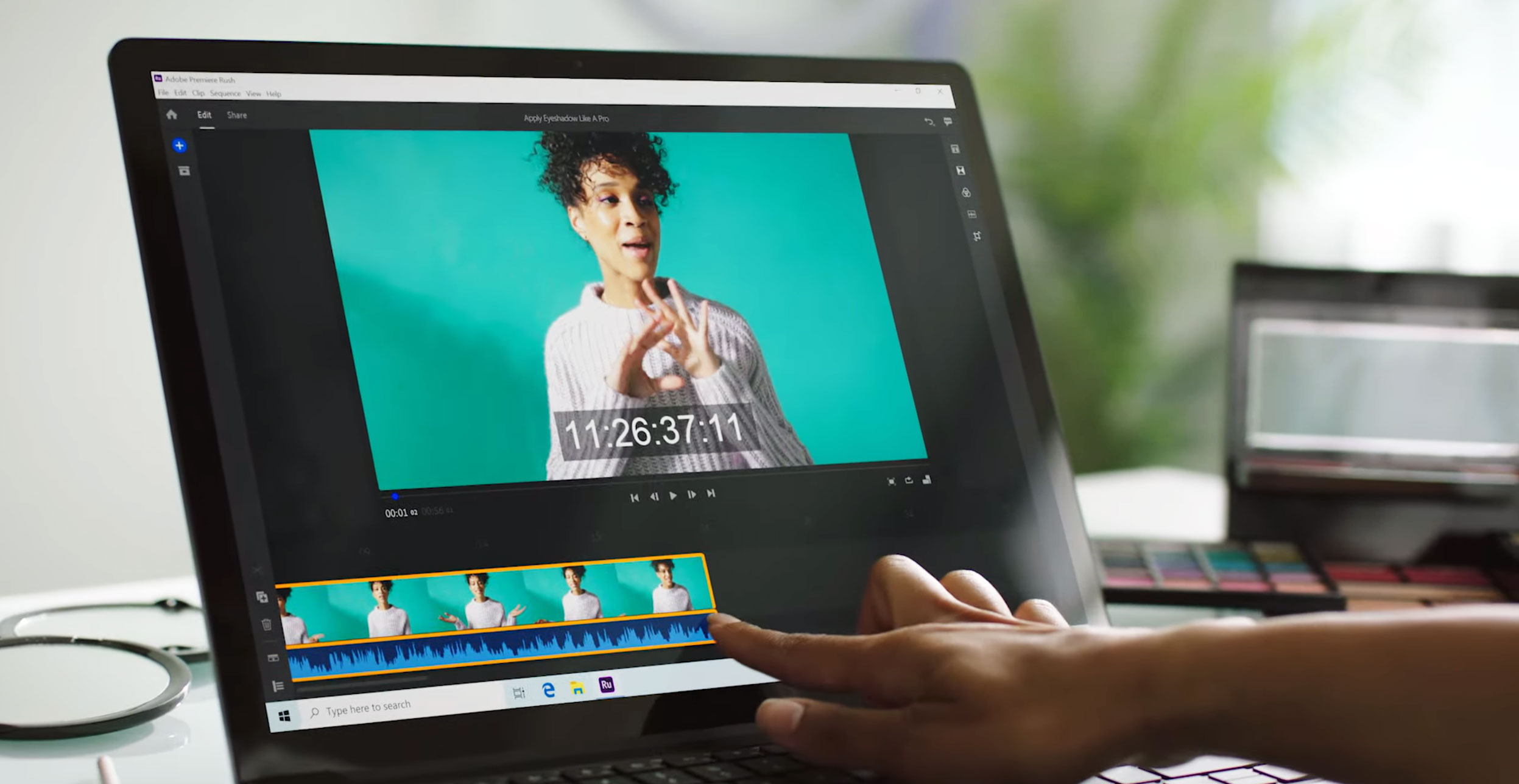 Daily use and performance
You'll have to ask yourself what you need a laptop for. If it's everyday use like browsing, text-editing, streaming video and music and so on, then any of these laptops will do just fine. In fact, most, aside from the Surface, are overpowered for these purposes, and I'd suggest rather heading over to the second part that looks over 15-inch ultraportables, which are better suited for such needs.
On the other hand, if you also plan to run more demanding applications, perhaps edit photos and videos, run programming/engineering software or virtual machines or even games, then here's where the performance-options in this article make sense. And the Surface Laptop 3 does not.

Hear me out. The Surface is based on a Zen+ Picasso APU, with a quad-core processor and integrated Radeon Vega graphics. Our configuration gets the lower-tier Ryzen 5 APU, while the higher-tier Ryzen 7 is also available, but for a whopping $2100 (with more RAM and storage). None of these is a match for the six-core processors inside the other options and their dedicated graphics chips.
Of course, as far as gaming goes, even the GTX 1650 Max-Q options are fairly limited and you'll find even better value with GTX 1660Ti/RTX 2060 gaming ultraportables like the Asus ROG Zephyrus M, Razer Blade 15 or the Acer Predator Triton.
Performance aside, the Surface Laptop 3 loses on two other fronts. Upgradeability is one of them, with the only upgradeable component being the storage, but you'll have to source a hardly available M.2 2230 drive for upgrades. The XPS and ThinkPads use standard RAM and M.2 2280 storage, so they are much easier to upgrade. As for the MacBook, well, Apple switched over to soldered RAM and storage, so even the Surface beats it at this game.
Wireless performance is the other potential culprit of the Surface Laptop 3. Most of these laptops get Intel Wifi 5 2×2 implementations, but the Surface trails all the others in terms of range and speeds. That's not something you'll normally notice with daily use, especially if you have a strong Internet connection in your room or office. You will, however, if you have to constantly transfer data over wireless or if you have to make due with dodgier signal strength.
Finally, there are a few other aspects where the Surface Laptop is OK, but unremarkable. Audio is among them, with loud and average-quality speakers firing from underneath the keyboard. Fan-noise is another. The laptop stays quiet with daily use, but the fans can ramp-up to 42-44 dB at head-level with more demanding loads. In all fairness, performance laptops tend to get noisier under load, but they also have to cool much more powerful hardware.
There's also a camera at the top of the screen, but it's 720p, so mediocre, just like on most other laptops. It does integrate IR support for Windows Hello.
Battery life
The Surface Laptop 3 15 gets by far the smallest battery out of these laptops, and despite the fact that it's built on a lower-performance platform, that's not enough to compensate for it.
You can blame it on the larger screen and even on the AMD platform not scaling down as well as Intel's options, but at the end of the day, the small battery is the main reason why this laptop will only last for 4-5 hours of daily use and 6-8 hours of video. That's not that bad, but you'll have to carry its charger around. At least the charger is compact and light, but the battery still needs around 2 hours to fill up.
You'll actually get longer battery life with any of the other options in this selection, as the Intel Core H hardware scales down fairly well with basic chores. The XPS lasts longer than the Thinkpads, thanks to its big 97Wh battery, which compensates for its slightly higher weight. The MacBook Pro comes at the top though, with its combination of a large battery and efficient hardware and software integration.
All these laptops charge via USB-C and some include various types of quick-charging. They do come with larger and heavier power-banks, though, required to support the more powerful hardware in demanding chores.
Final thoughts
All these laptops are expensive and can get even more expensive when specced up, so I'd advise you to carefully consider your decision. I'd primarily base it on what I'd need from my laptop.
If it's all-day productivity for mundane tasks, the Surface Laptop 3 15 could be a good option. The screen, the keyboard, and the construction are top-notch, but I'm personally not convinced the performance, battery life, wireless or the other small lacks are really worth the premium price-tag. Don't forget that there are other 15-inch ultraportables that also compete in this all-rounder category, and we'll touch on them in the second part of our article.
And then, if you need to run more demanding tasks or games from time to time, the XPS 15 and the Lenovo ThinkPads step in as better overall products, addressing not just the performance aspect, but most of the other quirks as well.
As for the Macbook Pro, that's not really in the same class as the Surface Laptop 3 15 and sells for significantly more than even its highest tier configuration. That's why I'll just leave it with the fact that there's a market for both, and these markets don't normally interlapse. In fact, the Surface Laptop 3 rather competes with the smaller 13-inch MacBook Pro, as the two are more closely priced and specced.
Disclaimer:
Our content is reader-supported. If you buy through some of the links on our site, we may earn a commission.
Terms
.