After a few years of making the highly-appreciated Surface and Surface Pro tablet-like computers, Microsoft eventually launched a regular laptop back in 2017: the Surface laptop.
It quickly became appreciated by media and regular buyers as one of the better ultrabooks on the market, right next to the Dell XPS 13, the Lenovo Thinkpad X1 Carbon or the Huawei MateBook X Pro.
Quick forward to late-2019, Microsoft is launching the third iteration of the Surface laptop for the Fall of this year and most of 2020, and this time there's not just a compact 13.5-inch model, but also a 15-inch Surface laptop 3 with a bunch of new traits and features.
That's why this article will take you through all the novelties and tell you what's changed from the previous generations and how these Surface laptop 3 models are positioned compared to the other premium ultrabooks out there, so you'll know which is the better option for you and what to expect before taking the plunge on any of them.
The specs sheet
| | | |
| --- | --- | --- |
| | Surface Laptop 3 13.5 | Surface Laptop 3 15 (AMD version) |
| Screen | 13.5 inch, 2256 x 1504 px resolution (3:2 aspect ratio), IPS, touch, 400 nits | 15 inch, 2496 x 1664 px resolution (3:2 aspect ratio), IPS, touch |
| Processor | 10th gen Intel Ice Lake Core i5-1035G7/i7-1065G7, quad-core | AMD Ryzen 5 3580U /Ryzen 7 3780U, quad-core |
| Video | Intel G7 Iris Plus graphics (integrated) | Radeon RX Vega 9/11 (integrated) |
| Memory | up to 16 GB LPDDR4X (soldered, dual-channel) | up to 32 GB DDR4 (soldered, dual-channel) |
| Storage | up to 1 TB SSD PCIe x4 (upgradeable) | up to 512 GB SSD PCIe x4 (upgradeable) |
| Connectivity | WiFi 6 AX 2×2 with Bluetooth 5.0 | WiFi AC 2×2 with Bluetooth 5.0 (?) |
| Ports | 1x USB-A, 1x USB-C, 1x Surface Connect port, headphone/mic | 1x USB-A, 1x USB-C, 1x Surface Connect port, headphone/mic |
| Battery | up to 11.5 hours, 60+5 W charger | up to 11.5 hours, 60+5 W charger |
| Size | 308 mm or 12.12" (w) x 223 mm or 8.77" (d) x 14.5 mm or 0.57" (h) |  340 mm or 13.4" (w) x 244 mm or 9.6" (d) x 14.69 mm or 0.58" (h) |
| Weight | ~1.25 kg / 2.75 lbs for alcantara,  ~1.31 kg / 2.87 lbs for metal | ~1.55 kg / 3.4 lbs, metal only |
| Price | from $999 (US) / 1149 EUR (Europe) | from $1199 (US) / 1349 EUR (Europe) |
The 13-inch Surface Laptop 3
The 13-inch model builds on the foundation provided by the 2018 Surface Laptop 2, which means it's the same size and overall design, gets the same 3:2 high-resolution touchscreen, the Alcantara covered interior casing and the characteristic Surface Connect port.
Microsoft did change a few aspects, though, and some of them make a big difference in real-use.
For starters, not everyone liked the Alcantara coating, so there's also an option without it now, with a full aluminum chassis. Microsoft emphasized on the design and craftsmanship quality of this new option, but we'll have to spend time with it before drawing any conclusions.
As a result, the 13-inch 2019 Surface Laptop 3 is now available in a few different colors. The Silver (Platinum) and Blue (Cobalt Blue) variants get the Alcantara interior, while the Black and Sandstone variants are bare-metal. A Rose Gold variant that has been taunted in some of the leaked pre-launch images as well, but it's not actually available at launch. Based on our experience with the Blush version of the Surface laptop 2 13, that might only be available in China.
Among the other important novelties is the addition of a USB-C port, which replaces the miniDP port on the Surface Laptop 2. This supports transfer and DisplayPort video output, but it's not Thunderbolt 3 compatible. We don't know if this new Surface is going to charge via USB-C or not, but given the fact that the Surface Connect is still there, it might not. Still, early reports claim that it does.
As far as the keyboard goes, not much seems to have changed, and that's OK, as the existing one is very comfortable to type on, backlit and with a proper layout, without any gimmicks and weird design decisions. The clickpad on-the-other-hand is 20% larger this year, which is a small upgrade with a major impact on the daily-use experience.
The other big novelties hide underneath the shell, in the hardware specs. This laptop is built on Intel's latest 10nm Ice Lake architecture, with quad-core processors and improved Intel G7 Iris graphics. IceLake comes with a few other improvements as well, especially in the memory (support for faster and more efficient LPDDR4X – 3733 MHz) and wireless department (support for Wi-Fi 6 AX).
Microsoft also emphasized on the laptop's instant-on ability, improved repairability and easier access to the internals, with the top part being easy to take out in order to get to the components. Of course, the CPU and memory are soldered on the motherboard, but the storage is now an M.2 SSD that should be replaceable. However, from what I can tell right now, they went with a proprietary standard and not the wide-spread 2280 M.2 format, thus why sourcing drives to replace might prove problematic. In fact, Microsoft insist these upgrades should only be performed by specialists, and not by the average user.
Moving to this new format might also translate in support for faster PCIe x4 drives this time around, another upgrade from the x2 BGA drives on the Laptop 2, but that's yet to be confirmed.
We don't have exact details on the battery inside, but given the slight internal redesign, it might differ from the 47.5 Wh one in the previous Surface Laptop. We do know there's support for fast charging this time around, with the 13-inch model being able to charge to 80% in under an hour. We also know that a 60+5 W charger comes included in the box, which means 60W are reserved for the laptop, and 5W for an extra peripheral that you can hook-up to the existing USB port integrated within the power brick. Whether USB-C charging is supported is still unclear at this time, and we'll update once we know more.
As far as the pricing goes, the Surface Laptop 3 starts at $999 for the Core i5 variant with 8 GB of RAM and 128 GB of storage. The same variant, but with 256 GB of storage, will ask for a $300 premium at $1299, while a higher-end configuration with the Core i7 processor, 16 GB of RAM and 512 TB of storage will sell for just shy of $2000. All variants start shipping on October 22nd.
I do find the storage-upgrade costs rather outrageous. Having just 128 GB on the base model is one thing, but then charging $300 for 128 GB on top is unreasonable and I'd expect some discounts and sales in the months to come.
The 15-inch Surface Laptop 3
On a first look, the Surface Laptop 3 15 is merely a slightly larger replica of the 13-inch model, with the same clamshell design and exterior lines, a similar 3:2 touchscreen (but slightly higher resolution and smaller bezels), the same keyboard, an even larger clickpad than on the Surface Pro 3 13, and the same IO (USB-A, USB-C, Surface Connect, headphone jack).
However, the 15-inch is only available with the aluminum build, in Platinum or in Black, and doesn't get the Alcantara option from the 13-inch model.
Past the surface, though, this is actually a different product, and that's because this 15-inch variant is based on an AMD Ryzen 7 mobile hardware platform. I'd expect it's some variation of the Ryzen 5 and 7 3000 U processors (Ryzen 5 3580U and Ryzen 7 3780U) we've seen on a few other recent laptops, like the ThinkPad T495 or the ZenBook 14 UM431. However, Microsoft says they worked closely with AMD to create a custom Surface-edition silicon of the Ryzen chips with better graphics performance than the standard processors.
Ryan Smith from Anandtech mentions this is a custom silicon based on the Zen+ architecture (12nm process) with 4Core processors and 11/9CU Vega graphics, and a TDP of 15W. It's also worth noting that Zen+ only supports DDR4 2400Mhz memory, and not the more efficient LPDDR4X supported on the IceLake Core Us, but Microsoft actually offers configurations with up to 32 GB of RAM. If you're wondering why Microsoft didn't go with Zen 2 APUs, that's simple: they're not yet available. In fact, Renoir is most likely going to make it inside products in 2020.
Back to those CPUs, you can find the specs for the R5 3580U and R7 3780U via these links. Without going into many details, the CPU sides are identical to the existing 3500U/3700U APUs, but the graphics have been bumped up a notch. While the 3700U gets Vega 10 graphics with 10 CUs (Compute Units), the 3780U gets Vega 11 graphics with 11 CUs, both able to go up to 1400 MHz. All these mean you should expect performance-gains within 10% or less compared to an R7 3700U implementation, as long as the thermal module allows it, of course, as you know that has a major role to play in this kind of thin-and-light computers.
That aside, it's important to understand that the Surface Laptop 15 is not a gaming notebook by any means, as it only relies on graphics integrated within the AMD SOC. Yes, it can play older titles or casual games with reduced graphics details, and offers some boosts in tasks that involve graphics editing and data processing, but it's still not even as capable as a modern MX250 configuration, not to mention the higher-tier GPU variants out there. Freesync is supported though, which should further help the gaming experience.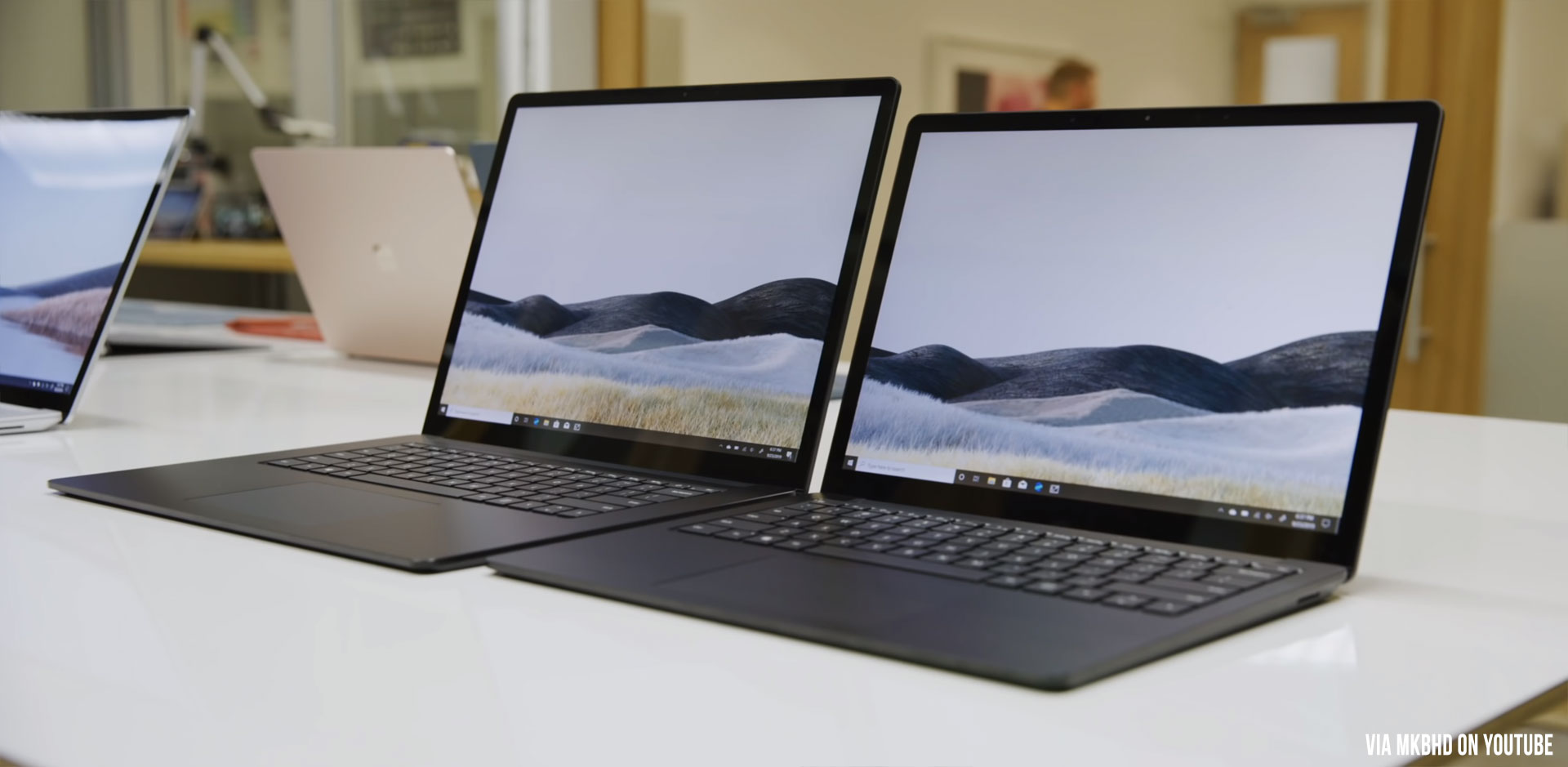 We still don't know much about the battery inside the 15-inch Surface Laptop 3, Microsoft still advertises it at 11.5 hours, just like on the 13.5-inch variant, so it's definitely a larger capacity one, given the bigger screen and the fact that the Intel chips on the Surface Laptop 3 13 are more efficient than the Ryzen APUs on the 15.
The 15-inch Microsoft Surface laptop 3 starts at $1199 for a Ryzen 5 configuration with 8 GB of RAM and 128 GB of storage, with the same outrageous upgrade path. The top-tier variant gets the Ryzen 7 processor, 32 GB of RAM and 512 GB fo storage for $2799.
I should add that some sources mention an Intel-based variant of the 15-inch Laptop 3 as well, but that's not available on Microsoft's site. We'll update once we know more.
Disclaimer:
Our content is reader-supported. If you buy through some of the links on our site, we may earn a commission.
Terms
.