I've got my hands on the ZenBook 14 UX431 series several weeks ago, the most affordable model in the current ZenBook 14 lineup as of mid-2019.
I haven't written about it at that time, but since this is not yet available here in Europe and the proper review has been thus delayed, I decided to come back and share with you some of my impressions based on my hands-on experience at the launch event.
We'll go through the UX431's main traits, the strong points, its potential quirks and also add my feedback on how this compares to the higher tier 14-inch Asus ZenBooks, such as the Zenbook 14 UX433 or the newer Zenbook S13 UX392, as well as the other competitors in its niche.
Asus's ZenBooks are usually competitive in most regions, and the ZenBook 14 UX431 is the most affordable on them all, starting at around $800 for a UX433FA configuration that will suit most casual buyers. That comes with a Core i5 Whiskey Lake processor, 8 GB of RAM, 256 GB of SSD storage and a FHD IPS screen. A metallic build, a full set of ports, quad speakers and a backlit keyboard add up, as well as a 47 Wh battery that offers about 5 hours of daily use and 6-8 hours of video, making this a compelling package for the price.
So what's the catch, then? Or better yet, is there any catch, or are there many?
We'll get to that in a second, but first, have a look at the specs sheets below, where I've placed the UX431 next to the ZenBook 14 UX433 and the ZenBook UX392 higher-tier, and more expensive, alternatives.
| | | | |
| --- | --- | --- | --- |
| | Asus ZenBook UX431 FA/FN | Asus ZenBook UX433 FA/FN – review | Asus ZenBook UX392 FA/FN – review |
| Screen | 14.0-inch – FHD matte or glossy, non-touch, 250 nits | 14.0-inch – FHD matte or glossy, 300 nits | 13.9-inch – FHD glossy, non-touch, 400+ nits |
| Processor | up to Core i7-8565U | up to Core i7-8565U | up to Core i7-8565U |
| Video | Intel UHD 620, or optional Nvidia MX150 2 GB | Intel UHD 620, or optional Nvidia MX150 2 GB | Intel UHD 620, or optional Nvidia MX150 2 GB |
| Memory | up to 16 GB LPDDR3 (soldered) | up to 16 GB LPDDR3 (soldered) | up to 16 GB LPDDR3 (soldered) |
| Storage | 1x M.2 PCIe x4 (x2 SSD included by default) | 1x M.2 PCIe x4 (x2 SSD included by default) | 1x M.2 PCIe x4 (x2 SSD included by default) |
| Ports | 1x USB-A 3.1, 1x USB-A 2.0, 1x USB-C gen 2, HDMI, SD, mic/earphone | 2x USB-A 3.1, 1x USB-C gen 2, HDMI, microSD, mic/earphone | 1x USB-A 3.1 gen 2, 2x USB-C gen 2 (with DP and charging), microSD, mic/headphone |
| Battery | 47 Wh | 50 Wh | 50 Wh |
| Size | 324 mm or 12.75" (w) x 212 mm or 8.34 (d) x 15.9 mm or .62" (h) | 319 mm or 12.55" (w) x 199 mm or 7.83" (d) x 15.9 mm or .62" (h) | 316 mm or 12.44" (w) x 195 mm or 7.67" (d) x 12.9 mm or 0.5" (h) |
| Weight | ~1.45kg (3.2 lbs), 1.4 kg for the matte version, if available | ~1.23 kg (2.7 lbs), 1.1 kg for the matte version | 1.1 kg (2.4 lbs) |
| Price | starts at $799 | starts at $999 | starts at $1399 |
As with all the other Asus lines, the FA variants indicate configurations with Intel UHD 620 graphics, while the FN models include Nvidia MX150 graphics. Asus doesn't offer both versions in all markets, and that can explain the price differences, as the UX431 and UX433 are available in the FA variant and a lower-tier configuration in the US, while the UX433 and UX392 models are available in the FN variants and start at Core i7 configurations. That might differ in your region, but as a general ballpark figure, each line is about $200-$250 off its higher-tier alternative, for similar configurations.
Design and Build
Metal is used for the laptop's outer shell, with fairly thick and solid pieces of aluminum plastered on top of a plastic inner chassis. As a result, there's some flex in the keyboard deck, but the build quality is above average for an ultrabook in the lower-end segment.
The finishing is silver and gets a brushed texture, thus feels a bit more crude, more utilitarian, than the more refined craftsmanship of the ZenBook UX433 and UX392 lineups. There are also some sharp bits on the bottom, where the edges meet the underbelly, as well as a sharp machined-milled front-lip, but the design is otherwise clean and does a great job at hiding smudges.
The ZenBook 14 UX431 is bigger and heavier than the other ZenBook options, and you can tell that easily when having them side by site, but also by the larger bezels around the display, the more spacious armrest and the extra space flanking the keyboard, which was put to good use, incorporating a set of speakers. There are actually four speakers on this laptop, two on the bottom in charge of the lower end, and two firing upwards, in charge of mids and highs, so hopefully, the quality is good. I didn't get to actually listen to them in a quiet room, so cannot further comment on the matter.

The design also implements the common Ergolift hinge we've seen on most recent ZenBooks, with the main-body being pushed upwards in order to facilitate a slightly inclined typing position and allow proper airflow underneath, towards to admission grills. It's nice to see that there's actually an entire air-grill on top of the components, unlike on the ZenBook UX433, and that, combined with the larger form-factor, should hopefully translate in better performance and thermals.
The ZenBook UX431 also gets a competent set of ports, with USB-A and USB-C ports, full-size HDMI for video output and a full-size card-reader. Thunderbolt 3 is not supported, and this most likely cannot charge via USB-C either, but you can use the port to output and trasnfer data. There's also no LAN port either, but the fast Wireless AC implementation should prove fast enough for the vast majority of users.
Screen
Asus puts a 14-inch screen with averagely sized bezels on the ZenBook UX431, and while that's not yet confirmed, a rather average-quality IPS panel with peak-brightness of only 250-nits. If true, this could be a potential deal-breaker for those who plan to use the computer outside or in other brightly lit environments, especially when paired with the glossy glass finishing that Asus offers in most regions.
For comparison, the ZenBook 14 gets a 300-nits screen, while the ZenBook S13 gets a much brighter 400+ nits panel, which is the only one adequate for outdoors use.
Keyboard
The keyboard and clickpad are very much similar to the ones of the other ZenBooks, with the same layout and feedback. You can read my impressions in the UX433 and UX392 reviews. In a few words, though, this is a decent keyboard, but with rather soft spongy feedback that will take a tall on the typing accuracy.
The clickpad is made out of plastic and is available with either a finger-sensor in the top corner or in the implementation that Asus calls a NumberPad, which double-acts as a NumPad. It's unclear which is exactly available in each region, so you might want to further dig into this matter, but having tested both, I prefer the more simple version with the finger-sensor, as I think that's more useful than a finicky NumberPad without any sort of tactile feedback. That sure looks great on paper, but is not that practical in real life, while a finger-sensor is definitely useful for quickly logging into Windows.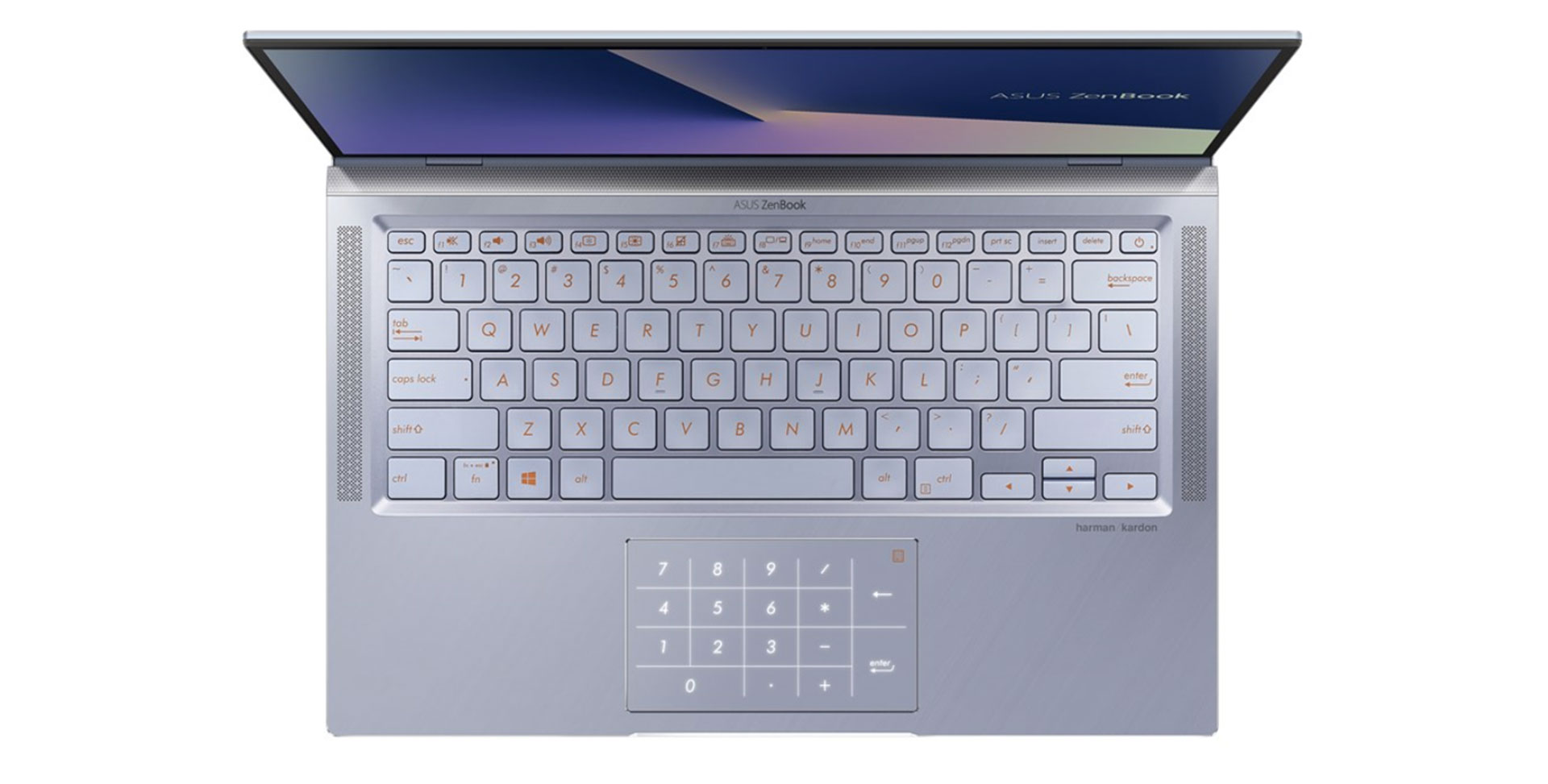 Hardware and performance
Performance, thermals, and acoustics are not something we can touch on based on our hands-on experience.
Of course, if you're looking at a device for everyday use, browsing and multitasking, any of these ZenBooks will do fine by you, even if you opt for the Core i5 / 8 GB / 256 GB SSD configuration. In fact, there's little reason to opt for the Core i7 model for that kind of use, unless you want 16 GB of RAM, which is only bundled with the higher tier CPU, more storage space and the Nvidia MX150 graphics in a UX431FN variant that will be available later on. For comparison, you can get the UX433FA with 16 GB of RAM, if a dGPU is not something you're interested in.
I'll also add that the CPU and RAM are soldered on the motherboard, so it's important to get what you need from the get-go, as you'll be stuck with that option for good. Storage is upgradeable, though.
Battery life
There's a 47 Wh battery inside the ZenBook UX431, smaller than what you'll find on most other 2019 ultrabooks, but still competitive for a device in the lower-tier. Paired with the efficient hardware and fairly dim-screen, expect to get around 4-5 hours of daily use and 6-8 hours of video on a charge, while a full charge should take around 2 hours.
Asus bundles this with a standard barrel-plug 65W power brick, and despite the fact that there's a USB-C gen2 port on the sides, USB-C charging is most likely not supported, just like on the higher-tier ZenBook 14 UX433.
Price and availability
The ZenBook UX431 is available in some regions of the world as the most affordable ZenBook in the 2019 lineup.
It starts at $799 in the US, for a Core i5-8265U, 8 GB RAM, 256 GB PCIe SSD configuration, while $899 will get you the Core i7-8565U processor and 512 GB of storage, but still just 8 GB of memory. A ZenBook UX431FN model will also be available down the line, with a Core i7 CPU, 16 GB of RAM, 512 GB SSD and Nvidia MX150 graphics, for an MSRP of $1199.
Follow this link for updated configurations and prices at the time you're reading the article.
Alternatives
The ZenBook UX431's dim and glossy screen, fairly heavy in weight by today's standards and even its slightly larger form-factor might drive some of you away, that's why I'll also mention a few alternatives that are worth considering.
Asus's own ZenBook UX433 addresses most of these issues, but in the US it's mostly available in high-tier configurations, thus with a starting price of around $1200, it might be outside your budget. Just keep in mind that it comes with an i7 processor, 16 GB of RAM and a 512 GB SSD by default, for that kind of money. In Europe, you can find lower-level configurations for less than 900 EUR, which is nearly on par with the UX431 series, and a Core i5 variant is limitedly available in the US as well, with an MSRP price of under $1000. Follow this link for more details.
Acer's Swift 3 14 could be another option to consider, a sturdy computer with a brighter matte screen and fairly similar traits, which we've reviewed over here. And then there's also the slightly older Lenovo IdeaPad 720s, a competitively priced 14-inch metallic laptop with a slightly smaller footprint, but a brighter screen and larger 56 Wh battery.
On top of these, if you're willing to go with a smaller 13-inch screen, you can also consider affordable options like the Asus ZenBook UX331 or the Lenovo Ideapad 730s, both more compact and significantly lighter than the ZenBook UX431.
Wrap-up
Bottom point, the ZenBook UX431 should be on your list if you're looking for mid-priced ultrabooks with premium aesthetics, a sturdy build, the latest hardware specs, a full set of ports and better speakers than you'll find with most other options. On the other hand, you'll have to accept that this is larger and heavier than the competition and offers a screen that will most likely struggle in bright light environments, so it's up to you if these are worth the $100-$200 you'll be able to save on the base level configurations.
We'll be updating this article once we get a proper review unit of the ZenBook UX431FA, and in the meantime, we're looking for your feedback and impressions in the comments section down below.
Disclaimer:
Our content is reader-supported. If you buy through some of the links on our site, we may earn a commission.
Terms
.