This article gathers my first impressions of the 2022-generation Lenovo ThinkPad X1 Fold, the foldable laptop that Lenovo plans to offer in stores by the end of 2022.
I've spent about an hour with a few pre-release versions of this 2nd generation ThinkPad X1 Fold at IFA, so I can share some thoughts about it with you. I found the experience especially interesting as I've been using the very similar ZenBook 17 Fold for the last few weeks, and already have a good idea of what I appreciate and what I don't in a foldable-laptop experience.
Lenovo spearheaded this segment a few years ago with their original X1 Fold, but this new generation is significantly improved, thanks to the advancements in technology that happened in the meantime.
The 2022 X1 Fold is now a more capable and more practical computer with a 16.3-inch display when open up, and a 12-inch format when folded up in laptop mode, and makes good use of the flexible OLED panel technology available today, with excellent image quality and colors.
The hardware came some way since 2020 as well, although you should still have realistic expectations of what this sort of device can do. It's meant for daily use and light multitasking, and it will struggle with heavier demands if pushed to its limits.
Add in a few extras such as good IO and connectivity (with Optional LTE), pen support with the included pen, a backlit  ThinkPad keyboard folio, and some decent speakers, and you're getting an interesting product here.
Of course, this sort of device is not for everyone. It's expensive, on one hand, it's not really as powerful or as long-lasting as some might desire from a daily-use computer in 2022. Furthermore, this kind of format requires serious pampering. Nonetheless, as long as you can afford it and understand and accept its limitations, this might make sense for you.
Specs – Lenovo ThinkPad X1 Fold 16
2022 Lenovo ThinkPad X1 fold 16
Screen
16.3 inch, 2560 x 2024 px aspect ratio, 60 Hz, OLED, glossy, touch, pen support
600-nits peak, 400-nits SDR, HDR400, 100% DCI-P3 color coverage
Processor
Intel Alder Lake 12th-gen U9, 2C+8c/12T  – 13W sustained, fanless laptop design
Video
Intel Iris Xe, up to 96 EUs and .95 GHz
Memory
up to 32 GB LPDDR5-5200 (soldered)
Storage
PCIe gen4, single M.2 2242 slot
Connectivity
Wireless 6E (Intel AX211), Bluetooth 5.2, optional LTE/5G
Ports
2x USB-C 3.2 with Thunderbolt 4, 1x USB-C 3.2, audio jack, SIM tray
Battery
48 Wh + optional extra 16W, 65W USB-C charger with quick-charging
Size
Tablet: 346 mm or 13.6" (w) x 276 mm or 10.87 (d) x from 8.6 mm or 0.34" (h)
Laptop: 276 mm or 10.87" (w) x 176 mm or 6.9 (d) x from 17.4 mm or .68" (h)
Weight
from 2.82 lbs (1.28 kg) for tablet only, from 3.8 lbs (1.9 kg) for tablet+ folio+stand,


plus .49 lbs (.22 kg) charger + cables, EU version

Extras
backlit Bluetooth keyboard folio with fingerprint reader and haptic touchpad, 5 MPx camera with IR Hello, 3x speakers and quad mics, adjustable kickstand accessory and stylus included
Design and daily-use experience
The x1 Fold is a 16-inch tablet when open up, and a 12-inch like mini-laptop when folded in notebook mode. That makes it a viable ultraportable for traveling and commuting, with the ability to transform itself into a big-screen productivity computer on a desk.
Unlike the ZenBook Fold, the ThinkPad X1 Fold is designed to fold tightly together, with no gap in between the two parts. Lenovo implemented a moving hinge that still ensures a radius with the two parts folded together, but tighter than on the ZenBook Fold. As a result, the tablet itself packs more compact and portable in folded mode. It's lighter as well, at 1.3 kilos for the tablet alone.
There's also a standalone kickstand and the keyboard folio to add to the mix, though. Everything combined weighs about 1.7 kilos, so still lighter than the ZenBook Fold. No surpise, given the X1 Fold is an overall smaller 16-inch format.
The device, kickstand and keyboard all attach together magnetically for traveling or commuting.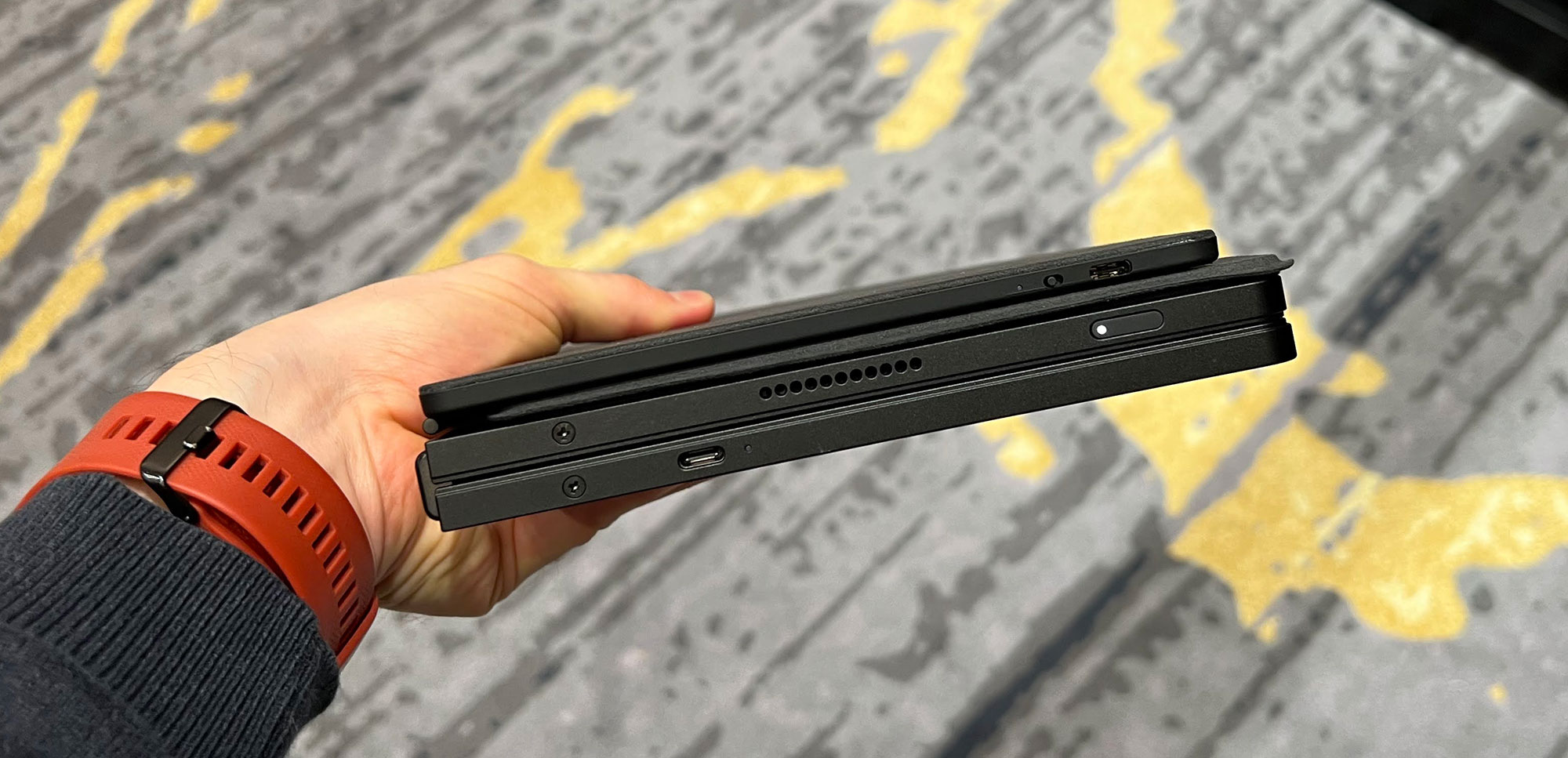 There are a couple of other differences and similarities between the two products.
Both and big-screen foldable designs, with some noticeable bezels around the screens. On the Lenovo, the bezels are made out of metal, and not the rubbery material that Asus put on their Fold. They feel premium to the touch, but they make the X1 Fold less grippy in the hands, especially corroborated with the slippery woven-nylon materials used for the back of the device, so be careful about dropping it.I nearly did at least once during my brief time with these samples.
At the same time, smudges and dust won't gather as easily as on the ZenBook around these edges.
I also found the plastic coating on the screen more smudge and fingerprint resistant that on the ZenBook, at least based on my limited time with these samples. Both implementations are plastic, though, so not as easy to wipe clean as a glass-covered tablet.
Unlike the ZenBook, though, the ThinkPad X1 Fold comes with pen-support and an included pen. Asus mentioned they're not officially supporting pens in order to prevent any scratches or panel damage, but Lenovo are able to support a pen, and that can make a difference for some of you. I still don't think this design makes much sense as a tablet, but rather as either an ultra-compact laptop or a big-screen all-in-one desktop computer.
As a laptop, it's compact and rather thick. The design doesn't include any rubber feet on the exterior, so there's very little grip on a flat surface or desk. Given the two touch parts, you can use this is a folded-tablet with a virtual keyboard, or place the keyboard folio on-top of the lower chassis for a notebook-like experience.
For desk use, the X1 Fold goes in either Landscape on Portrait mode over the adjustable kickstand. There's no kickstand included on the slate itself, as on the ZenBook, which cna be less convenient in some cases, but at the same time this sort of desing allows for easy access to both orientations, while the ZenBook is only mostly usable in Landscape mode.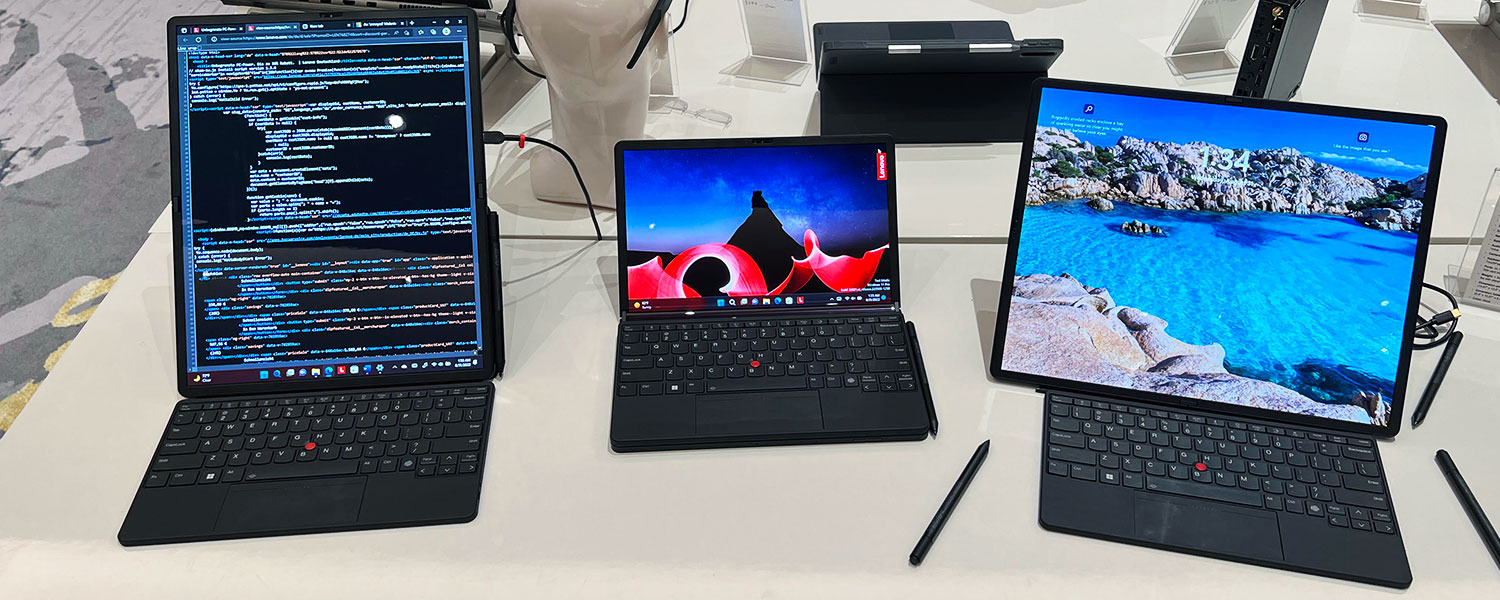 I'll also touch on the IO here, which is a little different than on the ZenBook as well, as there are three USB-C ports spread around the sides, as well as a fingerprint reader and an included pen that attaches magnetically to on of the sides. The device supports Wi-Fi 6E connectivity as well, but also an optional LTE module. Biometrics are also part of the mix, with an IR camera and a fingerprint reader on the keyboard.
All in all, I find the foldable form factor more practical than I imagined before getting to spend time with this sort of devices. Hence, I find the X1 Fold excellent for traveling, as compact a mini-laptop for on-the-go use, and then a practical large-screen workspace for desk use. Lenovo's implementation has its own particularities over the other available options, and I'm fine with most of them, except the few mentioned above.
Screen and inputs
The screen on the X1 Fold is 16.3-inch in diagonal with a squarish 5:4 format and 2560 x 2024 px resolution.
It's an OLED panel and everything looks awesome on it, with rich contrast and excellent color volume, and coverage, at 100% DCI-P3. Just like other modern OLED panels, though, this doesn't get very bright (400-nits SDR), and due to the glossy finishing, it's not an ideal option for outdoor use or other bright environments.
This supports touch and pen input, and offers a surprisingly good oleophobic coating.  Somehow, the units I've used didn't smudge as easily as other foldable devices I've tried over time. This also folds at the middle, as explained above.
You can activate the touch keyboard in Windows with this laptop, or use the included keyboard folio.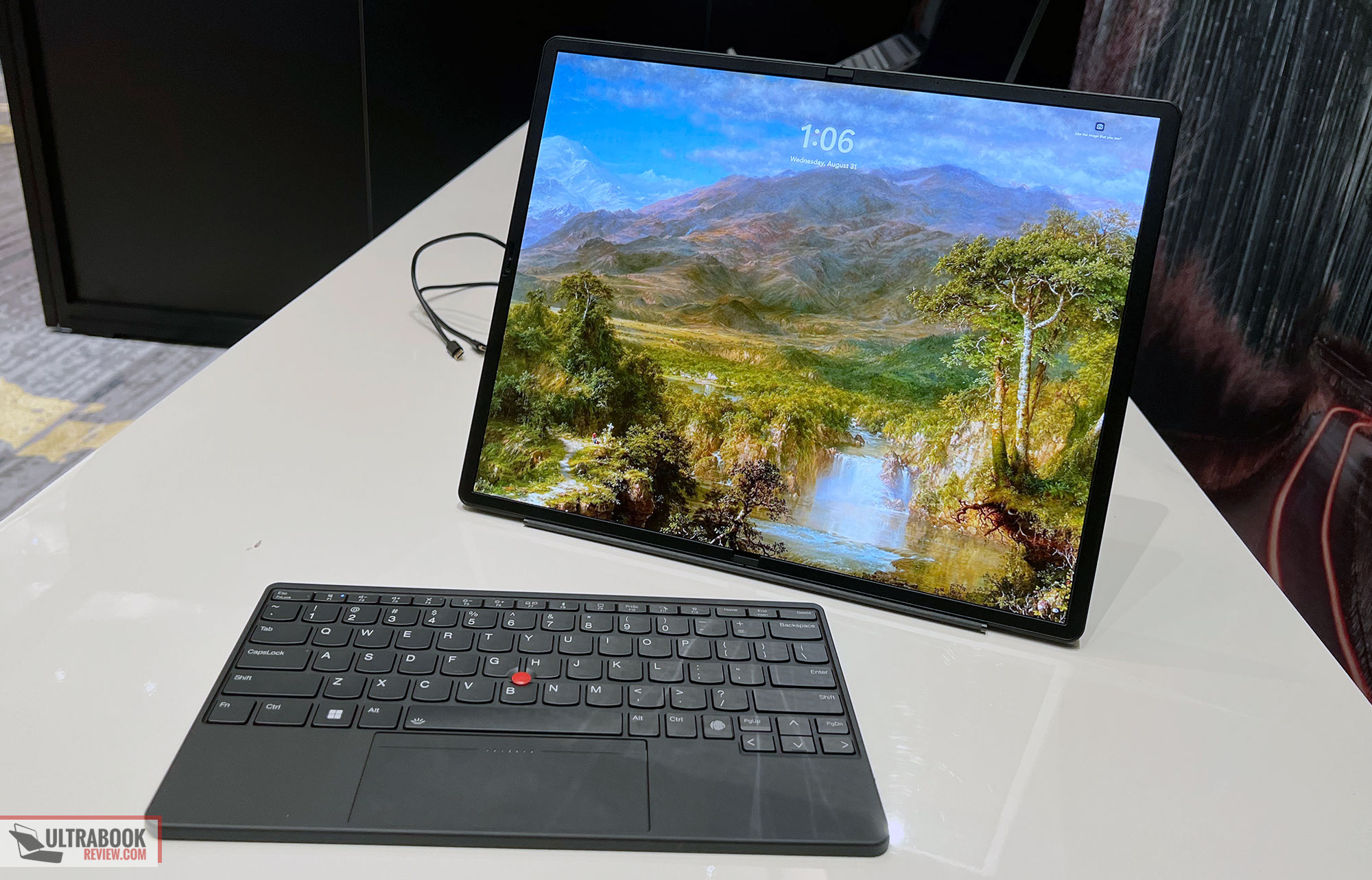 The physical keyboard folio is based on the 2022 X1 Nano keyboard design, which means it's a compact, short-stroke, and a rather shallow implementation that will take some time to get used to. It does what it's supposed to, and it's a full format with all the right keys, the Lenovo red nipple, and a fair-sized touchpad at the bottom, with haptic feedback.
The folio feels sturdy and doesn't flex on the desk or when placed over the screen, for laptop mode. The armrest is the standard ThinkPad kind of plastic, while the bottom is some sort of felt material, which provides fair grip and should age well.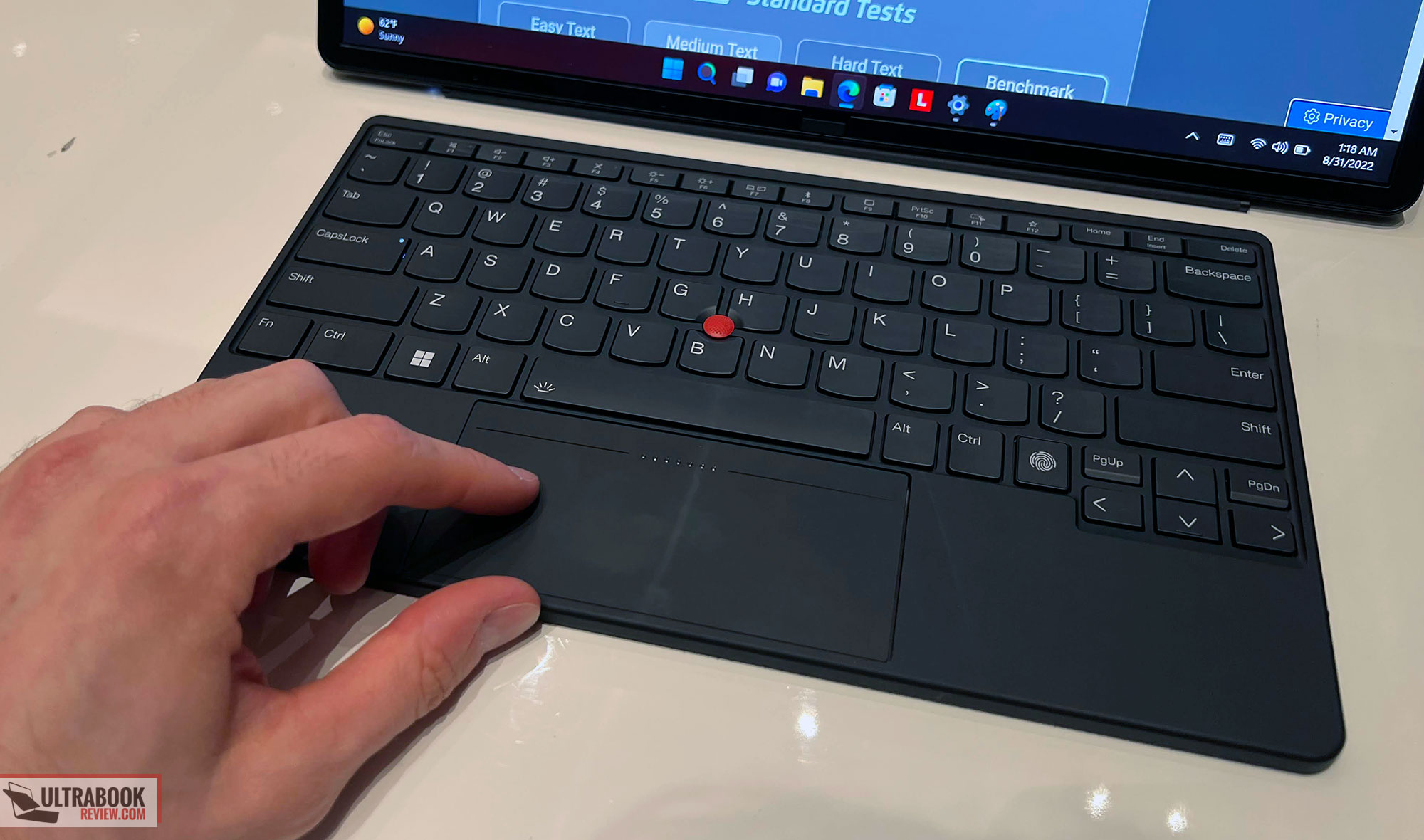 Magnets help align the keyboard folio over the screen's edges for laptop mode, and the process is intuitive.
I'll add that this device is not meant to fold down with the keyboard in between, like the ZenBook Fold. Still, if you'll try to do that, the Fold's bezels are the first to come in contact with the folio, so the panel shouldn't be harmed. As long as you're using it rationally, of course.
Hardware and performance
The ThinkPad X1 Fold is built on a low-power Intel Alder Lake 12th-gen platform, with Core U9 processors and Intel Iris Xe graphics, up to 32 GB of LPDDR5-5200 memory, and gen4 SSD storage.
The U9 Core processors are already available (or announced) in a handful of other laptops such as the Dell XPS 13, HP Elitebook x360, or the Asus ZenBook 17 Fold, and they're made for ultraportable designs. However, their performance depends on the applied power settings and the cooling of each implementation, especially when it comes to sustained loads.
Unlike with other options, Lenovo went with passive cooling on this X1 Fold, without a fan. They're still aiming at 13W sustained power with taxing loads, though, which is on par with what Asus are able to offer on the ZenBook Fold on Performance. But we'll still have to confirm it in our tests.
The secret sauce is the thermal design, with a pretty hefty vapor chamber over the processor, as well as some extra heatpipes that spread the heat onto the graphite plates used for the back of the laptop. I didn't get to run anything demanding on these samples, but they felt cool to the touch with daily multitasking.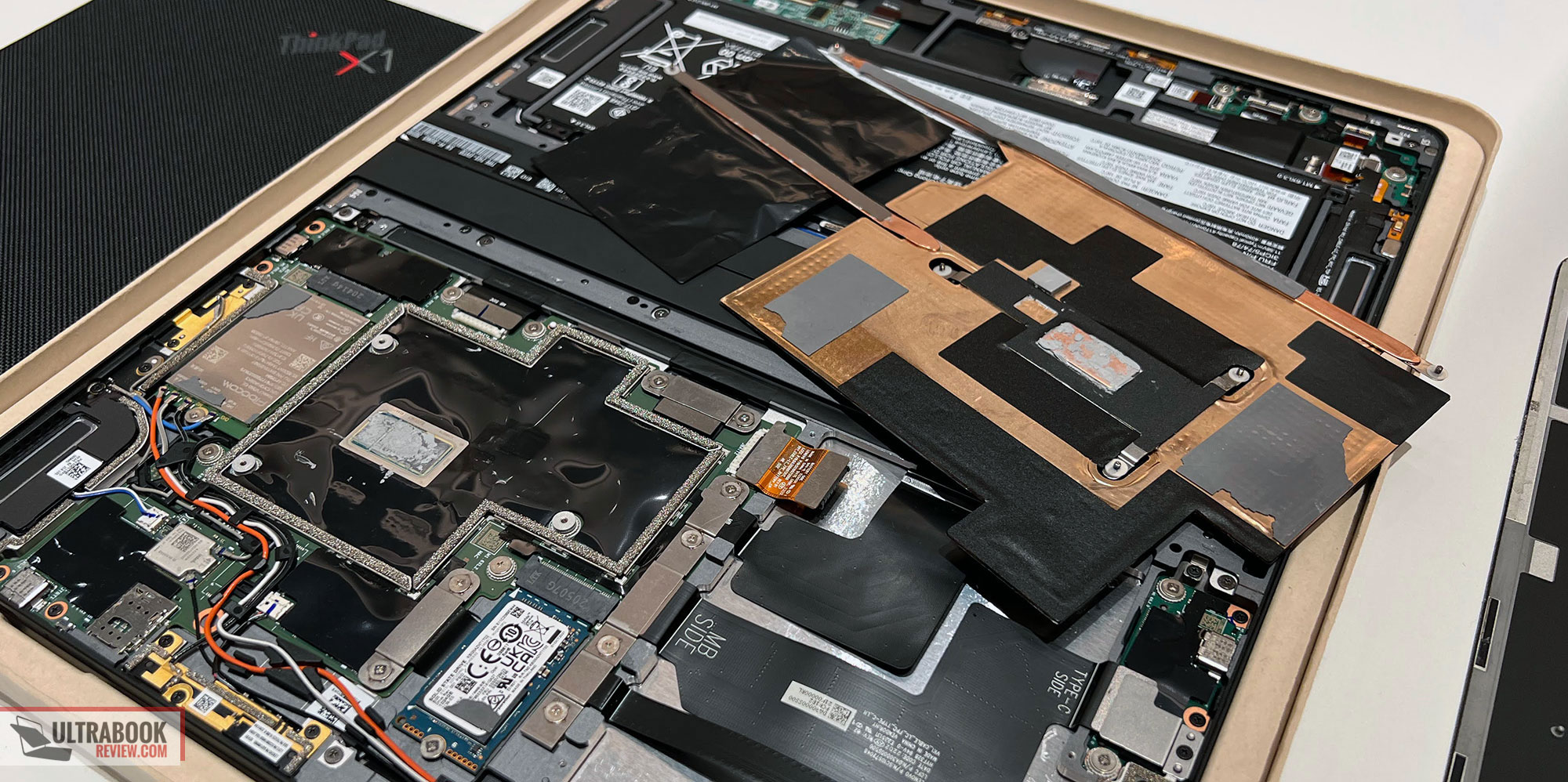 The user experience felt responsive as well, even if the software on these units isn't final and some aspects are still bugged out from time to time. I expect they'll figure everything out by Q4. I can even say this felt smoother than the Fold did on the passive Whisper mode, and that's most likely because Lenovo are able to drive the hardware at higher power with their cooling compared to what Asus put in their Whisper profile. Take that with some salt, though, as both platforms are still in their early days.
As far as the internals go, the motherboard only occupies a small portion of the design, with most of it covered by the vapor chamber, with soldered RAM, with the LTE module, and an upgradeable M.2 2242 SSD. Don't expect to be able to get to the SSD as easily as on a regular laptop format, even if Lenovo are trying to make the design fairly accessible, to allow their service engineers to easily take out the screen and get inside if needed.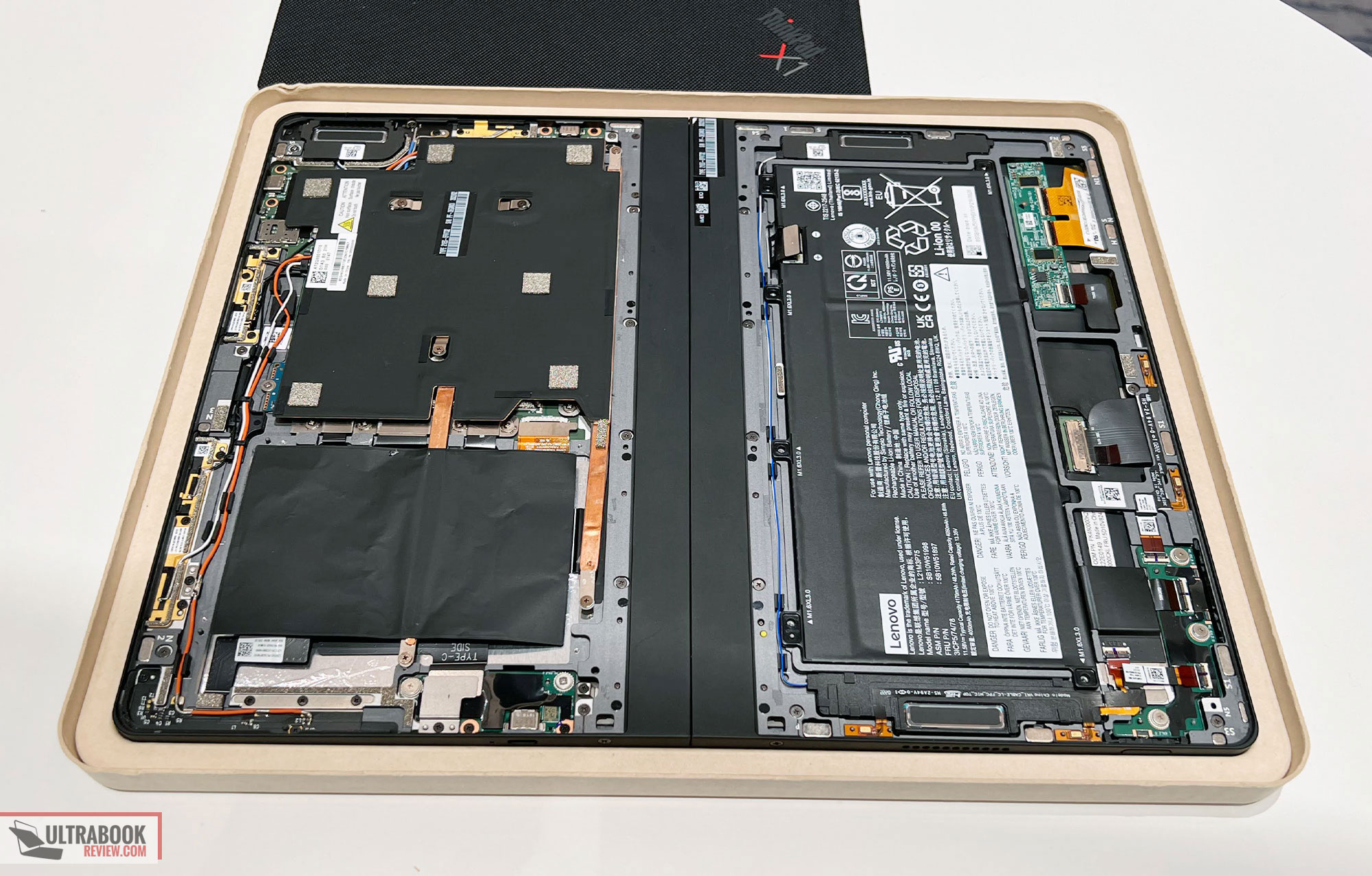 You'll also notice the space allocated to the three speakers on the inside, which are smaller in size than the four on the ZenBook Fold and don't sound as loud or as rich, in comparison.
And then, most of the interior is reserved for the batteries.
Lenovo offers the X1 Fold with a 48 Wh standard battery for the base model, occupying one entire half of the design. I'd realistically expect around 4 hours of daily use on this ThinkPad variant, and around 6 with video, as long as Lenovo are able to optimize things properly.
However, most configurations are getting an extra 16W battery on the motherboard side,fo r a total of 64 Wh. This will add 1-2 extra hours to your runtimes. So that means around 6 hours of daily use and 8 hours of video. Not bad.
As expected, the device ships with a 65Wh USB-C charger, a standard Lenovo design, with quick-charging abilities.
Price and availability- ThinkPad X1 Fold
The ThinkPad X1 Fold 16 is scheduled for release around November, starting at $2499 MSRP in North America. That, however, is for a very basic model without any included accessories, so not something most will be interested in.
Instead, the full package with the keyboard, stand, pen, and everything will go for around 3000 USD/EUR and up once you throw in more RAM/storage or the LTE connectivity.
We'll update you when we know more about it.
Final thoughts- Lenovo ThinkPad X1 Fold
I only got to spend a little time with the X1 Fold, but it further cemented my belief that I'll get myself a foldable laptop in due time.
While the implementation differs from what Asus did with their ZenBook Fold, as this X1 Fold is a little smaller and packs in more compactly, the overall experience is pretty much the same: a portable format for traveling, with the ability to open up into a practical large-screen device on your desk.
Sure, the performance isn't much compared to other modern platforms, but for casual use and light multitasking, this will do fine. And that's pretty much what I need in a portable device when traveling for work or vacation, as I do the heavy lifting on my PC.
Of course, the X1 Fold is still expensive at this point, even if more affordable than the ZenBook Fold, so not something that most will be able to justify. I can't really justify it either, yet, but give it a year or two for the technology to mature and pricing to drop towards the 2K mark or maybe under (especially with the sales that Lenovo are running time and again), and I'm fairly convinced one of these foldables are going to finally retire my old XPS 13.
Anyway, that's about it for now, but stay tuned as we get our hands of a finalized model of this Lenovo ThinkPad X1 Fold 2nd gen for a proper review later in the year.
Disclaimer:
Our content is reader-supported. If you buy through some of the links on our site, we may earn a commission.
Terms
.