Last year Asus launched the ROG Flow X13 laptop, the smallest member of the ROG family and the most powerful 13-inch convertible available on the market. This year, the 2022 Flow X13 is still part of the lineup and gets a bump to the new generation AMD and Nvidia hardware, but Asus also followed up with a new Flow product, the ROG Flow Z13 GZ301, which we'll discuss in this article.
Unlike the X13 which is a laptop format with a 360-convertible display, the Z13 is a tablet format with a detachable keyboard, much like a Microsoft Surface Pro. Beefed up, though, both in terms of specs and in terms of size.
Also unlike the X13, the Flow Z13 series is built on an Intel Alder Lake platform and can be configured up to a Core i9-12900H processor, with an optional Nvidia GeForce RTX 3050Ti dGPU with a MUX, up to 16 GB of LPDDR5, and 1 TB of PCIe storage.
Otherwise, the Z13 is still a 13-inch product with a 16:10 touchscreen, fair connectivity and support for the ROG XG Mobile external GPUs, as well as a fair-sized battery. All these are tucked inside a compact 1.2-kilo format, without accounting for the keyboard folio, or 1.55 kilos combined. That means that the Z13 is overall a smaller footprint than the X13 convertible, but also slightly heavier.
Here's a specs sheet of this series, and we'll get in-depth with some first impressions down below, gathered after spending a few days with a pre-release sample of this ROG Z13. We're not getting into benchmarks and performance numbers at this point, those will be available in a following review article.
ASUS ROG Flow Z13 GZ301 2-in-1 gaming tablet – review
Display
13.4-inch, 16:10 format, touch, glossy with Gorilla Glass, 2 panel options:
FHD+ 1920 x 1200 px IPS 120 Hz, 100% sRGB, 500-nits, Pantone validated
UHD+ 3840 x 2400 px IPS 60 Hz, 85% DCI-P3, 550-nits, Pantone validated
Processor
Intel 12th gen Alder Lake, up to Core i9-12900H, 6C+8c/20T
Video
Intel Iris Xe + optional Nvidia GeForce RTX 3050Ti 35-50W 4GB GDDR6,
with MUX and Adaptive Sync
Memory
up to 16 GB LPDDR5-5200 (soldered)
Storage
1x M.2 2230 PCIe 4.0 x4 slot
Connectivity
Wireless 6E (Intel AX211) 2×2, Bluetooth 5.2
Ports
1x USB-C gen2 with Thunderbolt 4, 1x USB-C 3.2 gen2 with data, DP 1.4 and charging, 1x ROG XG Mobile Interface, 1x USB-A 2.0, microSD card reader, headphone/mic
Battery
56 Wh, 100 W USB-C power adapter
Size
303 mm or 11.77" (w) x 205 mm or 8.74" (d) x 12 mm or .47" (h)
17.6 mm or .69″ (h) with the keyboard folio
Weight
1.19 kg (2.62 lbs) for the tablet (starts at 1.1 kg for the base models without a dGPU)
1.53 kg (3.37 lbs) for the tablet and keyboard folio
+ .36 (.8 lbs) for the charger and cables, EU version
Extras
single-zone RGB backlit detachable keyboard folio, HD IR front camera, 8 MPx back camera, stereo mics, stereo speakers on the sides, dual-fan vapor chamber cooling module, with liquid metal compound
Before we dig in I wanted to mention that Asus will offer the Z13 in a multitude of configurations, and the lower-tier models should be especially interesting.
These dump the dGPUs for a more affordable price tag, so you're pretty much getting a fast Intel 12th gen CPU with Iris Xe graphics with these units, but these variants allocate the entire thermal design to cooling the CPU, allowing it to run at higher sustained frequencies and performance in demanding loads. And then, if your activities require significant graphics performance as well, you can connect an external dGPU, either the Asus ROG XG Mobile through the proprietary port, or any other dGPU enclosure through Thunderbolt 4.
Update: Our full-review of the ROG Flow Z13 series is available here, and over here you'll find my thoughts on the newer 2023 Asus ROG Flow Z13 gen2 update.
Update2: Here's our review of the 2023 ROG Flow Z13 generation, in the i9+RTX 4060 configuration.
First look and daily use
If you've used a Surface Pro before, you'll know what to expect from this Flow Z13 in terms of design and functionality.
It's the same kind of tablet computer with the hardware tucked behind the display and an attachable keyboard folio. It also gets the same kind of adjustable kickstand on the back, which allows a multitude of angles and use variations.
On the other hand, this product is heavier and thicker than a Surface Pro, and that should not be a surprise, given it also packs much more powerful components inside, as a more ample cooling module. Still, holding it and using it as a tablet feels rather cumbersome due to the overall weight of 1.2 kilos, and no way near as comfortable as using an iPad. That's something I'd consider in my purchase decision.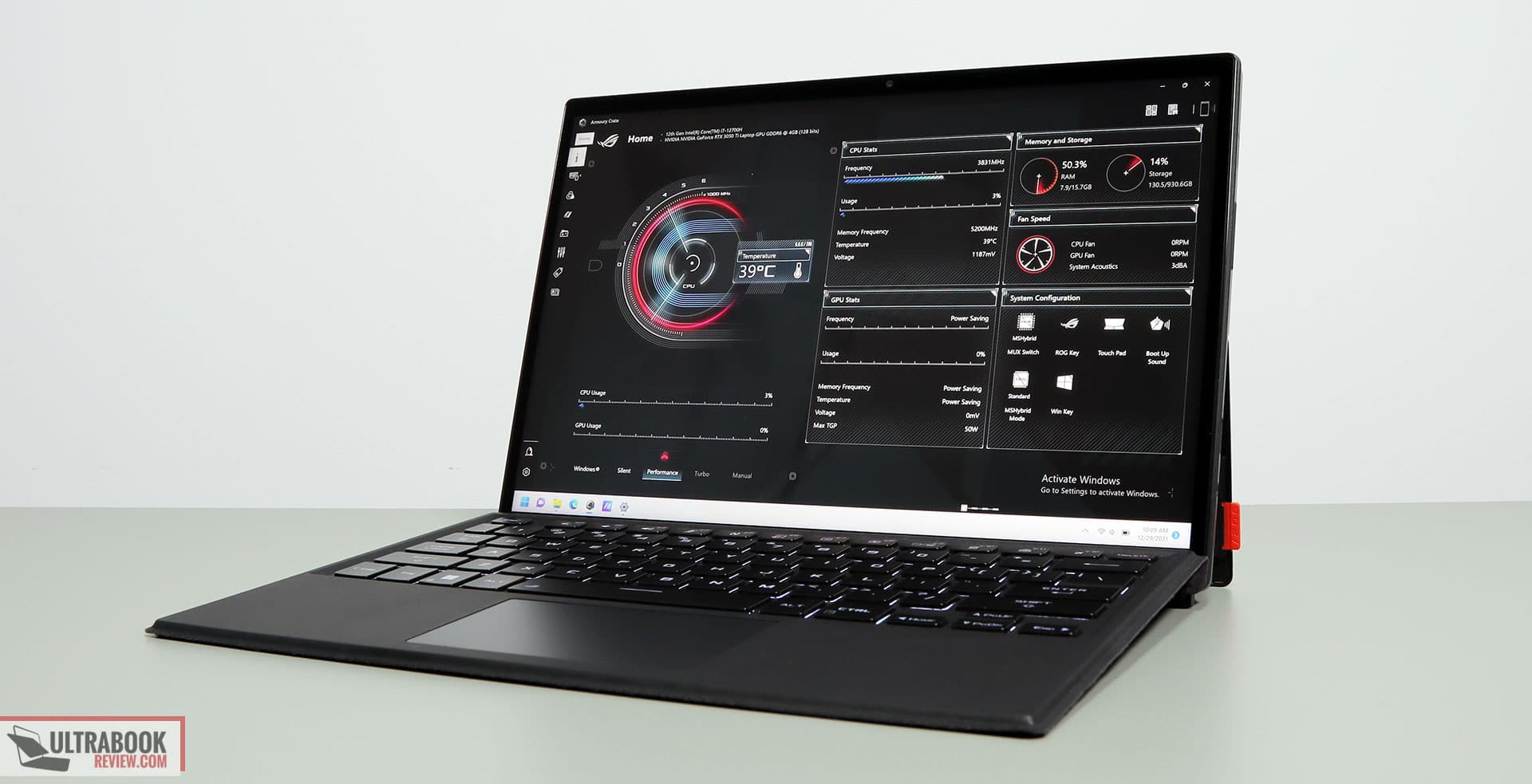 And then, the format is OK for desk use, although I would have appreciated some rubber feet positioned on the bottom of the kickstand to improve the grip and protect my desk from any scratches, but it's also less practical on the lap or in other cramped spaces than a regular 2-in-1 laptop format. I might be a little biased here, as I've always preferred a laptop format over this sort of tablet PC design, no matter the brand.
Furthermore, in this case, you should consider that the Flow X13 convertible is overall larger than this Z13, but also lighter at the same time. That one ends up at under 1.35 kilos or 3 lbs, while the Z13 weighs 1.53 kilos or 3.4 lbs when accounting for the tablet and the keyboard folio, so I consider the Flow X13 to be the more portable and versatile design of the two.
However, there are a couple of other advantages to this sort of tablet design. First off, the components are placed behind the screen, and that means that the keyboard folio always keeps cool and comfortable to the touch, no matter what you're running on the laptop.
Then, the thermal module gets an unobstructed airflow of fresh air, as the intakes are placed on the back of the device, and the outputs are on the top edge, pushing the hot air away from the chassis and the user. Paired with the advanced vapor-chamber cooling module, this particularity allowed Asus to squeeze in the kind of hardware that they put in this compact Flow Z13 product.
I'm looking forward to comparing the overall performance and thermal behavior of the Flow X13 and Z13 designs, to find out which ends up superior.
One other aspect to mention here is the IO. Asus put two USB-C ports on this unit, both on the left side, as well as a USB-A, a micro SD card reader, and a headphone jack on the left. That USB-A is only 2.0, so very slow by today's standards. One other nit with this tablet-like design is the fact that connecting any cables or peripherals looks far messier on this Z13 than on a laptop format, as the cables are more visible and in the line of sight.
Inputs and screens
As mentioned already, the ROG Flox Z13 ships with an included keyboard folio that offers a backlit keyboard and a decent clickpad surface.
The folio attaches to the tablet through a physical connector, so there's no lag like on Bluetooth peripherals, and magnets are smartly placed to assist with the docking process. The deck also feels sturdy and doesn't flex in any noticeable way when using it in the inclined position, unlike on other similar designs.
Asus also implemented single-zone RGB lighting here, with bright and evenly-lit LEDs, yet some light still creeps from under some of the keycaps with the slim profile of the folio.
I had no issues typing quickly and accurately on this keyboard, which I find on par with what Asus offers on the Flow X13 and many of their ZenBooks. The keys are quick and quiet and the 1.7 mm stroke depth and overall feedback are just right for most people.
The clickpad is only alright. It's a small surface and made out of plastic, and while it tracks well and interprets gestures and taps as expected, the physical clinks are also very clunky and loud.
As for the screens, the Flow Z13 gets the same 13.4-inch 16:10 touch display that's also available on the Flow X13 series, with two-panel options: either FHD+ 120Hz 100% sRGB or UHD+ 60 Hz 85% DCI-P3. Pen input is supported with both options, but a pen is not included by default.
The UHD+ panel that I have on this early sample sure looks nice and sharp, but the FHD+ panel makes the most sense on this kind of laptop, both because of the resolution that's easily driven by the hardware, but also because it's 120 Hz so better suited for occasional gaming. There's Adaptive Sync with both options, so tearing should not be an issue, but too bad that both panels are fairly slow based on what we know from the X13, so ghosting is still going to be a potential concern in fast-paced titles.
For biometrics, there's a finger sensor in the power button placed on the side, the kind that registers your print when you press the button to power the laptop, and then uses it to log you into Windows. There are no IR cameras, but there's an HD webcam on the front and an 8 MPx camera on the back.
Hardware and performance
The ROG Flow X13 series is built on a 12th gen Intel Alder Lake platform, starting with a Core i5 + Iris Xe configuration and going all the way up to a Core i9-12900H with 16 GB of LPDDR5 memory and an RTX 3050Ti dGPU.
The hardware is mostly built-in, with the SSD being the only upgradeable part and accessible through a service bay on the back of the tablet, under the kickstand. Due to size constraints, Asus only went with an M.2 2230 drive.
All these are kept at bay by a dual-fan thermal module with an ample vapor chamber, and the unobstructed intakes/outputs mentioned in a previous section. I cannot share anything on the thermals and noise levels based on this early sample, so look for an update in the final review.
I can tell you that the Armoury Crate control software is available for this Flow Z13, with all the standard profiles available on the full-size ROG laptops, including a Silent mode that keeps the fans idle with very light use, as well as Turbo and Manual modes for top performance.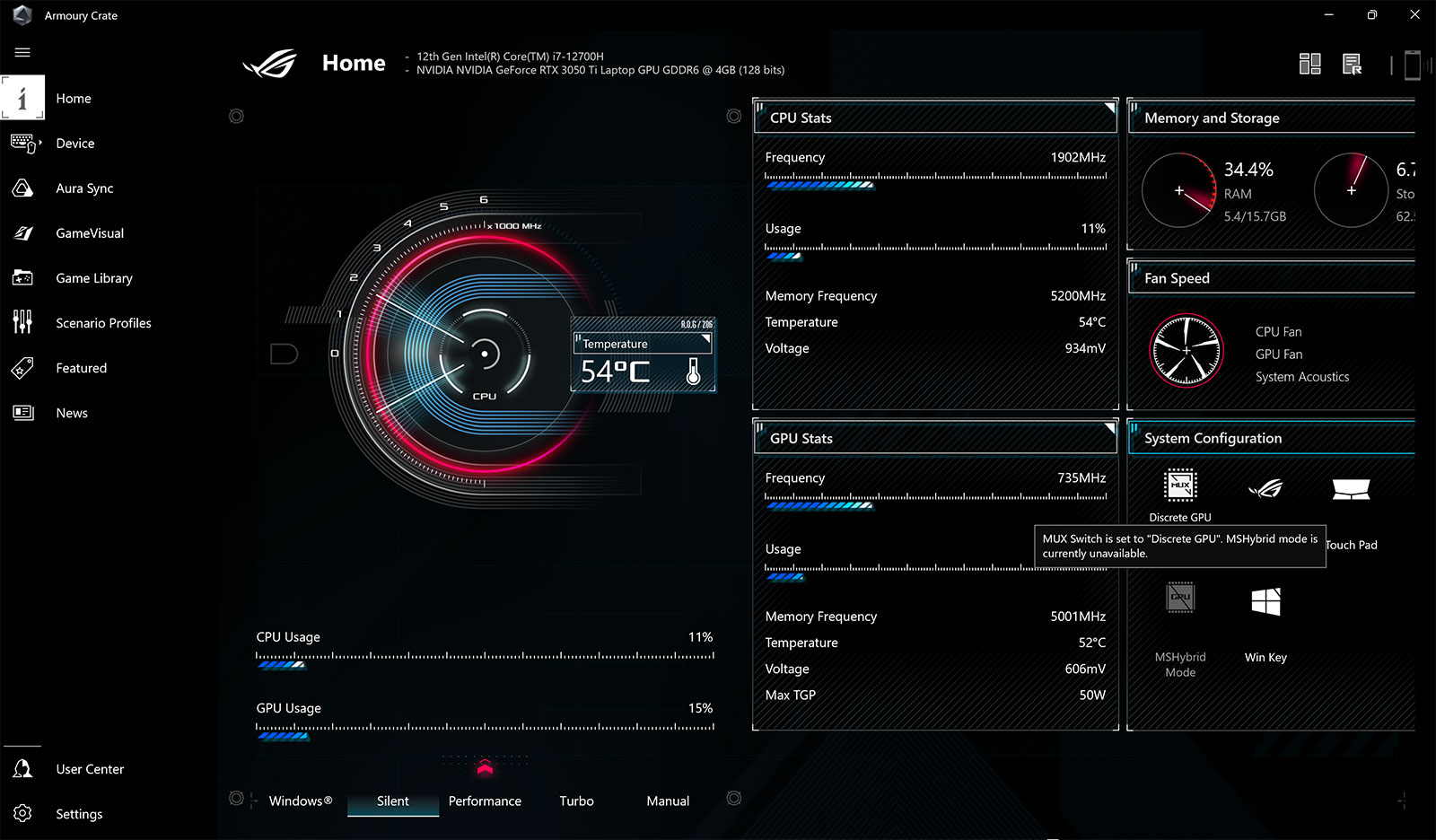 We can't get into any performance details at this point either, but you should expect the CPU to run above its designed 45W TDP on the Performance mode, which is going to translate into excellent performance in demanding multi-threaded loads. Our sample comes with the mainstream Core i7-12700H processor, which is a 14Cores/20Threads design and the same kind of processor that powers many full-size 2022 laptops. Of course, these Alder Lake processors would be able to run at higher sustained power in the beefier products, compared to this one.
On the GPU side, you can get the Flow X13 with the Iris Xe graphics embedded within the Intel platform, as well as an optional Nvidia GeForce RTX 3050Ti graphics chip. It's the MaxQ design running at 35 to 50W of power between loads, the same available in the Flow X13 or the VivoBook Pro 14X and 16X series. There is one major difference over all those alternatives, though, and that's the fact that Asus implemented a MUX on this Flow Z13 series, which can help garner extra framerates in performance in certain loads and games, when using the device on the dGPU mode. Changing between the Hybrid and dGPU modes happens in Armoury Crate and requires a restart.
All in all, I'm looking forward to sharing more of my findings with you once we get the review unit. From what I can tell so far, this Z13 is impressively powerful for a computer of this size, with fair temperatures and quieter fans than I was expecting on the Turbo mode. With daily use, the fans keep quiet and mostly idle, and I haven't noticed any coil whine on this sample.
I can't run any battery results either, as this unit is pre-production and built on early drivers. However, efficiency should be a major update of the 12th gen Intel platform over the previous Intel generation, with the hybrid CPU design, but for now, it's too early to tell what this translates into in real-life. I can add that there's a 56 Wh battery inside this Flow Z13, so I'd realistically expect 4-6 hours of daily multitasking and hopefully 10+ hours of video playing.
This device charges via USB-C and comes with an included 100W Asus charger, the same dual-piece design offered with a couple of other ROG products in the past. Other USB-C chargers are also compatible, but Asus mentioned that the performance will be throttled when using a 3rd party charger, and that's something I plan on further looking into in the review.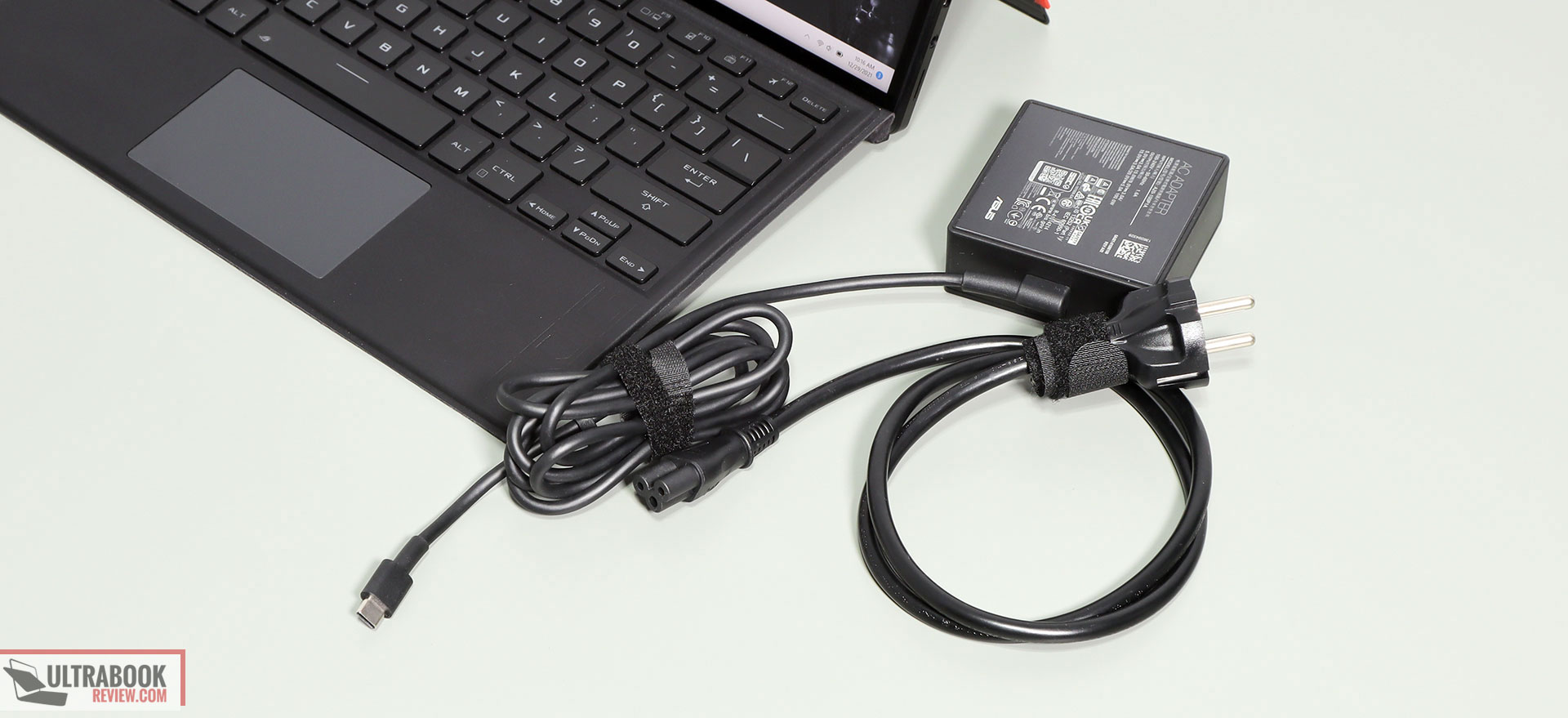 Some early conclusions
The ROG Flow Z13 is expected in stores around Q1 2022 and from what I've been told, might start at under $1000 for the base models with the FHD+ screen and Iris Xe graphics only, and should match the Flow X13 convertible in price at the higher-tier configurations. The keyboard folio is included by default, and a compatible Asus pen will also be available as an extra option.
The form factor is for sure an antagonizing point for this series, with advantages in performance/cooling over other ultra-compact products, but also disadvantages in practicality and ergonomics when not using this on a desk.
Still, I do expect this Flow Z13 to be possibly the most powerful small-format computer of its generation, and for that reason a potential option to a handful of you, especially when you factor in the ROG XG Mobile compatibility and the ability to connect peripherals and eGPUs via Thunderbolt 4, which the Flow X13 2-in-1 series lacks. For what is worth, Asus are launching updated XG Mobile units this year, with either Nvidia or AMD graphics inside.
All in all, this ROG Flow Z13 GZ301 is quite a unique product, but I'd wait for our final impressions before taking the plunge on it, once we get to look at the performance, thermals, noise levels, and battery life more thoroughly. In the meantime, let me know what you think about this series in the comments section down below.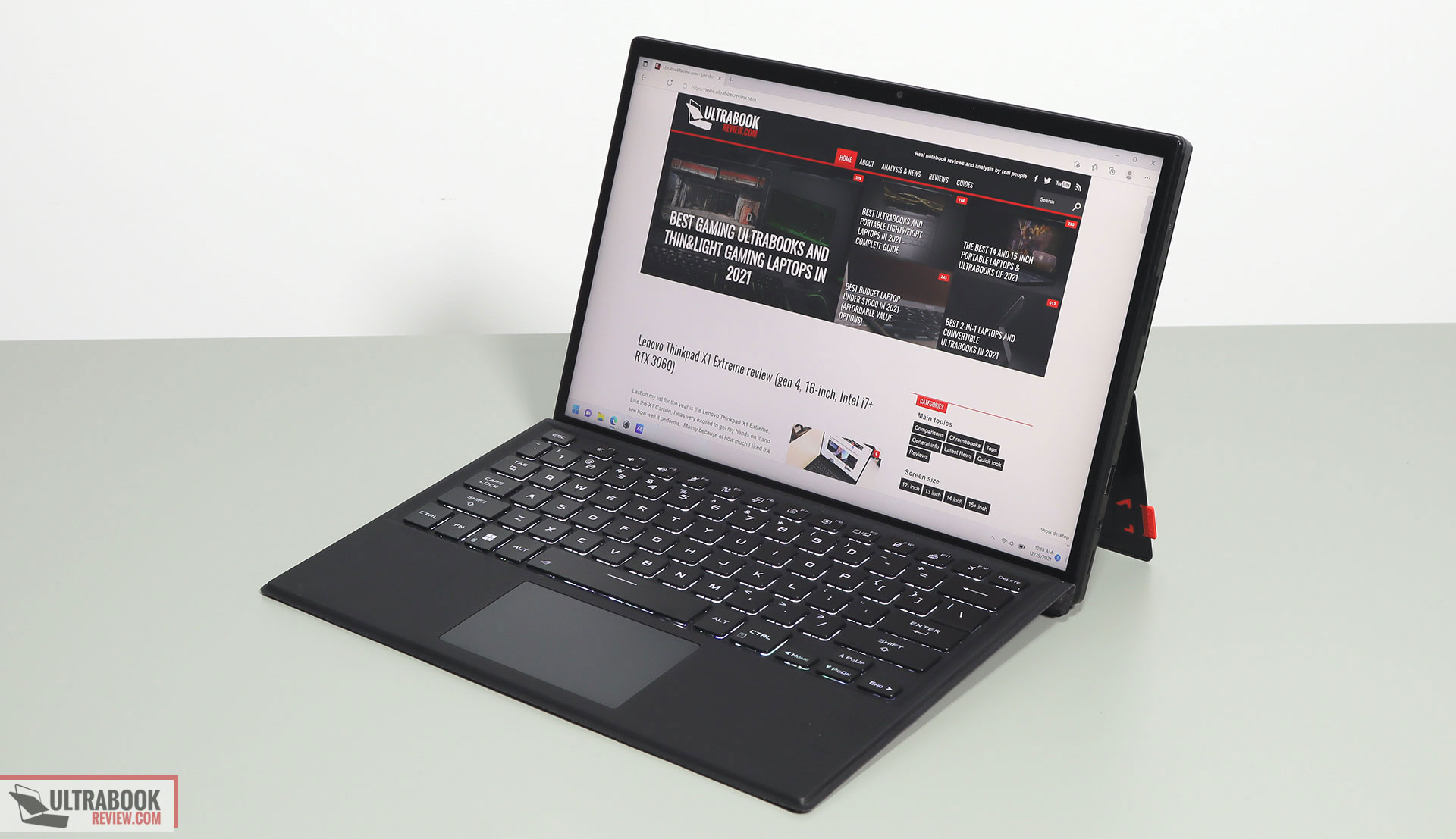 Disclaimer:
Our content is reader-supported. If you buy through some of the links on our site, we may earn a commission.
Terms
.