The ROG Flow X13 is Asus's first ROG – Republic of Gamers ultrabook and a unique product on today's market.
On a first look, this is a compact 13-inch ultraportable laptop with a convertible 16:10 touchscreen, weighing a little under 3 lbs. Nothing special so far, however, this is also the only such product built on AMD Ryzen 5000 HS hardware, alongside a dedicated GTX 1650 graphics chip from Nvidia. They're paired with up to 32 GB of RAM and a 62 Wh battery, as well as a cooling module to match this kind of hardware inside this 13-inch chassis.
Razer's Stealth 13 held the crown as the most competent gaming ultrabook of the past years. The latest iteration is built on a Tiger Lake Core U processor, with the same kind of GTX graphics, but with a clamshell form-factor, slightly larger footprint, and a smaller 53 Wh battery. Furthermore, the Intel chip is no match for the AMD 8C/16T Ryzen 9 5000 processors in the ROG Flow X13 in sustained loads or in terms of efficiency, so at least on paper, this ROG is on its path for regicide.
Update: Here are my thoughts on the updated 2023 Asus ROG Flow X13 GV302 lineup. And here's our detailed review of the 2023 Asus ROG Flow X13 series.
Asus didn't just launch the Flow X13 on its own, though, they also paired it with their take at an eGPU, in what's called the ROG XG Mobile external GPU. This is a compact GPU enclosure with non-upgradeable components, the kind you're buying preconfigured, and not the barebone type you fill up with your own components. The ultra-compact form-factor makes it easily baggable to bring along when traveling, but does come with a hefty price.
Furthermore, the ROG XG Mobile only works with the ROG Flow X13, and that's because Asus didn't go with a standard Thunderbolt connection, but instead developed their own connector, for a couple of reasons.
We'll tell you all about both these products in the article down below. At this point, this only gathers my first impressions and thoughts after using them for a few days, without touching on performance numbers, benchmarks results, thermals, noise levels, or efficiency, and that's because these are pre-production showcase units, and not the finalized products. The proper reviews will be available in the near future, once we get our hands on those retail units.
Here's a quick specs-sheet of the ROG Flex X13 ultraportable.
ASUS ROG Flow X13 2-in-1 gaming ultrabook
Display
13.4-inch, 16:10 format, touch, glossy with Gorilla Glass, 2 panel options:
FHD+ 1920 x 1200 px IPS 120 Hz, 100% sRGB, Pantone validated
UHD+ 3840 x 2400 px IPS 60 Hz, 114% sRGB, Pantone validated
Processor
AMD Cezanne, up to Ryzen 9 5980HS, 8C/16T
Video
AMD Radeon Vega + Nvidia GeForce GTX 1650 Max-Q 35W 4 GB GDDR6  – with ActiveSync (??)
Memory
up to 32 GB LPDDR4s 4266 MHz (soldered)
Storage
1x M.2 2230 PCI x4 slot
Connectivity
Wireless 6 (Intel AX201) 2×2, Bluetooth 5.1
Ports
2x USB-C 3.2 gen2 with data, DP 1.4 and charging, 1x ROG XG Mobile Interface, 1x USB-A 3.2 gen2, HDMI 2.0b, headphone/mic
Battery
62 Wh, 100 W USB-C power adapter
Size
299 mm or 11.77" (w) x 222 mm or 8.74" (d) x 15.8 mm or .62" (h)
Weight
1.34 kg (2.95 lbs) + charger
Extras
white backlit keyboard, HD webcam and stereo mics, stereo speakers
First look and daily use
The Flow X13 is the most portable ROG laptop to date, and a fair bit smaller, slimmer, and lighter than last year's Zephyrus G14.
It doesn't compromise on the build quality in any way, though, and it's also a convertible with a 360-degree screen.
Magnesium alloys are used for the construction, but all the exterior surfaces are textured and the whole thing feels surprisingly premium to the touch and sturdy, with almost no flex in either the lid or the main-deck. Furthermore, the smudges and fingerprints have a hard time sticking to the surfaces, despite the all-black color scheme, but they do show up on the keys and clickpad, which you'll have to clean off quite often.
Aesthetically, this is one of the cleanest laptops out there, with a subtle ROG Flow engraving under the screen, a dark-gray ROG plate on the lid. This won't catch any attention and is perfectly suited for stricter office/school environments.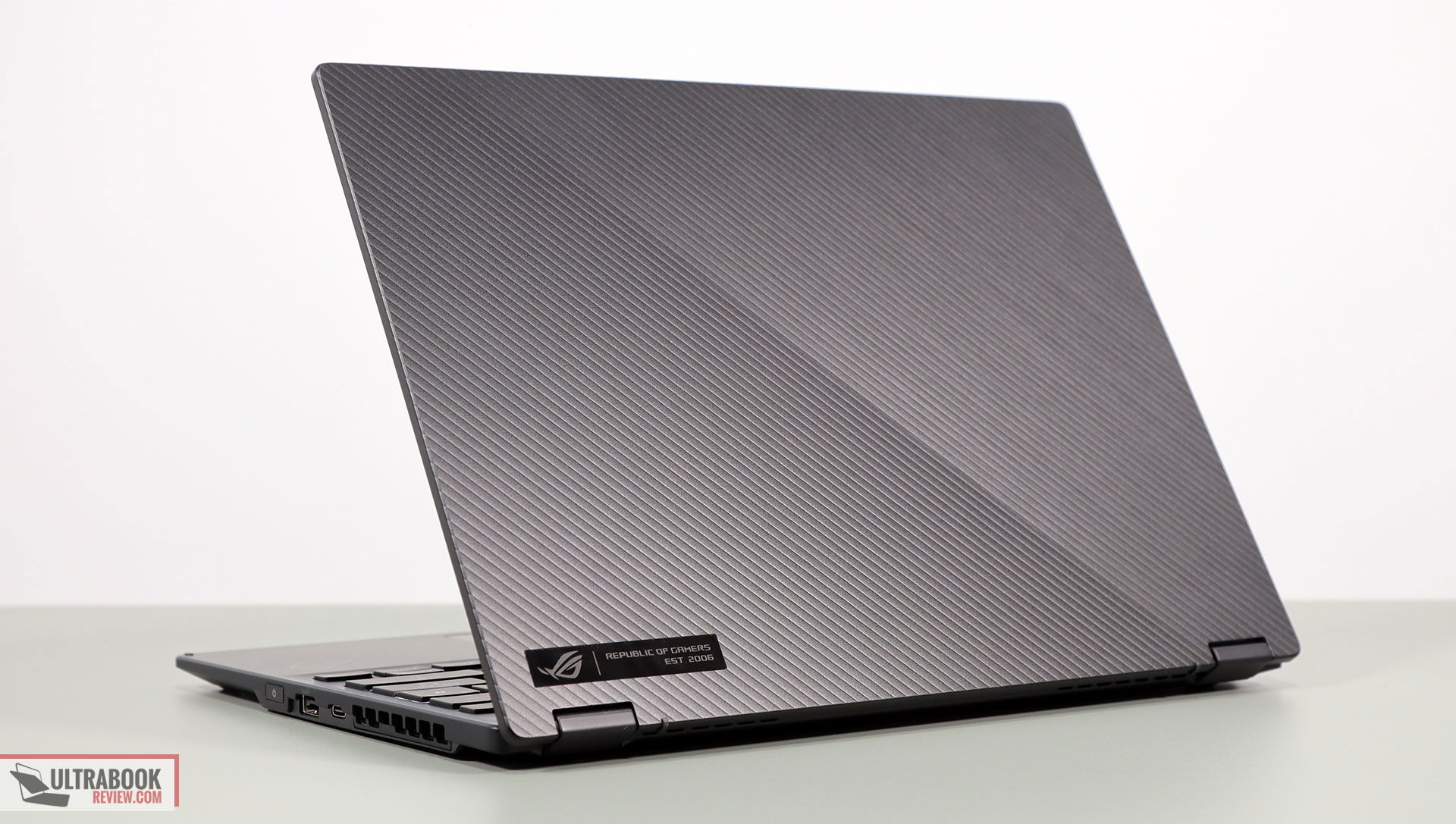 As far as the ergonomics go, I'm enjoying the blunted lips and corners, the IO placements on the sides, and the fairly good grip on the desk, although those feet on the bottom are minuscule. Asus went with the same kind of Ergolift hinge design they've been using on most of their recent ZenBooks, with the main body raising on small rubber bits placed at the bottom of the screen. The angle is more limited, though, as the chassis barely lifts itself with the normal use screen position at around 100-degrees on the back, as you can tell from these pictures here.
To me, that sparks some concern in regards to thermals. The cooling module is designed to draw fresh air from the bottom of the laptop, through open intakes over the two fans, and push it out through two vents placed under the screen, and an extra vent on the left side. From the little I can tell right now, that limited space underneath might choke the intakes, and I'd expect raising the laptop by an inch on two to have a positive impact on the thermals and performance.
I cannot properly test it at this point, but it's something we'll look for in the review. That aside, Asus themselves claim the laptop runs cooler in tent mode, thanks to the unobstructed intakes.
These aside, as mentioned earlier, the Flow is a convertible, thus gets a touchscreen that can go all the way back to tablet mode. None of the other 2-in-1 laptops available these days get the sort of hardware available with this one, which could be a strong selling point for some of you. I'm not big on the tablet mode, but I do like that I can lean the screen back flat when using this on the couch.
Back to the IO, there are two USB-C slots on this laptop, one on each side, without Thunderbolt support, but with video, data and charging. The USB on the left is part of the ROG XG Mobile connector used to hook up the external GPU, which we'll talk about in a further section. These aside, the Flow X13 only includes a USB-A slot on the right, as well as a full-size HDMI and audio jack on the right. Pretty good for a laptop of this size.
Screens, Inputs, and audio
There's a 13.4-inch 16:10 touchscreen on this laptop, with a choice of two panels: FHD+ with 120Hz refresh and 100% sRGB coverage, and UHD+ with 60Hz refresh and wider-gamut colors.
The latter might make sense for content creators, but the FHD+ is more affordable, more efficient, and more versatile, as well as better suited for gaming, with the higher refresh, although I'd keep an eye on the response times for more insight on potential ghosting issues. It didn't bother me on this sample, which came with this Sharp SHP151E (LQ134N1JW52) FHD+ panel, but I don't play games competitively or have the right tools to measure response times.
I should also mention that the official press literature doesn't specifically mention ActiveSync support here, which would help eliminate tearing. Something to further look into and clarify.
I did put my sensor on the screen and it came out well calibrated out of the box, with max-brightness of around 350 nits and contrast levels above 1800:1. Oh, and unlike most other ROG laptops these days, the Flow gets a webcam at the top of the screen. No IR, and in fact, no other kind of biometrics.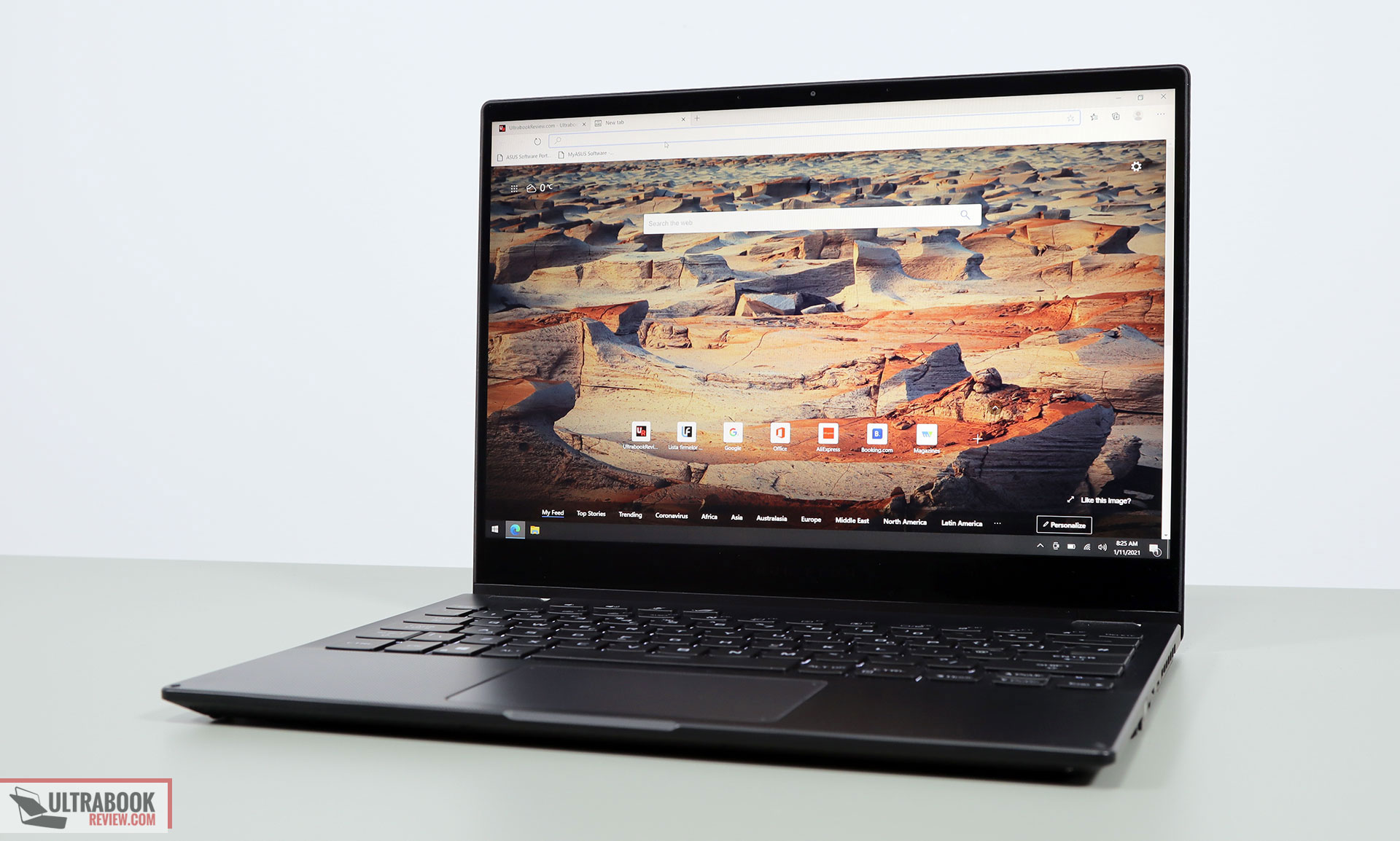 As far as the inputs go, we're looking at a fairly small clickpad that feels like glass and handles daily use just fine, as well as a keyboard that reminds me of the Zephyrus G14. If you've been around long enough, you might know that the G14 was my favorite typer in the entire 2020 ROG lineup, that's why I'm glad to see the same keyboard on the Flow. I've only typed a couple of thousands of words on it, but so far I find it responsive, accurate, and easy to get used to. I also like the full layout and the fact that they didn't dump the media keys at the top-left or the physical Caps-Lock indicator.
This keyboard is also backlit, with averagely bright and fairly uniform white LEDs. However, plenty of light creeps out from underneath the keycaps, somewhat expected given this laptop's slim profile, and something you'll just have to accept here.
Audio is alright for a laptop in this class, loud, of average quality, and surprisingly undistorted at high volumes.
Specs and performance
The ROG Flow X13 is built on AMD Cezanne Ryzen HS 5000 hardware, paired with up to 32 GB of LPDDR4x memory, NVMe SSD storage, a 62 Wh battery, and an Nvidia GTX 1650 graphics chip.
We're looking at the efficient 35W Max-Q variant, the kind available in a couple of other ultraportables such as the Blade Stealth, Prestige 14, or the Envy 14. However, in this Flow the 1650 runs at 1255 MHz, overclocked with ROG Boost, with the ability to draw an additional 5W with Dynamic Boost. This technology seamlessly allocates power away from the CPU and onto the GPU when required, in order to boost the GPU's performance.
The chip can handle AAA FHD+ gaming with medium settings, but is still an entry-level dGPU, so don't expect much. However, I'd reckon this will be updated later on once the mid-tier Nvidia 3000 successors are available, something to keep in mind if you're planning on buying this sort of a computer around the Summer of 2021, or later.
AMD's Cezanne, on the other hand, that's by far the most capable hardware platform available in this size segment. We can't talk performance or benchmarks right now, but boy you should be excited about it.
The Flow X13 will ship with Ryzen 7 5800HS, Ryzen 9 5900HS, and Ryzen 9 5980HS chips. They're all 8C/16T, but different speeds, cache, and Vega graphics. Previously, AMD HS hardware has been an Asus exclusive for the Zephyrus G14/G15 models, and I hope that's not going to be the case anymore. The Ryzen 9 5980HS is, however, AMD's series of cherry-picked bins meant to deliver the best performance and efficiency in this form-factor, and part of an exclusive Flow X13 Supernova limited series.
All these are power-efficient AMD Cezanne chips capable of 35W of sustained multi-core performance, but able to Boost up to 54 Wh sustained as long as thermals allow it.
As for the thermal design, illustrated below, Asus went with a dual-fan cooling module, with three heatsinks and a multitude of heatpipes. They also opted for the 2021-updated Arc Flow fans with asymmetrical blades, which increase airflow by up to 13% (official literature) without impacting noise. Furthermore, the laptop implements what Asus calls the 0Db technology, the ability to completely switch off both fans with light use on the Silent profile, as long as the CPU/GPU keep under certain temperatures.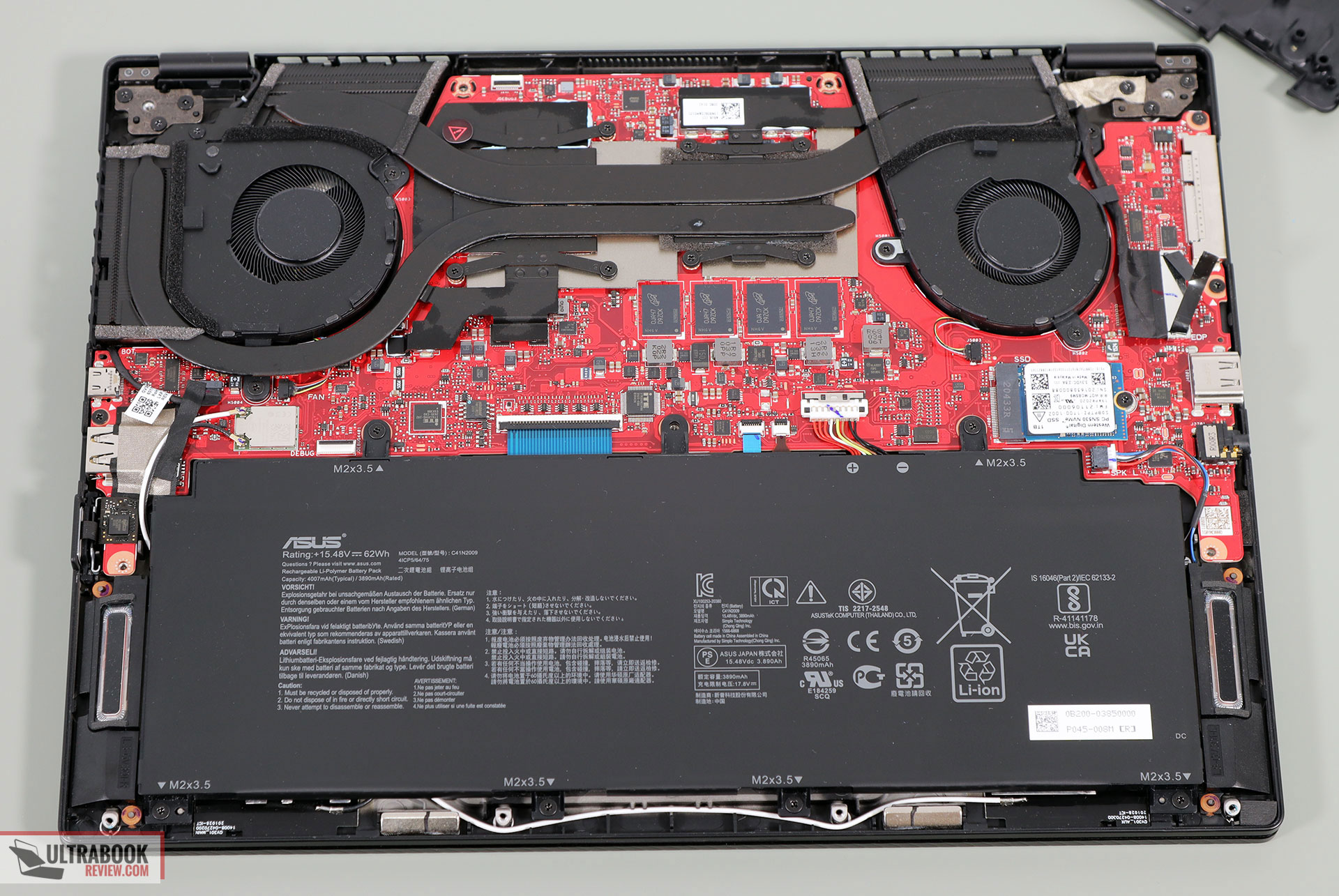 I can attest the fans shut off with daily use on this sample, and run averagely noisy with demanding loads and games. I can't get into any other details at this point. Stay tuned though, we'll have our proper review up in the near future, once we get our hands on the final products.
XG Mobile eGPU
The XG Mobile is an external GPU the works exclusively (as of now) with the Flox X13, and that's because it doesn't connect via a standard USB-C port, but through a proprietary XG connector that ensures both an 8x PCIe connection (with 8 Gbps bandwidth) for the GPU, as well as a dedicated USB lane for driving any USB accessories and charging the laptop at the same time.
Traditional Thunderbolt eGPUs with 4x PCIe lanes bottleneck the external GPUs performance to a lesser or greater extent, especially when feeding back the signal onto the laptop's internal display or when also utilizing some of the bandwidth for data transfers. With the proprietary 8x connector, the XG Mobile ensures enough bandwidth to the GPU to eliminate any bottlenecks, either on an external screen or on the laptop's own display. However, I'd reckon the decision to go with this proprietary port also had something to do with the challenge of adding Thunderbolt connectivity to an AMD based platform, here.
The XG mobile has one more major advantage over the other external GPUs on the market, and that's its overall size and portable form-factor. It's about the size of a book (208 x 155 x 30 mm), plus the two cables, weighs about 1 kilo (+ the power cable) and it integrates both the GPU with its cooling module and a compact 280W power supply in that small chassis. For the specs, Asus offer the XG Mobile preconfigured with either full-power GTX 3070 or 3080 chips. The 3080 is clocked at 1810 MHz at 150W with ROG Boost, so more powerful than anything Asus put on their ROG laptops right now.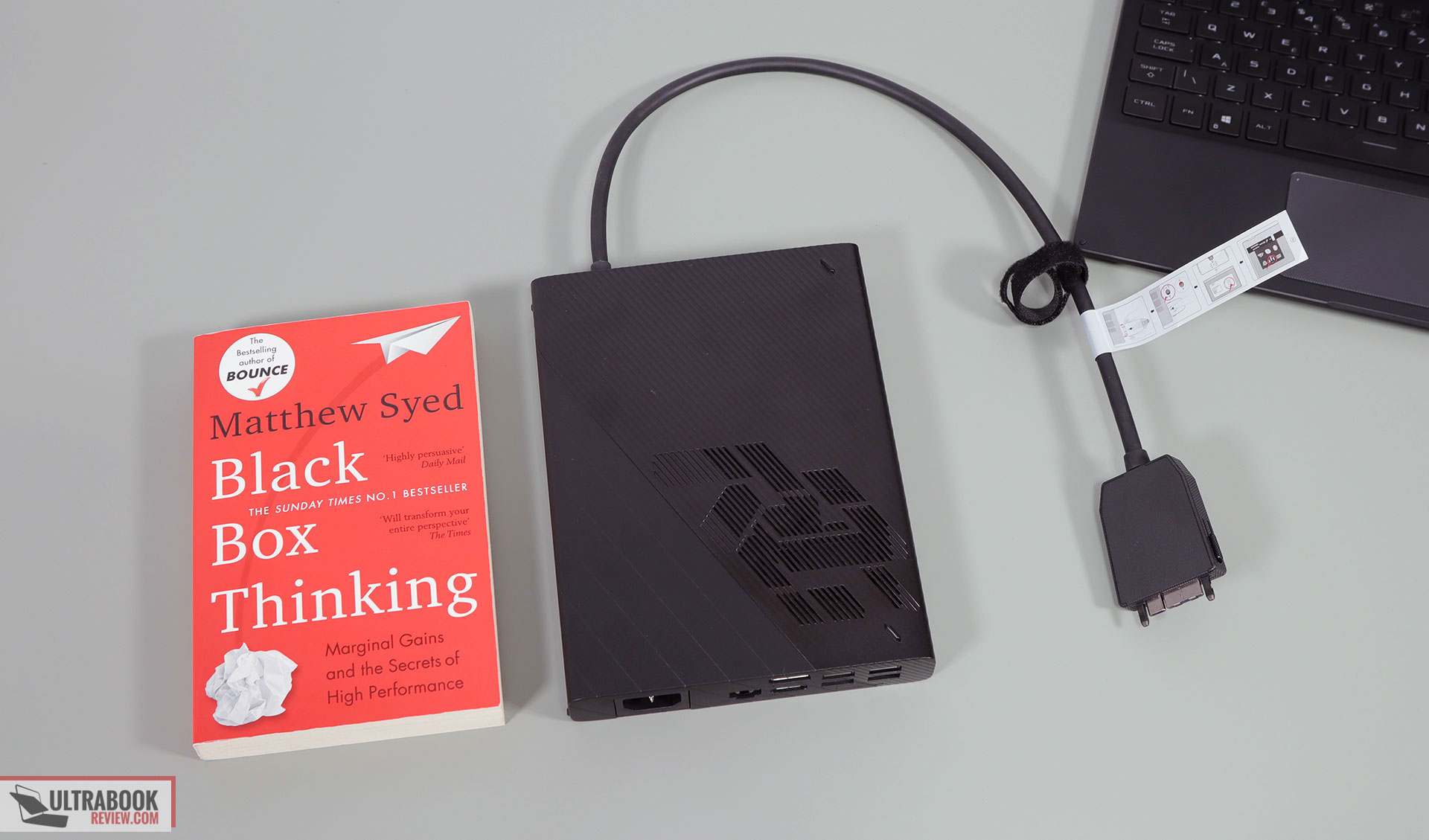 As for the IO, this gets 4x USB-A 3.2 gen1 ports, full-size HDMI 2.0a and DisplayPort 1.4, Gigabit LAN, and an SD card reader.
Ok, so generally I'd reckon this will spark interest among those interested in a portable eGPU, something they can grab along and hook up to the Flow at the destination. The system intelligently knows to allocate extra power to the CPU when the XG eGPU is connected, so the Ryzen HS processors should be fast enough for any modern games and most demanding workflows, with some fair associated temperatures, as the thermal module would have to cope with a lesser TDP than when both the CPU and iGPU are active at the same time.
I do have a couple of concerns, here. First off, noise levels coming out of this dGPU. Cooling both the PSU and 150W of GPU inside that small form-factor with a single fan is not going to be an easy task. The different performance/noise profiles in Armoury Crate impact the XG eGPU as well, though, and I look further to properly test this once finalized.
Then, there's pricing. From what I've been told, we're looking at around 1500 USD for the RTX 3080 XG Mobile, which is a fair bit of premium demanded for the form-factor.
Then there's the lack of upgradability, as this cannot be upgraded after you're buying it, and the limited compatibility, as this only works with the Flow X13. I'd reckon Asus will launch other compatible laptops if this proves successful, hopefully, a compact 15-incher that could rival the popular Dell XPS 15 or Lenovo ThinkPad X1 Extreme. That's in the future, though.
Finally, I just wonder how many of you would be willing to pay the premium for this sort of easily transportable mobile eGPU.
Early conclusions
In conclusion, I'm highly stoked about the ROG Flow X13. If properly priced and if Asus manage to properly balance the performance, thermals, and noise levels, this is going to be the new performance-ultraportable king and unmatched by anything else available right now.
At the same time, I'm not sold on the XG Mobile eGPU. I see the point of an external eGPU dock that stays at home and I can hook into for playing games in my spare time, something that allows upgrades and perhaps even includes storage, even if it's a larger unit. However, a more expensive and non-upgradeable eGPU that would potentially run noisier, just for the fact that it's compact and easier to carry around, that's just not for me. Could be for you, though, if you require the portability and the convenience of getting that kind of GPU performance in multiple locations.
Nonetheless, I'd love to hear your thoughts on both these products, both highly interesting and unique on the market right now. And stay close for the final reviews in the weeks to come, I can't wait to get my hands on the final products, find out if Asus can deliver on what these promise, and share our findings with you.
Disclaimer:
Our content is reader-supported. If you buy through some of the links on our site, we may earn a commission.
Terms
.