I've been covering Asus ultrabooks here on this site for many years now, and up till now, there's always been a clear difference in specs and quality between their premium lineups of ZenBook laptops and their mid-tier series of VivoBooks.
This difference has significantly blurred out with the 2021 VivoBook S14 S435 model, though, which is right now one of the most affordable Evo-certified laptops on the market. This shares the same specs, battery, IO, and screen with the current ZenBook 14 UX425/UX435 generation, with slightly different inputs, biometrics, and construction.
Now, if you're shopping in the $700-$900 price range and would rather not go over 1000 USD/EUR for your purchase, but don't want to sacrifice the everyday-use experience, build quality, or battery life, this VivoBook must be on your list. I've spent the last weeks with one of these in rotation among the other laptops that we test here, and I'll share my thoughts and impressions with you in this article.
Just keep in mind that this is not one of our full reviews, as this sample that we had is not a final retail model, so we can't get in-depth on the performance numbers and thermals/acoustics. Without getting into much detail, I can, nonetheless, tell you that this handles impeccably within its segment, as you'll find out down below.
Specs as previewed – 2021 Asus VivoBook S14 S435 EA
| | |
| --- | --- |
| | ASUS VivoBook S14 S435 EA |
| Screen | 14.0 inch, 1920 x 1080 px, IPS, non-touch, matte, Au Optronics AUOA48F panel |
| Processor | Intel Tiger Lake Core i5-1135G7, 4C/8T |
| Video | Intel Iris Xe |
| Memory | 8 GB LPDDR4x 4266 (soldered) |
| Storage | 512 GB M.2 PCIe x4 SSD (with 32 GB Intel Optane memory) |
| Connectivity | Wireless 6 (Intel AX201) 2×2, Bluetooth 5.0 |
| Ports | 1x USB-A 3.1 gen1, 1x USB-A 2.0, 2x USB-C with Thunderbolt 4 (data, video, charging), HDMI, microSD card reader, mic/headphone |
| Battery | 67 Wh, 65W charger |
| Size | 322 mm or 12.69" (w) x 204 mm or 8.03" (d) x 15.9 mm or 0.63" (h) |
| Weight | 2.89 lbs (1.31 kg) + .44 lbs (.2 kg) charger, US version |
| Extras | white backlit keyboard, plastic clickpad (optional NumberPad), finger sensor, HD webcam, 2x 1W stereo speakers |
This series is available with up to 16 GB of RAM and an 11th gen Intel Core i7 processor on the higher-tier configurations, and an i5 processor with 8 GB of memory on the middle models. All get the same 400-nits 144-inch matte panel and there's no option for any sort of Nvidia GPU on this series, unlike on the previous VivoBook S14 generations.
Design and construction
The VivoBook S14 S435 is slightly smaller and lighter than the existing S14 S433 models, which were launched in 2020 and bumped to 2021 hardware in the latest updates. It thus sits somewhere in between the 14-inch ZenBook models and the standard 14-inch VivoBooks in terms of size and weight (2.9 lbs vs 2.6 lbs), and is still a clamshell design, just like all the other VivoBooks before.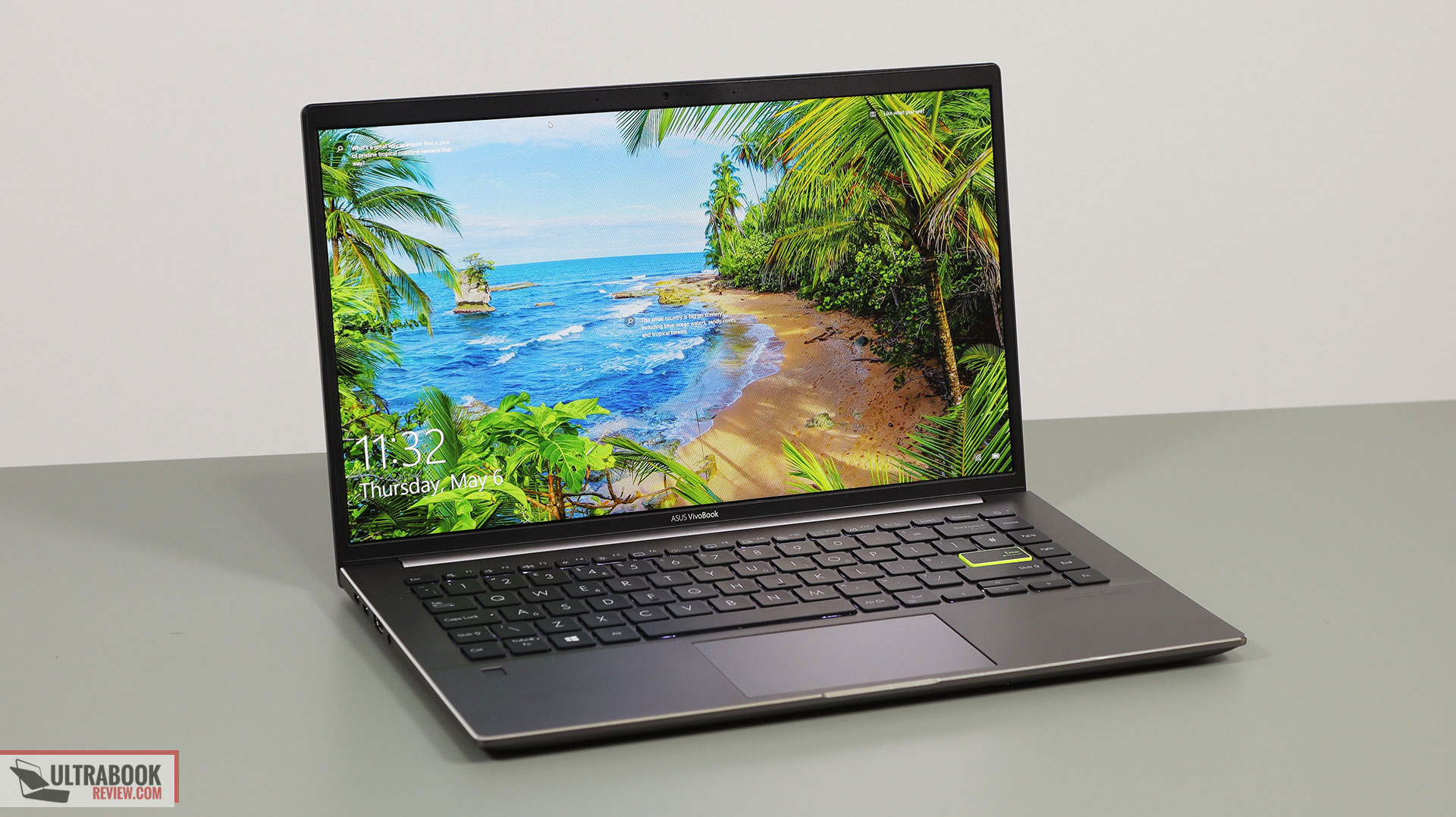 The construction is entirely metal on an internal plastic frame, with thick pieces of aluminum used for the lid and the main deck, the kind that barely bulge or flex even when abused or pressed hard. As far as this goes, this VivoBook is just as nicely made as a modern ZenBook, if not sturdier.
Unlike the ZenBooks and other VivoBooks, though, this series is only available in a single color, which Asus calls Deep Green. That's for the lid part, while the interior is gray. Overall, I like this color combo, the smooth finishing of all the materials, and the fact that it does a great job at hiding smudges and finger oil.
I'm also OK with the diamond-cut edges around the interior and the branding on the lid and under the screen, on that small chin, although they're a bit more intrusive than on the ZenBooks. You will also generally get smaller bezels on the current ZenBooks, but they not thick here either. In fact, the chin is narrower on the ViviBook than on most 2021 ZenBooks.
Asus also put a camera on that top bezel, but no IR, which remains reserved for the ZenBooks. Instead, there's a finger-sensor at the left-side, under the CTRL key.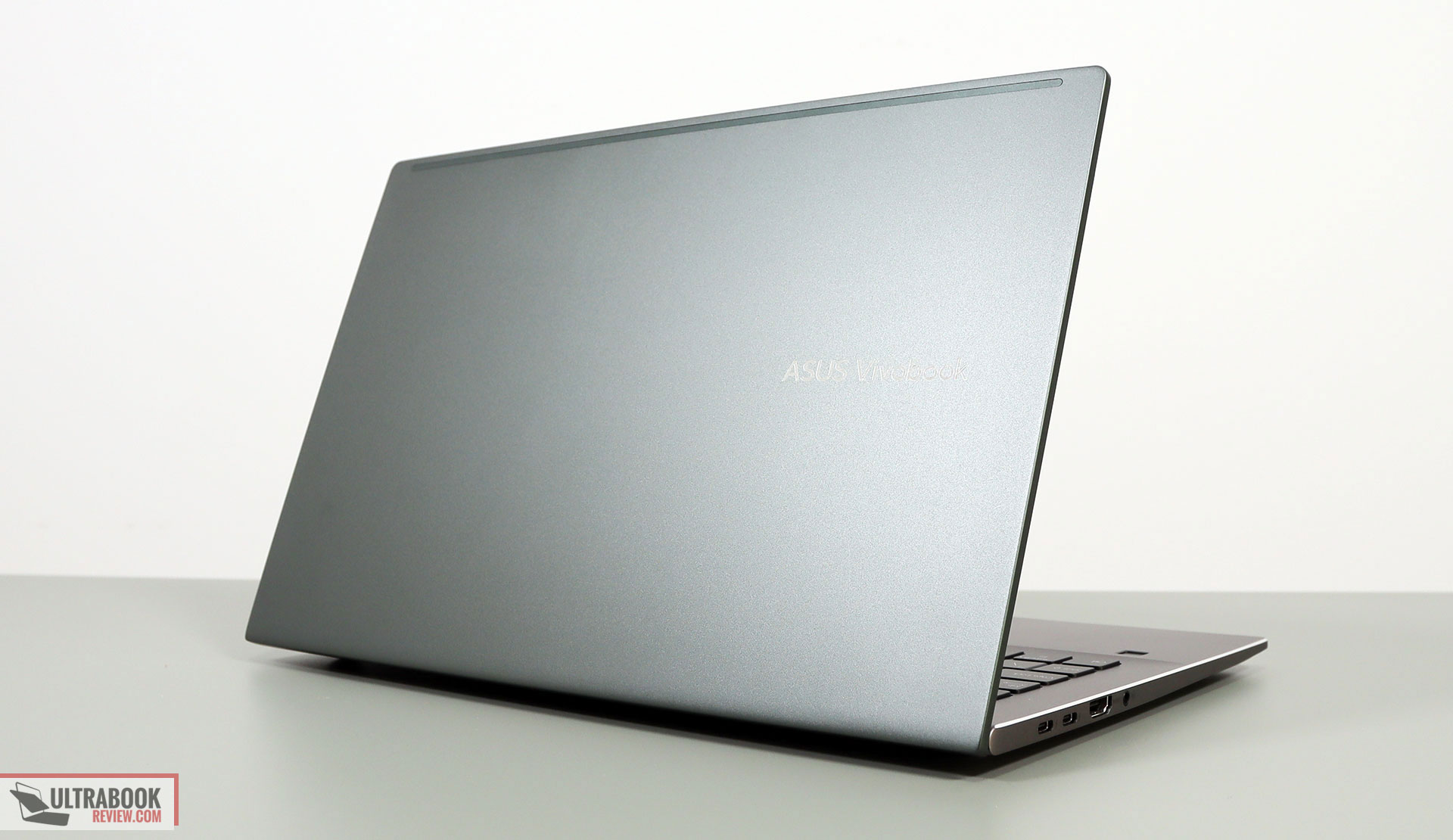 This VivoBook also inherits the classic hinge design from the previous Asus models, and not the Egolift hinge available on most ZenBooks these days. That means that the laptop is no longer pushed up from the desk to allow better airflow underneath, and the hinges are stiffer and will most likely require you to use both hands to pick up the lid and adjust the angle. The screen also only goes back to about 150-degrees on the back, and not all-the-way flat.
At the same time, I prefer this design that does not blow all the hot air straight into the screen, something I consider to be a significant culprit on current ZenBooks. Over here, the exhaust is still placed under the hinge, but the rounded plastic casing of the hinge diverts some of it down and onto the back of the laptop, and some of it up, so the panel is not going to run as hot as on some of the recent ZenBooks that we've tested.
As for the IO, Asus puts two USB-C ports with Thunderbolt 4 support here, both on the left edge, next to a full-size HDMI and a headphone jack. There are also 2x full-size USB-A slots on the other side, a microSD card reader, and the status LEDs, smartly positioned out of the way.
Bottom point, the VivoBook S14 S435 is a blend of elements from the existing VivoBooks and ZenBooks. It borrows the design line and hinge from the VivoBooks, puts them in a smaller and sturdier chassis, and gets the IO from ZenBooks, with 2x Thunderbolt 4 ports and USB-C charging. This is a good mix, and my only complaint is that I would have liked a screen that goes flat to 180-degrees, I find that very practical when using the computer on the lap.
For what is worth, here's how this ZenBook 14 compares in terms of design to a 2021 ZenBook 13. It would have made more sense to compare it to a ZenBook 14, but I don't have one of those around, and the 13 and 14 are nearly the same, with a slightly larger chassis and keyboard on the 14-inch models.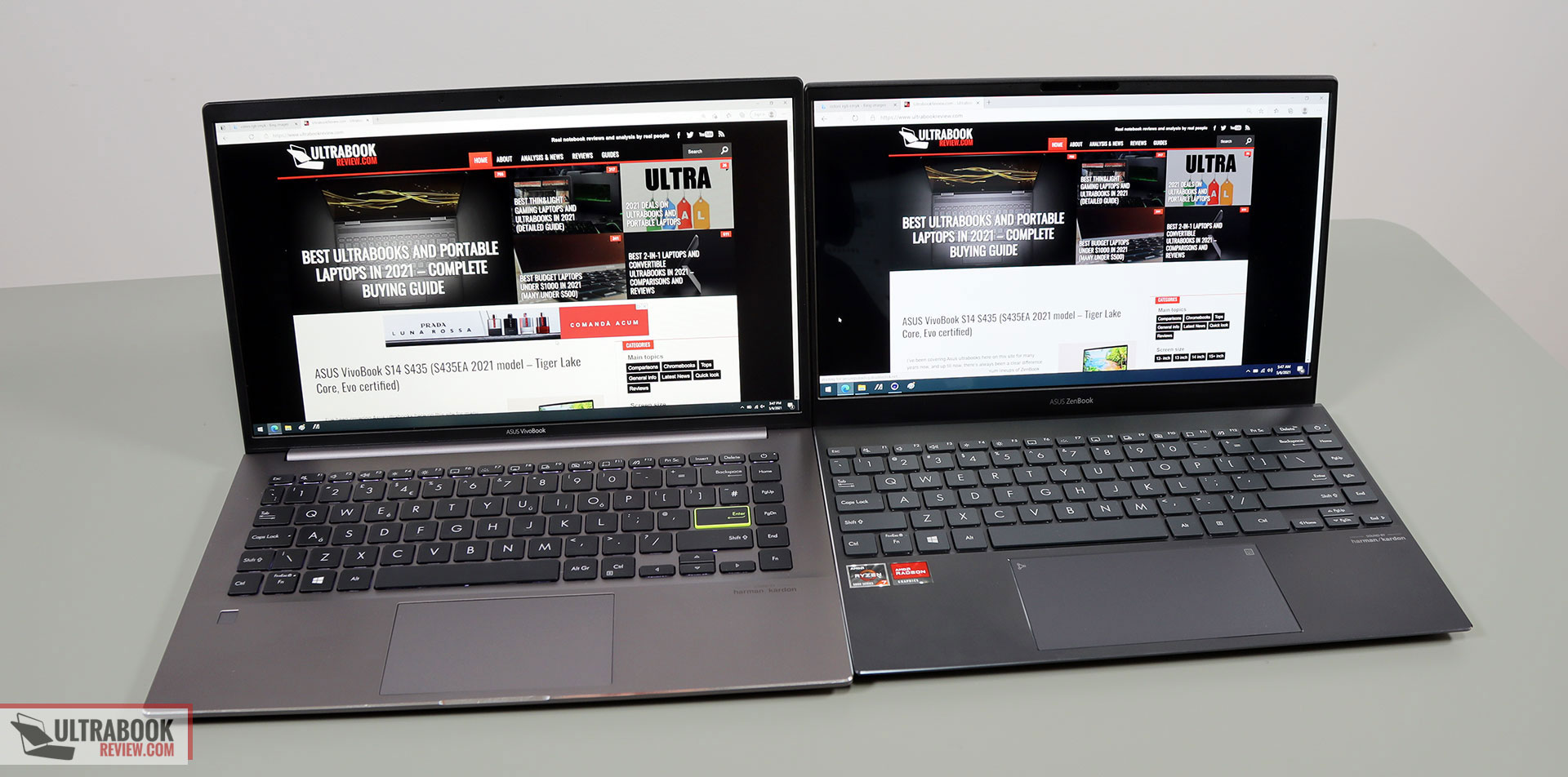 Keyboard and trackpad
The inputs on this model have been inherited from the previous VivoBook models, and are overall alright, but not a match for the nicer-quality inputs in the ZenBook models.
The layout is standard for a 14-inch Asus laptop, with a full-sized main deck of keys, a smaller row of Function keys at the top, and an extra column of Function keys at the right side. There's also a yellow border around the Enter key, a touch of color as Asus calls it.
The shallow click and feedback are my main nits with this keyboard, on par with many of the ultraportables available these days in the mid-range segment, yet still, an implementation that requires time to get used to and doesn't feel as accurate as the ones of the higher-tier laptops. This is, on the other hand, a fast and quiet keyboard.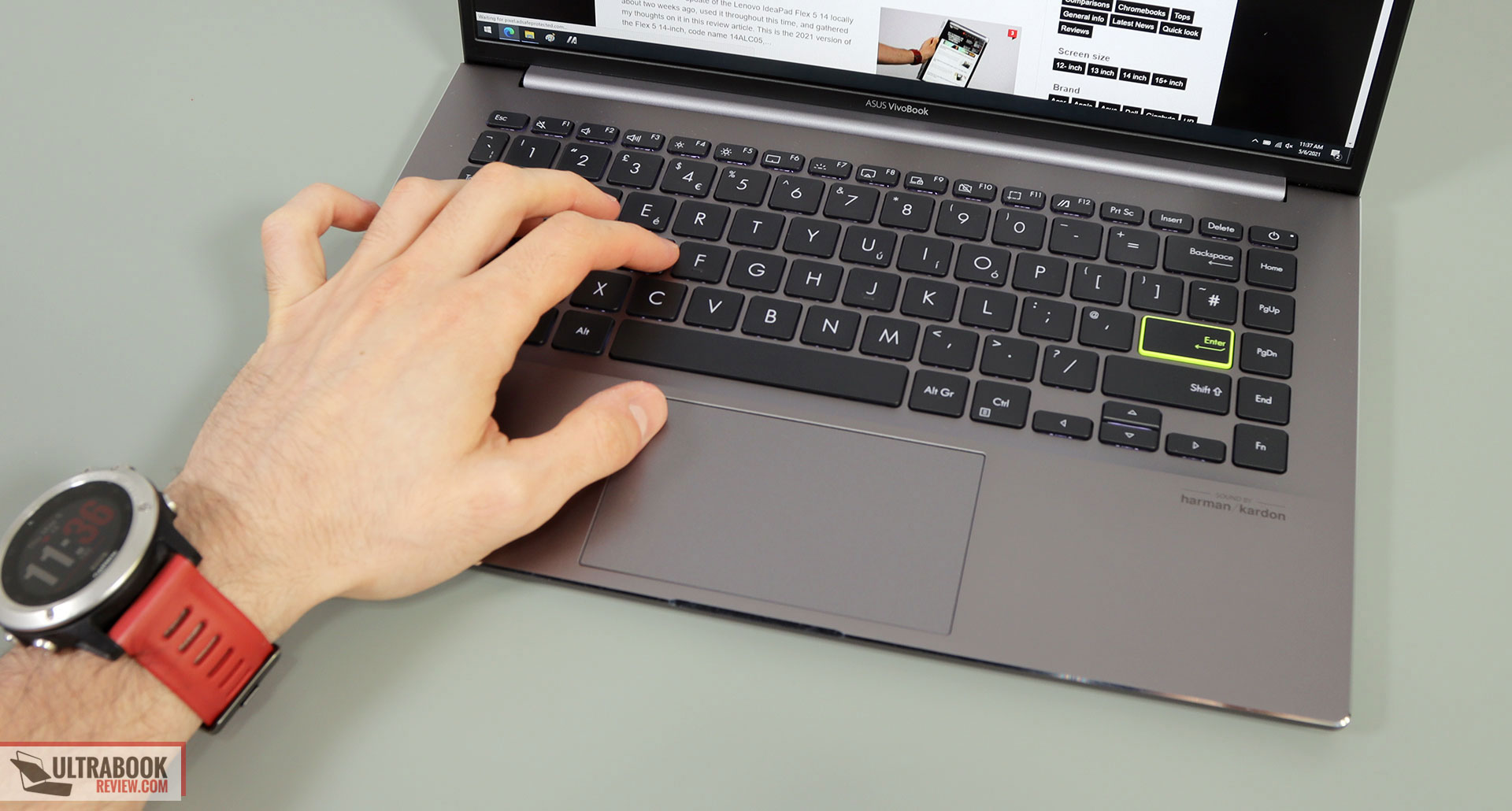 Asus also implements white backlighting on this keyboard, fairly bright and uniform, but the light creeps out from some of the keys, especially from the top row of function keys on this sample. I'll also mention that the layout includes physical CapsLock and FN Lock LED indicators, but for some reason, the illumination is not activated by swiping your fingers over the clickpad once it times out, as on the previous VivoBooks that I've tested. I'm not sure if that's an issue with this sample, or something that you should also expect from the retail models.
The clickpad might also differ on the retail models in most regions, which ship with a glass NumberPad 2.0 in most regions. This unit here came with a plastic basic clickpad, the kind we've seen on entry-level VivoBooks before.
As for biometrics, there's a dedicated finger-sensor on this VivoBook, which I prefer over the finger-sensor previously integrated into the clickpad, but no IR.
Now, I must add that these inputs are perhaps the most notable drawback of this VivoBook S435 series in comparison to the current ZenBooks, which get a stiffer and more reliable keyboard, as well as a more spacious glass clickpad with either NumberPad or ScreenPad functionality, varying between the different models. If you absolutely need a reliable typer in your life, I'd save up for a ZenBook instead, this VivoBook S435 is not up there, and nor are the other VivoBook models.
Screen
Much like its predecessors, the VivoBook S14 S435 series gets a 14-inch matte non-touch display.
However, Asus decided to put a good-quality panel on this VivoBook, with 400-nits of brightness, good contrast, and 100% sRGB color coverage, and not the crappy 250-nits panel with poor colors that was previously available on the older VivoBooks. As a result, this new display is for me the most important update of the S435 series over the other VivoBook models.
In fact, this is the same panel that's also available in the ZenBook 14 UX425/UX435, a solid all-rounder with good power efficiency and an excellent choice for a mid-range laptop. You'll hardly find something similar or better in this class now.
Here's what we got in our tests, with an X-Rite i1 Display Pro sensor:
Panel HardwareID: AU Optronics AUOA48F (B140HAN06.B);
Coverage: 99.4% sRGB, 70.7% AdobeRGB, 73.3% DCI-P3;
Measured gamma: 2.31;
Max brightness in the middle of the screen: 395.48 cd/m2 on power;
Min brightness in the middle of the screen: 20.19 cd/m2 on power;
Contrast at max brightness: 1707:1;
White point: 6100 K;
Black on max brightness: 0.23 cd/m2;
PWM: No.
The panel came calibrated out of the box, but the skewed gamma and White Point still require recalibration. Once that's done, the overall brightness drops to ~365 nits in the middle, but with fair color and luminosity uniformity across the entire panel.
Hardware and daily use
This VivoBook here is the S435EA configuration, with an Intel Tiger Lake Core i5-1135G7 processor, 8 GB of LPDDR4x RAM, and a 512 GB SSD with Intel Optane memory, so a mid-range variant of this series.
However, as mentioned already at the beginning of this article, this sample is pre-production and we're not going to run any performance tests or draw definitive conclusions on performance, thermals, and acoustics based on this unit, as it might not fare the same way as those models you will get in stores will. Instead, we'll update this section if we get our hands on a finalized retail unit (I know those are already available, but please understand that we have to reply on Asus for providing us with samples, it's not financially feasible for a small project such as ours to go out and buy everything just for reviews).
And please don't get me wrong here, there's nothing to hide. In fact, this early sample outperformed all of the Tiger Lake ZenBooks we've tested so far, but I'm not entirely sure the retail models are going to perform similarly. Much like all the other modern Asus portable laptops, this also gets a choice of a couple of different power profiles in the MyAsus control app, with a Balanced mid-level profile meant to balance the performance, thermals, and noise levels, as well as a Performance mode that pushes the fan noise and temperatures to their limits, but also drives up the performance.
On our sample, the i5-1135G7 ran at 25-28W sustained on the Performance mode, with higher temperatures and noise levels than on the retail 14-inch ZenBooks that we've tested, which only averaged around 19W sustained. Look for our update or other detailed reviews for more details on this matter.
For what is worth, this S435 gets the same kind of thermal module as the 14-inch ZenBooks, and I'm not entirely convinced Asus will allow this sort of aggressive Performance power setting here. Instead, they might go with the conservative profiles implemented on ZenBooks, which normally run lower sustained power even in the Performance profiles, with lower temperatures and noise levels.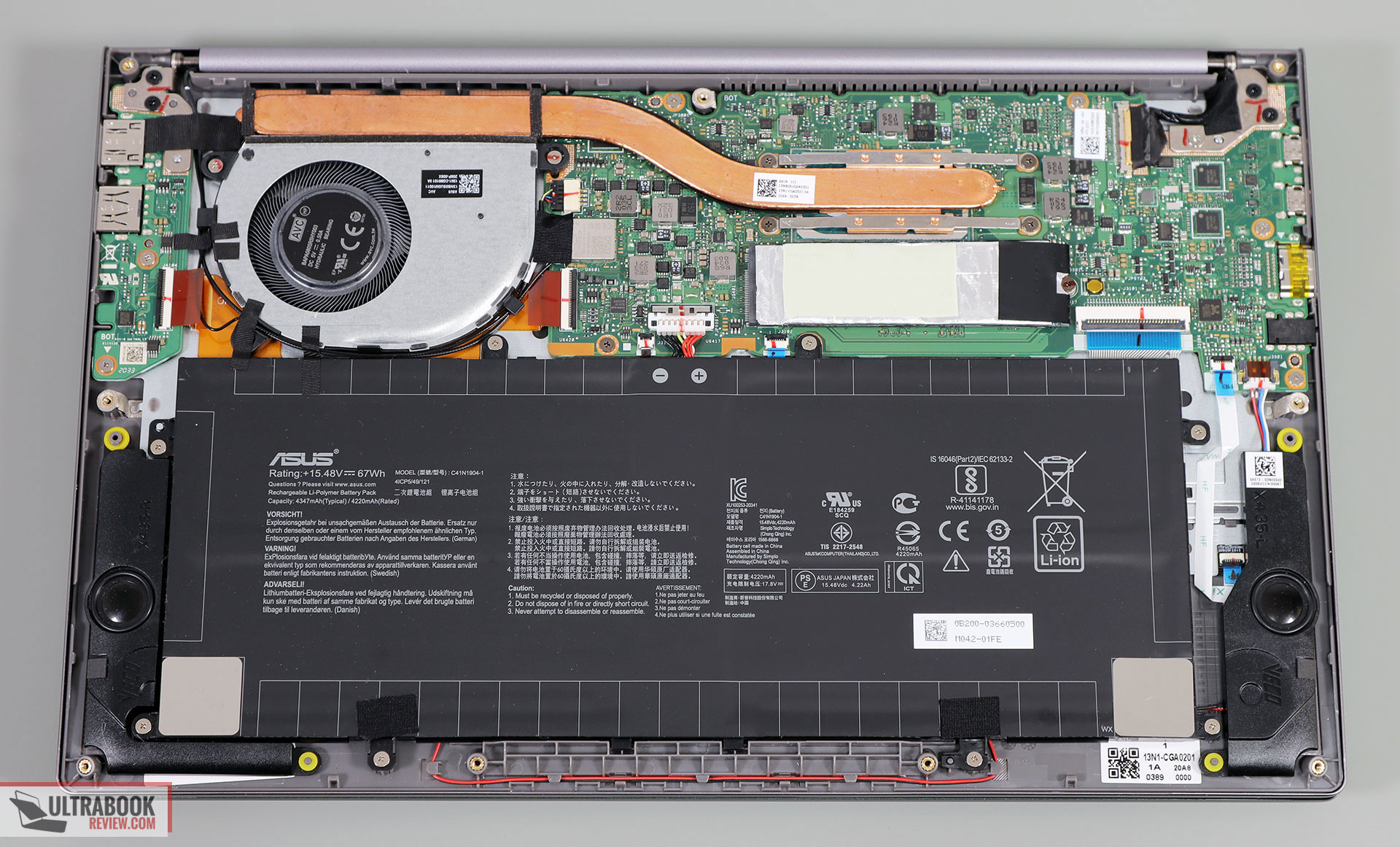 I do find the Balanced profile to be an excellent choice here, capable of smooth performance with everyday use, good efficiency, and quiet fan noise. The fan spins most of the time with daily use on this mode, but quietly and you'll only notice it in a perfectly silent room. It also ramps up to sub-40 dB at head-level with more demanding loads or a quick game, which the Tiger Lake platform can handle at ease. You'll find more about what this sort of hardware is capable of from our other reviews of Tiger Lake notebooks, both from Asus and from other brands.
I'll also add that the laptop gets fast and reliable wireless, as well as decent speakers, which fire through grills placed on the underside, so make sure not to cover and muffle them. The audio quality is alright for daily use, but not impressive. And so is the camera, by the way, with HD resolution and washed-out images, but pretty good contrast.
Before we wrap this up I do need to mention that another major update of the VivoBook S14 S435 series over the other VivoBook models is the addition of the 67 Wh battery inside, up from the 50 Wh battery in the other generations.
Paired with the Tiger Lake hardware and the efficient display, the S435 allows for 6-8 hours of daily multitasking and 12+ hours on video on our model, and I'd expect similar runtimes on the retail units. That makes this VivoBook one of the longer-lasting laptops in its segment.
Asus also bundles the laptop with a 65Wh charger that plugs in via USB-C, and it's the compact design they also offer with the ZenBooks, with the plug integrated into the power-brick and a long thick cable. One more upgrade over the standard VivoBooks with their barrel-plug chargers.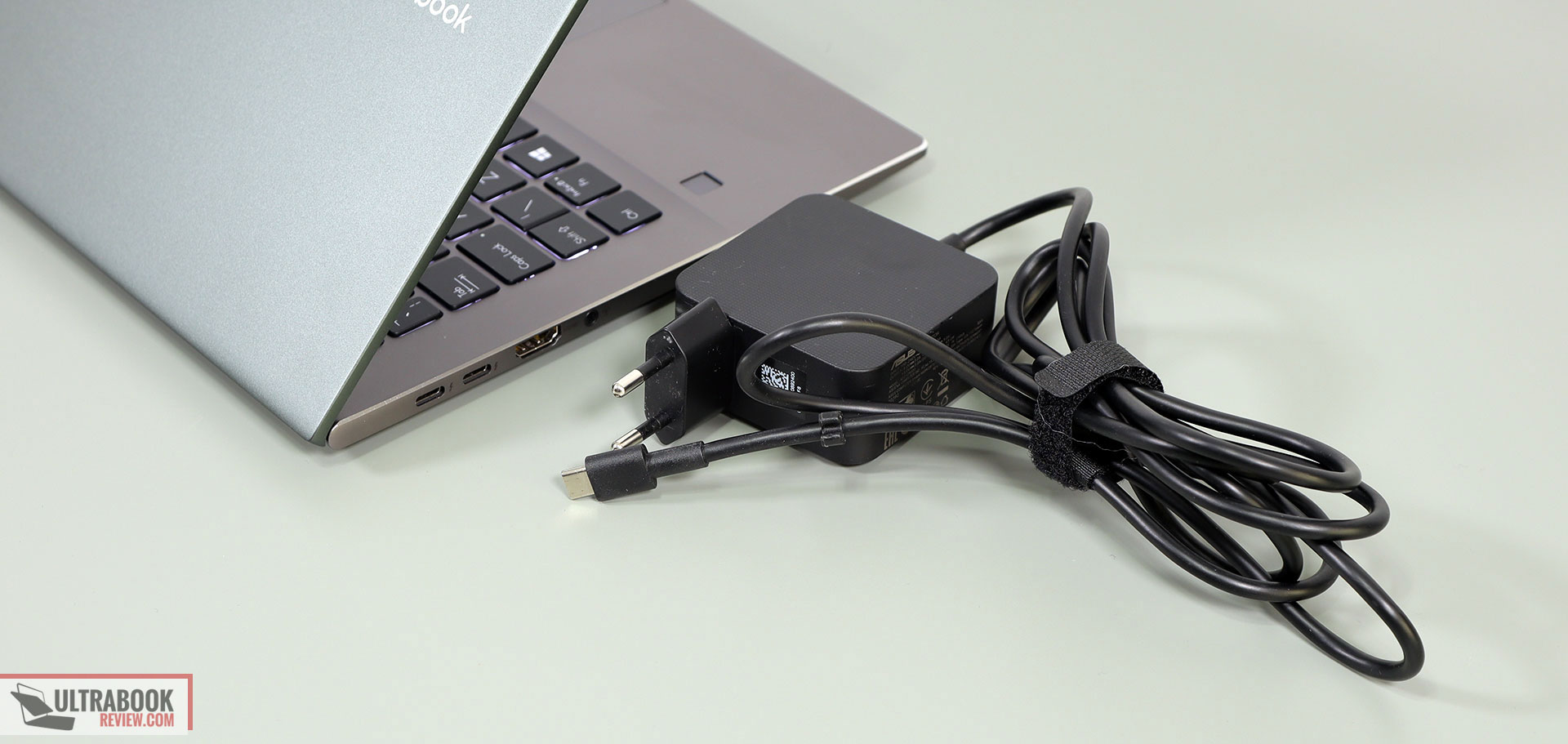 Price and availability
The Asus VivoBook S14 S435EA is available in most regions at the time of this article.
The configurations vary between the different regions, though, and the most common is the one with the i7-1165G7 processor, 8 GB of RAM and 512 GB of storage, available for 799 EUR in Germany, 899 USD in the US, and 799 GBP in the UK, MSRP prices before any discounts.
Core i5 models, like the one here, are also available in some regions, for roughly 100 USD/EUR/GBP less, as well as configurations with more RAM/storage for a little extra.
Follow this link for more details and updated prices at the time you're reading the article.
Compared to the regular VivoBook S14 S433, the S435 models are roughly 50-100 cheaper for the base specs. On the other hand, they sell for 100-200 less than similarly specced ZenBook 14 UX425 models, but some ZenBook models sell for about the same or even less, such as the UM425. Q407 or Q433 series with AMD Ryzen hardware. Careful, though, you might not get the same kind of screen, connectivity, or battery life with some of those, so make sure to properly document your decision if you're considering one of those instead.
Some initial conclusions
Having used this updated Asus VivoBook S435EA model for the last weeks, I feel that this is a solid mid-range product and something you should consider in the $700-$900 price segment, where this will most likely end up with future discounts.
Compared to other VivoBooks, this S435 series benefits from a higher-quality screen, longer battery life, and improved IO, as well as gets a finger-sensor, USB-C charging, fast wireless, and a hardware platform well suited for daily use and multitasking. The keyboard and clickpad, on the other hand, are my single important nit with this series; they're OK, but not on par with what Asus puts on their higher-tier ZenBook lineups.
That being said, you're generally going to pay a little less for this VivoBook than for a similarly specced 2021 ZenBook, yet some of the 2020 AMD models do sell for less and outmatch this in multi-threaded performance; so if that's something you're looking for, you'll get better value with those. Furthermore, most other OEMs have their own offers in this competitive niche of sub-$1000 class of portable ultrabooks, with Lenovo or Acer or even Dell offering worthy alternatives, not to mention that a refurbished M1 MacBook Air might compete in here as well, so choosing one over the many others is not going to be as easy as it sounds. This guide should help, though.
With that in mind, we'll wrap up this preview here, with a promise to update this into a full review if we manage to get our hands on a retail model. In the meantime, I'd love to hear what you think about this VivoBook S435 series and how do you think it fares against the competition.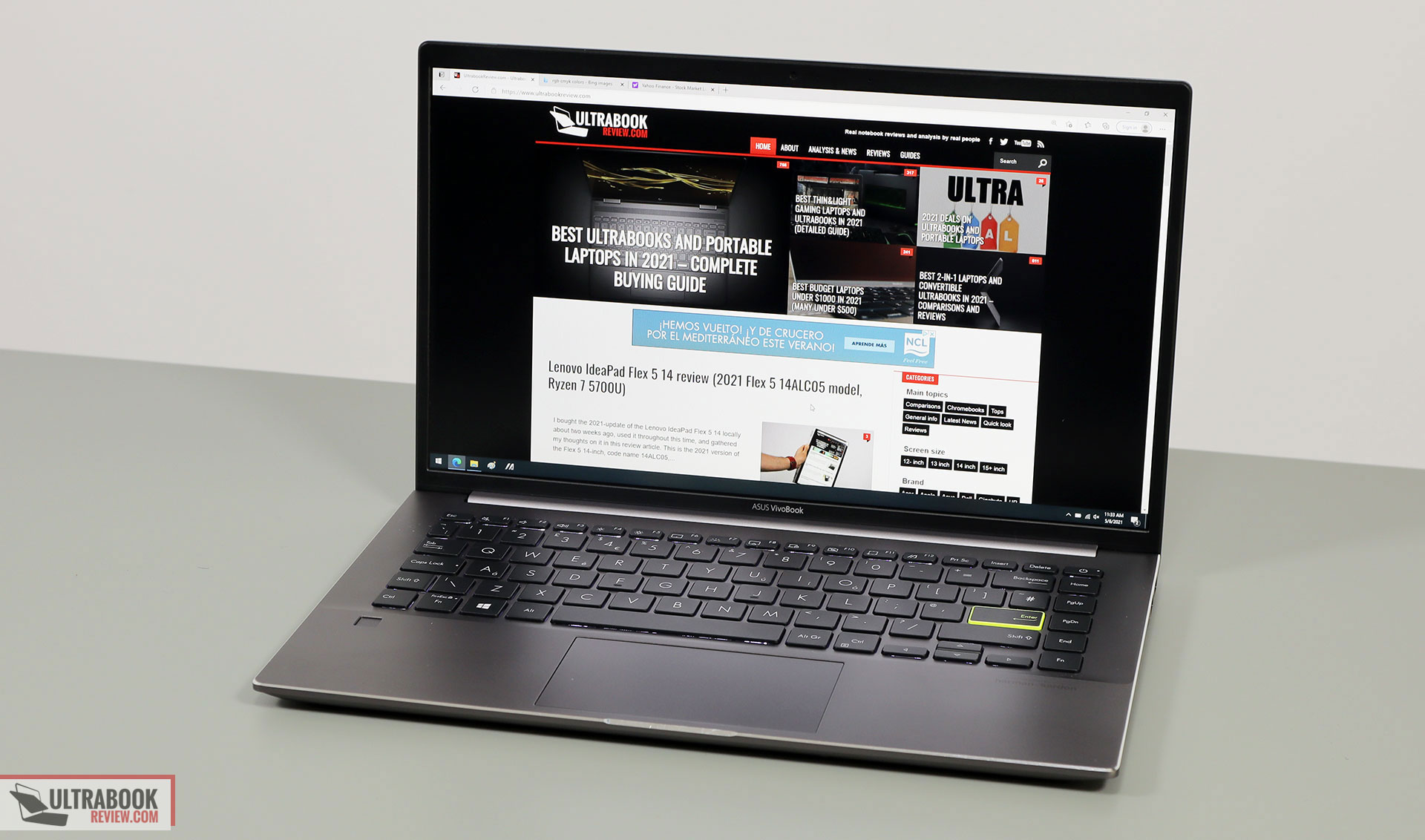 Disclaimer:
Our content is reader-supported. If you buy through some of the links on our site, we may earn a commission.
Terms
.