MSI are updating their notebook lineup for 2021 with up-to-date hardware for some of their existing models, as well as three brand-new products: a top-performance 17-inch GE76 Raider and two mainstream GP66/GP76 Leopard models.
We're touching on the Raiders and the portable GS66 Stealth and Stealth M laptops in this article, and we'll cover the mid-range Leopard update in a separate post.
Nvidia Ryzen 3000 hardware is the major novelty for these products, but unlike some of the competition, they're still paired with Intel Core H chips. And since 11th gen Tiger Lake H won't happen for a few more months, we're talking the same 10th gen processors previously motorizing the 2020 lineups on most models, with most likely another revamp around March/April with Tiger Lake H.
There is one exception, though, and that's the compact MSI Stealth 15M, the only model built on the quad-core Tiger Lake H 35H that has been unveiled at CES.
I'm sure many of you would have expected AMD hardware on some of these new MSI laptops, and that's not happening for now. I can't tell exactly why, but I'd expect this to be related to AMD's limited stock supply of 7nm chips and MSI being a smaller notebook manufacturer. I sure hope that's changing in the future, as I'm confident the AMD Ryzen 5000 hardware would thrive in a GE Raider chassis. For what is worth, though, MSI is not the only OEM skipping AMD for now, Razer and Gigabyte seem to be in the same boat as well.
Update: Here's our detailed review of the GE76 Raider, as well as our coverage of the more compact GE66 Raider model.
Update2: Here's our coverage of the updated 2023 MSI Raider GE78 and Raider GE68 lineups.
With that in mind, both the early-2021 MSI GS66 Stealth and the GE66 Raider are identical to the 2020 models we've already tested here on the site, but with updated graphics. Unfortunately, we can't yet talk performance for now, aside from what Nvidia provided during their launch keynote. However, that mostly covers Ray Tracing gaming and not rasterization, which is what most games still require today, so I'm not getting in-depth on it here.
Performance aside, Nvidia also mentioned a couple of interesting tech-updates for the RTX 3000 mobile platform, such as DynamicBoost 2.0 that allows the system to allocate up to an extra 15W of power to the GPU when needed, boosting the GPU's TDP and performance, as well as Whisper Mode 2.0, meant to emulate performance around a designated noise level of your choosing. DLSS, Reflex, and others are here as well. You'll find a quick summary of RTX 3000 mobile in this video from Jarrod's Tech.
Either way, we'll skip to the newer models and get back to the RTX 3000 GX66 and GE66 once we get to review them, in the near future.
MSI GE76 raider full-size performance laptop
First off, the GE76 Raider, the much expected 17-inch kin of the GE66 Raider. Much like the 15-inch model, the GE76 is designed as an uncompromised performer in the premium full-size notebook segment, without skimping on any important features and traits you might expect from a modern full-power notebook: solid metallic craftsmanship, good inputs, complete IO, up-to-date screen options, long battery life, and good audio.
I haven't yet touched the GE76 raider, but given the GE66 Raider is my top-pick in its class, I'd expect this 17-inch model to impress as well, even if it's only based on Intel H hardware. Here's a quick specs sheet for the GE66 and GE76.
2021 MSI GE66 Raider – review
2021 MSI GE76 Raider – review
Screen
15.6-inch, 16:9, non-touch, matte, several panel options:
FHD 1920 x 1080 px IPS 300/240 Hz 3ms, with 100% sRGB colors
UHD 3840 x 2160 px IPS 60 Hz, with 60% AdobeRGB colors
17.3-inch, 16:9, non-touch, matte, several panel options:
FHD 1920 x 1080 px IPS 300/240 Hz 3ms, with 100% sRGB colors
UHD 3840 x 2160 px IPS 60 Hz, with 60% AdobeRGB colors
Processor
up to Intel Comet Lake-H Core i9-10980HK CPU, 8C/16T
Video
Intel UHD + up to Nvidia RTX 3080 Laptop 16 GB GDDR6 (115-130 W ?? )
Memory
up to 64 GB DDR4 3200 MHz (2x DIMMs)
Storage
2x M.2 NVMe 80 mm slots
Connectivity
Wireless 6 (Killer AC 1650i), Bluetooth 5.0, 2.5 Gigabit LAN (Killer E3100)
Ports
2x USB-A 3.1 gen1, 1x SUB-A 3.2 gen2, 2x USB-C 3.2 gen2, HDMI 2.1, DisplayPort, LAN, SD card reader, mic/earphone, Lock
Battery
99.9 Wh, up to 280 W power brick, USB-C charging support
Size
358 mm or 14.1" (w) x 267 mm or 10.51 (d) x 23.4 mm or .93" (h)
397 mm or 15.62" (w) x 284 mm or 11.18 (d) x 26 mm or 1.03" (h)
Weight
5.35 lbs (2.42 kg) + power brick and cables
6.4 lbs (2.9 kg) + power brick and cables
Extras
per-key RGB backlit keyboard, HD + IR webcam, stereo 2x 2W speakers
per-key RGB backlit keyboard, FHD + IR webcam, quad speakers
For the most part, the GE76 is merely a larger version of the GE76, with the same design lines, inputs and IO.
This is, of course, heavier, and also thicker than the 15-inch model as suggested by the specs, so that could perhaps mean higher-power graphics options and a more complex thermal design. MSI mentions a "Cooler Boost 5" cooling module with dual-fans, quad radiators, and 6 heatpipes for the GE76, and that's about in line with the cooling in the GE66. We'll see.
Update: Looks like this had been updated, with increased airflow and thicker heatpipes. Not clear at this point if this new design is on both the 15 and 17-inch models. Nonetheless, Id' expect excellent thermal performance on both, based on my previous experience with the 2020 GE66, and the fact the MSI have always focused on nailing this aspect on their performance laptops.
Upgraded speakers are a sure thing on this 17-inch model, with 2x 2W bottom woofers supplemented by two extra tweeters firing upwards, through those grills that flank the keyboard. This is good news, as I found the audio quality rather lacking on 15-inch GE66.
Overall, I'm looking forward the test out this GE76 Raider and see how it fares against other heavyweight 17-inch laptops out there, such as the older MSI GE75 Raider and the updated 2021 Asus ROG Scar 17 based on AMD+RTX hardware.
PS: There's also a special edition Dragon Edition Tiamat. Can't tell if this is more than just a different external design, though?
Update: Here's our detailed review of the GE76 Raider, as well as our coverage of the more compact GE66 Raider model.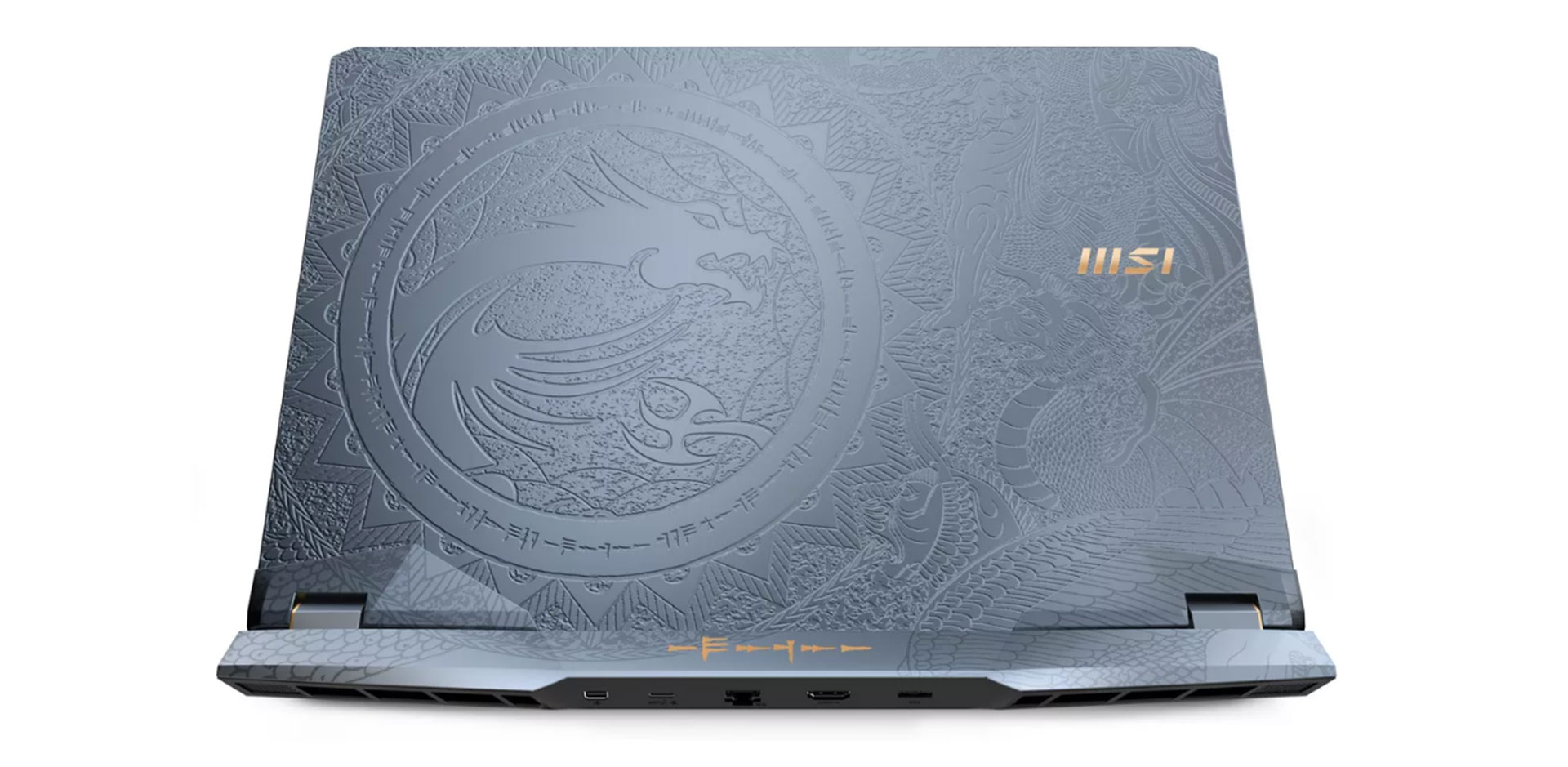 MSI Stealth 15M ultra-portable performance laptop
Raiders' aside, MSI also updated the portable Stealth 15M model for the beginning of this year, their compact and lightweight mid-range 15-inch laptop initially announced a couple of months ago with Tiger Lake U + RTX 2060 hardware.
This weighs merely 1.7 kilos and is now built on mid-level specs, with Tiger Lake H35 processors and RTX 3060 MQ graphics in this latest iteration. Check out the specs sheet below.
| | |
| --- | --- |
| | 2021 MSI Stealth 15M |
| Screen | 15.6-inch 1920 x 1080 px IPS 144 Hz, 16:9, non-touch, matte |
| Processor | Intel Tiger Lake 35H Core i7-11375H CPU, 4C/8T |
| Video | Intel Risi Xe + up to Nvidia GTX 3060 Laptop 6 GB GDDR6 (Max-Q ??) |
| Memory | up to 64 GB DDR4 3200 MHz (2x DIMMs) |
| Storage | 1x M.2 NVMe 80 mm slots |
| Connectivity | Wireless 6 (Intel AX201), Bluetooth 5.1, Gigabit LAN |
| Ports | 2x USB-A 3.1 gen1, 1x USB-C with Thunderbolt 4, 1x USB-C 3.2 gen2 with DP and charging, HDMI 2.1, mic/earphone, Lock |
| Battery | 52 Wh, 170 W power brick, USB-C charging support |
| Size | 358 mm or 14.1" (w) x 248 mm or 9.76 (d) x 16.15 mm or .63" (h) |
| Weight | 3.7 lbs (1.7 kg) + power brick and cables |
| Extras | white/blue backlit keyboard, HD webcam, stereo 2x 2W speakers |
Design-wise, the Stealth 15M is mostly a thinner and smaller GS66, with the same kind of metallic boxy chassis, full keyboard and clickpad, the IO lined on the sides, and most of the rear reserved for the cooling module. MSI offers this in two color options, a dark-gray one with gray keys, and a white one with white keys. Curious about the keyboard's visibility with the illumination active on this white version, it's something most other light-colored laptops screw up, pretty much with the sole exception being the Razer Blade Stealth.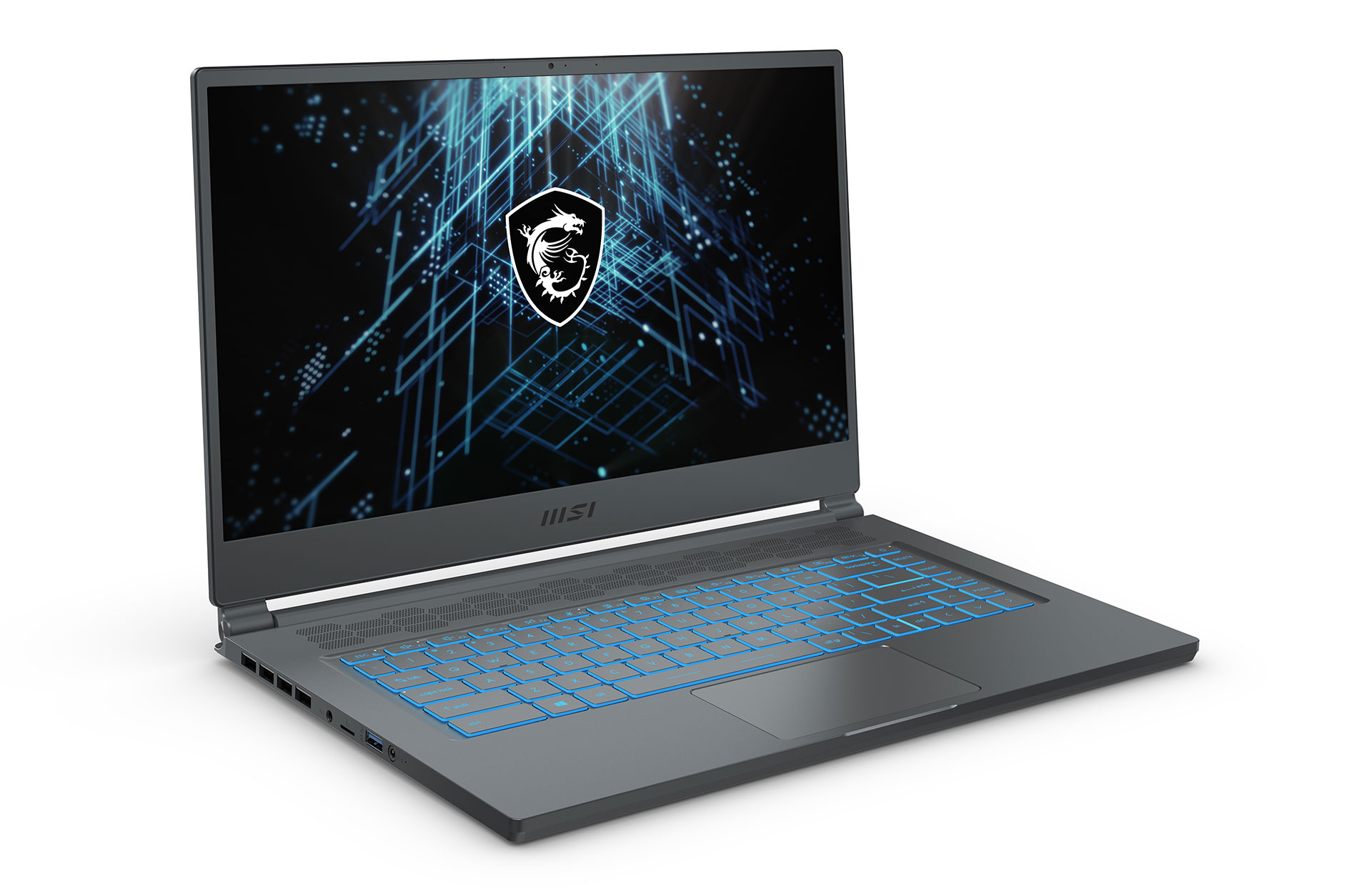 The smaller and thinner footprint means this is only paired with mid-level specs, namely 35W Tiger Lake quad-core processors and a Max-Q version of the Nvidia RTX 3060 chip. That's still perfectly fine for daily use and light gaming, paired with the FHD 144 Hz display.
Not sure of the exact panel quality here, whether MSI went for the nicer 144Hz 3ms options with 100% sRGB colors previously available on the MSI GS65 Stealth, or this newer and washed out version that usually makes it into mid-tier ultraportables, with slower response and more washed-out colors. That's definitely something to look into, alongside the system's performance, thermals, and efficiency.
Don't expect long runtimes with this, though, MSI only put a 52 Wh battery inside, perhaps in order to keep the weight down. Hopefully, they didn't skimp on the build quality either, a known issue of past Stealths. I haven't touched it yet, so I don't know what to expect here.
I'll also add that MSI haven't shared much in terms of availability and pricing for these models, but I'd expect them in-store around February 2021, given what I know about the competition's timeline. Looking forward to properly give them a spin and share our findings with you.
Disclaimer:
Our content is reader-supported. If you buy through some of the links on our site, we may earn a commission.
Terms
.