Aside from the ROG Zephyrus Duo, Asus are also updating their full-size series of gaming laptops as of early 2021, the ROG Strix SCAR and Strix G lineups. We're talking about the new SCARs in this article, and we'll come back on those Strix Gs in the next days.
Previously an Intel exclusive, the SCARs are now getting high-end AMD Ryzen hardware, with the 8C/16T Ryzen 9 5900HX processor at the very top, as well as Nvidia RTX 3000 graphics toping at the RTX 3080 chip with 16 GB of VRAM. Much as before, these are paired with Asus's latest in terms of thermal design, up to 64 GB of memory, and dual storage with RAID support.
The 2021 SCARs are not just hardware bumps, though, but complete revamps, slightly smaller and thinner than the previous generations and slightly different in design and choice in materials. Furthermore, Asus put a larger battery, improved speakers, and new screen options on the 2021 SCARs, as well as updated keyboards with mechanical-optical sensors.
I've spent a little time with both the 15 and 17-inch models, enough to share some first-hand impressions with you. I'll also have a follow-up article comparing the 2021 Scar 17 to last year's 2020 Scar 17.
We can't talk performance, thermals, efficiency, or share any benchmarks results at this point, as nor the hardware or the software are finalized and our findings would be skewed in all sorts of ways. That's coming in the near future, though, once we get our hands on the finalized review units and AMD/Nvidia figure out their software.
Update: Here's our detailed review of the ROG Scar 17 in the Ryzen 9 5900HX + RTX 3080 configuration, and here's the same configuration in the smaller ROG Scar 15 chassis.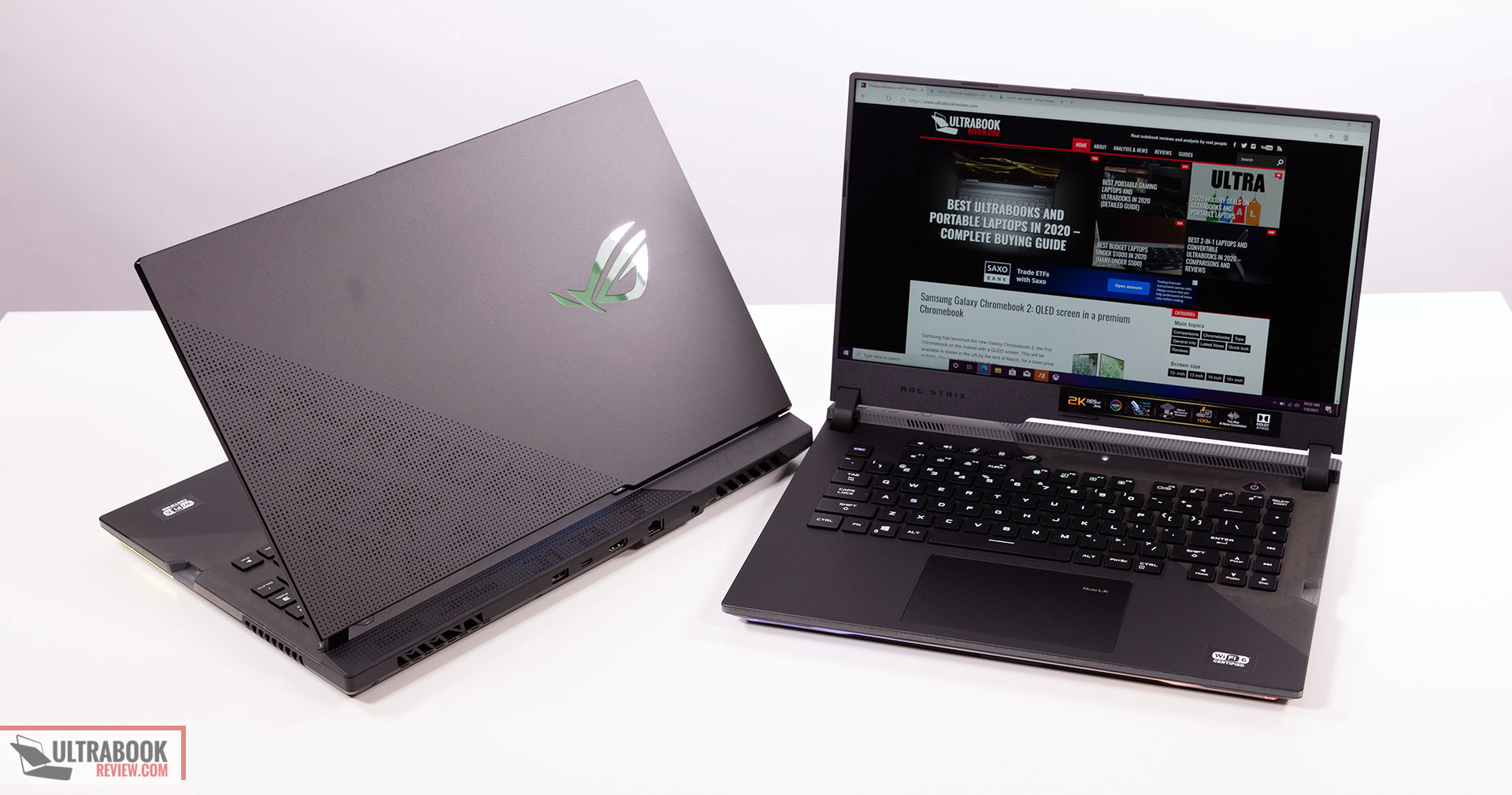 Update2: Newer ROG Scar designs are available in the meantime, with the Asus ROG Scar 16 and ROG Scar 18 models.
For now, here's a quick specs sheet of the two 2021 ROG Strix SCAR models (bear with us as we're filling up the blanks), and we'll get in-depth on some of the important aspects worth mentioning in the reminding of this article.
2021 ASUS ROG Strix SCAR 15 G533Q – review
2021 ASUS ROG Strix SCAR 17 G733Q – review
Screen
15.6 inch, 16:9, non-touch, matte, 2 panel options:
FHD 300Hz 3ms response, 100% sRGB, Pantone validated
QHD 165Hz 3ms response, 100% DCI-P3, Pantone validated
17.3 inch, 16:9, non-touch, matte, 2 panel options:
FHD 360Hz 3ms response, 100% sRGB, Pantone validated
QHD 165Hz 3ms response, 100% DCI-P3, Pantone validated
Processor
up to AMD Cezanne Ryzen 9 5900HX, 8C/16T
Video
Radeon Vega and up to Nvidia GeForce RTX 3080 Laptop 16GB (130W ??, Overclocked) – Active Sync
Memory
up to 64 GB DDR4 3200 MHz (2x DIMMs)
Storage
2x M.2 slots, with RAID 0/1 support
Connectivity
WiFi 6 (Intel AX201) 2×2 with Bluetooth 5.0, Gigabit LAN (Realtek RTL8168/8111)
Ports
3x USB-A 3.2 gen1, 1x USB-C gen2 with video, data and charging, HDMI 2.0b, LAN, headphone&mic
Battery
90 Wh, 280 W power adapter + USB-C charging up to 100W
Size
355 mm or 13.97" (w) x 260 mm or 10.23 (d) x 27.2 mm or 1.07" (h)
395 mm or 15.55" (w) x 282 mm or 11.1 (d) x 27.5 mm or 1.08" (h)
Weight
from 5.1 lbs (2.3 kg) + charger
from 5.95 lbs (2.7 kg) + charger
Extras
mechanical per-key RGB backlit keyboard without NumPad, quad speakers, no included webcam, Keystone
mechanical per-key RGB backlit keyboard with NumPad, quad speakers, no included webcam, Keystone
First look and daily use
The ROG Strix SCARs are full-size no-fuss laptops, available in either 15-inch (G533) or 17-inch (G733) variants.
The two are nearly the same, aside from the obvious difference in overall size and screens, as well as some slight internal design differences and the fact that the 17-inch model gets a full keyboard including a NumPad section, while the 15-inch only gets a column of extra Functions to the right of the main set of keys.
As a novelty for this year, Asus implemented optical-mechanical switches on the SCARs, with the sole exception of the media keys at the top-left. I'm eager to give them a proper spin. So far, my first impression is that these keys are clicky and responsive, as well as a bit noisy. I'll need more time with them before formulating any conclusion. Of course, these are not the first gaming laptops with some sort of mechanical keyboard, and I wasn't a big fan of the previous ones that I've tried. That might change, though, as in the meantime I've also moved into using an MX Brown mechanical keyboard as my daily driver. We'll see.
Now, in general, I'd recommend going with the 17-inch SCAR if you're looking for a top-tier configuration, as the larger size helps to keep the hardware thermally in check. The 15-inch is more compact and lighter though, thus a fair bit more portable, although if portability is important you'd probably be better off with a ROG Zephyrus instead in the first place. Nonetheless, both the 2021 SCARs are smaller than their predecessors by about 6-7%, which also translates into smaller bezels around the screens. Still no webcam on any of these, though.

Design-wise, Asus went with a simpler black theme on the 2021 models. The lid is metal and mostly matte, with this glossy pattern on one side that weirdly spells ROG, among others. In fact, there are also all sorts of hidden easter-eggs messages and graphics on these laptops, and I'll let you discover them.
The rest is still plastic, with a translucent section on the interior that allows peaking at the internal components, and rougher plastic used for the underside. This part has been entirely revamped, with now more open air-intake grills over the fans, and larger, grippier rubber feet. That could be good news, as the intakes on the previous models struggled to provide enough fresh air into the thermal module, both sizes operating smoother and cooler when lifting their bottoms from the desk. I'm looking forward to testing if this important issue of the 2020 SCARs has been addressed here.
That aside, both sizes also feature quad air-vents, two on the back and two on the sides, but I'd expect these to differ on the lower-tier models. The two units illustrated here are the top-tier 3080 configurations. Two fans handle the thermal module, and one of them is strategically placed in order to cool off the WASD key area. Nonetheless, case-thermals haven't been an issue with previous ROG Scar notebooks, and I doubt that's changing with this generation.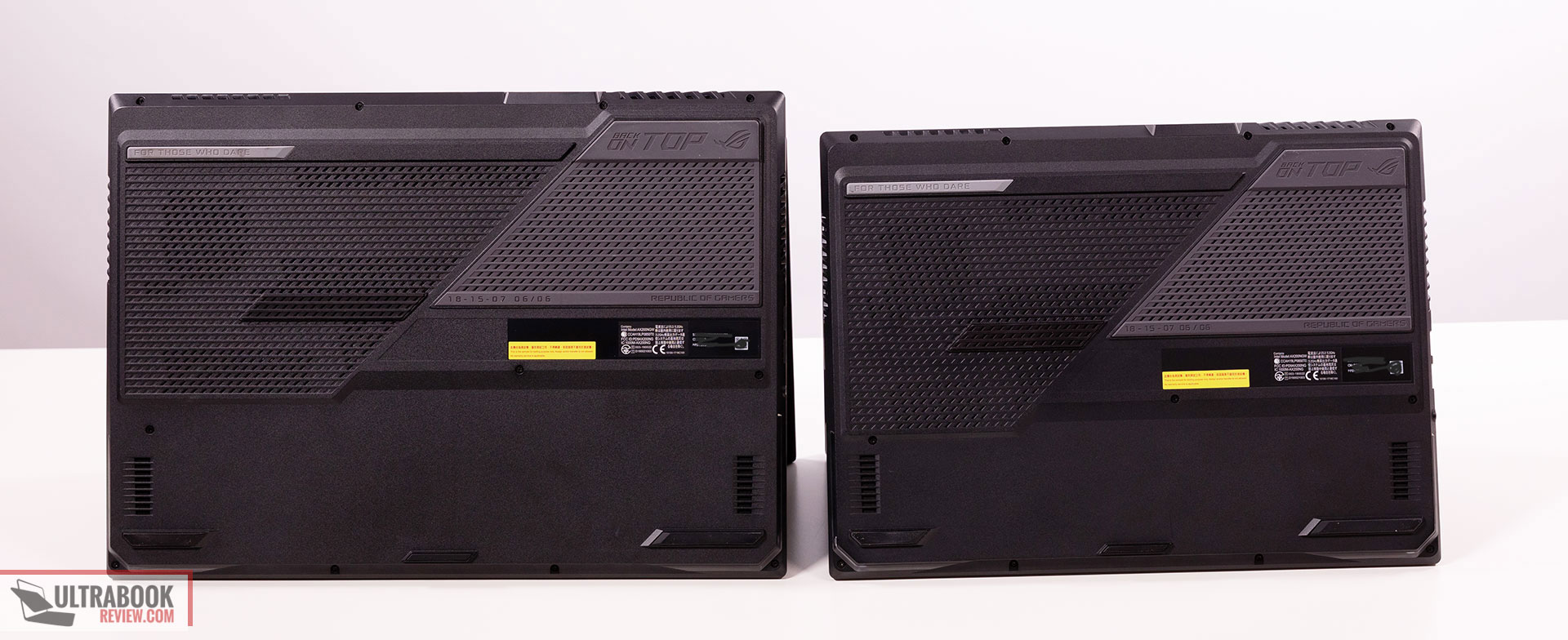 Back to the interiors, I'm not sold on the smooth plastic used for most of the arm-rest, it felt somewhat odd and cheap during the little time I've spent with these laptops. That aside, the 2021 Scars now feature a larger clickpad and some odd status LEDs that shine through the translucent parts of the chassis. I have to say I hate these, they're bright and right in the line of sight, under the screen. Asus also didn't completely give up on the cut in the screen's chin, so you'll still see the cables at the back, but the gap is narrower than on the previous models.
The IO is similar to what the previous 2020 SCARs offer. Since these are AMD models, there's no Thunderbolt support, but the USB-C slot does data, video, and charging up to 100 W. Most connectors are smartly placed on the back, out of the way, and these laptops still get the Keystone on the left hand, where I'd personally much have preferred getting an SD card reader instead.
These aside, Asus updated the screen options available on the 2021 SCARs. Both laptops still get 16:9 panels, with either FHD 300 Hz (15-inch) or 360 Hz (17-inch) mainstream options with 100% sRGB colors and ~300 nits of brightness, or the novelty QHD panels with 165 Hz refresh, 3 ms response, and 100% DCI-P3 colors. These come at a premium, but the increase in resolution and color gamut makes them far more versatile for all sorts of use, unless you're playing competitively and could benefit from those 300/360 Hz panels instead.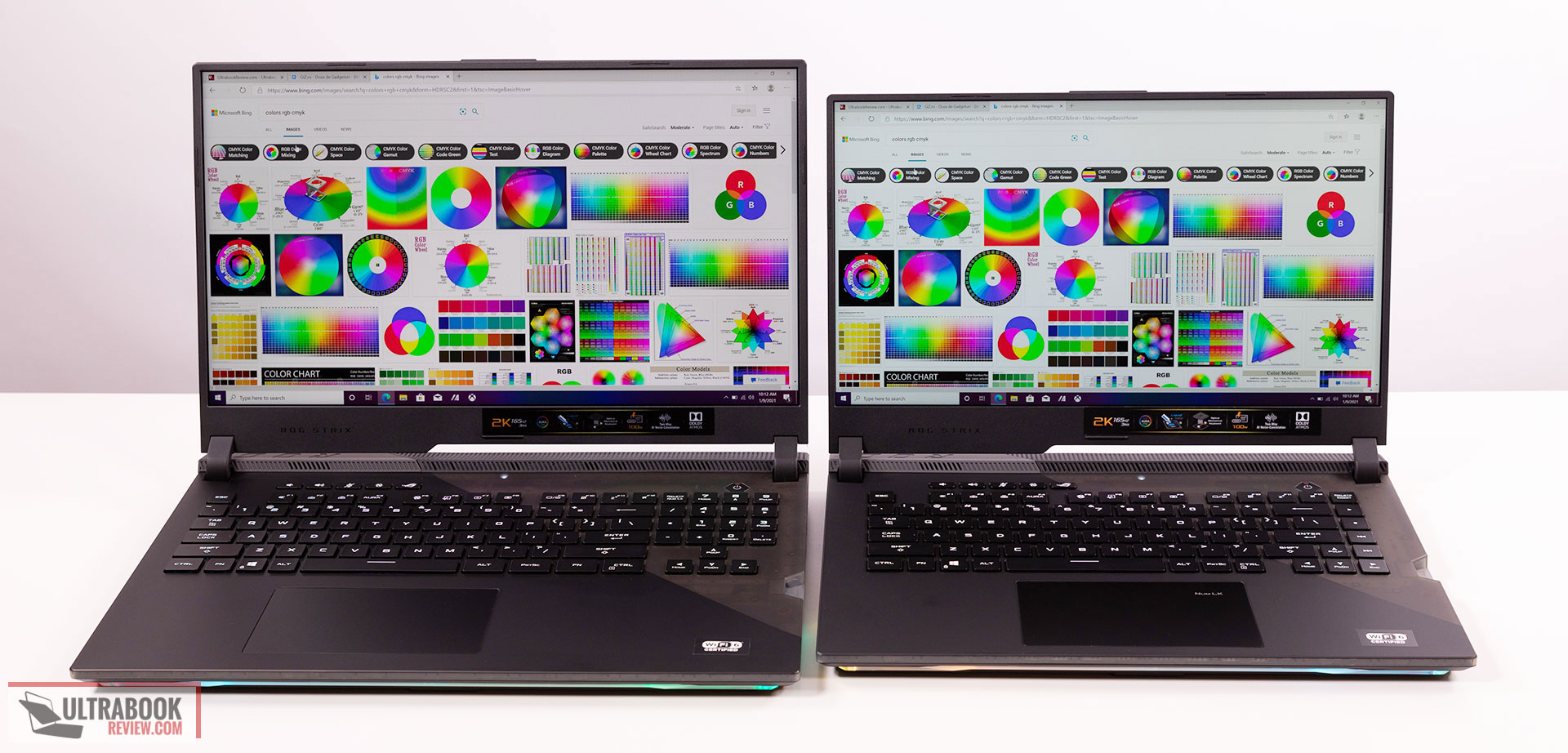 Finally, I should also mention that quad-speakers are now implemented on these SCARs, with two main speakers on the bottom and two smaller tweeters firing through the keyboards. I didn't get to listen to them, so can't share any first hands impressions for now. Asus mentions richer sound with 2x more volume and 3x bass, but that's marketing…
Hardware and performance
As mentioned already, the 2021 ROG SCARs announced as of early-2021 are based on AMD Cezanne processors and Nvidia RTX 3000 graphics, with Intel configurations most likely following up once Tiger Lake H is ready for prime time, around Sping.
Ryzen 7 and 9 processors will make it into these chassis, alongside full-power variants of the RTX 3060, 3070, and 3080 dGPUs. Those are paired with up to 64 GB of DDR4 memory and dual M.2 SSD storage with RAID support.
According to Asus:
the Ryzen 9 5900HX processor can run at up to 80W of sustained power on its own, or 54W when the dGPU is also active;
the RTX 3080 graphics chip runs at 1645 MHz and 115W with ROG Boost, but with the ability to jump to 130 W from Dynamic Boost in supported titles and applications. Dynamic Boosts seamlessly allocates an extra 15W of power from the CPU to the GPU when the software considers that would be beneficial;
Active Sync technology is implemented, ensuring proper battery life with daily use and a tearing-free gaming experience, without the need to mingle with the settings or restart the system;
higher quality VRMs are used for both the CPU and GPU, in order to make sure the required amount of power is delivered in sustained loads;
the thermal design has been optimized and includes what Asus calls Arc Flow fans which supposedly "improve airflow by up to 35% for the CPU and 21% for the GPU with no increase in noise".
These aside, the Armoury Crate allows access to the multitude of power profiles and configuration settings, with two novelties for this generation: enhanced control on the Manual profile, and the system's ability to entirely turn off both fans on the Silent profile, as long as the CPU/GPU both run below 60 degrees Celsius. That should make these laptops completely quiet with daily use, but beware of coil whine, it's been often reported on the previous generations.
One other important upgrade of the 2021 ROG SCARs is the fact that a 90W battery is now included with both sizes, compared to the 66 Wh on the previous generations. Asus also worked on making their power-bricks smaller and lighter, as well as implemented USB-C charging support at up to 100W, just in case you'd rather use a more compact charger while on the go.
Some early thoughts
All in all, I'm excited about these new SCARs and I hope Asus were able to improve them enough so they can meet today's requirements and tough competition.
On paper, the 2021 models received updated screens and keyboards, updated hardware and thermal module, a larger battery, and quad-speakers, as well as a revamped design and more compact form-factor. Our reviews will tell you how all these translate in real-use, so stay close, we're eager to share our findings and thoughts once we get the finalized models.
In the meantime, let me know what you think about these updated 2021 Asus ROG Strix SCAR notebooks in the comments sections below, and don't hesitate to post your questions or feedback.
Update: Here's our detailed review of the ROG Scar 17 in the Ryzen 9 5900HX + RTX 3080 configuration, and here's the same configuration, but in the more compact ROG Scar 15.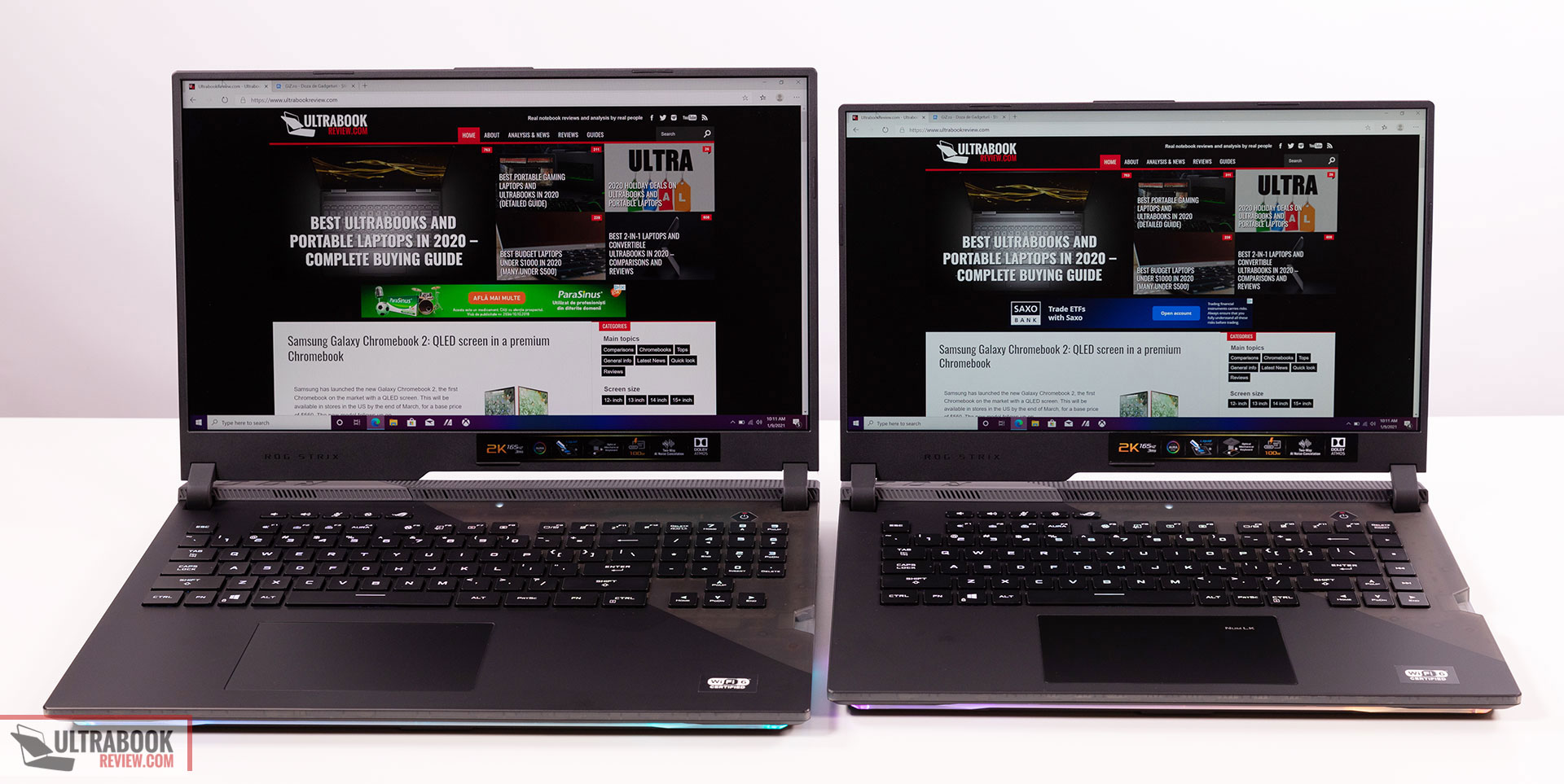 Disclaimer:
Our content is reader-supported. If you buy through some of the links on our site, we may earn a commission.
Terms
.