The ThinkPad X1 Titanium Yoga could be the most interesting ThinkPad in years, and I'm glad, but also somewhat surprised, that Lenovo even have this now as part of their conservative ThinkPad series.
Over the years, I've seen countless pleas on Reddit and various geeky forums for productivity-focused ThinkPads with 16:10 or 3:2 displays, and Lenovo finally delivered. 16:10 screens are now part of the X1 Nano, X1 Carbon, and X1 Yoga 2021 lineups, while this X1 Titanium gets a 3:2 display.
This series is not meant for everyone, though, mostly because it's out of reach for most buyers, starting at $1900+ at launch (January 2021).
In just a few words, this kind of money buys you a lightweight and slim titanium-made convertible 2-in-1 ultrabook with a 13.5″ 2K touchscreen, uncompromised inputs, and the latest Intel hardware currently available (11th gen + Iris Xe), all tucked inside a 1.2/2.6 lbs body.
The IO is USB-C only, though, expected on a device that's only 11.5 mm (.45″) thin, and there was only room inside for a middling 44.5 Wh battery, so this won't last as long on a charge as some of the other ultraportables out there. And that's not all…
Here's a detailed specs sheet of the 2021 ThinkPad X1 Titanium, and we'll further touch on the important details down below.
| | |
| --- | --- |
| | 2021 Lenovo Thinkpad X1 Titanium Yoga (1st Gen) |
| Screen | 13.5 inch, 3:2 aspect ratio, 2K (2256 x 1504px) resolution, touchscreen, 450-nits, 100% sRGB |
| Processor | up to Intel 11th-gen Core i7 (4 cores, 8 threads, vPro) |
| Video | Iris Xe Graphics (integrated) |
| Memory | up to 16GB LPDDR4x-4266 (soldered, dual-channel) |
| Storage | up to 1 TB NVMe |
| Connectivity | Intel WiFi 6 AX with Bluetooth 5.1, optional LTE/5G |
| Ports | 2x USB-C with Thunderbolt 4, headphone/mic, Lock, external port replicator |
| Battery | 44.5 Wh, 65W power adapter (USB Type-C) |
| Size | 298 mm or 11.71″(W) x 233 mm or 9.14″(D) x 11.5 mm or 0.45″ (H) |
| Weight | from 1.15 kg / 2.55 lbs (+ power supply) |
| Extras | full-size backlit keyboard, HD+IR cameras with ThinkShutter, finger-sensor in the power button, stereo up-firing speakers and quad mics with Dolby Atmos/Voice |
OK, so a couple of things stand-out about this product, and I'll try to look past the marketing hype.
Lenovo are big on the fact that this laptop is made out of titanium alloys, unlike any other models currently available. Apple used titanium alloys on their early 2000 PowerBook series, but OEMs later moved into cheaper and easier to work with materials.
Nonetheless, the titanium construction sure adds to the cost and premium feel of this X1, while allowing for a very thin design that's supposedly also sturdily made and resistant to everyday wear. I haven't touched the thing yet, so these are for sure aspects I'll look into once I get to review this, but this sure looks beautiful based on these pictures, I'll give it that.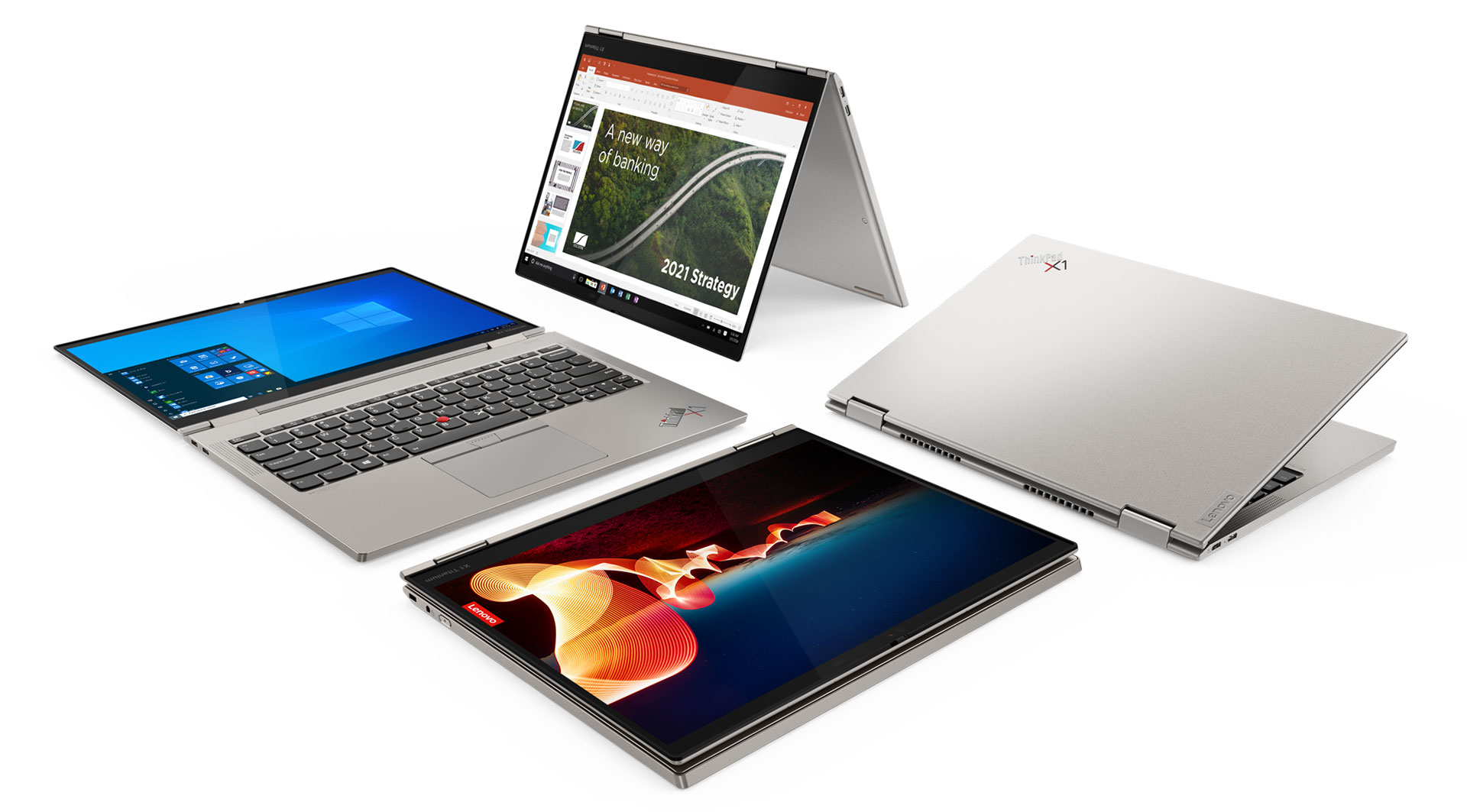 Back to the fact that this X1 Titanium is only 11.5 mm (.45″) thick, well, do you remember the 12-inch MacBook from a couple of years ago? This is even 10% thinner. 11.5 mm is incredibly thin for a laptop.
Nonetheless, I'm generally not a fan of overly thin laptops. Most of the past thin devices that I've reviewed sacrificed quite a few crucial aspects for the slender silhouette. Furthermore, the thinness doesn't even help a laptop's portability as much as a compact form-factor or lightweight chassis does. In all fairness, though, with this one being a convertible, the thin design is going to make it more comfortable to use in tablet mode, especially since the screen seems to fit well together with the main body in this scenario, based on the available pictures.
But are you going to use this as a tablet that often? I don't think so, this is still 2.5+ lbs and not as practical or as capable as an iPad, nor for casual use or for professional work. In fact, if a lightweight and compact Windows tablet is what you're primarily after, the ThinkPad X12 might better fit the bill, Lenovo's 2021 alternative for the Microsoft Surface Pro kind of products.
That aside, the thin format of the X1 Titanium also means Lenovo will have a harder job cooling the hardware inside this thing and translates in USB-C only IO and a fairly small battery, which could have been prevented with a 2-3 mm thicker design. The thin design also leaves room for a short-stroke keyboard, and I'm curious how this feels with everyday use. At least they didn't skimp on a full layout, clickpad, and Trackpoint.
Of course, we'll have to wait for the review in order to conclude on this laptop's performance, thermals, typing experience, or battery results, but for now, call me somewhat skeptical.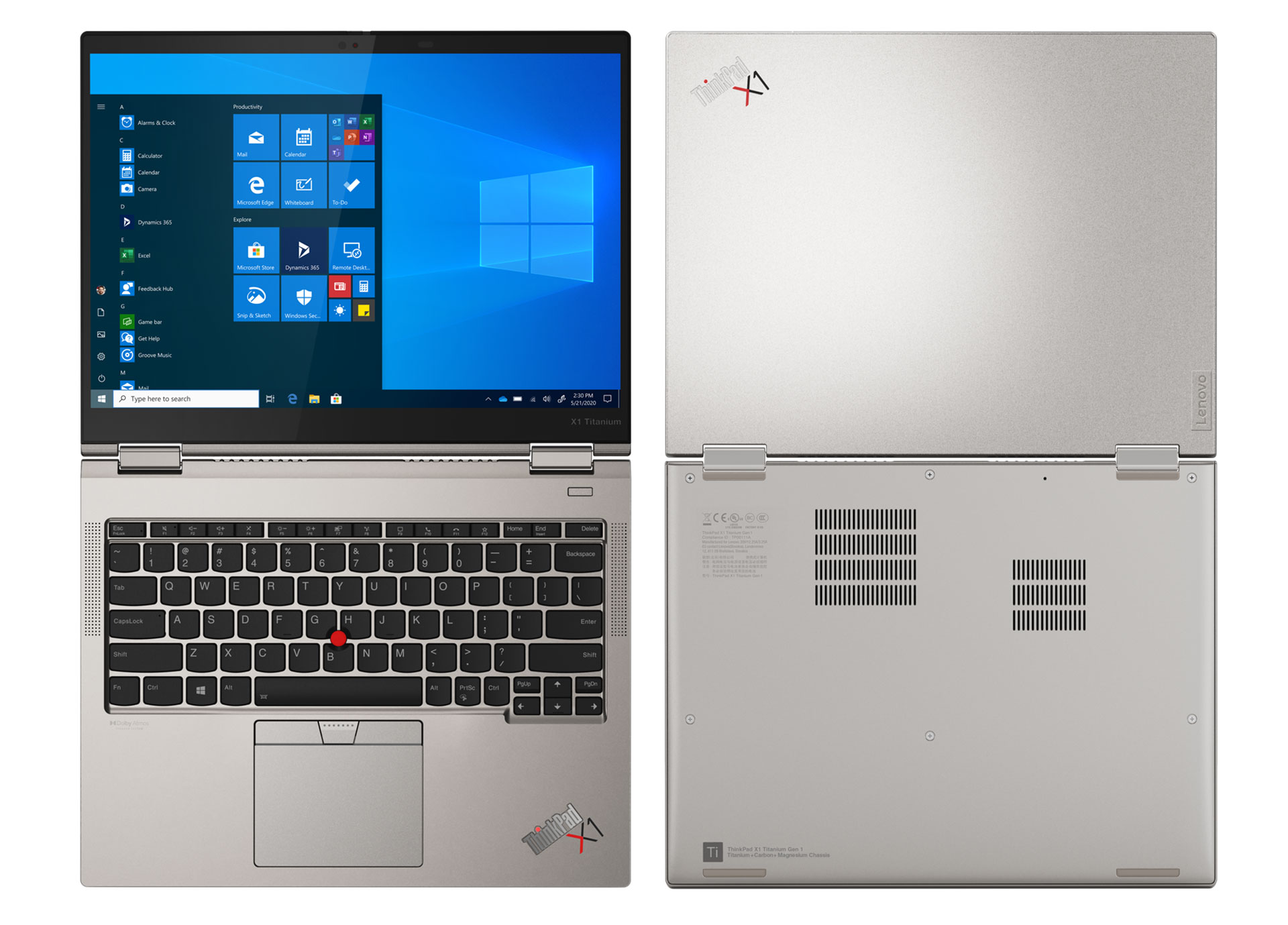 Hardware-wise, the X1 Titanium Yoga runs on Tiger Lake Core U hardware, Iris Xe graphics, and LPDDR4x memory. This is a competent daily-use platform with some fair GPU/gaming abilities for ultrabook hardware, but not impressive in demanding chores. I'd also expect the hardware to run at limited power settings in order to keep thermal and noise-levels down in this sort of a chassis.
The image down below suggests a fairly complex thermal design with a single fan, but a multitude of heatpipes and heat-plates across the entire motherboard. It also shows that much of the interior is occupied by the battery, with an ultracompact PCB and what looks like entirely non-upgradeable components. I can barely distinguish the speakers' design, so I can't tell for sure whether we're talking about narrow chambers flanking the battery, or larger drivers that also spread above those narrows acoustic bars. We'll see. We do know that the sound fires upwards, thought those grills at the left and right of the keyboard.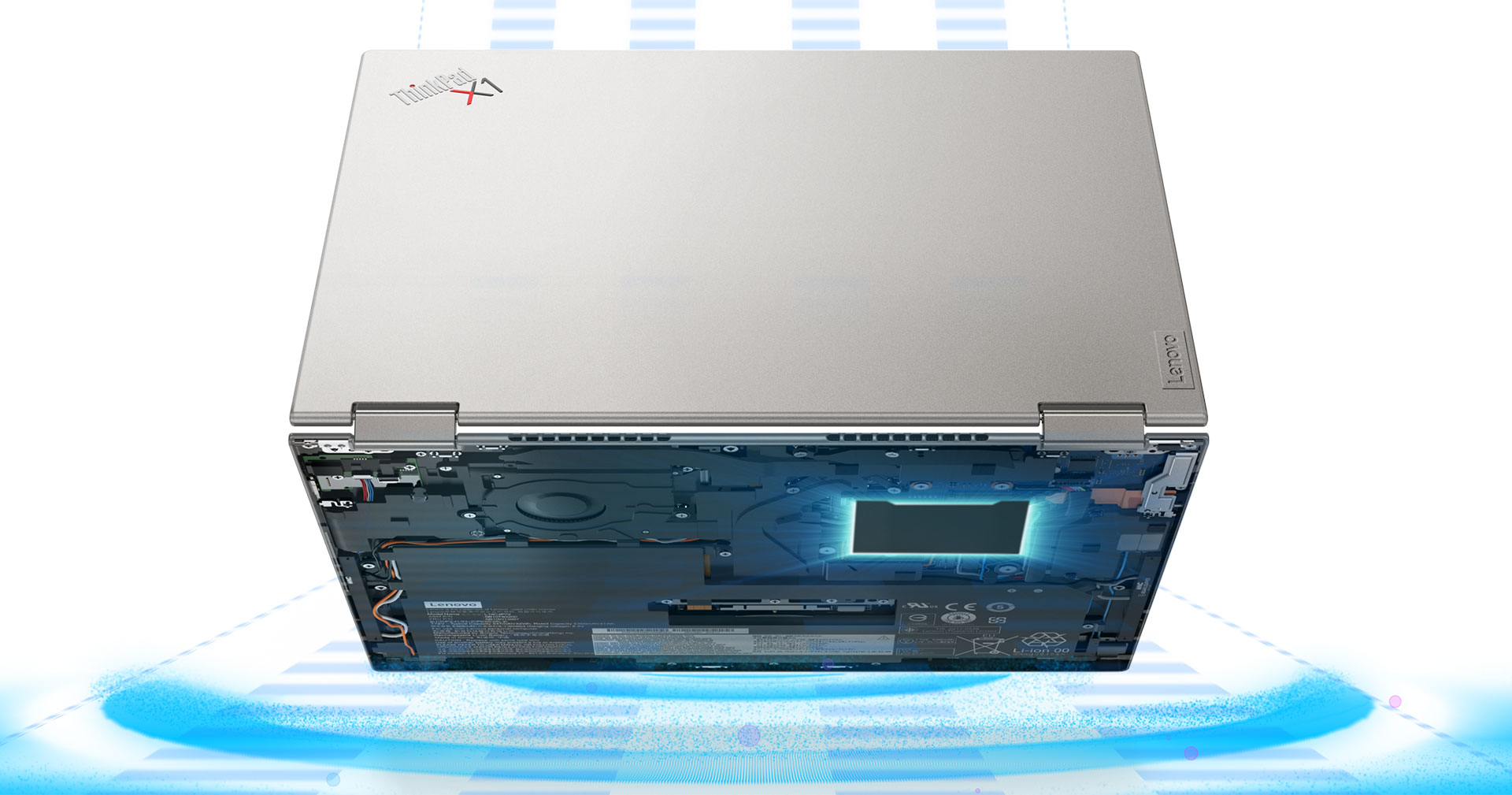 Back to that screen, the 13.5″ panel looks a lot similar to what other OEMs have included on mid-tier ultrabooks in the last months, such as the Acer Swift 3 13 or the Surface Laptop 3 13.5, with the same 2K resolution, 450-nits of brightness and 100% sRGB color coverage. This is a fine screen for daily use, as long as Lenovo keeps flickering at bay, but perhaps not really what I'd expect on a $2000+ laptop. You can't really blame Lenovo for it, there's no better 13″5 display out there, but I would have expected better colors at this level. What do you think?
So, bottom point, this X1 Titanium Yoga sure sounds like an excellent ultrabook on paper, but it's a very complex product with quite a few potential shortcomings. I sure hope Lenovo are able to properly balance all the bits in this thin format in order to justify the very high price-tag. Time will tell, look forward to our review and update in the weeks to come.
The X1 Titanium Yoga is scheduled in stores this month, January 2021, starting at $1900 MSRP, and while it's probably tempting to be an early adopter, I'd recommend holding on for a bit just to see if this lives up to the hype.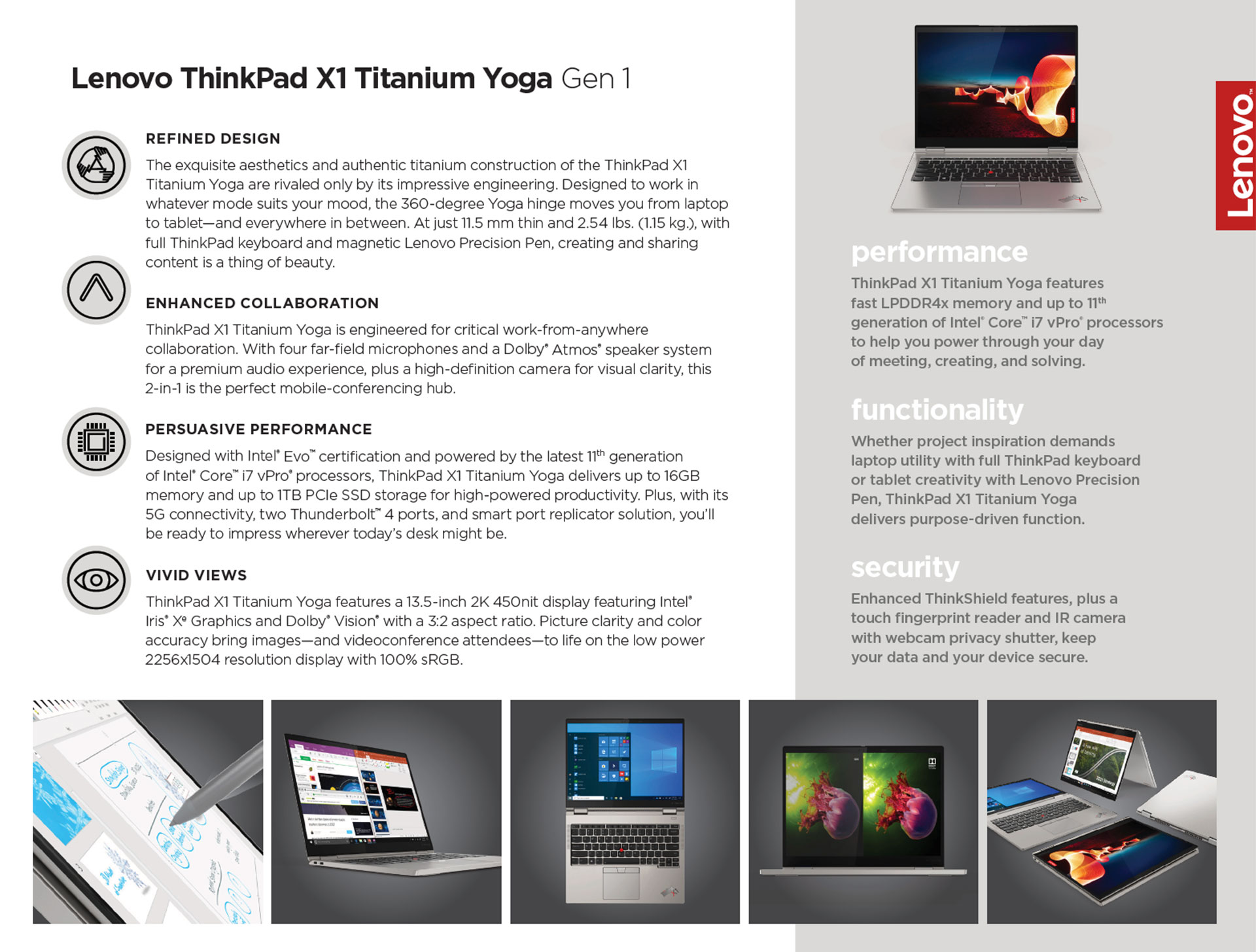 Disclaimer:
Our content is reader-supported. If you buy through some of the links on our site, we may earn a commission.
Terms
.