This is my detailed review of the Lenovo ThinkPad T14s gen 3 lineup.
The T14s is the classic 14-inch portable ThinkPad that you'll find in work/business environments, as has been refined in countless iterations over the last 15 years.
At this point, the Thinkpad T14s gen 3 is the mid-2022 generation of this series, now available with 16:10 displays, some minor design changes, and a refreshed keyboard over the previous generation, as well as updated hardware. In fact, you can get this with either AMD Ryzen 6000 Pro or Intel 12th-gen Core U/P hardware, and this review unit here is the Intel Core P model, in a mid-tier Core i7-1260P + 16 GB RAM + 1 TB SSD configuration.
In just a few words, the ThinkPad T14s is supposed to be a jack-of-all-trades, ensuring the reliability, the build quality, and the ergonomics required from a professional laptop that won't live a pampered life, the performance to handle everyday chores, heavier multitasking and occasional demanding workloads, and the battery life to last for a full day of work.
Does it meet these requirements? Well, it meets most of them, as you'll find out from this detailed review.
Specs as reviewed – Lenovo ThinkPad T14s gen 3
Lenovo ThinkPad T14s Gen 3
Screen
14 inch, 16:10 format, 2.2K 2240 x 1400 px, IPS, matte, non-touch
several other variants available, including touch and OLED
Processor
Intel 12th-gen Alder Lake Core i7-1260P, 4C+8c/16T
Video
Intel Iris Xe, 96 EUs
Memory
16 GB DDR4-4800 (soldered) – up to 32 GB
Storage
1 TB gen4 SSD (WD PC SN810) – M.2 2280 slot
Connectivity
Wireless 6 (Intel AX211), Bluetooth 5.1, optional 4G/LTE
Ports
2x USB-C with Thunderbolt 4, 2x USB-A 3.2, HDMI 2.0b, audio jack, Smart card reader, optional SIM slot
Battery
57 Wh, 65W USB-C charger
Size
318 mm or 12.51" (w) x 227 mm or 8.93" (d) x 17.9 mm or 0.7" (h)
Weight
2.88 lbs (1.31 kg) + .79 lbs (.36 kg) charger and cables, EU version
Extras
white backlit keyboard, FHD IR camera, finger-sensor in the power button, up-firing stereo speakers, Thunder Black or Storm Grey colors
Configurability is one of the major selling points of the ThinkPad T series, and Lenovo offers this T14s gen3 in a multitude of options, with AMD or Intel processors, various amounts of RAM and storage, and several different screens. Our review unit is one of the mid-tier configurations, with the i7 Core P processor and the 2.2K IPS display.
Design and construction
The ThinkPad T14s chassis is a mix of portability, utilitarian aesthetics, and mostly uncompromised ergonomics.
It's designed to look subtle and sober enough to be easily accepted in every work/school environment, and sports the iconic ThinkPad branding and designed elements. However, this variant of the T14s renounces the soft black chassis finish for this dark-grey variant with a rougher finish that feels like mild sandpaper to the touch. This does a better job concealing fingerprints and smudges than the smooth black ThinkPad finish, and I'd reckon it should age better as well.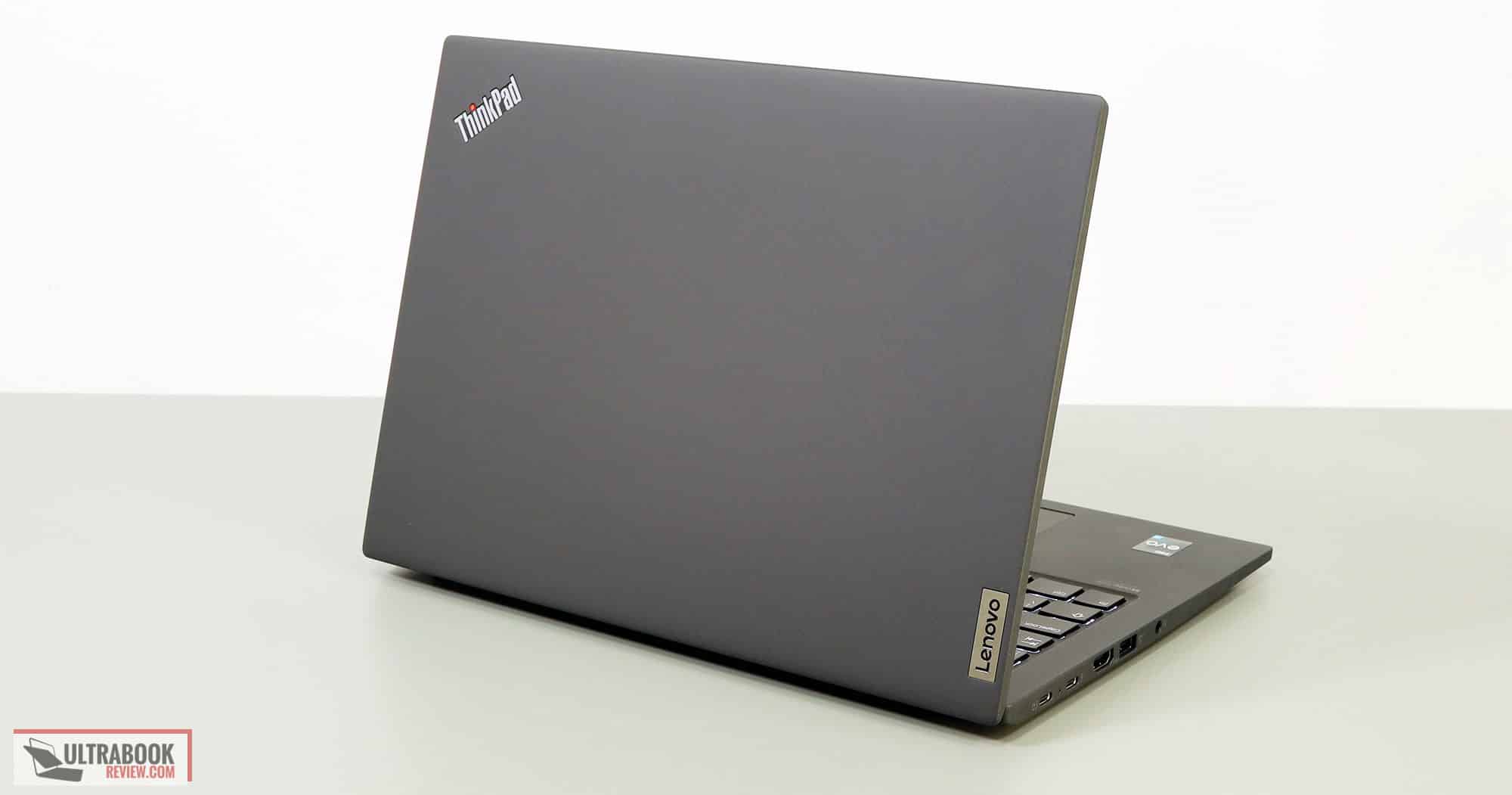 This aside, this T14s gen 3 looks and feels like most other 14-inch ThinkPads of the past generation. It's well made and doesn't squeak or flex in any noticeable way, and is a mid-sized design with still some bezels around the screen, despite the fact that this generation implements taller 16:10 panels now, and it's fairly light for its class, at around 2.9 lbs in this configuration.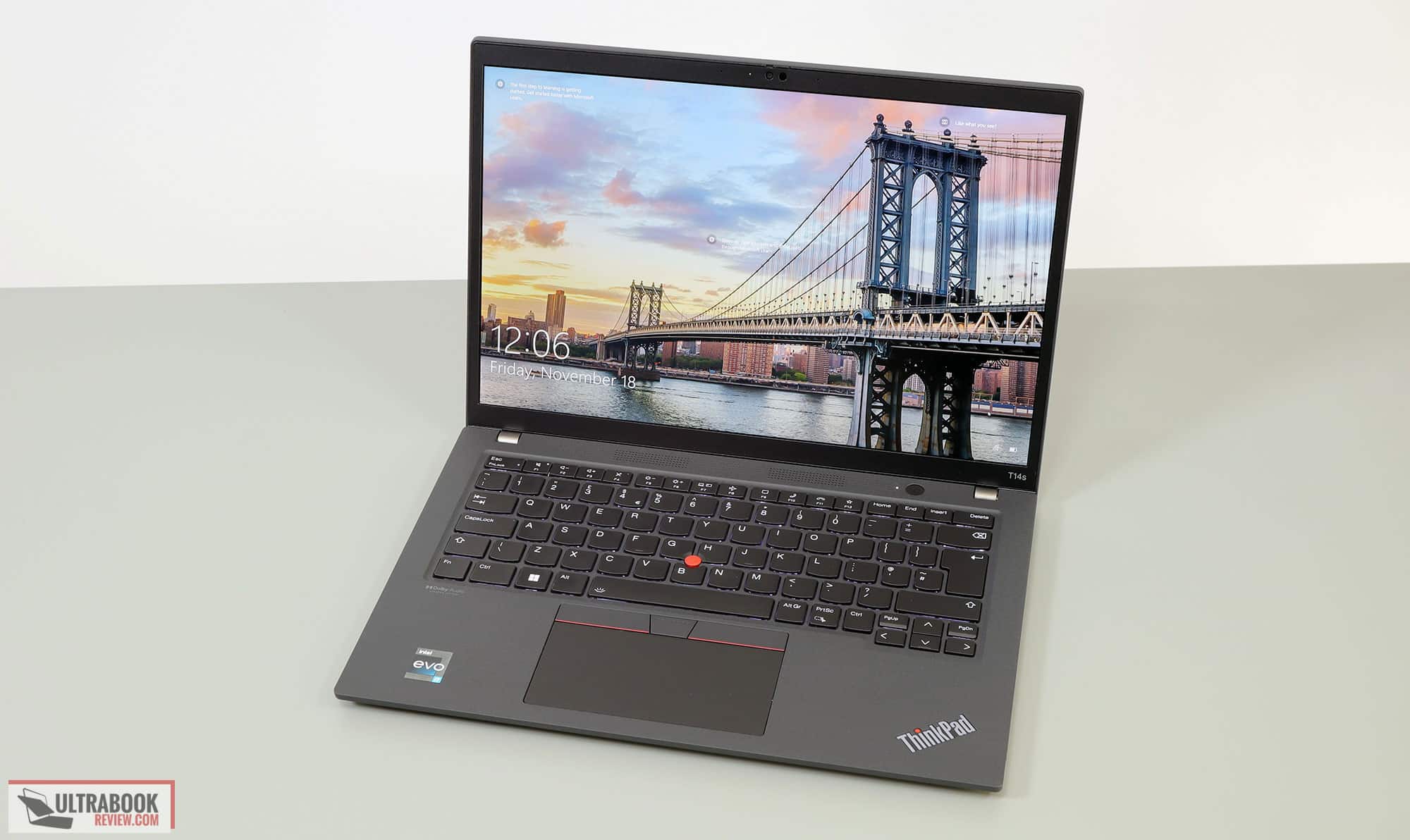 The ergonomics are hard to fault here as well.
Grippy rubber feet provide excellent support on the desk, all the edges and corners are dulled and friendly on the wrists, and the screen is held in place by two smooth hinges that allow it to lean back flat to 180-degrees when needed. My only complaint is of the unnecessary always-on light positioned above the keyboard, next to the power button – at least it's dim, but it's still noticeable when using the laptop at night, in the dark.
As far as the IO goes, this laptop provides most of the needed ports, with two USB-C slots with Thunderbolt 4 functionality, 2x USB-A slots, a full-size HDMI port, an audio jack, a smart-card reader for enterprise environments, and an optional SIM tray at the back, for the models equipped with 4G/LTE. There's also a lock, pretty much a must-have on a business laptop, but no card reader.
Overall, this ThinkPad T14s is a practical no-fuss laptop, built well and designed well.
Keyboard and trackpad
I've never been a big advocate of the keyboards that Lenovo put on their recent years ThinkPads, and I'm not much into this one on this ThinkPad T14s either.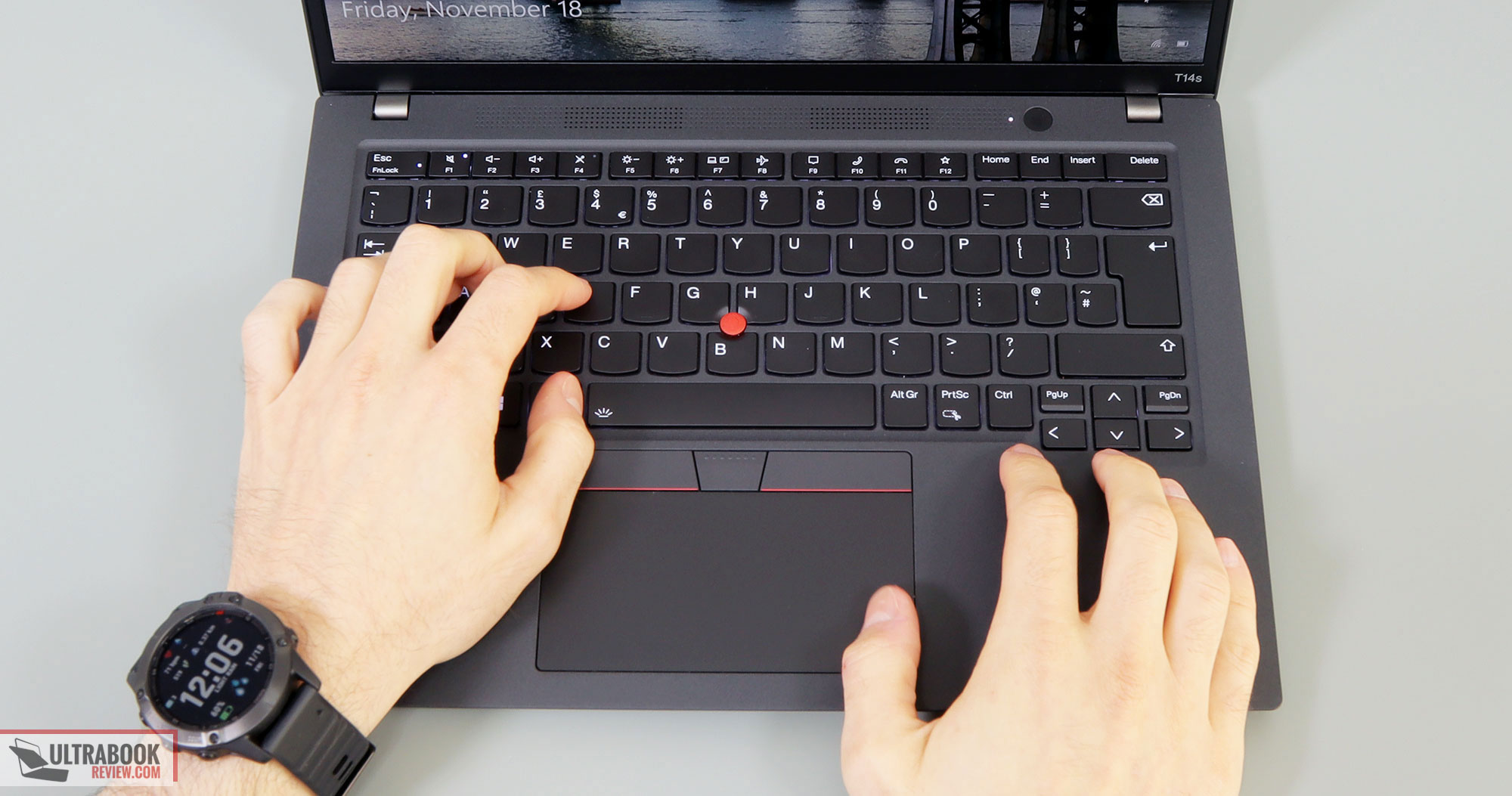 Lenovo implemented here the keyboard they've been offering on the X1 Carbon for the past generations, with 1.5 mm of stroke-depth and some firm feedback. In fact, these keys require a hard press to properly actuate, and that makes the feedback quite unforgiving and harsh. Others are swearing by these ThinkPad keyboards, though, so there's a fair chance you'll like this more than I did.
Feedback aside, the layout is standard for a ThinkPad, with properly sized and spaced keys, and their peculiar design for the arrows and the dedicated PgUp/PgDn keys.
The keys are backlit, with white LEDs and two levels of brightness intensity to choose from, and there are dedicated indicators for Caps Lock, FnLock, audio mute, and microphones. My only complaint is that there's no way to set the keys to time-out after 30 seconds or so, you have to manually switch them of when needed, by hitting Fn + Space.
The clickpad is averagely sized and an update from the previous T14s gen2 generation. It feels like glass and is very nice to the touch. It worked well with taps, gestures, swipes, you name it, and integrates some smooth physical clicks. It also feels sturdy and doesn't rattle with firmer taps.
On top of that, the Trackpoint red nipple is not missing from this ThinkPad, nor are the associated click buttons at the top of the clickpad.
Finally, for biometrics, there's a finger-sensor integrated in the power-button, as well as an optional IR camera paired with the 2MPx webcam – careful, though, the default 720p camera doesn't include IR.
Screen
There's a 14-inch 16:10 display on this ThinkPad T14s series, available in either matte non-touch variants or touch alternatives with an anti-glare coating.
We have the matte option of the mid-tier 2.2K IPS panel on our unit, a step up in resolution from the other FHD+ options, but otherwise a rather unimpressive panel by today's standards. We measured good black and contrast, but only dim brightness at a little over 300 nits and 100% sRGB color coverage.
This panel should do fine for indoor daily use, but the FHD+ options include a more versatile 500-nit touch variant, better suited for multi-environment use, as well as a 2.8K OLED panel, the go-to option for higher-gamut color coverage. The wide-gamut UHD IPS panel remains exclusive to the top-tier ThinkPad X1 Carbon 14-inch lineup.
Here's what we got in our tests, with an X-Rite i1 Display Pro sensor:
Panel HardwareID: Lenovo LEN403C (NV140DRM-N62);
Coverage: 97.7% sRGB, 71.8% AdobeRGB, 73.7% DCI-P3;
Measured gamma: 2.19;
Max brightness in the middle of the screen: 321.42 cd/m2 on power;
Min brightness in the middle of the screen: 10.22 cd/m2 on power;
Contrast at max brightness: 1743:1;
White point: 6600 K;
Black on max brightness: 0.27 cd/m2;
PWM: No.
The panel came well-calibrated out of the box, and we noticed little to no light bleeding around the edges of this sample.
Hardware and performance
Our test model is a mid-specced configuration of the Lenovo ThinkPad T14s gen 3, with an Intel Core i7-1260P processor, 16 GB of DDR5-4800 RAM, 1 TB of fast NVMe storage, and the Iris Xe graphics embedded into the Intel CPU.
Disclaimer: Our review unit is a retail model running on the software available as of mid-November 2022 (BIOS N2TET64W 1.42, Lenovo Vantage 3.6.15.0). This series has been available in stores for a while now, thus our sample is running on a mature software package, but some aspects might still change with future updates.
Spec-wise, this ThinkpPad T14s variant is built on the 2022 Intel 12th-gen Alder Lake Core P hardware platform. The Core i7-1260P is a hybrid design with 4 Performance and 8 Efficiency Cores, as well as 16 combined threads. This implementation supplies the CPU with 18+W of sustained power in demanding loads, which is lower than on many other portable designs on their top-performance profiles. We'll get in-depth further down.
Various other Core P and Core U configurations are available, as well as AMD-based models built on Ryzen 6000 Pro hardware, up to the Ryzen 7 Pro 6850U (reviewed on the ThinkPad Z13 series over here)
Graphics are handled by the Iris Xe integrated iGPU, which is dependent on enough power to run at its full potential. In this implementation, it runs at around 80% of its potential in a full-power design.
Our configuration also comes with 16 GB of DDR5-4800 memory. The RAM is soldered, and the laptop can be configured with up to 32 GB of memory.
For storage, Lenovo opted for a mid-tier PCIe gen4 WDC PC 810 drive here. There's a single M.2 2280 slot inside.
It is possible to open up this device to get to the internals, and it's a basic task, requiring you to remove the back panel held in place by a handful of screws. There's still a warranty sticker over one of the screws here in Europe – Lenovo, stop this!
Inside you'll find the RAM, WIFI, SSD, and LTE slots, with everything else being soldered.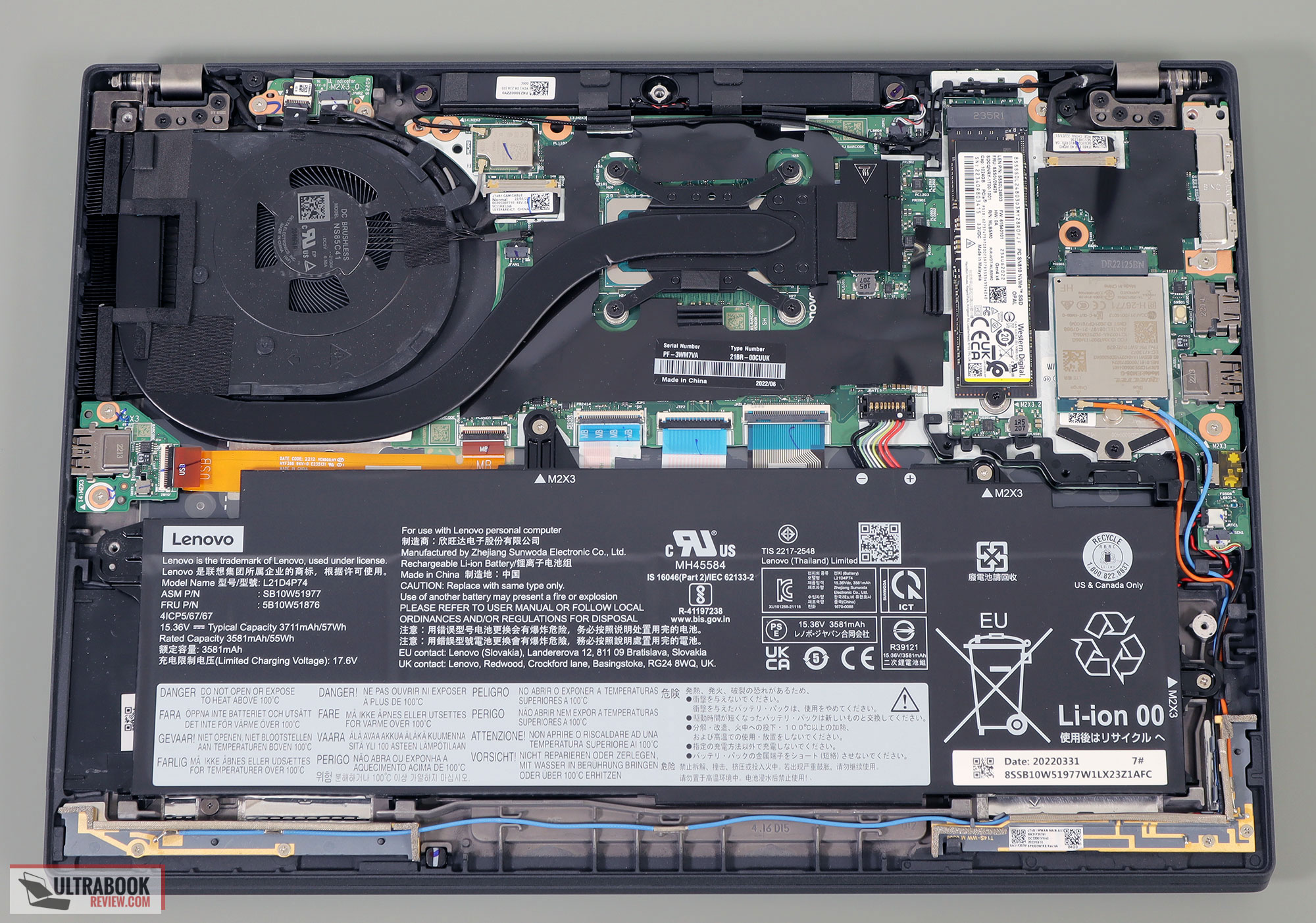 As far as the software goes, everything can be controlled through the Lenovo Vantage app, which offers access to system updates, battery settings, etc. There are no power profiles in Vantage on the recent Thinkpads, though. Instead, you can switch between the standard profiles in Windows – our unit came with Windows 10, so the profiles are  (Better Battery, Better Performance, Best Performance). I would have preferred having the power profiles in Vantage, as on the Legion/Yoga models and on the older ThinkPads.
Regardless, the laptop runs cooly and quietly with daily use. I've kept my unit on Better Performance most of the time, and only switched to Best Performance for benchmarks and gaming. The fans inside keep mostly idle with light use, but do kick in quite often with multitasking, so you'll hear them in a quiet environment. They never get loud, though, and in fact, they rarely go over 35 dBA on this laptop with any activity.
Here's what to expect in terms of performance and internal temperatures with browsing, word processing, or video streaming.
Performance and benchmarks
On to more demanding loads, we start by testing the CPU's performance in the Cinebench R15 loop test.
On Best Performance, the i7-1260P in our unit kick in hard at around 45W of power, but quickly drops and stabilizes at 20W of power, with CPU temperatures of around 75 degrees Celsius, and fan-noise levels of 33 dBA head-level.
This is a rather limited implementation of the Core P hardware, especially in a 14-inch chassis. In fact, it's on par with the much smaller and slimmer Lenovo Slim 7i Carbon, which I found rather surprising. Furthermore, even at 20W, the i7-1260P in this laptop only scores around 850 points in Cinebench, which is not right based on our experience with this platform in multiple other laptops. It should score 1000+ points. Not sure what's causing the issue here, but perhaps it has something to do with my unit running Windows 10, and not Windows 11.
Switching over to Better Performance mode doesn't seem to impact anything significantly here. Nor does disconnecting the laptop from the wall, as in all cases the CPU runs at around 20W of stabilized power.
Take these findings with a lump of salt, though!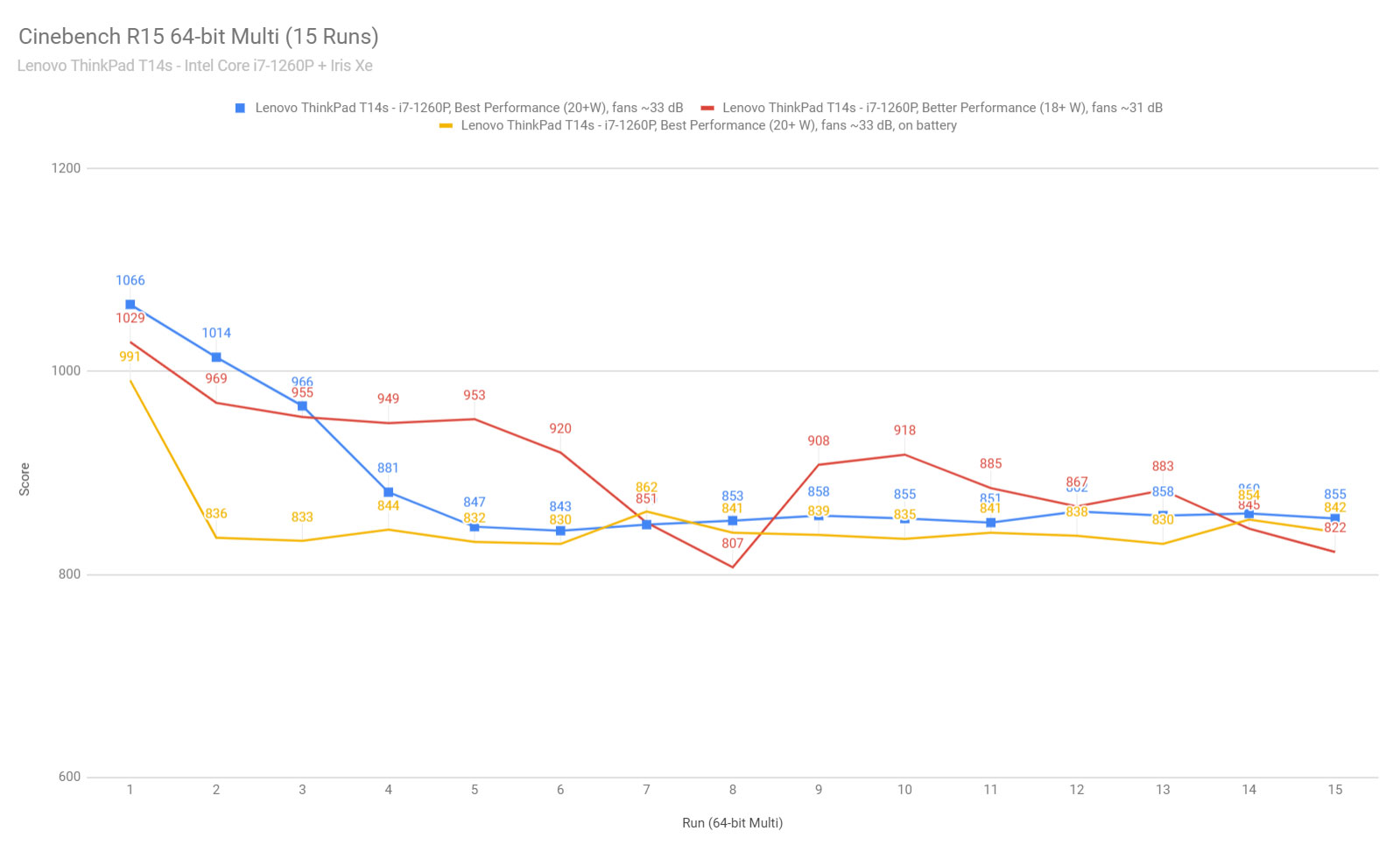 Anyway, to put these results in perspective, here's how this Intel Core i7-1260P implementation fares against a few other modern ultrabook implementations, both Intel and AMD.
It's clear that you can find better performers with the multitude of higher-power models out there (such as the Yoga 9i at 35W, which I've included for exemplification), but I wanted to compare this to other implementations running on 20W profiles, as much as possible. This shows that the i7-1260P should score closer to 1000 points at 20W, so there's something wrong with the results measured by the T14s in this test.
I also noticed skewed results in Cinebench R20, but the other test results were fine. Weird.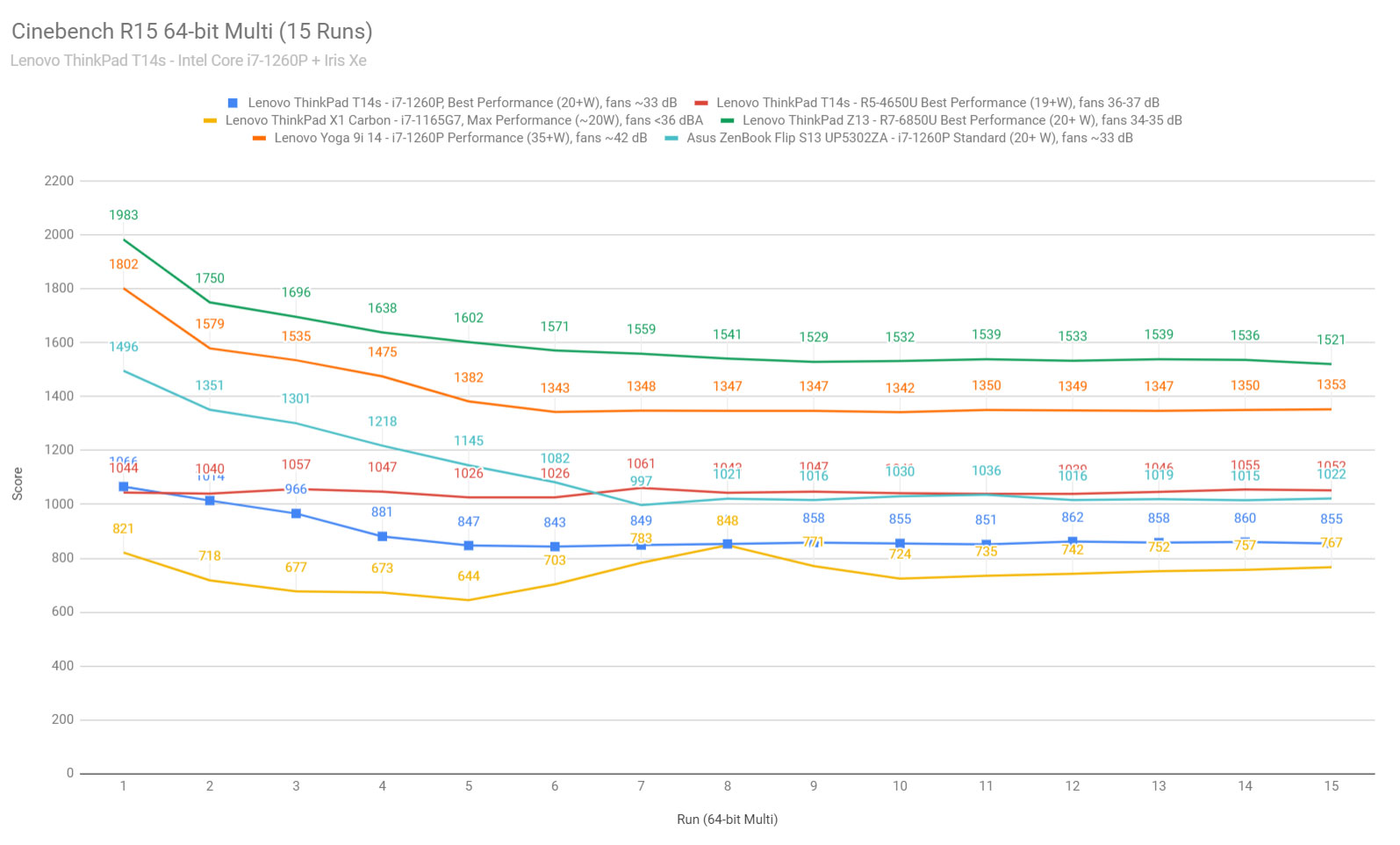 We then went ahead and further verified our findings with the more taxing Cinebench R23 loop test and in Blender.
We then ran the 3DMark CPU profile test. Nothing wrong here.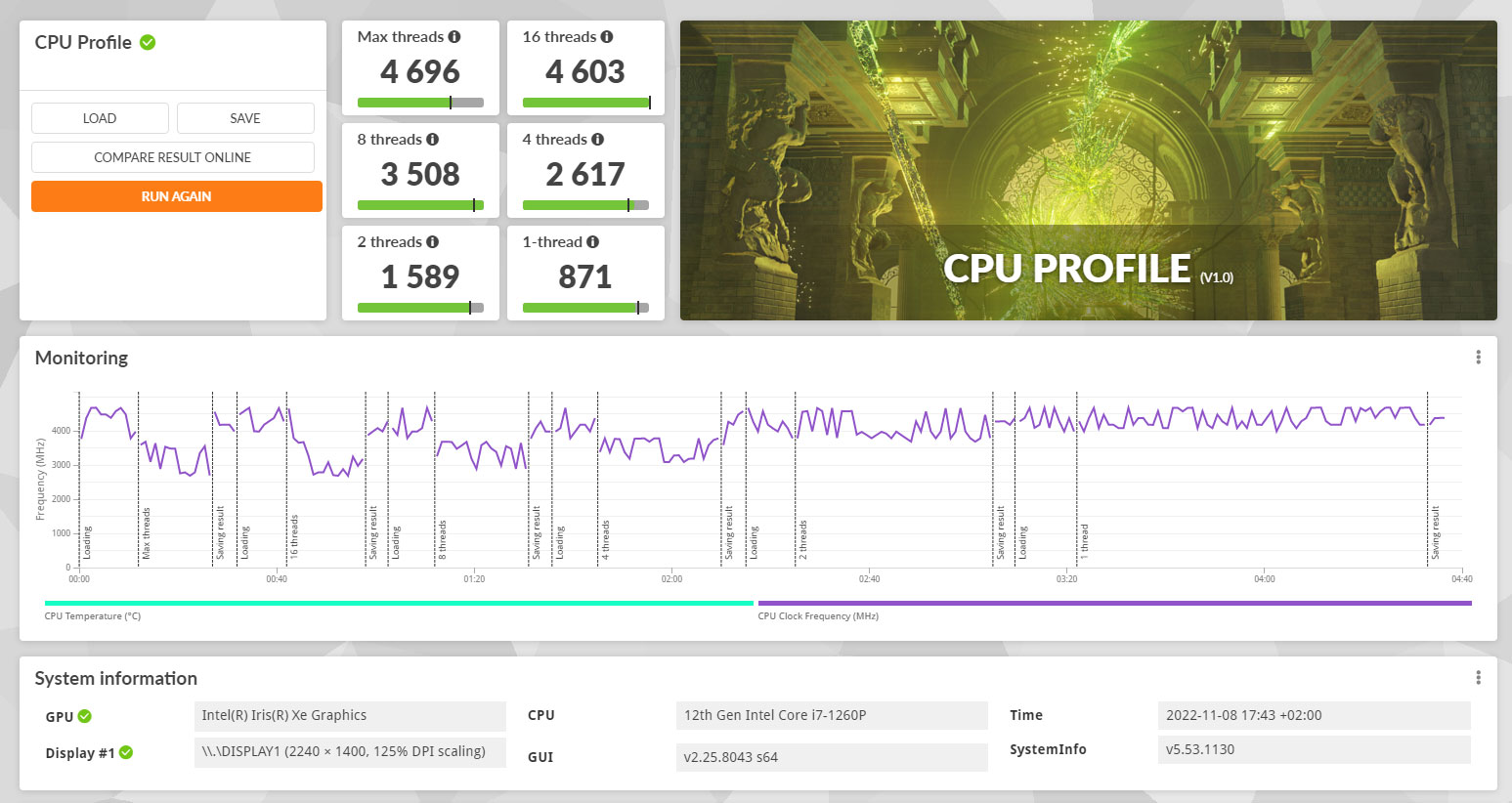 Finally, we ran our combined CPU+GPU stress tests on this notebook, on the Best Performance profile. 3DMark stress runs the same test for 20 times in a loop and looks for performance variation and degradation over time, and this unit did not pass the test, but by a very small margin, which means the performance decreases once the heat builds up, but not in a significant way.
Next, here are some benchmark results. We ran the entire suite of tests and benchmarks on the Best Performance profile on this Intel Core i7-1260P configuration, with the screen set at the default resolution.
Here's what we got.
3DMark 13 – Fire Strike: 4844 (Graphics – 5441, Physics – 18974, Combined – 1648);
3DMark 13 – Night Raid: 15714 (Graphics – 19993, CPU – 7102);
3DMark 13 – Time Spy: 1844 (Graphics – 1629, CPU – 7361);
Uniengine Superposition – 1080p Extreme: 1070;
Uniengine Superposition – 1080p Medium: 3112;
Handbrake 1.3.3 (4K to 1080p encode): 36.42 average fps;
PassMark 10: 3825 (CPU – 20321, 3D – 3333, Memory – 2739, Disk – 24841);
PCMark 10: 5353 (Essentials – 10284, Productivity – 6886, Digital Content Creation – 5878);
GeekBench 5.4.3 64-bit: Single-Core: 1706, Multi-core: 9175;
CineBench R15 (best run): CPU 1066 cb, CPU Single Core 233 cb;
CineBench R20 (best run): CPU 2428 cb, CPU Single Core 588 cb;
CineBench R23: CPU 10110 cb (best run), CPU 8065 (10 min loop test), CPU Single Core 1637 CB (best run);
x265 HD Benchmark 64-bit: 40.79 s.
And here are some extra work-related benchmarks:
Blender 3.01 – BMW scene – CPU Compute: 4m 14s;
Blender 3.01 – Classroom scene – CPU Compute: 10m 29s;
PugetBench – DaVinci Resolve: 290;
PugetBench – Adobe Photoshop: 732;
SPECviewperf 2020 – 3DSMax: 14.08;
SPECviewperf 2020 – Catia: 12.79;
SPECviewperf 2020 – Creo: 23.85;
SPECviewperf 2020 – Energy: 3.83;
SPECviewperf 2020 – Maya: 55.46;
SPECviewperf 2020 – Medical: 7.74;
SPECviewperf 2020 – SNX: 7.02;
SPECviewperf 2020 – SW: -;
V-Ray Benchmark: CPU – 6568 vsamples, GPU CUDA – 129 vpaths;
Everything looks fine with the exception of those Cinebench R15 and R20 multi-core tests.
In fact, these benchmark results are higher than on the 20W power-limited Slim 7i Carbon and close to the 25W implementation in the Asus ZenBook S 13 Flip, even on the longer tests such as Blender or Handbrake. I should have updated to Windows 11 and retest, but I didn't get the time to do it.
Overall, this is a solid performer with daily use and multitasking, and can even take demanding loads on occasion. It's not as powerful as other modern 14-inchers, though, such as the Core P implementations in the Acer Swift 3, Lenovo Yoga 9i or Dell XPS 13 Plus, but it's within 5-15% of those.
It's also not as powerful in multi-core loads and GPU tests as the AMD Ryzen models of the 2022 generations, but it outmatches those in single-core and IPC capabilities, which allows for a smoother experience with daily multitasking. This is important to consider, especially since Lenovo are also offering an AMD variant of this T14s gen3 model.
And here's what to expect in sustained combined loads (games) on this ThinkPad T14s.
We also ran of DX11, DX12, and Vulkan games on the Best Performance profile on this Core i7 + Iris Xe configuration, at FHD+ resolution, with Low/Lowest graphics settings. I threw in a few other platforms for comparison.
ThinkPad T14s –
i7-1260p, Iris Xe,
20+W, FHD+ 1200p
ThinkPad Z13 –
R7-6850U, Radeon 680M,
15+W, FHD+ 1200p
ZenBook 14 2022 –
i7-1260p, Iris Xe,
30+W, FHD+ 1200p
ZenBook S 13 2022 –
R7-6800U, Radeon 680M,
15+W, FHD 1200p
ZenBook S 13 Flip –
i7-1260p, Iris Xe,
25+W, FHD+ 1200p
Bioshock Infinite
(DX 11, Low Preset)
77 fps (46 fps – 1% low)
102 fps (65 fps – 1% low)
70 fps (48 fps – 1% low)
102 fps (63 fps – 1% low)
81 fps (48 fps – 1% low)
Doom: Eternal
(Vulkan, Medium Preset)
28 fps (14 fps – 1% low)
–
29 fps (15 fps – 1% low)
45 fps (34 fps – 1% low)
31 fps (14 fps – 1% low)
Dota 2
(DX 11, Best Looking Preset)
73 fps (50 fps – 1% low)
56 fps (33 fps – 1% low)
76 fps (52 fps – 1% low)
74 fps (46 fps – 1% low)
75 fps (52 fps – 1% low)
Far Cry 5
(DX11, Low Preset)
27 fps (22 fps – 1% low)
31 fps (24 fps – 1% low)
31 fps (22 fps – 1% low)
39 fps (31 fps – 1% low)
31 fps (27 fps – 1% low)
Shadow of Tomb Raider
(DX12, Lowest Preset, no AA)
30 fps (18 fps – 1% low)
41 fps (32 fps – 1% low)
36 fps (23 fps – 1% low)
47 fps (35 fps – 1% low)
34 fps (19 fps – 1% low)
The Witcher 3: Wild Hunt
(DX 11, Low Preset, Hairworks Off)
36 fps (202 fps – 1% low)
36 fps (24 fps – 1% low)
38 fps (20 fps – 1% low)
41 fps (26 fps – 1% low)
39 fps (21 fps – 1% low)
Doom, Dota 2, Witcher 3 – recorded with MSI Afterburner in game mode;
Bioshock, Far Cry, Tomb Raider games – recorded with the included Benchmark utilities;
These are good results for a 20W power implementation, within 10% of the higher-power i7-1260P + Iris Xe implementation in the ZenBooks (or in other similar ultrabooks).
In fact, the GPU constantly runs at 1.15 GHz sustained in this laptop on the Best Performance mode, which is roughly 80% of what the Iris Xe chip is capable of in a full-power implementation. The CPU also keeps cool, at just a little over 70 degrees Celsius in sustained gaming sessions, with the fan spinning at ~35 dBA at head-level.
Furthermore, as shown in the Cinebench loop tests, this laptop is also an excellent performer on battery power, where it matches the capabilities offered while plugged in. It won't last for longer than 1.5 hours of sustained activity on battery-power, though.
Noise, Heat, Connectivity, speakers, and others
Lenovo went with a simple thermal design here, with a single fan, a single thick and rather long heatpipe, and a single radiator placed on the side, which means the hot air is expelled away and not into the display.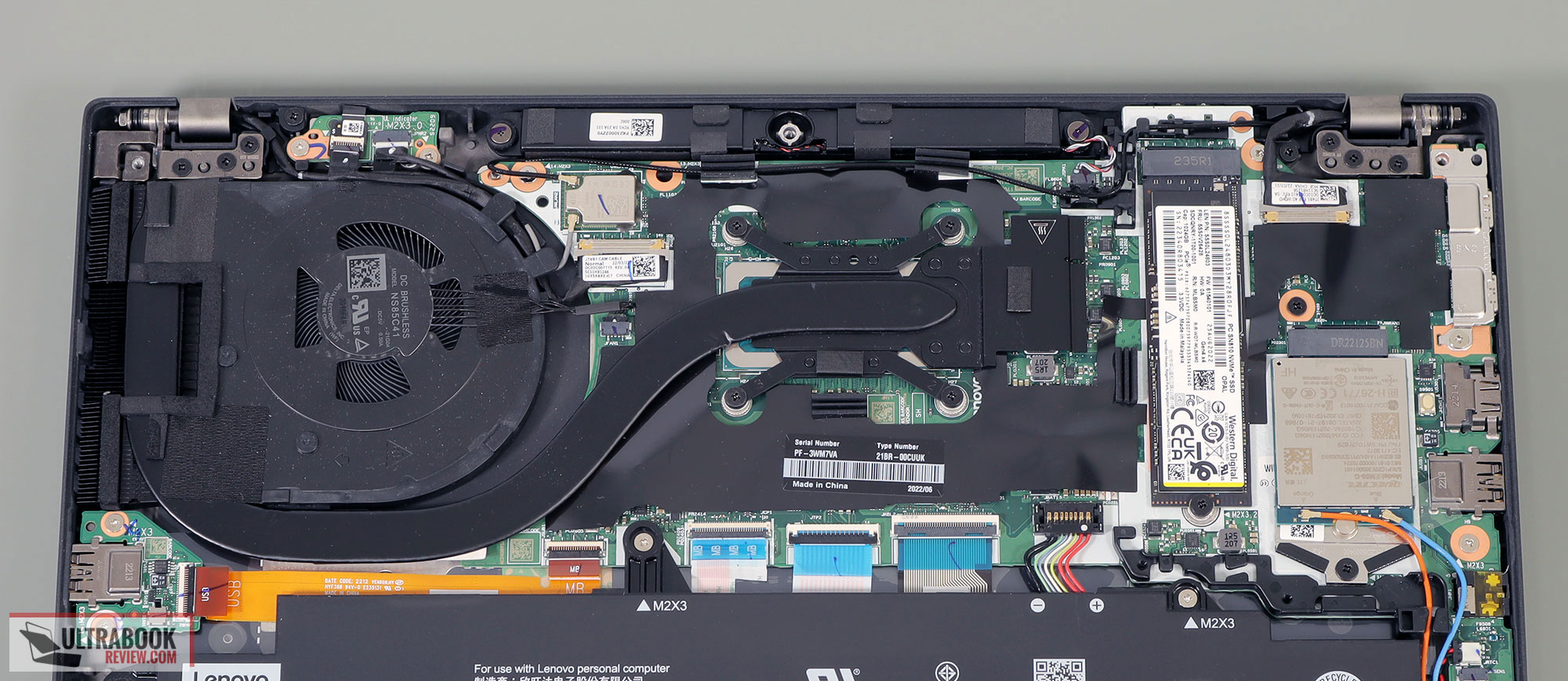 This thermal module is alright for this mid-powered implementation of the Core P platform, as it allows the CPU to run at temperatures of sub-50 degrees C with daily use and around 70-75 degrees C with demanding loads, once the power stabilizes. However, it does lead to some weird hotspots at the case level, as you'll see in a bit.
The fan spins rather quietly, at up to 35 dBA at head-level on the Best Performance profile. It also keeps mostly idle with light daily use, and for what is worth, I haven't noticed any coil-winning or electronic noises on this sample.
The laptop feels comfortable to the touch with daily use, although there's this weird hotspot at the keyboard level, around the JNM keys, that I can't quite explain.
The middle of the chassis develops a major hot spot with sustained loads as well, going over 50 degrees Celsius, which is way past the comfortability threshold. At least the WASD and arrows regions stay much cooler, and low to mid-30s Celsius, and the back panel keeps cool as well, barely going over 40s.
These hotspots suggest some flaws in the thermal module design, as their abnormally high for a 14-inch laptop running at only ~20W of sustained power. For what is worth, the AMD variant of this laptop implements a different thermal module, with two heatpipes and a different internal layout.


*Daily Use – streaming Netflix in EDGE for 30 minutes, Balanced Mode, fan idle
*Gaming  – Best Performance mode – playing Witcher 3 for 30 minutes, fan at ~35 dB

For connectivity, there's the latest-gen WiFi 6E 2×2 and Bluetooth 5.1 through an Intel AX211 module on this laptop, as well as an optional 4G/LTE cellular module, but not 5G option. Our sample performed well on WiFi with our setup, and the signal and performance remained strong at 30-feet, with obstacles in between.
Audio is handled by a set of dual speakers positioned at the top of the keyboard. There's little space there for speakers, as you can see from the internal design, so there's no surprise these are among the tinniest speakers I've heard in a while. They also lack any sort of stereo effect, being positioned so close together. At least they're averagely loud, at about 75 dBA max.
The camera is positioned at the top of the screen and is an FHD 2 MPx shooter with a wide-angle lens. It's better than the average laptop camera, but still not amazing.
It also supports IR with Windows Hello, and comes with a physical cover.
Battery life
Lenovo offers the ThinkPad T14s gen3 with a 57 Wh battery, which is about averagely-sized for a modern 14-inch laptop.
Here's what we got in terms of battery life, with the screen's brightness set at around 120 nits (~60 brightness).
6 W (~8 h of use) – text editing in Google Drive, Better Battery Life Mode, screen at 60%, Wi-Fi ON;
6.5 W (~7-8 h of use) – 1080p fullscreen video on Youtube in Edge, Better Battery Life Mode, screen at 60%, Wi-Fi ON;
6 W (~8 h of use) – Netflix fullscreen in Edge, Better Battery Life Mode, screen at 60%, Wi-Fi ON;
10 W (~4-6 h of use) – browsing in Edge, Better Performance Mode, screen at 60%, Wi-Fi ON.
Somehow the i7-1260P platform runs more efficiently on this laptop than on any of the other Lenovo Core P models we've tested so far, and that leads to some surprisingly good runtimes from only a mid-sized battery. Perhaps the fact that this is running on Windows 10, while all the other units we've tested ran on Windows 11, might have anything to do with these results.
Lenovo pairs this with a 65W charger that plugs in via USB-C. It's a dual-piece design with a fairly large brick, and long cables add up in your bag – they did include a zip tie to help gather these together in your bag. A full recharge takes a little under 2 hours, with fast charging for the first part of the battery.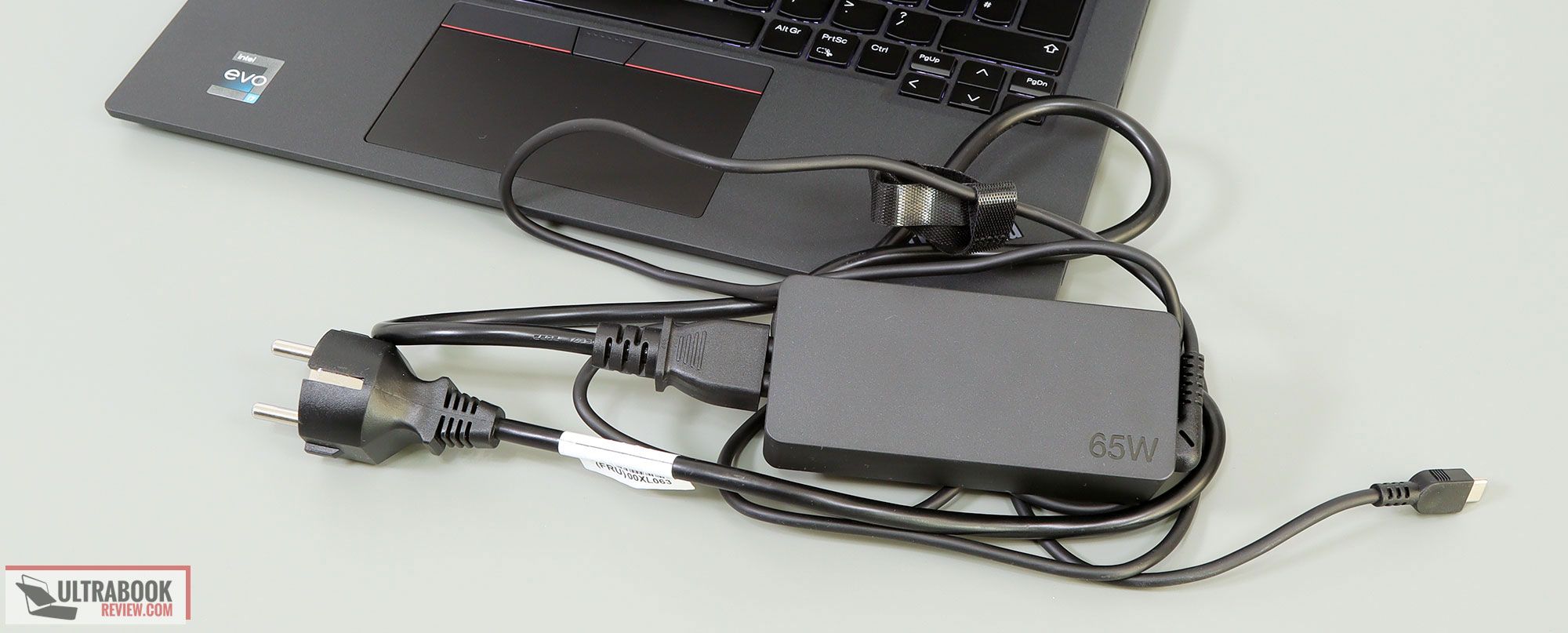 Price and availability- Lenovo ThinkPad T14s
This 2022 version of Lenovo ThinkPad T14s gen3 is widely available in stores in most regions of the world.
The base model starts at under $1250 in Lenovo US-store configurator, but that is for a Core U i5 with 8 G of RAM and 256 GB of storage. Updating to the i7-1260P processor, 16 GB of RAM, 512 GB of storage, and the FHD+ screen with the 2MPx IR camera pushes it toward $1650, while opting for the 2.8K OLED sends it closer to $1700, without accounting though for the occasional discounts and sales campaigns that Lenovo are running quite often. Nonetheless, that's pricey!
The AMD variant of this laptop, with the Ryzen 7 6850U Pro + 16 GB + 512 TB configuration sells for about $1400 as well, but that is only available with FHD+ screen options for some reason.
Various other discounts might apply at the time you're reading the article, so follow this link for updated prices and configurations in your region.
Final thoughts- Lenovo ThinkPad T14s gen 3
This ThinkPad T14s is a solid all-purpose no-fuss computer, built mostly for work/school environments and for those of you looking for a laptop that can handle a little abuse and doesn't require pampering.
It does most things well, and performs well with everything you will throw at it. I also found it to be surprisingly efficient on battery-use, despite running on an Intel Core P hardware and only including a mid-sized battery.
There is one thing that can be improved on this series though, and that's the thermal module. Lenovo went with a minimalistic design here, so the system has to cut down the power in sustained loads in order to cope with the heat and not run the fan noisy. That won't affect the behavior with daily activities and multitasking, but it does prevent this from matching the capabilities of other Core P 14-inch laptops available out there. And for the kind of money that Lenovo are asking for this one, I feel that it should be able to performer better in sustained loads.
This wraps up my time with the Lenovo ThinkPad T14s gen 3, but I'd love to hear your thoughts on it, so get in touch down below.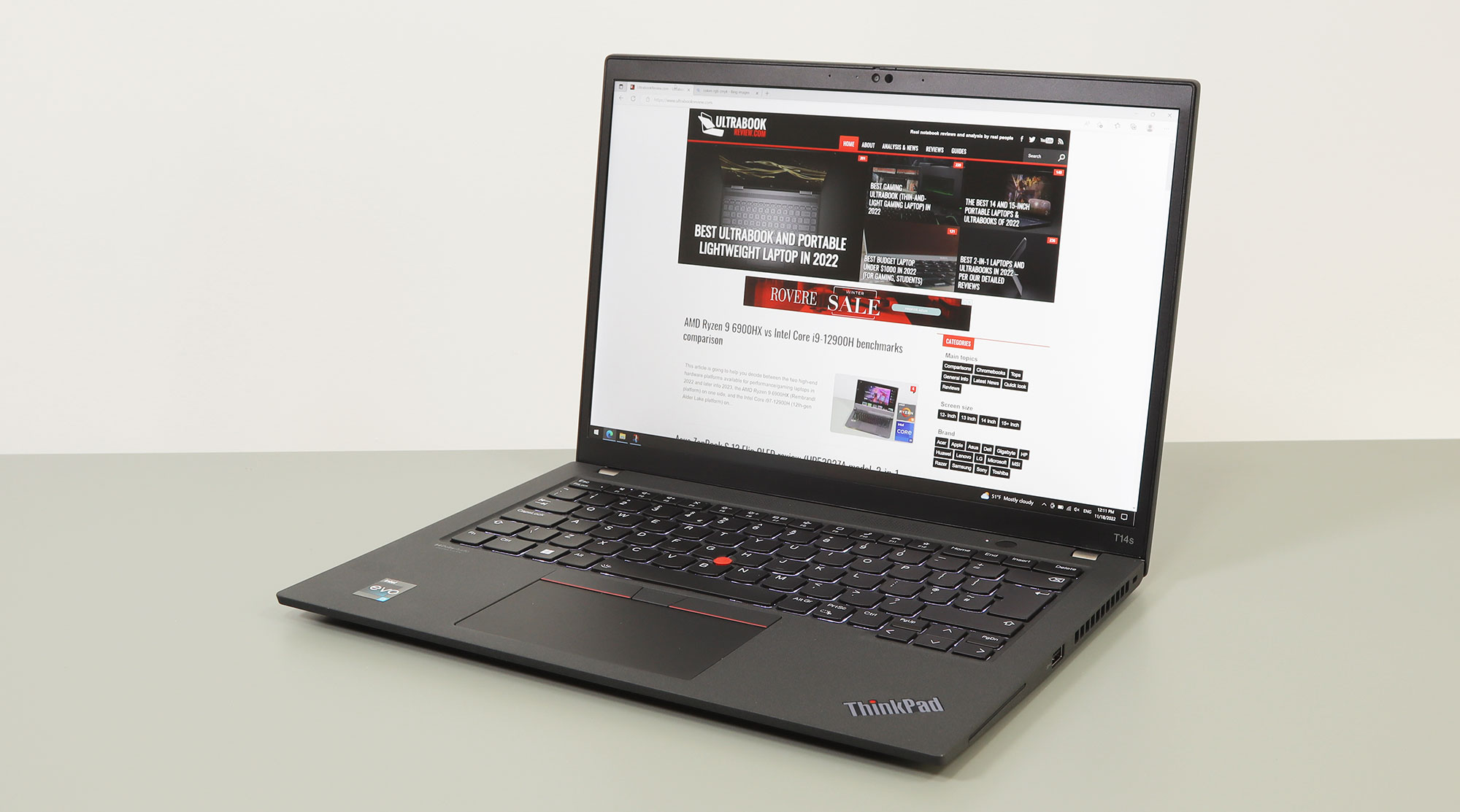 Disclaimer:
Our content is reader-supported. If you buy through some of the links on our site, we may earn a commission.
Terms
.