This article is a quick comparison between the 15 and the 17-inch versions of the new Asus TUF Gaming notebooks based on AMD 4000 hardware and Nvidia GPUs.
We're going to look at the main differences and similarities between them, as well as explain to you what to expect from the multitude of available configurations, as we've reviewed both the Ryzen 5 and Ryzen 7 versions of these laptops, and the entire range of graphics options, from the GTX 1650Ti up to the RTX 2060.
First though, here's a quick look at the two models side by side. They share the same design lines and ergonomics, with the TUF A17 being a slightly oversized duplicate of the A15. It's about an inch wider, two inches longer and .5 of a pound heavier, or between 200-300 grams, depending on the configuration.
The larger footprint required to accommodate the 17-inch display also translates into a more spacious arm-rest, and some extra interior space that could help with cooling the components. We'll get to that in a bit.
Otherwise, the 15 and 17-inch versions are identical and get the same keyboards, touchpads, IOs and construction particularities.
That means plastic is used for the main-chassis and inner deck on both of them, which feels somewhat cheap, but the laptops are still fairly sturdy and pass military reliability tests, much like the previous lineup of TUFs.
For the exterior, Asus offers either a metallic gray variant with a simpler design, or a plastic Black model, which is mostly reserved for the lower-tier configurations. If possible, go with the gray version, it feels nicer and does a better job at hiding smudges.
The IO is mostly lined on the left edge on both the A15 and A17, leaving the right side clutter-free. You get most of the required ports, with USB-A and USB-C, LAN, HDMI and a headphone jack, but still no card-reader, and of course, no Thunderbolt 3 support or USB-C charging.
The lower-tier GTX 1650Ti models also get a redesigned internal layout and thermal module on both the 15 and 17-inch versions, and that means they get fewer heatpipes and no hot air exhaust grill on the left edge, like on the 1660 and 2060 versions. Instead, the entire cooling relies on the exhausts on the back edge.
The keyboards are also the same one on both the 15 and 17-inch laptops. The layout is OK, with a full-size deck on main keys, but a smaller NumPad section and small arrows. Both are fair typers, but the spongy feedback isn't one of my favorites, so I was only able to hit average speeds and accuracy even after punching thousands of words on these laptops. The keys are RGB backlit, with a single-zone and some basic effects in the included Aura software. You can adjust the illumination on three different intensity levels, and the LEDs get bright enough on max.
For mouse, Asus went with an immovable touchpad and dedicated click buttons. It's a plastic surface and it's fairly small, but handles everyday use just fine, and those physical click buttons are nicer and smoother than you can normally get in this segment.

Asus offers both the A15 and the A17 with either a 90W battery, or a 48 Wh battery plus a HDD cage. And if that wasn't enough, some of the lower-tier configurations also get a single M.2 storage slot, while the others get two M.2 slots. I know, this is confusing, that's why it's important to carefully look through the specs sheets when deciding on the unit you're planning to get.
Right now, the RTX 2060 graphics chip is only reserved for the 15-inch model, while the A17 tops up at a GTX 1660Ti configuration. The other specs are shared between the two models.

Asus also favors the 15-inch variant when it comes to the screen choices, with a 144 Hz panel available for the A15, and only a 120 Hz panel available for the A17. They're both FHD and IPS-like and not much in terms of brightness and colors. On the other hand, they're fairly uniform, don't show flickering or much light bleeding around the edges.
Both these panels are supposed to excel in games with 144 or 120 Hz refresh rate and Adaptive Sync that eliminates tearing, but there's another side of the coin you should consider here, especially if you're planning to play fast-paced games. The response time on both of these isn't on par with the faster screens available on higher-tier notebooks, so ghosting can be an issue in these titles.
That aside, keep in mind that the base-tier configurations might only be paired with 60 Hz screens, which are even slower, dimmer and overall lower quality than these 144 and 120 Hz options. They help drive the price down for those base models, and it's up to you if the compromise is worth it.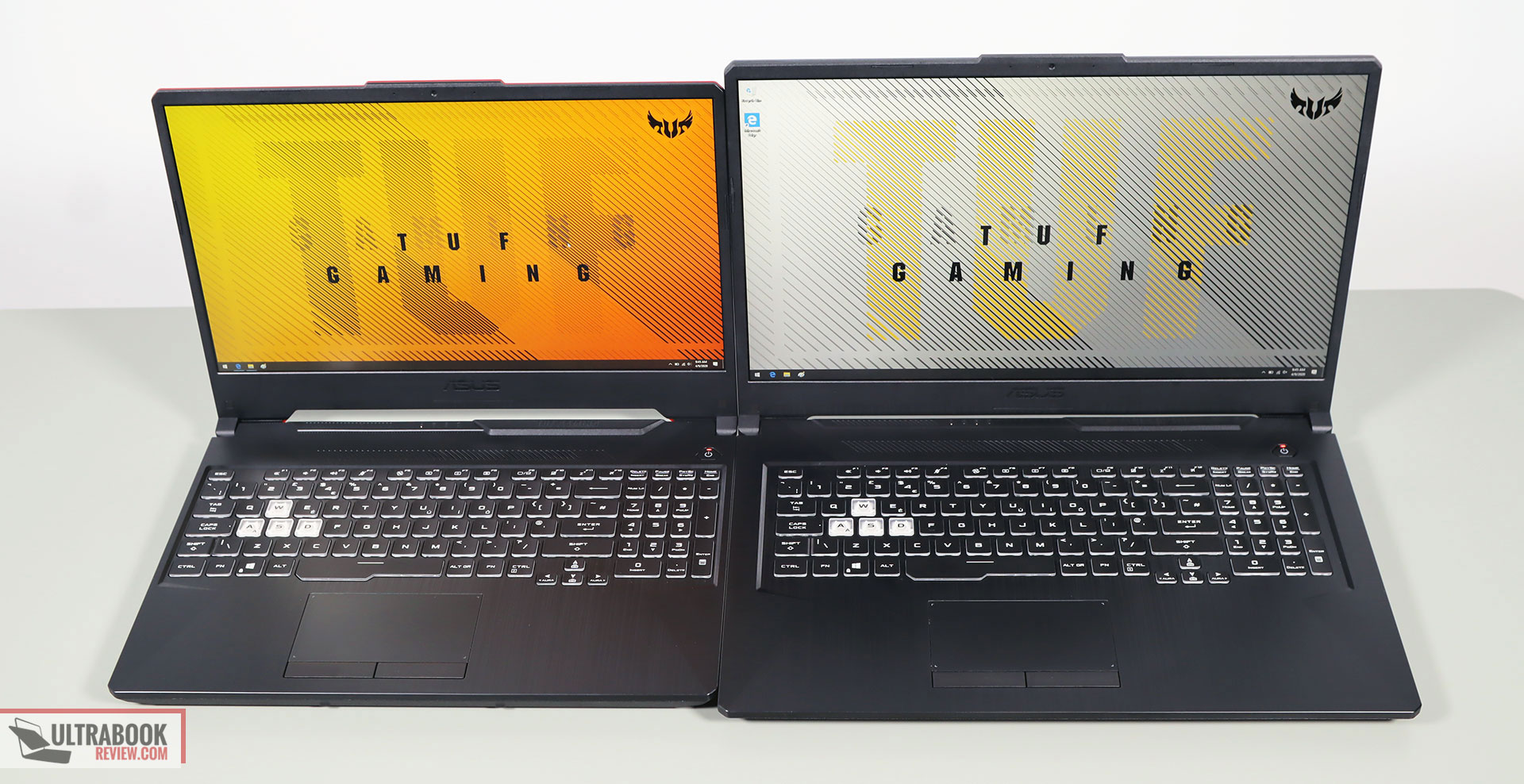 Performance and thermals
OK, let's talk numbers now. We've tested two A15s and one A17, in these configurations illustrated here.
ASUS TUF Gaming A15 FA506IV
ASUS TUF Gaming A15 FA506IU
ASUS TUF Gaming A17 FA706II
Display
15.6-inch, 1920 x 1080 px IPS 144 Hz, 16:9, non-touch, matte, Panda LM156LF-2F01 panel
15.6-inch, 1920 x 1080 px IPS 144 Hz, 16:9, non-touch, matte, Panda LM156LF-2F01 panel or 15.6-inch, 1920 x 1080 px IPS 60 Hz, 16:9, non-touch, matte, LG LP156WFC-SPD1 panel
17.3-inch, 1920 x 1080 px IPS 120 Hz, 16:9, non-touch, matte, AU Optronics B173HAN04.7 panel
Processor
AMD Ryzen 7 4800H, 8C/16T
AMD Ryzen 7 4800H, 8C/16T or Ryzen 5 4600H 6C/12T
AMD Ryzen 7 4800H, 8C/16T
Video
AMD Radeon Vega + Nvidia GeForce RTX 2060 90W OC 6GB GDDR6
AMD Radeon Vega + Nvidia GeForce GTX 1660Ti 80W OC 6GB GDDR6
AMD Radeon Vega 8 + Nvidia GeForce GTX 1650 Ti 50W 4GB GDDR6
Memory
up to 32 GB DDR4 3200 MHz (2x DIMMs)
up to 32 GB DDR4 3200 MHz (2x DIMMs)
up to 32 GB DDR4 3200 MHz (2x DIMMs)
Storage
2x M.2 PCI x4 slots on 90W battery version
2x M.2 PCI x4 slots + 2.5″ HDD bay on 48Wh battery model
1x M.2 PCI x4 slot + 2.5″ HDD bay on 48Wh battery model
Connectivity
Gigabit LAN (Realtek RTL8168/8111), Wireless 5 (Realtek 8822CE) 2×2, Bluetooth 5.0
Ports
2x USB-A 3.2, 1x USB-A 2.0, 1x USB-C gen 2 with DP and data, HDMI 2.0b, LAN, headphone/mic, Kensington Lock
Battery
90 Wh, 230 W power adapter
48 Wh, 180 W power adapter
48 Wh, 180 W power adapter
Size
360 mm or 14.17" (w) x 256 mm or 10.079" (d) x 24.9 mm or .98" (h)
399 mm or 15.70" (w) x 269 mm or 10.59" (d) x 25.2 mm or .99" (h)
Weight
2.22 kg (4.9 lbs), .80 kg (1.76 lbs) power brick and cables, EU version
2.21 kg (4.9 lbs), .60 kg (1.32 lbs) power brick and cables, EU version
2.45 kg (5.4 lbs), .65 kg (1.1 lbs) power brick and cables, EU version
Extras
single-zone RGB backlit keyboard, webcam, stereo speakers
They might no be the exact options available in your region, but will help you make a general idea of what to expect when mix-and-matching the two AMD CPU options with the three Nvidia GPU variants. All the tested configurations get dual-channel memory, which is a must as it impacts the performance in games and some benchmarks, as well as comparable mid-tier SSD storage. It's also important to add that all our tests are running on the Turbo power profile available on all these laptops in the Armoury Crate control software, which ramps up the CPU and overclocks the GPU in each case.
With these in mind, we've tested the CPU's performance in a couple of tests and scenarios, and gathered the results in here. The two Ryzen 7 models deliver outstanding multi-threaded performance, and the A17 variant slightly overtakes the A15 model in some of the demanding loads. That's mostly due to silicon lottery, though, as the two implementations run at the same frequencies and temperatures on both laptops. On the other hand, the 6Core Ryzen 5 is a highly competitive processor as well, outmatching even the better 6Core Intel i7 configurations in multi-threaded loads, and only loosing in some of the single-core tests.
These TUF models are also capable of sustained performance in longer demanding chores, as illustrated by out Cinebench loop test. The performance remains consistent for 15+ runs, which means the thermal and power design are adequate for these powerful AMD platforms.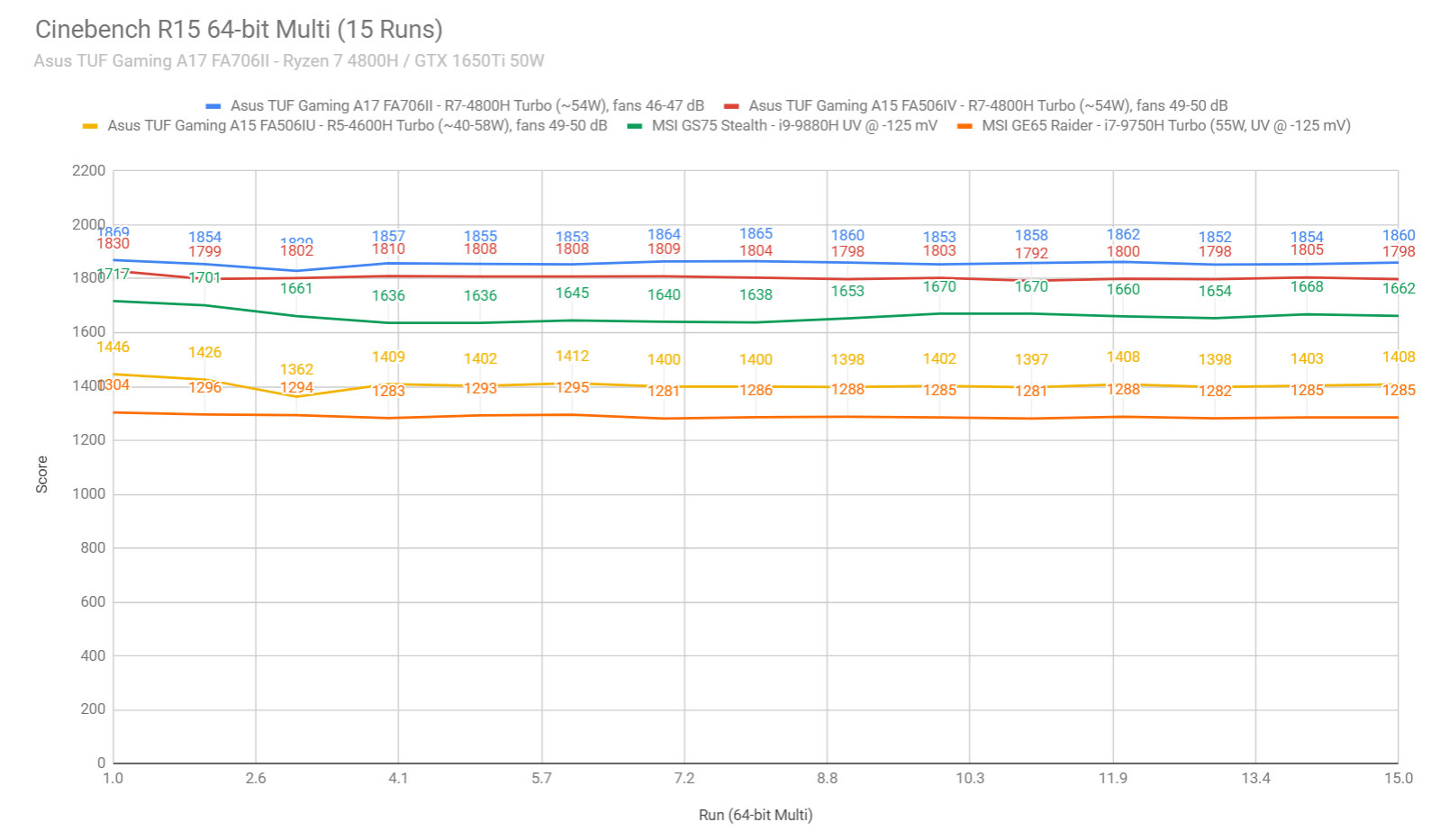 As always, more benchmarks and a more in-depth look at the performance is included in each of our detailed reviews: FA506IV (Ryzen 7, RTX 2060), FA506IU (Ryzen 5, GTX 1660Ti) and FA706II (Ryzen 7, GTX 1650Ti).
As far as graphics options go, you can only get an RTX 2060 90W GPU on the TUF A15, paired with a Ryzen 7 processor, while GTX 1660Ti and 1650Ti versions are available on both frames. Our A17 gets this new 2020 Nvidia 1650Ti chip with GDDR6 memory, and you can see how it stacks against the higher-tier options in these Graphics tests, part of the 3Dmark suite.
We've also run a couple of different games on these laptops, and here's what to expect. Yes, the GTX 1650Ti won't be normally paired with a Ryzen 7 processor in most regions, but switching over to the Ryzen 5 shouldn't have a major impact in most of these modern titles, as they're not designed to scale on an 8Core processor in the first place. That RTX 2060 on the top-tier A15 is roughly 10-15% faster than the GXT 1660Ti on the mid-level A15, while the 1650Ti trails both by a significant margin. It can still run most games well, but you'll have to cut on the details in most recent titles to keep the framerates above 60.
| | | | |
| --- | --- | --- | --- |
| | TUF FA506IU | TUF FA706II | TUF FA506IV |
| Battlefield V (DX 12, Ultra Preset, Ray-Tracing OFF) | 78-90 fps | 58-64 fps | – |
| Battlefield V (DX 12, Ultra Preset, Ray-Tracing ON, DLSS OFF) | – | – | – |
| Far Cry 5 (DX 11, Ultra Preset, SMAA) | 83 fps | 62 fps | 91 fps |
| Middle Earth: Shadow of Mordor (DX 11, Ultra Preset) | 140 fps | 102 fps | 147 fps |
| Red Dead Redemption 2 (DX 12, Ultra Optimized, TAA) | 59 fps | 44 fps | 69 fps |
| Rise of Tomb Raider (DX 12, Very High Preset, FXAA) | 85 fps | 66 fps | 91 fps |
| Shadow of Tomb Raider (DX 12, Highest Preset, TAA) | 73 fps | 49 fps | 78 fps |
| Strange Brigade (Vulkan, Ultra Preset) | 106 fps | 74 fps | 119 fps |
| The Witcher 3: Wild Hunt (DX 11, Ultra Preset, Hairworks On 4) | 58-82 fps | 40-64 fps | 64-98 fps |
Battlefield V, The Witcher 3 – recorded with Fraps/in-game FPS counter in campaign mode;
Far Cry 5, Middle Earth, Strange Brigade, Red Dead Redemption, Tomb Raider games – recorded with the included Benchmark utilities;
Red Dead Optimized profile based on these settings.
As far as thermals go, here's what we measured in terms of CPU and GPU temperatures in Far Cry 5 and Witcher 3.
TUF A15 FA506IV – Ryzen 7 4800H + RTX 2060 90W, Turbo: Far Cry 5 (95 CPU, 78 GPU), Witcher 3 (92 CPU, 79 GPU);
TUF A15 FA506IU – Ryzen 5 4600H + GTX 1660Ti 80W, Turbo: Far Cry 5 (94 CPU, 78 GPU), Witcher 3 (90 CPU, 75 GPU);
TUF A17 FA706II – Ryzen 7 4800H + GTX 1650Ti 50W, Turbo: Far Cry 5 (93 CPU, 70 GPU), Witcher 3 (87 CPU, 70 GPU).
Sure, the A17 runs slightly cooler, but it's also the more basic thermal design and copes with a lower-power GPU.
It would have been interesting to compare the exact same Ryzen 7 and GTX 1660Ti configurations of both the A15 and A17 versions, to see if there's any hope for improved temperatures in the larger chassis, but we didn't get those configurations for review. Still, as far as I can tell right now based on testing all these AMD 4000 platforms, I'd expect minimal differences between the 15 and 17-inch models, since the chassis never gets hot on any of these implementations, not even on the top-tier A15, and thus doesn't have an impact over the CPU and GPU temperatures. Repasting the components should help though, so buying from a third-party seller that offers this option is definitely not a bad idea. Of course, you can also do it yourselves, as long as you know what you're doing and don't mind voiding warranty.
I should also add that the A17 runs a little bit quieter in this configuration than the tested A15 models. With games, the A15s top at about 48-50 dB at head-level, while the A17 ramps to about 46-48 dB. But again, that doesn't tell us much, since we're talking about different configurations, and overall I'd expect similar noise levels on matching A15 and A17 configurations.
They'll also get similar runtimes on a charge, as long as you're going with the same battery option. Expect 3-5 hours of multitasking and 8-10 hours of video from the 90W battery, and 2-3 hours of multitasking and 4-5 hours of video from the 48Wh option.
Final thoughts
Ok, so we've touched on most of the important aspects you need to be aware of when deciding between these two TUF versions. In conclusion, the A15 has an edge in terms of configuration as the only one to get that RTX 2060 GPU and a 144 Hz screen, plus also has a price advantage over the A17. As of right now, the mid-tier Ryzen 7/ GTX 1660Ti model goes for $999 on the A15 and $1099 for the A17, both with the 90W batteries and the higher-quality panels available in each case. That means you'd have to pay extra for the larger, but slightly poorer screen on the A17, without getting much else in return.
Sure, we haven't tested these exact configurations so we can't haste to any conclusions regarding any small differences in performance or thermals for the larger model, so you should look into other reviews as well. If the 17-inch models offer even marginal improvements in CPU/GPU temperatures with games and demanding loads, that could be another reason for you to go with the A17s over the A15s, especially since these AMD platforms run hot and a decrease of even 2-3 degrees would be beneficial long-term, once these laptops age and their fans fill up with dust. But all in all, I find the 15-inch TUF Gaming A15 to be the more compelling option between the two, and don't really see the point of paying extra for that A17, unless you absolutely want a 17-inch AMD-powered laptop.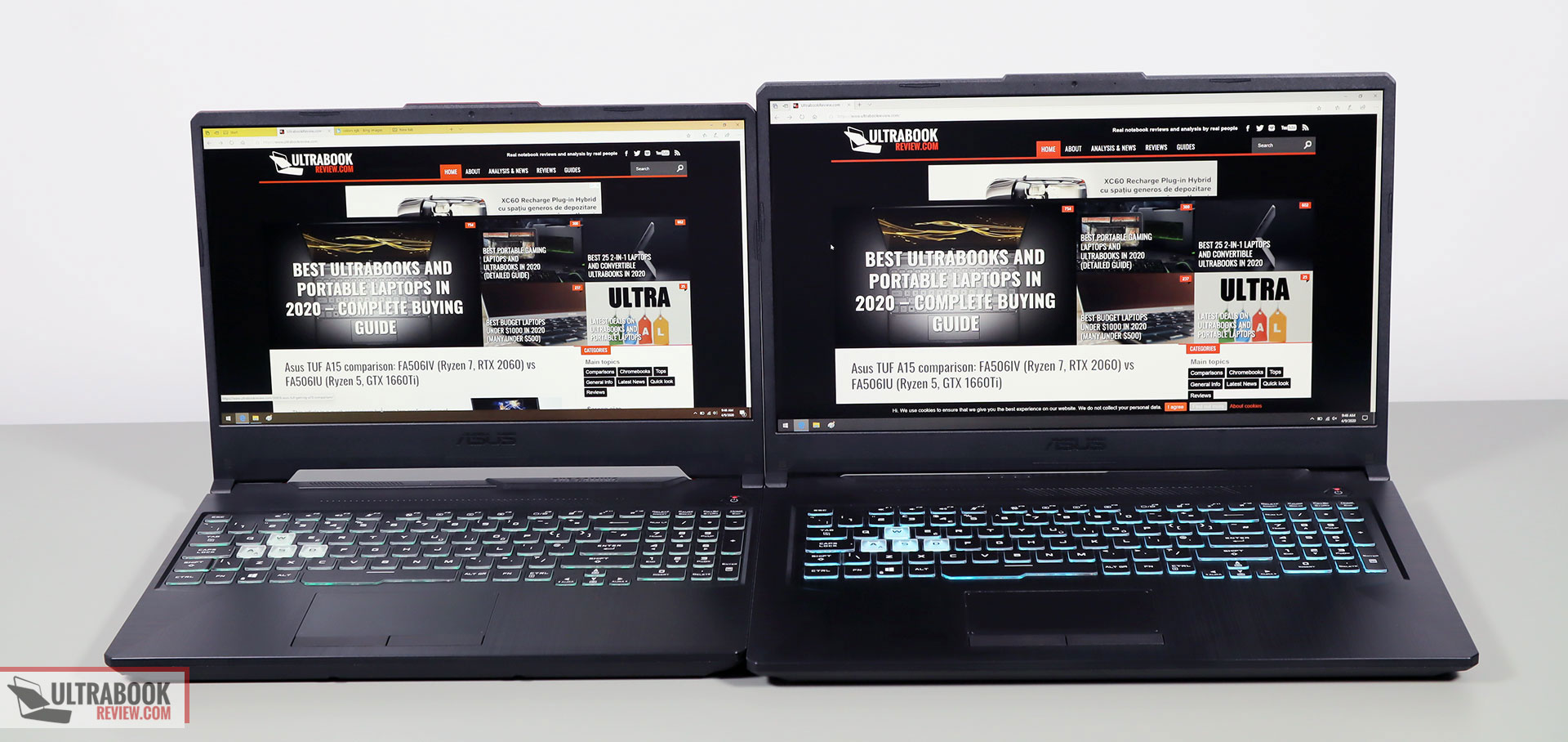 This pretty much wraps up this comparison, but I'd also love to hear what you think about these two notebooks and which one is your pick, so please leave your comments down below.
Disclaimer:
Our content is reader-supported. If you buy through some of the links on our site, we may earn a commission.
Terms
.