We've spent the last two weeks reviewing a couple of AMD 4000-series powered laptops, and in this article, we'll look at how the Asus TUF Gaming A15, currently the best value offer in this AMD lineup, compares with one of the best Intel-based models, the popular Acer Predator Helios 300.
For the AMD side, we're including two configurations, one built on a Ryzen 5 and GTX 1660Ti platform, and another built on a Ryzen 7 and RTX 2060 90W platform, while for the Predator we've only included the higher-tier configuration, with the Intel Core i7 processor and the RTX 2060 80W GPU, as we haven't tested the 1660Ti model. All the results are based on our own reviews.
Before we get to talk about the performance, thermals and noise levels in daily use, demanding loads and games, let's quickly touch on a few other aspects of these laptops.
Build and design
First off, the Predator is mostly the more premium looking of the two here, with its aluminum-made lid-cover and interior. In comparison, the TUF series gets a brushed plastic interior, and two choices for the exterior.
The gray one is metallic, while this black one is plastic and shows smudges much easily. Still, the dark aluminum on the Predator is even more prone to smudges and finger-oil.
The Predator also gets an obnoxious blue-backlit logo on the lid-cover, flanked by two blue bars, while the Asus models, especially the Gray version, are simpler and easier to get accepted in strict business or school environments.
On the other hand, Acer did a better job at keeping the interior design clean, as they went with a plain piece of metal for the main-deck and pushed the status LEDs to the sides. Asus went with a couple of different textures for their plastic construction, with the LEDs placed beneath the screen and with an always lit power-button, both annoying when watching a movie at night.
Finally, the Predator gets a sharp front lip and pointy corners, which can bite into your wrists on a smaller desk, while these are blunted and friendlier on the TUFs.
Now, despite the different choices in materials, both laptops feel sturdy and well made, with little flex in the main chassis and some flex in the lid. The screens can be lifted up and adjusted with a single hand on both of these, and go back to about 145 degrees. They also get small bezels all around, with hefty chins, and cameras and mics at the top. The Predator is marginally more compact than the TUFs, but also a bit heavier, by about 100 grams.
Flipping the laptops upside down, both get a hard plastic D-panel with grippy rubber feet, bottom-firing speakers and intake cuts. The back is more open on the Predator though, which allows for more air to get in, but that also means dust will gather inside easier. Asus went with a different approach that restricts air admission through smaller cuts in this honeycomb grid, and they also take air in through that grill at the top of the keyboard. Both laptops push out the hot air through the back and sides. They get different thermal designs, though, as you can see down below.
Acer went with a symmetrical layout for the CPU and GPU, thus also gets radiators and exhausts on both laterals, while Asus went with a simpler design for the CPU and only uses a lateral exhaust for the GPU, on its right edge.
This aspect impacts the CPU and GPU temperatures, which we'll touch on in a bit, but also the IO layout. The TUFs get most of the ports on the left side, with the PSU and LAN tucked out-of-the-way on the back, while the Predator spreads the ports on both sides, but pushes them towards the front, which means that PSU, the LAN adapter, and especially the HDMI/DP cables on the right-edge could get in your way if you decide to hook up an external monitor.

In conclusion, the Predator is the nicer feeling and looking laptop of the two, if you don't mind that logo on the lid. But the TUFs are well built as well and slightly more practical, with the friendlier edges and the more conveniently placed IO on the left side. That's why I'd say this section is mostly a toss-up between the two. What do you think?
Inputs
These laptops are mostly on par when it comes to their inputs as well.
Both get similar keyboard layouts with full-size keys and a smaller NumPad Section. The difference is in the top row of Function keys, with more dedicated keys on the Predator, as well as in the arrows' design, with larger, but cramped keys on the Predator, and smaller, but better-spaced keys on the TUF. Overall, I prefer Acer's layout a bit more.
However, I enjoyed typing on the TUF A15s a little more. Both keyboards are somewhat shallow and spongy, but the keys on the Predator actuate too easily for my liking, so were more unforgiving and prone to errors. It's important to mention that this Predator is one year old, and has seen a lot of action during this time, while the TUFs are brand new, so there's a good chance the two will feel the same once the keys brake in.
Both of these are also RGB backlit, but the Predator gets 4-zone control over the illumination, while the TUFs only get a single-zone implementation.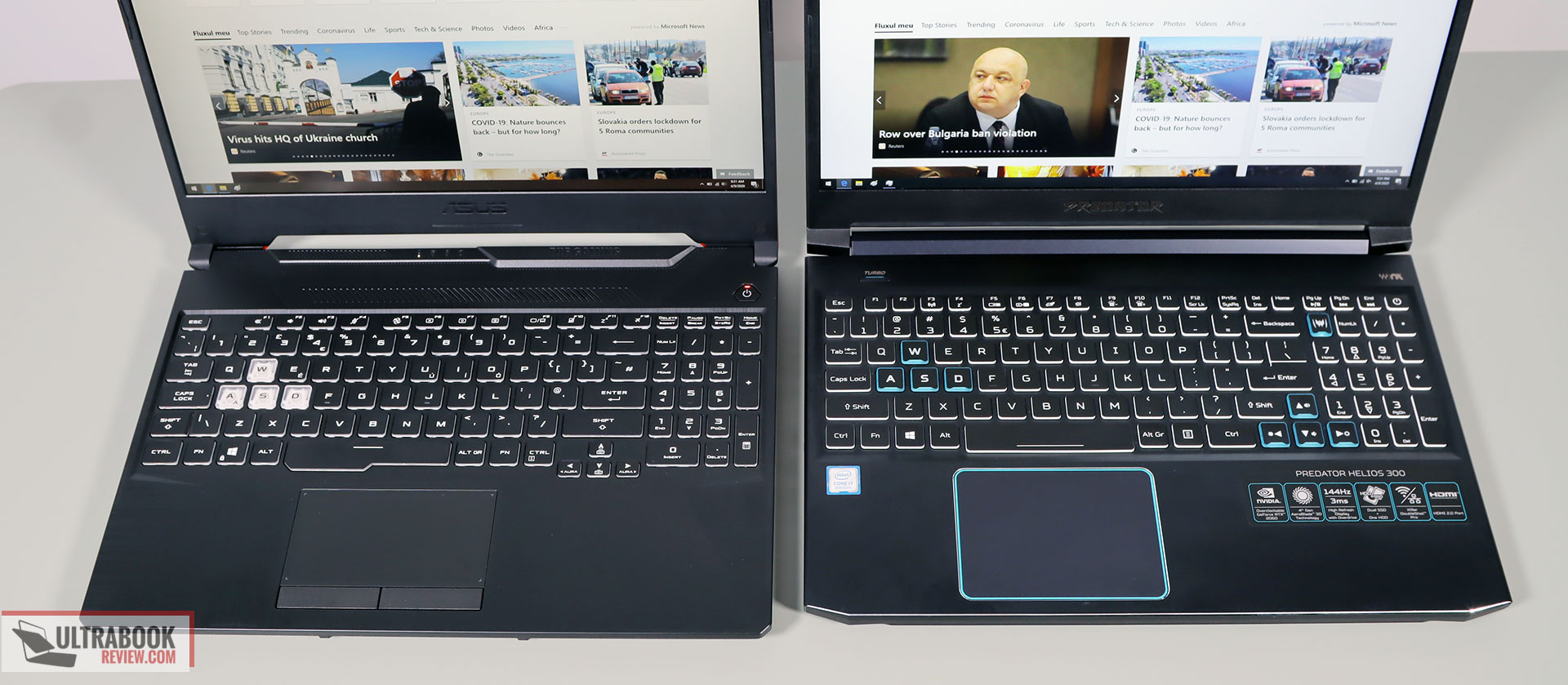 I also prefer the touchpad on the Asus models. They went with an immovable plastic surface and dedicated click buttons, while Acer went with a standard plastic clickpad. That's slightly larger in size, but the clicks are stiffer and clunkier, and the surface rattles louder with taps.
Screens
The Predator wins when it comes to the screen, though.
On paper, the two get similar 15-inch FHD IPS-like 144 Hz displays, but in reality, the AU Optronics panel on the Predator is brighter, richer, offers wider viewing angles and faster response time. Contrast is about on par between the two, but the Predator's panel is not as uniform and more prone to light bleeding around the edges.

The richer colors and the faster response time are the key aspects that set these panels apart. Nicer colors make for a more pleasant daily use experience, while the faster response helps reducing ghosting in games. For what is worth, ghosting didn't really bother me that much on the A15, but it's something to consider if you're playing shooters and other such fast-paced games.
On this same note, the A15s include Adaptive Sync which eliminates tearing, while VSync is the only option for that on the Predator, which as you know, adds in a small amount of lag. However, I don't think tearing should weigh much in your decision on a 144 Hz screen anyway.
Specs, performance and thermals
Ok, with these out of the way, let's touch on these laptops' performance.
Here are the exact configurations we're including here, the mid and top-specced versions of the Asus TUF Gaming A15s, and the top-variant of the Acer Predator Helios 300. All get dual-channel RAM and SSD storage, but with faster RAID0 support on the Predator, which can impact certain activities.
ASUS TUF Gaming A15 FA506IV
ASUS TUF Gaming A15 FA506IU
Acer Predator Helios 300
Display
15.6-inch, 1920 x 1080 px IPS 144 Hz, 16:9, non-touch, matte, Panda LM156LF-2F01 panel
15.6-inch, 1920 x 1080 px IPS 144 Hz, 16:9, non-touch, matte, Panda LM156LF-2F01 panel or 15.6-inch, 1920 x 1080 px IPS 60 Hz, 16:9, non-touch, matte, LG LP156WFC-SPD1 panel
15.6-inch, 1920 x 1080 px IPS 144 Hz 3ms, 16:9, non-touch, matte, Panda AU Optronics AUO82ED panel
Processor
AMD Ryzen 7 4800H, 8C/16T
AMD Ryzen 7 4800H, 8C/16T or Ryzen 5 4600H 6C/12T
Intel Core i7-9750H, 6C/12T
Video
AMD Radeon Vega + Nvidia GeForce RTX 2060 90W OC 6GB GDDR6
AMD Radeon Vega + Nvidia GeForce GTX 1660Ti 80W OC 6GB GDDR6
Intel UHD + Nvidia GeForce RTX 2060 80W OC 6GB GDDR6
Memory
up to 32 GB DDR4 3200 MHz (2x DIMMs)
up to 32 GB DDR4 3200 MHz (2x DIMMs)
up to 32 GB DDR4 2666 MHz (2x DIMMs)
Storage
2x M.2 PCI x4 slots on 90W battery version
2x M.2 PCI x4 slots + 2.5″ HDD bay on 48Wh battery model
2x M.2 PCI x4 slots with RAID0 support
Connectivity
Gigabit LAN (Realtek RTL8168/8111), Wireless 5 (Realtek 8822CE) 2×2, Bluetooth 5.0
Killer 1550i AC WiFi  with Bluetooth 5.0, Killer E2500 Gigabit Ethernet LAN
Ports
2x USB-A 3.2, 1x USB-A 2.0, 1x USB-C gen 2 with DP and charging, HDMI 2.0b, LAN, headphone/mic, Kensington Lock
2x USB-A 3.2, 1x USB-A 2.0, 1x USB-C gen 2 with DP and charging, HDMI 2.0b, LAN, headphone/mic, Kensington Lock
Battery
90 Wh, 230 W power adapter
48 Wh, 180 W power adapter
58 Wh, 180 W power adapter
Size
360 mm or 14.17" (w) x 256 mm or 10.079" (d) x 24.9 mm or .98" (h)
362 mm or 14.25" (w) x  254 mm or 10" (d) x  22.9 mm or .9" (h)
Weight
2.22 kg (4.9 lbs), .80 kg (1.76 lbs) power brick and cables, EU version
2.21 kg (4.9 lbs), .60 kg (1.32 lbs) power brick and cables, EU version
2.41 kg (5.3 lb), .55 kg (1.21 lbs) power brick and cables, EU version
Extras
single-zone RGB backlit keyboard, webcam, stereo speakers
4-zone RGB backlit keyboard, webcam, stereo speakers
Update: In the meantime, we've also tested the updates 2020 version of the Acer Predator Helios 300, and you can find all about it from our detailed review.
The hardware is easily accessible on the two by removing the back panel, and inside both lines offer two memory slots and two M.2 PCIe x4 SSD slots. The Predator also includes a 58 Wh battery and a HDD cage, while Asus offer the A15s in two versions, one without a HDD and a 90W battery, and one with a HDD cage and a 48 Wh battery. The former is mostly reserved for the higher specced configurations, in which case the TUF models end up with a larger battery and only M.2 storage.

Both laptops also offer a few different power profiles, some designed to favor lower noise, for daily use, and some designed to favor performance over everything else. We've run our tests on these high-performance modes, which increase the CPU's power allocation and overclock the GPUs. Acer also undervolts the Predator Helios 300 by default at -125 mV on its Extreme power setting.
We're only going to include a few benchmarks results here, and more detailed tests are available in our reviews (here and here). However, keep in mind that our Predator Helios is an early edition from 2019, that's why it only runs on an 8th gen processor, while most retail units run on a 9th gen i7-9750H, which return 3-5% improved results in some of the CPU tests. That's why we've also included an i7-9750H configuration in here, from one of our other reviews, so you'll better understand what to expect.
Nonetheless, the 8Core Ryzen 7 4800H massively outperforms any of the Intel i7s in multi-threaded tests, and comes on top in most single-core tests as well. At the same time, the 6Core Ryzen 5 4600H wins by 10-20% in multi-core loads, and marginally loses to the 9th gen i7 in single-core loads.
These notebooks also do a great job of maintaining consistent performance across longer demanding loads, as simulated by our Cinebench multi-loop test, which means the thermal modules can keep the hardware within good operational temperatures. Nonetheless, the CPU and GPU in the A15s run slightly hotter on both tested configurations.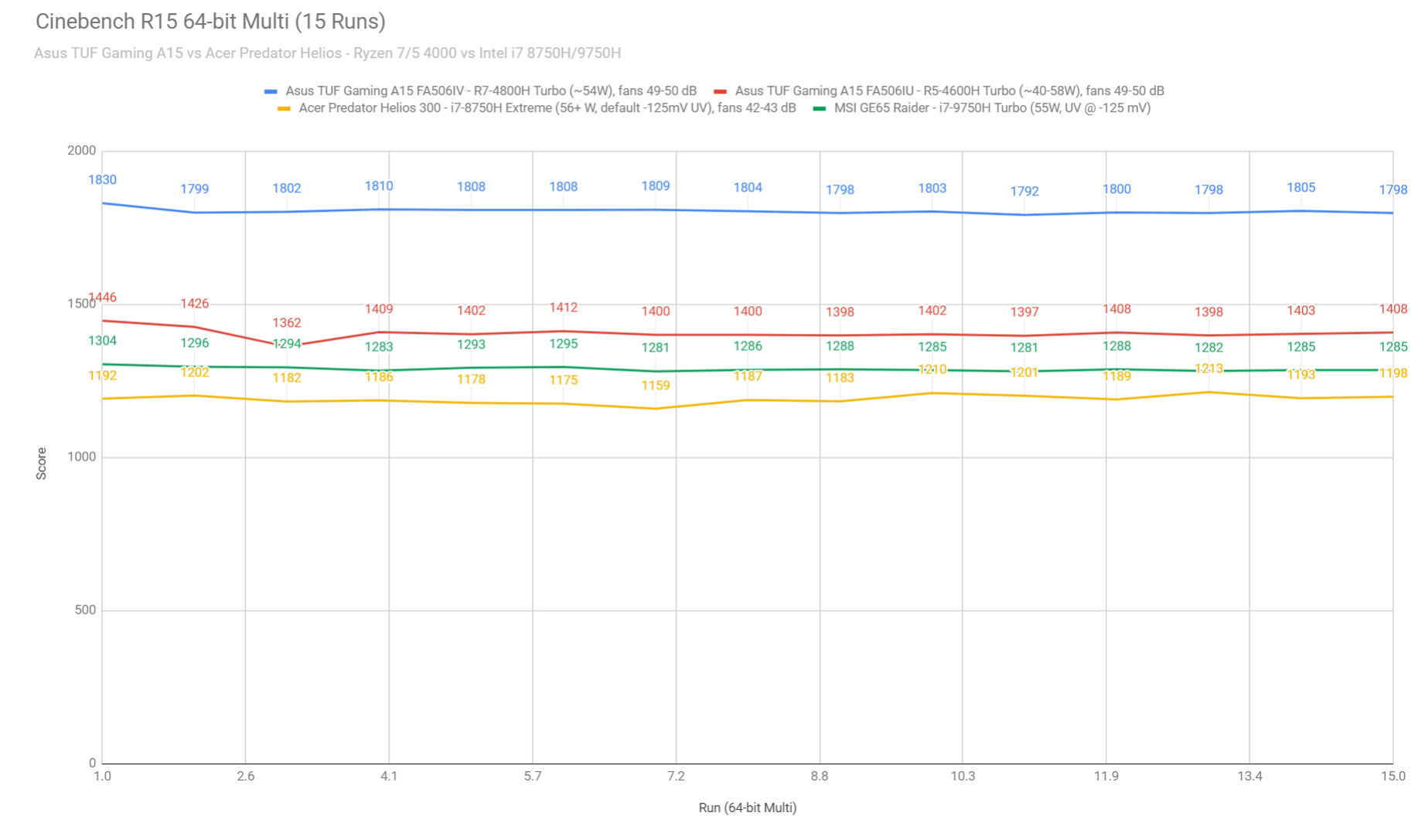 That's mostly going to be a concern when it comes to gaming.
First, here's what to expect in terms of average framerates in a couple of different titles, both modern and older. Again, the TUFs are running on the Turbo profile, and the Helios on its Extreme setting. Both increase the CPU's power allocation and overclock the GPU (+100 MHz Core/+30 MHz Memory on the TUFs, +180 MHz Core/+80 MHz Memory on the Predator)
| | | | |
| --- | --- | --- | --- |
| | TUF FA506IU | Acer Helios 300 | TUF FA506IV |
| Battlefield V (DX 12, Ultra Preset, Ray-Tracing OFF) | 78-90 fps | 86-96 fps | – |
| Battlefield V (DX 12, Ultra Preset, Ray-Tracing ON, DLSS OFF) | – | 44-54 fps | – |
| Far Cry 5 (DX 11, Ultra Preset, SMAA) | 83 fps | 89 fps | 91 fps |
| Middle Earth: Shadow of Mordor (DX 11, Ultra Preset) | 140 fps | 153 fps | 147 fps |
| Red Dead Redemption 2 (DX 12, Ultra Optimized, TAA) | 59 fps | 68 fps | 69 fps |
| Rise of Tomb Raider (DX 12, Very High Preset, FXAA) | 85 fps | 83 fps | 91 fps |
| Shadow of Tomb Raider (DX 12, Highest Preset, TAA) | 73 fps | 78 fps | 78 fps |
| Strange Brigade (Vulkan, Ultra Preset) | 106 fps | 112 fps | 119 fps |
| The Witcher 3: Wild Hunt (DX 11, Ultra Preset, Hairworks On 4) | 58-82 fps | 66-92 fps | 64-98 fps |
Battlefield V, The Witcher 3 – recorded with Fraps/in-game FPS counter in campaign mode;
Far Cry 5, Middle Earth, Strange Brigade, Red Dead Redemption, Tomb Raider games – recorded with the included Benchmark utilities;
Red Dead Optimized profile based on these settings.
Based on these findings, an eight-core processor doesn't help much with most existing titles, but should scale up in the future with better multi-threaded support from new launches. Furthermore, the 90W RTX 2060 configuration of the TUF A15 trades blows with the 80W 2060 in the Predator, and that's in part because it is overclocked higher in the Helios on the Extreme profile, which is allowed by its better thermals.
Here's how these laptops do in terms of CPU and GPU temperatures in Far Cry 5 and Witcher 3. As I mentioned before, the Helios 300 has a small edge on the AMD based configuration while being overclocked higher and running quieter, and in my opinion, that's mostly thanks to the superior thermal design implemented by Acer here.
TUF Gaming A15 FA506IV – Ryzen 7 4800H + RTX 2060 90W, Turbo: Far Cry 5 (95 CPU, 78 GPU), Witcher 3 (92 CPU, 79 GPU);
TUF Gaming A15 FA506IU – Ryzen 5 4600H + GTX 1660Ti 80W, Turbo: Far Cry 5 (94 CPU, 78 GPU), Witcher 3 (90 CPU, 75 GPU);
Predator Helios 300 – Core i7-8750H + RTX 2060 80W, Turbo: Far Cry 5 (92 CPU, 75 GPU), Witcher 3 (91 CPU, 75 GPU).
The games are running on the Turbo/Extreme settings with the fans set on Auto. That translates in noise levels of around 48-50 dB at head-level on the Asus laptops, and only about 44-45 dB on the Predator, which is significantly quieter. However, the Predator's metallic interior reaches higher temperatures in the mid to high 40s, while the plastic A15s run cooler by 3-7 degrees, so are more comfortable to game on for long periods of time.
At the same time, Acer allows to push the fans to a Turbo setting, which further reduces the CPU and GPU temperatures by a couple of degrees, but ramps the fans to 54-55 dB, rendering the laptop pretty much unusable without some good headphones.
In all fairness, though, you'll probably want to use headphones with both of these when playing games, as the included speakers aren't that great. The sound is slightly richer on the A15s, which get larger speakers, but don't expect much on either of them. The headphone output is pretty good in both cases, though, as far as my ears can tell.
Before we wrap this up we should also touch on the battery life, which is clearly a win for the Asus TUF models on the 90W battery configurations. Expect 3-5 hours of daily use and 8-10 hours of video from these, and only about 2-3 hours of multitasking and 4-5 of video on the Predator. Furthermore, none of these laptops charge via USB-C, and the A15 FA506IV comes with a bulkier and heavier 230W charger, while the others get a smaller 180W one.
Final thoughts
Ok, so which is the better laptop here? Well, there's actually no easy answer, as you have to consider what you primarily want from your laptop, and also much each sells for in your region.
Drawing the line on these two, you've seen that each have strong points and quirks.
However, the A15s clearly win at the performance in demanding loads due to those competent AMD platforms, as well as at battery life, but they lose to the Predator at two key elements: screen and thermal behavior. Both of these are crucial if you're primarily after a gaming laptop, that's why the Predator is still the one to get in this case, for matching configurations and pricing.
Right now, though, the TUF Gaming A15 models retail at a lower price, both for the GTX 1660ti and the RTX 2060 models. The Predator is normally listed for 100-300 more, but at the same time is also an older product and occasionally available on sale, which might push the balance in its favor, as long as it ticks all the other right boxes for you.
Follow these links for updated prices and configurations of the Asus TUF Gaming A15 and Acer Predator Helios 300 lineups.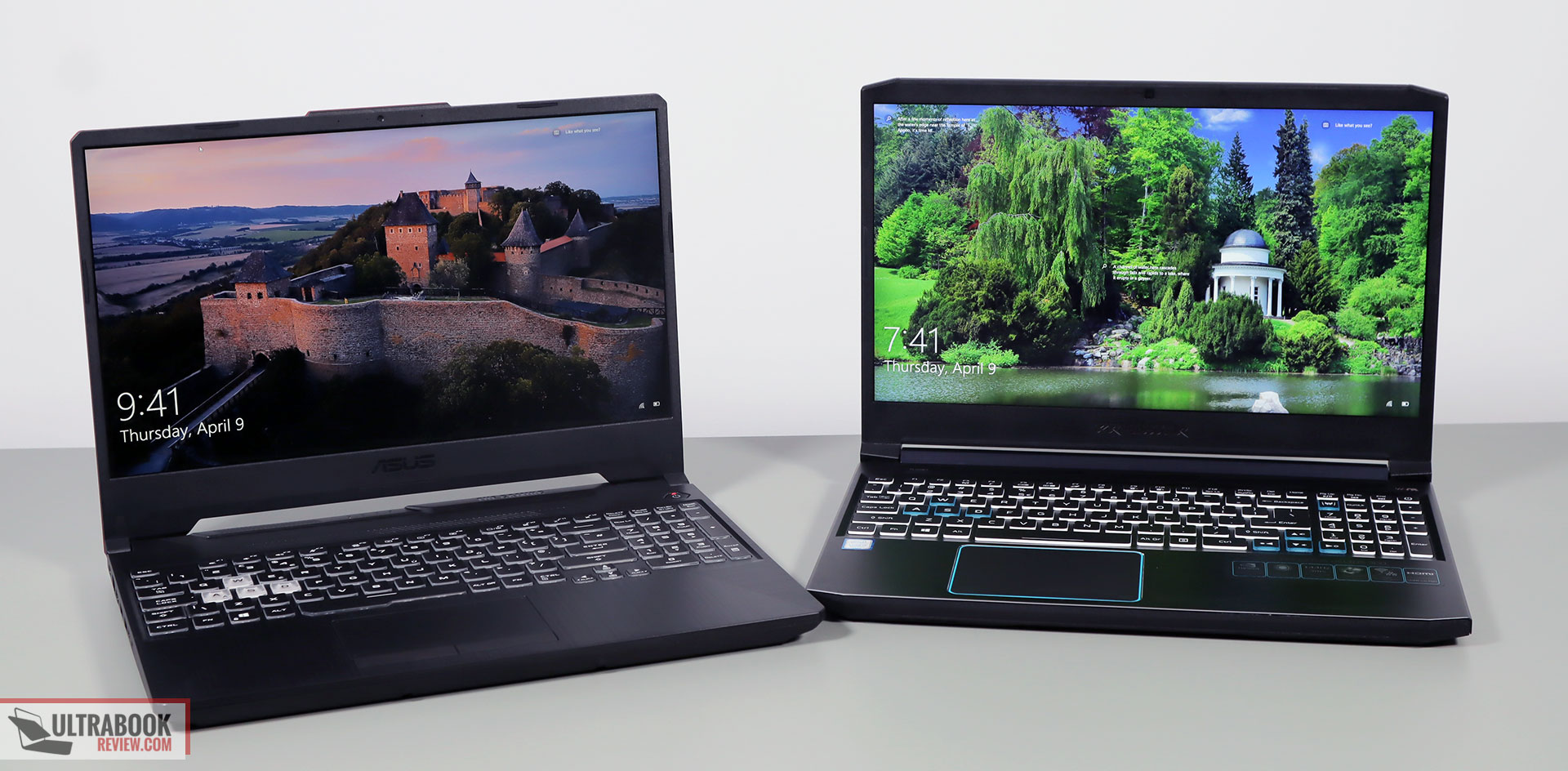 That pretty much wraps up this comparison, but I'd love to hear what you think about these notebooks and which one is your pick, so please leave your comments down below.
Disclaimer:
Our content is reader-supported. If you buy through some of the links on our site, we may earn a commission.
Terms
.