The Surface Pro X is Microsoft's take at a pro-level computer meant to provide the full Windows experience on an ARM (Qualcomm Snapdragon) platform.
Why is this important? Well, mostly because an ARM product is going to be slimmer, lighter, longer-lasting on a charge than an Intel/AMD computer, and always connected via LTE.
Of course, this is not the first ARM/Windows venture in recent years, and not even Microsoft's first. But it's the first that takes a no-compromise approach and the first fully backed by the biggest players in this field, Qualcomm and Microsoft.
Microsoft pretty much took their experience with the Surface Pro lineup and put it into this refined Pro X. Physically, this is a 13-inch device with an awesome high-resolution high-quality touchscreen (2,880 x 1,920 px, 1400:1 contrast, 450 nits brightness), pen and Typecover support, fast performance, full Windows 10 support (not just the Windows 10 S, like on other ARM devices) and supposed all-day battery life.
The video down below puts the Surface Pro X right next to the new Surface Pro 7, if you're interested in how the two stack against each other design-wise.
There's no doubt this Surface Pro X is a great piece of engineering.
It's thin and compact and light, as you can tell from the video and the pictures. It's also very slim, at only 7.3 mm, and should fit nicely in the hands thanks to its chamfered edges and rounded corners. It also gets an excellent display with small bezels, high resolution, good contrast and touch-support.
The specs sheet
| | |
| --- | --- |
| | Surface Pro X |
| Screen | 13 inch, 2880 x 1920 px resolution (3:2 aspect ratio), IPS, touch, 450 nits |
| Chipset | Microsoft SQ1 (ARM -Qualcomm based) |
| Memory | up to 16 GB LPDDR4X (soldered, dual-channel) |
| Storage | up to 512 GB SSD (upgradeable) |
| Connectivity | WiFi 5 AC with Bluetooth 5.0, LTE (Snapdragon X24 modem) |
| Ports | 2x USB-C 3.2, 1x Surface Connect port, 1x Surface Keyboard connector, 1x nano SIM |
| Battery | up to 13 hours, 60+5 W charger |
| Size | 287 mm or 11.3" (w) x 208 mm or 8.2" (d) x 7.3 mm or 0.28" (h) |
| Weight | ~.77 kg / 1.7 lbs (without Type Cover) |
| Price | from $999 (US) |
A pen is included, and it's been redesigned in order to holster and wirelessly charge inside a nest in the Type Cover.
It's flat in shape, unlike most of the other pens out there that are round, so I'm not sure how it will feel while taking notes and drawing for a longer time. It also integrates with the software, as a whiteboard launches automatically when you pull it up. According to Microsoft, this pen should also have improved latency, pressure sensitivity (4096 points of pressure) and overall a better feel than most other digital pens out there.
To showcase the pen's capabilities, Microsoft worked with Adobe to create the Fresco app as part of the Creative Suite kit, which attempts to recreate what it feels like to paint with real brushes and pencils. From what I can tell, the rest of the Adobe CC Suite is not fully supported on ARM for now, though Adobe said they're working on it.
As for the keyboard and overall feel of the Type Cover, it's much like the one on the Surface Pros, but this time its gets a larger clickpad.
The Pro X also gets decent IO for a device of its size, with two USB-C 3.2 slots on the left-hand side of the device, with support for transfer and video. There's also the Surface Connect port, which suggests this will most likely not be able to charge via SUB-C, but much like with any other modern phone and tablet, it does support quick-charging. There's also no headphone jack, so you'll need Bluetooth headphones instead.
Of course, the big question is how will the Surface Pro X perform with daily use. The early impressions suggest it's snappy and smooth, and Microsoft claims there's no major difference between this Pro X and a regular x86 based computer, thanks to the capable hardware chip inside.
That doesn't account for potential software support issues. We've reviewed Windows+ARM devices in the past, and while the basics like browsing, email, movies, etc. worked fine, a fair bit of specific x86 software did not. That means the Pro X is most likely not going to be as versatile as an updated Surface Pro 7, for instance, and not even as powerful for that matter in demanding loads. Let's wait for the reviews before drawing conclusions, though.
The hardware inside the Surface Pro X is a mixed-venture between Qualcomm and Microsoft, the SQ1 chipset. Most ARM processors are around 2W of power, this is actually a combined 7W SOC, for both the CPU and GPU. The graphics part alone is a 2.1 teraflops GPU, which is pretty much equivalent to the processing power of the XBox One. Of course, that doesn't mean you'll be able to run the same kind of games on this thing, but just paints an image of the chip's capabilities.
Microsoft also claims that the ARM processor inside the Pro X is several times faster than the 7W CPU in the MacBook Air, and the performance per watt is 3x of the Surface Pro 6 (built on an Intel 8th gen Core U platform). In the meantime, though, there's a much more powerful Surface Pro 8 lineup available in stores, which also gets the same kind of 13-inch screen offered with this Pro X series.
Update: More detailed impressions of the Windows on ARM experience are available in this review of the Lenovo ThinkPad X13s Snapdragon ultrabook.
The Surface Pro X starts at $999 for the base-level configuration with 8 GB of RAM and 128 GB of storage, while the higher tier versions go up to $1699, all shipping from November 5th. The TypeCover and Pen are not included, you'll have to pay extra for them.
As a novelty, though, the SSD can be easily accessed and upgrade on the Pro X, but as far as I can tell it's a proprietary format and there's no info on whether Microsoft will sell these on the side, or they'll only offer the possibility for upgrades in theri stores or if you'll send in the product, in case you get a lower-tier variant and later-on decide that you need more storage space.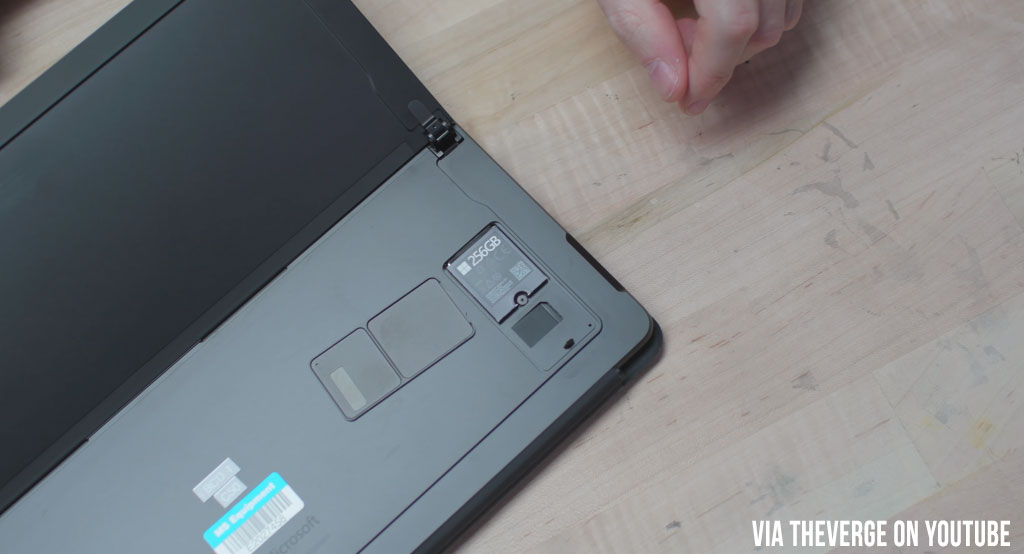 Disclaimer:
Our content is reader-supported. If you buy through some of the links on our site, we may earn a commission.
Terms
.