In this article we're discussing Asus's premium lineups of creative laptops for 2023, the Asus ProArt StudioBook Pro 16 3D OLED (H7604) and the Asus ZenBook Pro 16X 3D OLED (UX7602).
Among other things, these are both available with an optional 3D OLED glass-free display (this article covers OLED laptop technology more thoroughly). I got to see it in action on both and, WOW, it's actually cooler and way more realistic than I was expecting. Still somewhat gimmicky past the initial wow impression, and expensive for now, but a feature that perhaps some potential buyers would find useful in their work, and regular users would enjoy for movies and gaming. We'll further touch on this screen after the intro.
As far as the two products go, the 2023 Asus ZenBook Pro 16X is a slight refinement of the 2022 ZenBook Pro 16X reviewed here, built on the same complex chassis, but now available with updated and more powerful specs, as well as the 3D OLED display.
The Asus ProArt StudioBook Pro 16 is a new design for this 2023 generation, and is meant to tackle heavyweight competitors in the creative space such as the Dell XPS 15/17 series or the Apple MacBook Pro. That won't be easy, even with a significant advantage in performance on its side. It is a beautiful minimalist design, though, perhaps even Asus's best so far.
For now, I got to spend a little time with preview samples of both these laptops. Down below I've gathered my first impressions on the designs and their important features, and I'll follow up with detailed reviews later in the year.
Asus Zenbook Pro 16X UX7602, ProArt StudioBook Pro 16 H7604 with 3D OLED
But first, here's a full specs sheet of these two creator-targeted notebooks.
Asus Zenbook Pro 16X UX7602BZ
Asus ProArt StudioBook Pro 16 H7604
Screen
16.0 inch, 16:10, glossy, touch,
2D or 3D OLED 3.2K 3200 x 2000 px, 120 Hz 0.2ms, 550 nits, 100% DCI-P3
16.0 inch, 16:10, glossy, touch,
2D or 3D OLED 3.2K 3200 x 2000 px, 120 Hz 0.2ms, 550 nits, 100% DCI-P3
Processor
Intel Raptor Lake 13th gen, up to Core i9-13905H, 6C+8c/20T
Supernova SoM design

Intel Raptor Lake 13th gen, up to Core i9-13980HX, 8C+16c/32T
Video
Intel UHD + up to Nvidia RTX 4080 12GB (??W),
with MUX, Nvidia Studio drivers
Intel UHD + up to Nvidia RTX 4070 8GB (up to 95W),
with MUX, Nvidia Studio drivers
Memory
up to 32 GB LPDDR5x-7500 (soldered)
up to 64 GB LPDDR5-4800 (2x DIMMs)
Storage
1x gen4 M.2 2280 slots
2x gen4 M.2 2280 slots
Connectivity
Wireless 6E, Bluetooth 5.2
Wireless 6E, Bluetooth 5.2
Ports
1x USB-A 3.2 gen2, 2x USB-C with Thunderbolt 4, HDMI 2.1, SD Express 7.0 card reader, audio jack
x USB-A 3.2 gen2, 2x USB-C 3.2 with Thunderbolt 4, HDMI 2.1, LAN, SD Express 7.0 card reader, audio jack
Battery
96 Wh, 200W USB-C charger with quick-charging
90 Wh, 200W charger + USB-C charging
Size
355 mm or 13.97" (w) x 251 mm or 9.88" (d) x 21-27 mm or 0.82-1.06" (h)
356 mm or 13.97" (w) x 271 mm or 10.66" (d) from 21 – 24 mm or 0.82" – 0.94″ (h)
Weight
~5.3 lbs (2.4 kg)+ .6 kg (1.32 lbs) for the charger+cables,
~ 5.3 lbs (2.4 kg) + charger
Extras
WRGB backlit keyboard, haptic touchpad with pen support, physical DialPad, FHD webcam with IR Hello and ALS/RGB sensor, 6x speaker system, AAS + vapor chamber cooling module
white backlit keyboard, haptic touchpad with pen support, physical DialPad, FHD webcam with IR+ILS, stereo bottom speakers
These two are quite similar laptops, about the same size and weight, with similar inputs and DialPads and the same 16-inch screen options, but at the same time with a few distinct design and hardware particularities.
I've already covered the ZenBook Pro 16X in-depth in our review, so I'll mostly focus on the ProArt in this preview.
Regardless, the 2023 ZenBook Pro 16x does get a few important updates that I'll briefly summarize below:
The 4K OLED display was replaced with the 3.2K 120Hz 3D OLED panel.
Specs wise, this generation has been updated to 13th-gen Intel Core i9 H processors and up to Nvidia RTX 4080 12GB graphics.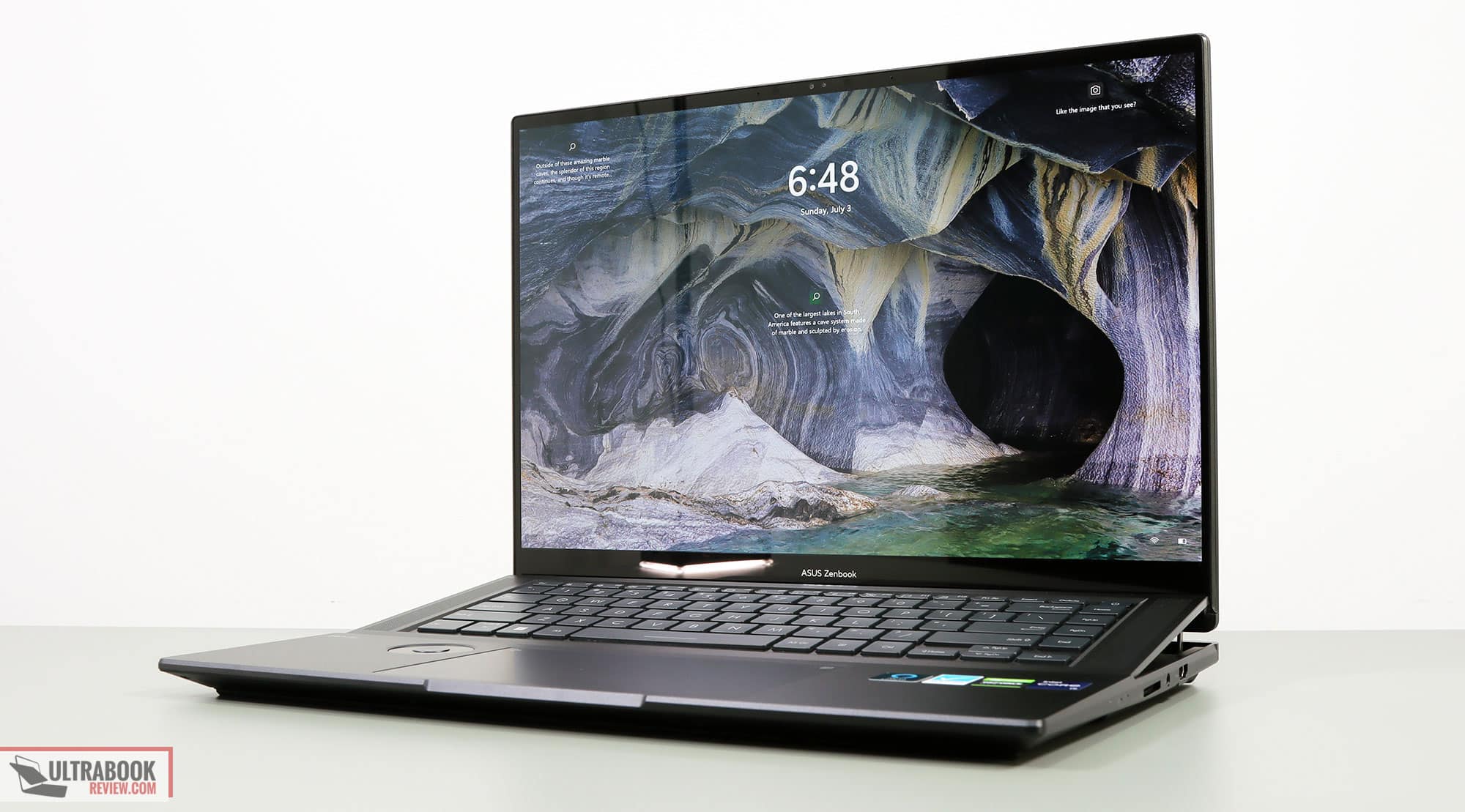 Asus redesigned the motherboard and implemented what they call the Supernova SoM (System on Module), which combines the CPU with the memory on a single chip. This way, the Pro 16X utilizes LPDDR5x memory running at up to 7500 MHz, a notable increase from the standard DDR5 memory on the previous Pro 16X generation, or the ProArt model.
The redesigned motherboard allowed for a higher-tier and more powerful RTX 4080 dGPU to be implemented in this chassis.
Asus haven't shared the exact TGP numbers, but they did mention the system runs up to 155W combined CPU+GPU sustained power. For comparison, the 2022 ZenBook Pro 16x only ran at up to 140W of combined power.
Despite this, the cooling hasn't changed, with still an AAS intake system under the keyboard tray and an internal Vapor Chamber module. The 6x speakers, the IO, or the inputs haven't changed either.
We'll have to see whether these changes are enough the enhance the value proposition of the Zenbook Pro 16x series in this 2023 update.
Update: If interested, Asus also offers a smaller Zenbook Pro 14 series this year, reviewed here.
3D OLED laptop technology explained
I watched a Blender project and a sequence of Avatar on these 3D screens and they're actually … 3D. The content has depth and perspective and you don't need any glasses to see it. But the experience is impossible to put in worth, you pretty much have to see it to understand it.
So how does this work? The technology is called Autostereoscopy and is explained in this Wikipedia article here.
And then on this dedicated page on Asus's website and in the video down below.
And in this Dave 2Ds video:
Now, I'll need to spend more time with these 3D laptops to better understand how useful this feature actually is for watching movies or playing games. Sure, the demos looked cool, but we get past the WOW first impressions, is this something that you'll end up actually using?
As for real 3D work, that's out of my league, so perhaps some of you graphic artists or engineers can share your thoughts on how useful this feature is. I know some 3D artists use a separate headset in their projects, and I wonder if that could be replaced for your work with this sort of 3D functionality on the main display?
Before we move on, I will also point out that the 3D functionality is optional on these screens and can enabled/disabled when needed. When disabled, the lenticular lens layer is switched off, and the screen looks just like a regular OLED. Furthermore, these Asus laptops are going to be available with regular 2D OLED displays as well, especially in their mid-specced and more affordable configurations. That's because the 3D OLED is going to come at a significant premium in this first generation.
From what we know so far, the 3d OLED functionality will be available on these top-tier ZenBook Pro 16x and ProArt StidoBook Pro 16 models, as well as the mid-tier Asus VivoBook Pro 16X K6604 design.
ProArt StudioBook Pro 16 H7604 3D OLED
Unlike the ZenBook Pro 16X, the ProArt StudioBook Pro 16 is a more traditional clamshell design. That means it's somewhat thinner, but still fairly heavy at 2.4 kilos, at least in comparison to other thin-and-light 16-inch designs such as the ROG Zephyrus M16.
The StudioBook, on the other hand, implements 13th-gen Intel Core HX processors on this generation, with up to the beastly Core i9-13980HX 24C/32T CPU, up to 64 GB of RAM, 4 TB of gen4 SSD storage, and up to RTX 4070 dGPUs. However, the GPU is only a 95W design from what I can tell right now, despite the fact that the system handles up to 150W of combined CPU+GPU power – that's on par with the 2022 generation of the Zenbook Pro 16x.
Furthermore, a rather beefy thermal module is implemented on this series, and I'd expect that could handle the GPU at higher power. Still, Asus tries to optimize the performance while keeping the fan noise low on these creator laptops, and perhaps that's why they're limiting the GPU power allocations. The target is sub 40 dBA on the mid-tier profiles and sub 45 dBA on the top profiles – most ROG laptops are running louder, but there are some exceptions with the newer tri-fan thermal modules implemented in the ROG Flow X16 or Zephyrus M16 GU604 series, and they don't gimp the GPU capabilities.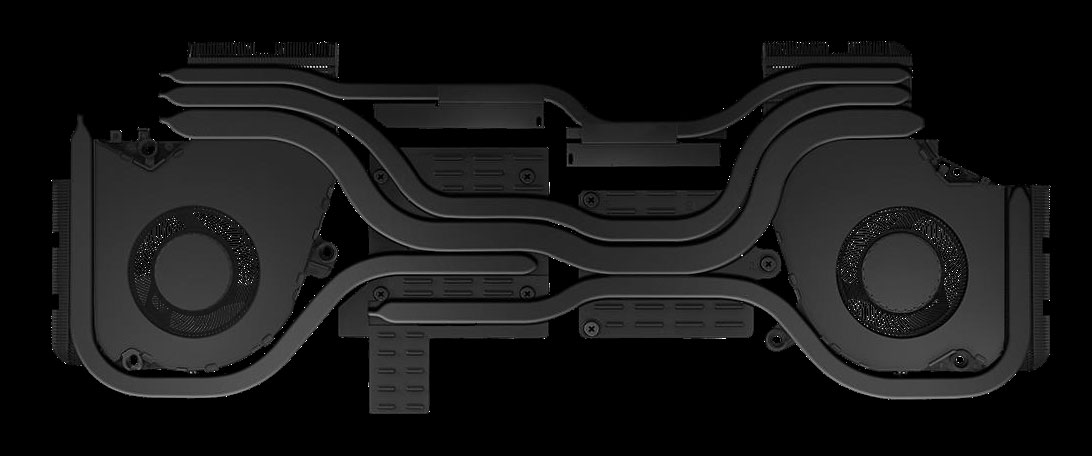 Looking past the performance of this system, I am a fan of the overall design of this ProArt StudioBook series. It's a dark theme with very muted branding elements, and the entire chassis feels sturdy and very well made.
The laptop is practical as well, with good inputs, a beautiful display that can lean back flat to 180 degrees, and all the needed ports around the sides. The PSU and the HDMI connector at placed on the back, out of the way.
Of course, I'll have to spend more time with this for a proper review, but from the little I've used it so far, I couldn't fault it in any way. This is surely one of my favorite Asus designs ever.
Here are some preview high-res pictures.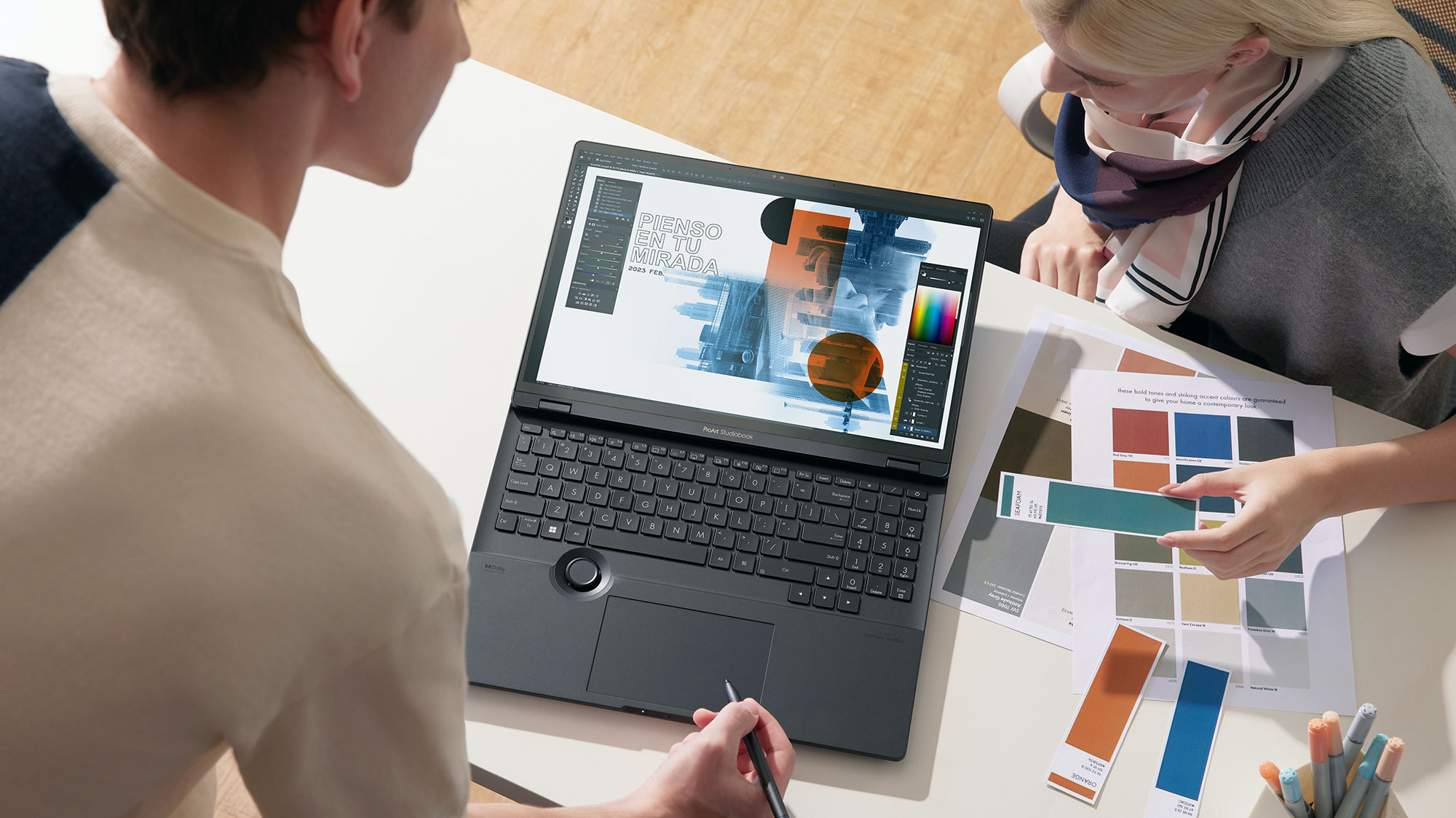 And a few real-life shots from my time with it, including details on the camera system required by the 3D OLED display.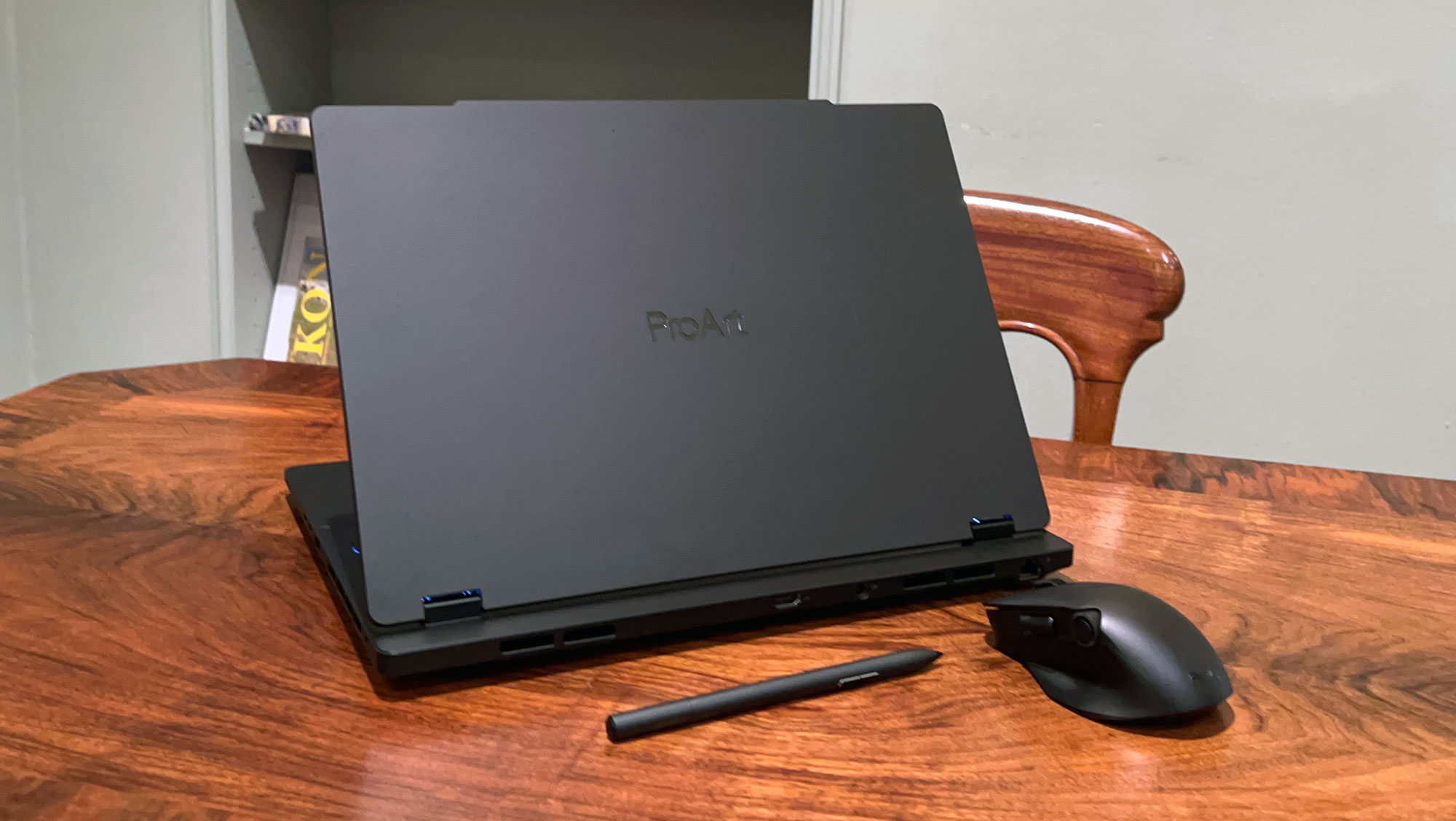 That wraps it up for now, but look for our reviews in the months to come, and in the meantime, get in touch in the comments section and let me know what you think about this glass-free 3D technology and about these two Asus creator lineups discussed in this article.
Disclaimer:
Our content is reader-supported. If you buy through some of the links on our site, we may earn a commission.
Terms
.